Building this treehouse was one of Pete's favorite projects of the year; he loved getting to work with his son Charlie and spend time on a slice of the stunning 23-acre property that will host the future Treehouse Resort and Spa, a nature retreat centered on wellness, relaxation, and play.
The platform for Charlie's treehouse was originally built in 2015 with the help of youth from Sawhorse Revolution, a Seattle nonprofit. Pete and the Nelson Treehouse and Supply crew remodeled the platform into a livable space where Charlie will stay as caretaker of the future location of Treehouse Resort and Spa. Equipped with a mini kitchen, outdoor shower, sleeping loft, daybed, and compostable toilet, this treehouse is a bonafide home. The woven cedar pattern on the exterior adds a beautiful finish to Charlie's new digs!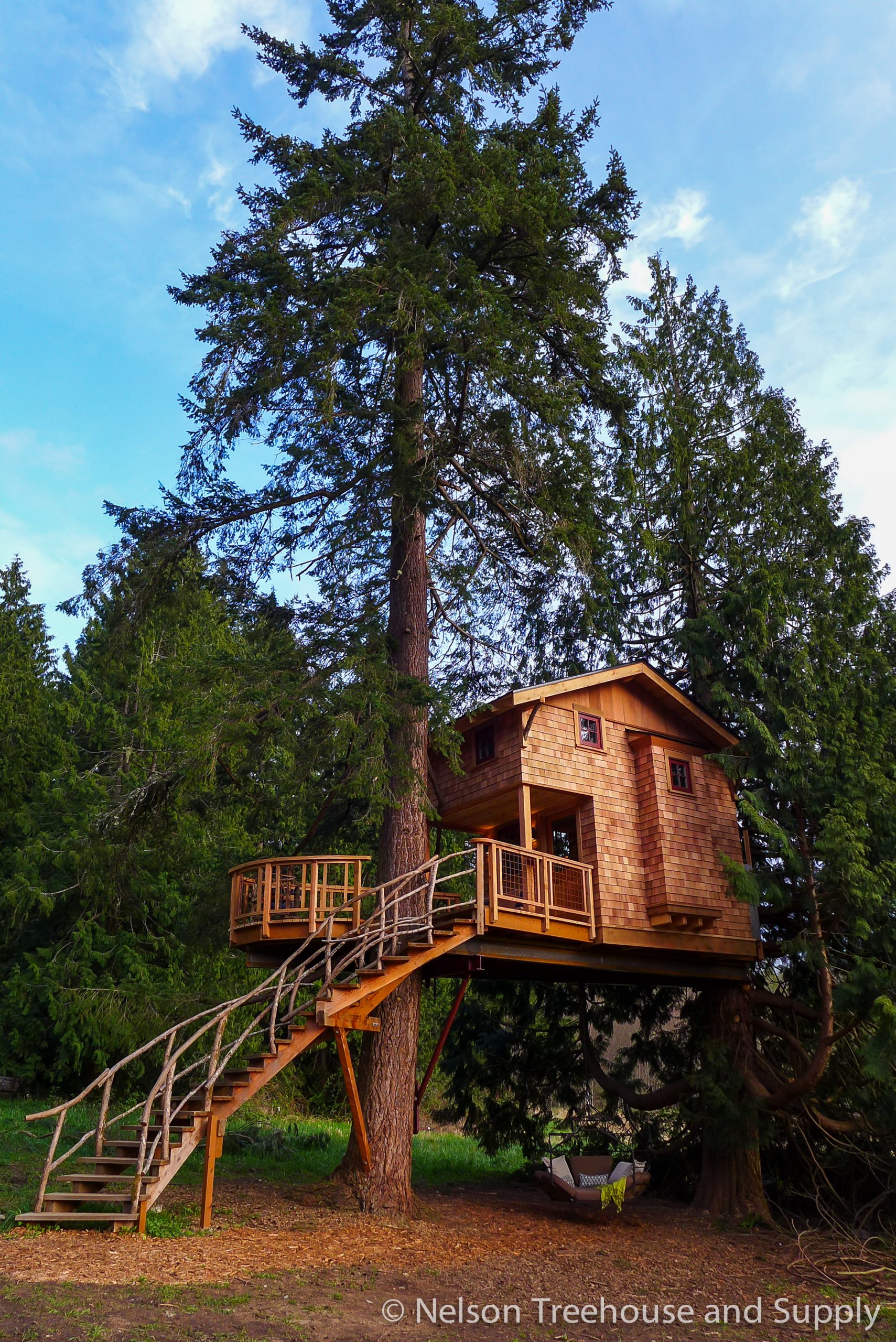 The comfy, geometric swing beneath Charlie's treehouse is made by Kodama Zomes.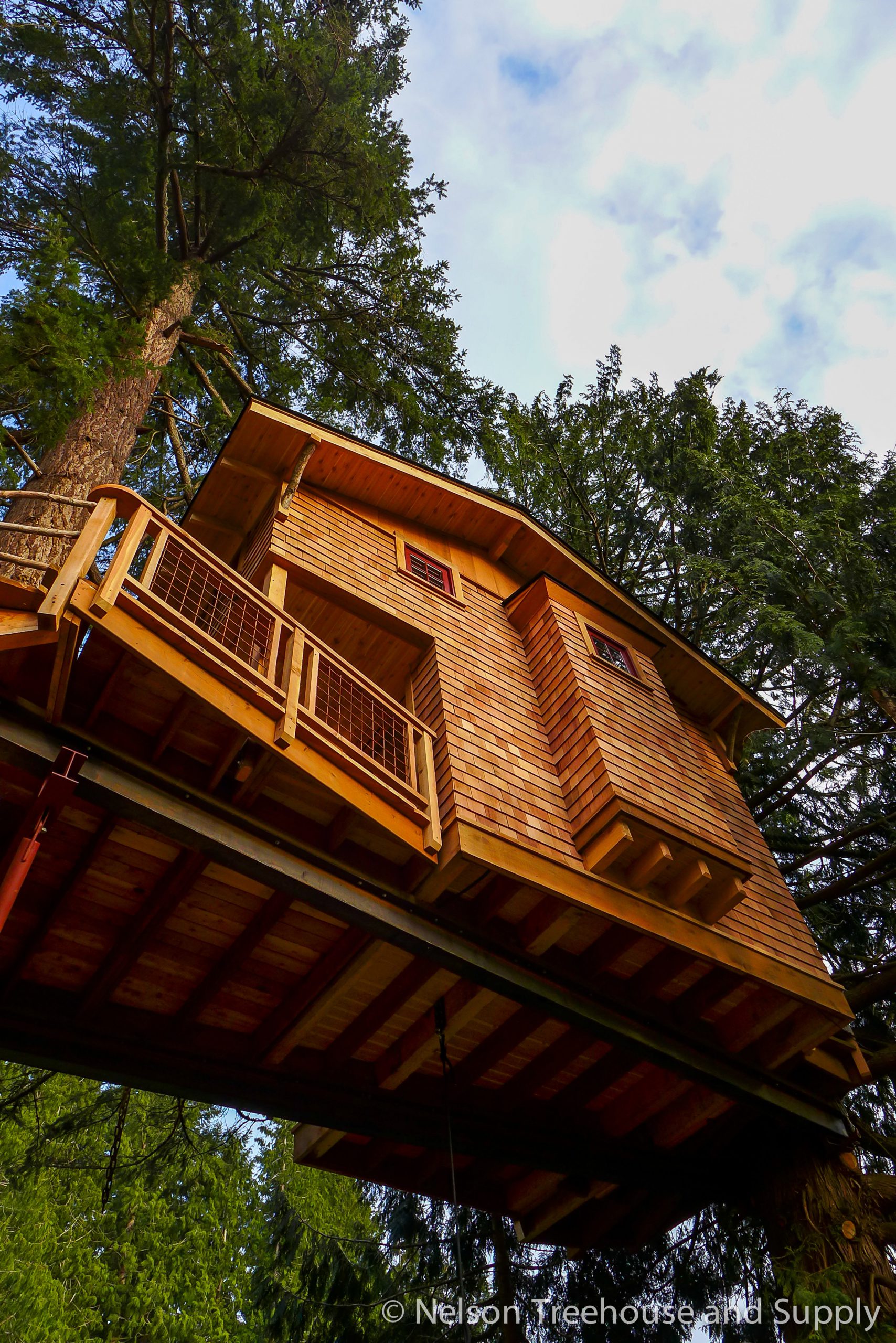 The Nelson Treehouse and Supply crew replaced the original wooden yokes with steel yokes and TABs (Treehouse Attachment Bolts) to better support this expansive structure. Pete's advice on replacing wooden yokes with new ones: simply cut the wooden yoke off down to the trunk, leaving the part inside the tree alone. The tree will grow around the remaining part, leaving the area healthy and strong. To buy your own treehouse hardware, visit the Be in a Tree store.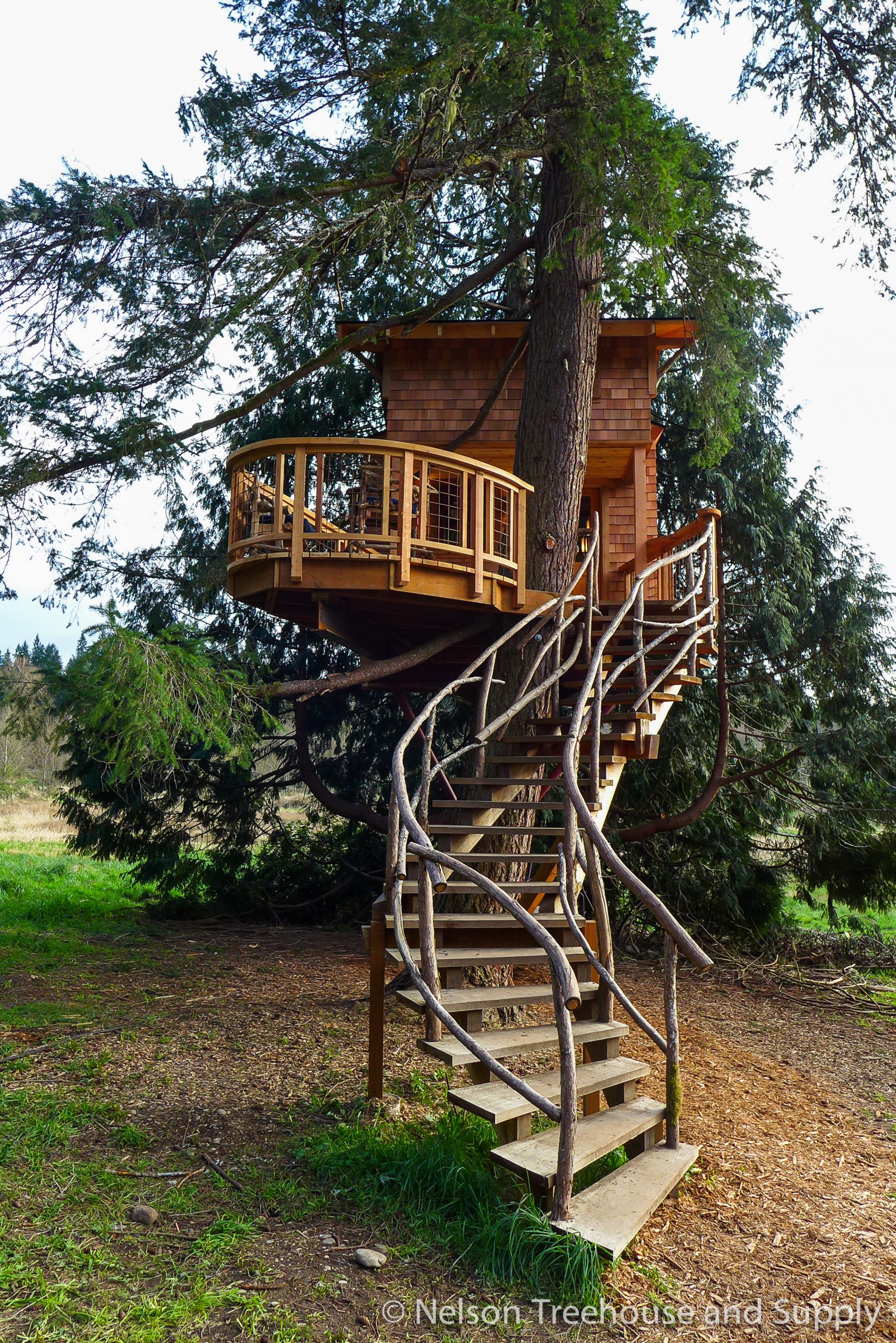 The handcrafted, curved stairway and platform were built during a workshop with youth from the Seattle nonprofit Sawhorse Revolution in 2015. To learn more about the treehouse workshop with Sawhorse Revolution, check out Animal Planet's Treehouse Masters behind-the-build videos.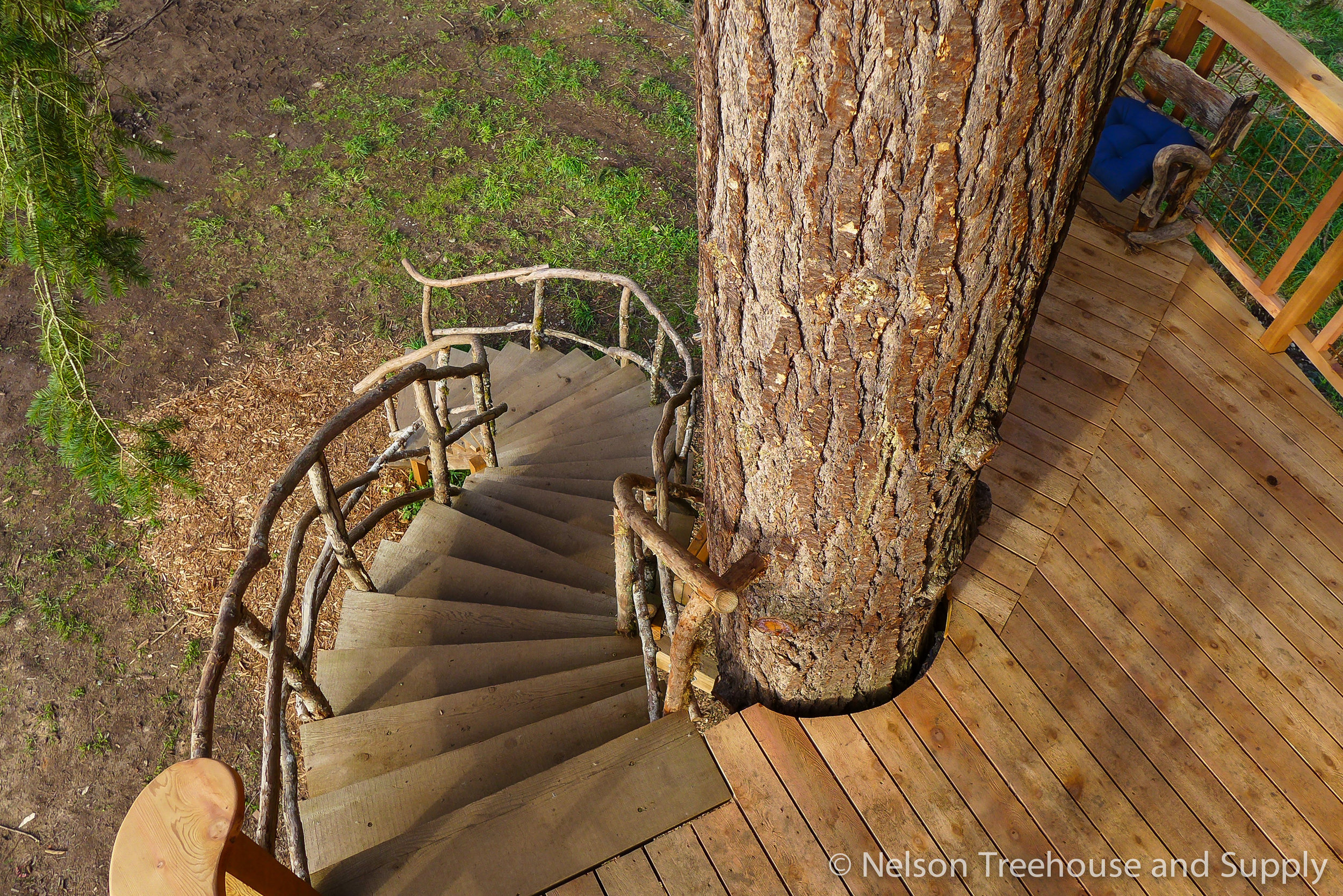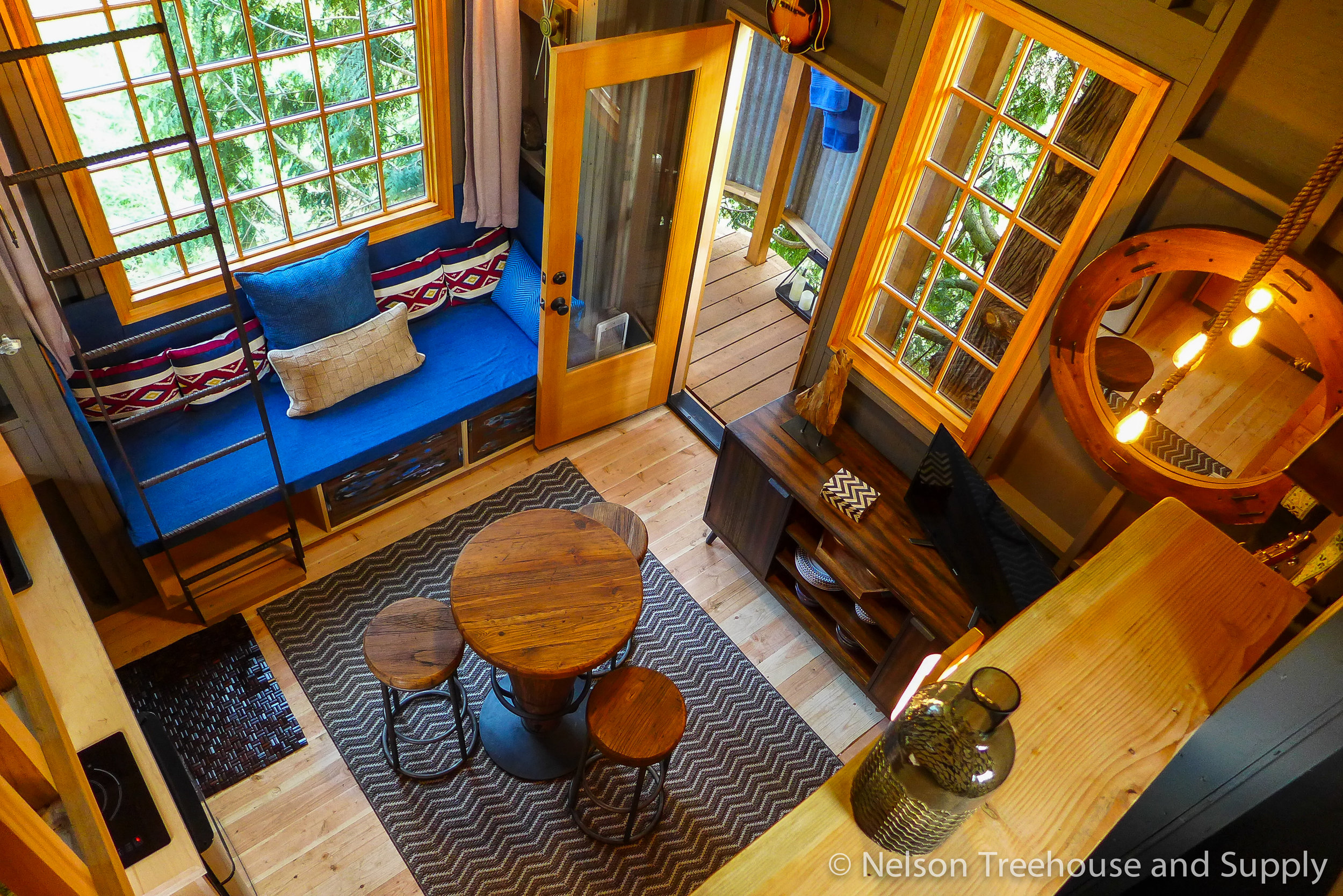 As always, interior designer Tory Jones worked her magic with the furnishings inside the treehouse. Read Tory's Behind the Design article to learn about her inspiration and sources.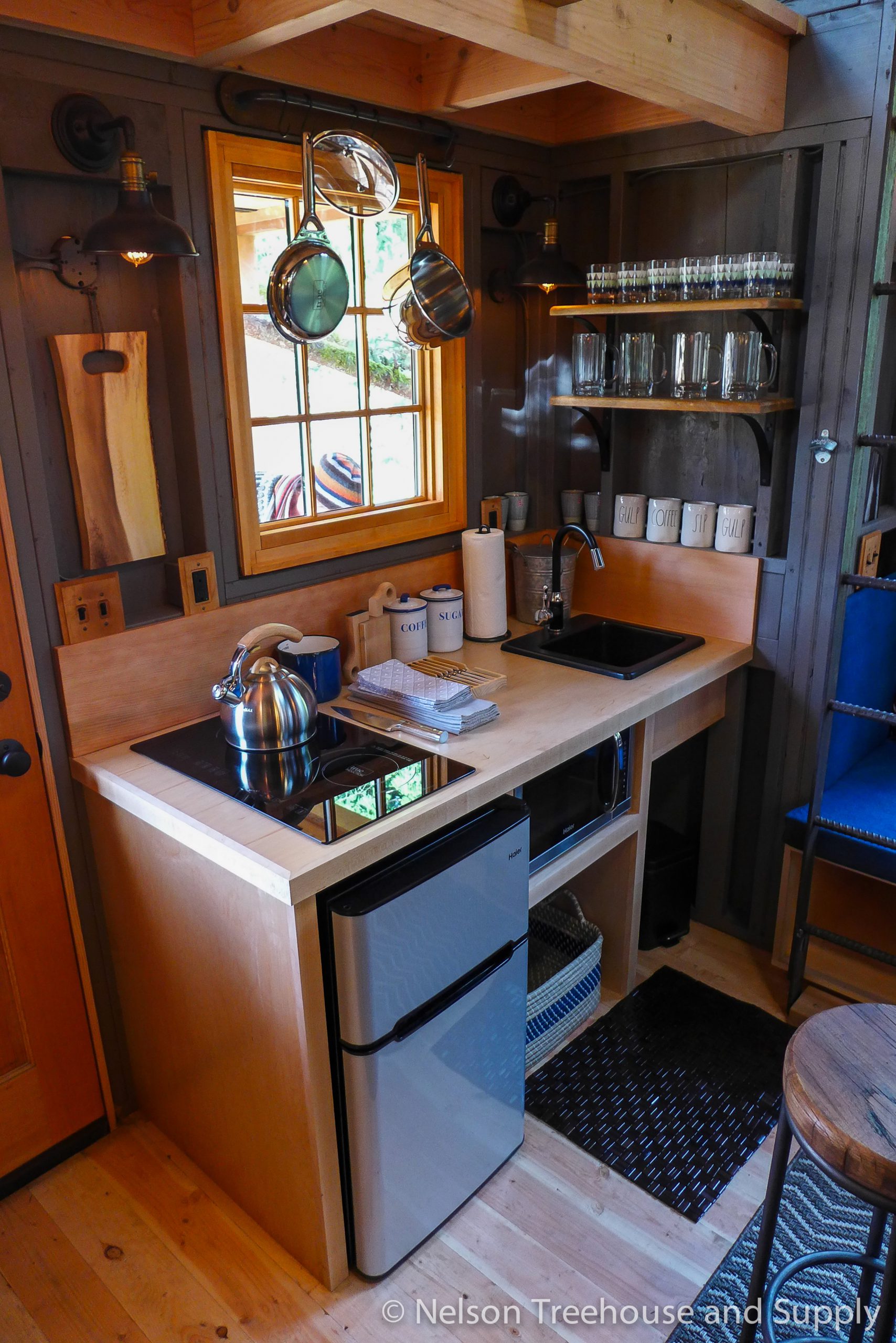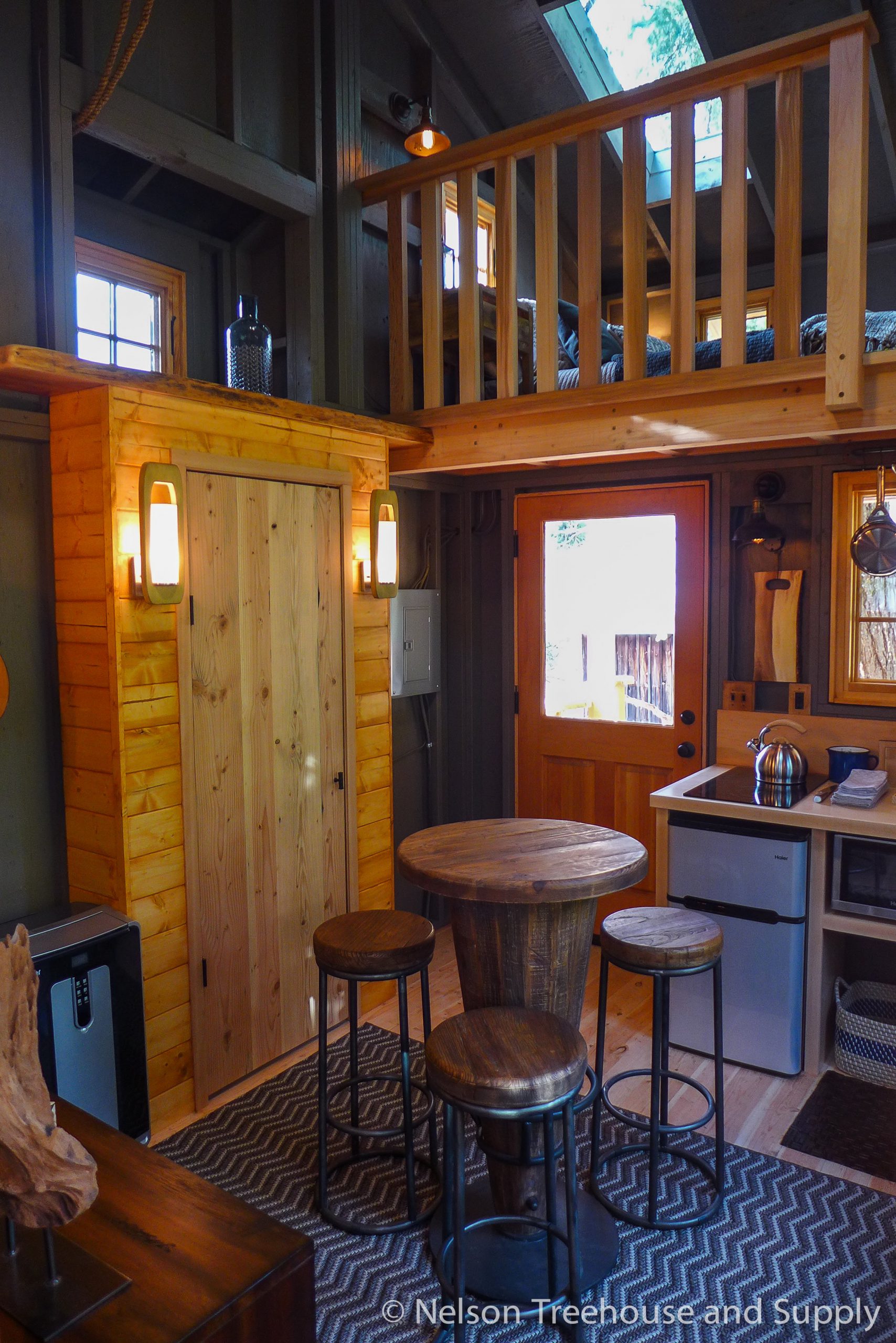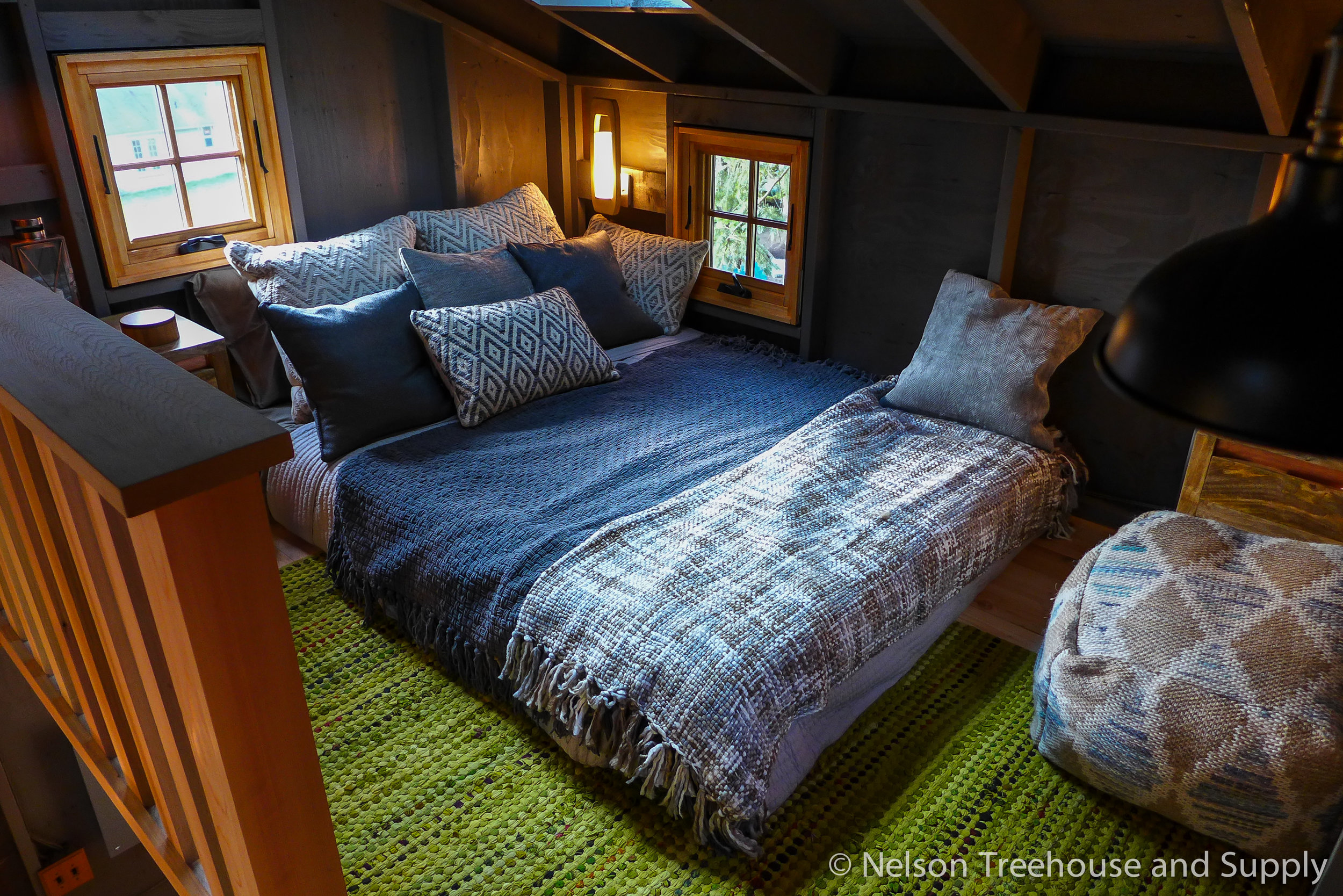 Charlie will sleep well in this cozy bedroom loft!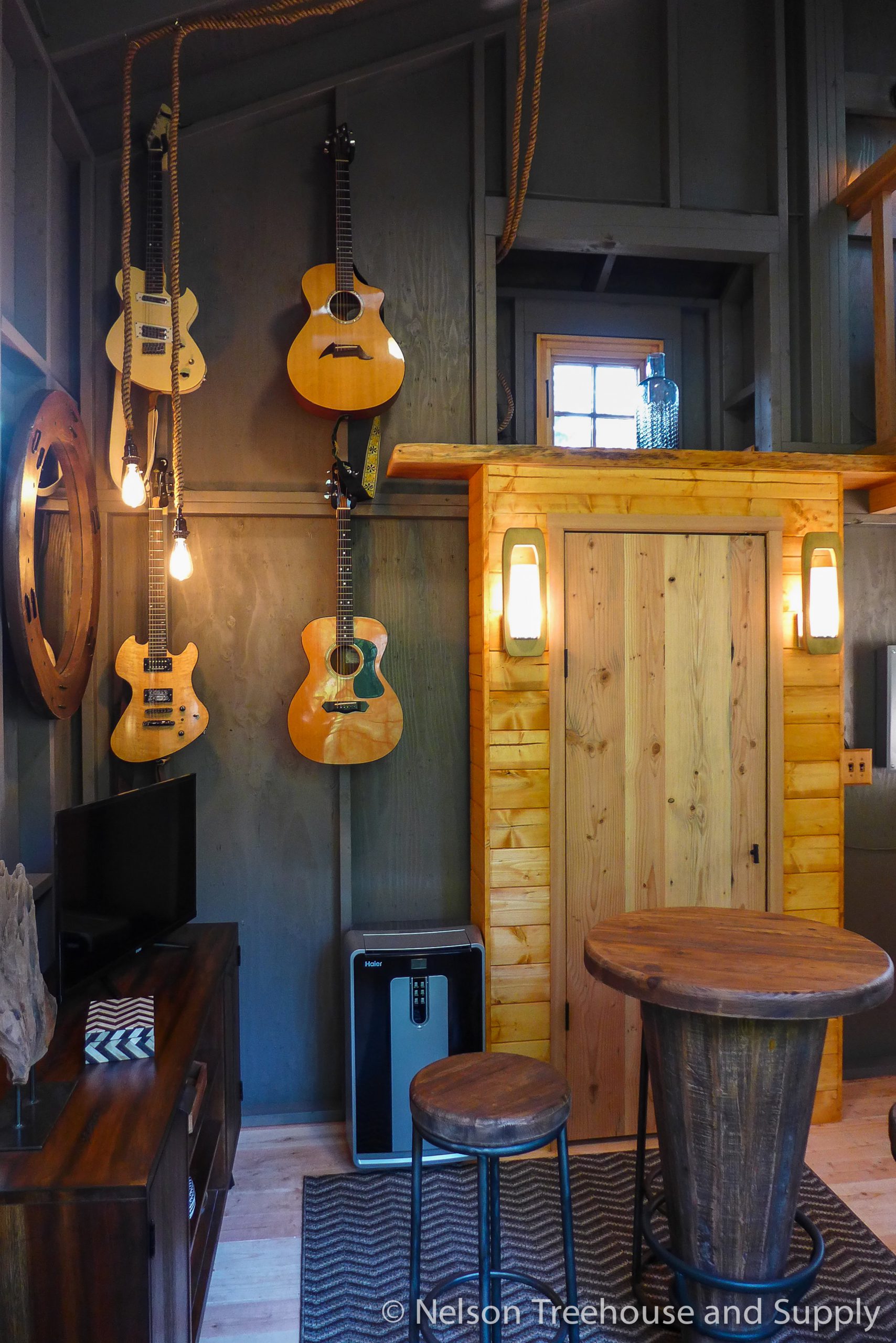 Charlie is glad to have plenty of wall space to display his guitars.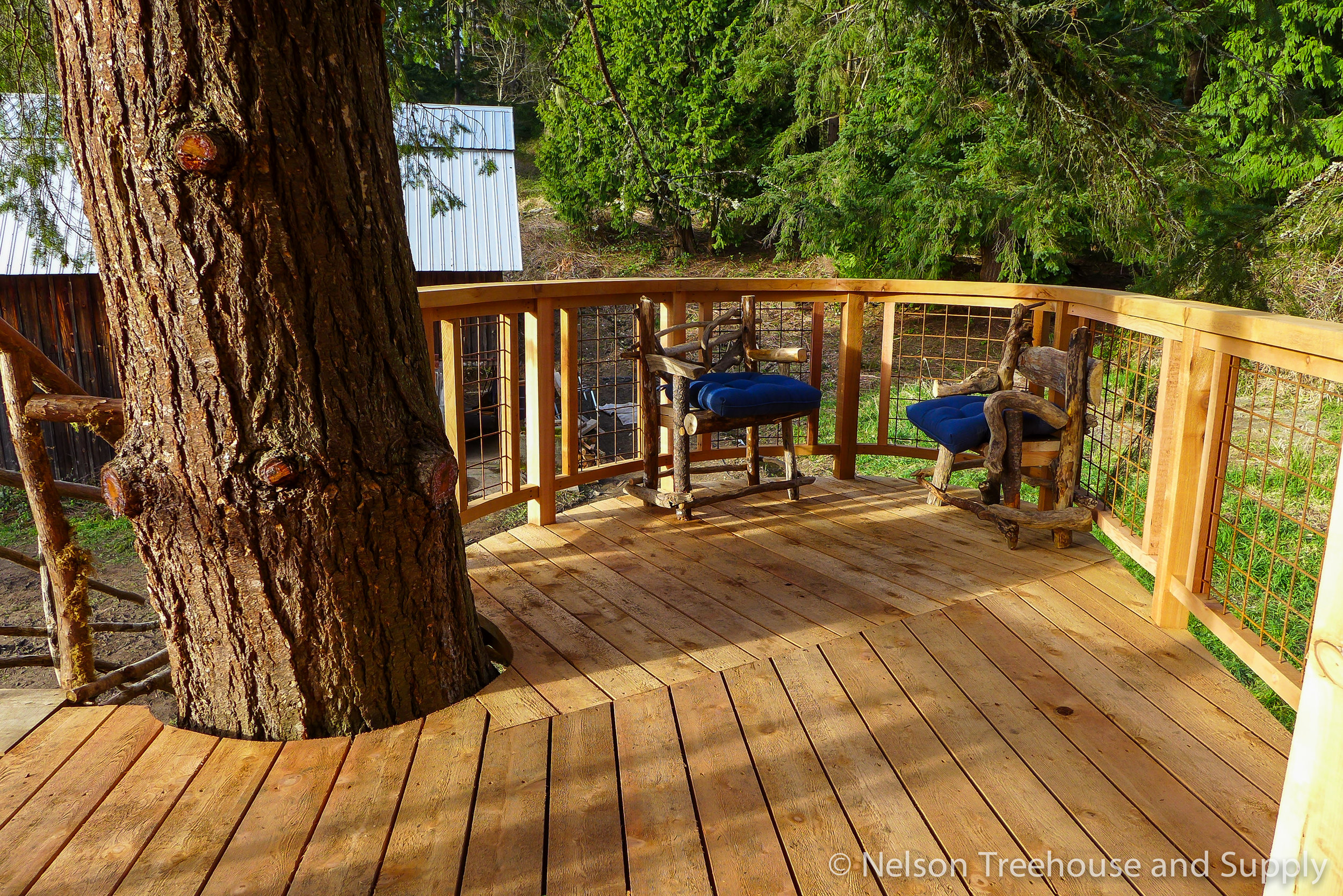 Hogwire railing provides a safe but airy barrier around the deck. Learn how to build your own deck railing with hogwire panels by watching our Hogwire DIY video.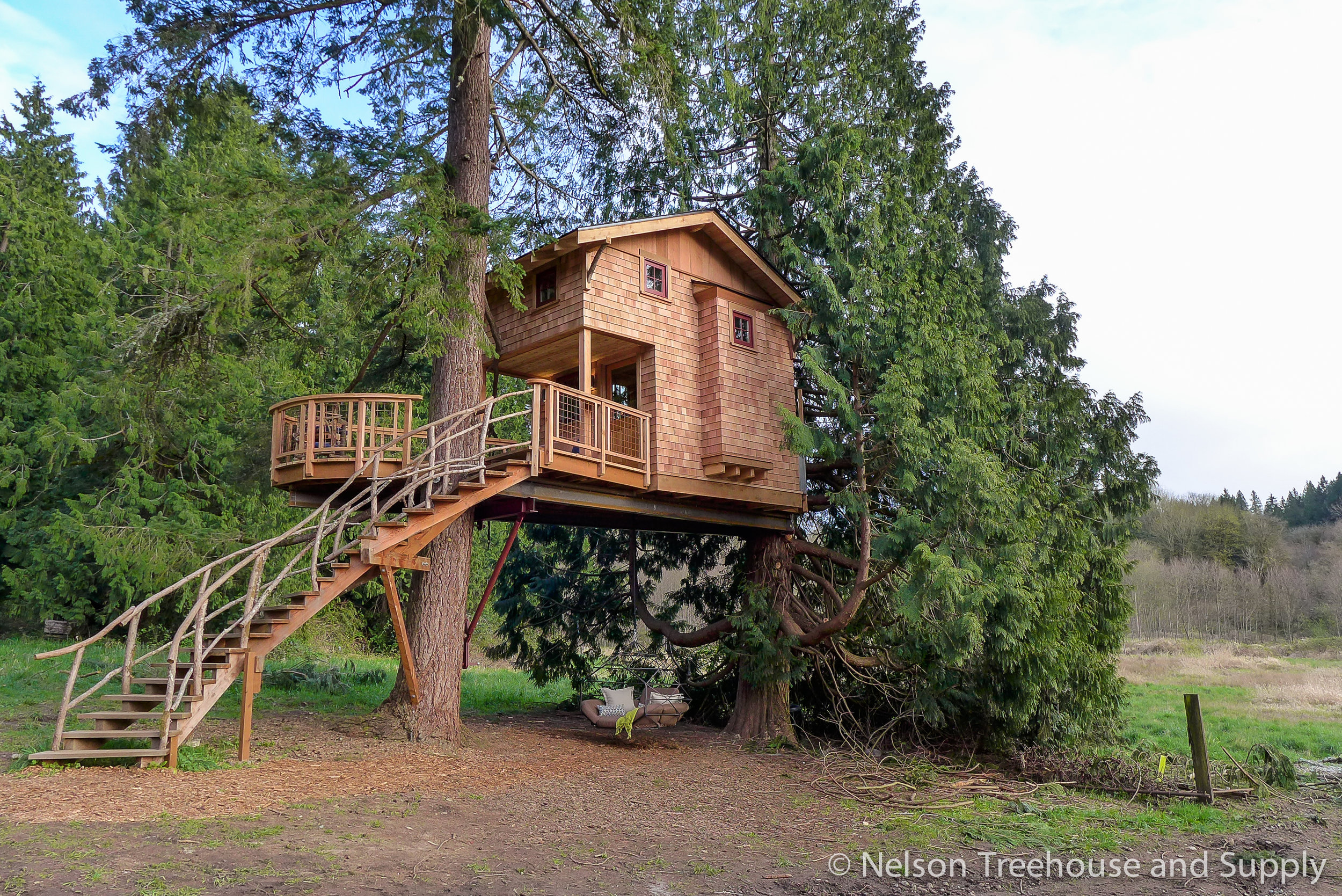 Pete had the best time designing and building a treehouse for Charlie on Treehouse Resort and Spa property. He can't wait to build more treehouses there and looks forward to sharing the beauty of the sprawling forests and wetlands with guests. For his part, Charlie loves staying in this cozy and lofty new treehouse!
To find out more about Treehouse Resort and Spa, visit our website at treehouseresortandspa.com.
What do you think about the transformation of the platform built in 2015? Let us know about your favorite part of Charlie's treehouse in the comments below. And watch Animal Planet's Treehouse Masters Behind the Build video below for a another look at the treehouse.