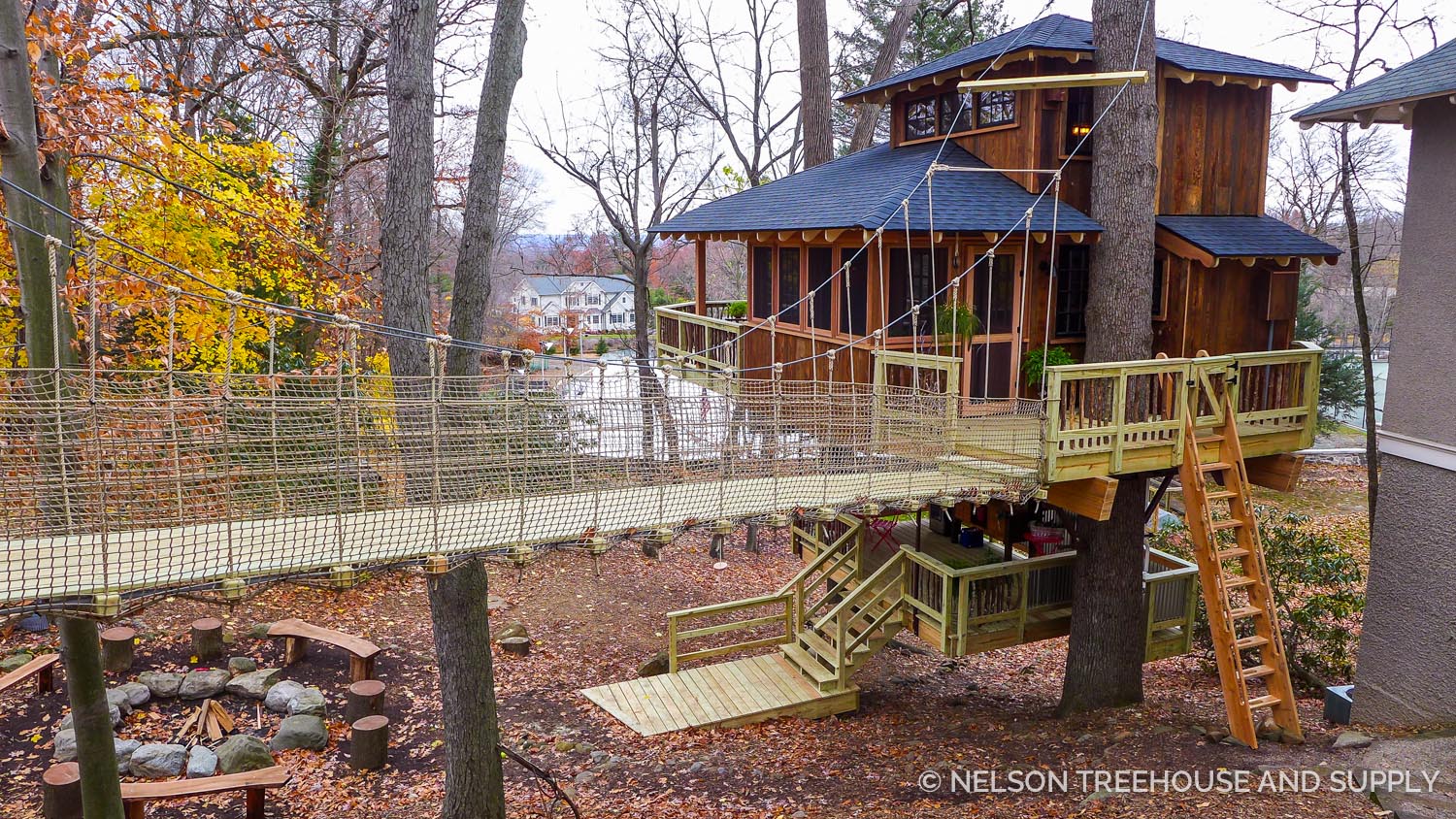 The crew had a wonderful time building this dual-decked delight for Mike and Ranell in New Jersey! The couple's treehouse contains every fabulous feature one could dream of: a long suspension bridge, ship's ladder, two levels of decks, screened-in porch, lounge, bathroom, kitchenette, bunk beds, and master sleeping loft with a hanging bed. It's the perfect place to get away for rest and relaxation without having to leave home!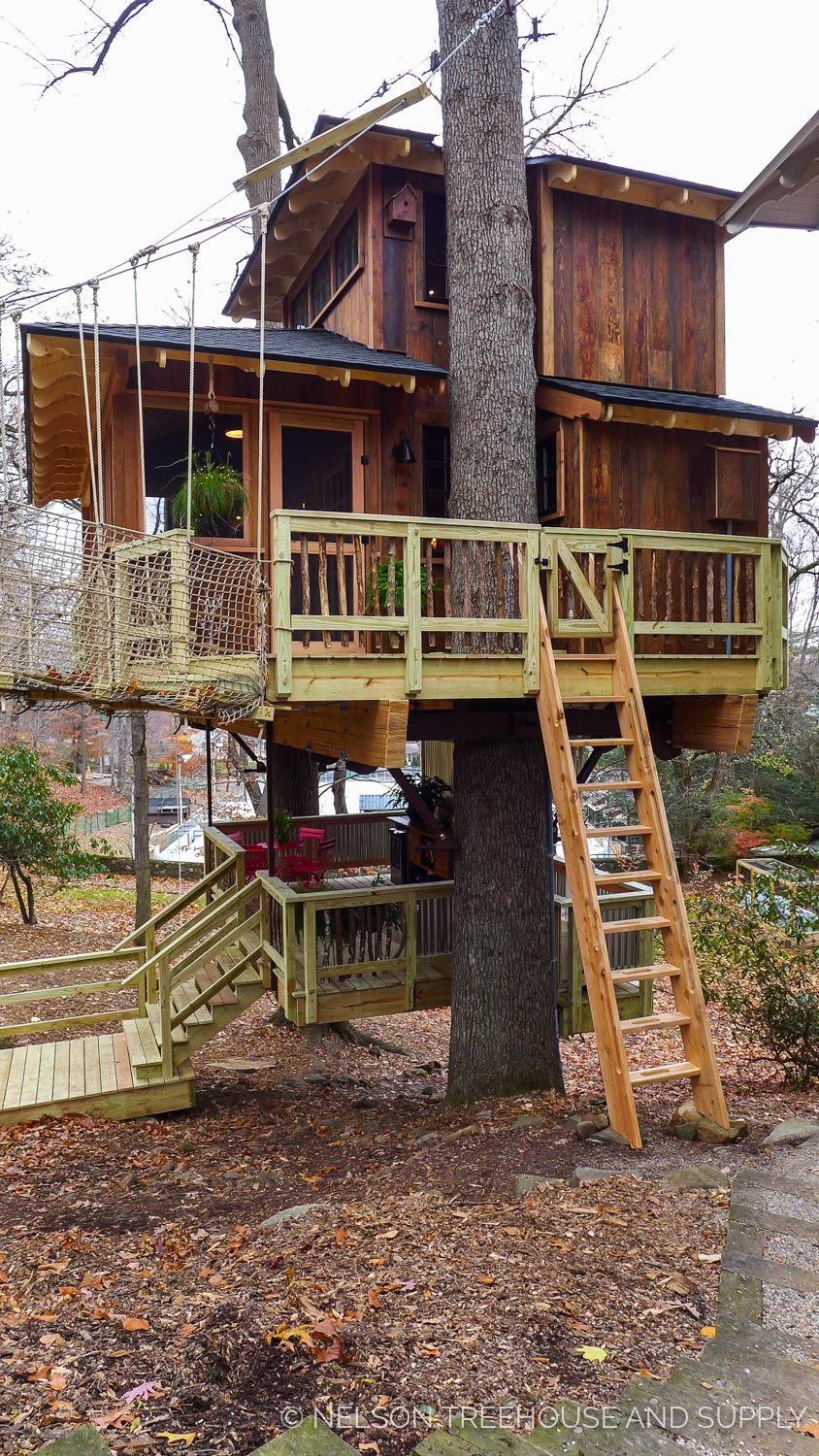 Pete minimized the ground footprint of this structure: the sub-level deck is suspended from the upper platform without touching the ground and the cable bridge provides access without requiring heavy soil excavation. A ship's ladder provides another way to the deck.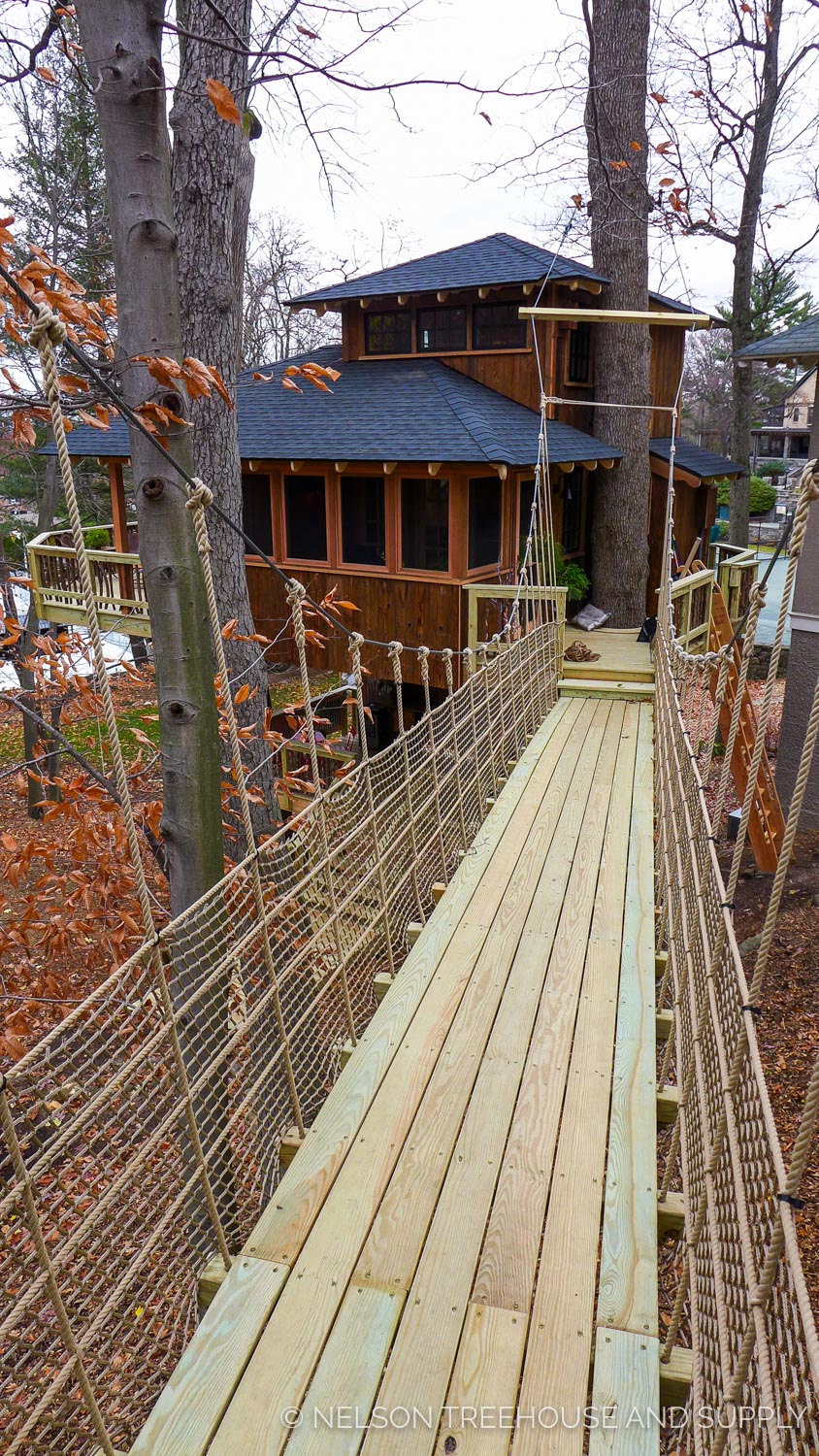 The crew built this catenary suspension bridge to reduce the pressure on the supportive trees.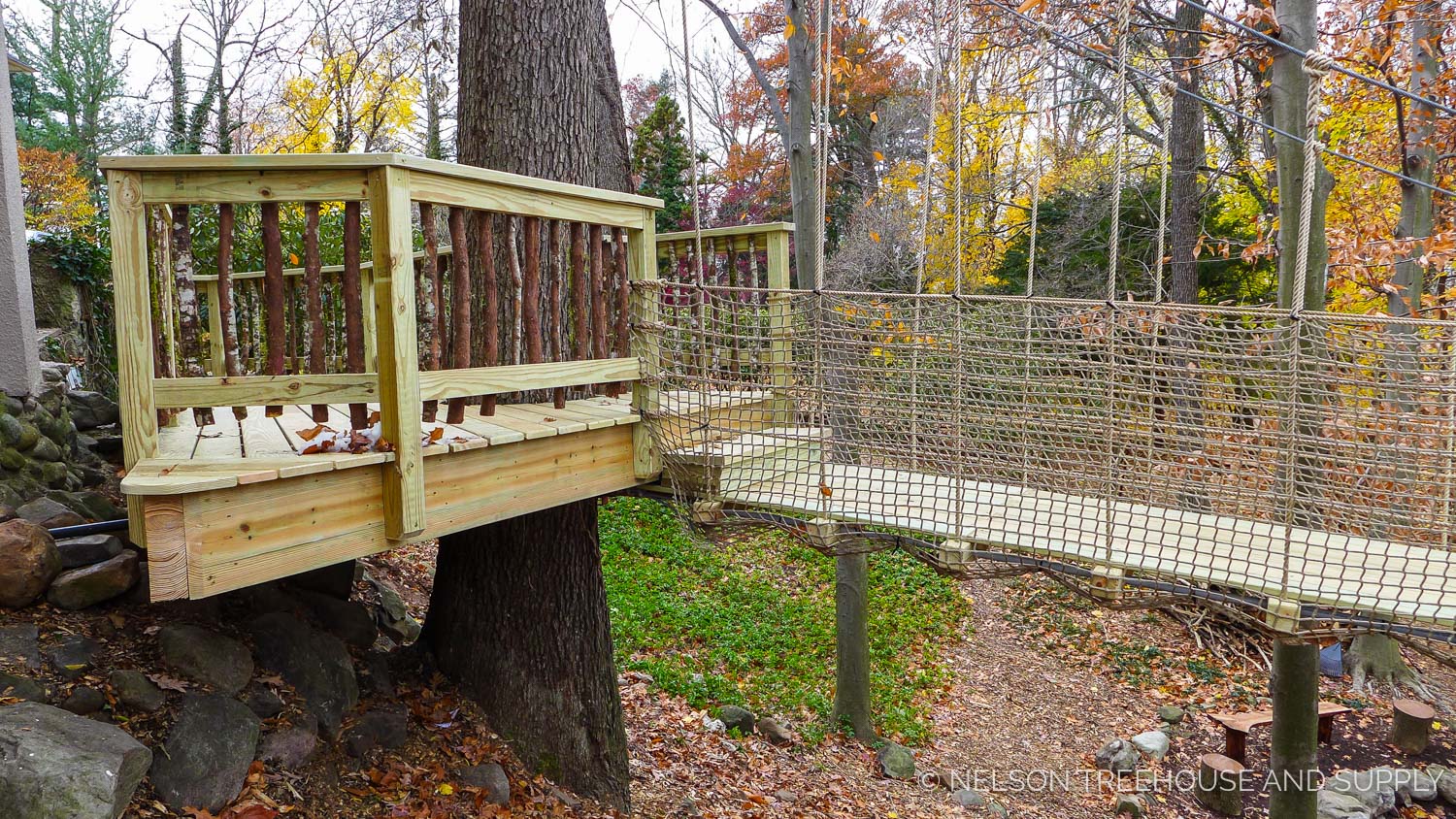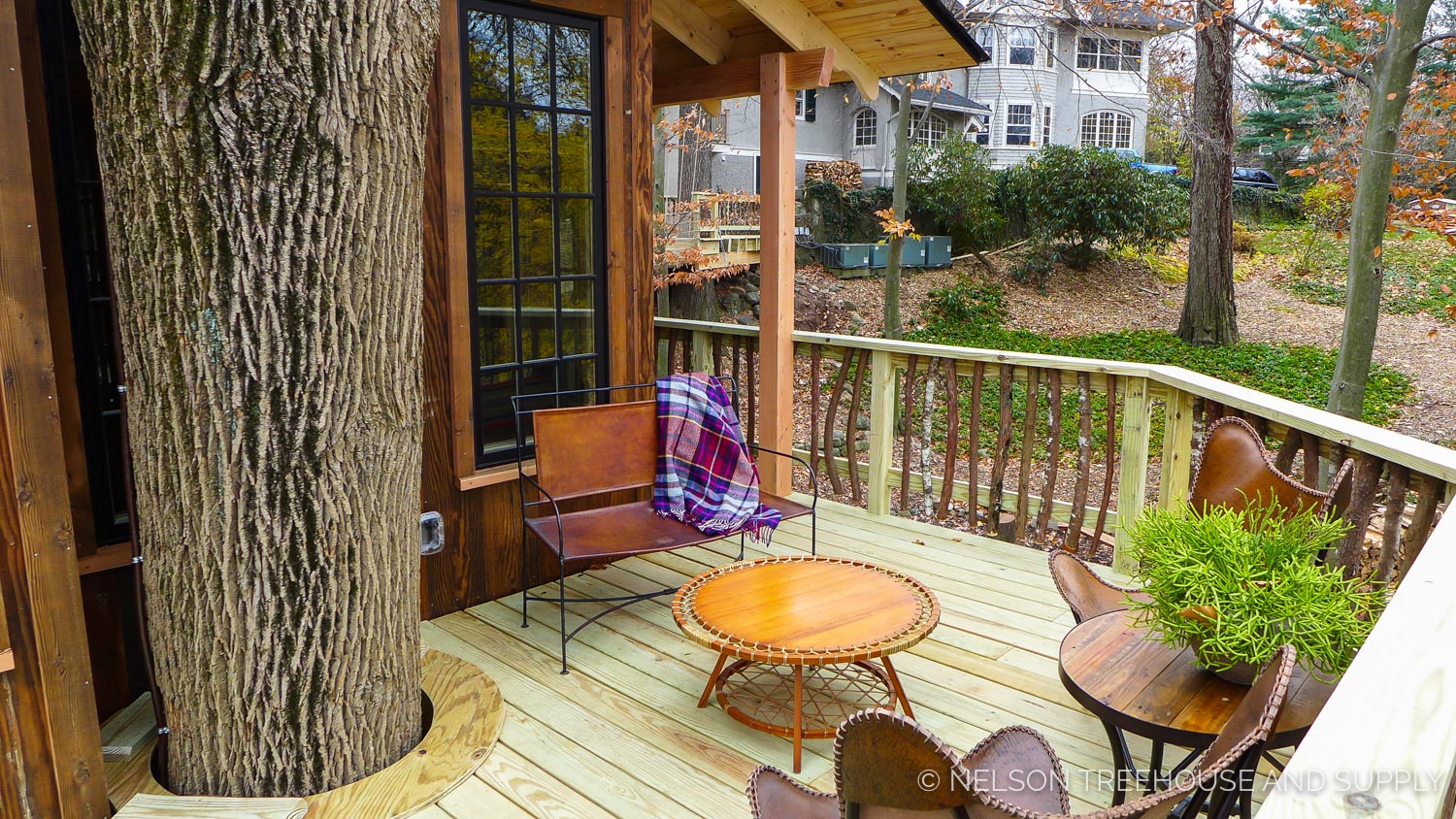 The treehouse roosts 19 feet up in prodigious oak and ash trees.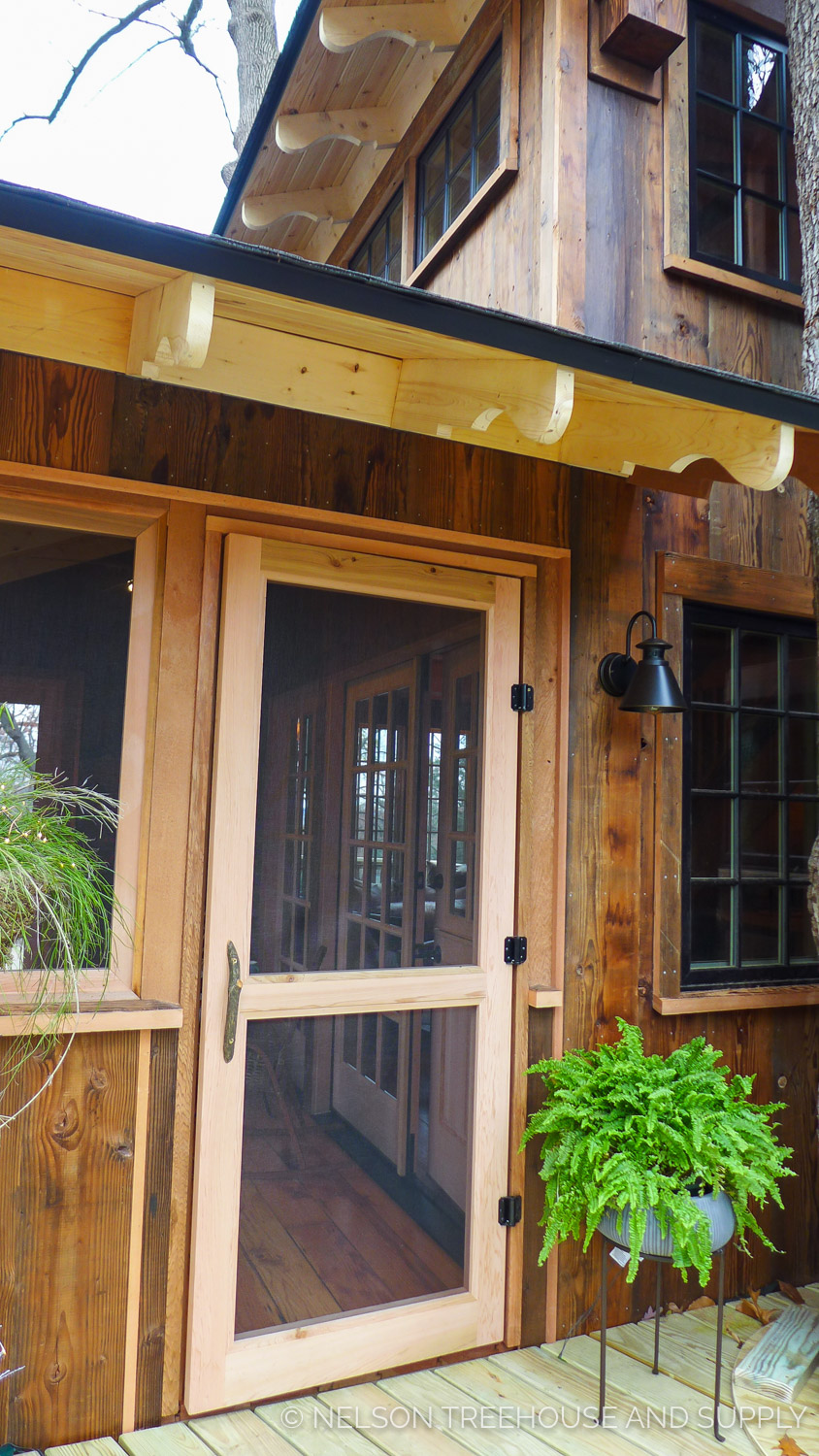 Western red cedar siding covers the facade. The screen door handle is made from a rhododendron branch.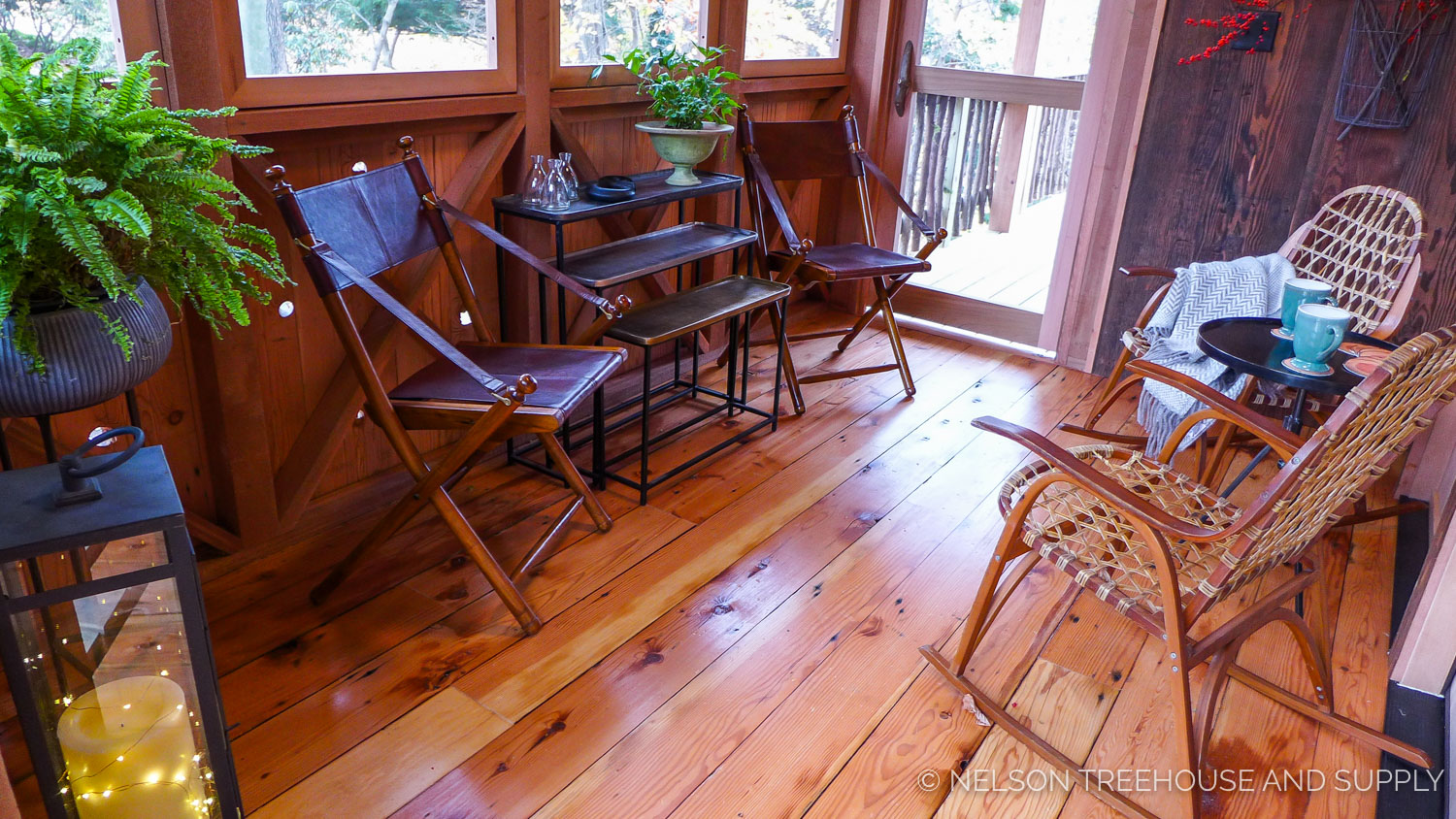 The deck leads into a screened-in porch.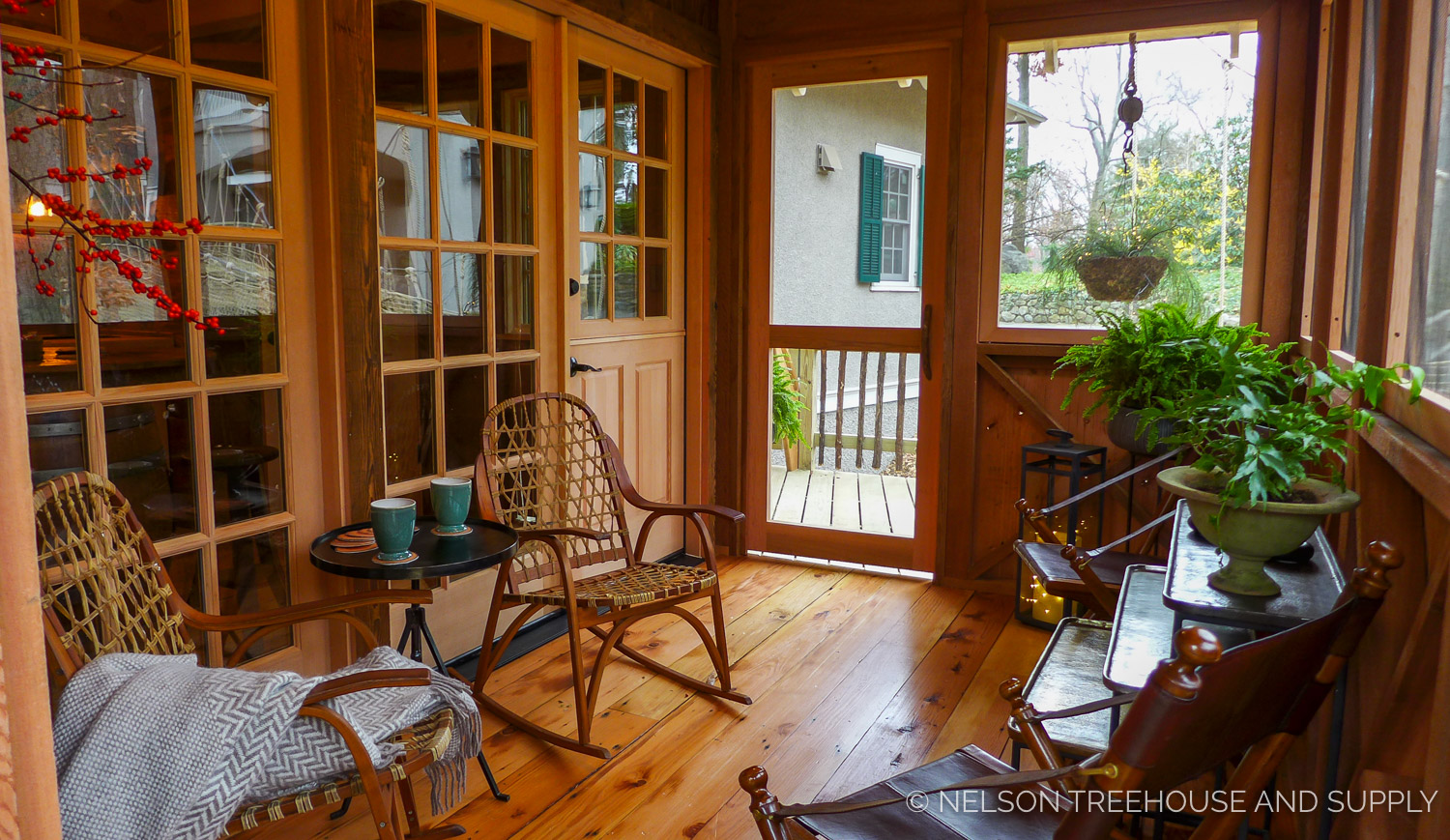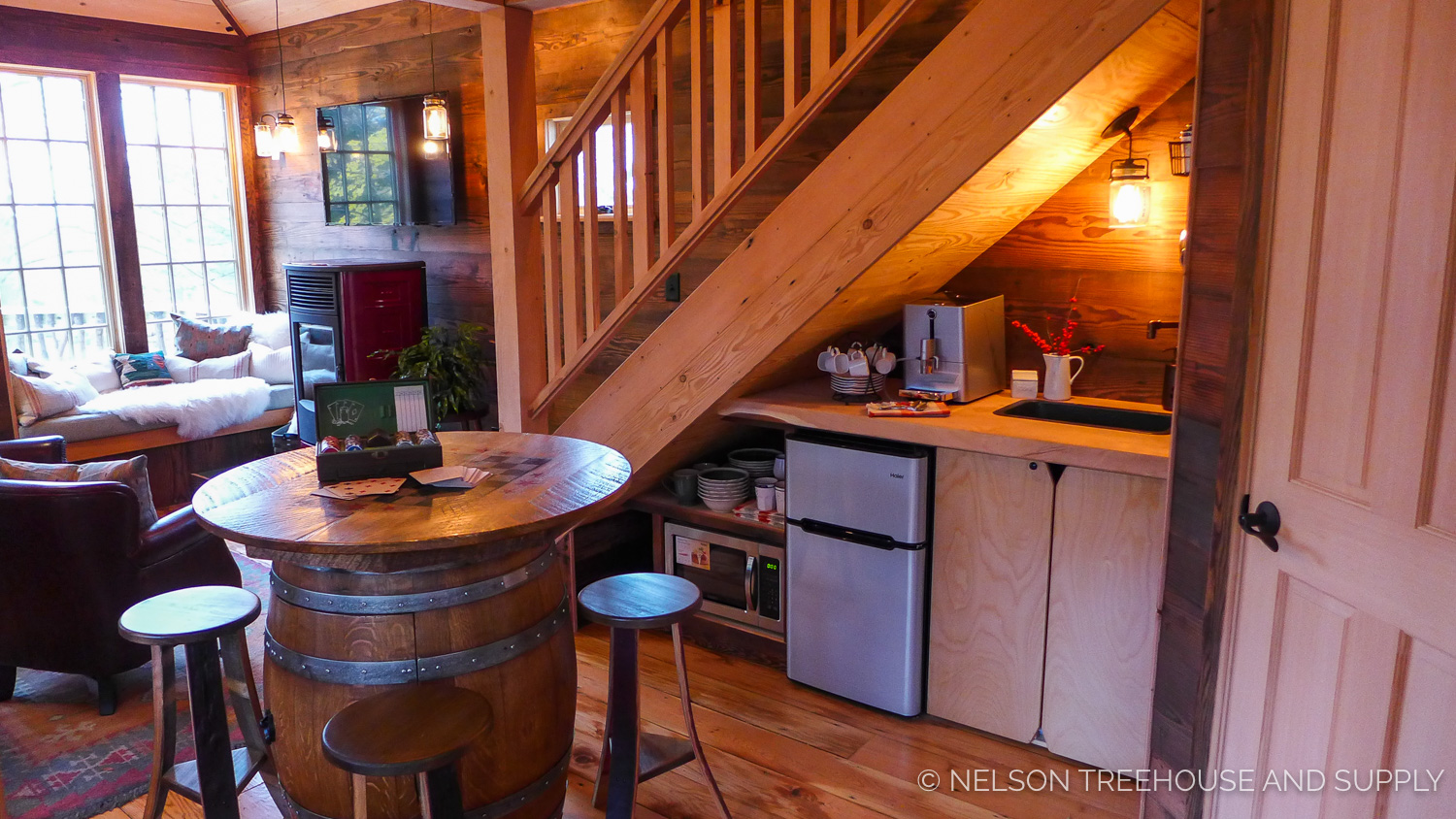 A kitchenette is tucked underneath the staircase.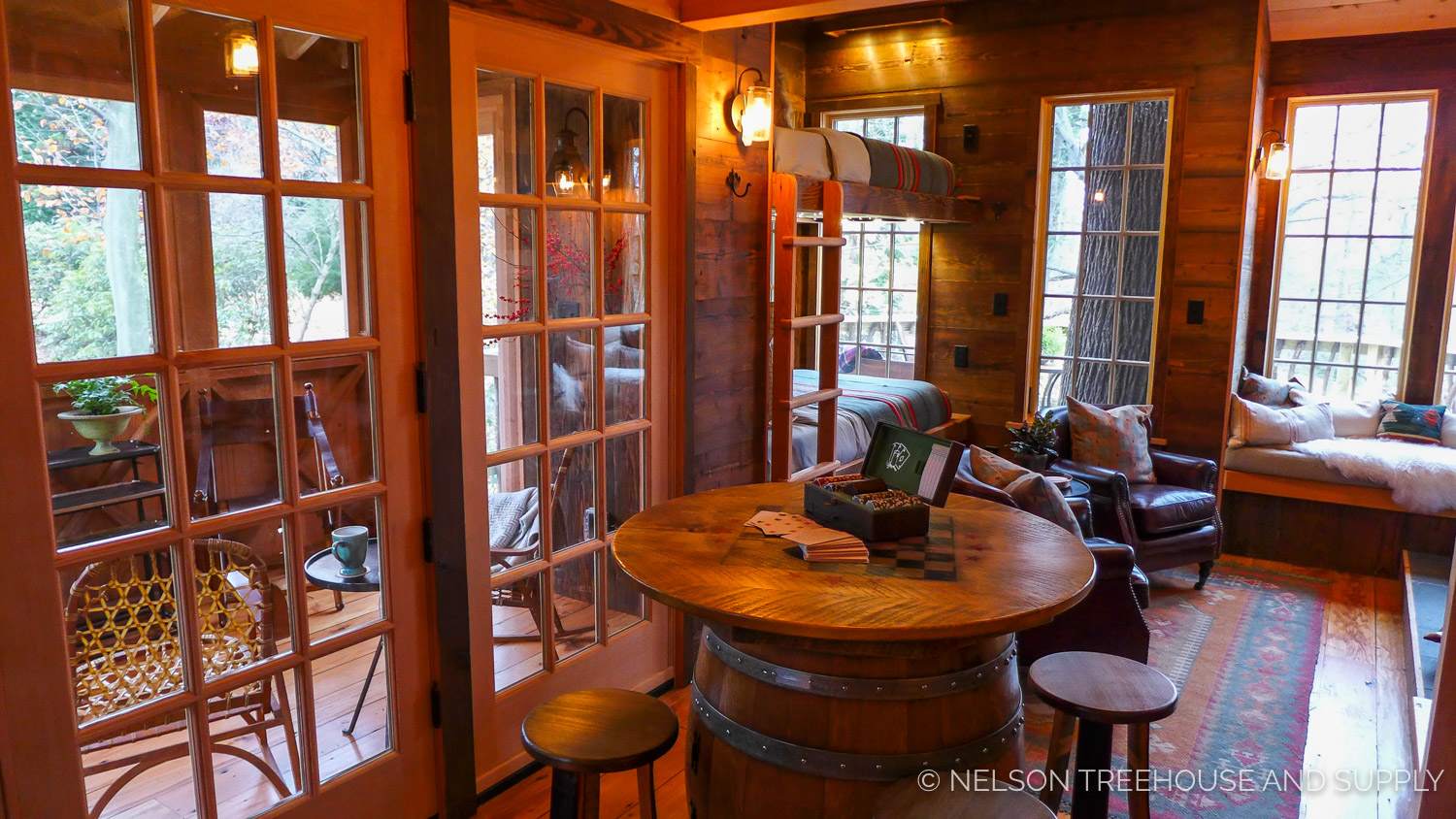 Inside, all of the custom built-ins, paneling, and trim are made of beautiful reclaimed wood. It gives the treehouse a cozy, inviting character.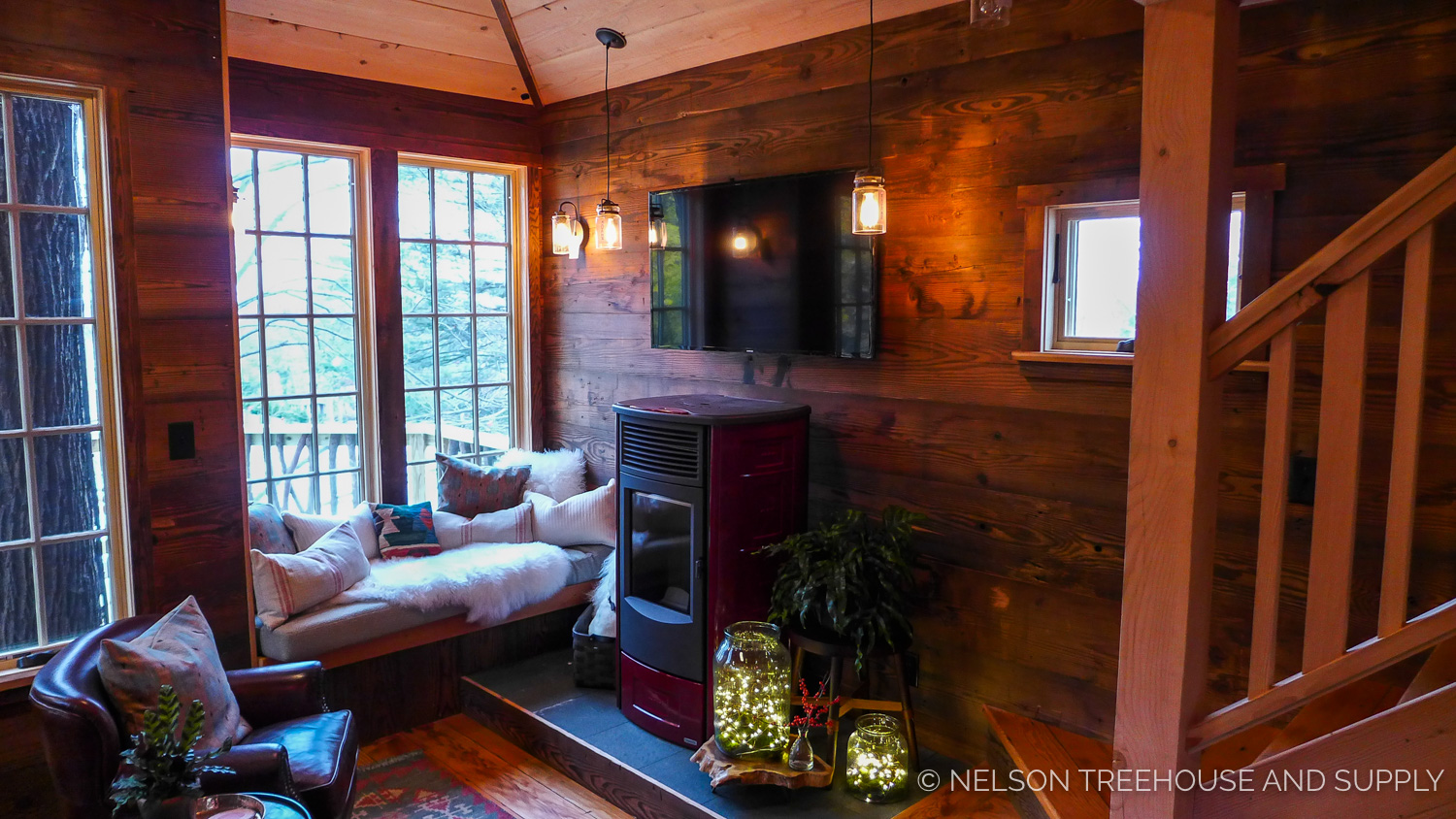 The built-in daybed nook makes the perfect place to curl up with a good book, while the wood stove keeps the space toasty and warm.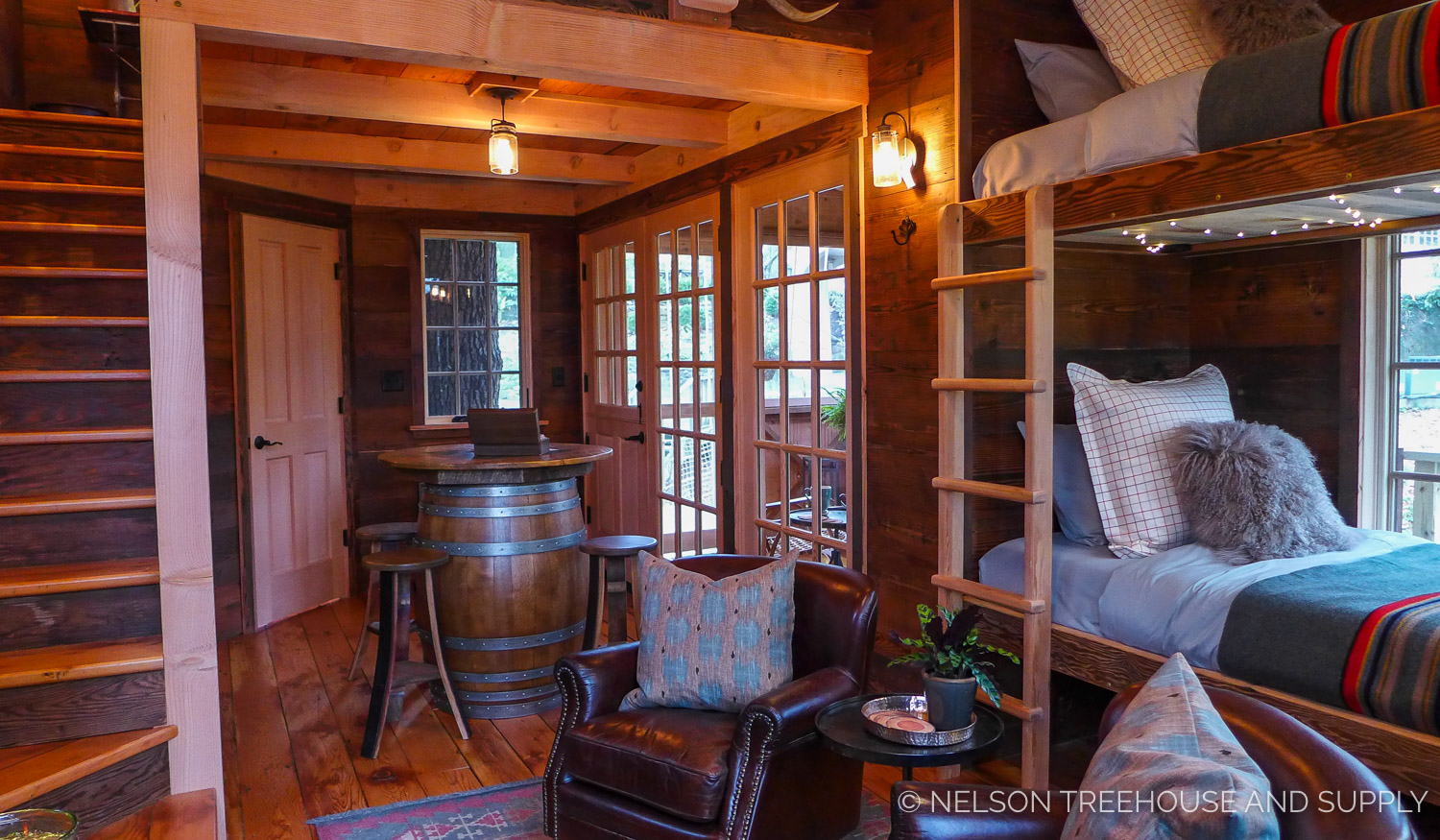 Built-in bunk beds make the treehouse the ideal sleepover space!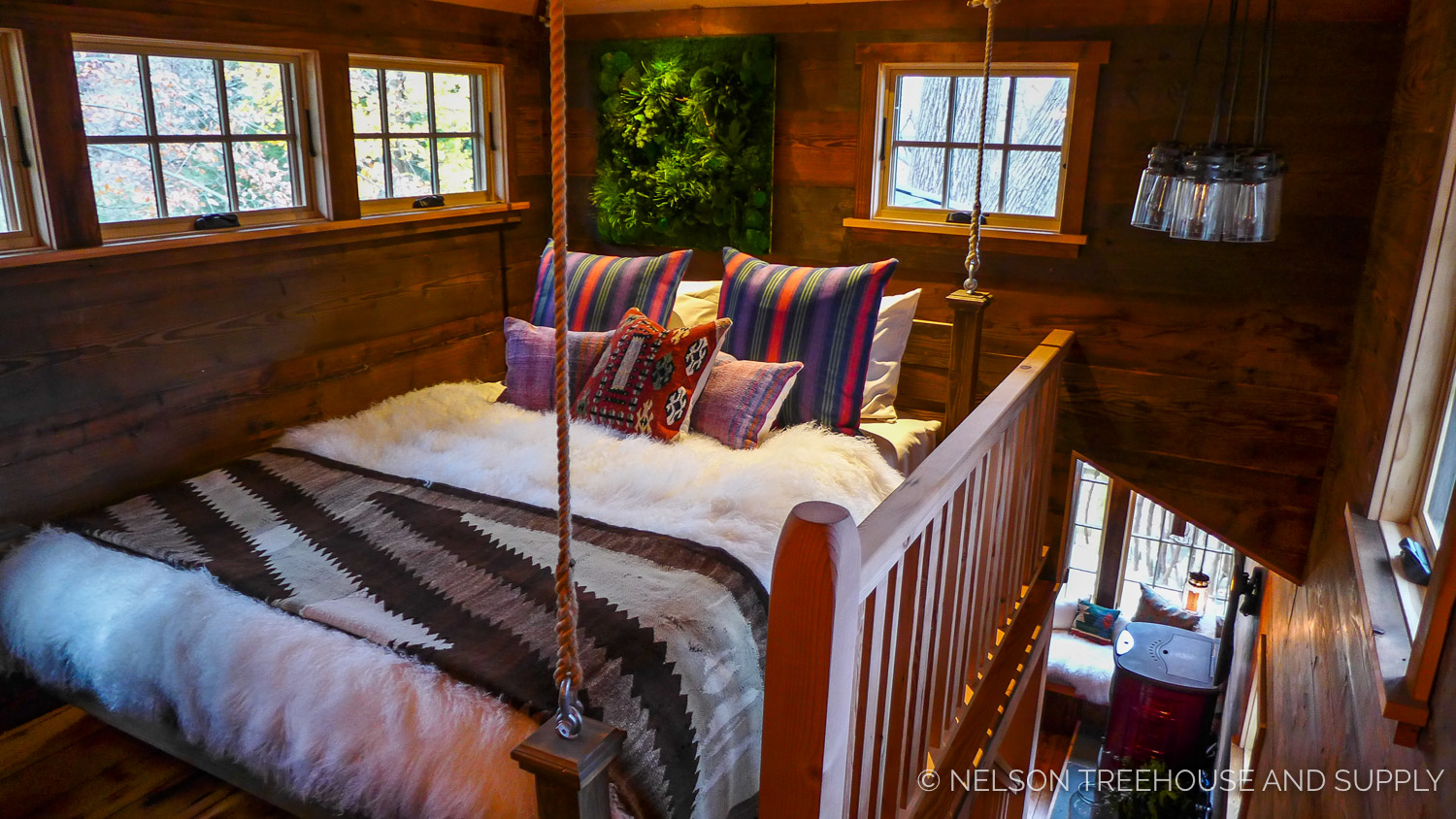 Upstairs in the loft, a queen-sized Carolina Hanging Bed ensures the sweetest of dreams.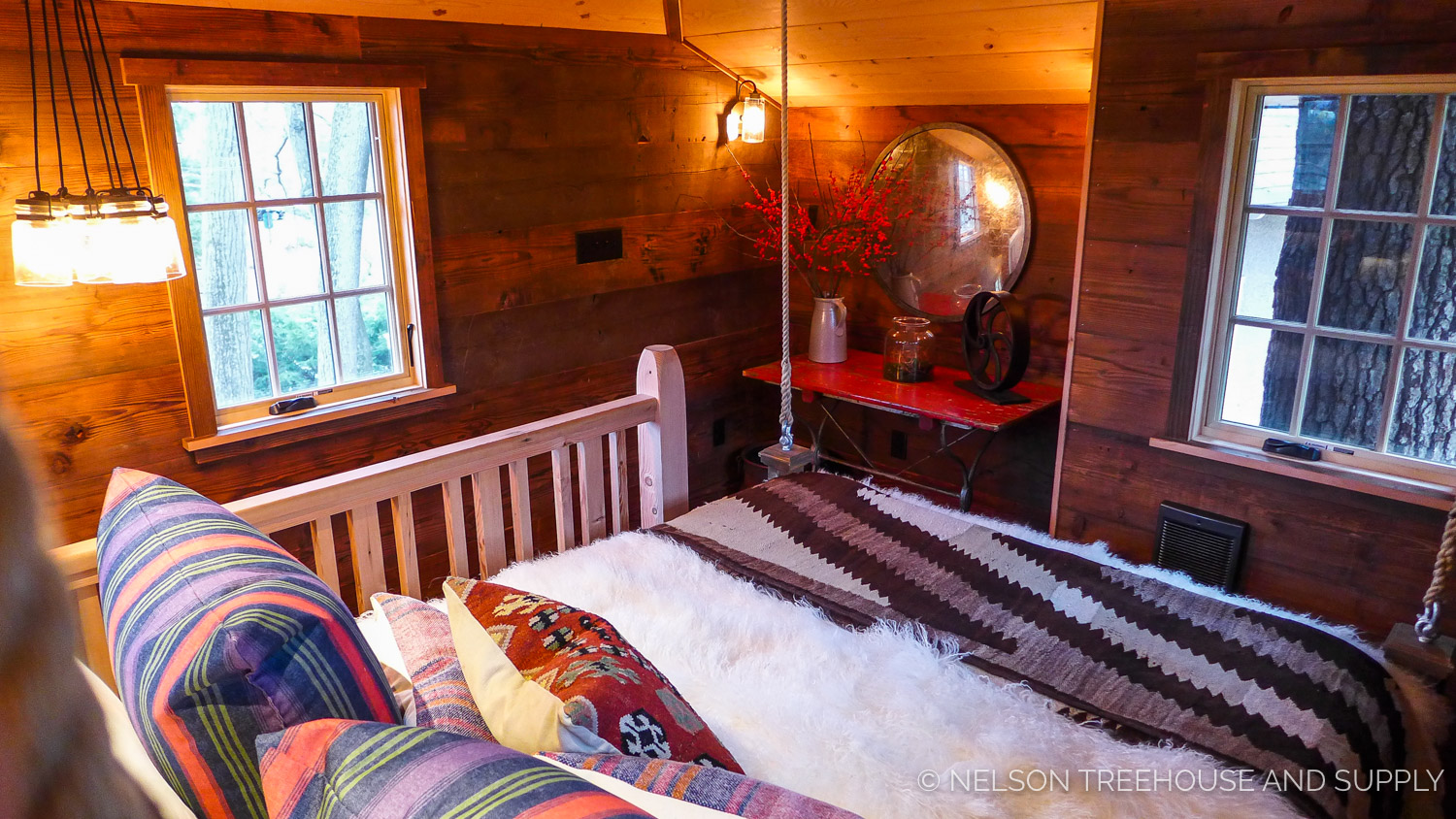 Interior designer Christina Salway knocked it out of the park with these comforting, cozy, and rustic furnishings.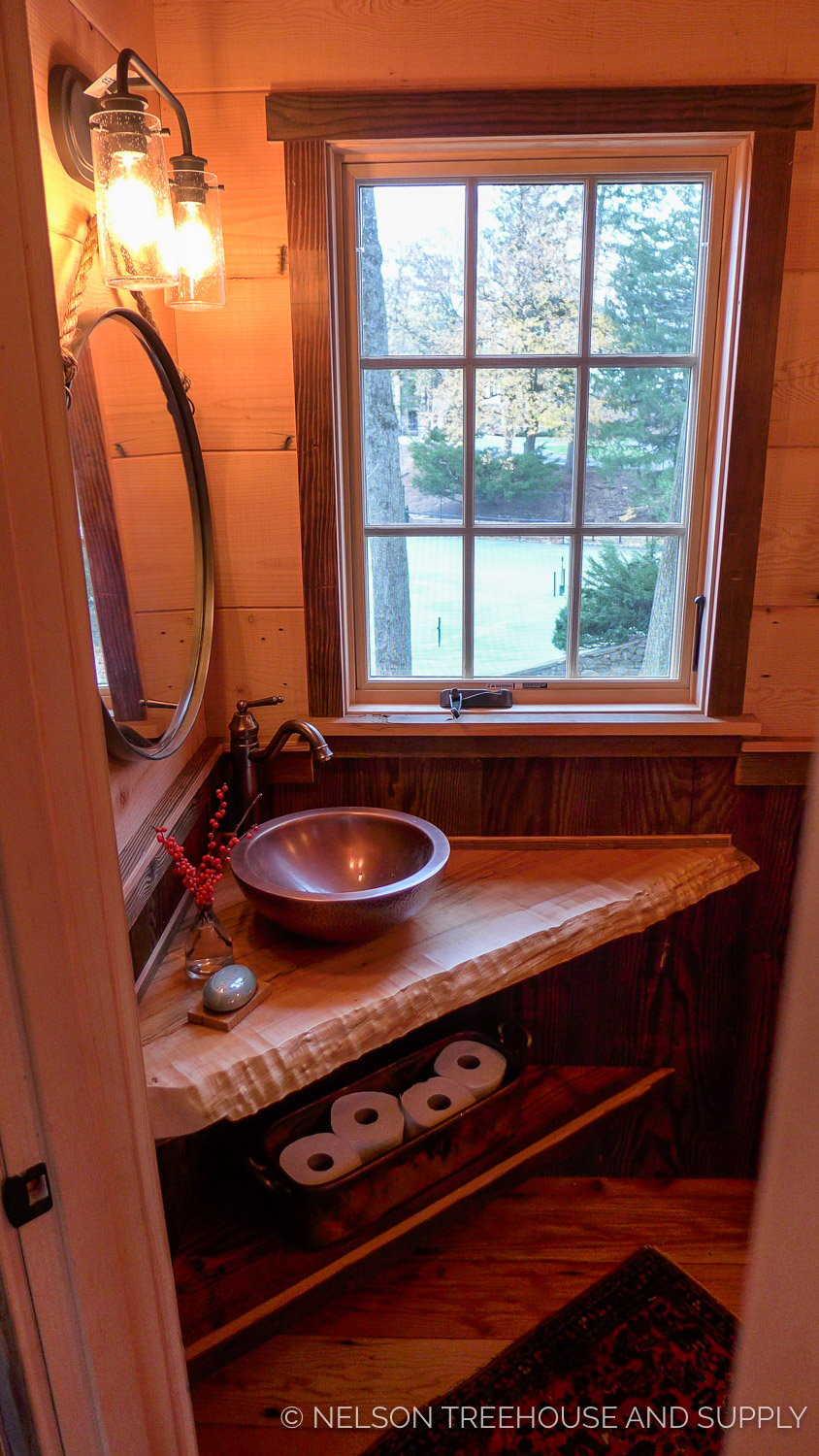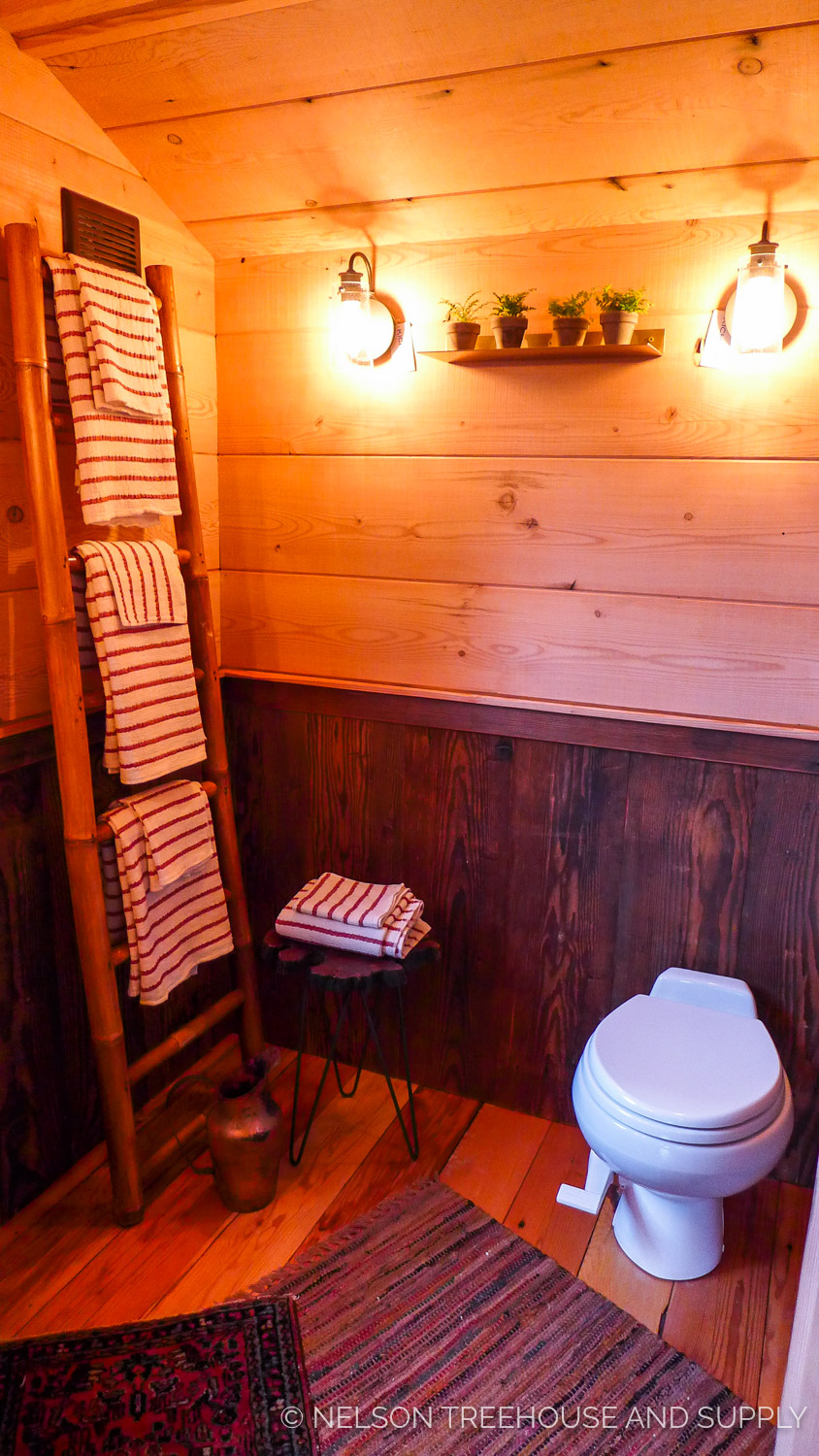 The composting toilet inside the bathroom on the main floor neatly stores its composting section in a separate unit outside the treehouse. A live-edge wood slab adds an artful touch to the sink counter.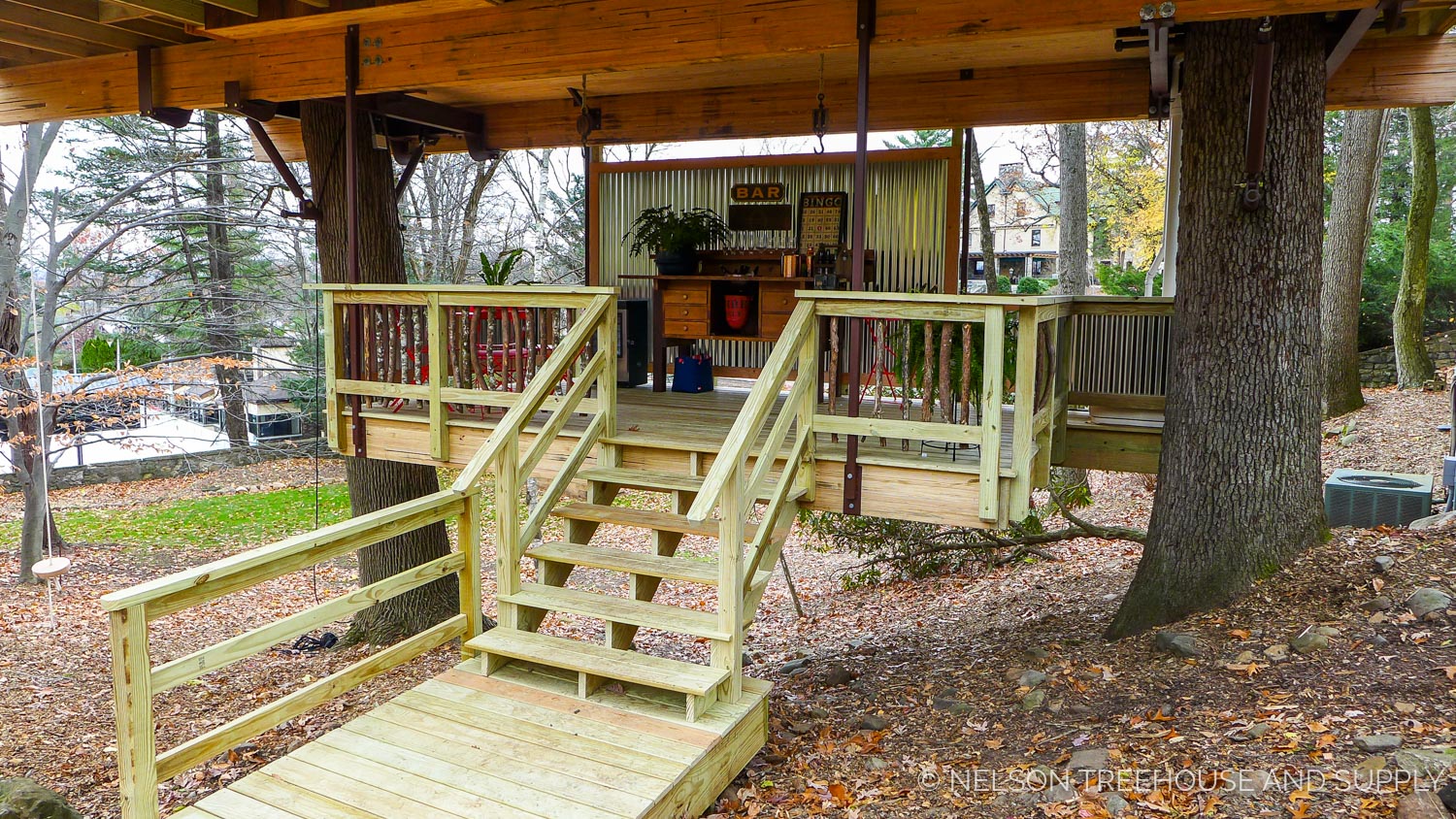 A second deck lies beneath the treehouse, suspended from the platform by metal hangers.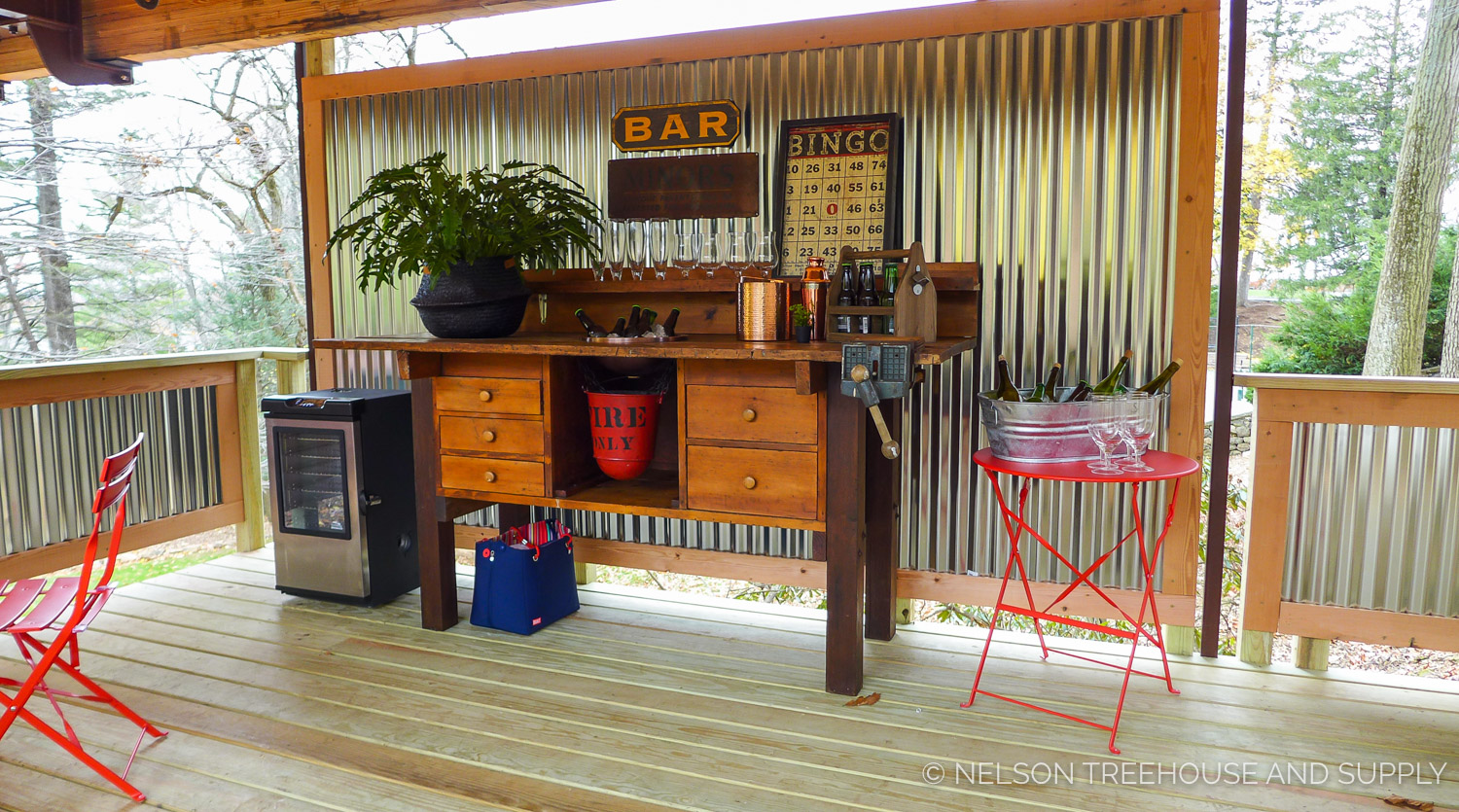 The bottom deck holds a bar and extra seating.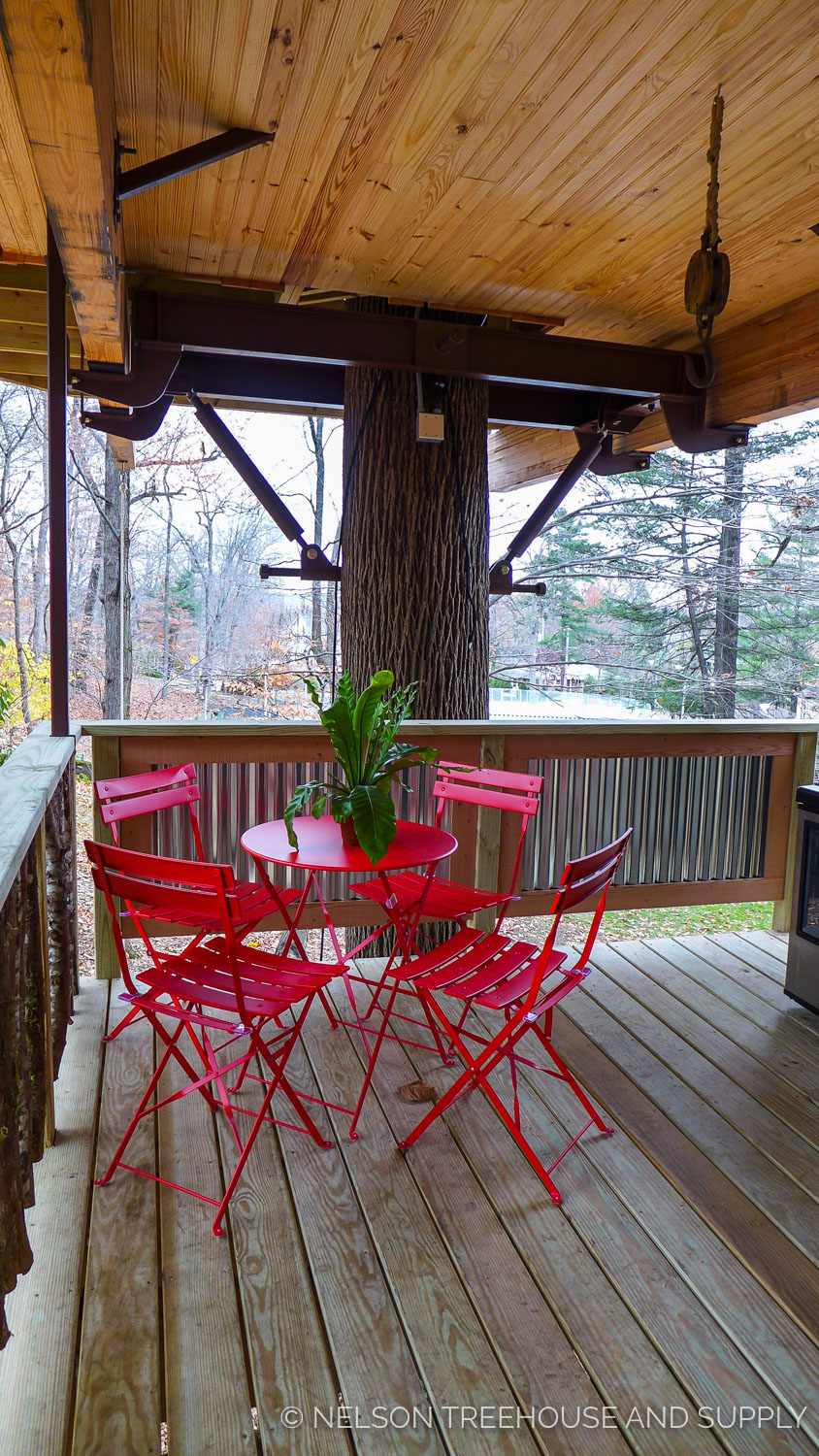 By hanging from the platform, the bottom deck minimizes the impact on the ground.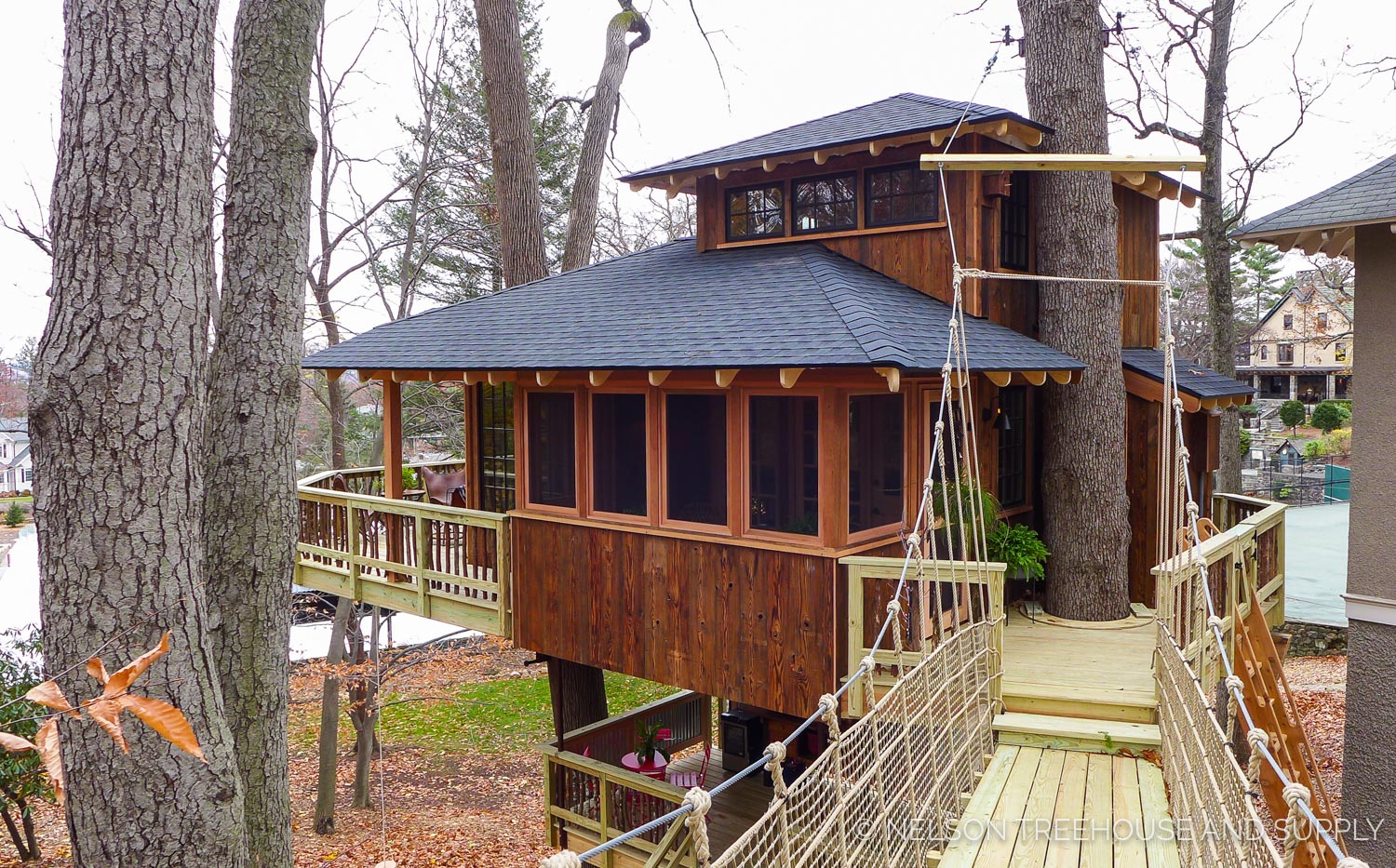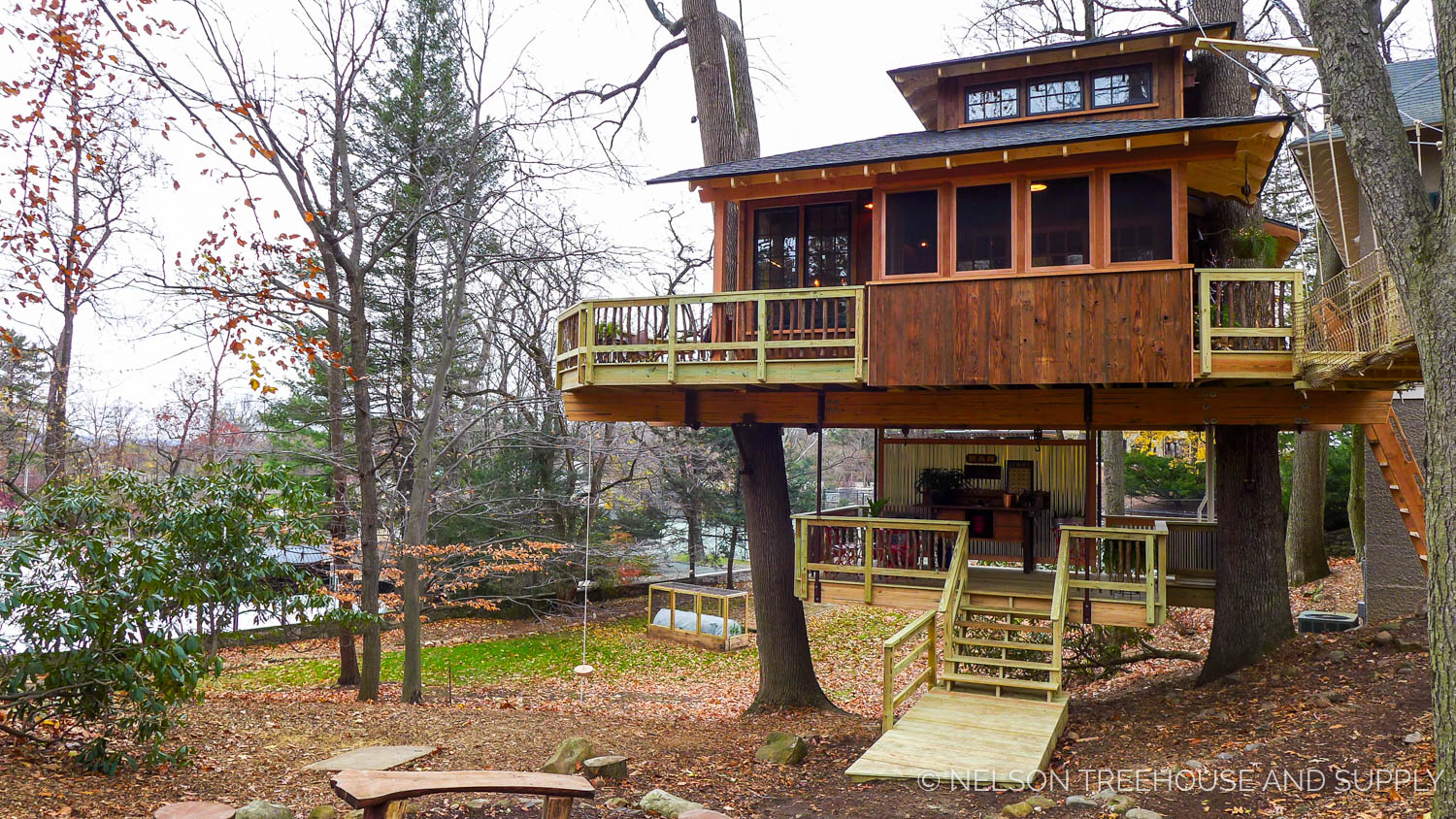 This arboreal cabin is dressed to the teeth with treehouse splendor, yet manages to balance luxury with a minimal environmental footprint.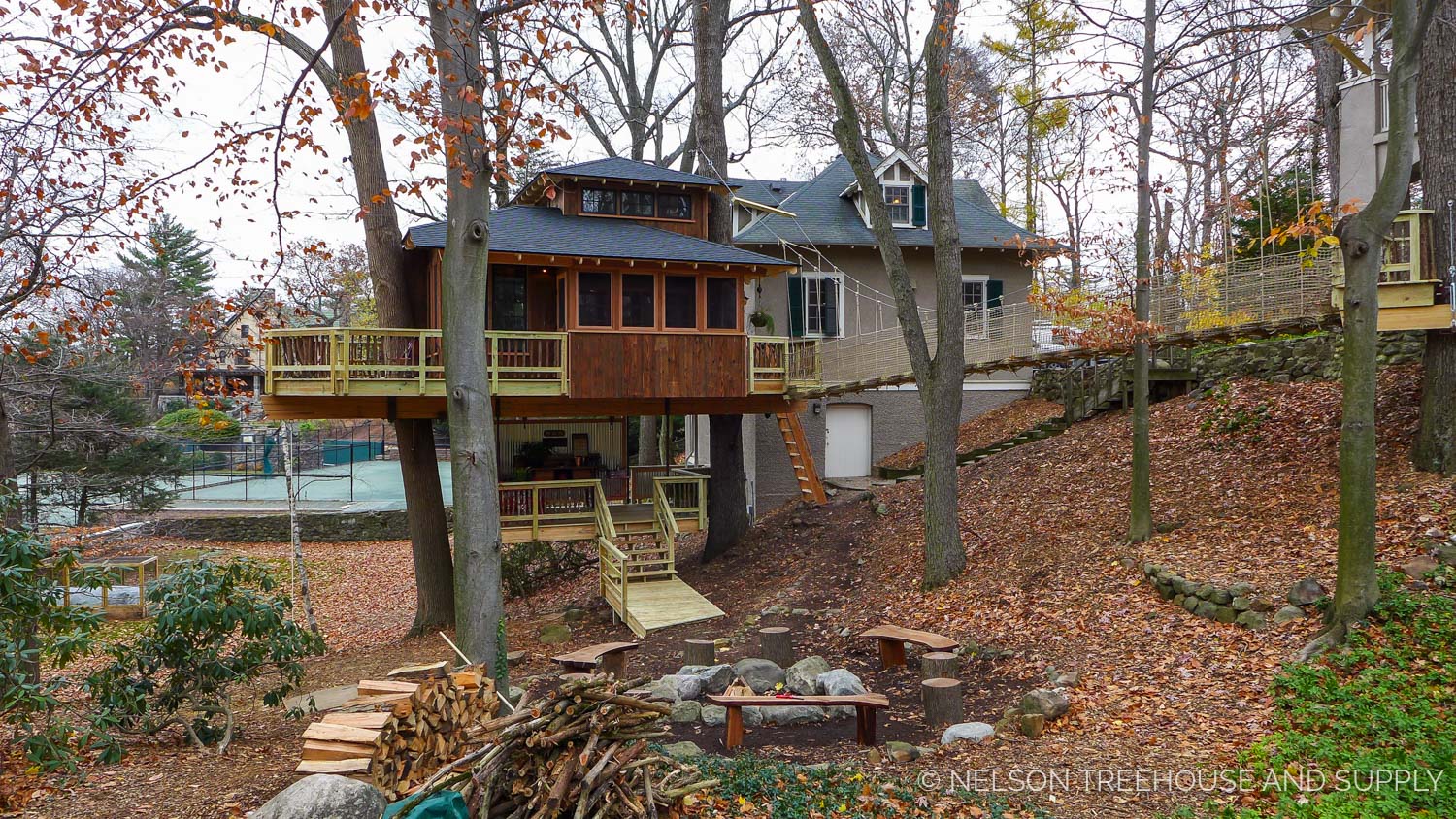 Thank you, Ranell and Mike, for allowing us to build your glamping retreat!
To stay up-to-date on photo tours of treehouses from this all-new season of Treehouse Masters, subscribe to our newsletter and give us a follow on Facebook and Instagram.
To the trees!