When Grace VanderWaal announced that she was hoping to use her winnings from America's Got Talent on a "sick treehouse," we couldn't have been happier! It was such an honor to work with Grace to bring her treehouse dreams to life.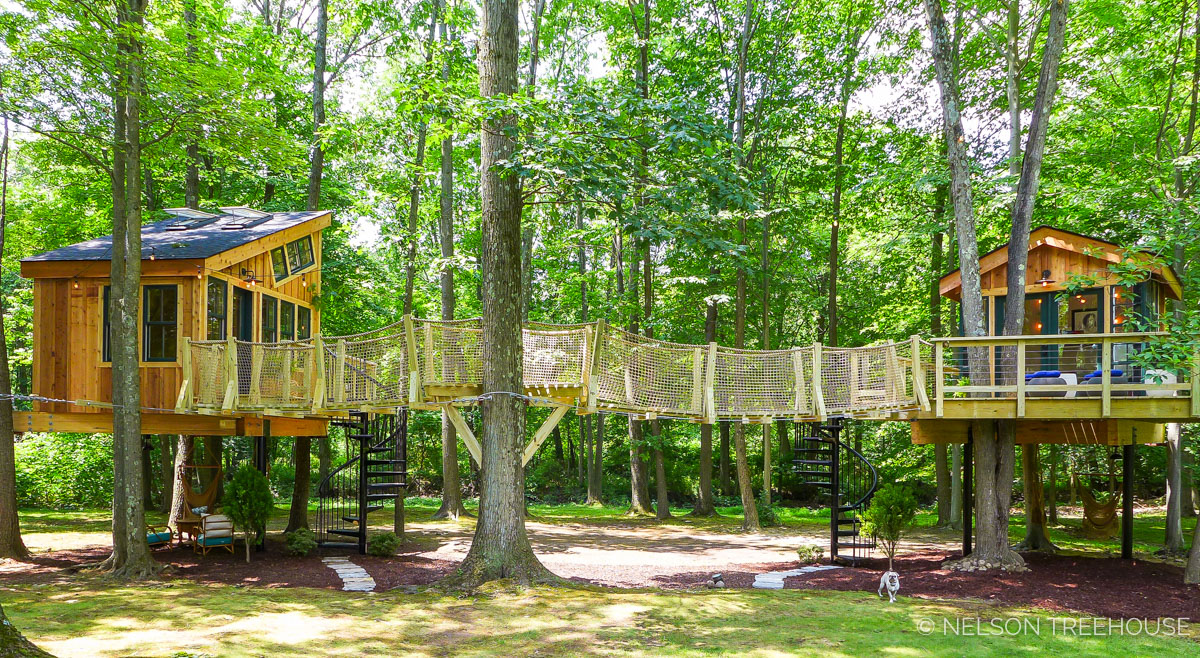 Grace's treehouse is nestled in a diverse grove of trees including white oak, chestnut oak, maple, and beech. It consists of two distinct pods connected by a bouncy cable bridge. The pod on the left in the photo above is Grace's main lair, while the pod on the right makes the perfect art studio for Grace's older sister.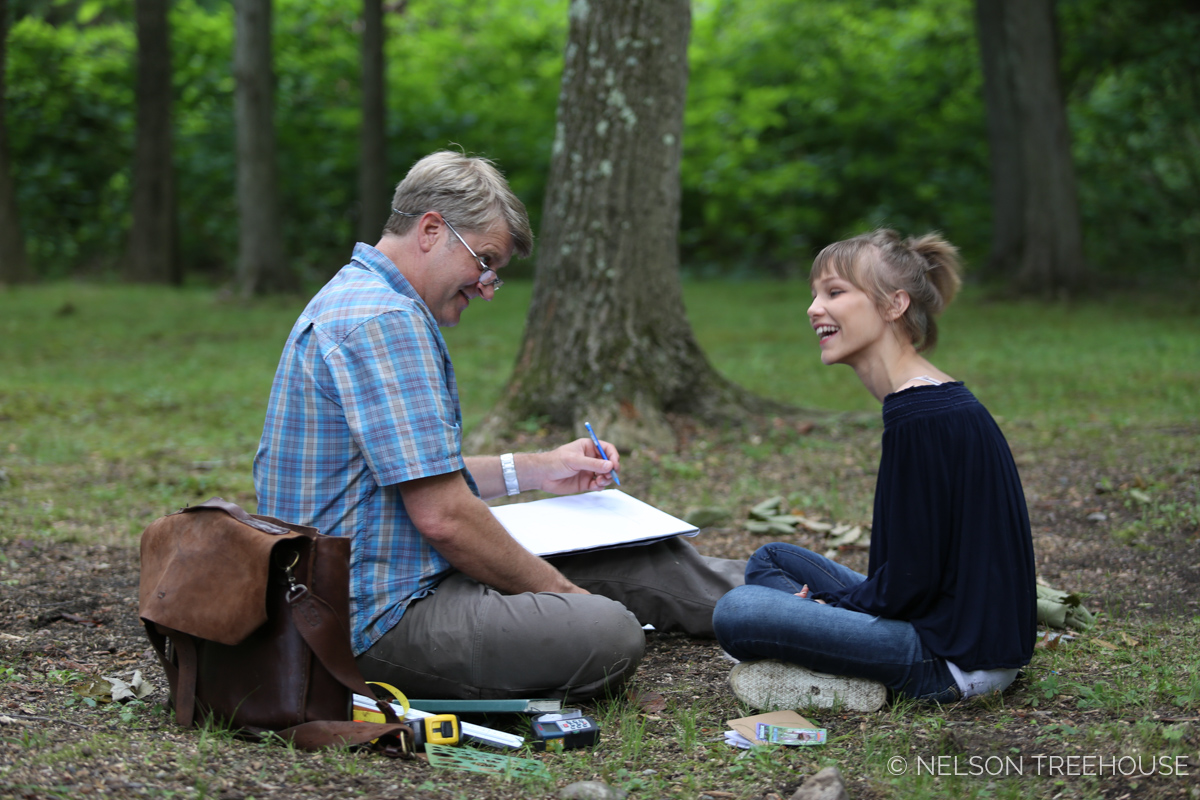 Grace came to Pete with a clear vision for her treehouse: she wanted it to look rustic, as simple and close to its treehouse roots as possible. Visible nails, exposed studs, off-kilter planks on the bridge were all good by Grace! The crew had so much fun collaborating with Grace to bring her desired sense of adventure and whimsy to the treehouse.
Metal spiral staircases provide access to both of the pods. Grace's pod sits 10 feet high, while her sister's pod nestles 12 feet off the ground. Both pods are level to one another despite the elevation difference (the slope of the ground accounts for this).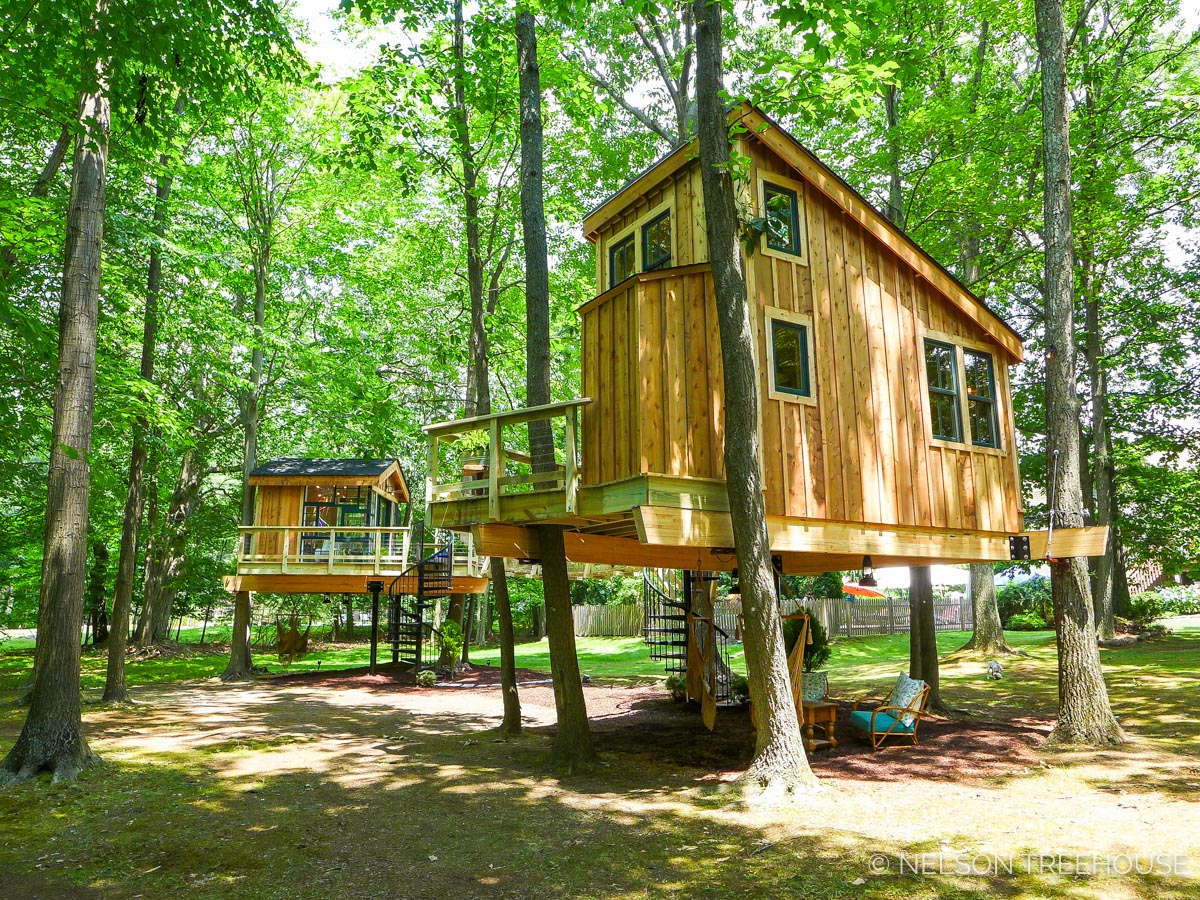 The pods required the additional support of a few metal posts. Cedar wood board and batten covers the facade of both pods.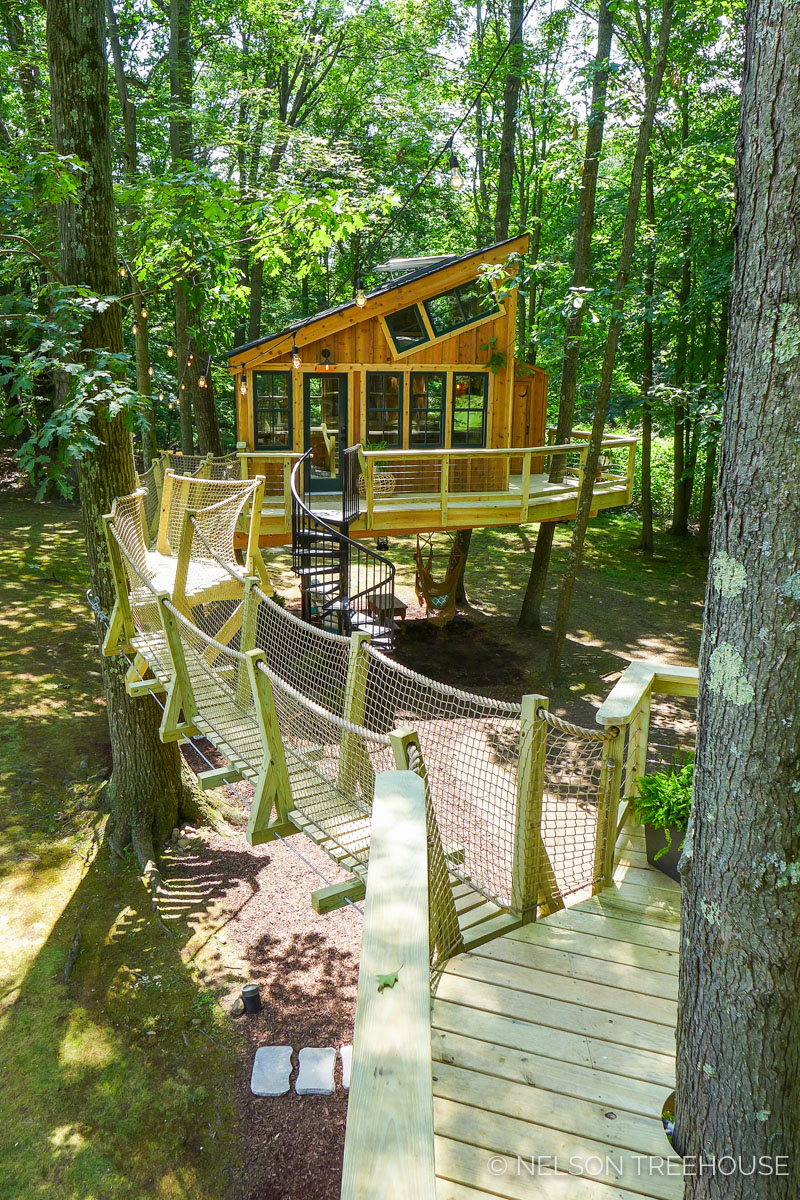 Grace asked the crew to irregularly space the planks on the bridge to capture an "Indiana-Jones-esque" vibe.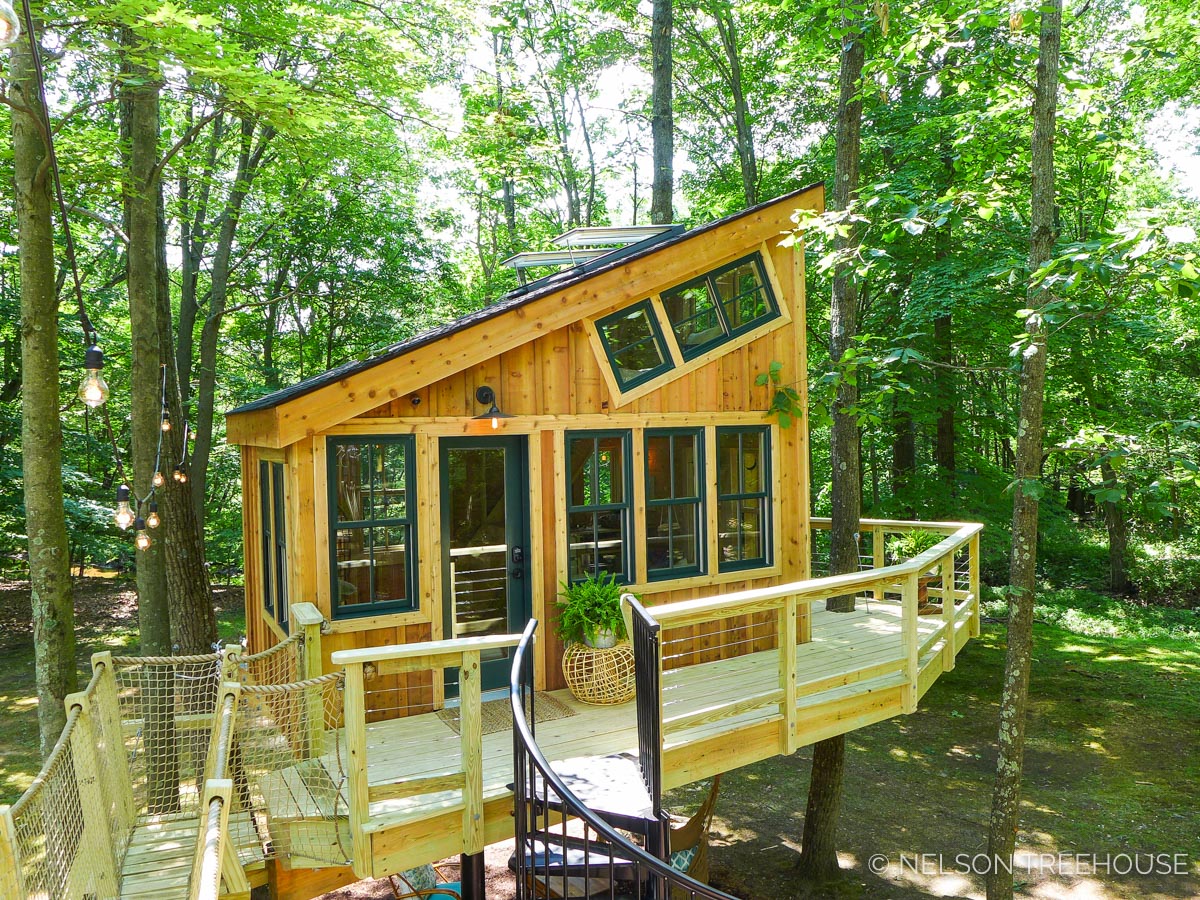 The steep roof pitch and angled windows on Grace's pod also add to the fun, whimsical look of the treehouse.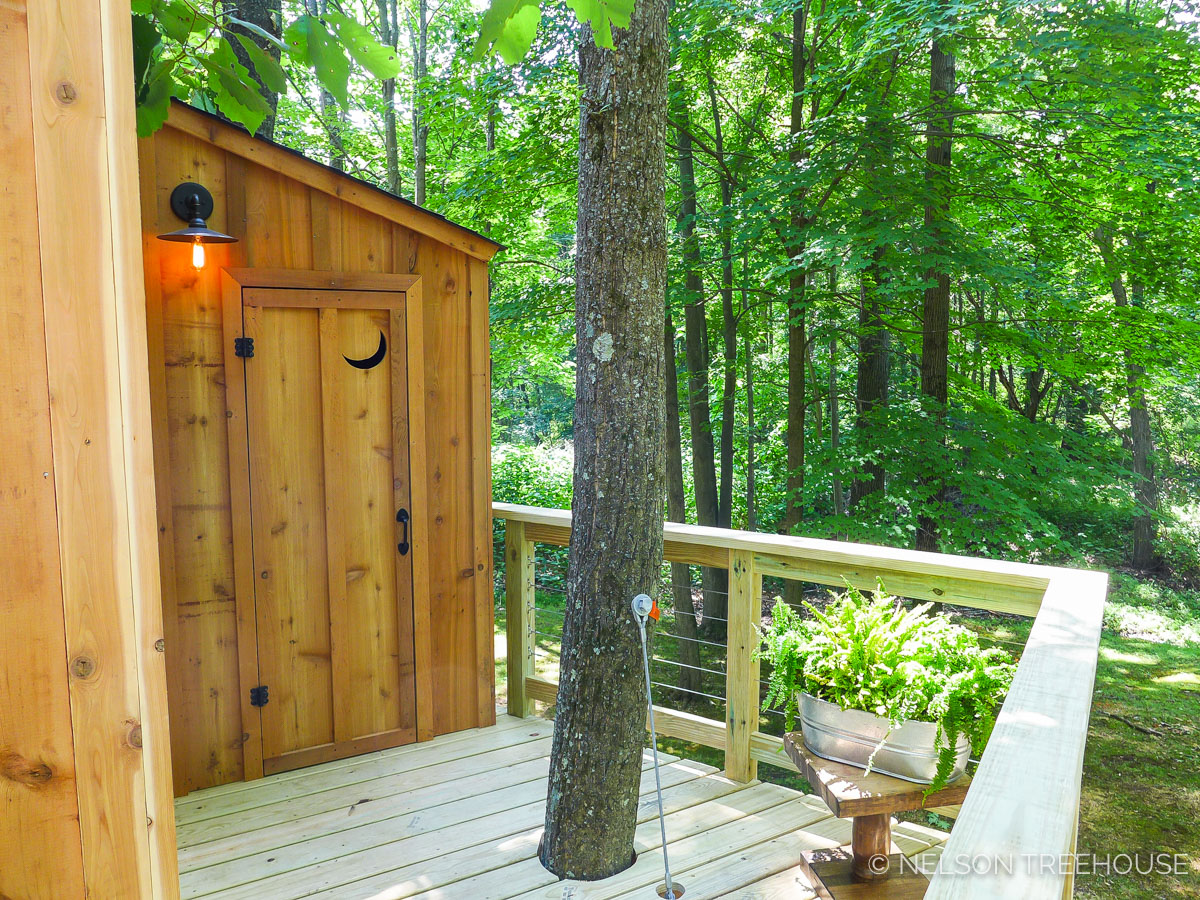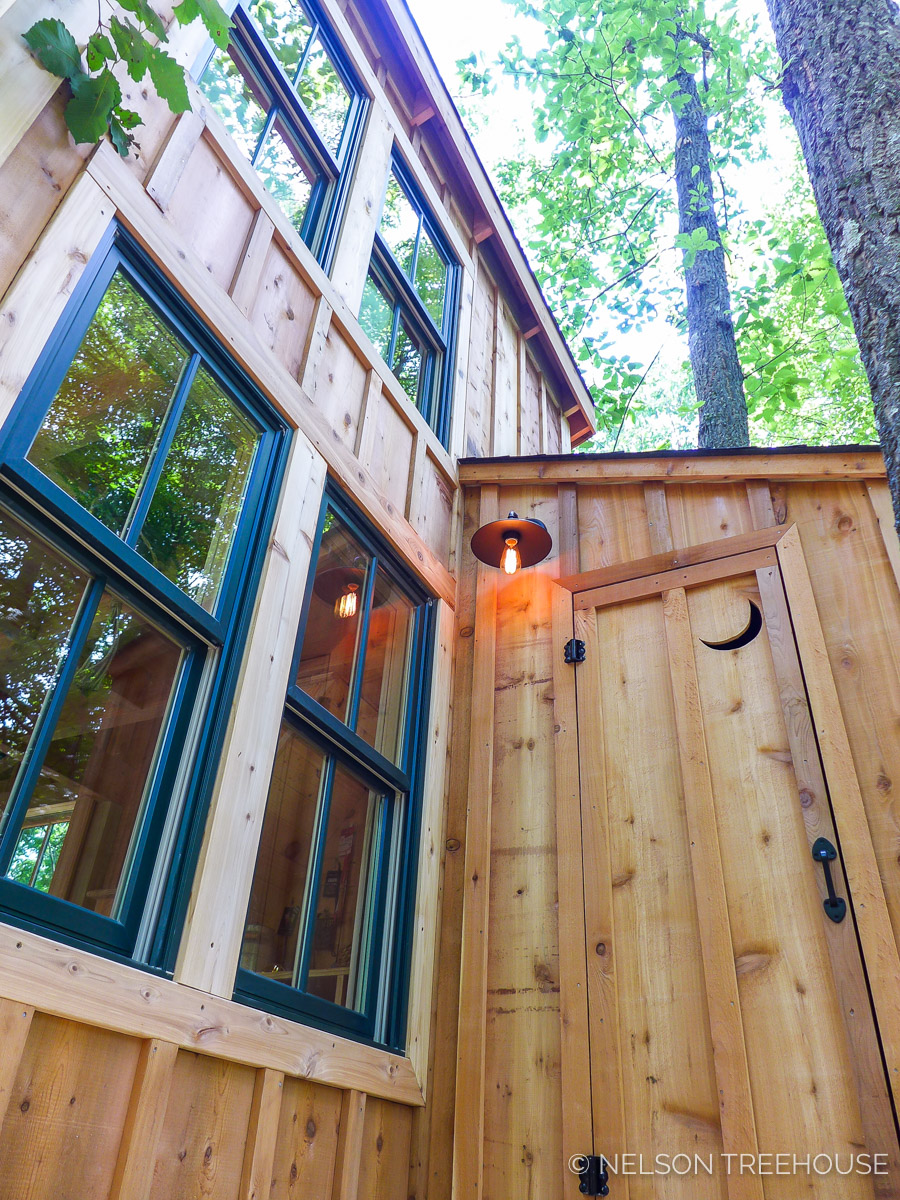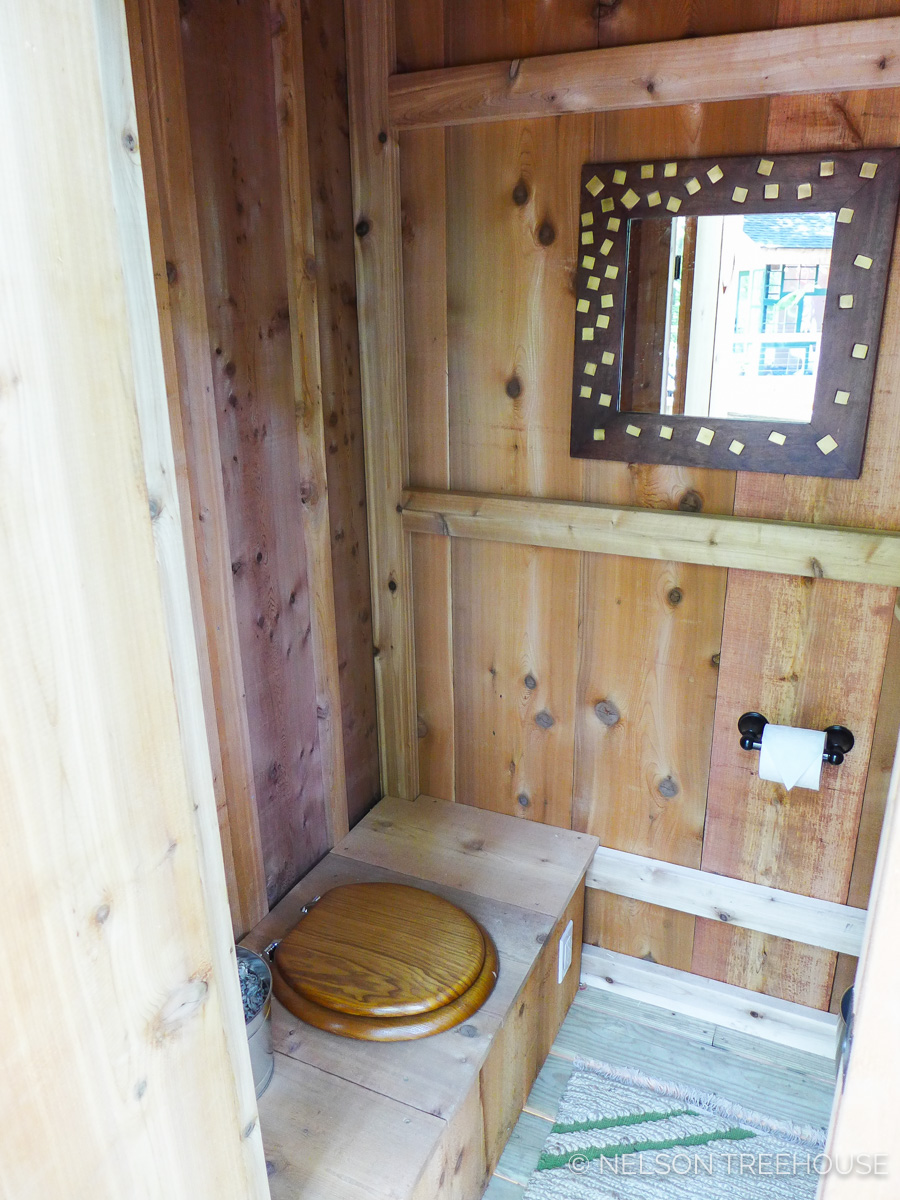 Grace's treehouse includes a simple outhouse with a compostable toilet.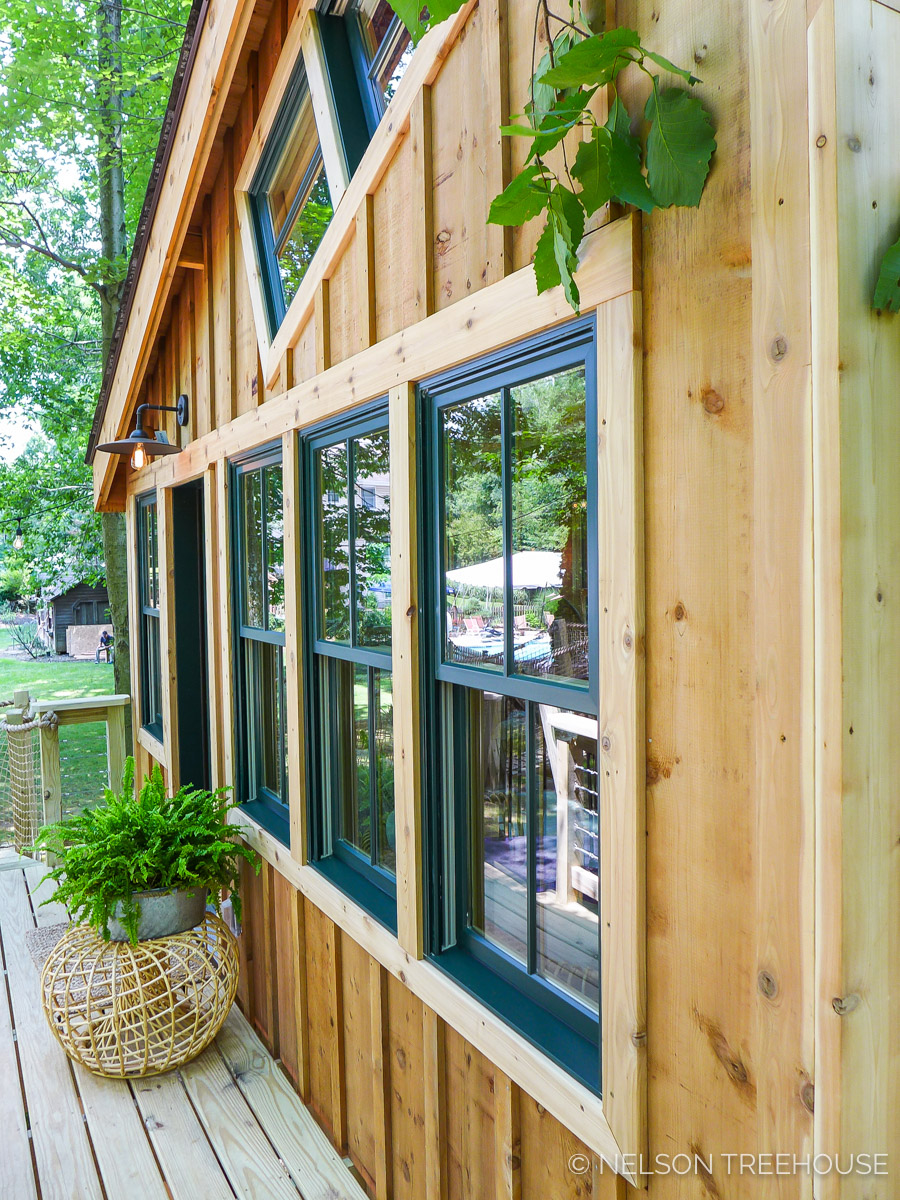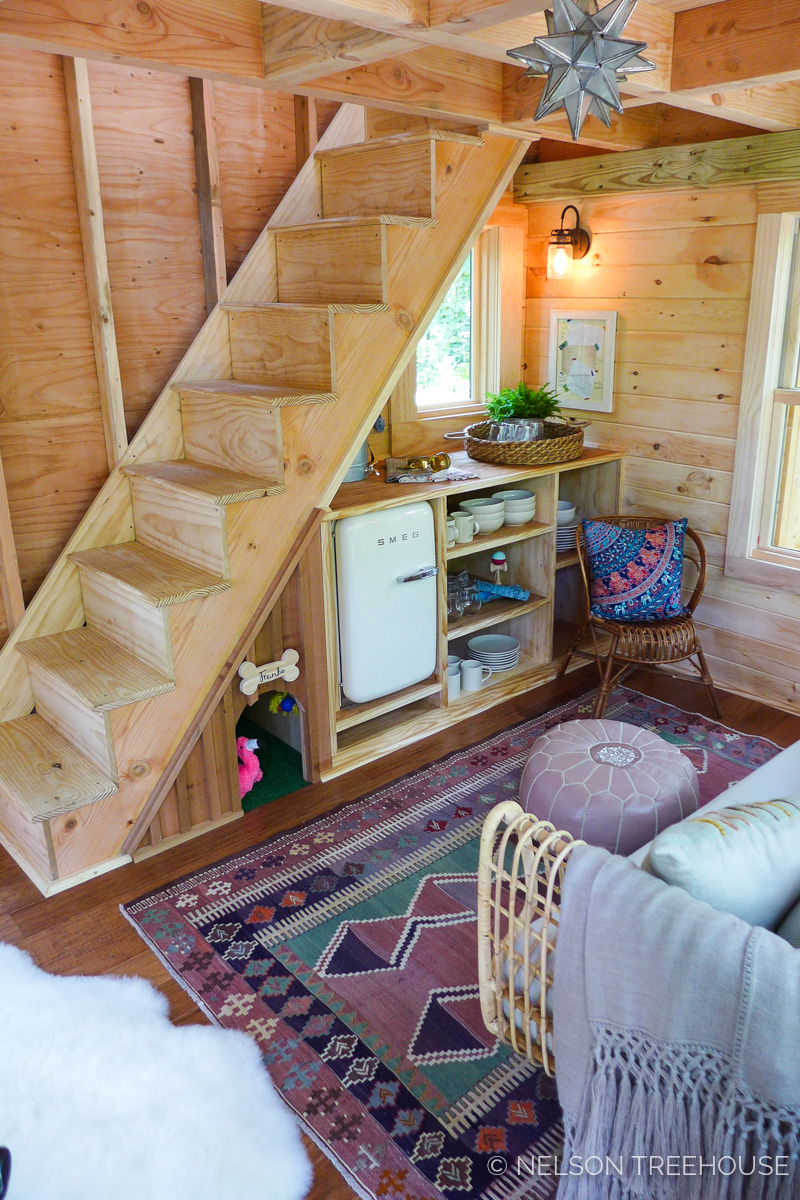 The main floor of Grace's treehouse holds a kitchenette, cozy seating areas, and a nook for her pug, Frankie. Interior designer Christina Salway aced it with the boho furnishings!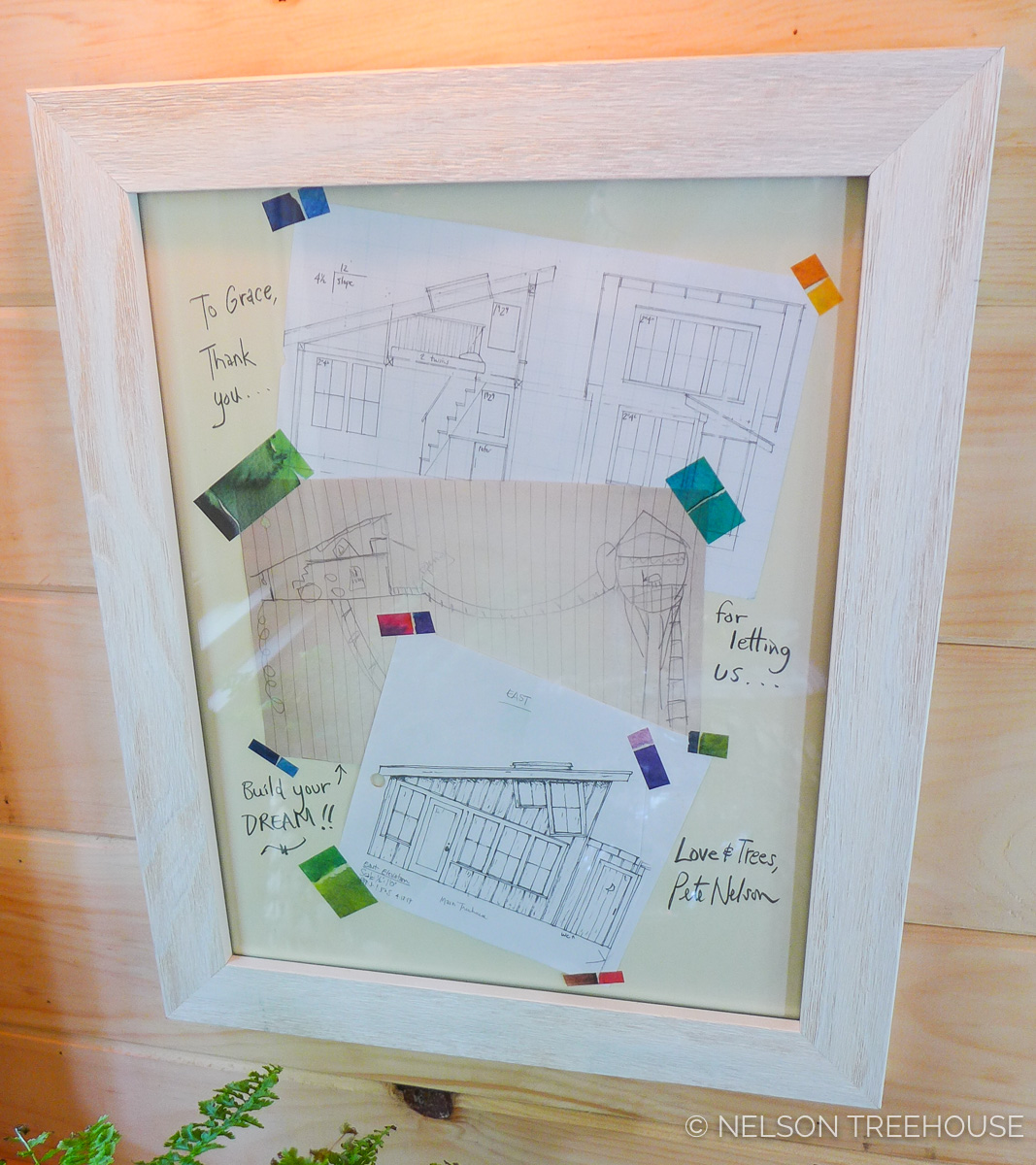 Above the kitchenette hangs a frame with Grace's drawings and Pete's sketches for the treehouse – Grace prepared drawings to illustrate her vision to Pete when they first started dreaming up the build!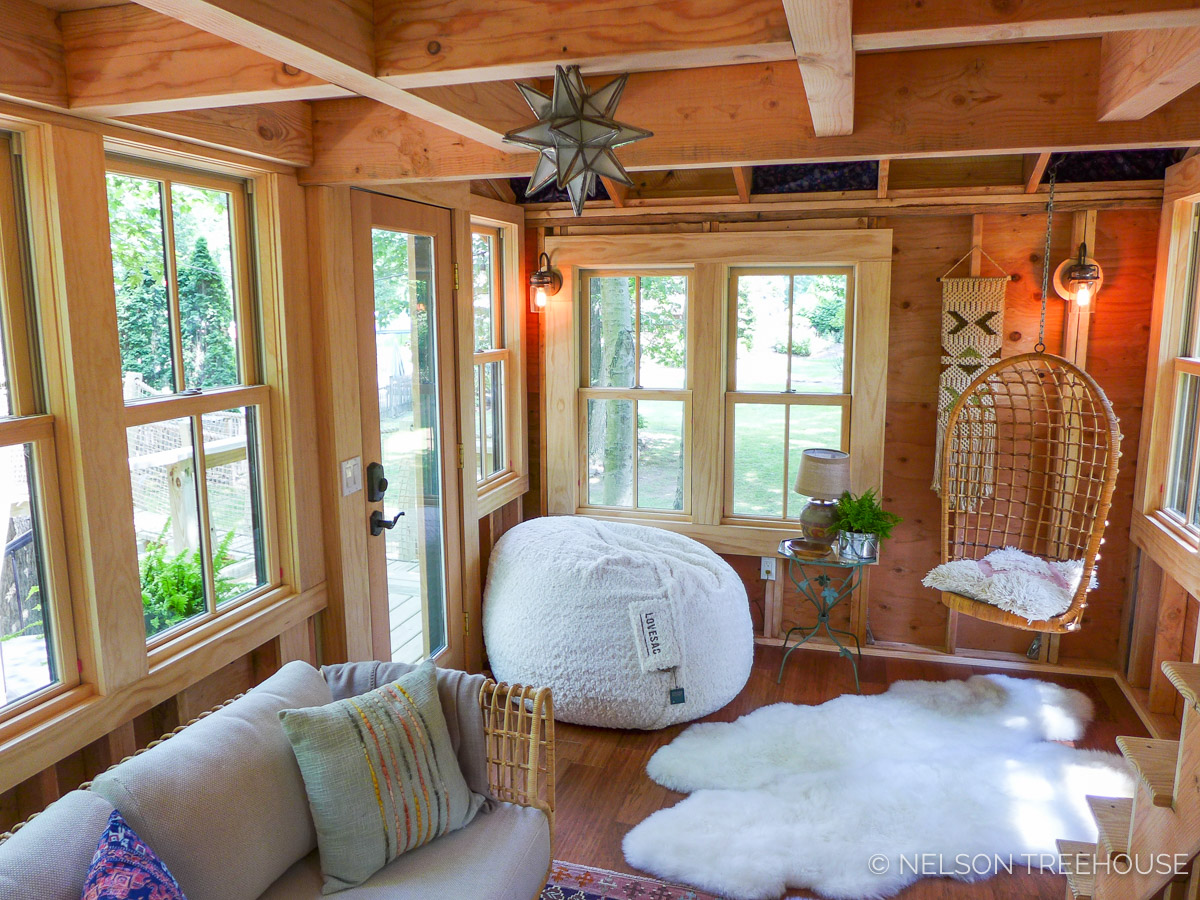 Per Grace's request, the crew kept paneling to a minimum inside this pod. Grace liked the look of exposed studs, as it embodied the classic, rustic feel of a treehouse.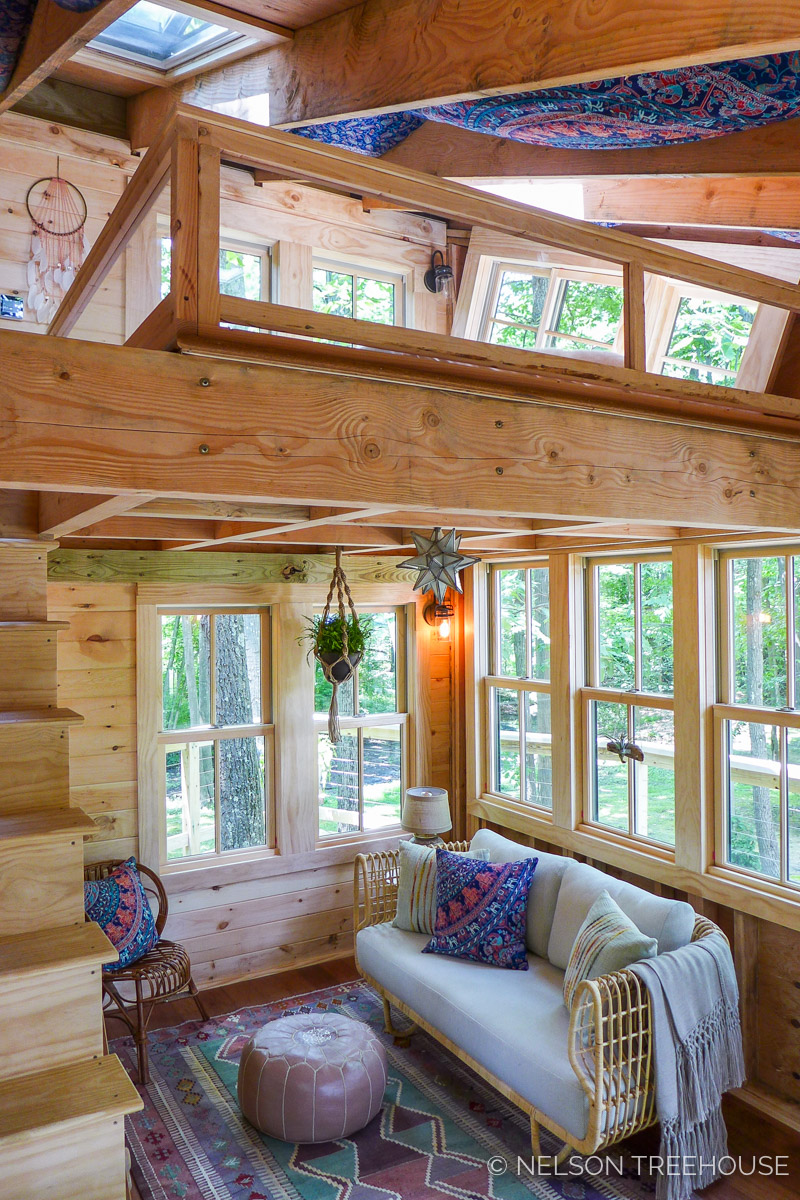 The plethora of windows let in plenty of sunlight.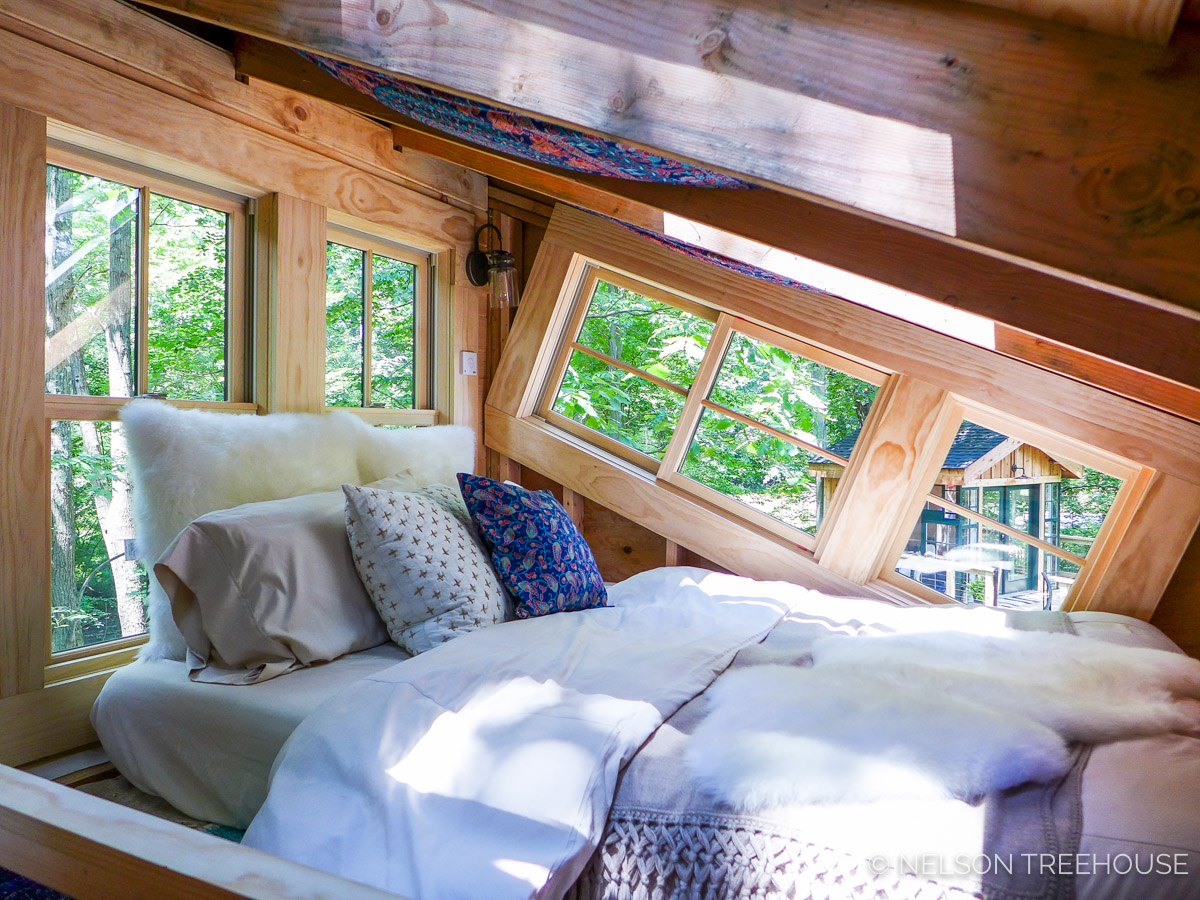 The loft holds a comfy bed. Grace can see her sister's pod from there.
This corner would make the perfect zone for dreaming up new songs!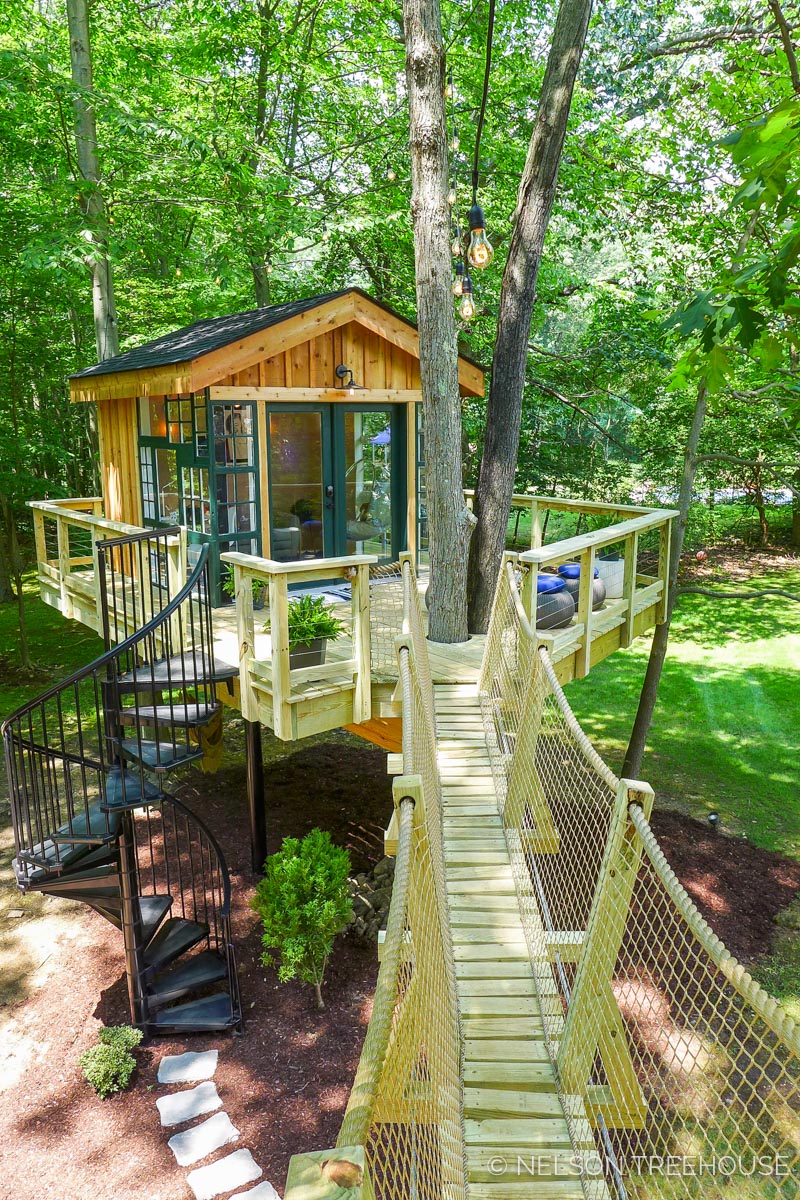 The long, bouncy bridge makes traveling from one pod to the other a fun experience.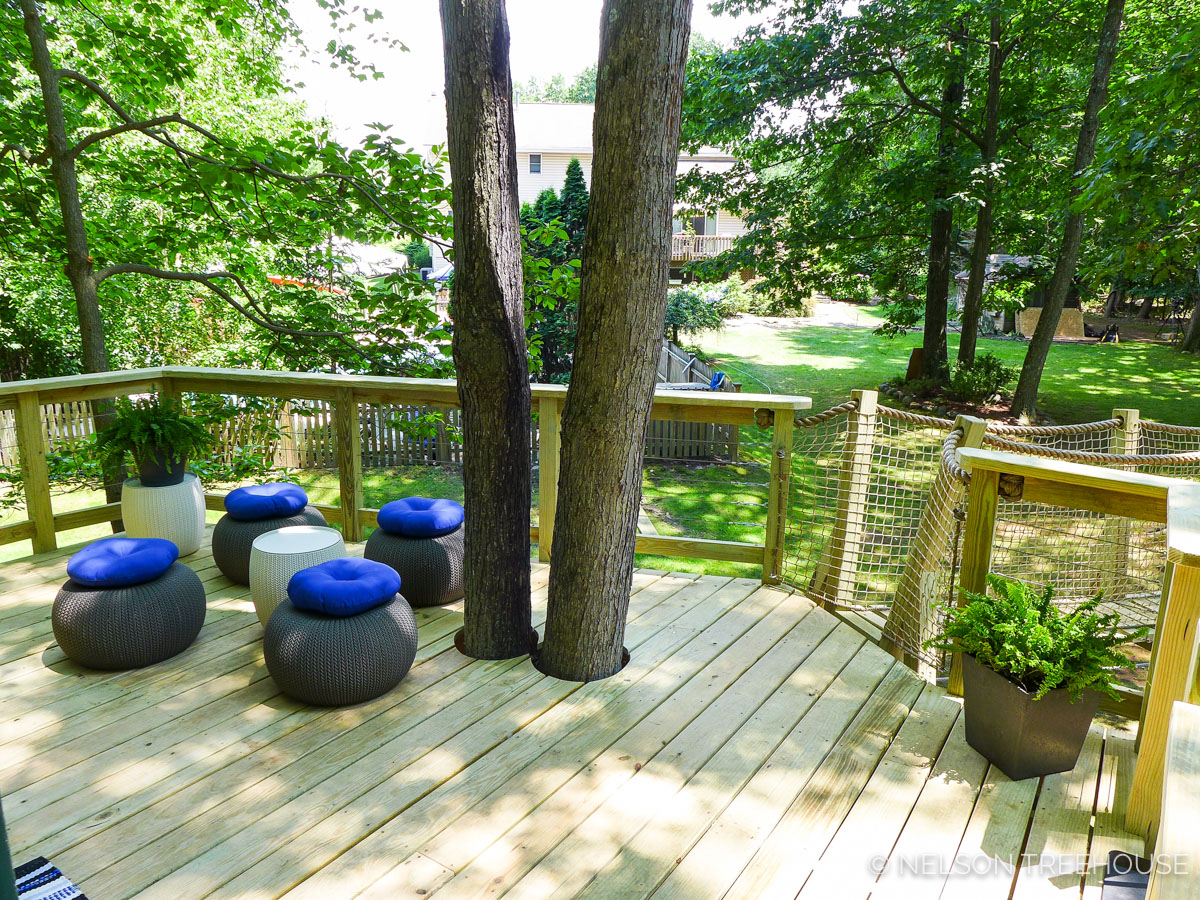 Trees cut through the deck of the second pod.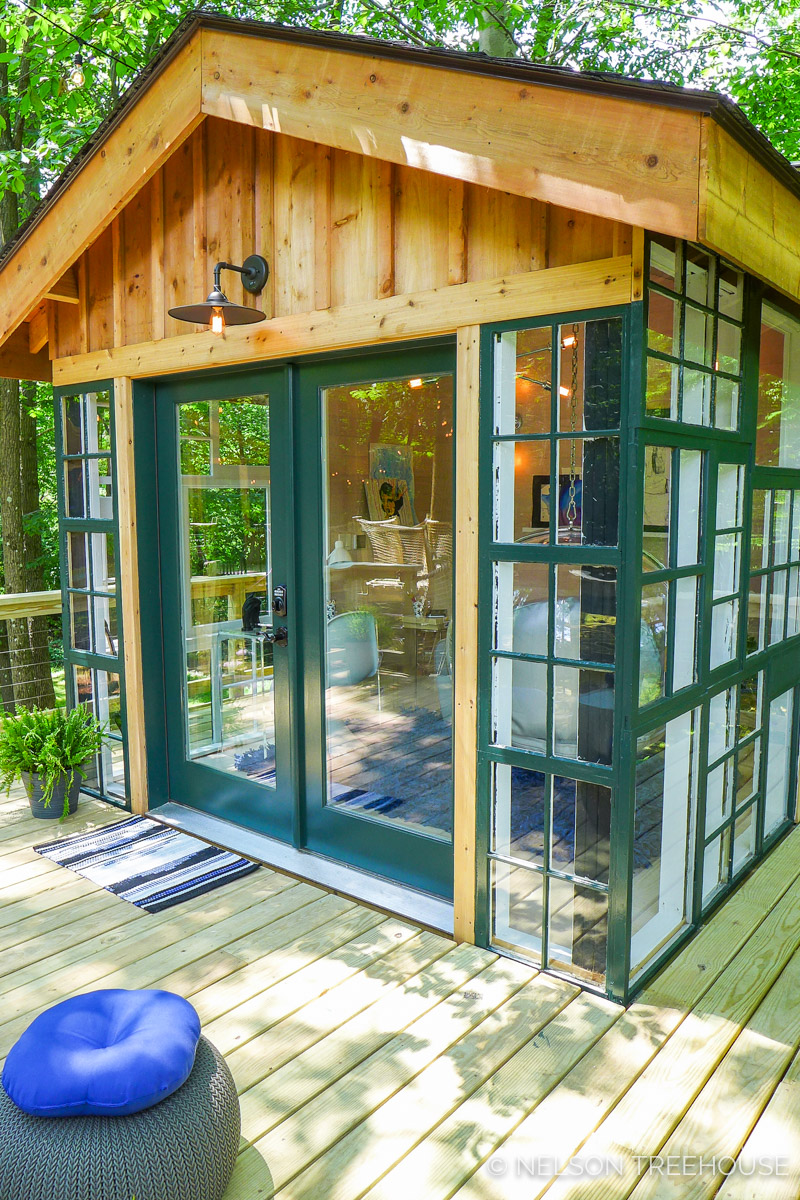 Reclaimed windows form patchwork walls around Grace's sister's pod.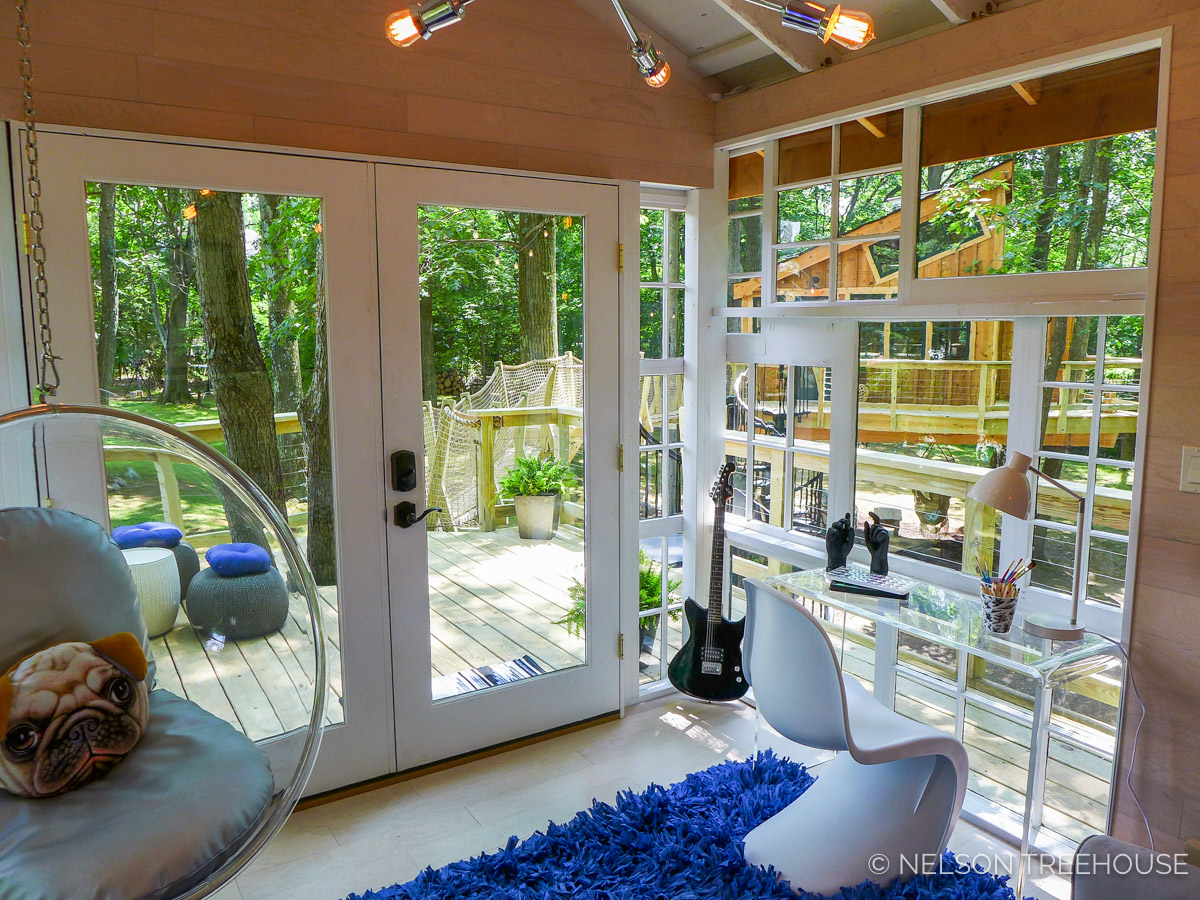 With tons of natural light, this pod makes the perfect art studio.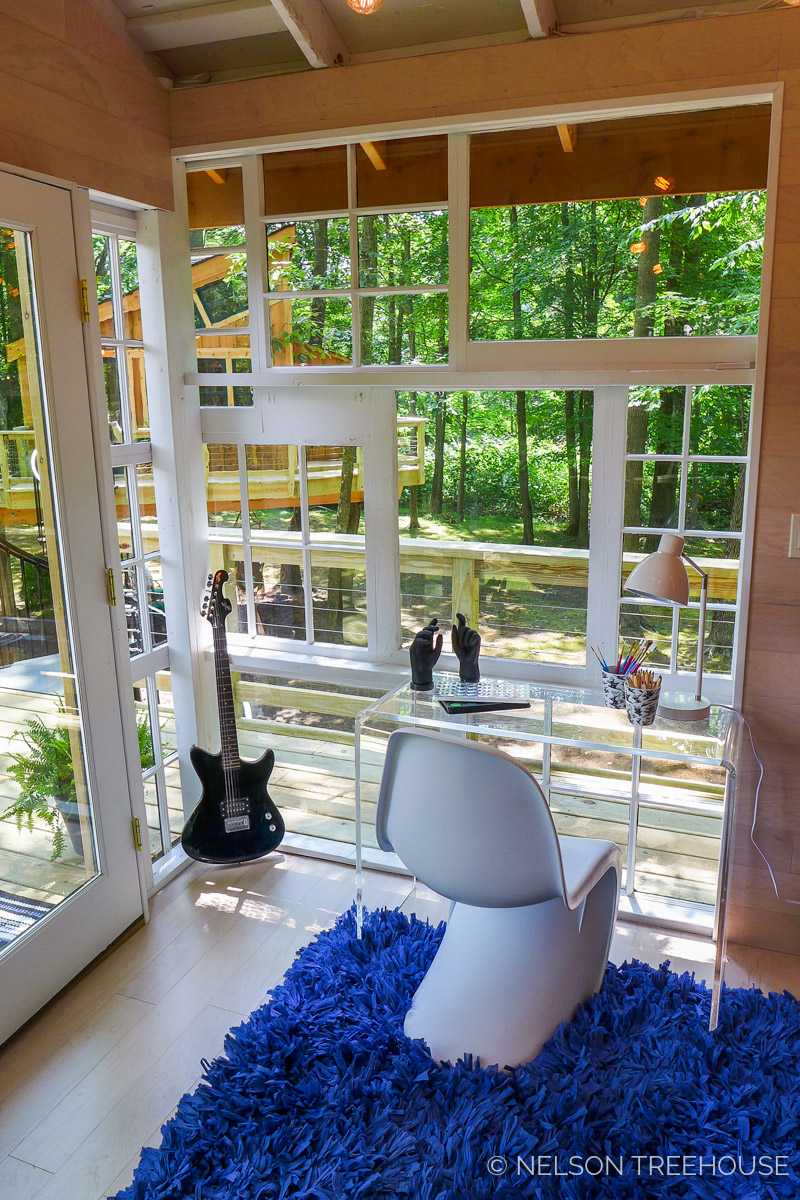 Although the two pods are separate, the opposite pod is visible from within each, making them feel more connected.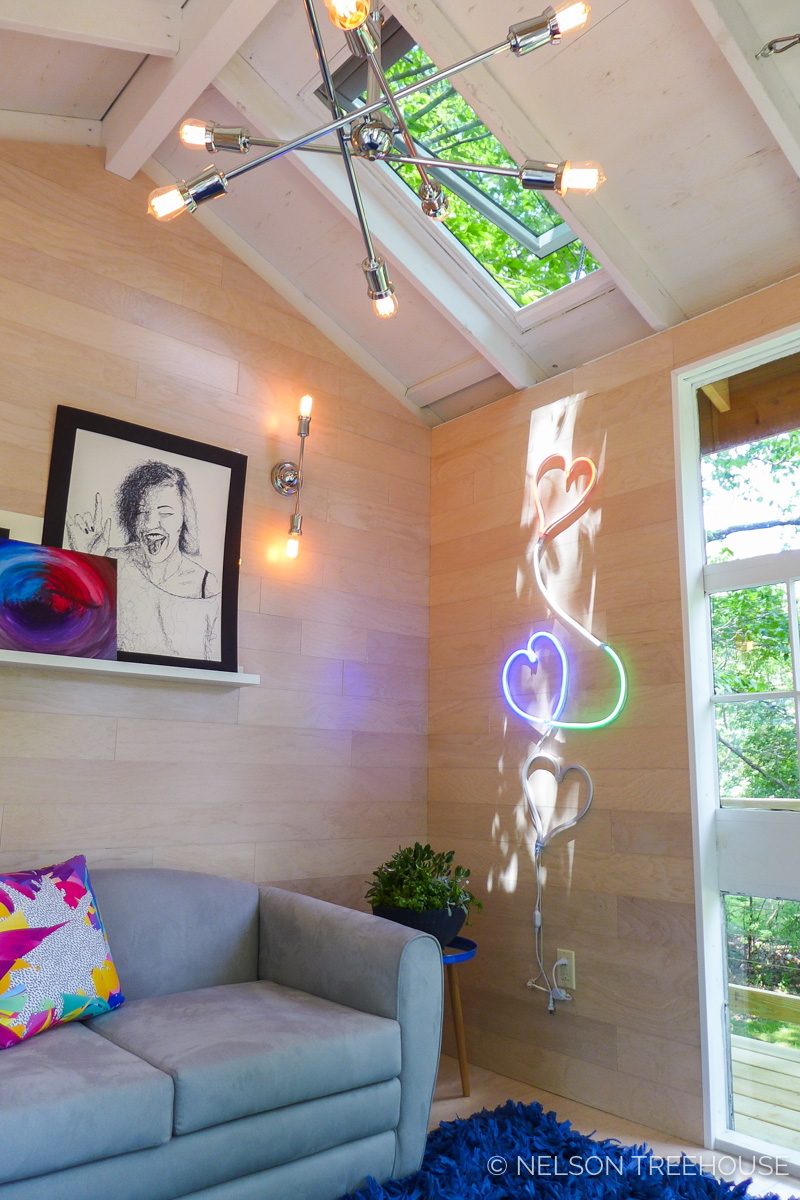 Christina Salway kept the decor fun with cool hanging seating and funky lighting.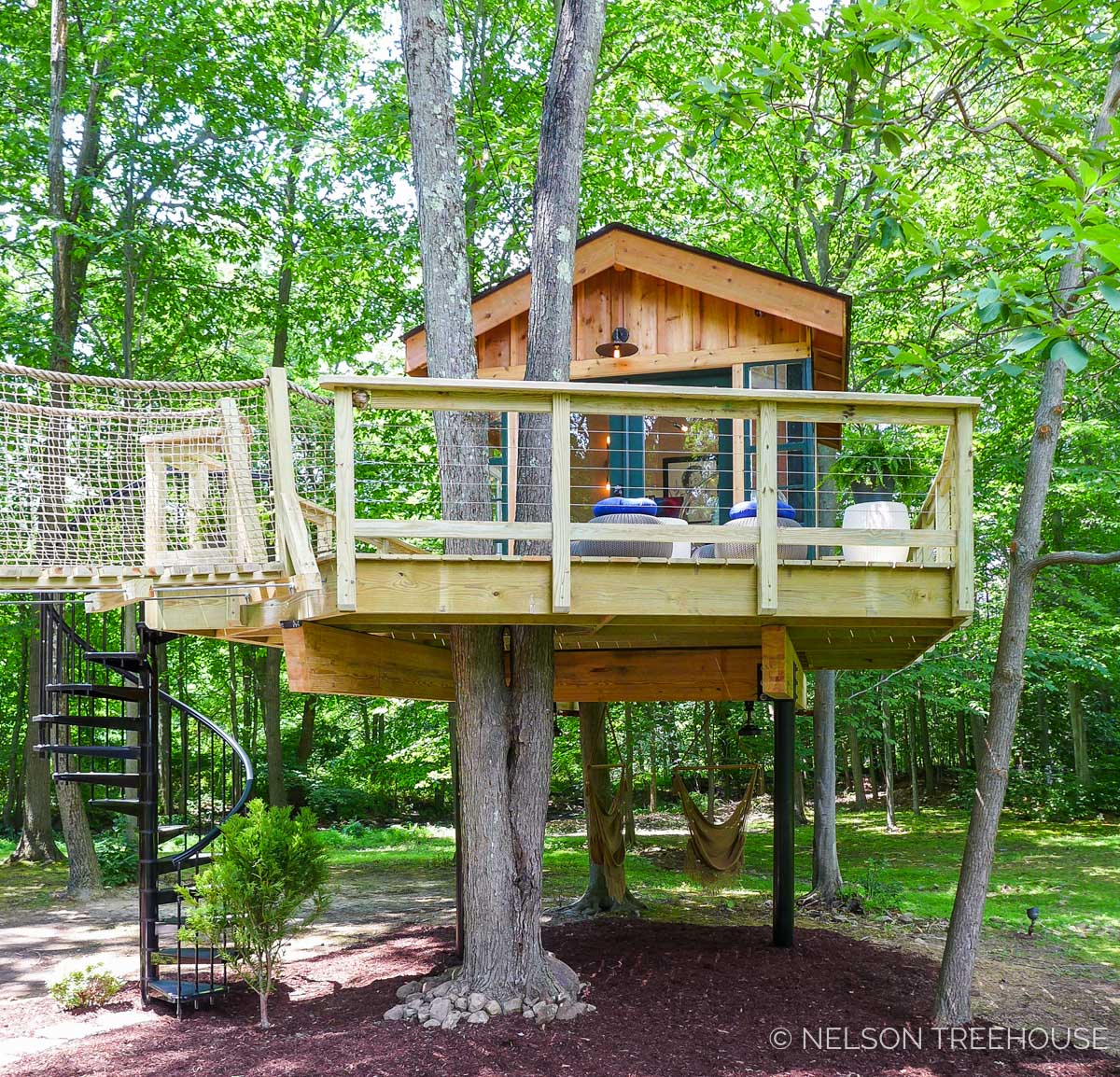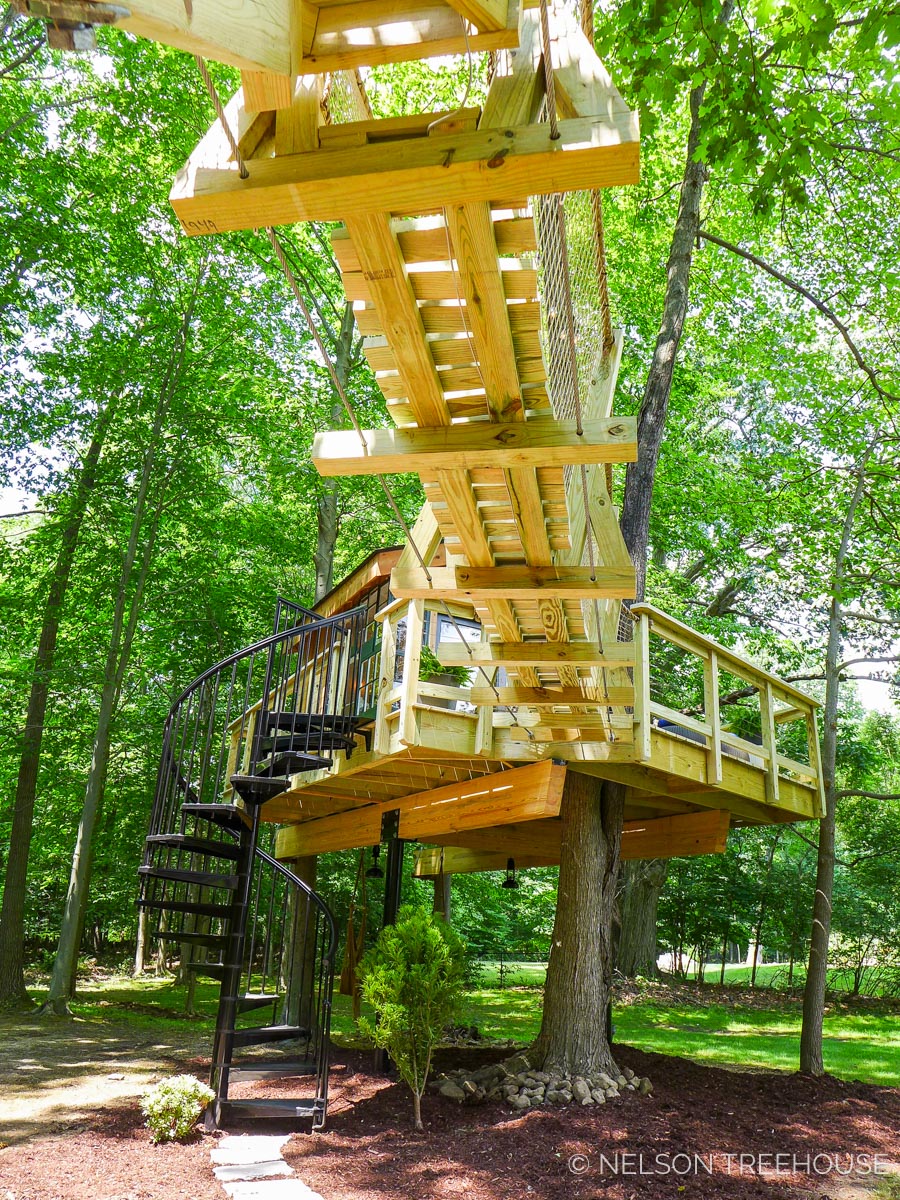 Seanix worked on this bridge for Grace and really enjoyed collaborating with her. In Seanix' words, "It was a lot of fun to work with Grace – she knew exactly what she wanted and totally called the shots."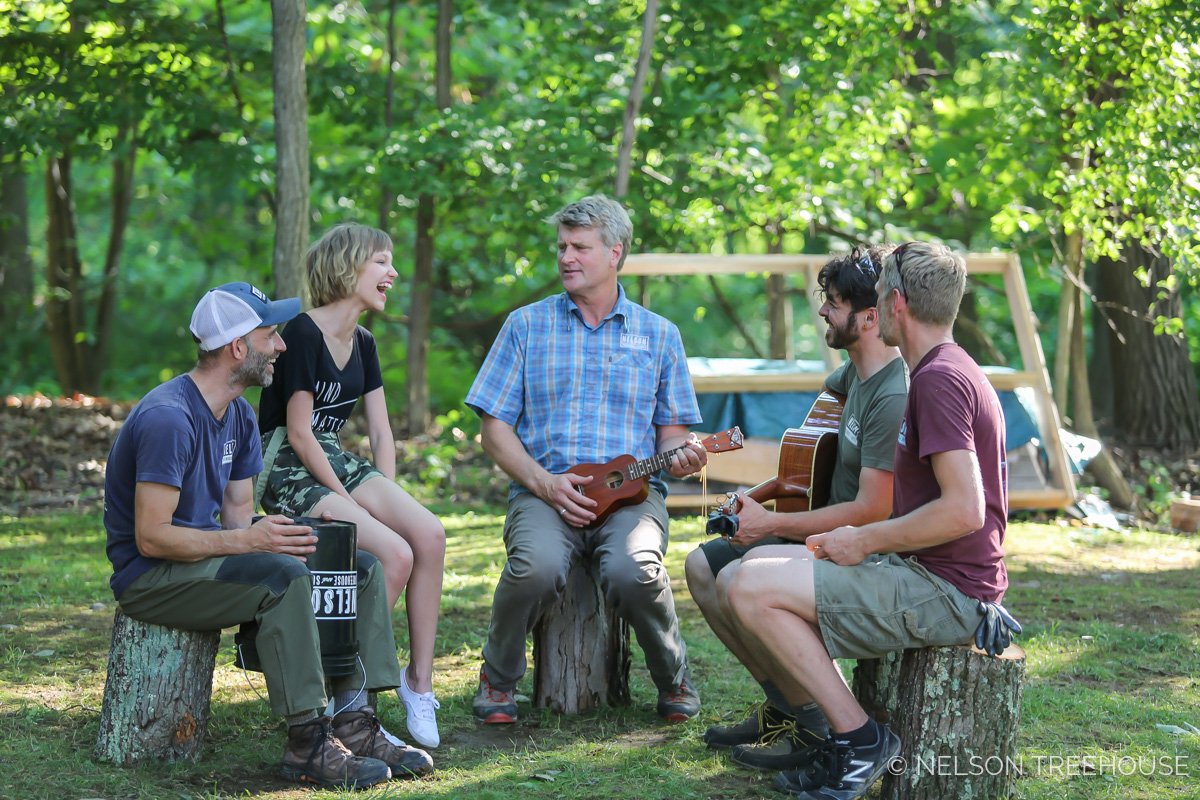 It was also a unique experience to build for a teen (rather than an adult) – as Seanix puts it, "Treehouses are so closely associated with childhood, and so it was exciting to work with a young person on a build. Grace brought a youthful energy and perspective to the project – especially on the bridge, where she was adamant about it having a fun, thrilling feel. That spirit really topped my year of treehousing."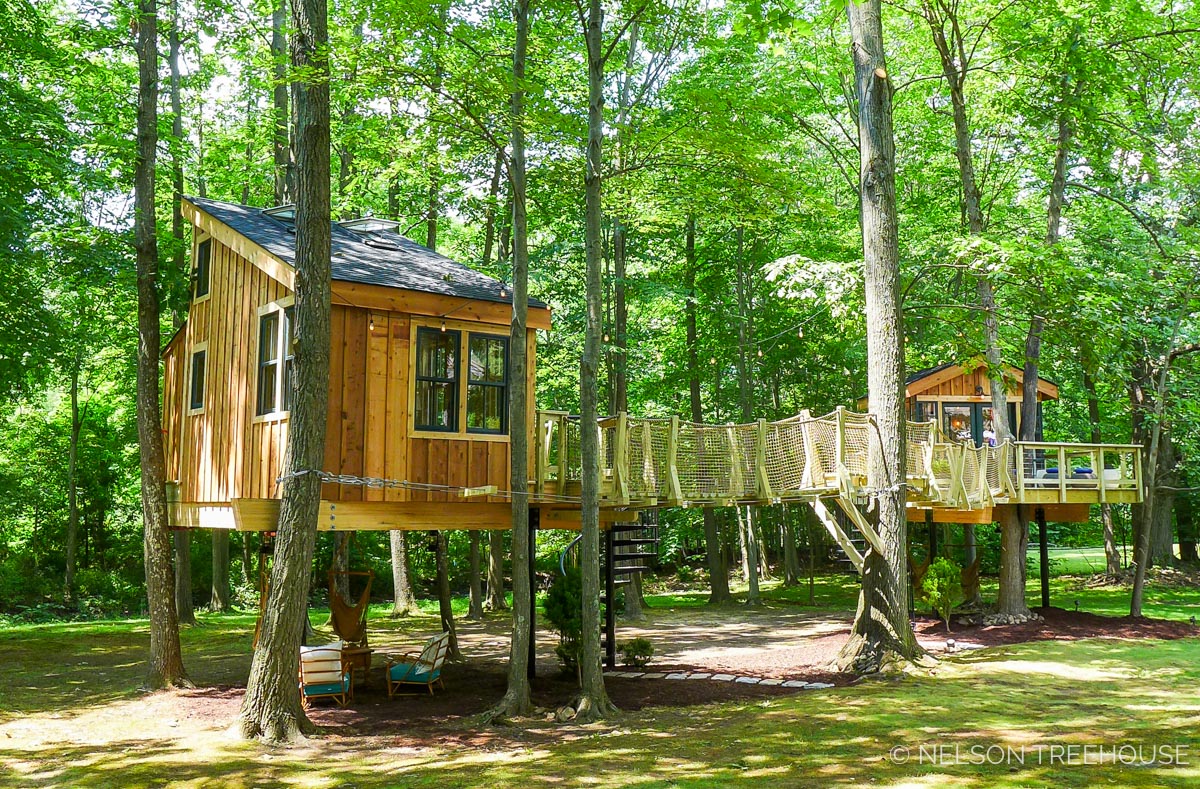 Thanks for a terrifically fun build, Grace! We wish you a lifetime of joy, peace, and creativity up in the trees!
To stay up-to-date on photo tours of treehouses from this all-new season of Treehouse Masters, subscribe to our newsletter and give us a follow on Facebook and Instagram.
To the trees!