Spring has officially sprung, ushering in treehouse-building season! And we've got all the plans, hardware, and information you need to bring your treehouse dreams to life.
Spring got us in such a fresh mood that we decided to revamp one of our classic treehouse plan sets for DIY-builders: the Marblemount. We divided this plan into two versions—light-duty and heavy-duty—to better suit the needs of DIY-ers. We've also pulled the hardware for each version into super convenient kits, making it easier than ever for you to build your own Marblemount.
As an added benefit, the hardware kits come with savings! You'll save 10% when you buy the full hardware kit for the heavy-duty and light-duty Marblemount plans, compared to purchasing each piece of hardware individually.
Read on to learn the differences between these two new versions of the Marblemount, and to find out which is best for you.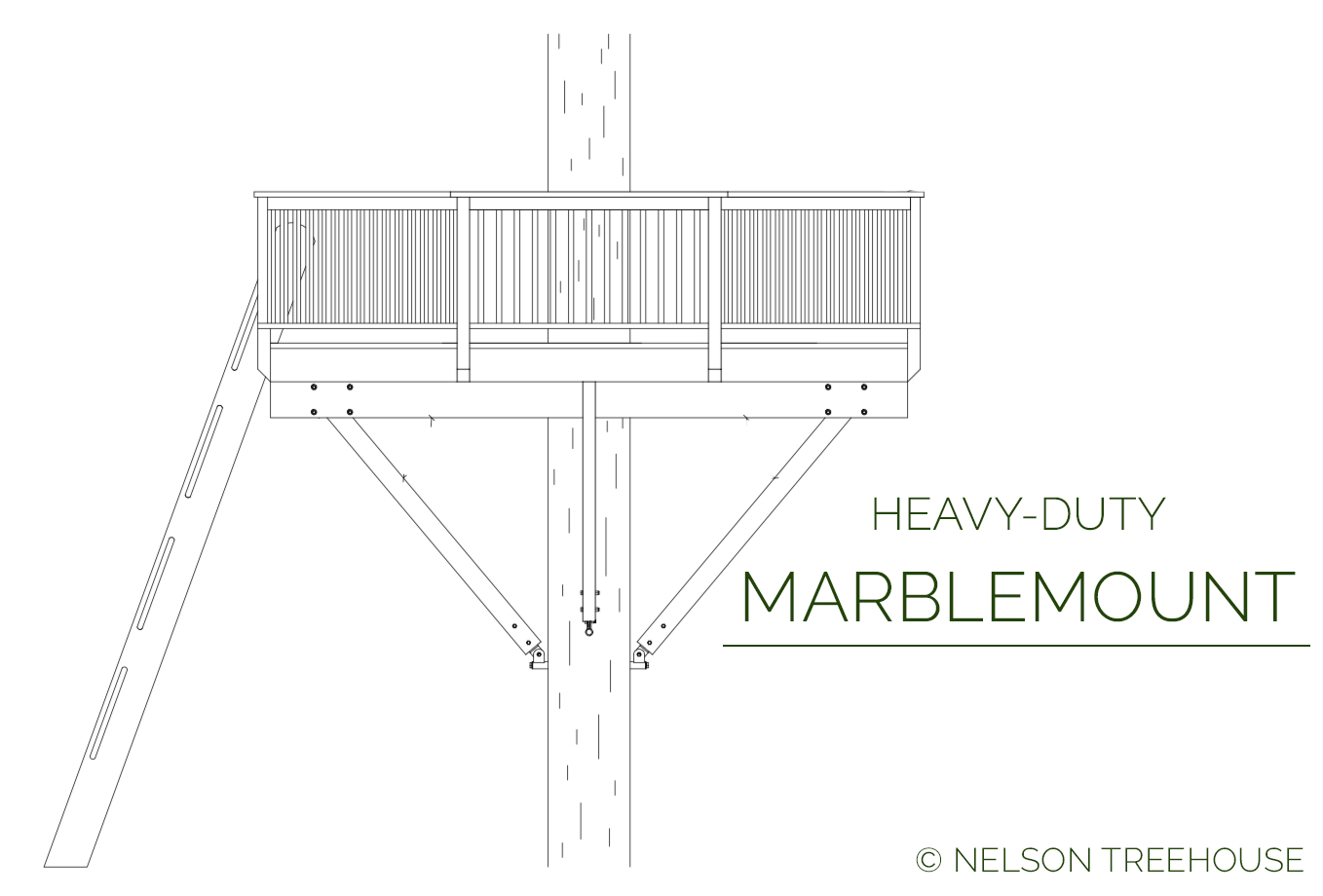 Both the heavy-duty and light-duty versions of Marblemount feature a 180-square-foot open-air platform, built around a single tree. The Marblemount plans are perfect for those who want the experience of a tree-supported deck, optimal for soaking in views and being out in nature.
The light-duty differs from the heavy-duty in the amount of weight it can hold, corresponding to the hardware it involves. The light-duty is great for folks who want a small tree-deck with capacity for one to three people, while the heavy-duty is suited to hosting groups of guests. The heavy-duty can also bear weighty snow loads, whereas the light-duty is tailored for temperate climates.*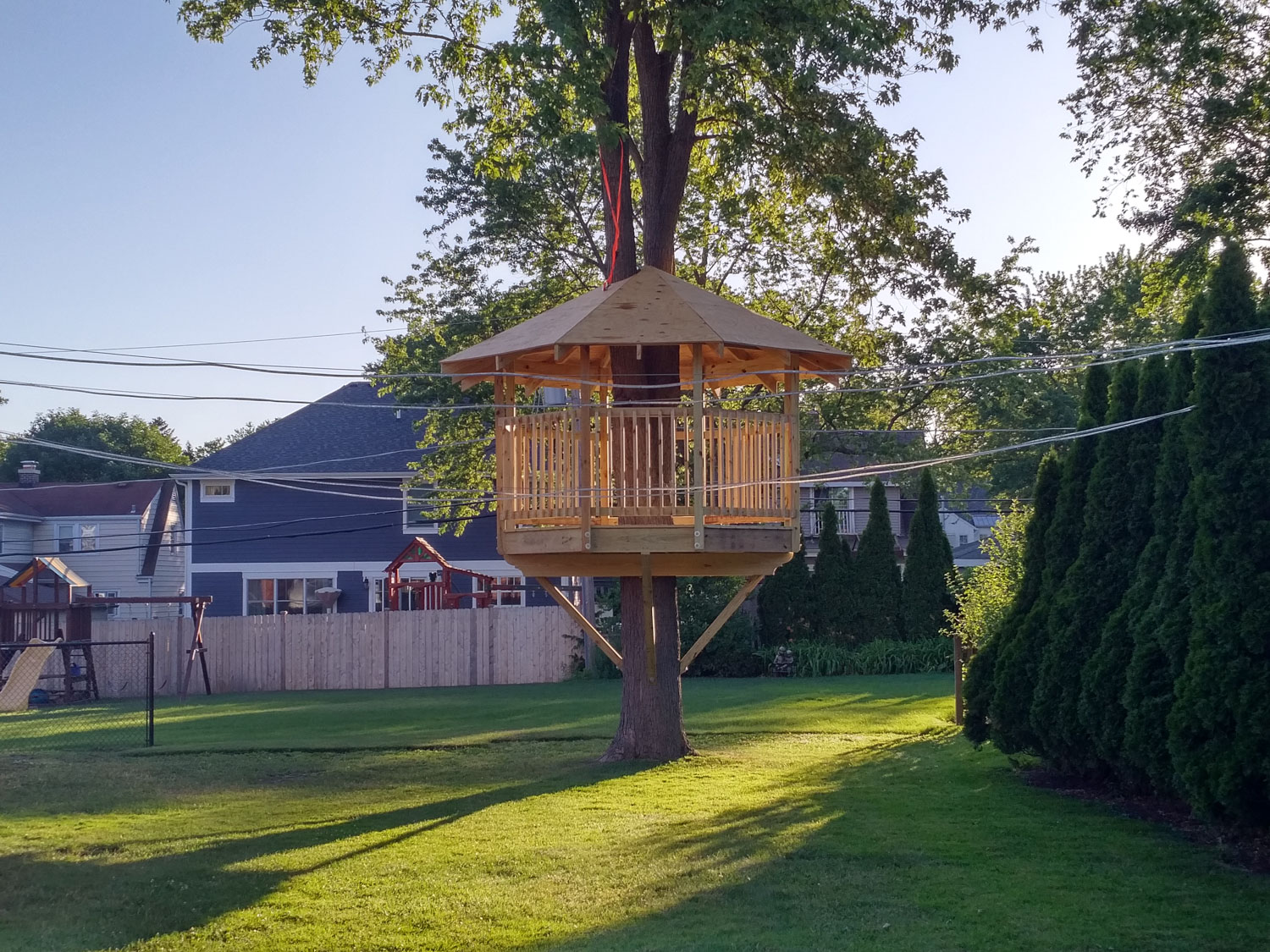 Peter, A DIy builder, used our LIght-Duty Marblemount Plans to build this excellent backyard treehouse.
Our designs require intermediate to advanced construction knowledge to execute and are meant to serve as aesthetic inspiration; they're the perfect launching point for your own creativity. Each plan is meant to be customized to your trees and lifestyle, and we encourage you to make it your own!
Thinking of modifying the Marblemount to be enclosed by walls? Then the heavy-duty version is for you; the light-duty Marblemount is not intended to support walls.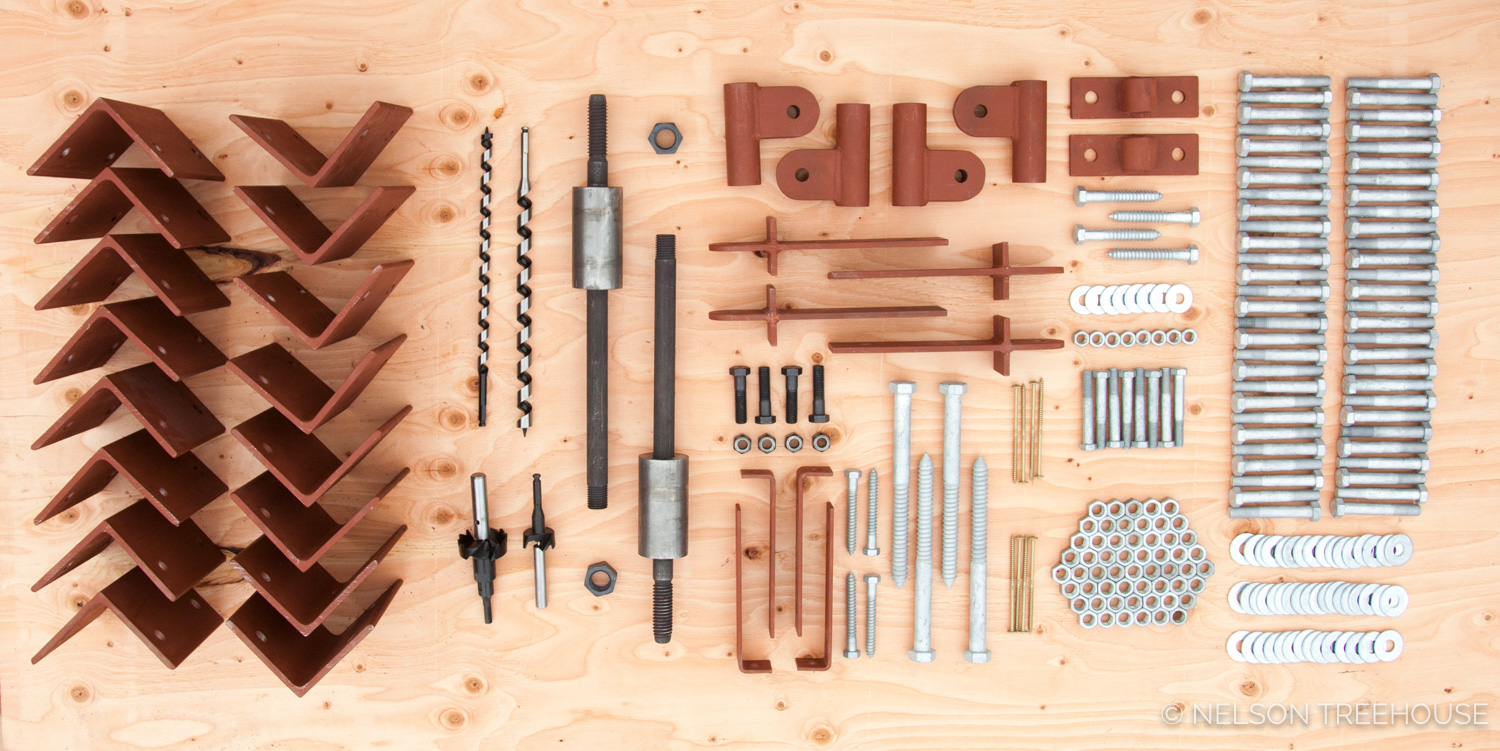 heavy-duty Marblemount hardware kit.
The tree depicted in both versions is a cedar with a 23-inch diameter. Don't be deceived by the overall simplicity of these designs: the single-tree element coupled with the degree of precision involved in the hardware installation gives both platforms a four-out-of-five difficulty rating. You can learn more about our hardware here.
*Please note that Nelson Treehouse recommends that all treehouse builders consult with a professional engineer and a certified arborist for safety purposes, especially if you plan to build in a climate with heavy snow loads. Use hardware at your own risk—improperly installed hardware can pose a significant risk to not only the tree, but all parties involved. Nelson Treehouse assumes no liability for hardware.
Below, we break down each version of the Marblemount.
Click and drag on the Sketchfab models for a closer look!
---
LIGHT-DUTY MARBLEMOUNT
The light-duty Marblemount's open-air platform is built to host you and a friend (or two) for soaking in sunsets, sipping drinks, and stargazing. The light Marblemount is just the right size for a couple chairs and a table, positioned for optimal views of the surrounding nature.
Unlike the heavy-duty version of Marblemount, this plan is not suited for weighty snow loads or intended to be modified with walls—it's meant to be the perfect unenclosed deck for temperate climates.
All the hardware you need for the light-duty Marblemount comes in this kit.
Please be aware that you cannot put two TABS at the same level in a tree that is less than 16″ in diameter.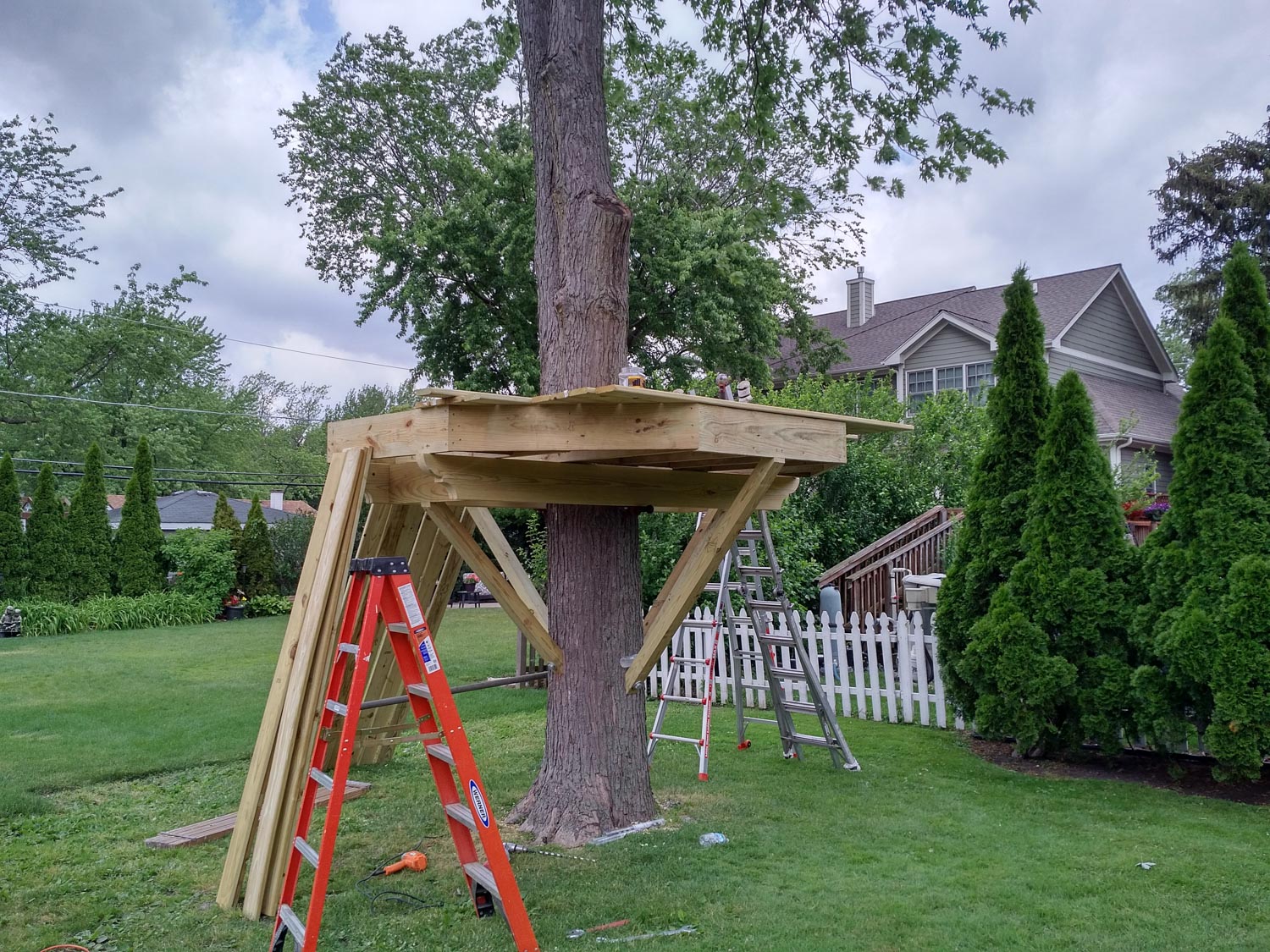 Peter's light-duty Marblemount platform takes shape.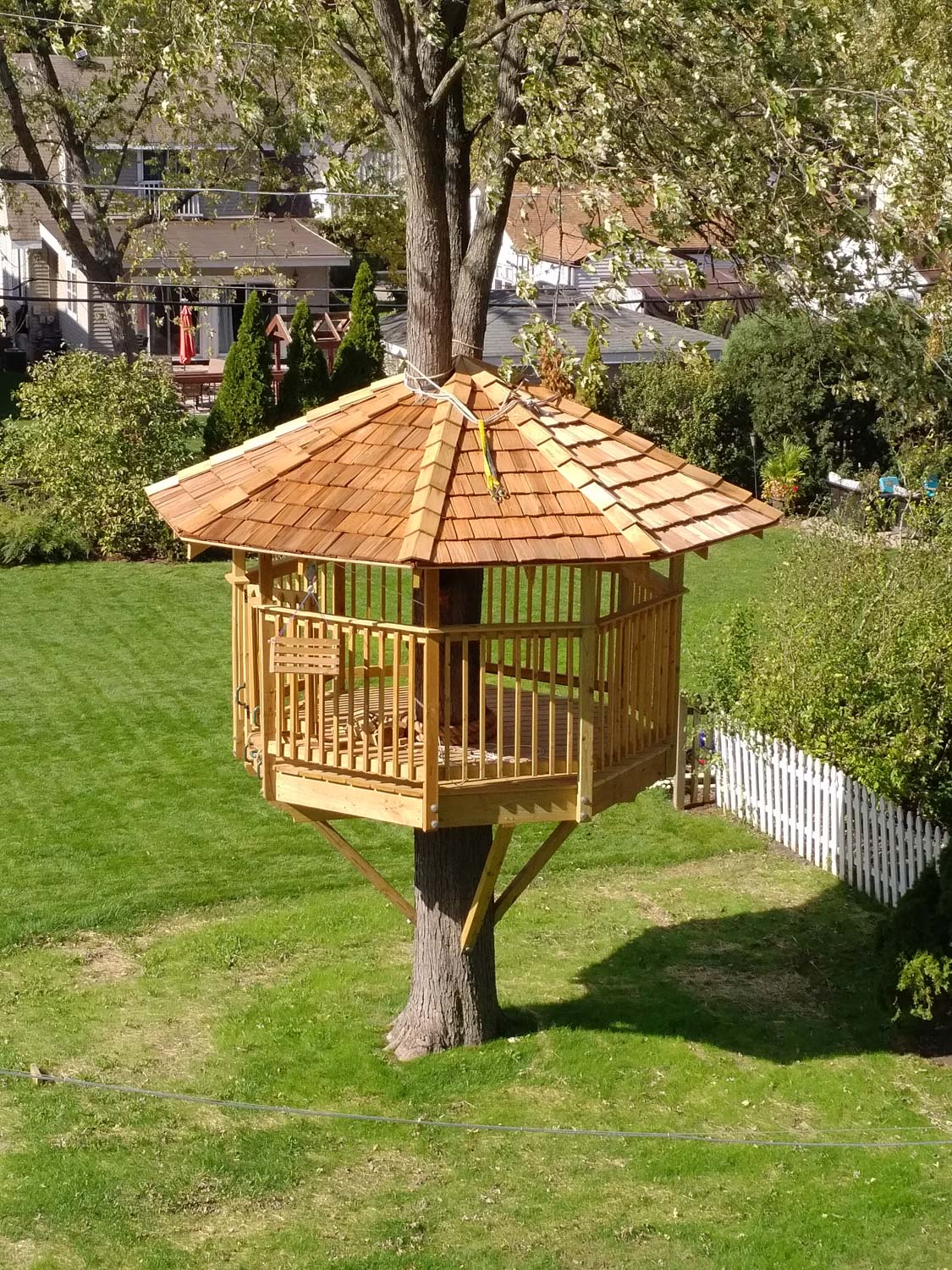 Peter's completed DIY Light-Duty Marblemount – Looks terrific!
---
HEAVY-DUTY MARBLEMOUNT
The heavy-duty Marblemount is the ideal multi-purpose tree-deck. Its open-air platform is perfect for soaking in the sunshine or hosting get-togethers outdoors (did someone say treetop dance party?!), and is loved by both children and adults.
With its heavy-duty hardware, this design can bear weighty snow loads and can be modified for enclosure with walls.The heavy-duty Marblemount requires two TABs, four light wood struts, and eight simple corner brackets for support. All the hardware you need for the heavy Marblemount comes in this kit.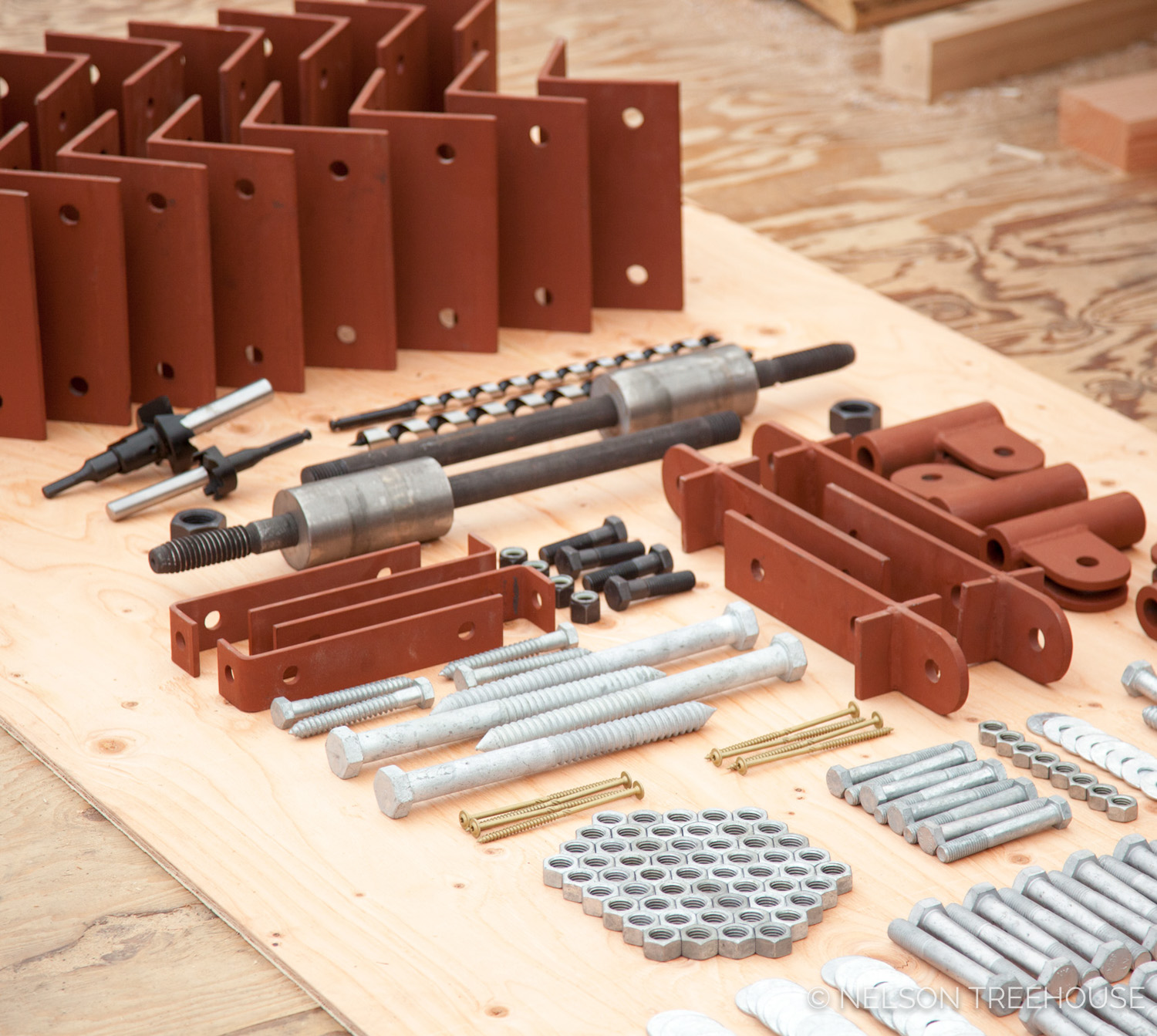 Again, keep in mind that you cannot put two TABS at the same level in a tree that is less than 16″ in diameter.
You can browse all our other plan sets here. We have 13 distinct designs, all tailor-made for treehouse DIY-ers! For some serious inspiration, check out this enormous tree-deck built by a DIY-er with our hardware.
All our plans come with a copy of our Treehousing: The Instructional Guide. If you're planning to tackle your own treehouse build, please take a moment to read a little more about what to expect here. 
Keep in mind that treehouse-building is an organic process—our crew almost always innovates onsite with spontaneous tweaks to the original design. Stay flexible, get creative, and have fun—even (or especially) when you're deep in head-scratching moments of treehouse troubleshooting.
To the trees!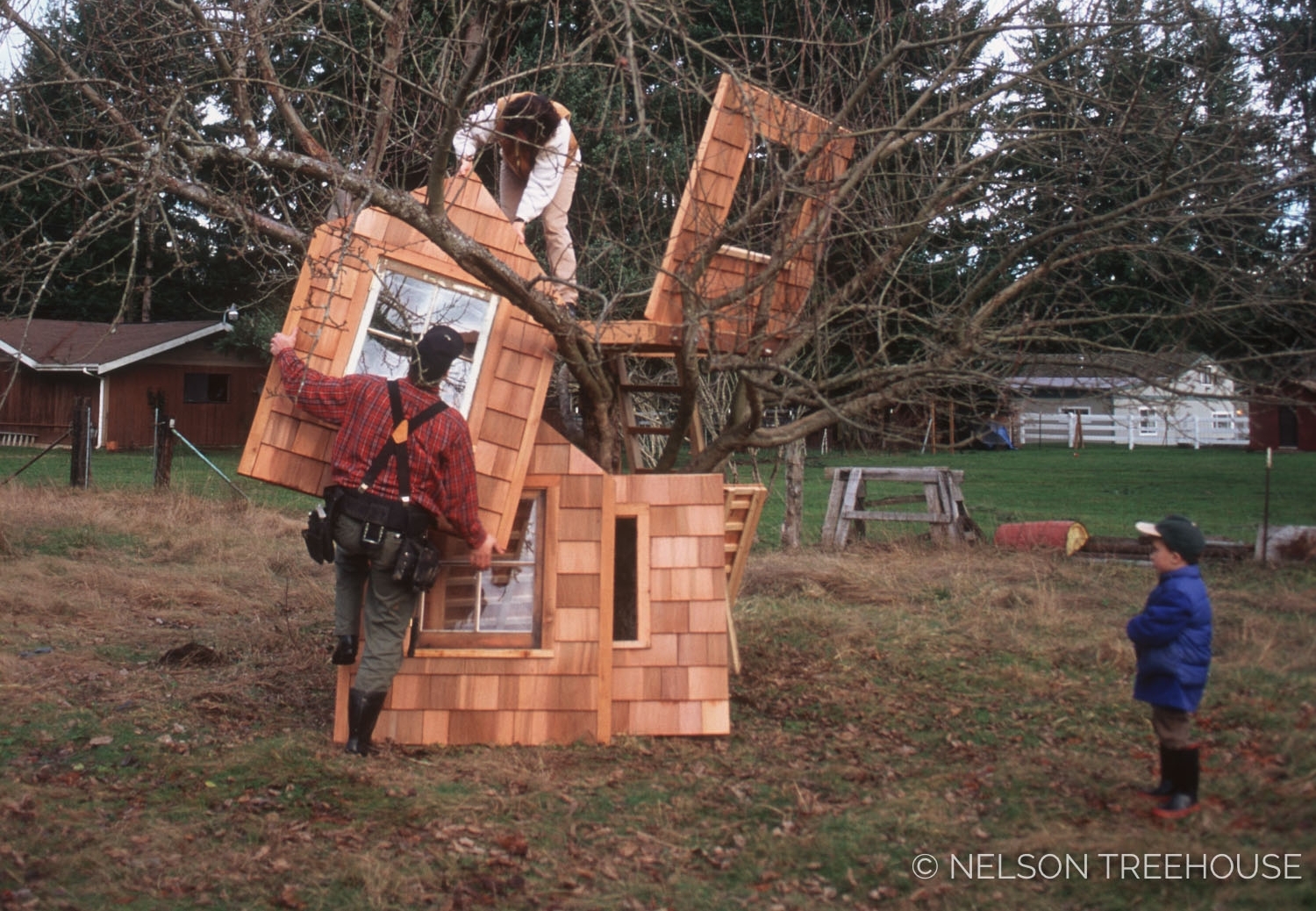 Throwback to Pete and Judy nelson building a backyard treehouse for their kids, circa spring 1997.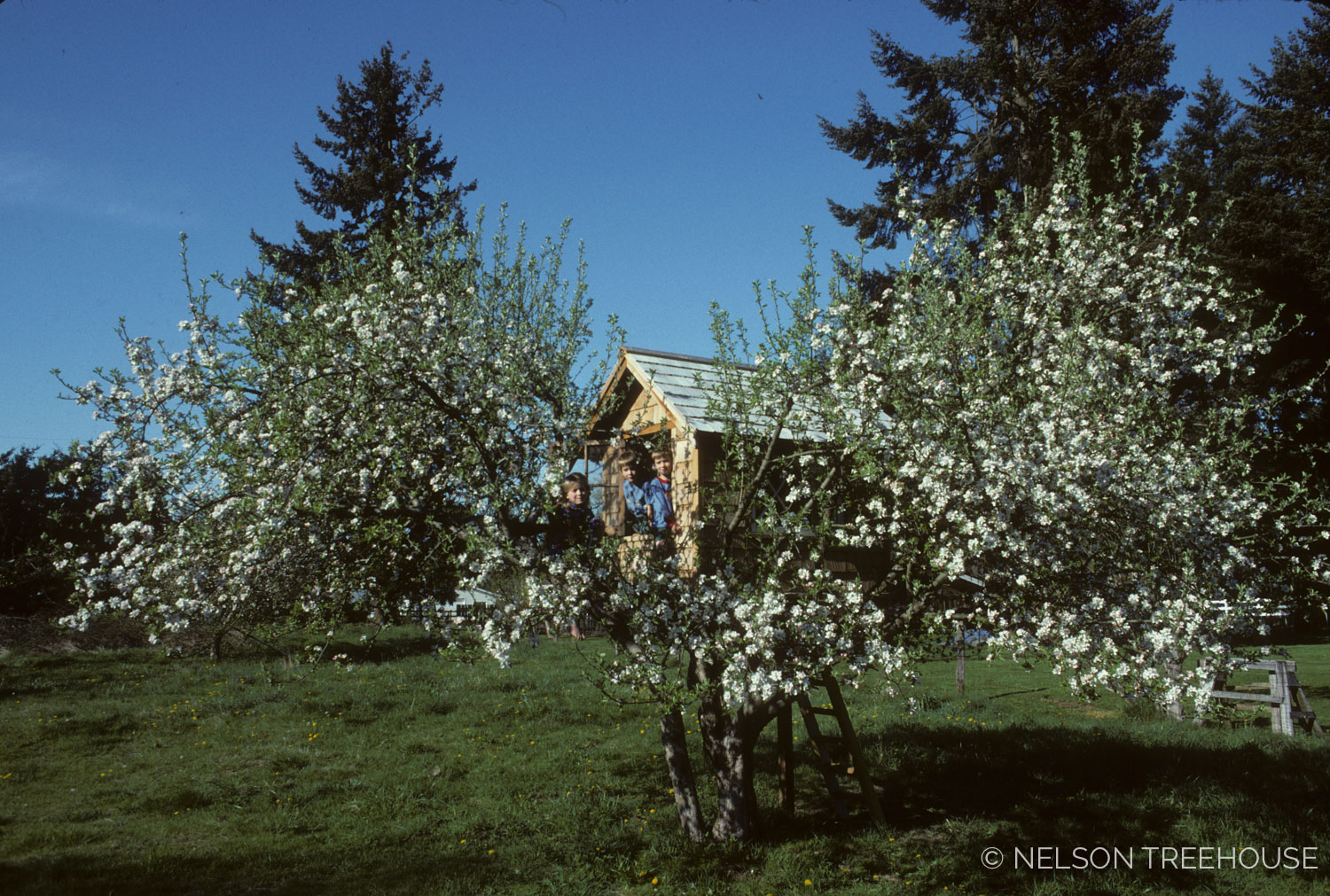 The Nelson kids enjoying life in their completed Treehouse