Meet Seanix Zenobia, master rigger and adroit treehouse builder. Seanix' wit and musicality bring light to our builds, while his penchant for profundity inspires us. We sat down with Seanix to learn about his pathway to Nelson Treehouse, passion for music, and philosophy of life. What's one thing Seanix has never tried that he would like to do? And how does his piquant sense of humor help on build sites? Read on to get to know this talented treehouse master…
SEANIX' PATHWAY TO THE TREEHOUSE LIFE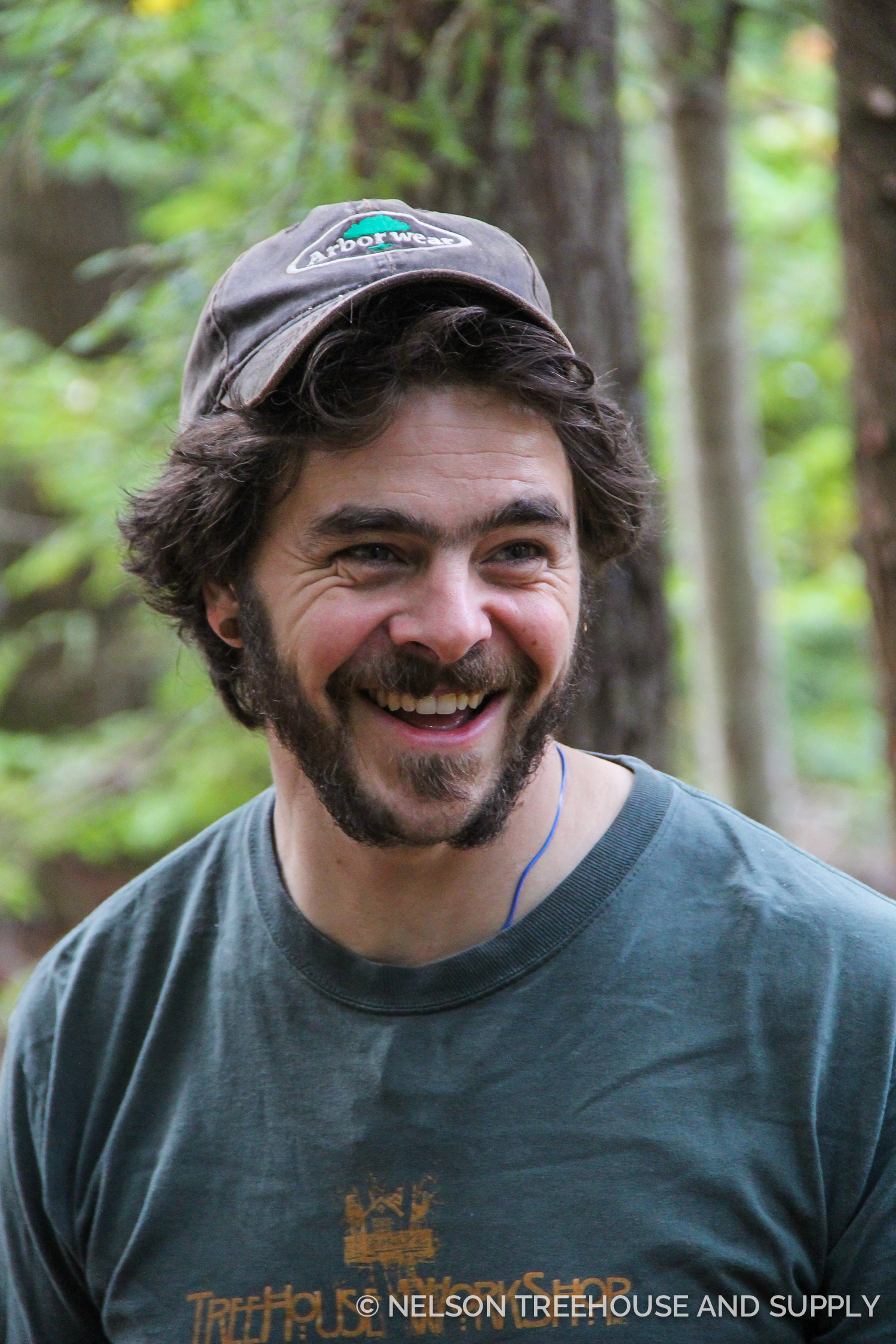 The year is 1999. Y2K is quickly approaching, bringing with it the prospect of apocalypse. Seanix Zenobia assesses the future with equal parts trepidation and pragmatism, and determines that his background in ceramics and photography is inadequate preparation for the impending demise of civilization. Carpentry, he thinks, will outfit him with the skills for a self-sufficient lifestyle – at very least, it will empower him to build and maintain his own home and tackle complex problems with creativity. Fortunately for Seanix (and the rest of humanity), year 2000 evades doom, freeing him to learn carpentry by building log beds in Colorado. In the years following Y2K, Seanix works in residential remodeling, on yurt platforms and alternative straw bale barns, in cabinet shops, and with finishing. And he moves to a diverse array of places, from Fort Collins, Colorado; to the Olympic Peninsula in Washington State; to Santa Cruz and then Berkeley, California; and to Seattle, Washington.
While working as a carpenter in Seattle, Seanix is struck by a series of apparently random interactions with Pete's treehouse construction company (then called "Treehouse Workshop"). Looking back now, Seanix sees these interactions as anything but random: in his words, "In life, there are only a few things that can be chocked up to coincidence and they are few and far between." Seanix hears about Pete over the radio, reads about him in magazines and newspapers, and spots the "Treehouse Workshop" logo on trucks around town. Each interaction sticks in Seanix' mind like the resurrected chorus of a once-forgotten song, summoning him to sing along. At this point in his life, Seanix is desperate for a serious creative outlet; as he says, "I wasn't making [that kind of creative outlet] for myself, and I wasn't accepting the opportunities that came my way." Seanix began feeling as though his brushes with Pete's work were more than meaningless moments. As Seanix puts it, "There were only so many pianos that could drop on my head before I took an interest."
One day, the final piano strikes Seanix when a client asks him to build a treehouse and recommends he attend Pete's symposium at TreeHouse Point. The symposium infects Seanix with a sense of wonder and purpose, and he surrenders to the signs calling him to the treehouse life. Seanix then pens Pete a love letter email, describing his interest in treehousing and admiration for Pete's work. Shortly thereafter, Pete invites Seanix to join his treehouse team. Nowadays, Seanix spends a third of the year on the road with Nelson Treehouse and Supply, and two-thirds at home in rural New Jersey as a dad and househusband. Seanix and his wife, Camille, have two children: four-year-old Hagan and baby Sloane, who was born earlier this year.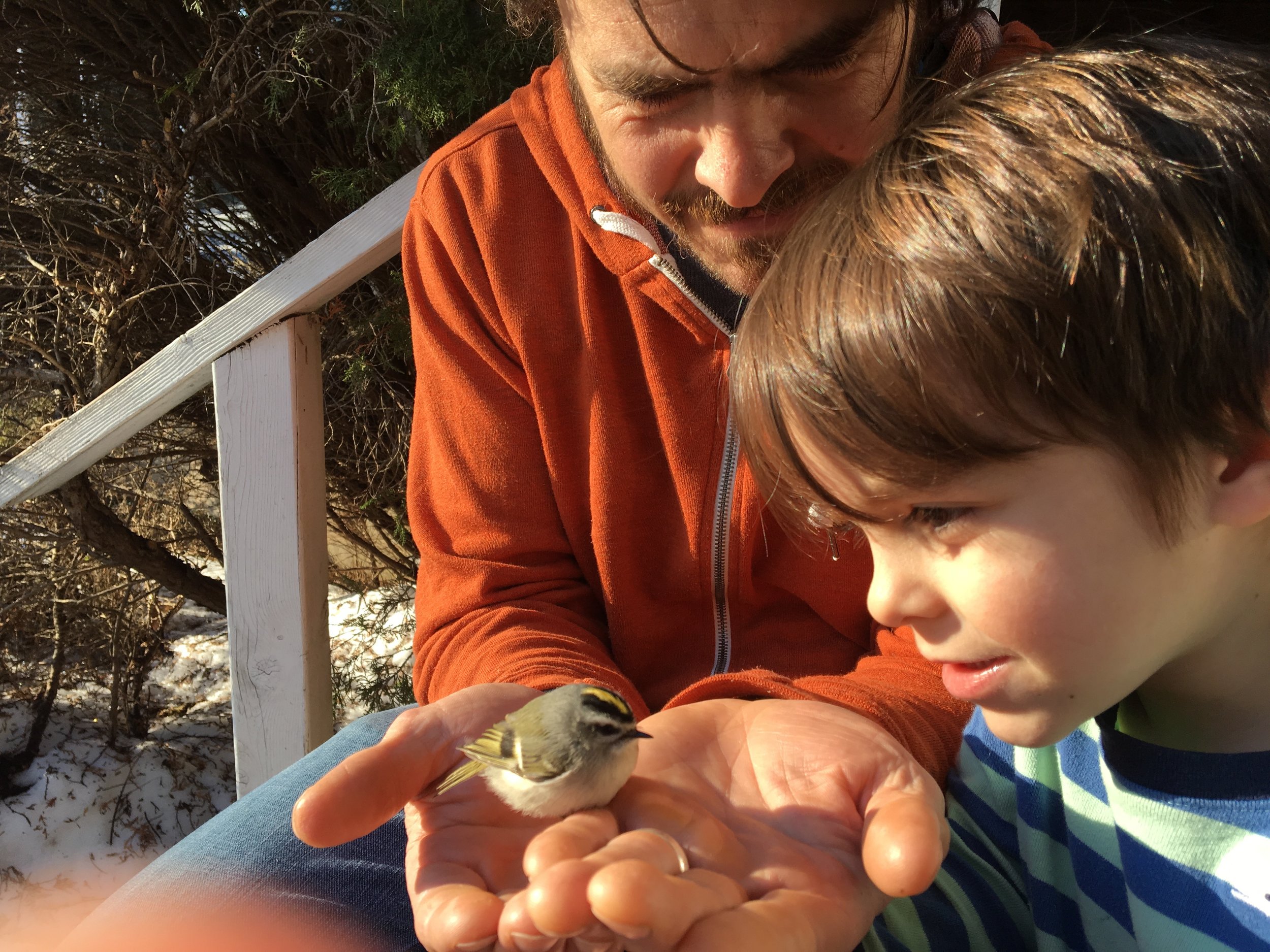 Seanix with his son, Hagan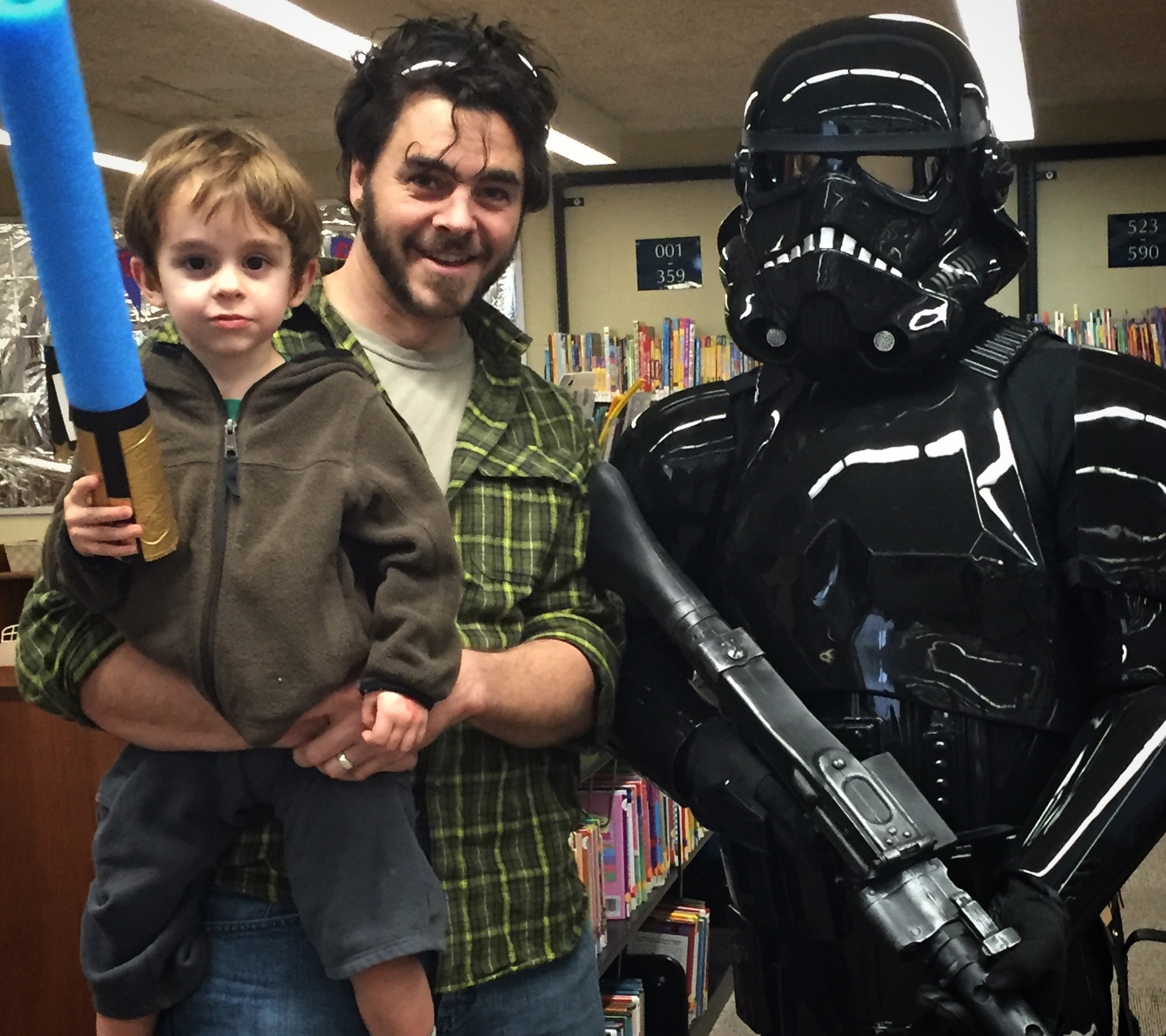 "Aren't you a little short for a stormtrooper?"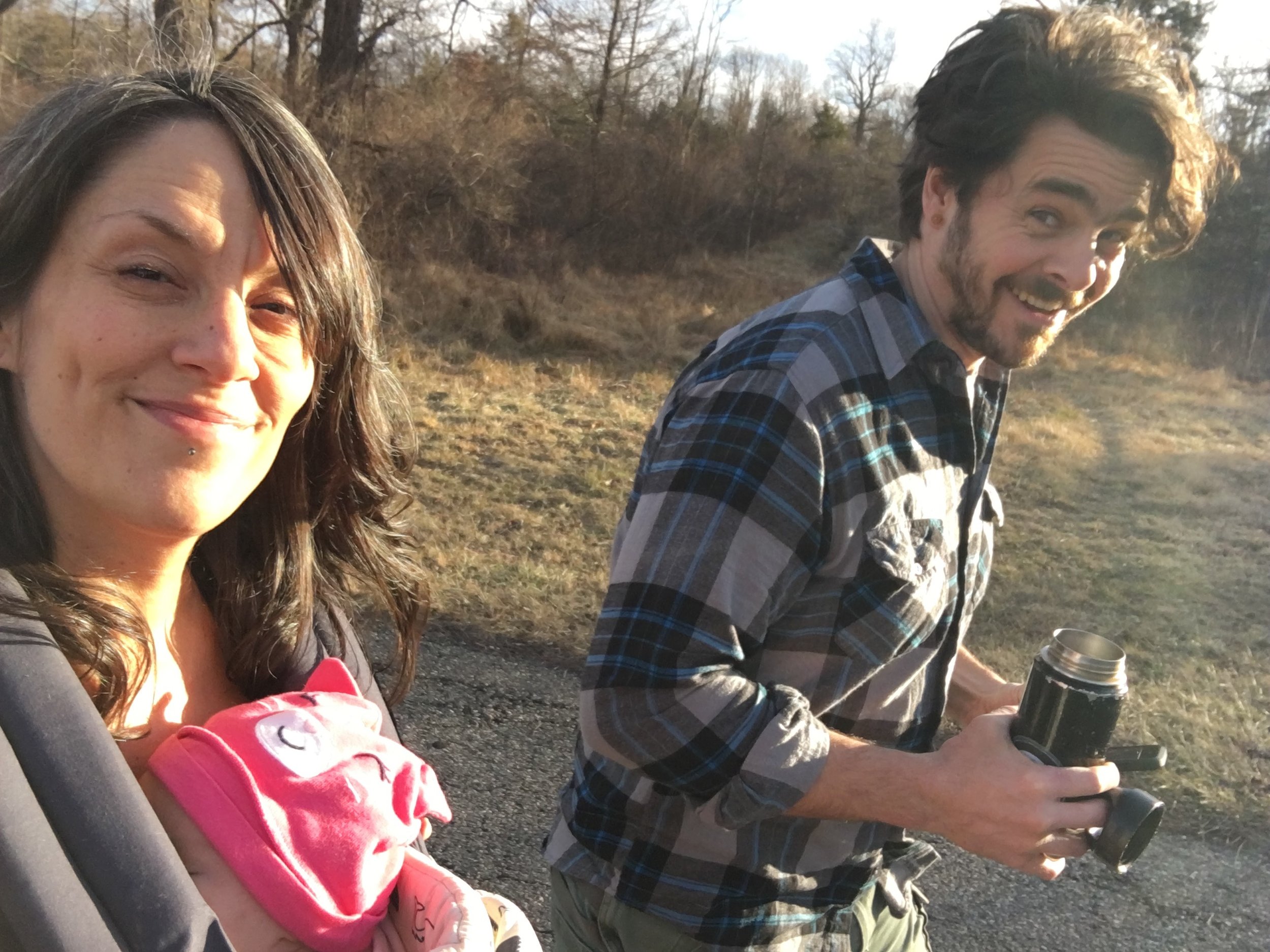 Seanix with his wife, Camille, and daughter, Sloane
If there's something to take away from Seanix' pathway to Nelson Treehouse, it's probably this: what appears to be the apocalyptic end of an era may actually be the beginning of a new, exceptional chapter of your life. In the midst of the impending end of the world, Seanix took his first step toward a lifestyle that is literally elevated (by trees, that is).
And don't ever forget: pianos can fall on your head at any time. It's best to listen to the clanging of keys.
SEANIX' FAVORITE PLACES
Seanix loves Big Bend National State Park in Texas; he admires its diverse ecosystems, from desert to mountains to forests. The park also offers breathtaking vistas that sweep over the Rio Grande and dip into Mexico. The Texas landscape resonates deeply with Seanix, who spent part of his childhood living in the countryside near Dallas.
Seanix was born in Indiana and moved with his family to Texas when he was nine. The photo below is of a backyard fort his father and grandfather built him in Fort Wayne, Indiana. Seanix recalls working on the fort, "on an abnormally hot weekend, listening to the Indy 500 race on the radio all day- so it was built close to my birthday. It had monkey bars and a sandbox underneath, and a knotted climbing rope. It was built out of southern yellow pine, so now when I work with SYP on warm days, I'm taken back to my 'first build.' My older cousin later showed me how to use the platform to sneak into the back alley that was grown over in English ivy."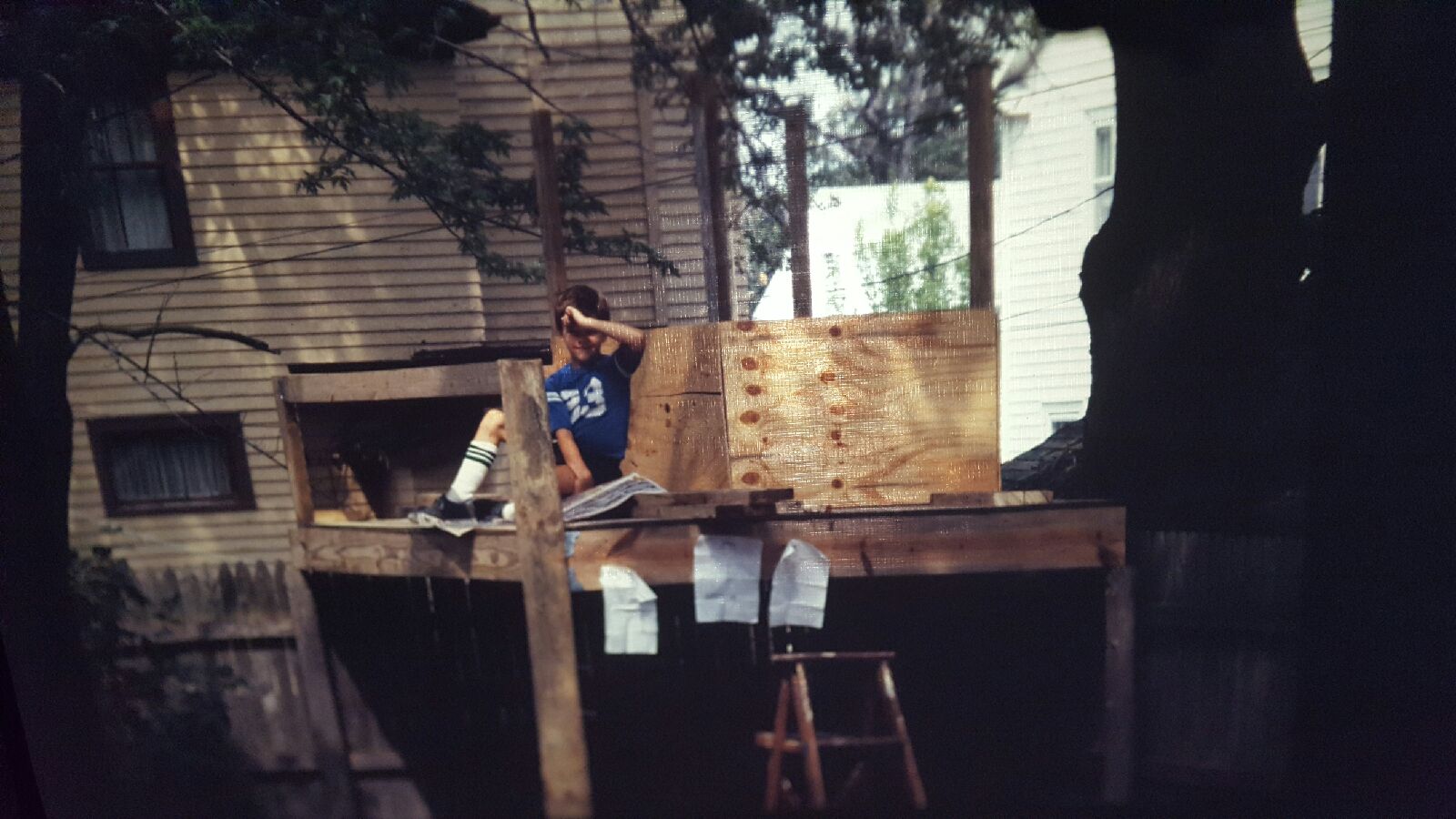 SEanix building his backyard fort in Indiana.
Two of Seanix' other favorite places are the treehouses in which he has lived: one in Santa Cruz, California, and one in Pete's old backyard. The Santa Cruz treehouse nestled 40 feet high in a single redwood in the backyard of a house. Seanix would climb out onto the treehouse roof and soak in the spectacular views of Monterrey Bay. Living in treehouses provided valuable lessons on the phases of the moon and movement of the stars. Through intimate proximity with nature, Seanix learned how to predict weather patterns and recognize bird songs. He witnessed subtle seasonal changes in flora and fauna, and developed a deep love of nature. Nothing beats the change of perspective granted by living up in the trees.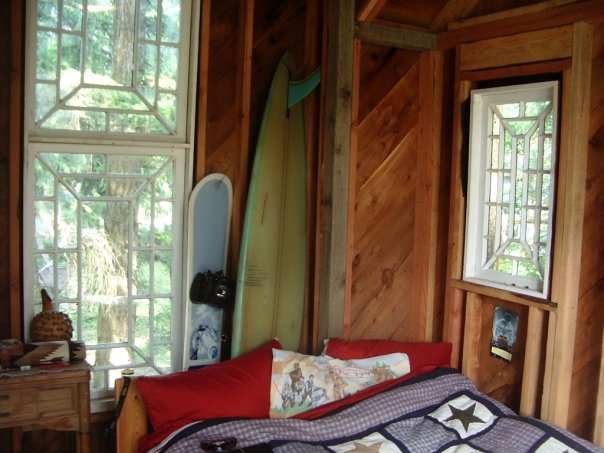 living in Pete's treehouse
BEST PARTS OF THE JOB
Seanix enjoys many elements of treehousing, including the travel, rigging, and puzzle-solving. He relishes the creative challenge of finding ways to lift prefabricated pieces up and connect them in the trees. The trees themselves are also a source of joy for Seanix, who enjoys removing dead branches and shaping them into secure hosts for the treehouse.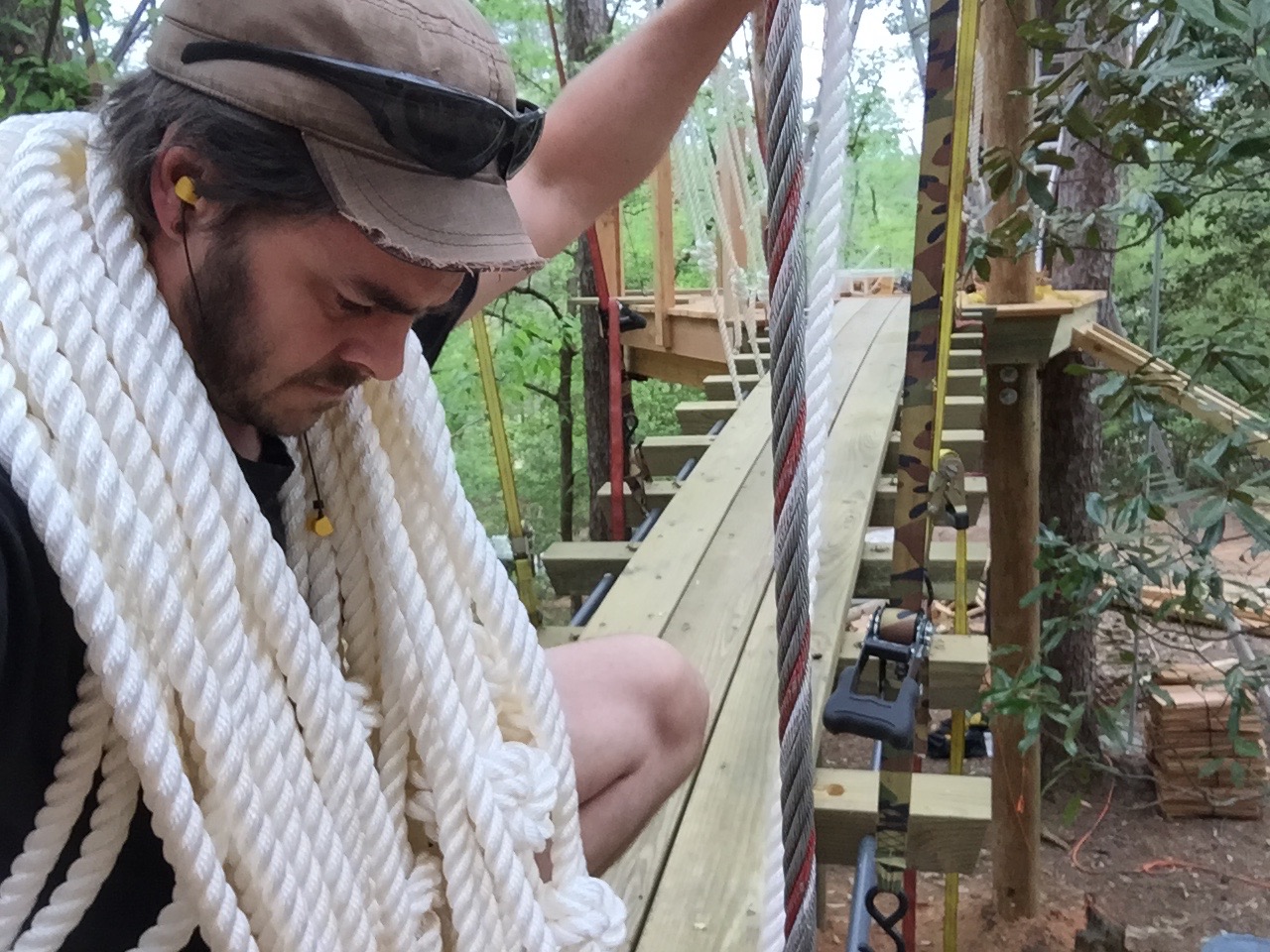 Seanix is one of our master riggers. If irritable, Seanix can be calmed by unraveling a tangled mess of rope.
Another perk of treehousing for Seanix is befriending clients; in his words, "Everyone involved with treehousing is fascinating – if someone is willing to invest in a treehouses, they are interesting by default. I've met some of the most outgoing, interesting people on builds and have had the opportunity to work in stunning places." Finally, Seanix appreciates that his work takes him outside: he loves working in all the elements, year-round.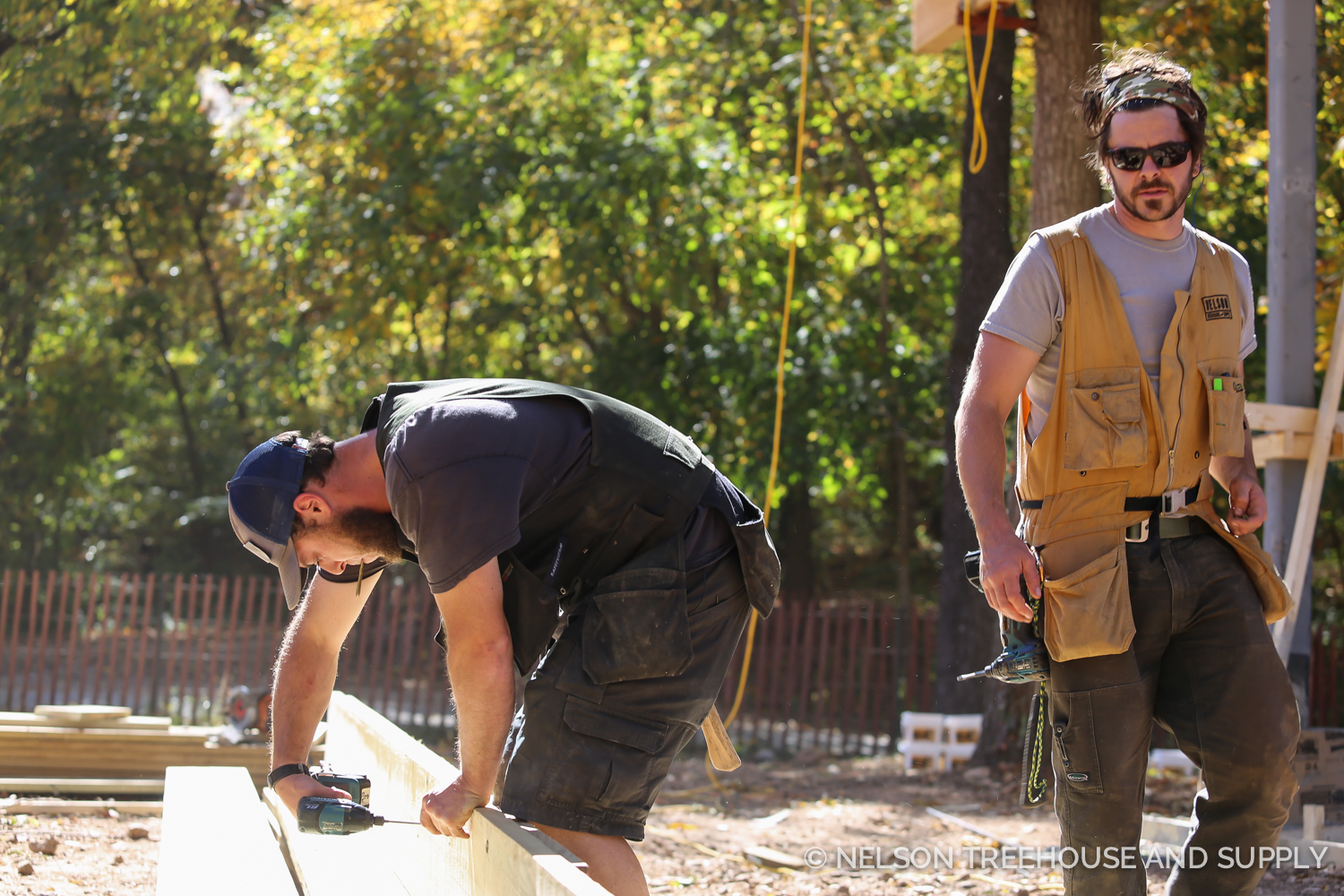 MOST CHALLENGING ASPECT OF THE JOB
The puzzle of connecting treehouse pieces up in the trees is simultaneously the most enjoyable and challenging aspect of treehousing for Seanix. Additionally, Seanix battles his own self-imposed limitations on build sites, including preoccupation (often in the form of thinking about his family) and self-doubt. The best tool to overcome these limitations? Laughter. Seanix says that his sense of humor (grounded in the "absurdity of existence") is "the best way to handle any calamitous situation." Seanix also believes that "pulling out mentally and refocusing on the task at hand" is an effective way to conquer challenges on the job. In his words, "Sometimes you just need to let go and let be."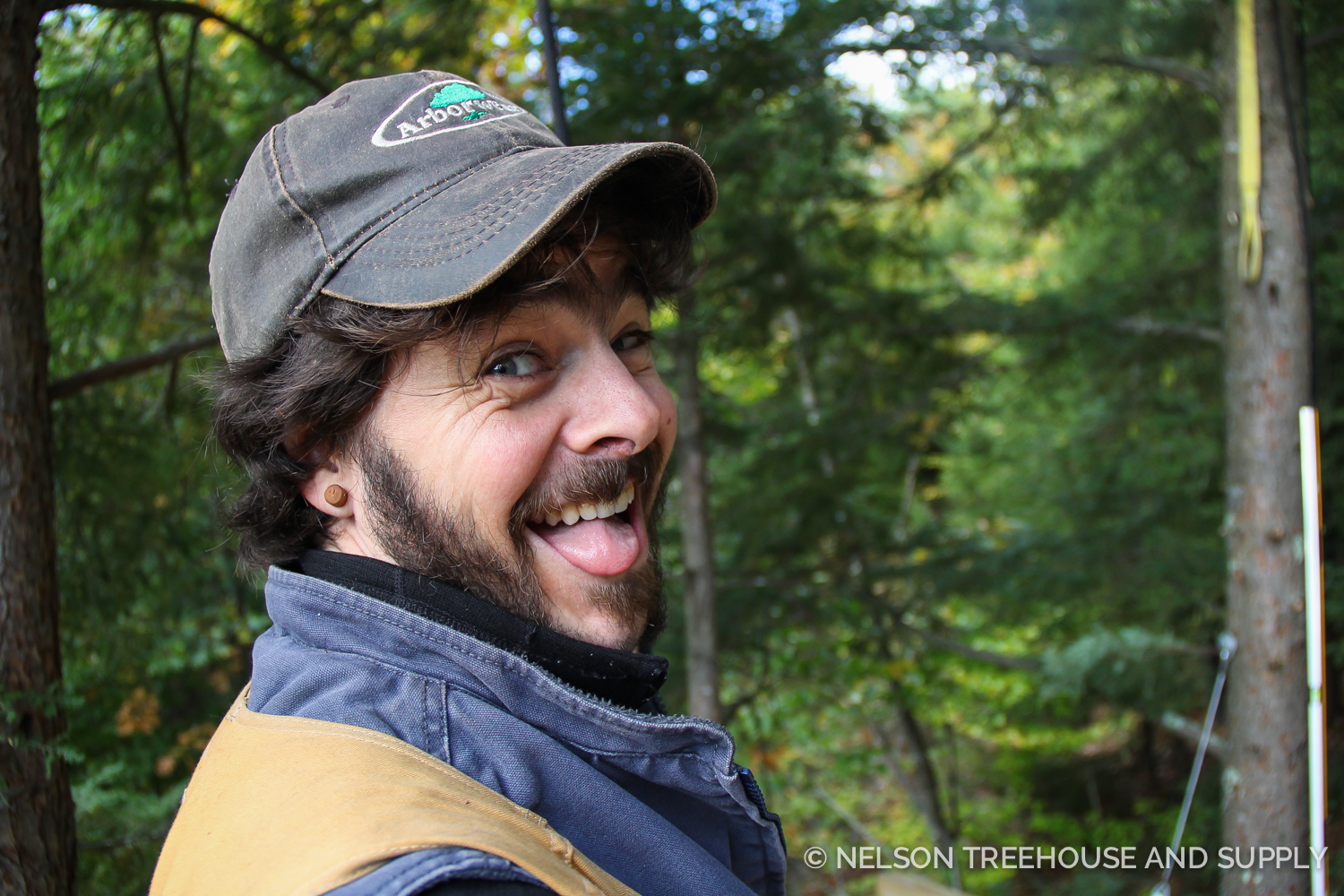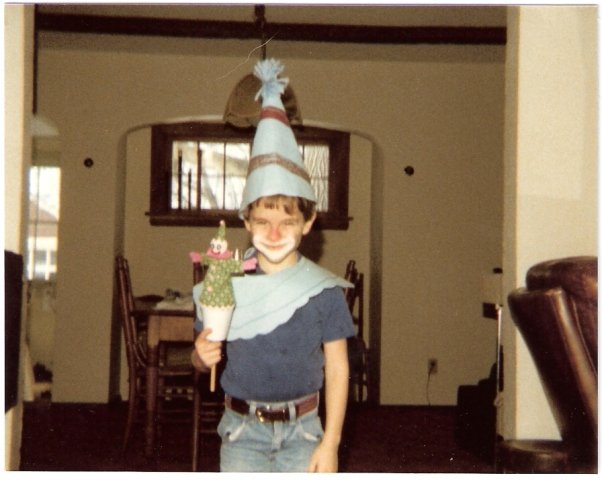 "Always the clown" – Seanix as a kid
FAVORITE NT&S TREEHOUSES
Seanix is partial to organic-looking treehouses that appear to be a natural part of their host trees. The Beehive in Washington State and The Burl at TreeHouse Point are emblematic of this style. Seanix also likes treehouses with multiple platforms like the Cho Yeh summer camp treehouse in Texas.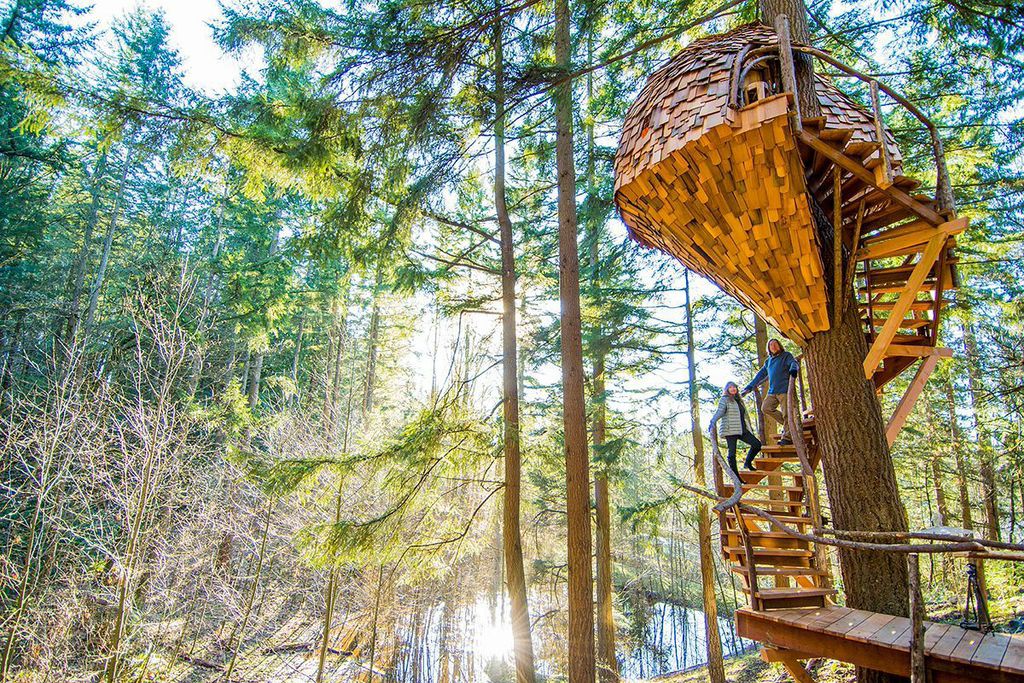 The Beehive Treehouse in Washington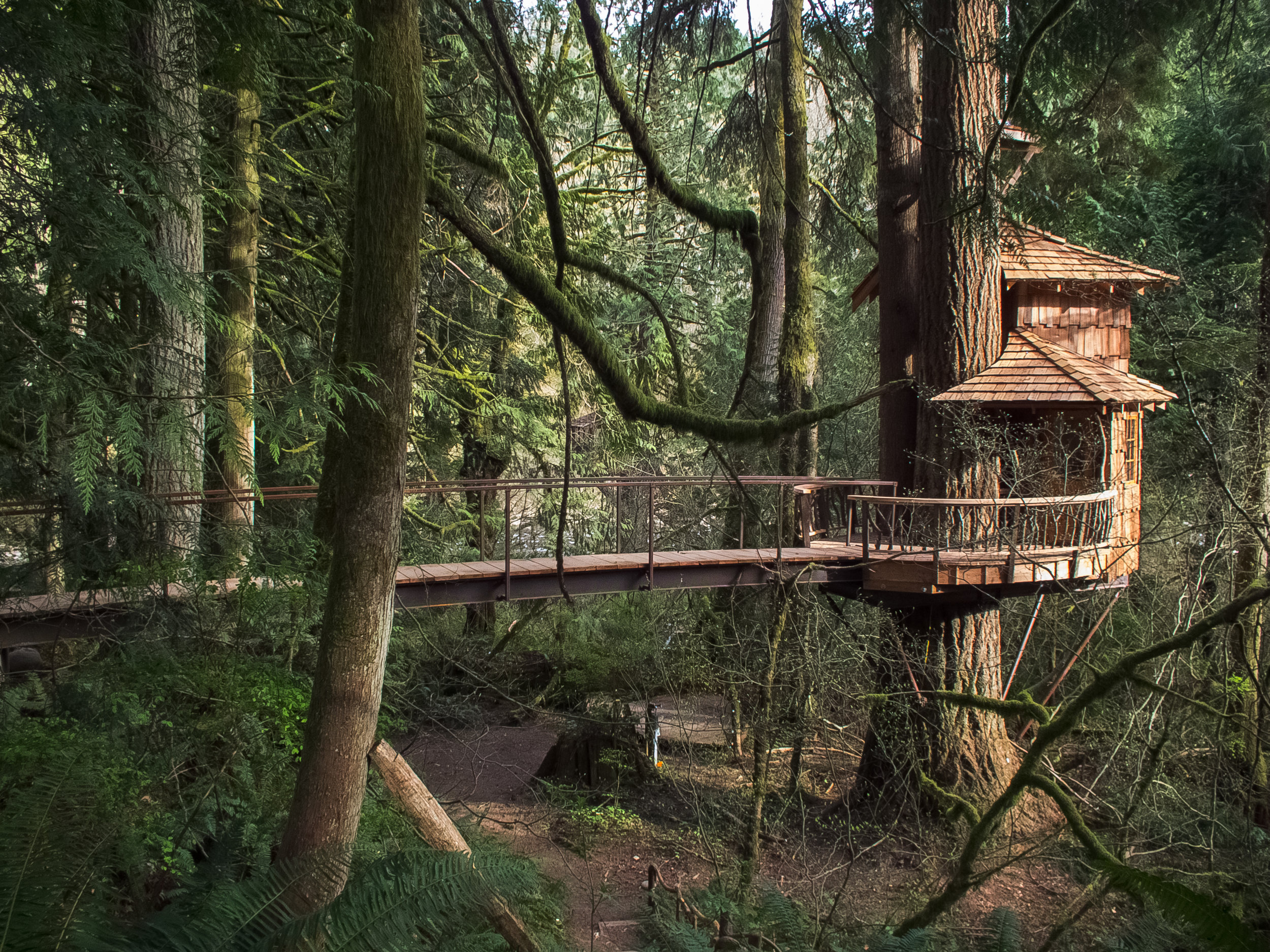 The Burl at TreeHouse Point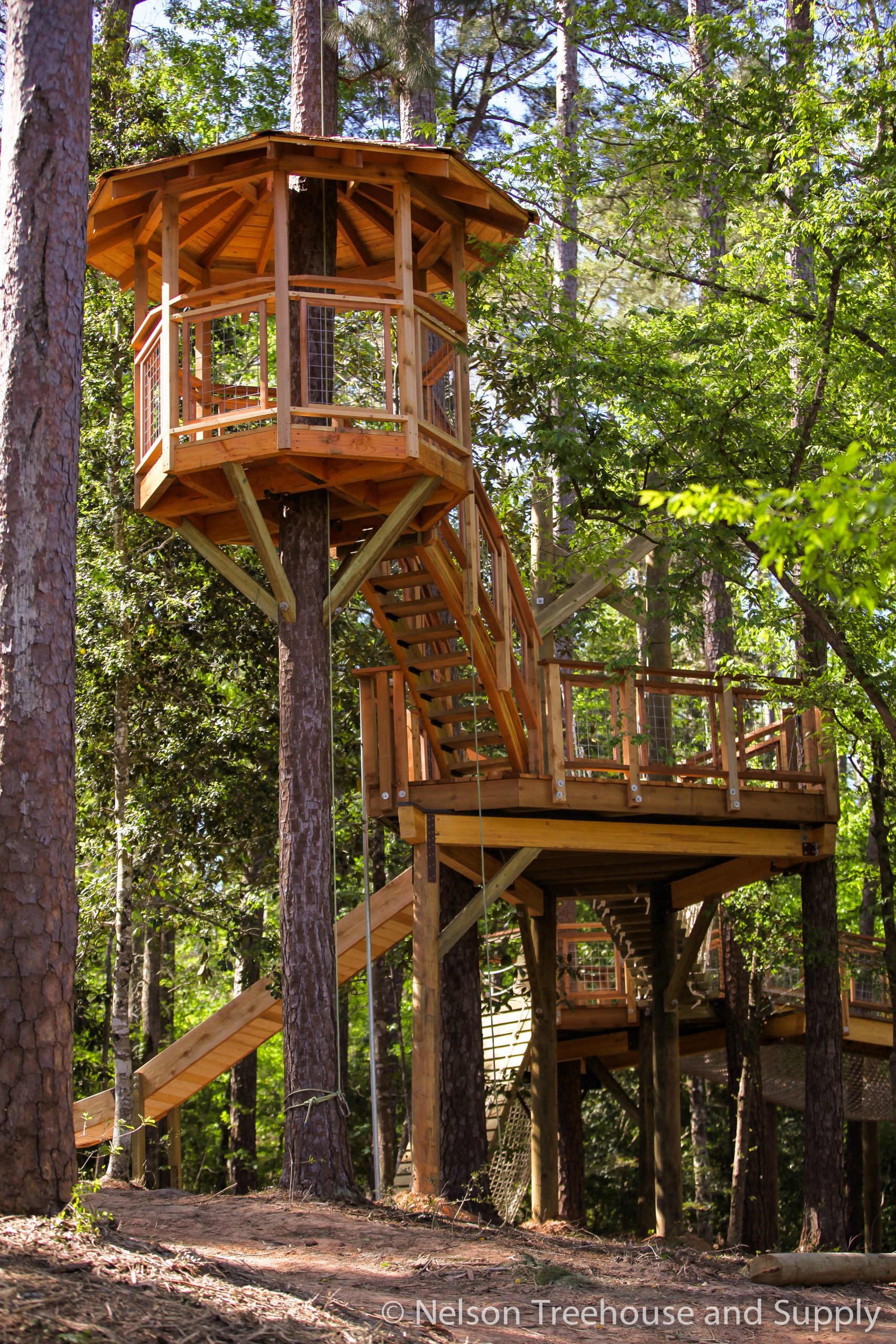 Cho Yeh summer camp treehouse
A MUSICAL MAN
Seanix plays "anything with strings," including upright bass, guitar (acoustic and electric), banjo, mandolin, and piano. The musical gene runs in his family: his brother is a professional organ player who harbors a passion for vintage analog keyboards. Seanix listens to "everything under the sun" from jazz to Western to "crazy experimental noise no one else wants to listen to."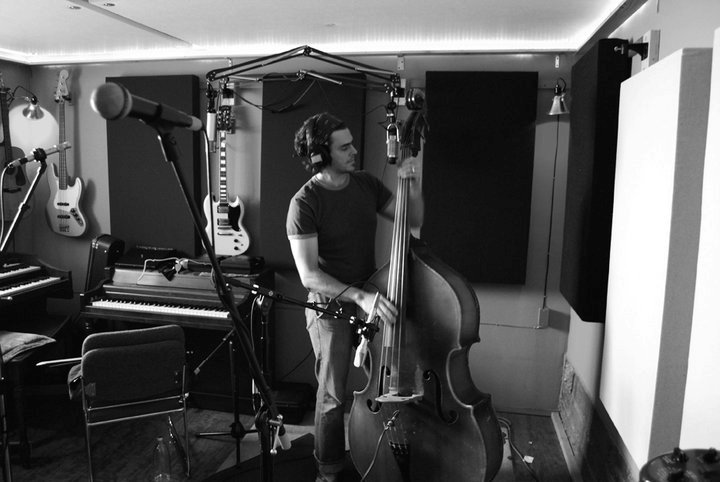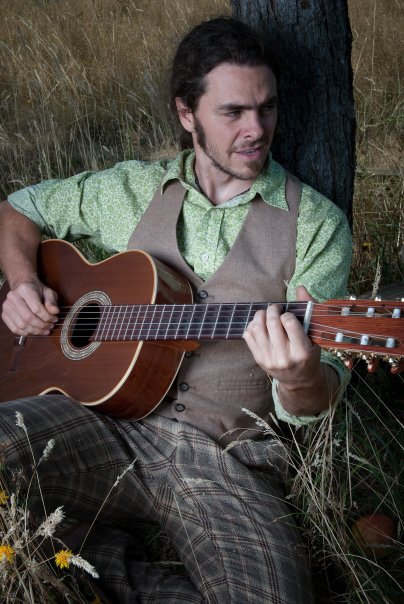 IF SEANIX WEREN'T BUILDING TREEHOUSES FOR A LIVING
Seanix believes he'd either be in the entertainment industry (playing music or acting) or working as an outdoors/local tour guide if he weren't treehousing for a living. He also already has his retirement planned out: Seanix intends to work as a docent for a National Park. He dreams of sipping coffee and basking in the park's natural beauty.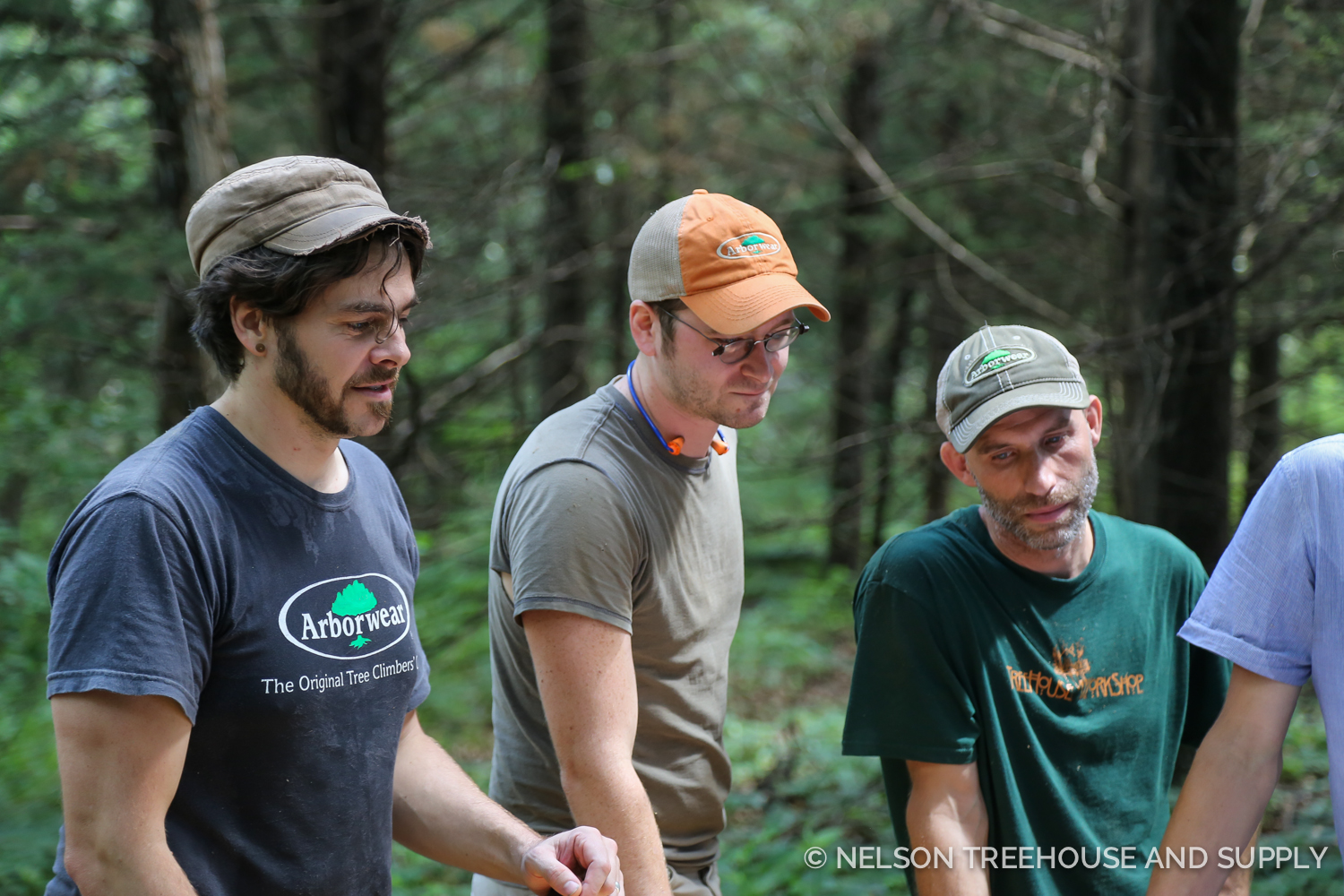 DREAM TREEHOUSE
Seanix' dream treehouse would be so well integrated with its environment that it would be nearly invisible. He loves how treehouses connect their residents with nature, and believes that airier, more open designs are best suited to achieving this connection. "The more open, the better," says Seanix, "with only a couple of walls that frame a magnificent view."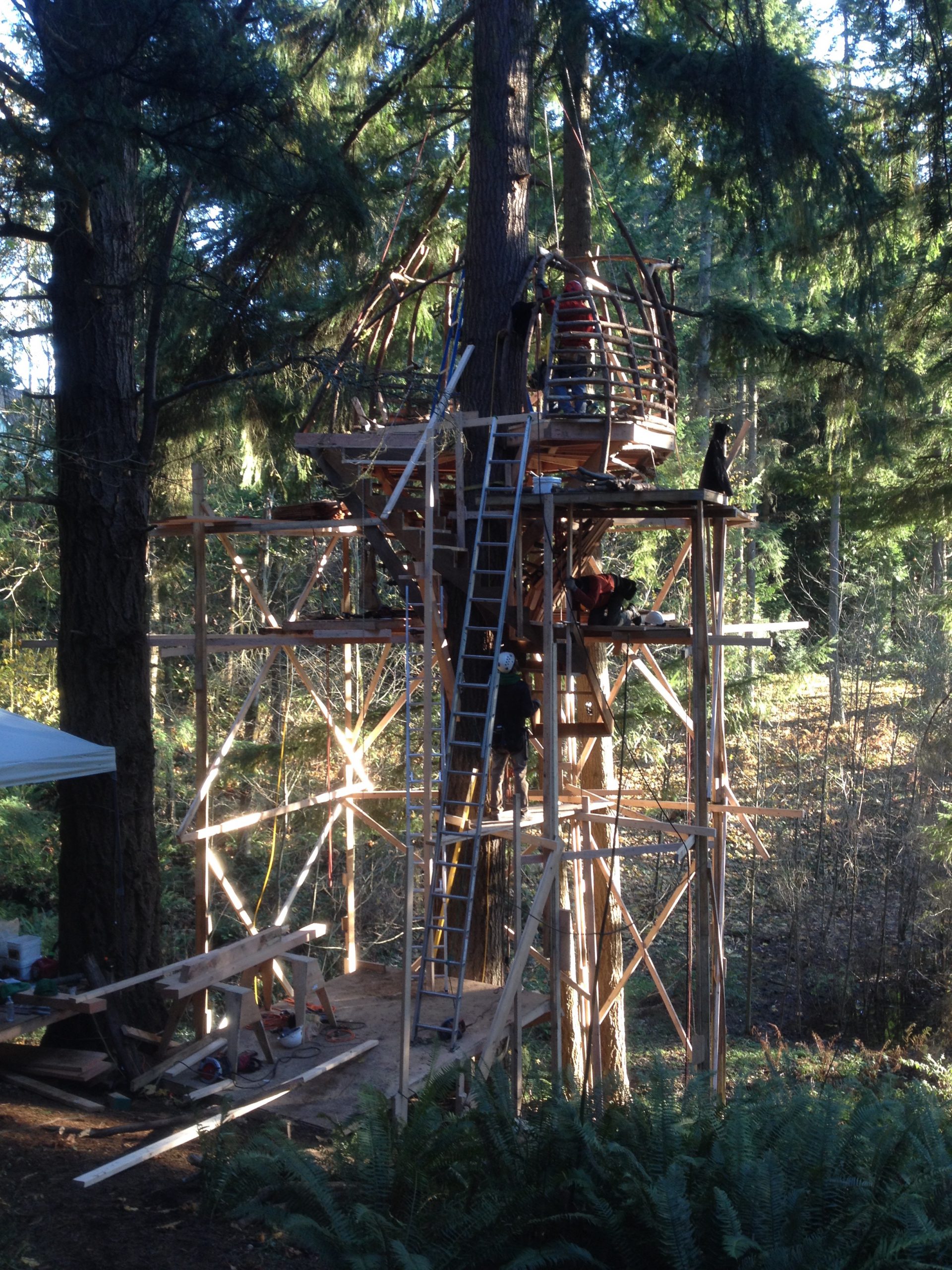 Building The Beehive Treehouse
ONE THING SEANIX HAS NEVER TRIED BUT WOULD LIKE TO DO
Seanix would like to try voiceover work for animated films, television shows, and/or audiobooks. He regularly irks family members by insisting they watch the special features on voice actors after animated films – he's fascinated by their work. Until Seanix breaks into the industry, he's practicing his craft by reading bedtime stories aloud for his kids. His latest performance was voicing each knight while reading Knights of the Round Table to his son.
ADVICE FOR HIS YOUNGER SELF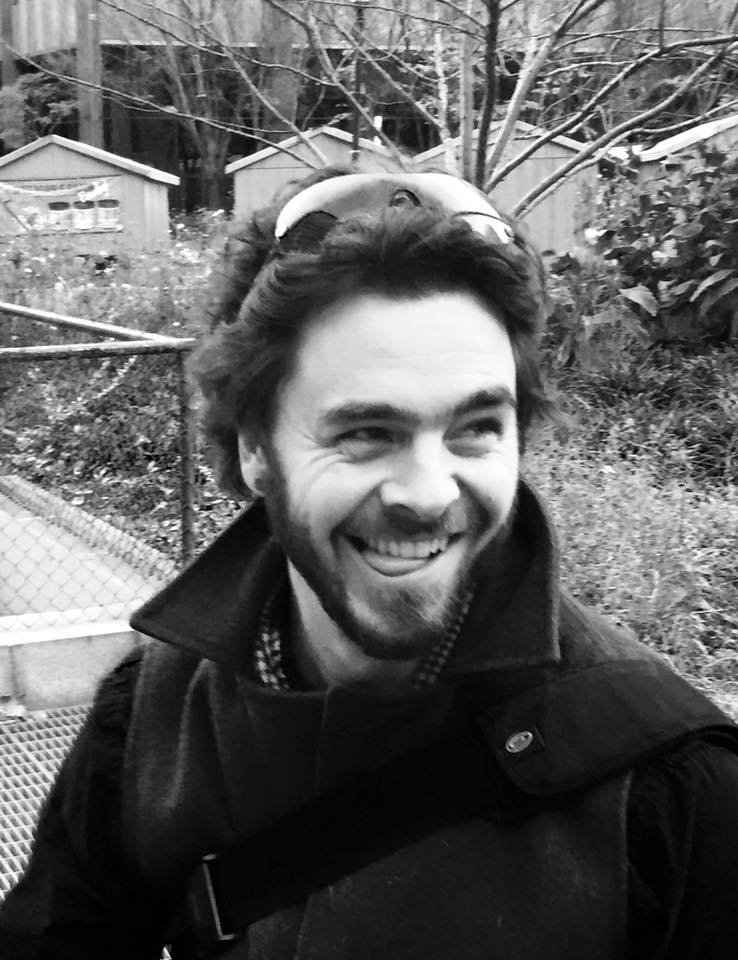 Thanks for sharing your story with us, Seanix!
To stay updated on all things Nelson Treehouse, please subscribe to our newsletter and follow us on social media.
To the trees!