Engagement season is upon us again, and the staff of TreeHouse Point is looking forward to hosting many new weddings and elopements this year! To celebrate recent engagements (and those to come!) we're throwing it back to one of our favorite weddings from 2016: Alexandria and Luís' rustic fairytale wedding. Read on for photos and details from this romantic TreeHouse Point wedding.
Interested in tying the knot at TreeHouse Point? Find more information here!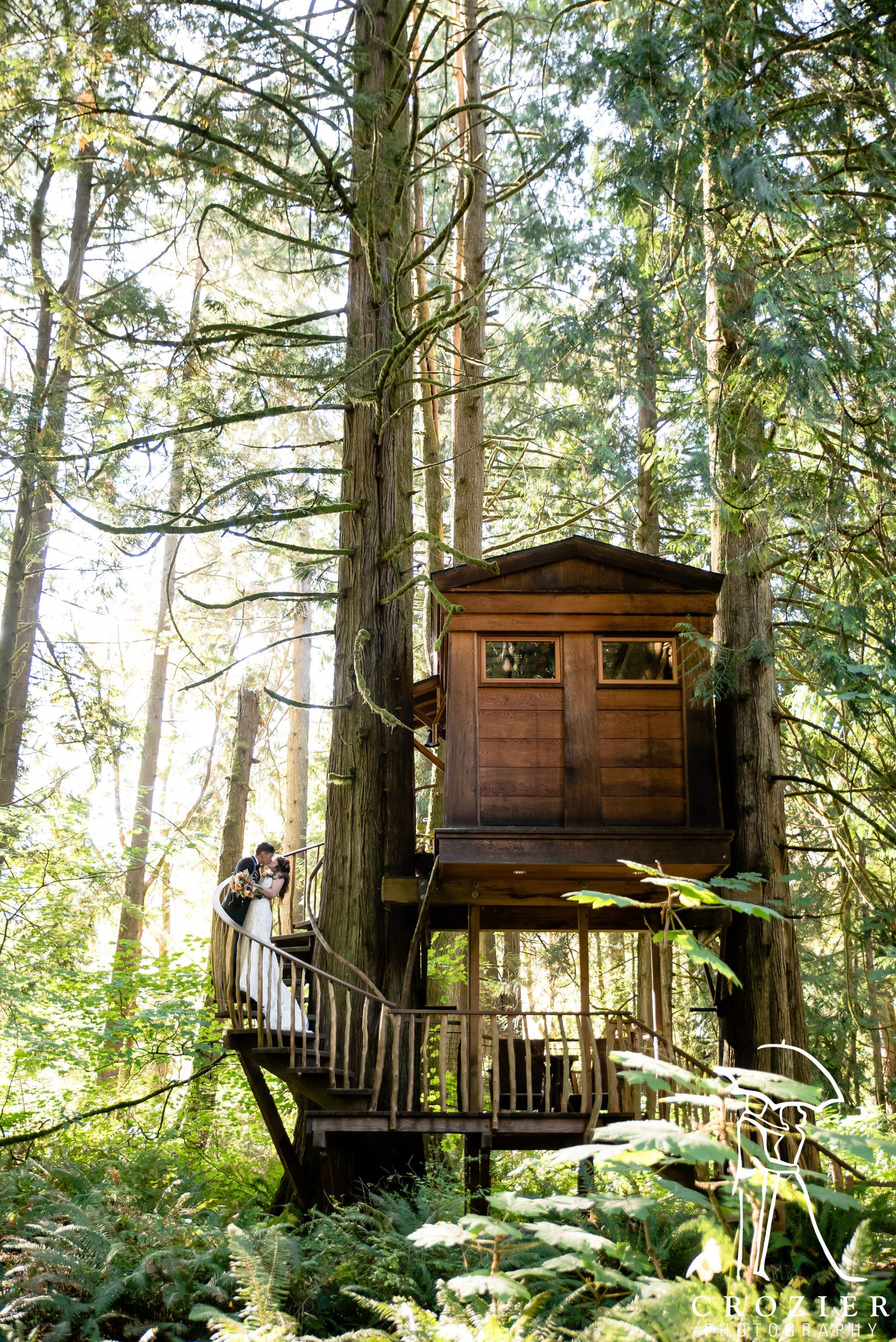 TreeHouse Point was honored to host Alexandria and Luís' intimate family wedding last fall. The day was simply perfect: sunshine sparkled through the verdant forest, gilding the treehouses and illuminating the already-glowing faces of the bride and groom. Alexandria and Luís' wedding exuded a distinctive aesthetic combination of luscious yet natural, elegant yet rustic. With only 30 loved-ones in attendance, the couple had the opportunity to spend quality time with each and every guest. Photographer John Crozier captured the fairytale-quality of the wedding, from Alexandria and Luís' tender moments together on the Temple of the Blue Moon's suspension bridge, to the lavish, live table runner created by Down to Earth Flowers for their reception.
Alexandria first heard about TreeHouse Point from her brother. After looking into the venue, Alexandria was certain it was the perfect place to host her wedding; in her own words, "It was simply my dream venue! We had looked at several other locations, but I found there was nothing as special as TreeHouse Point." Alexandria has always harbored a love for nature, trees, and the lush wilderness of the Pacific Northwest, and felt that TreeHouse Point embodied these characteristics. Luís and Alexandria were especially taken by the secluded riverbank with its many serene cairns, left by previous guests at TreeHouse Point, as well as the rustic majesty of the Temple of the Blue Moon.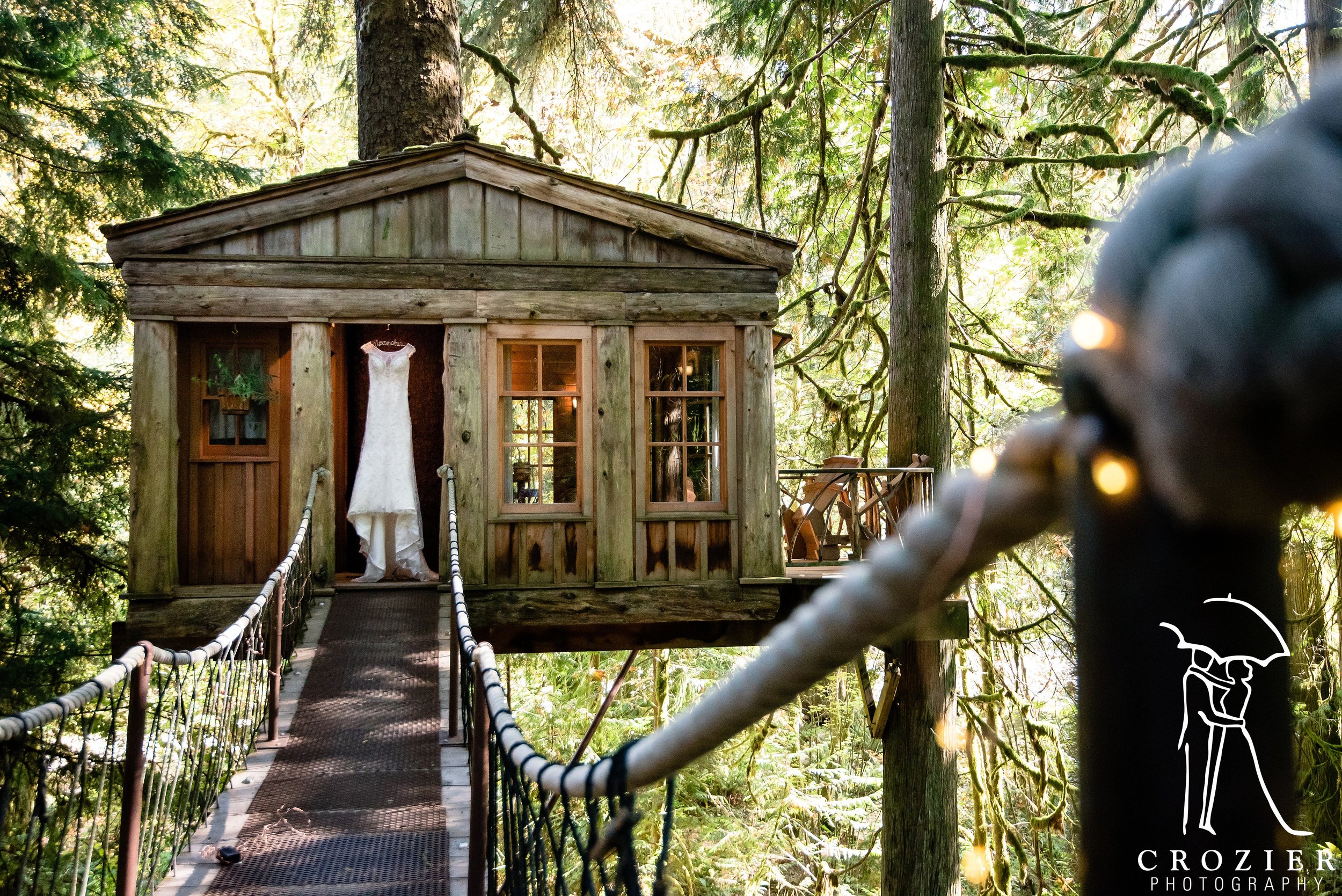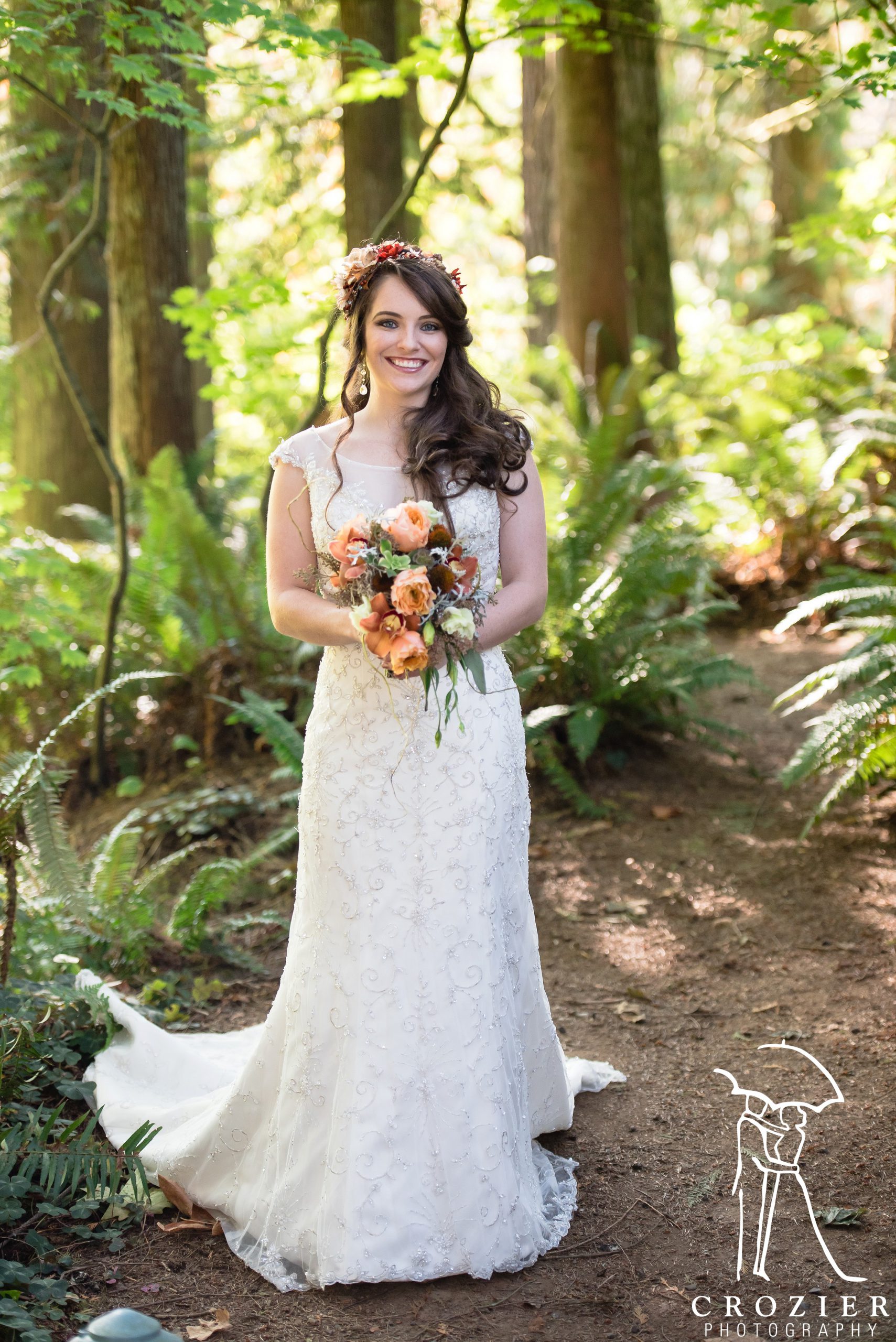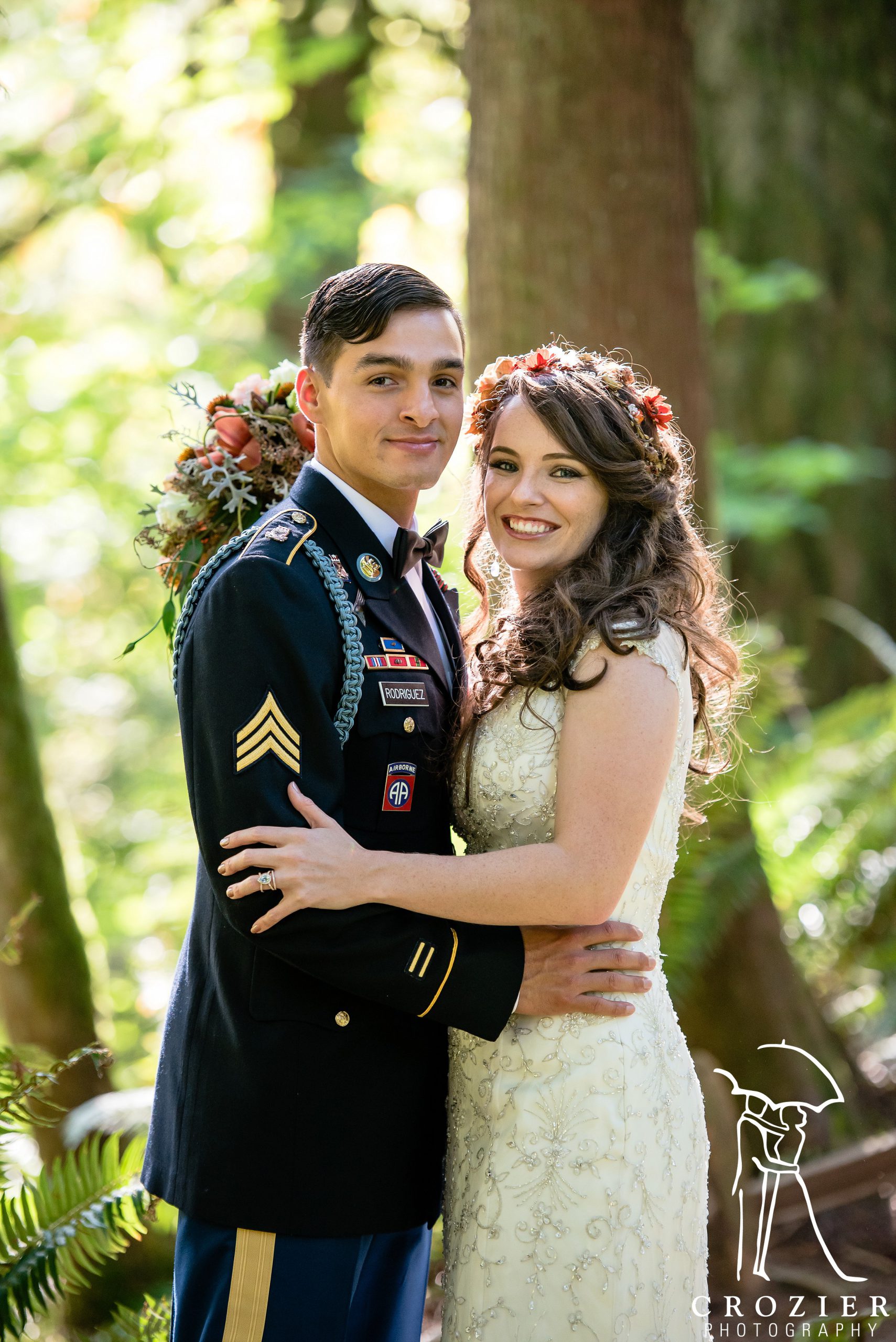 After getting ready in the Bridal Suite in the Lodge, Alexandria and Luís posed together for photos amid the grand trees, lacy ferns, and rocky riverbank on the TreeHouse Point grounds. They also took to the trees, or at least to several treehouses, for a magical, timeless photoshoot.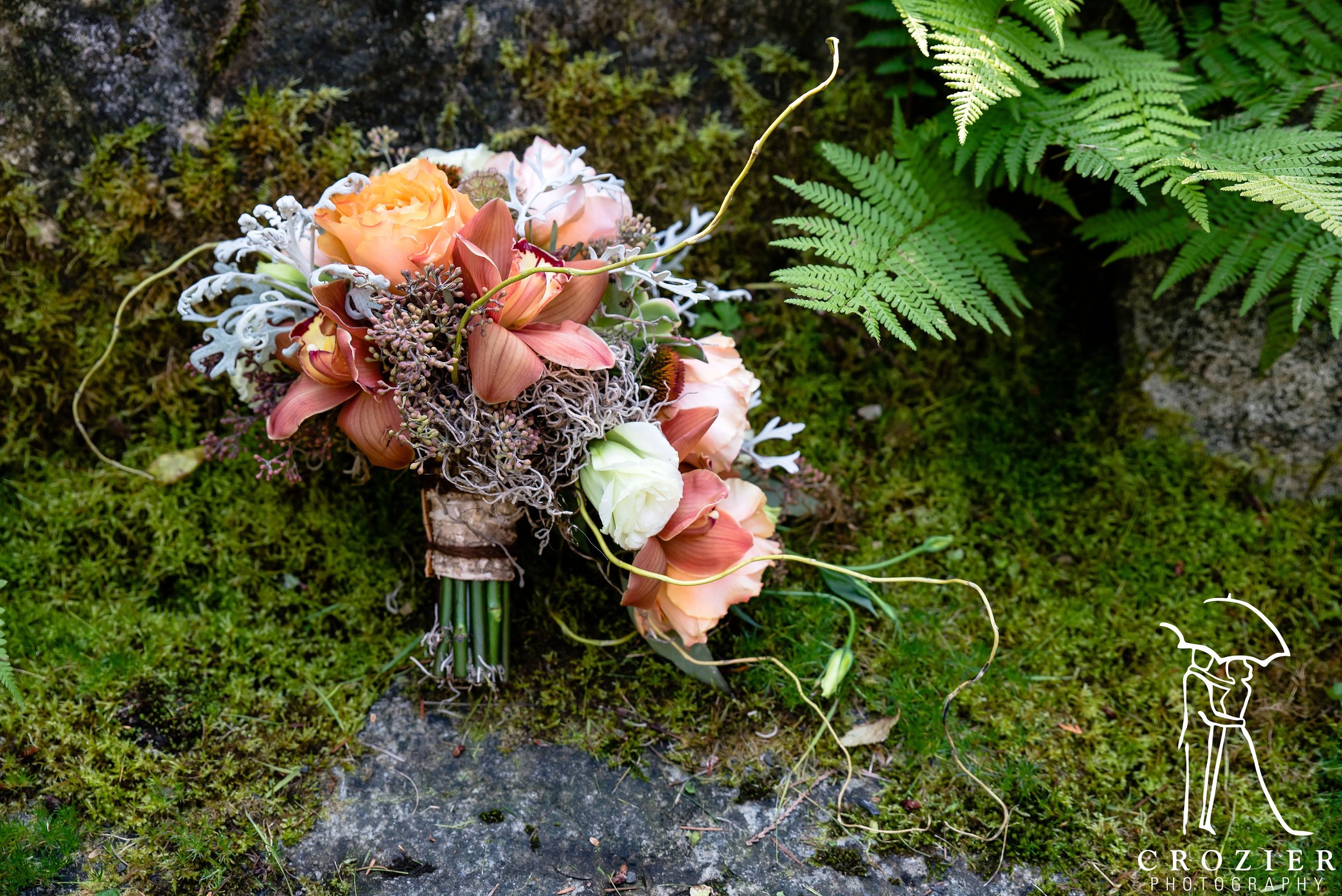 Florals by Down to Earth Flowers. Read more about this Snoqualmie-based florist and gift shop on our blog here.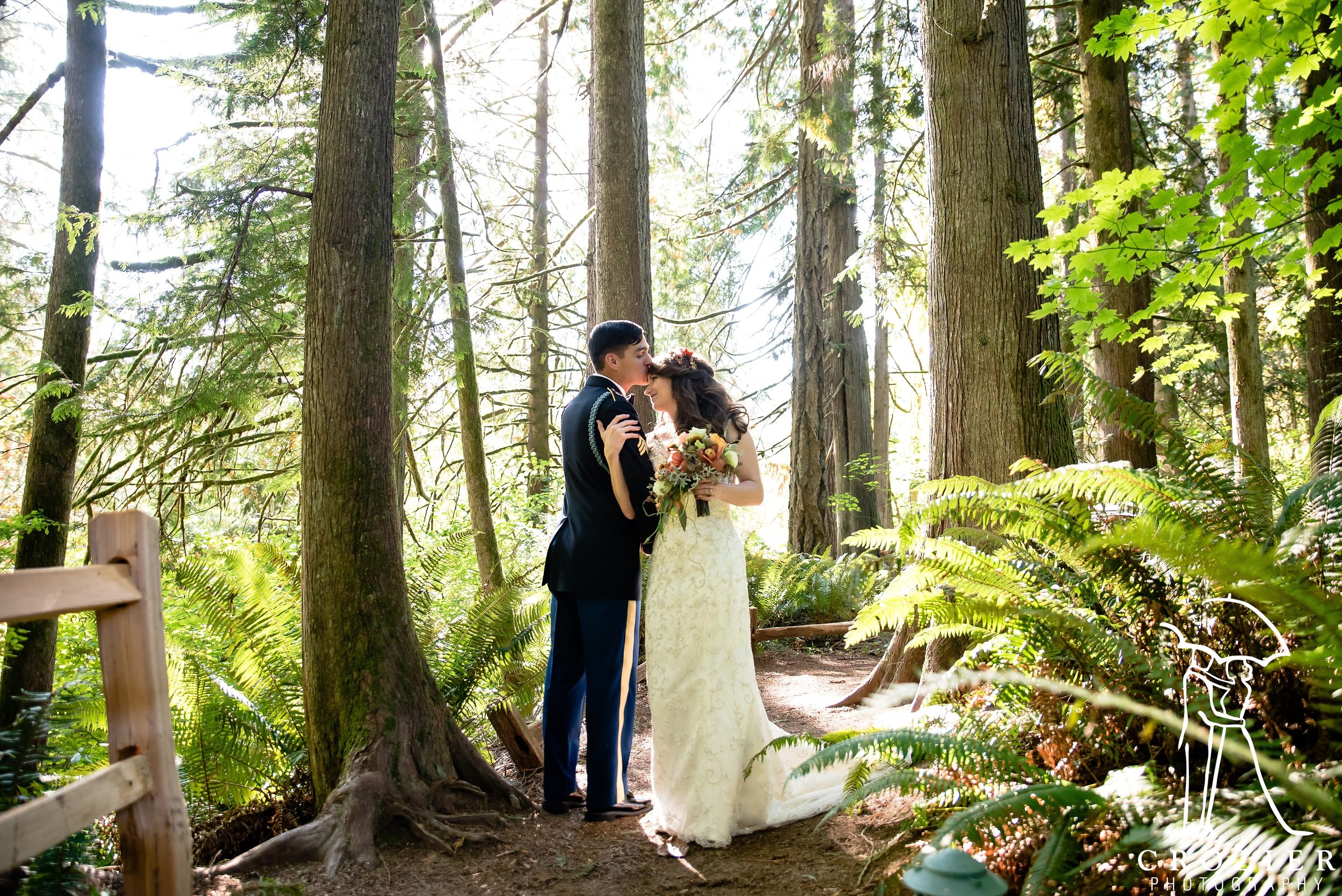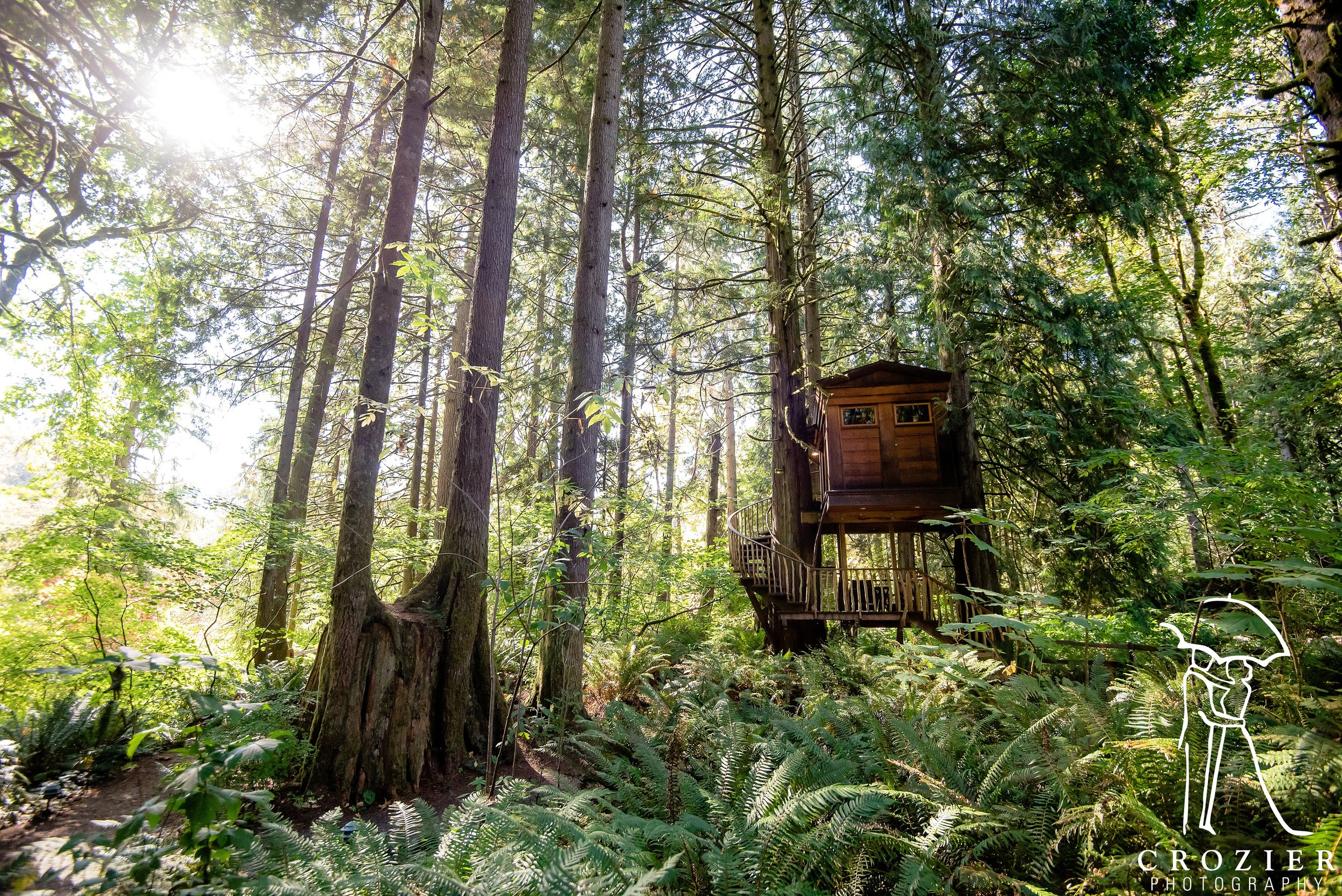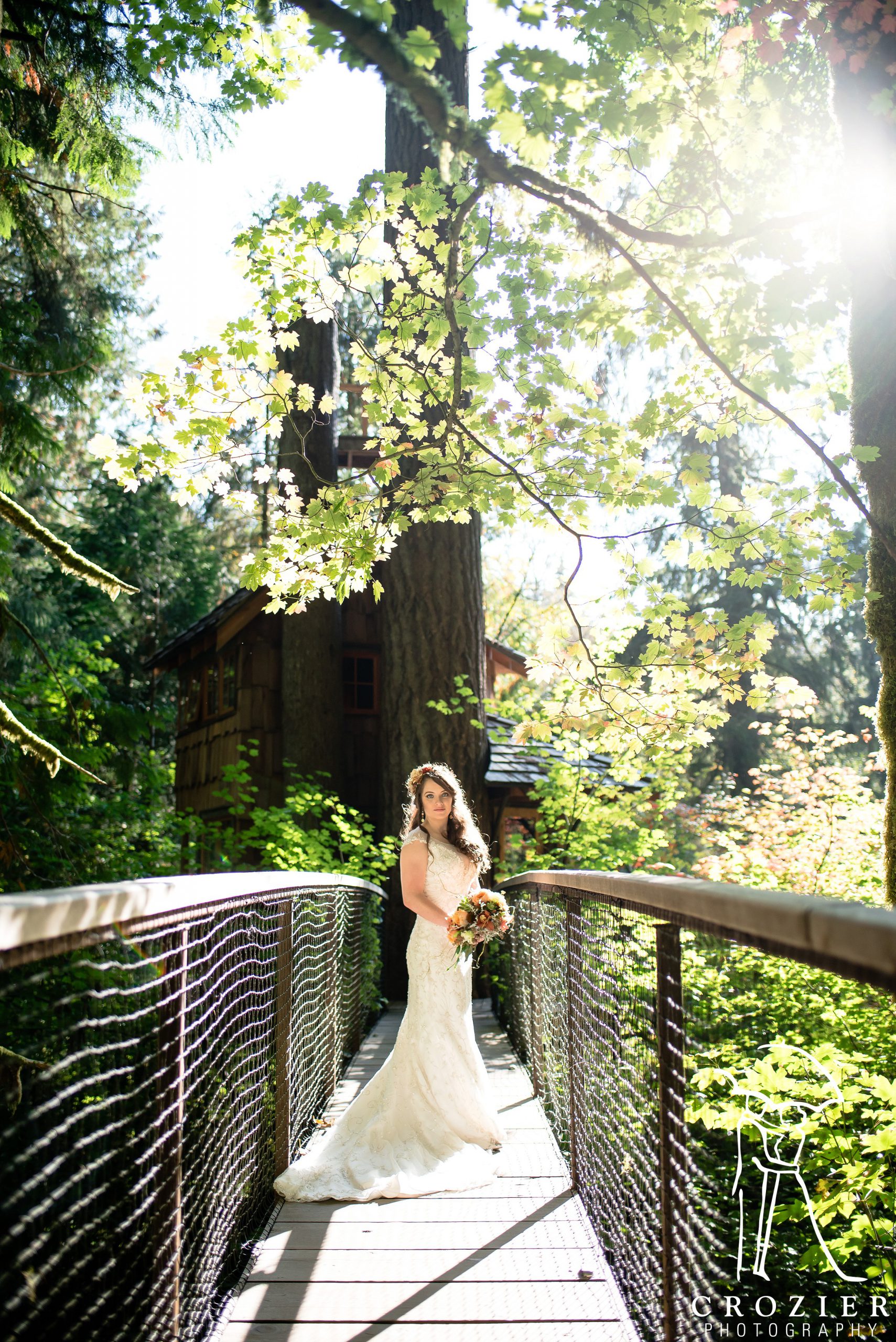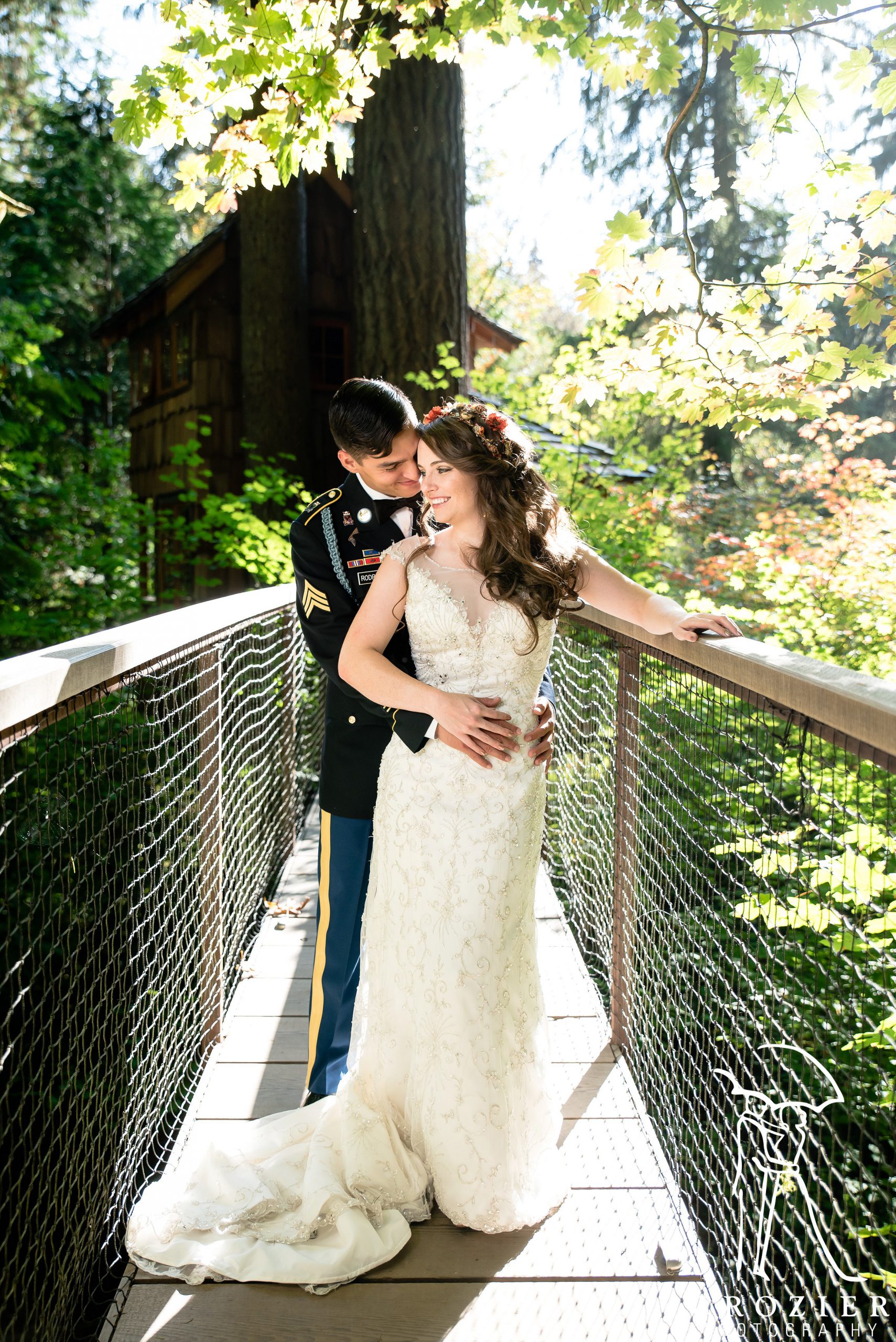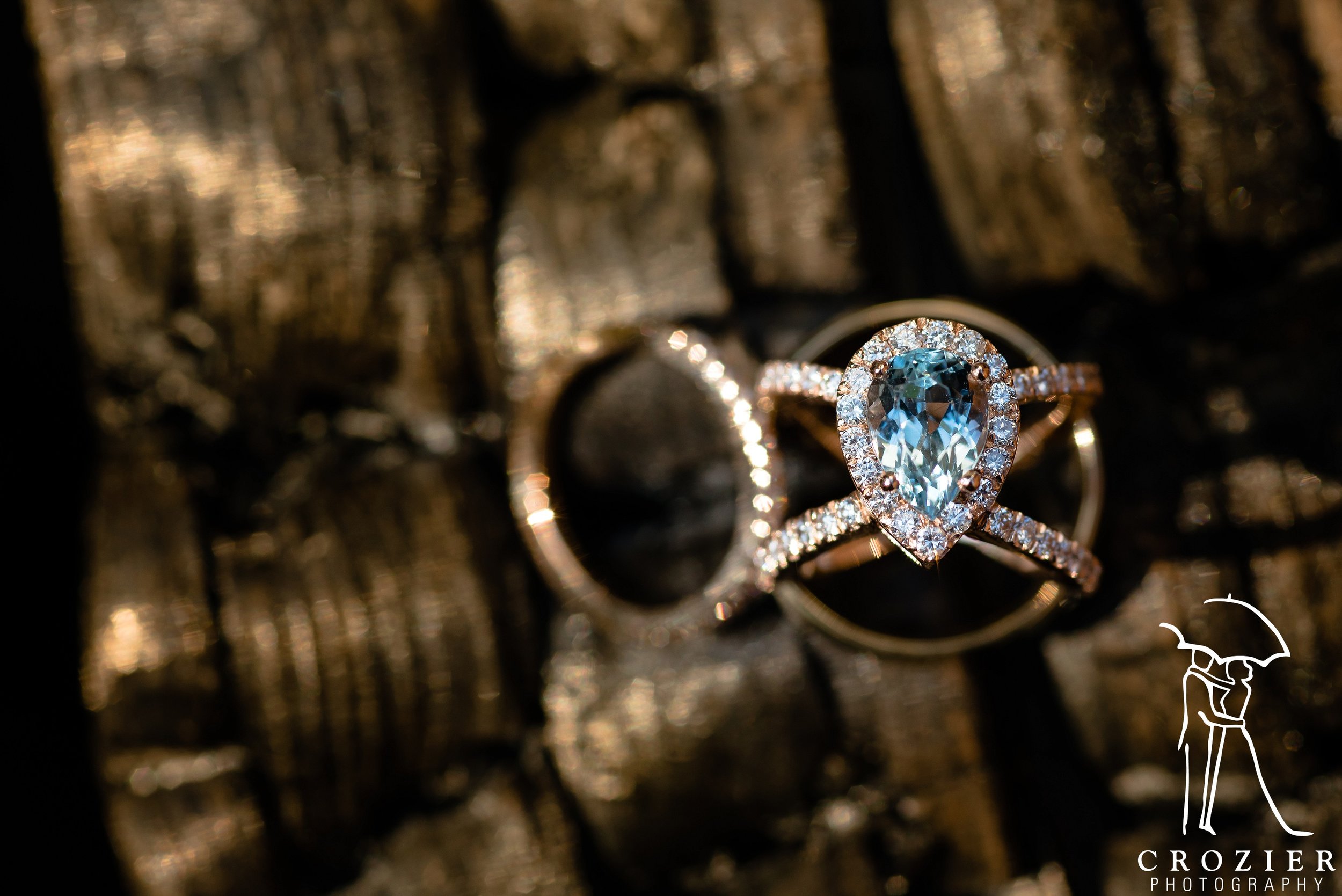 Alexandria's wedding ring holds a very special meaning: the central stone was her grandmother's. Alexandria's parents had purchased the stone for Alexandria's grandmother while they were on their honeymoon. On Alexandria's parents' 15th anniversary, they reset the stone for themselves. Luís and Alexandria then had the stone reset for their wedding by Luxor Custom Jewelers in Texas. In all, the ring has passed through three generations of loving marriages!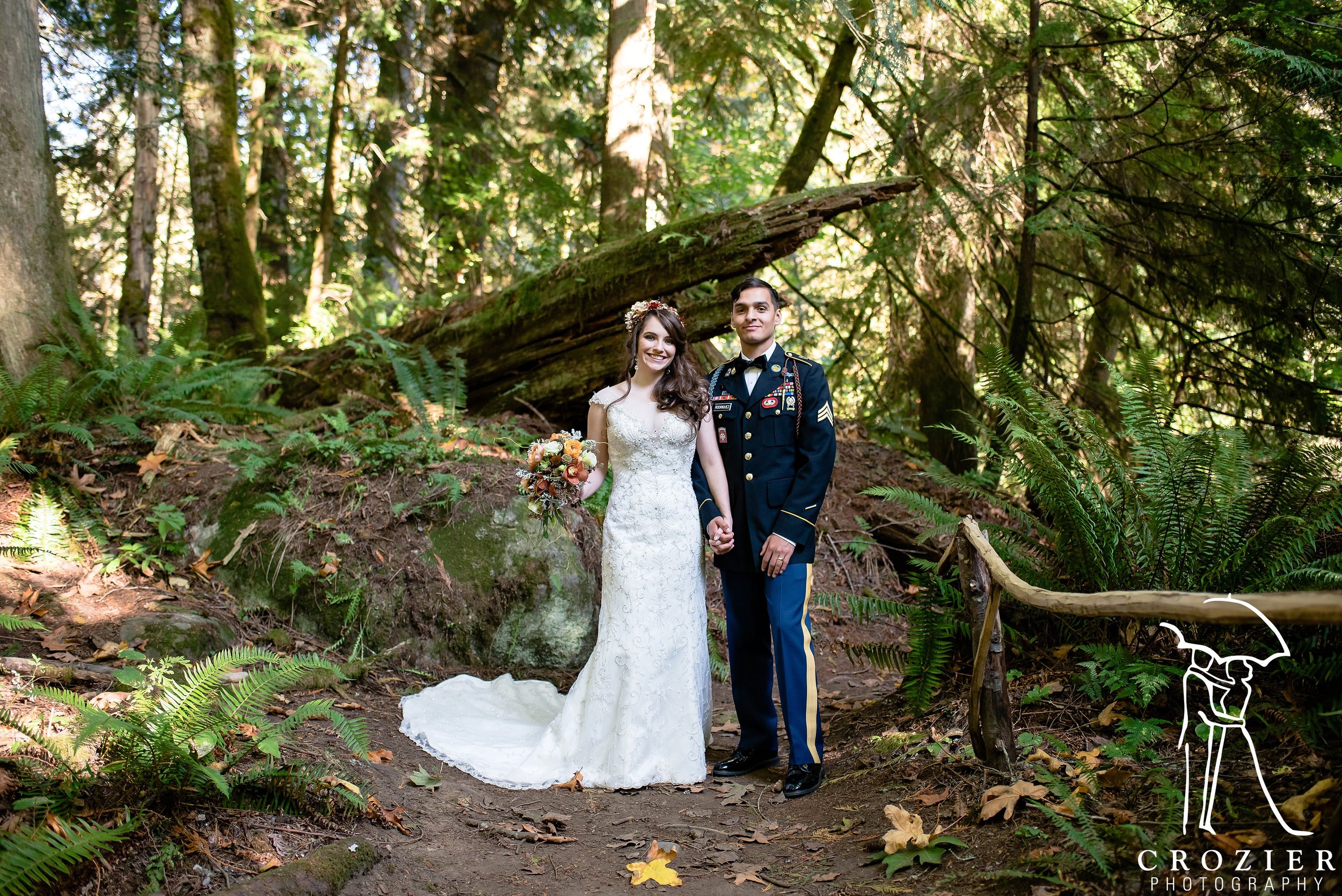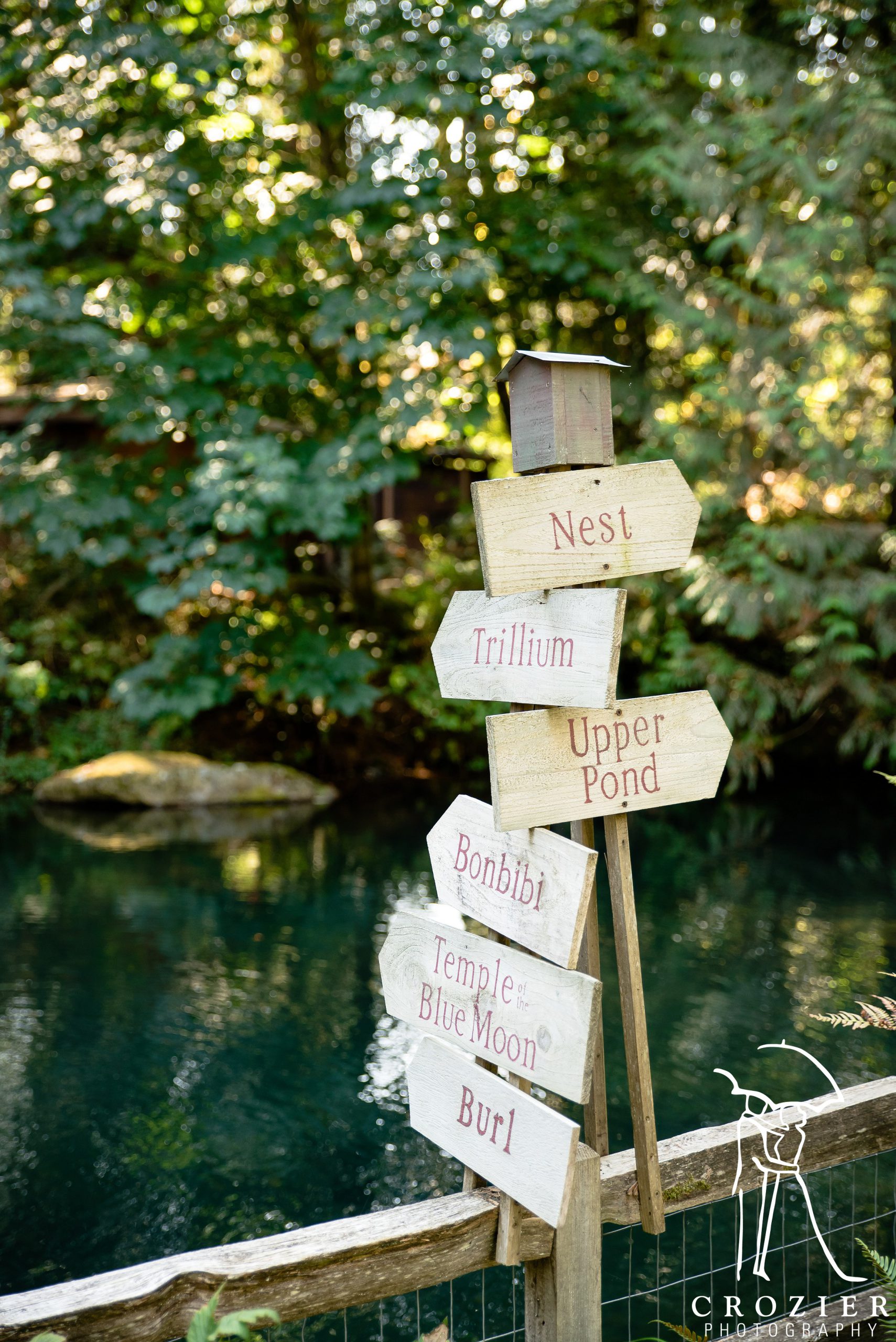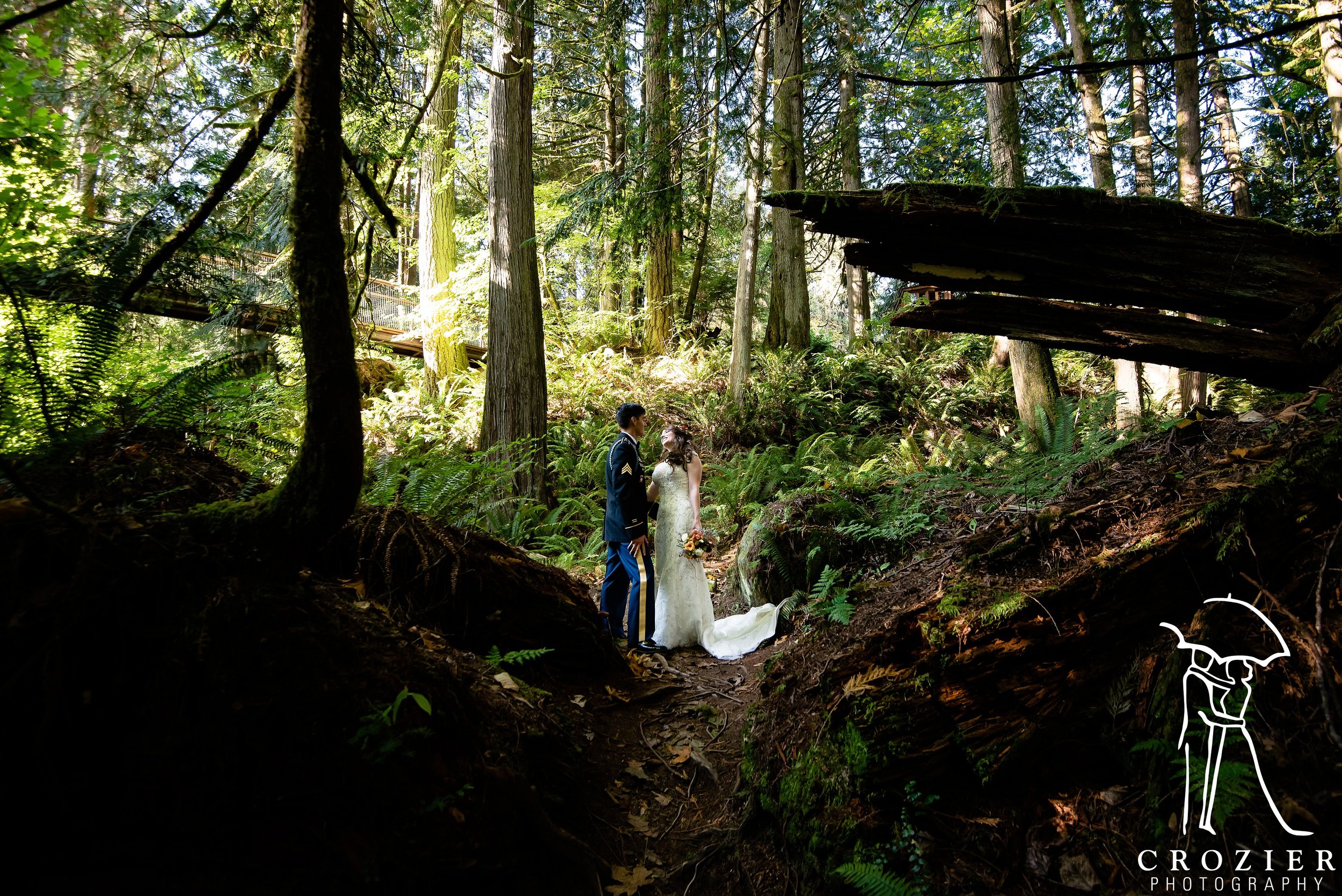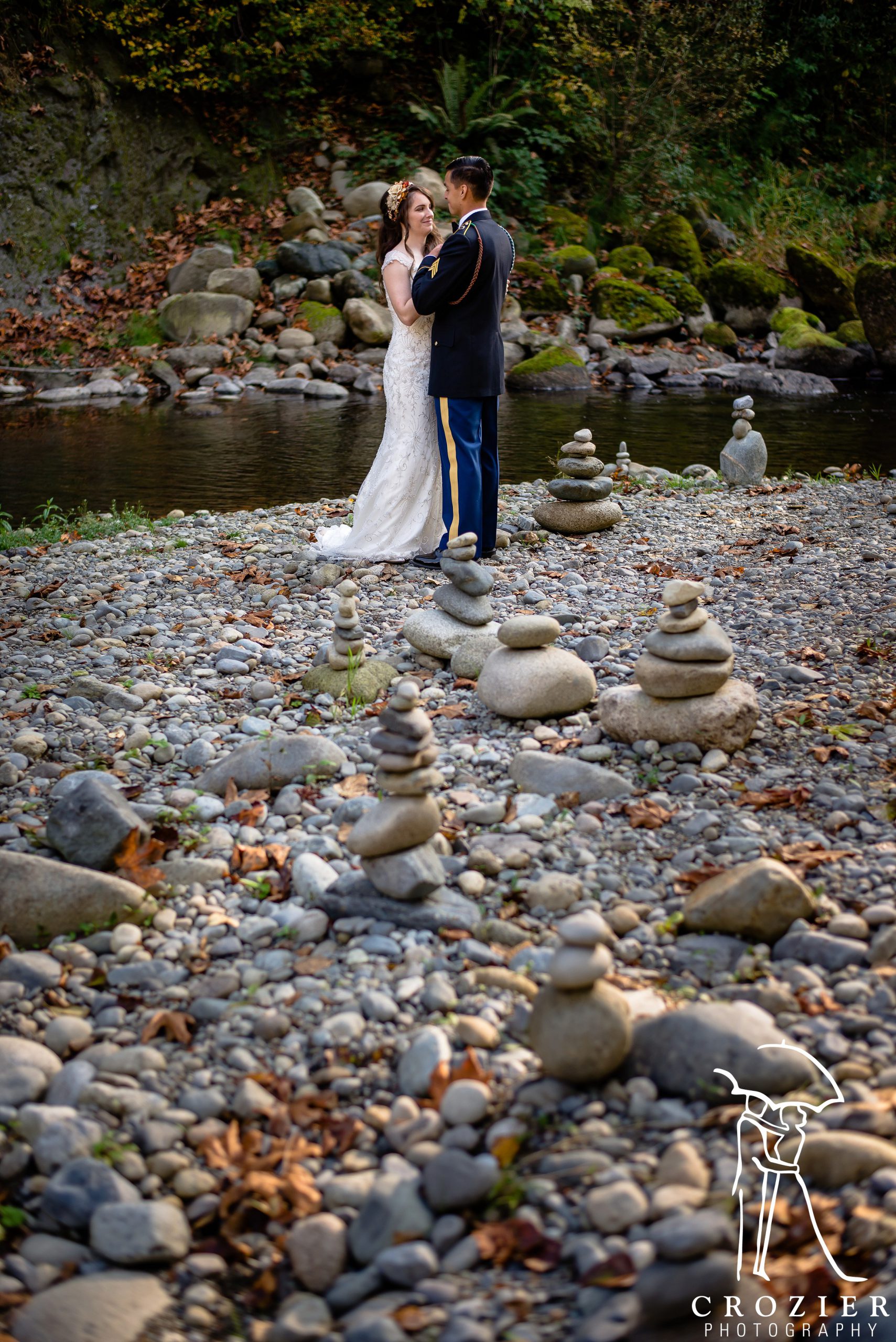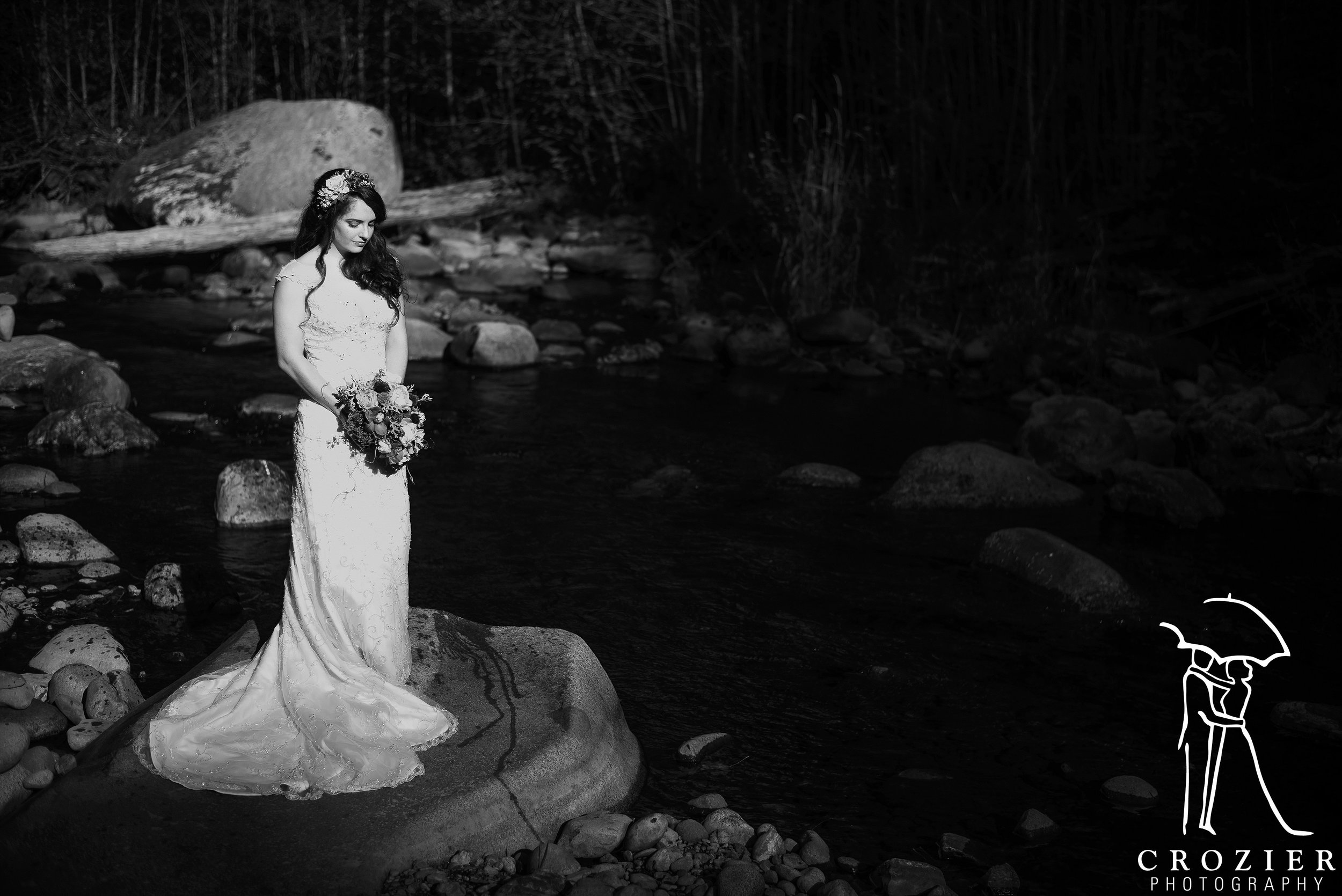 When Alexandria and Luís visited TreeHouse Point before their wedding, they constructed a small cairn on the bank of the river. At that time, the couple promised that they would build another, loftier cairn on their wedding day to symbolize the start of their life together. They kept their promise! We're so inspired by this sweet and symbolic gesture.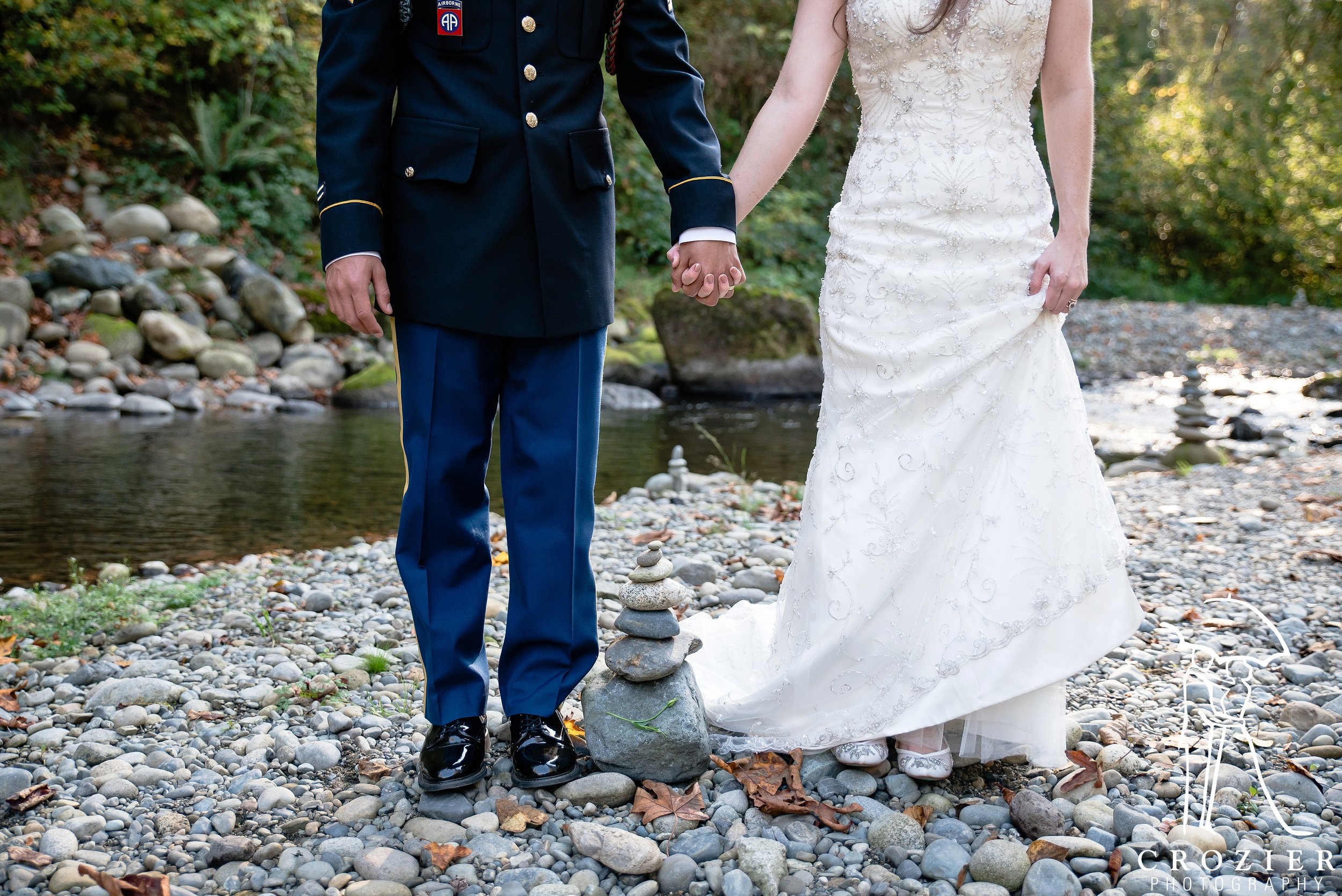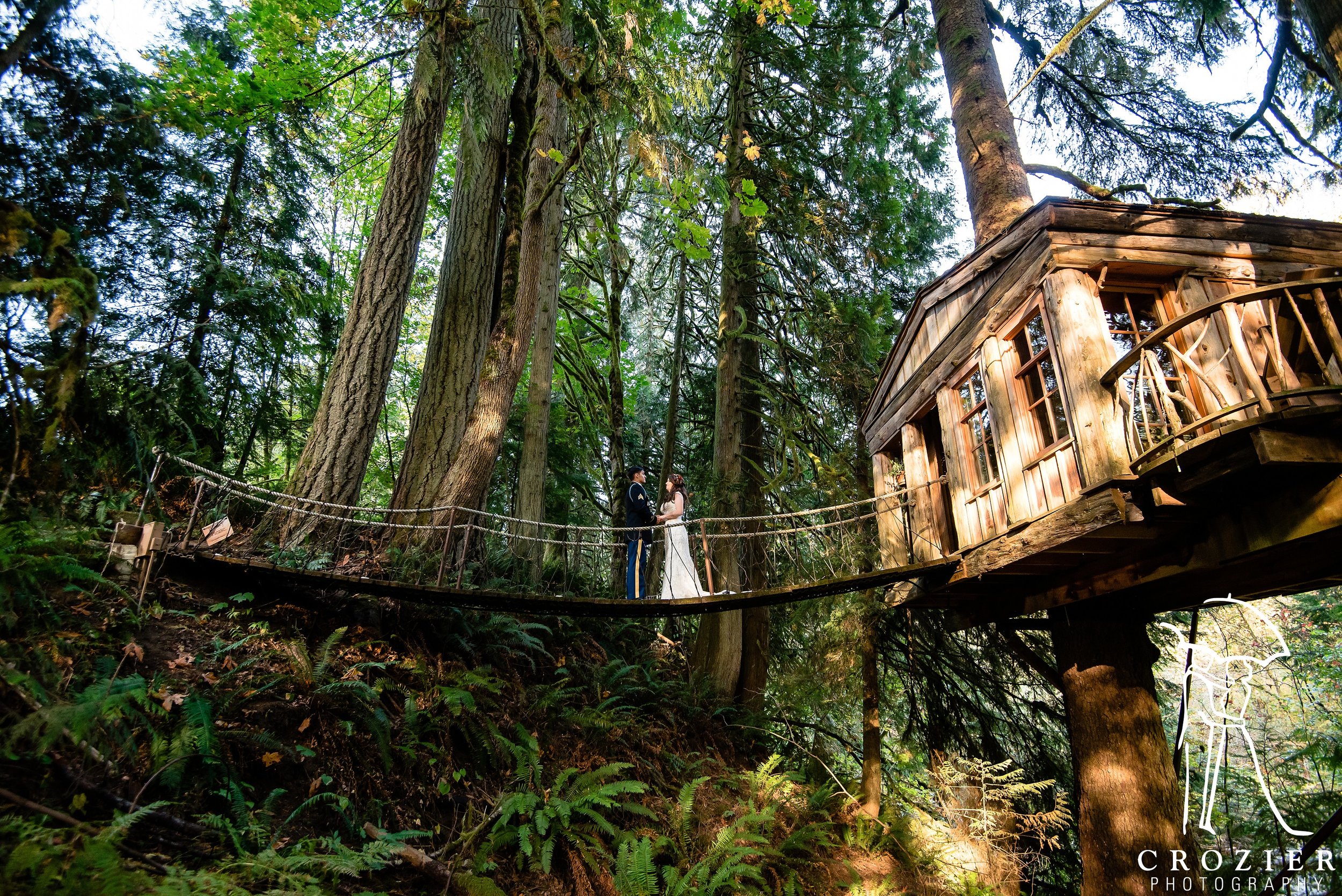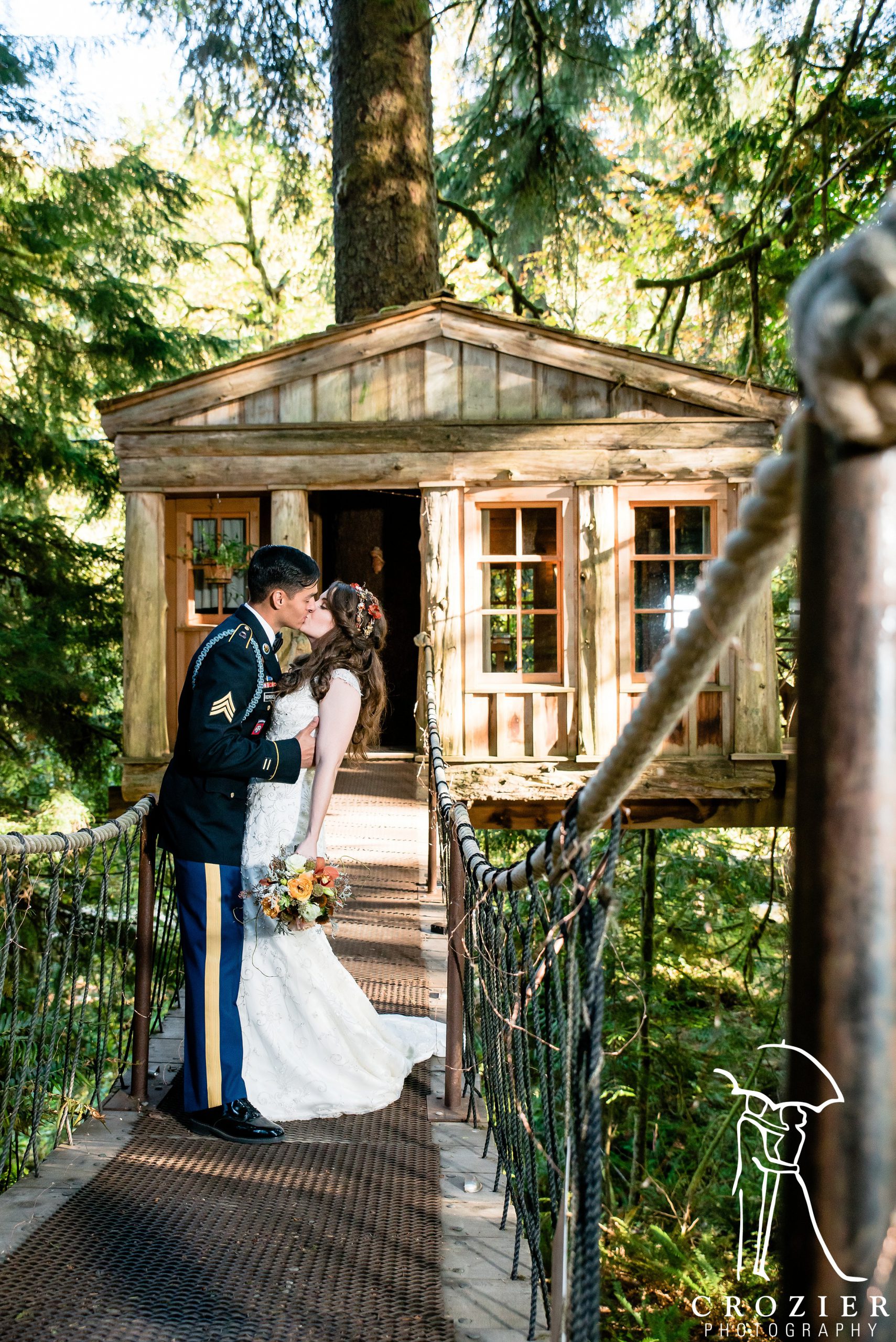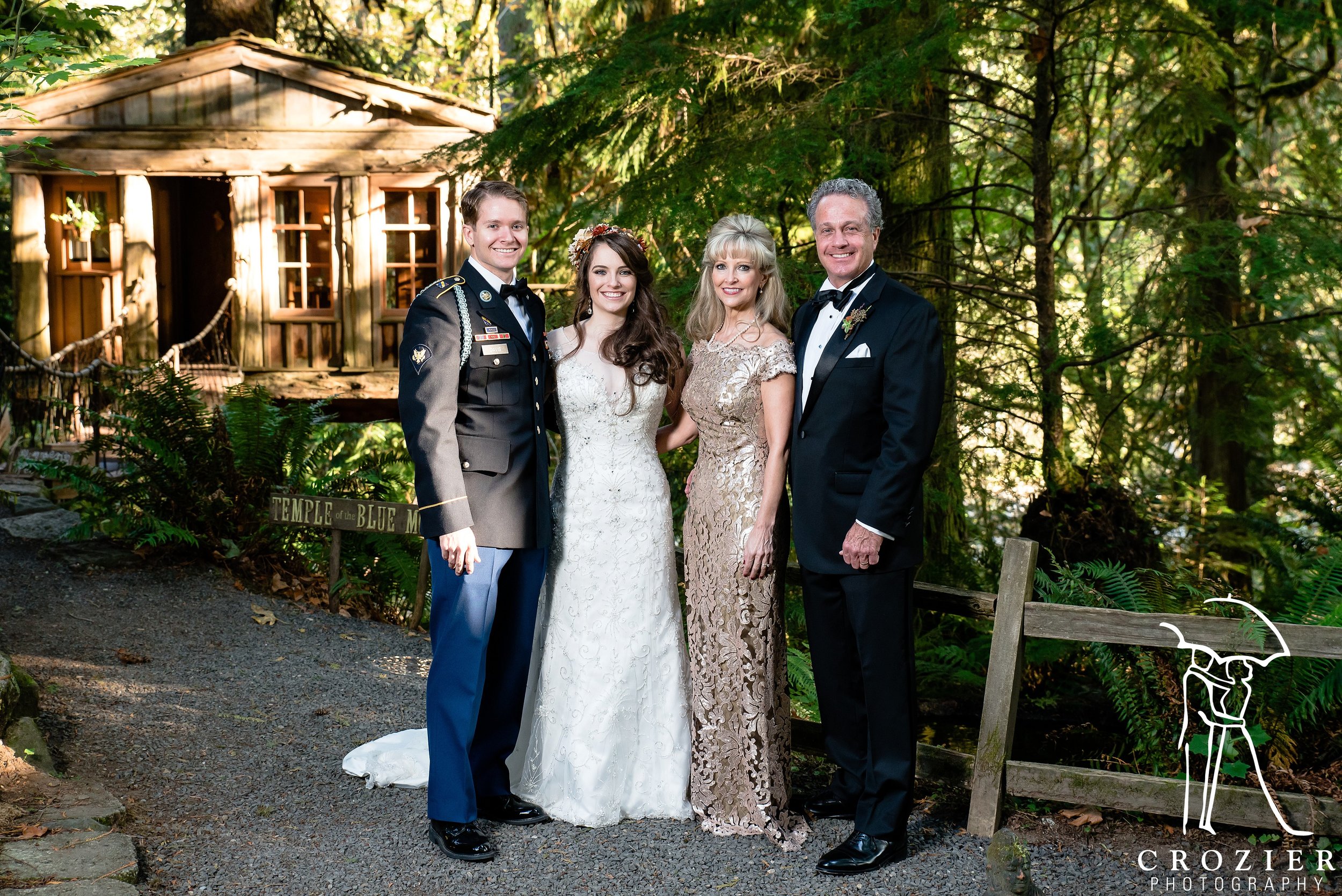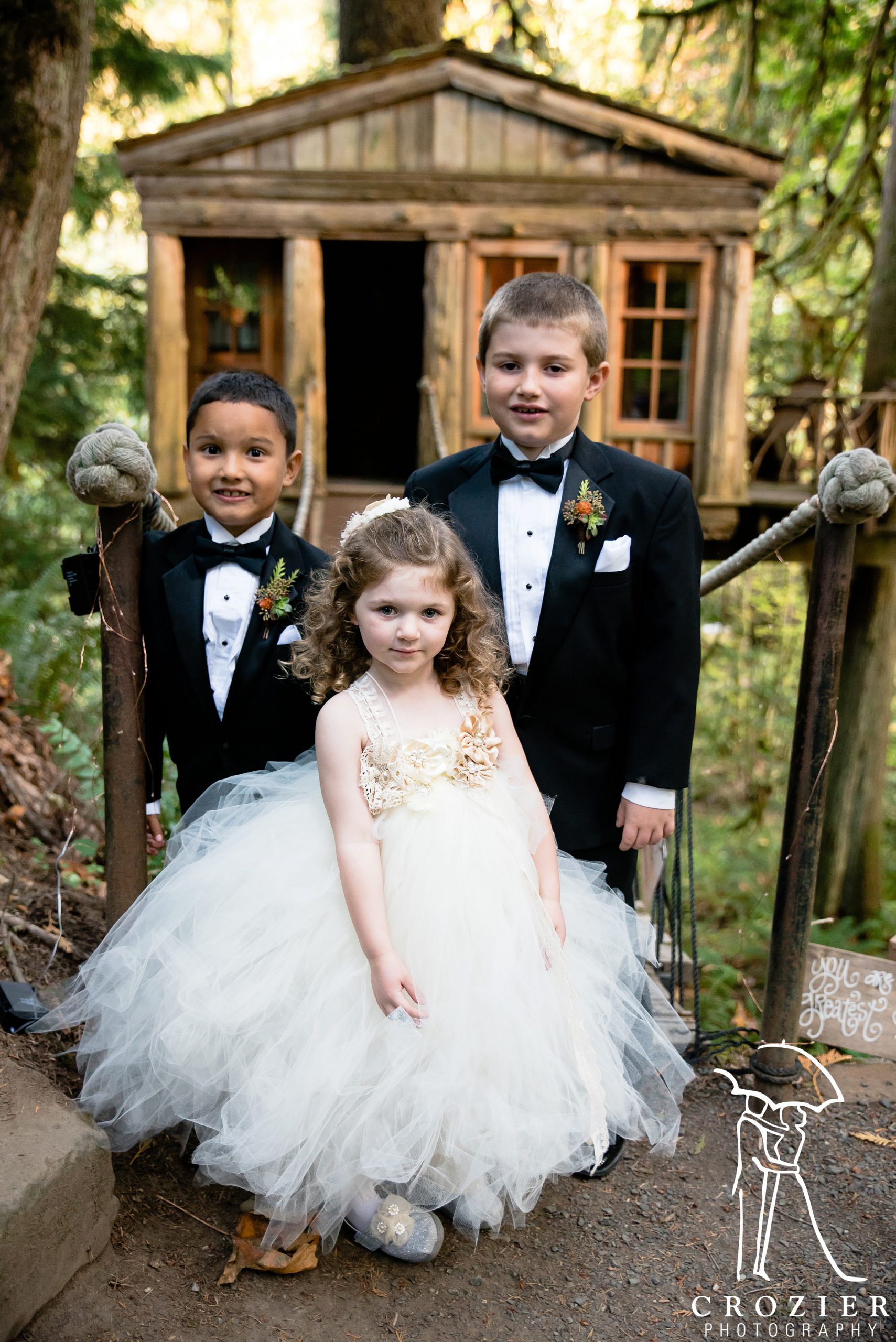 Alexandria's guiding intention for her wedding day was that it needed to be a relaxed, fun, and worry-free experience. She credits her talented mom, Cathy, with the achievement of this goal. Cathy collaborated with TreeHouse Point's Wedding Coordinator to adeptly facilitate the planning for the wedding, ensuring that the day ran smoothly.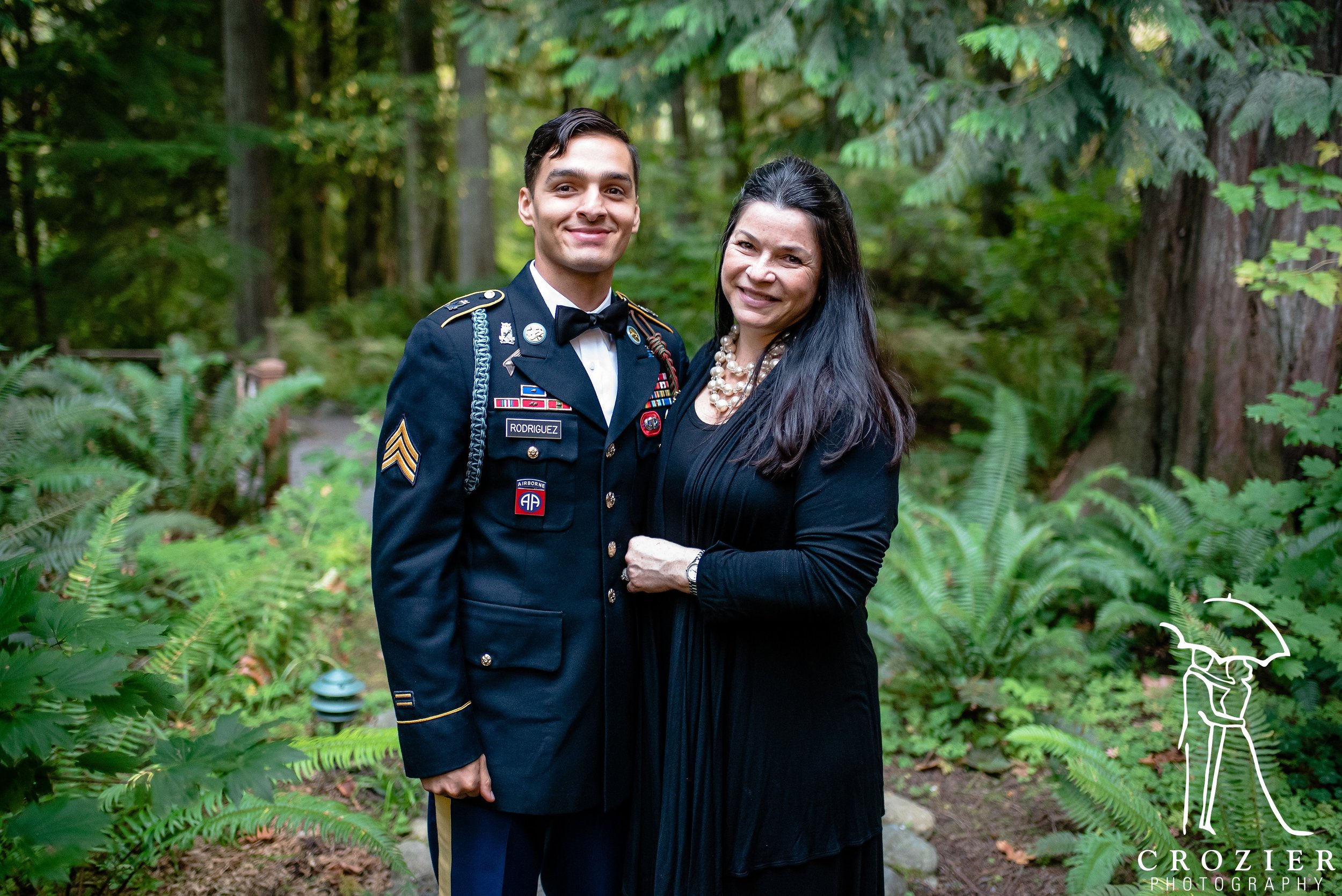 When asked what advice she would give to those starting the wedding planning process, Alexandria shared, "Determine which wedding traditions and elements are most important to you, and what you are willing to be more flexible with." There are so many options today for couples planning their weddings that it can often feel overwhelming. Alexandria advises couples to remember that they ultimately have the freedom to "do what is truly important" to them.
For Alexandria and Luís, one of these indispensable elements was the small size of their wedding. From the start, the couple knew that they wanted to spend time with each of their loved-ones at the wedding, so an intimate gathering was a must.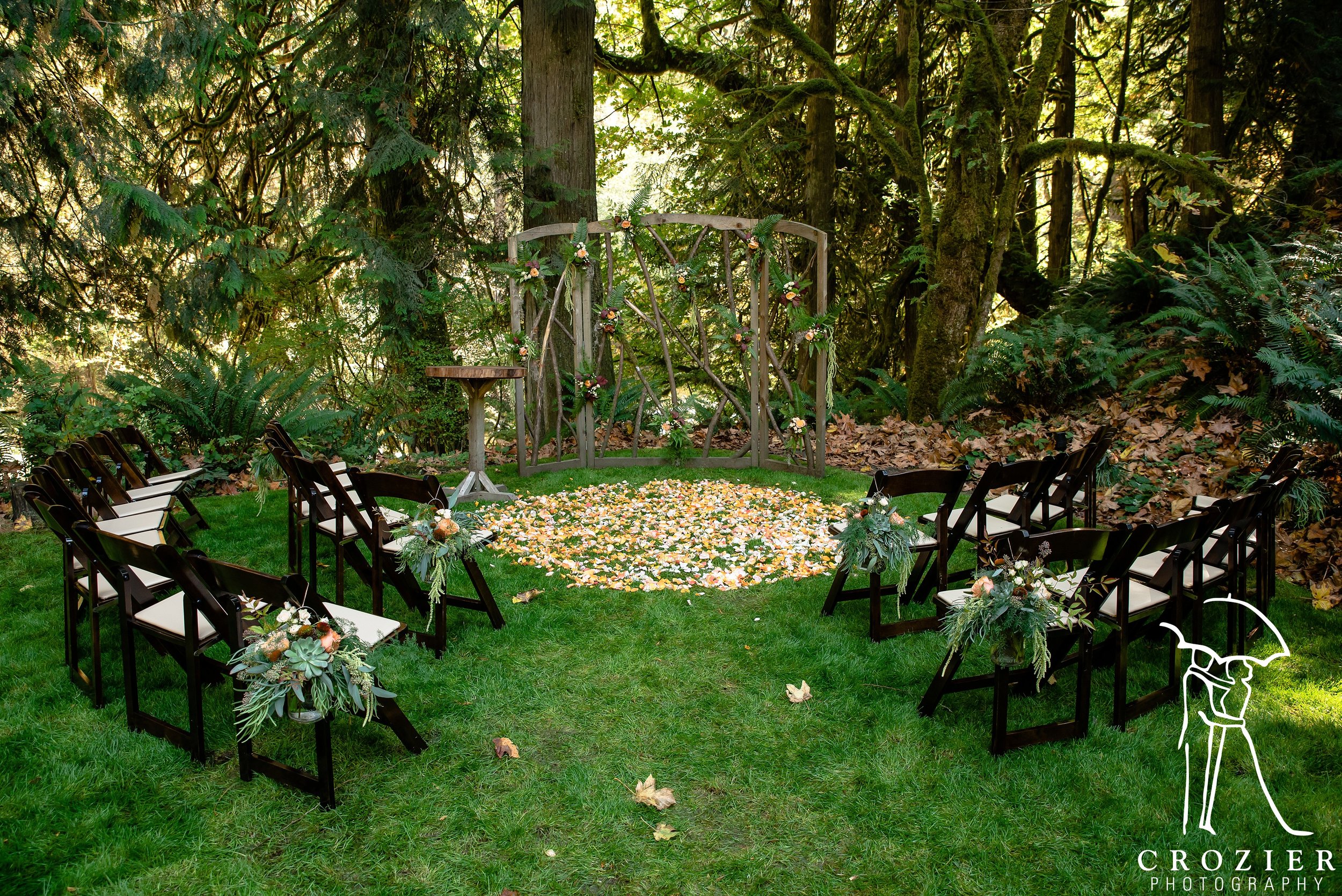 For Alexandria, the happiest moment from her wedding was the ceremony. Held amid mossy trees and sunlit treehouses, Alexandria and Luís' ceremony seemed like a page from a fairytale. Loved-ones sat in a unique semicircular arrangement around the couple, who exchanged their vows against a natural wood arbor wreathed in feathery ferns and flowers. The moment of the ceremony enabled Alexandria to feel the full importance and joy of her marriage to Luís. Until that moment, Alexandria felt like the whole day had been sweetly surreal; when the ceremony began, the wondrous reality of the moment grew clear.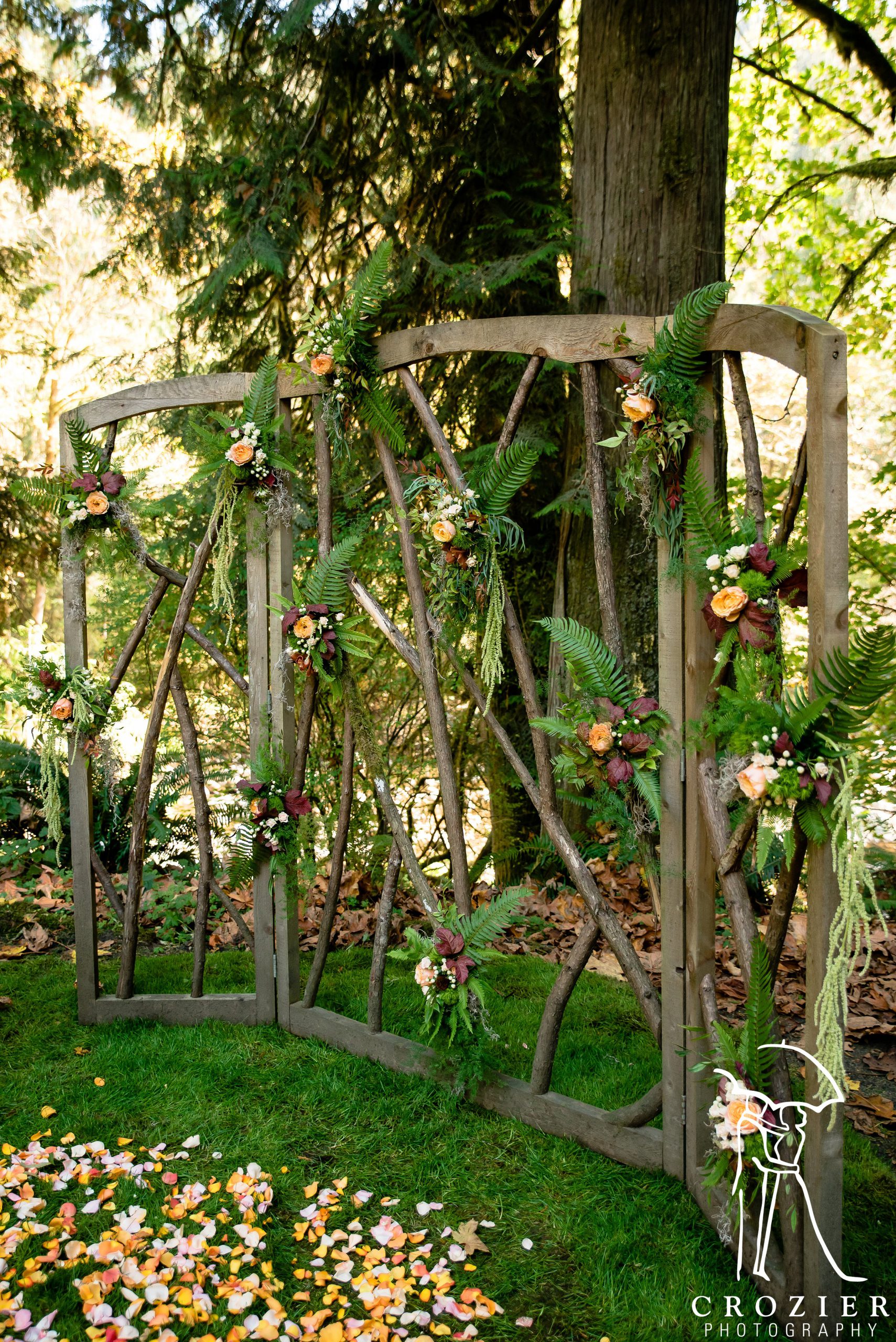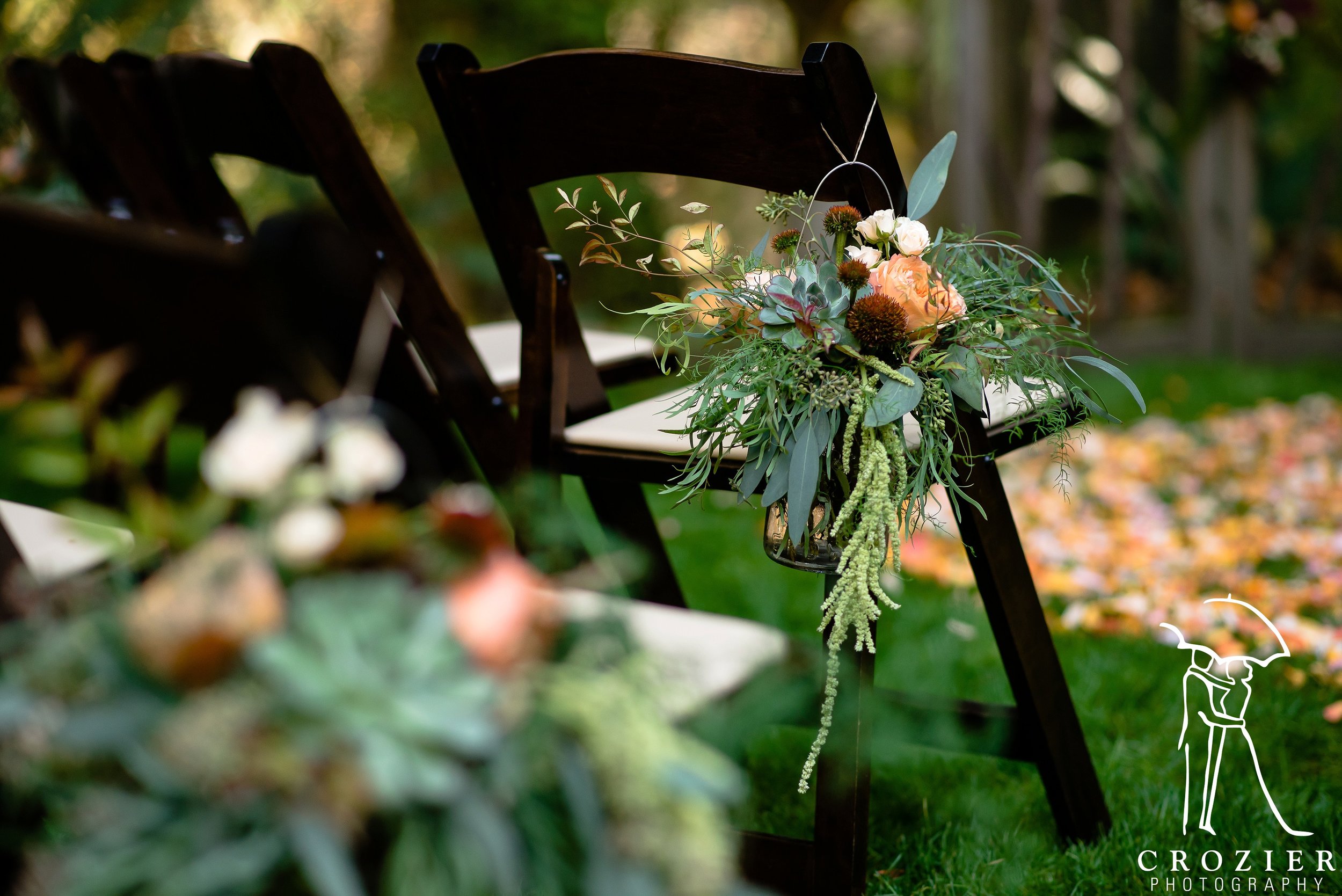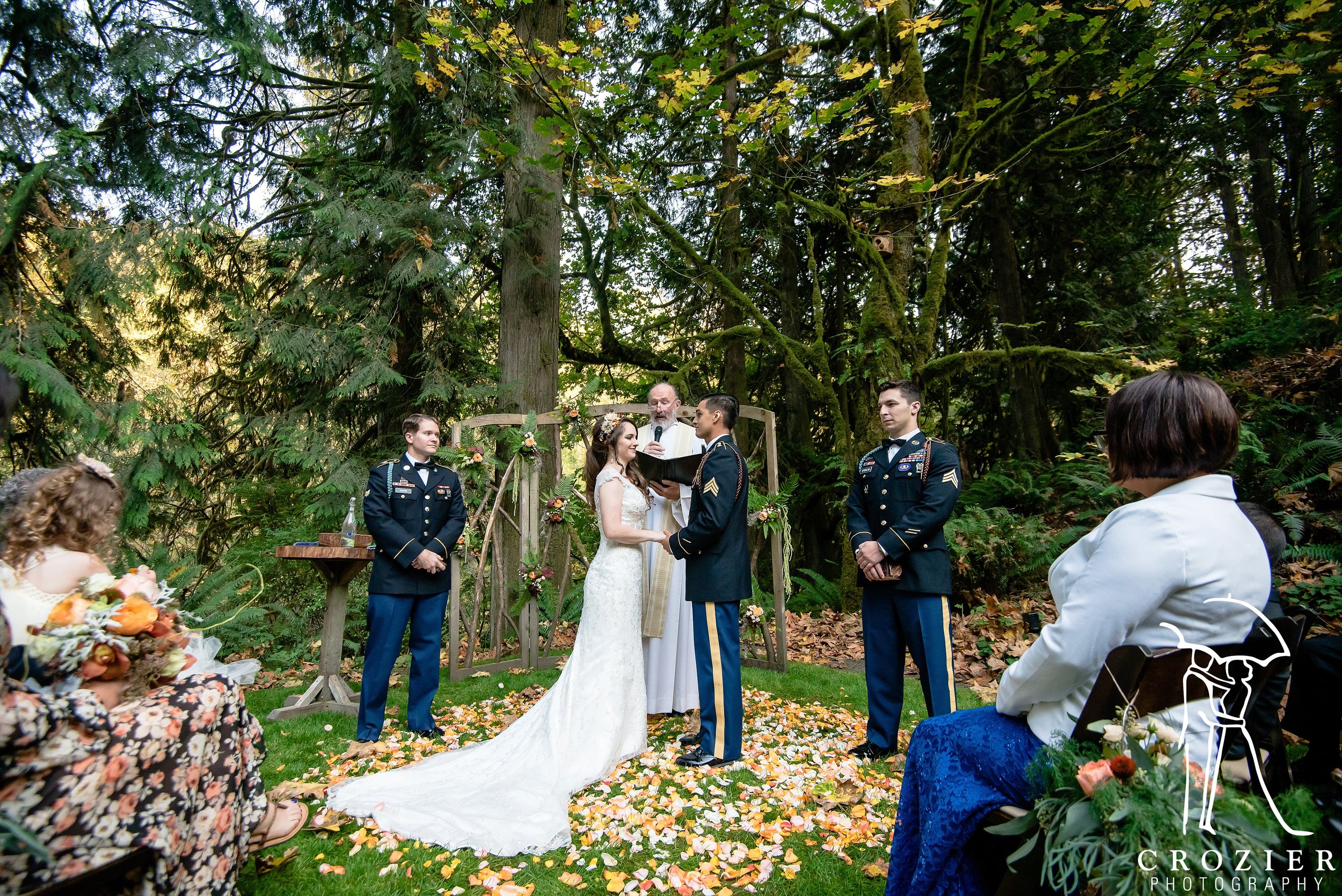 Ceremony officiated by Kent Buttars from A Heavenly Ceremony.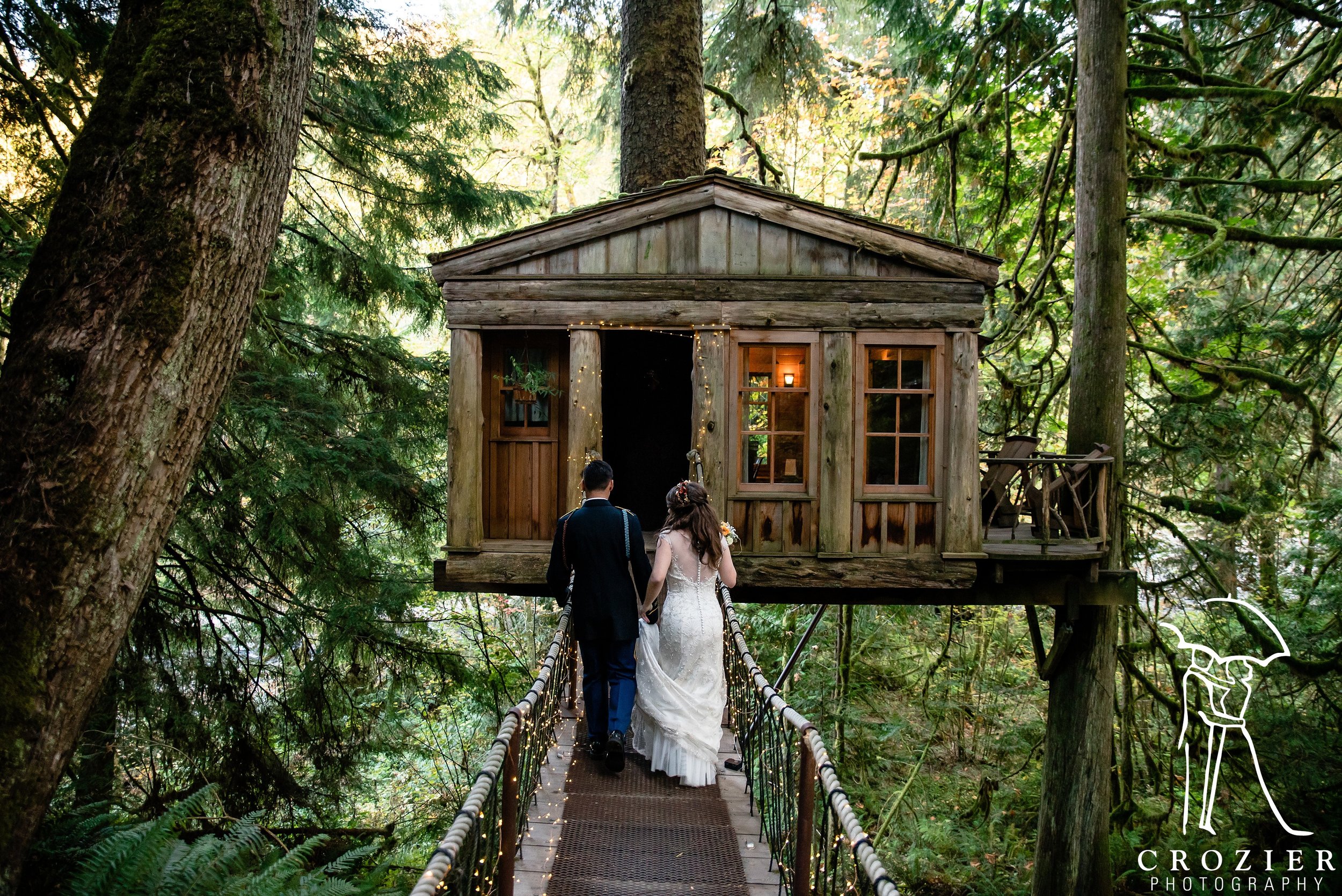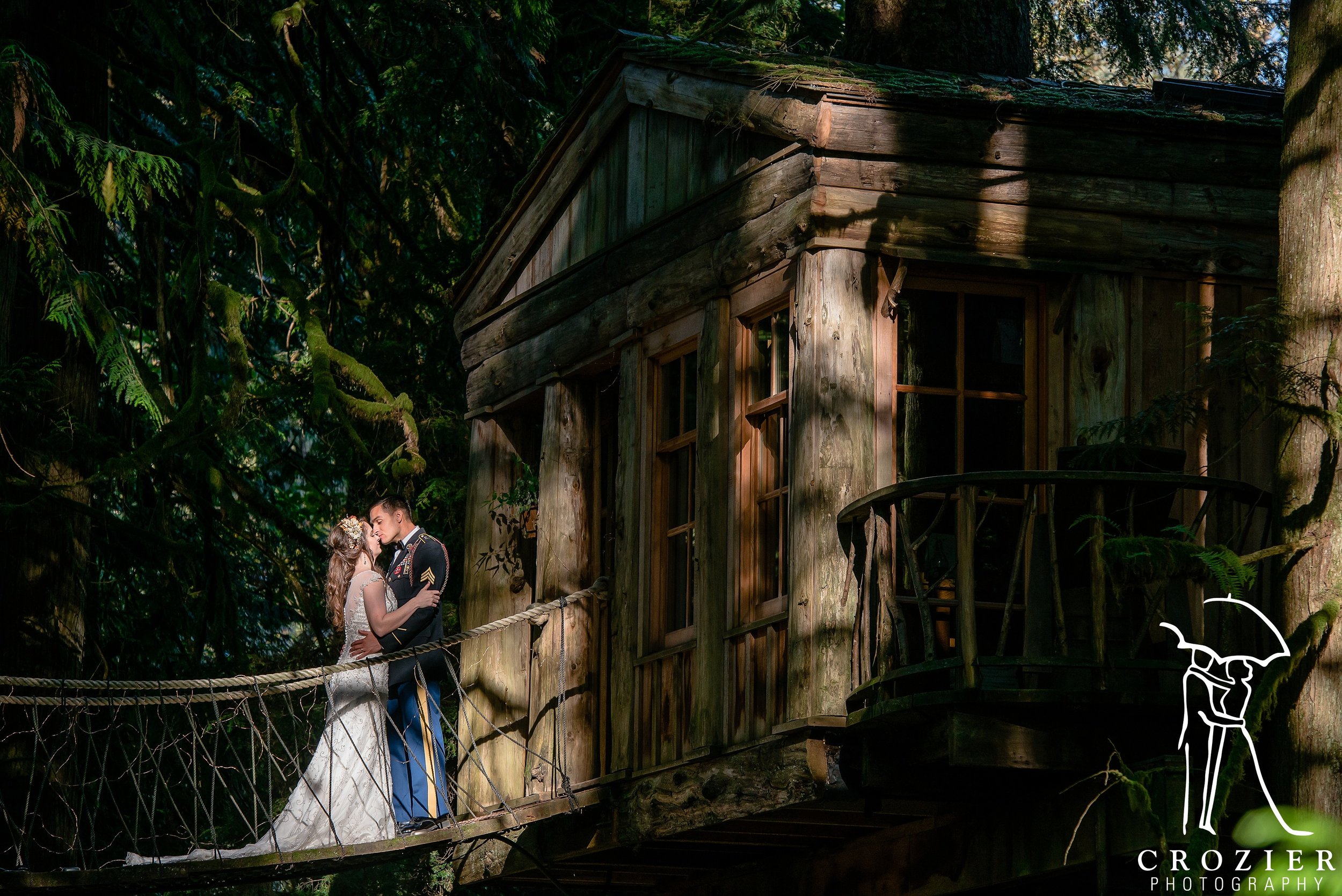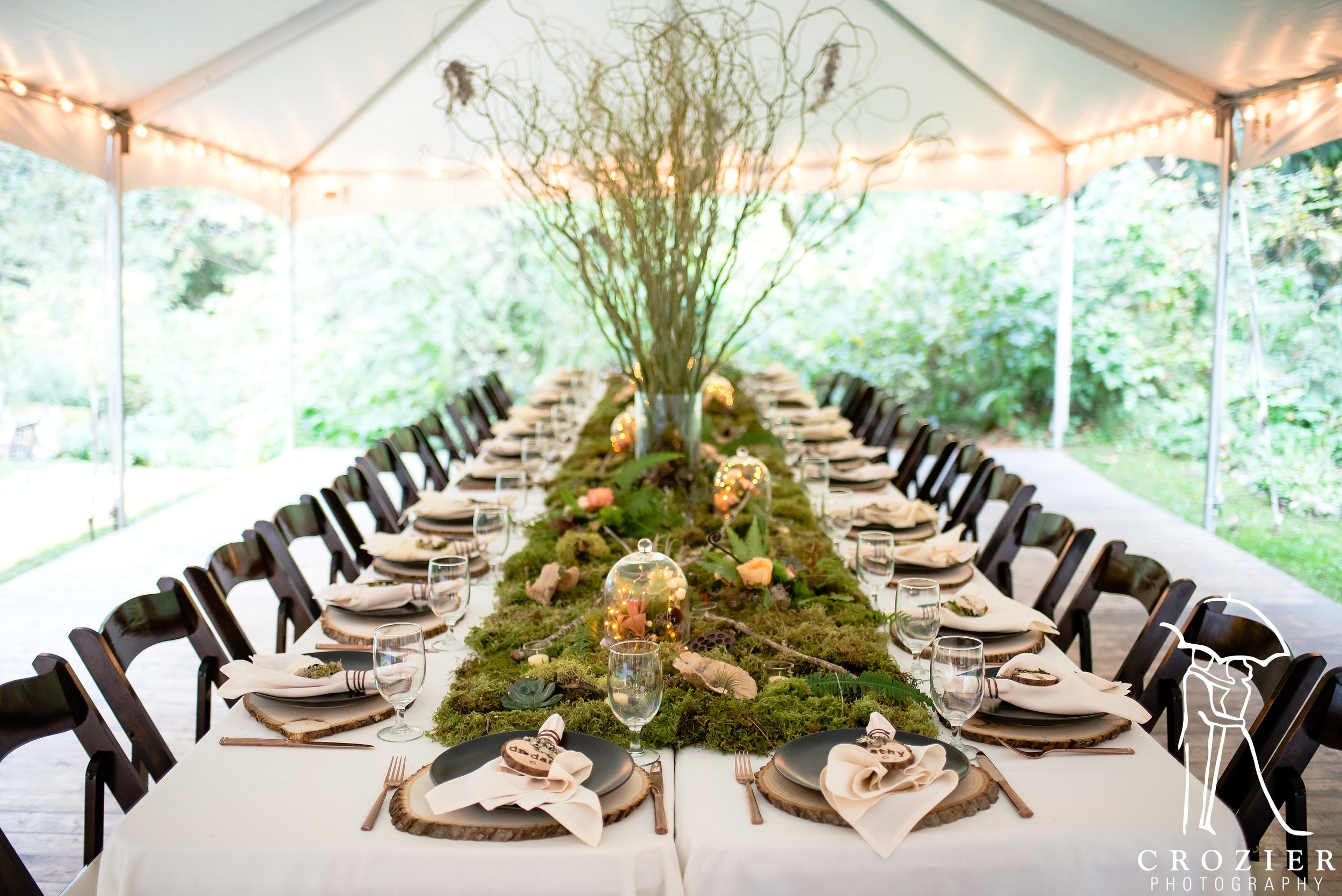 This enchanting live table runner was made by Down to Earth Flowers. It perfectly embodies the opulent, wild beauty of the Pacific Northwest, and adds a sumptuous bohemian touch to their table.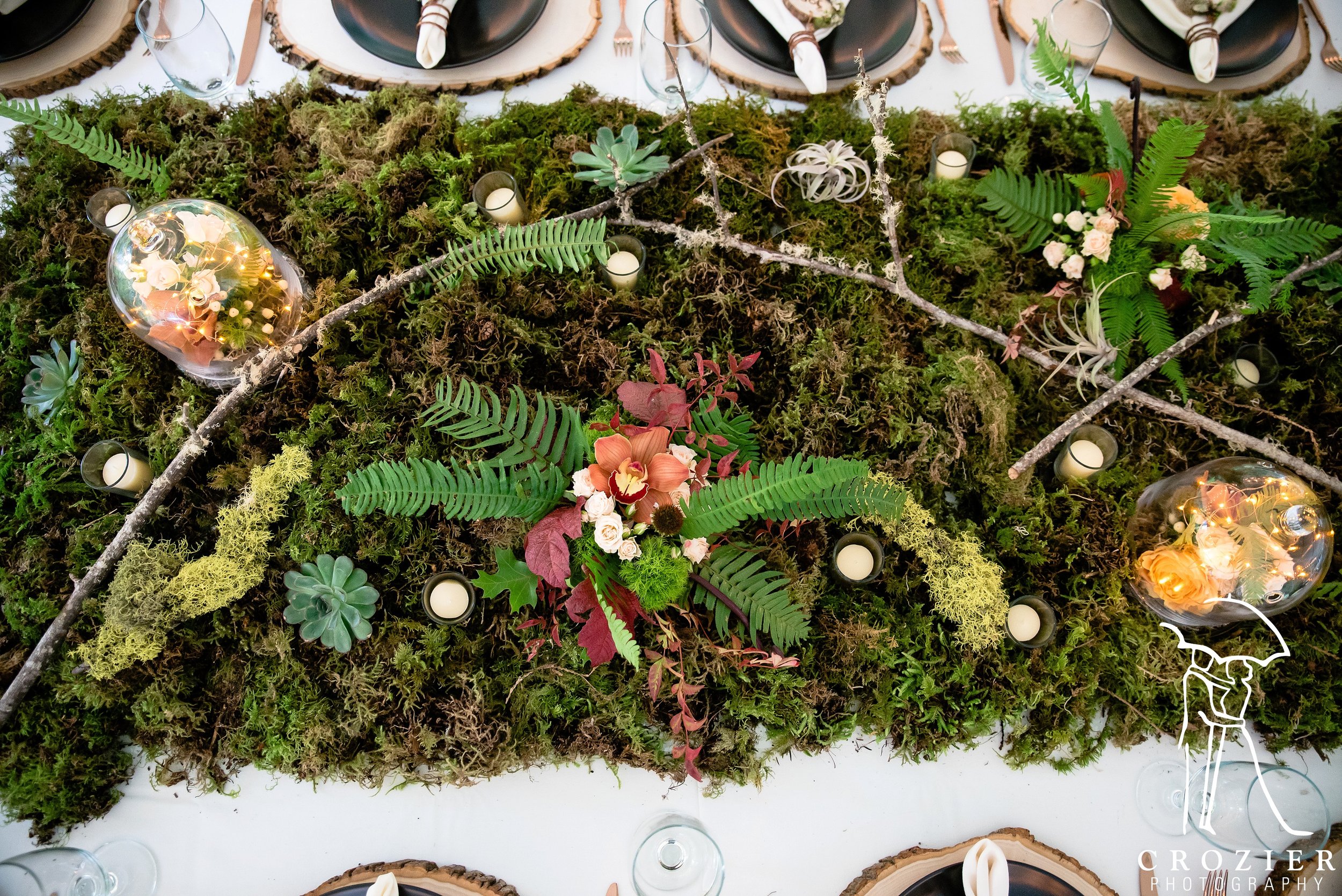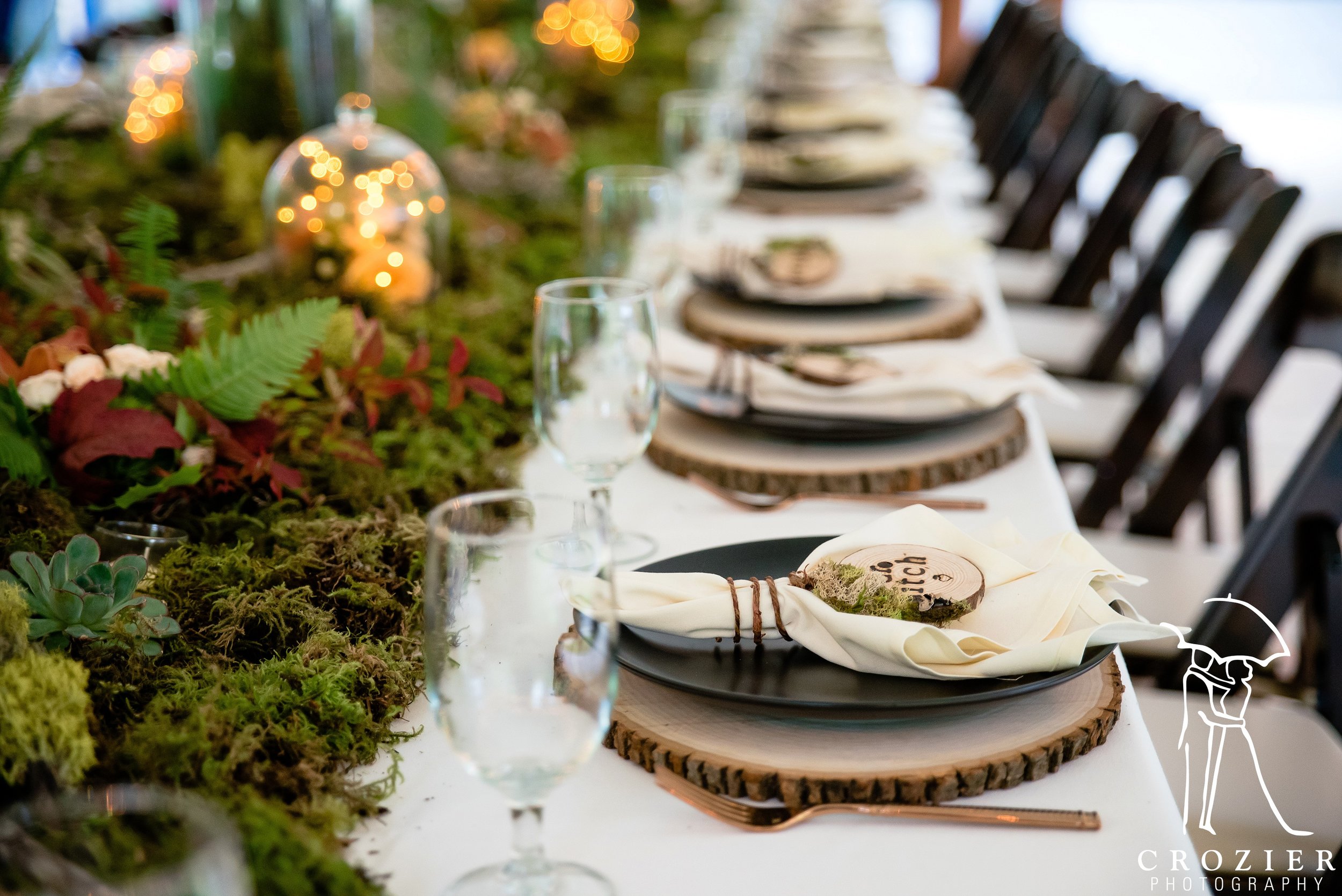 Alexandria hand-burned each of her guests' names onto wood rounds for personalized place cards. She also burned the date onto the back and glued individual clusters of moss to each round. While these name cards serve as special reminders of their big day (the couple hung their copies on their Christmas tree last year), Alexandria admits that the project took much more time than she had hoped. In her words, "Depending on how valuable your time and sanity are, I would suggest splurging on an Etsy purchase instead of DIY. No joke, it probably took one minute per letter stamped!"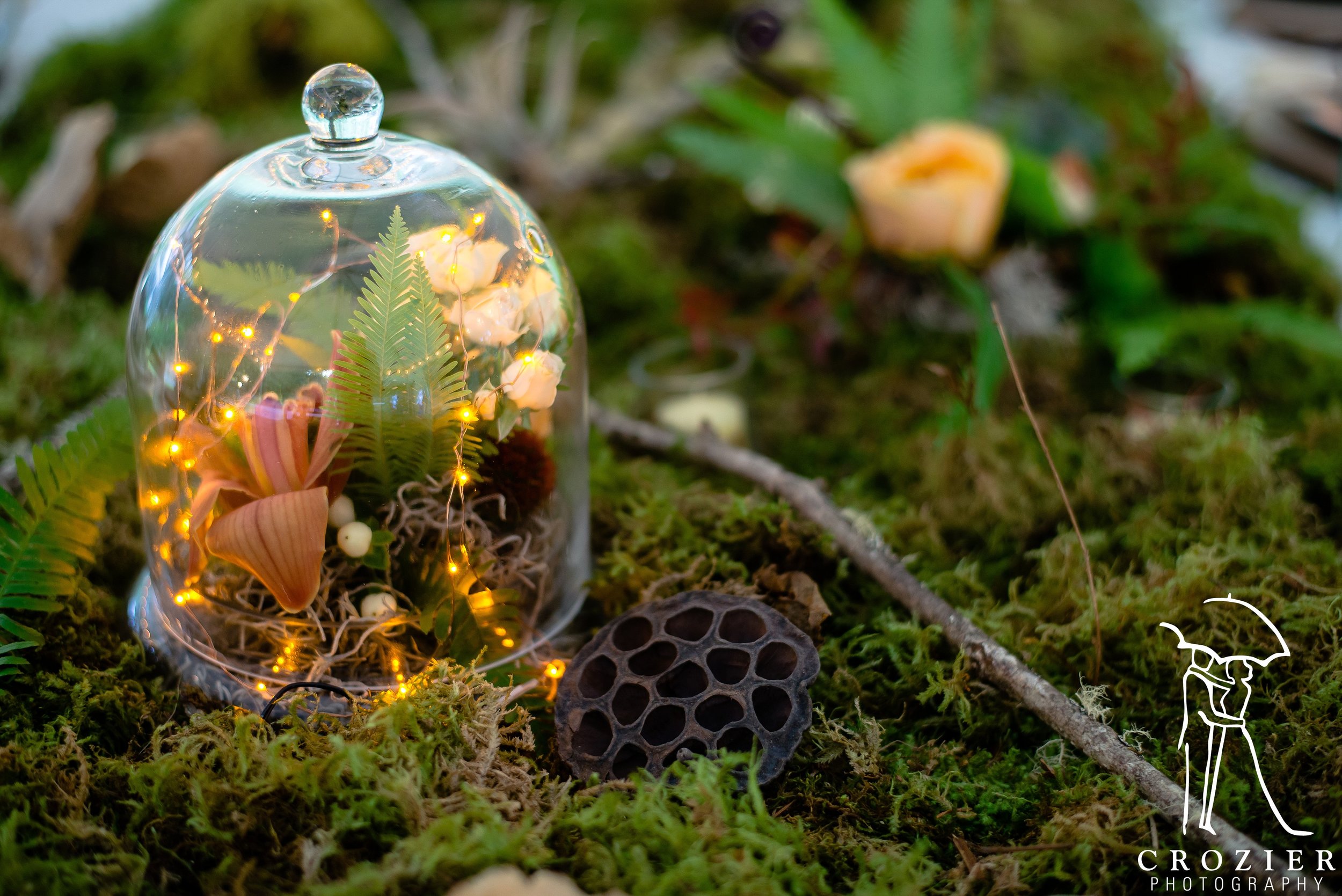 How gorgeous are these terrariums, full of delicate flora and fairy lights?!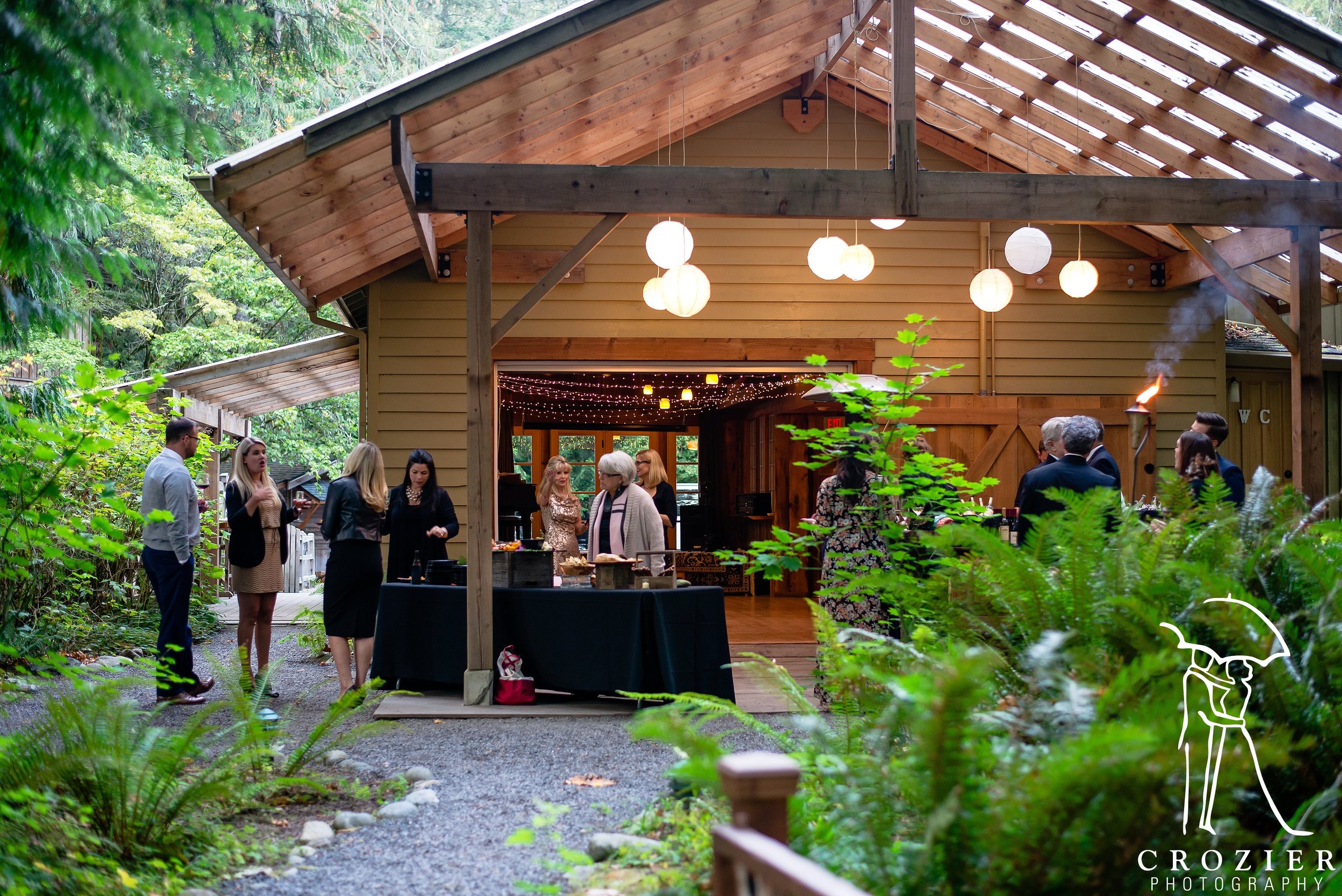 Alexandria and Luís' reception was held in the Pond Room. Green Apple Catering provided delicacies like tomatoes with Bloody Mary-filled pipettes, shown below.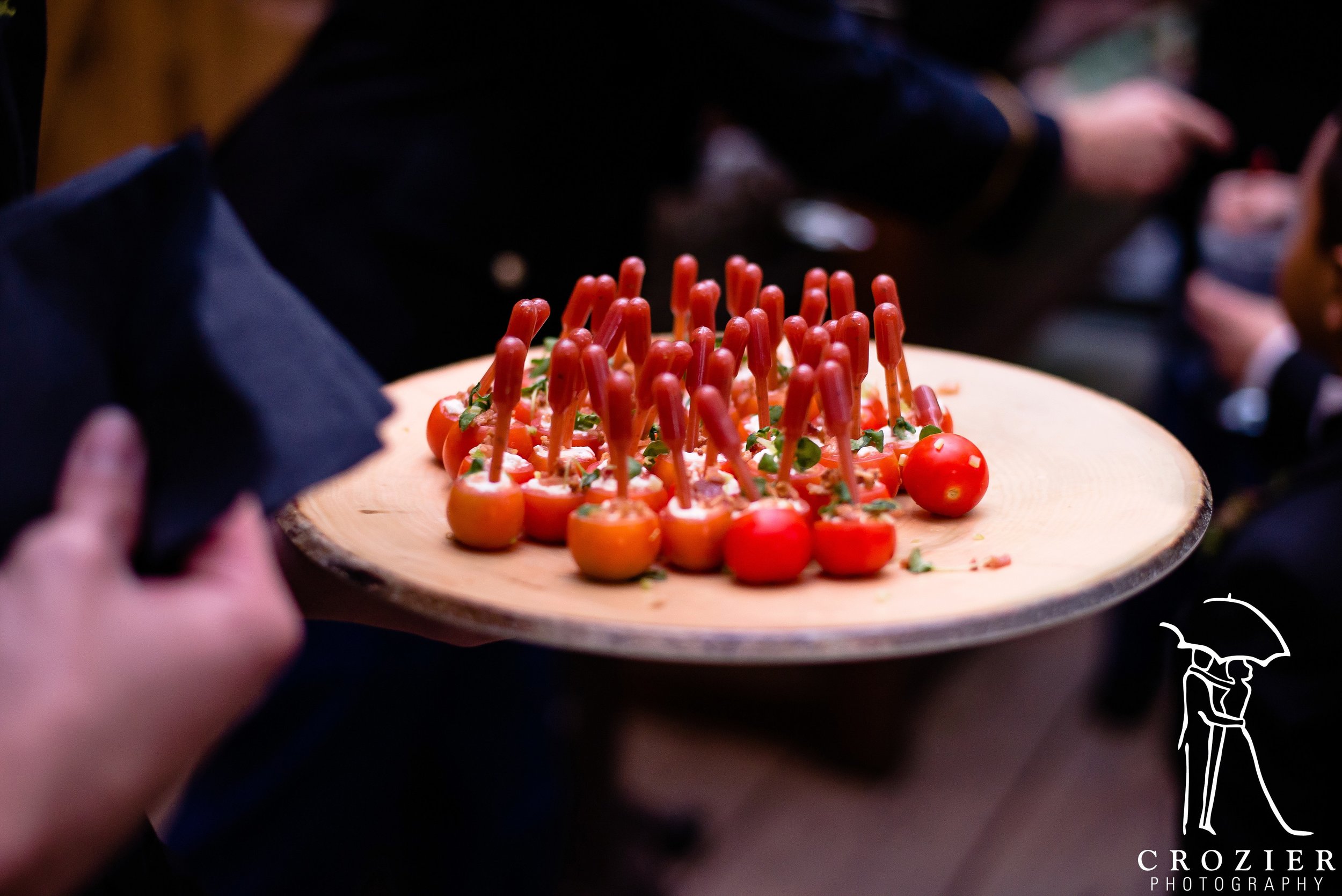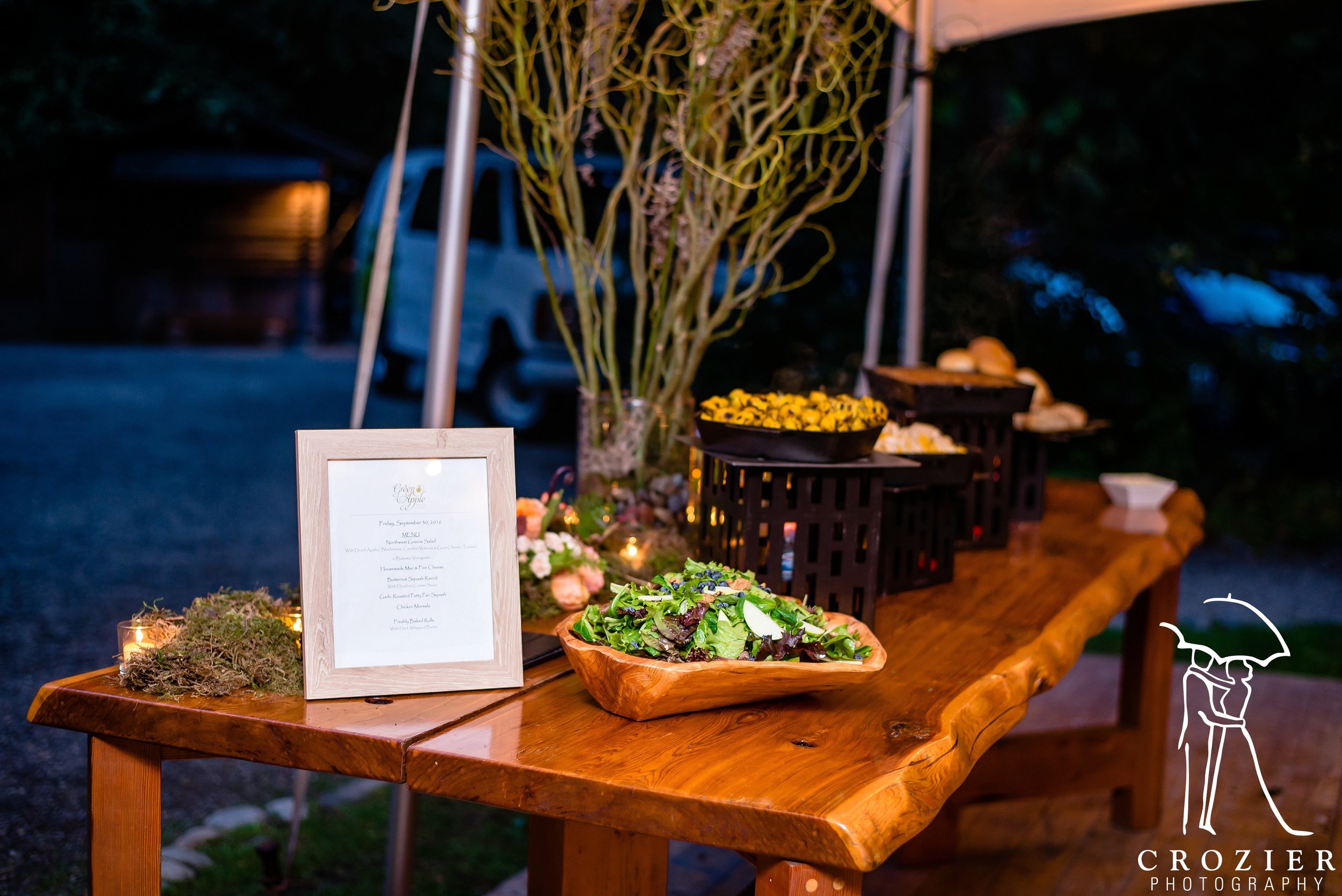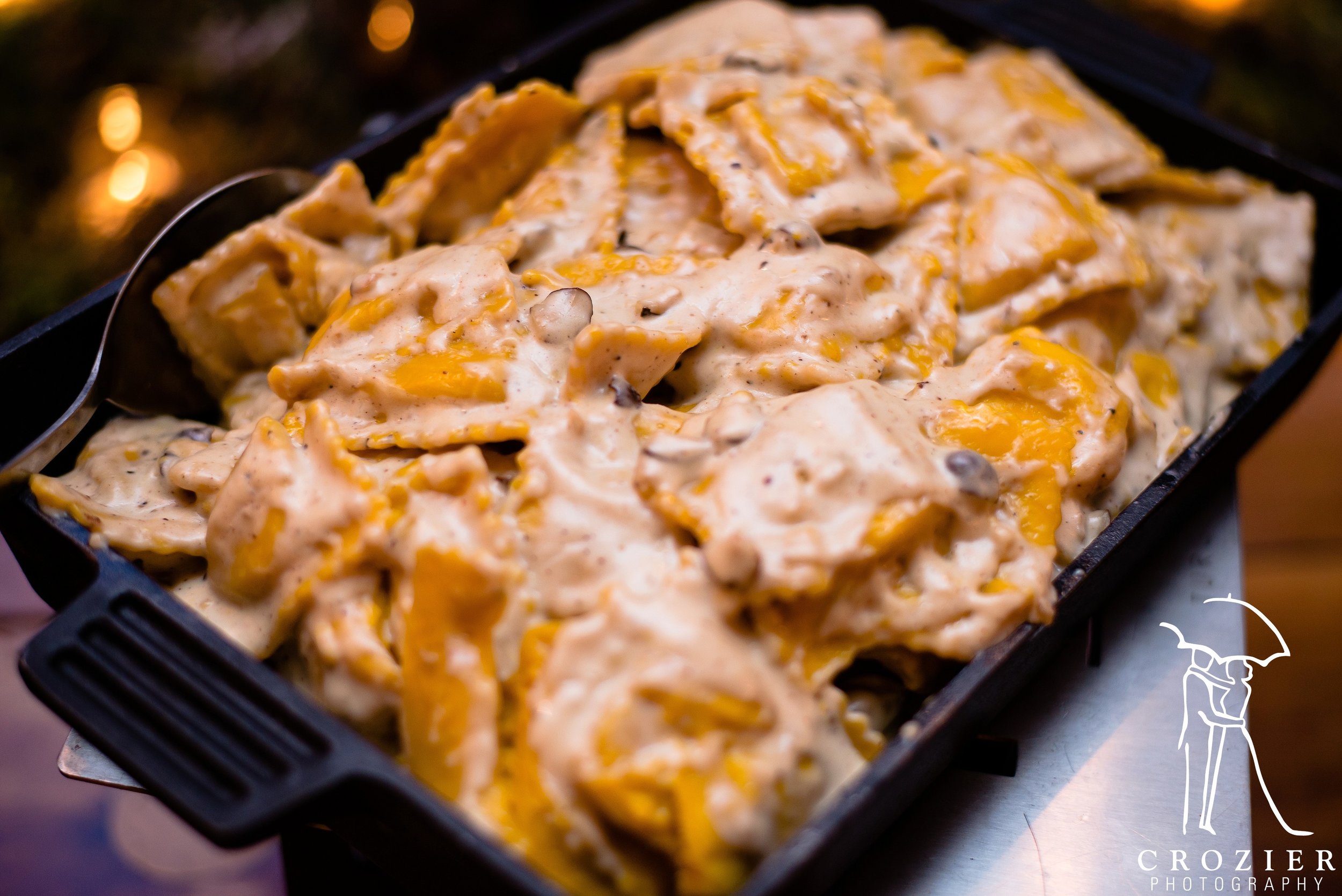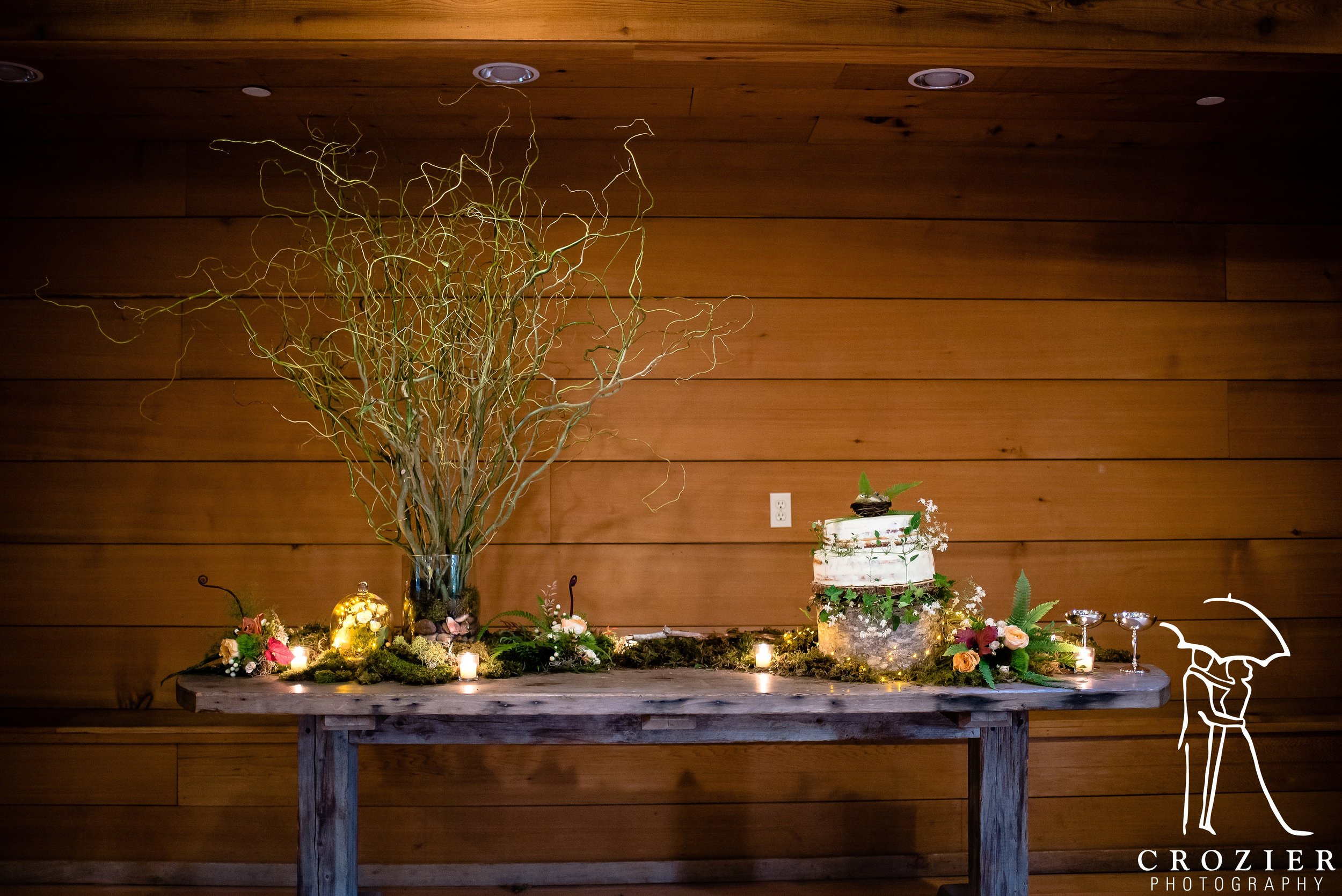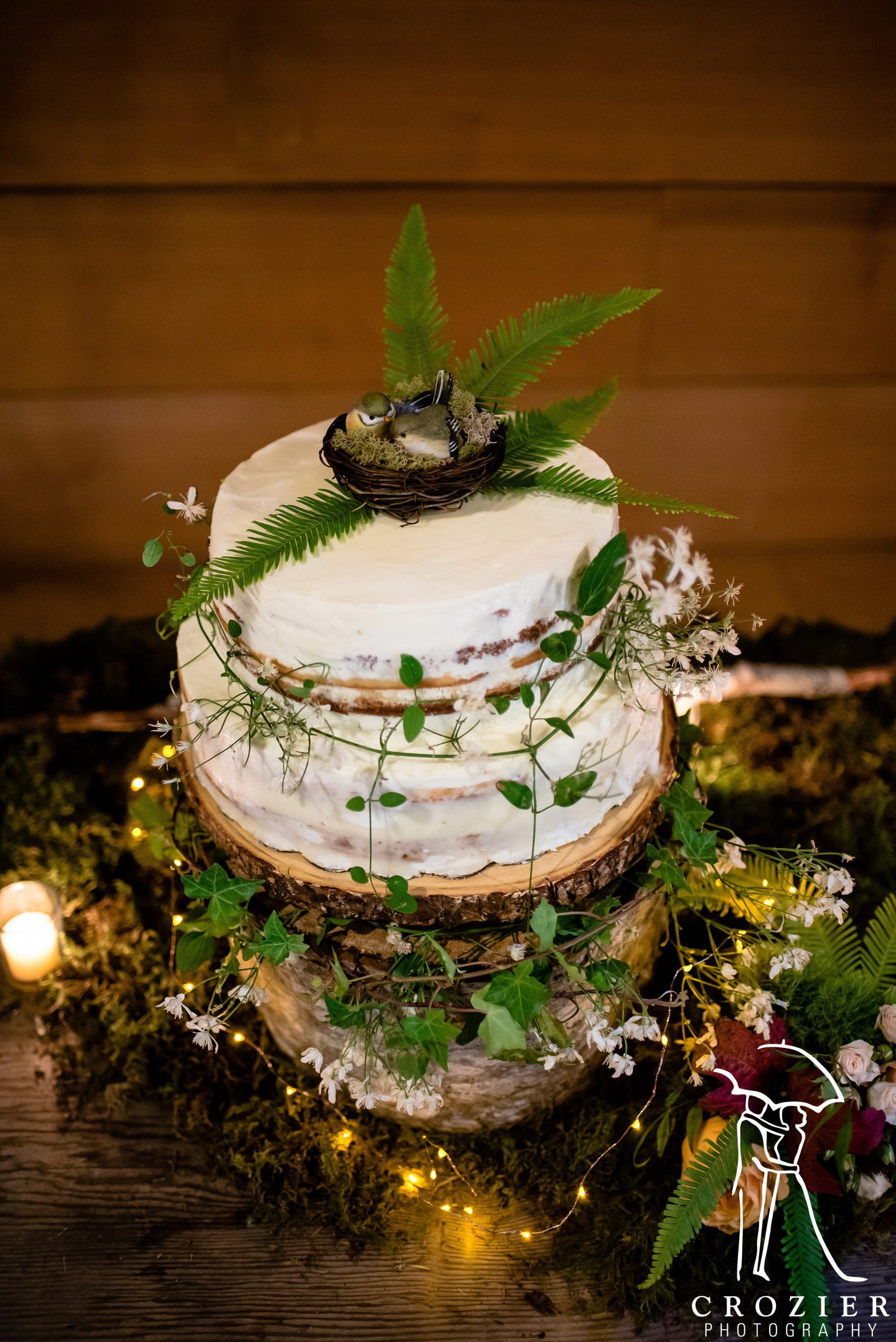 The birds atop Alexandria and Luís' wedding cake also hold special significance; when the couple was dating long-distance, Luís purchased these two delicate birds so that he and Alexandria could each hold onto one while they were apart. The birds reminded each partner of their love while they were away from one another. The sweet reunion of the birds on top of the cake signified the couple's union!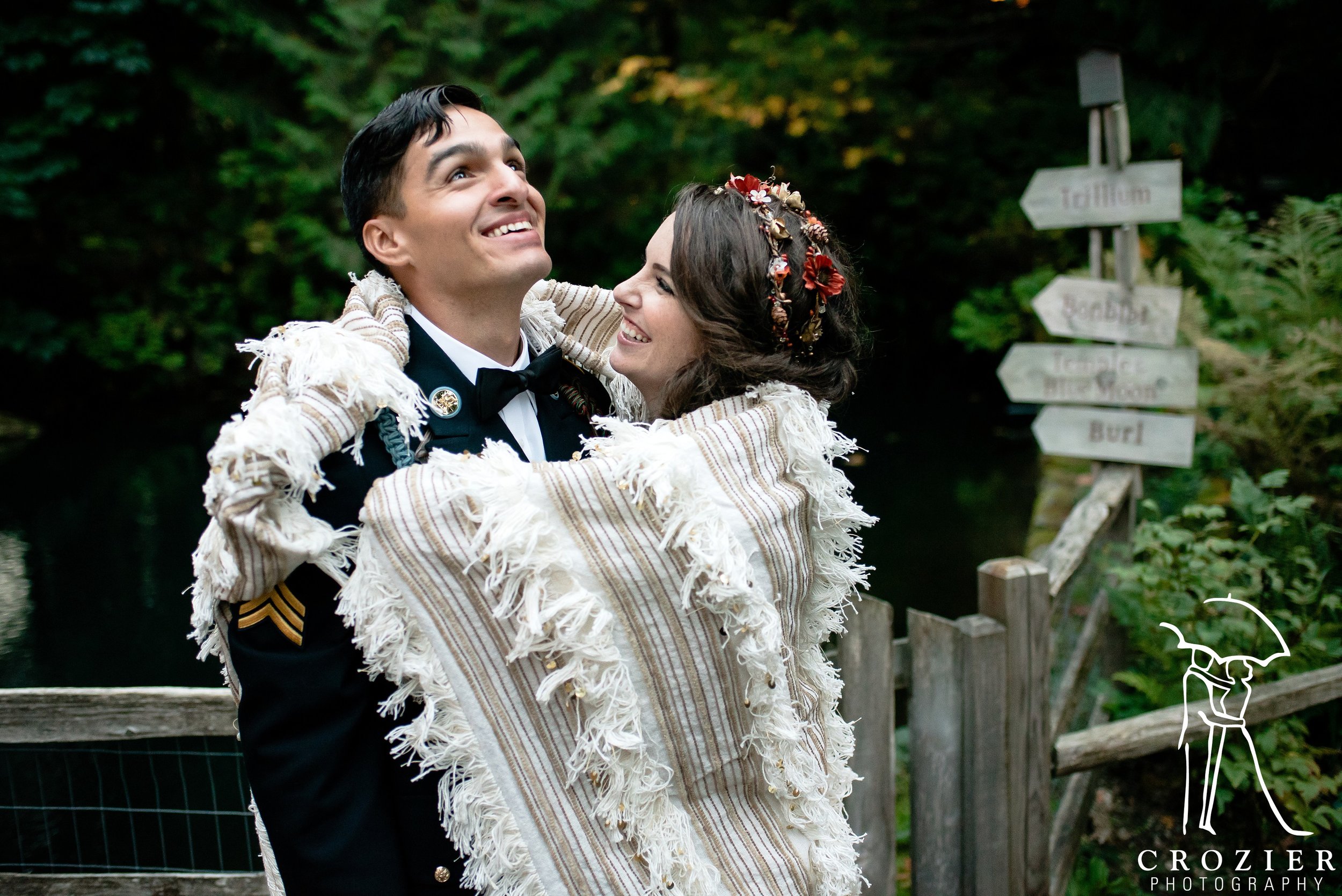 When asked which song best characterizes their marriage, Alexandria and Luís answered, "Ain't No Mountain High Enough" by Marvin Gaye and Tammi Terrell.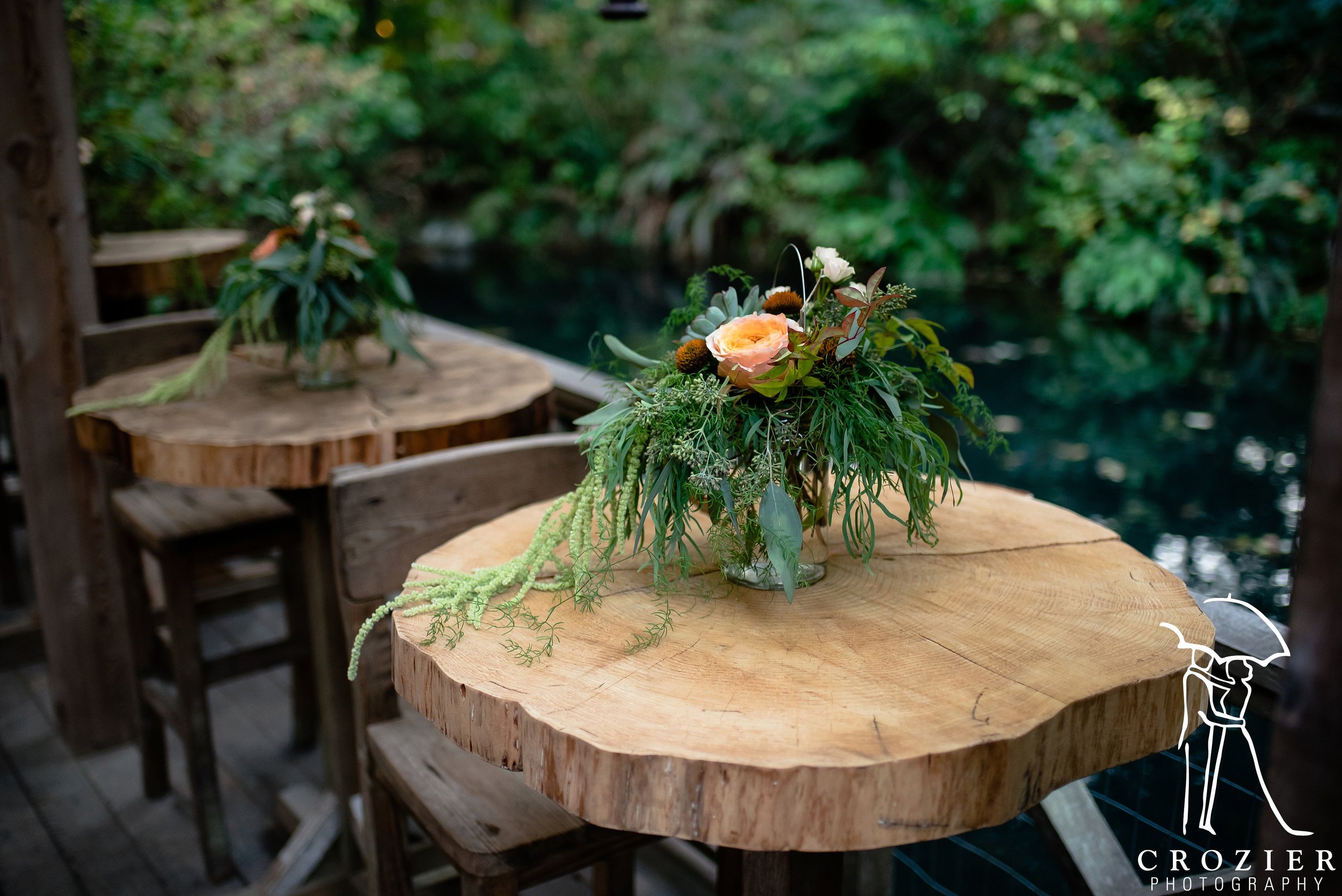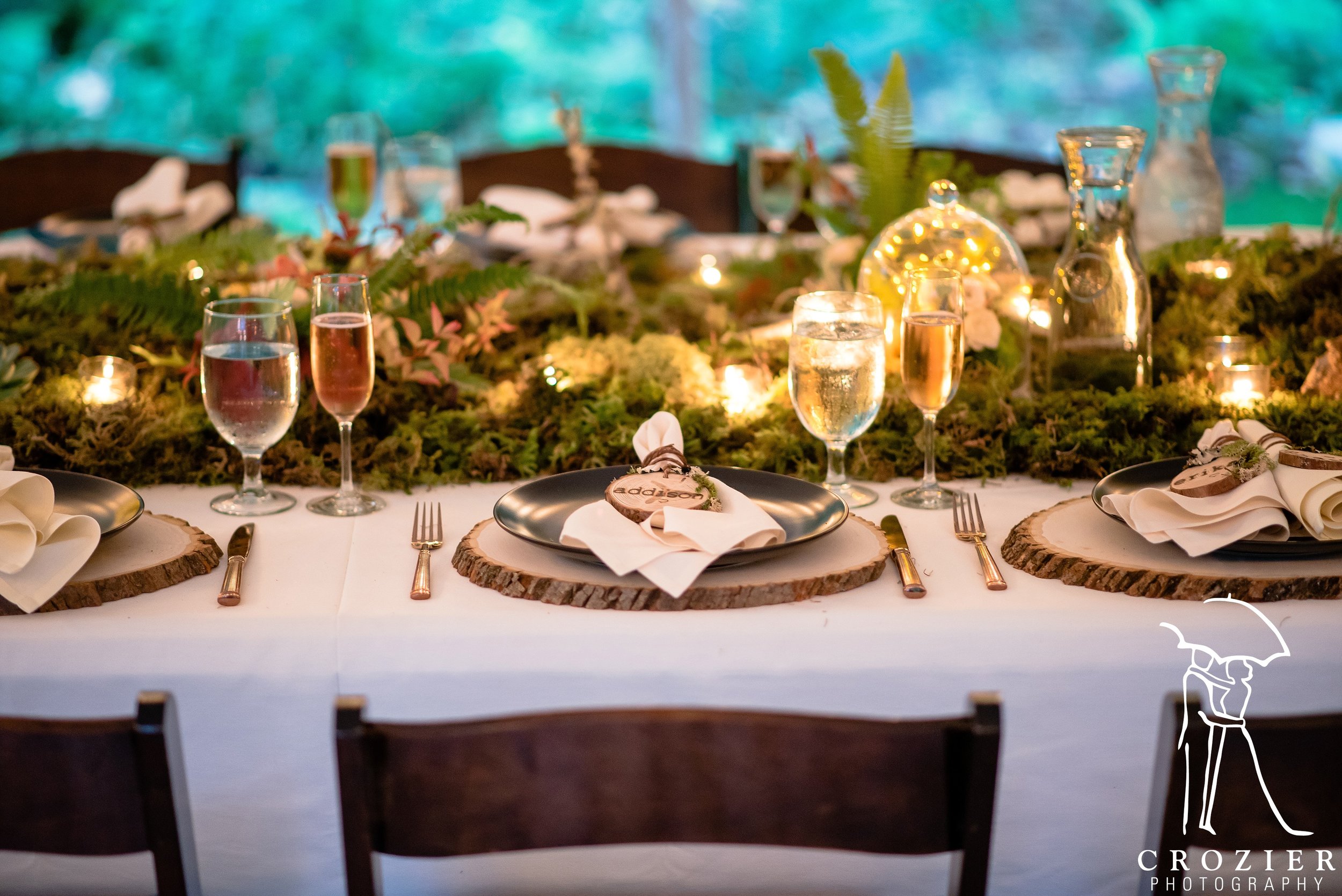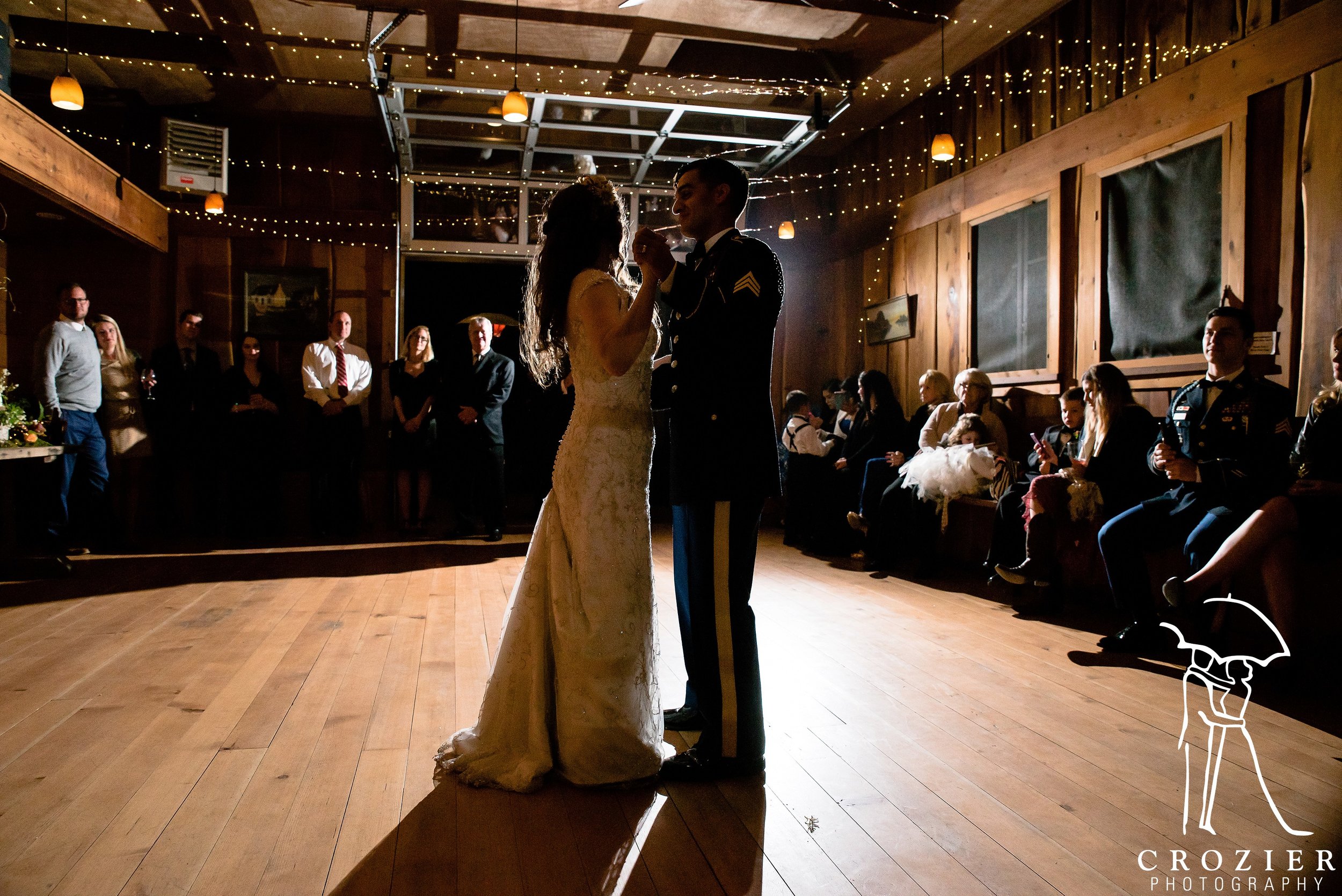 After their reception, the couple and several of their guests spent the night in TreeHouse Point's magical treehouses.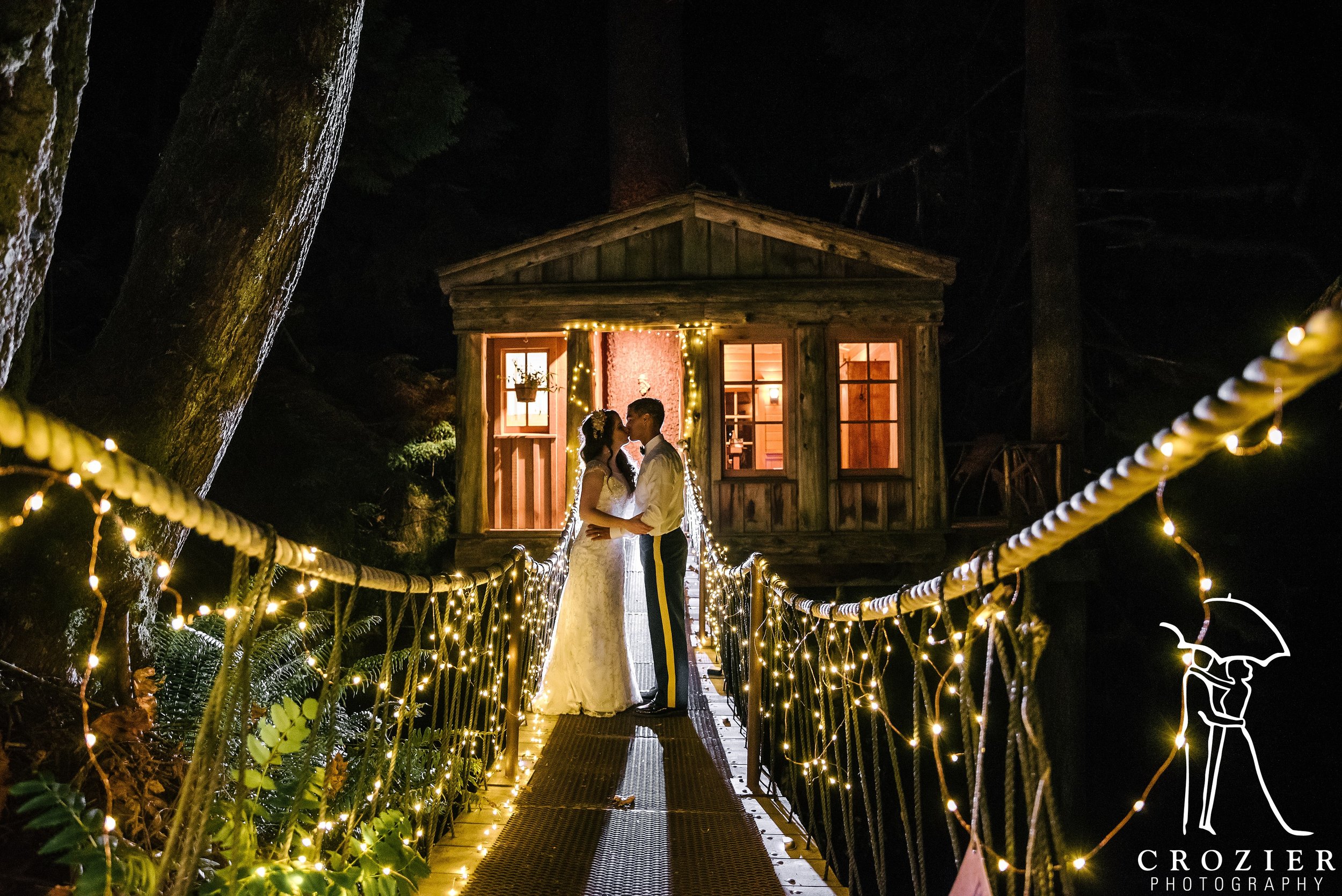 Thank you for hosting your enchanting wedding at TreeHouse Point, Alexandria and Luís! We wish you a lifetime of happiness!
For information about hosting your own wedding or elopement at TreeHouse Point, please visit: http://www.treehousepoint.com/weddings.phtml.
WEDDING CREDITS: | Venue: TreeHouse Point | Photography: John Crozier | Florist: Down to Earth Flowers & Gifts | Catering and Cake: Green Apple Events & Catering | Officiant: Kent Buttars from A Heavenly Ceremony | Hair florals: The Honeycomb | Rings: Luxor Custom Jewelers | Moroccan Wedding Blanket: Anthropologie