Can you believe it's already #treehousefriday again? Today, we're touring the Bass Pro Shops Nature Treehouse. This nature-loving treehouse was featured as our holiday special episode in 2015.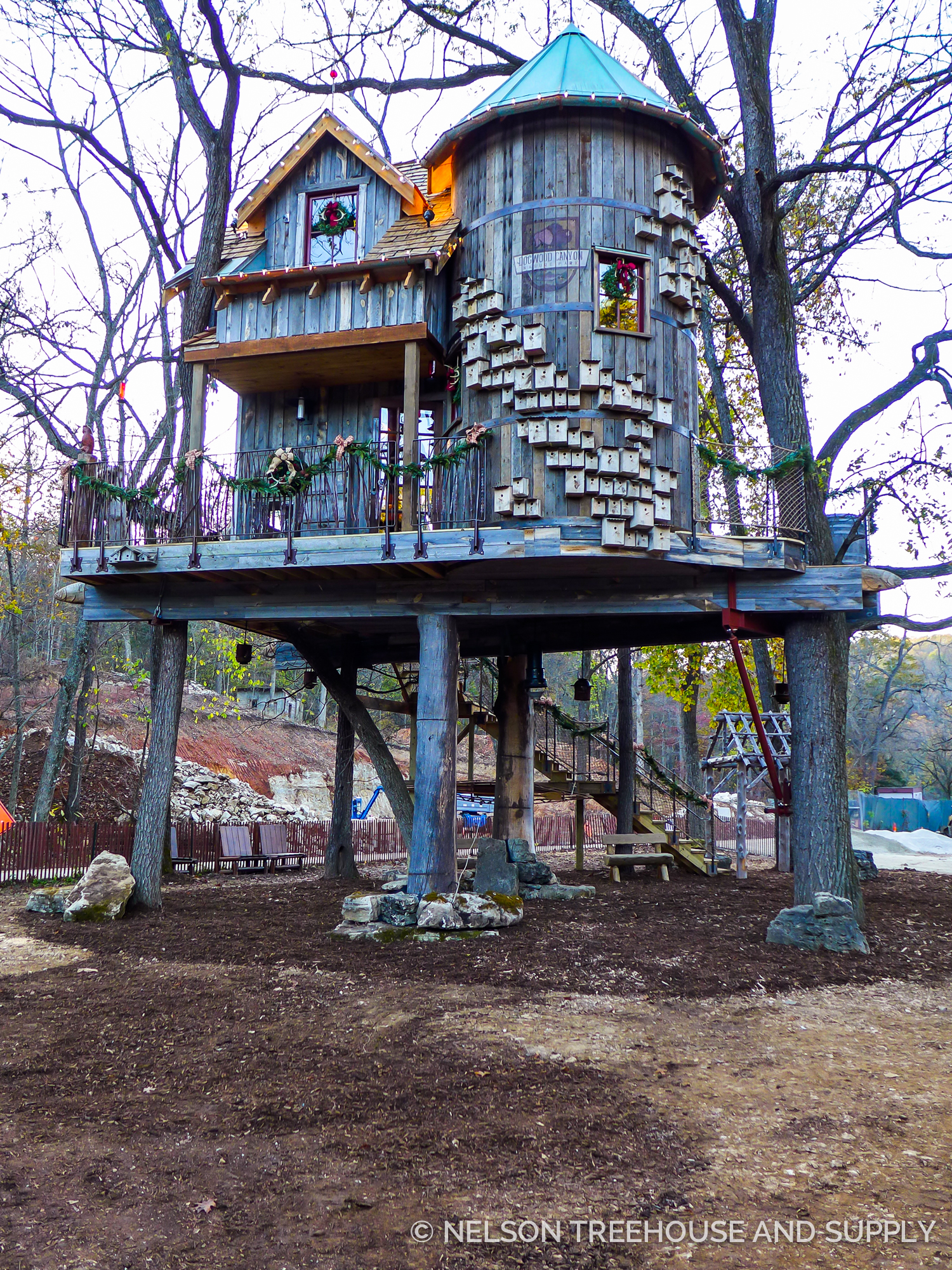 The Bass Pro Shops treehouse at the Dogwood Canyon Nature Park in Missouri embodies the spirit of exploration and provides a hands-on learning space for visitors of all ages. With birdhouses peppering the exterior, countless cubbies holding cool specimens, and a rooftop deck, this treehouse encourages visitors to delve into nature. By paneling the walls of the interior stairway in bark and using lots of reclaimed materials, Pete made sure that visitors would feel like they're inside a tree. The beautifully crafted details, including an eyebrow window and conical ceiling, add an elegant touch to this interactive nature center treehouse. You can visit this treehouse and education center! Find out more about visiting Dogwood Canyon here. 
SNAPSHOTS FROM THE BUILD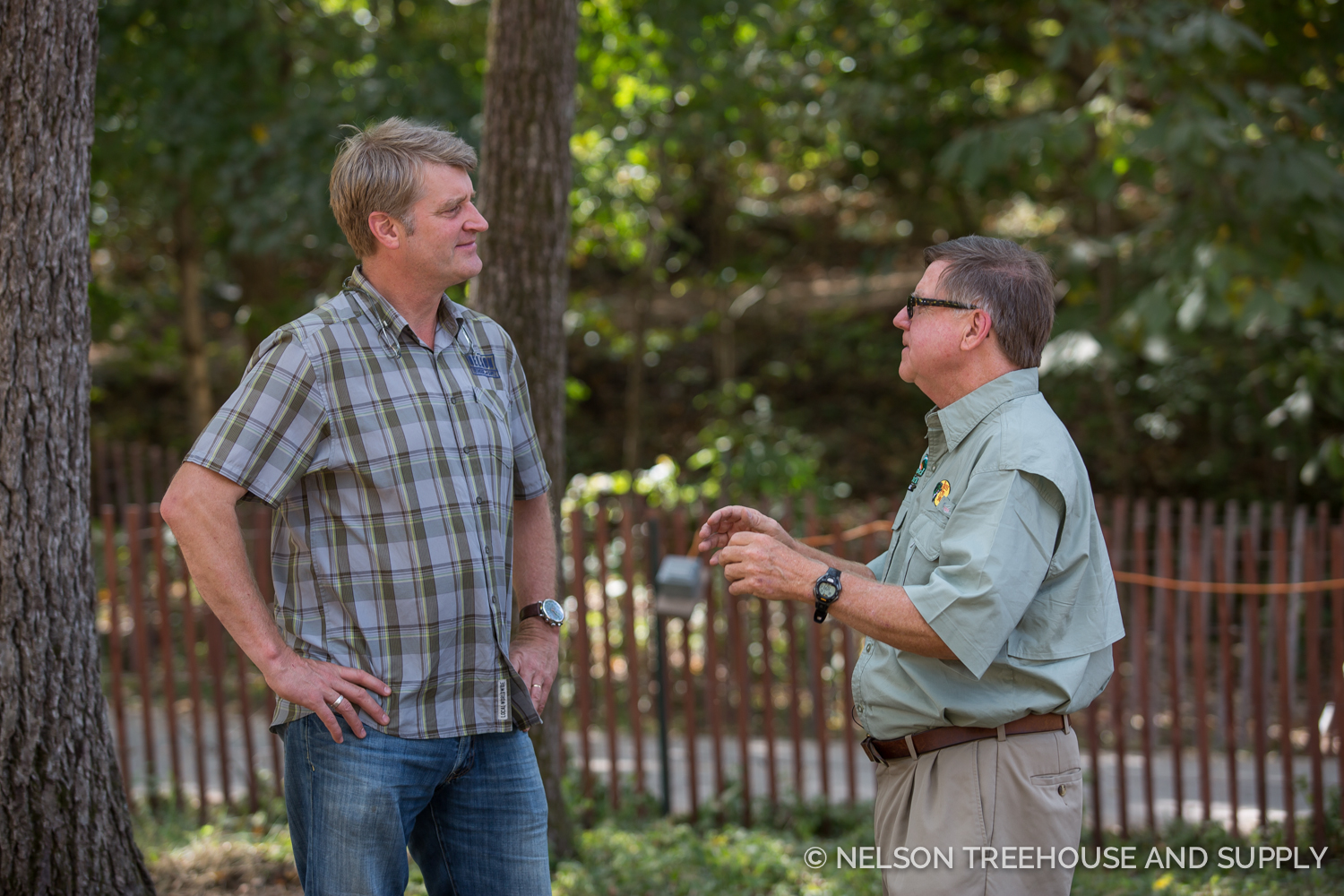 Martin Macdonald discusses plans for the treehouse with PEte.
Pete was honored to work with Johnny Morris, Bass Pro Shops founder and conservationist; Johnny's son-in-law Luke Snyder; and Martin MacDonald, Bass Pro Director of Conservation. Building a treehouse for kids and grownups alike to learn about nature was the best Christmas gift Pete could have wished for!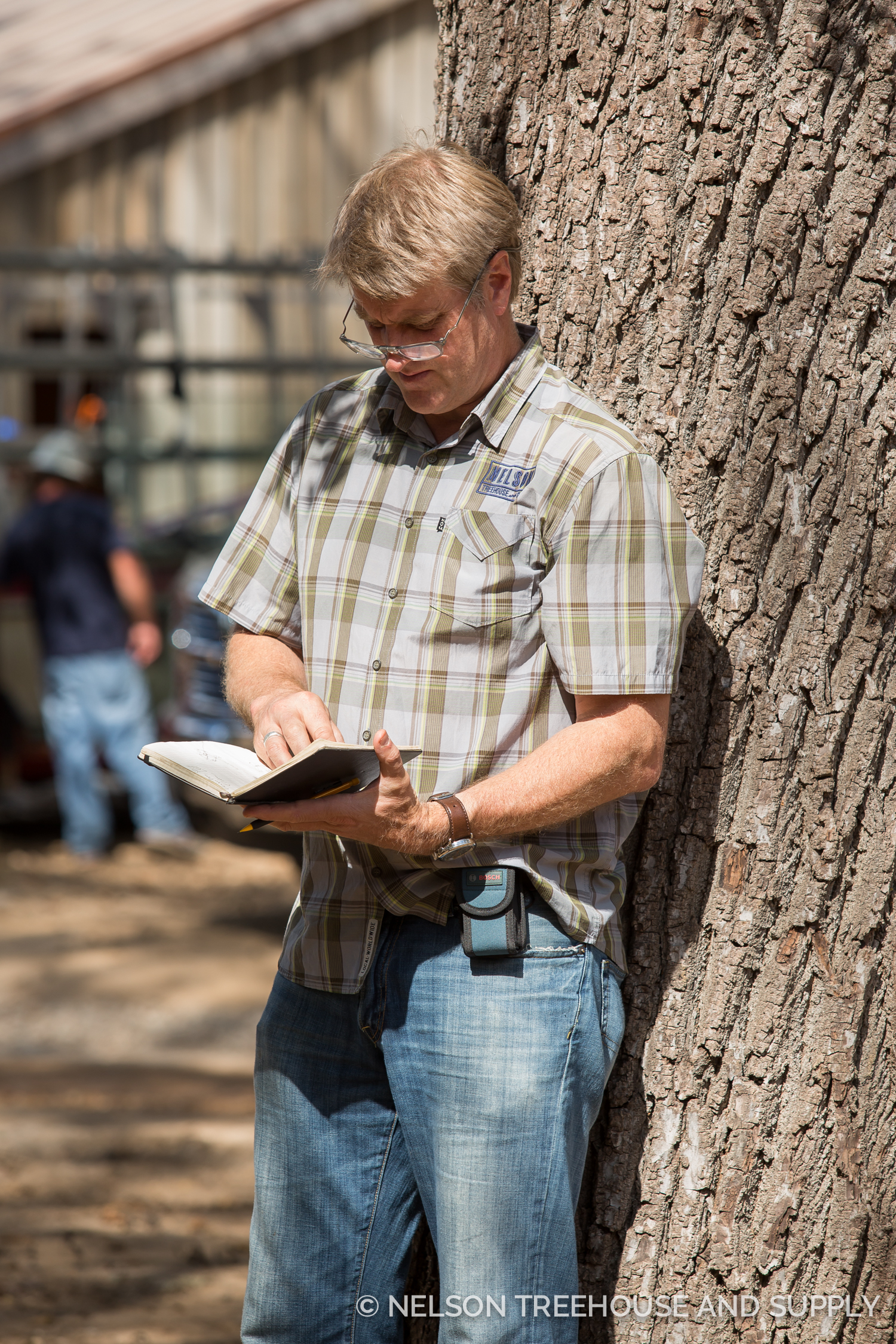 Pete was so inspired to draw up designs for this interactive treetop nature center.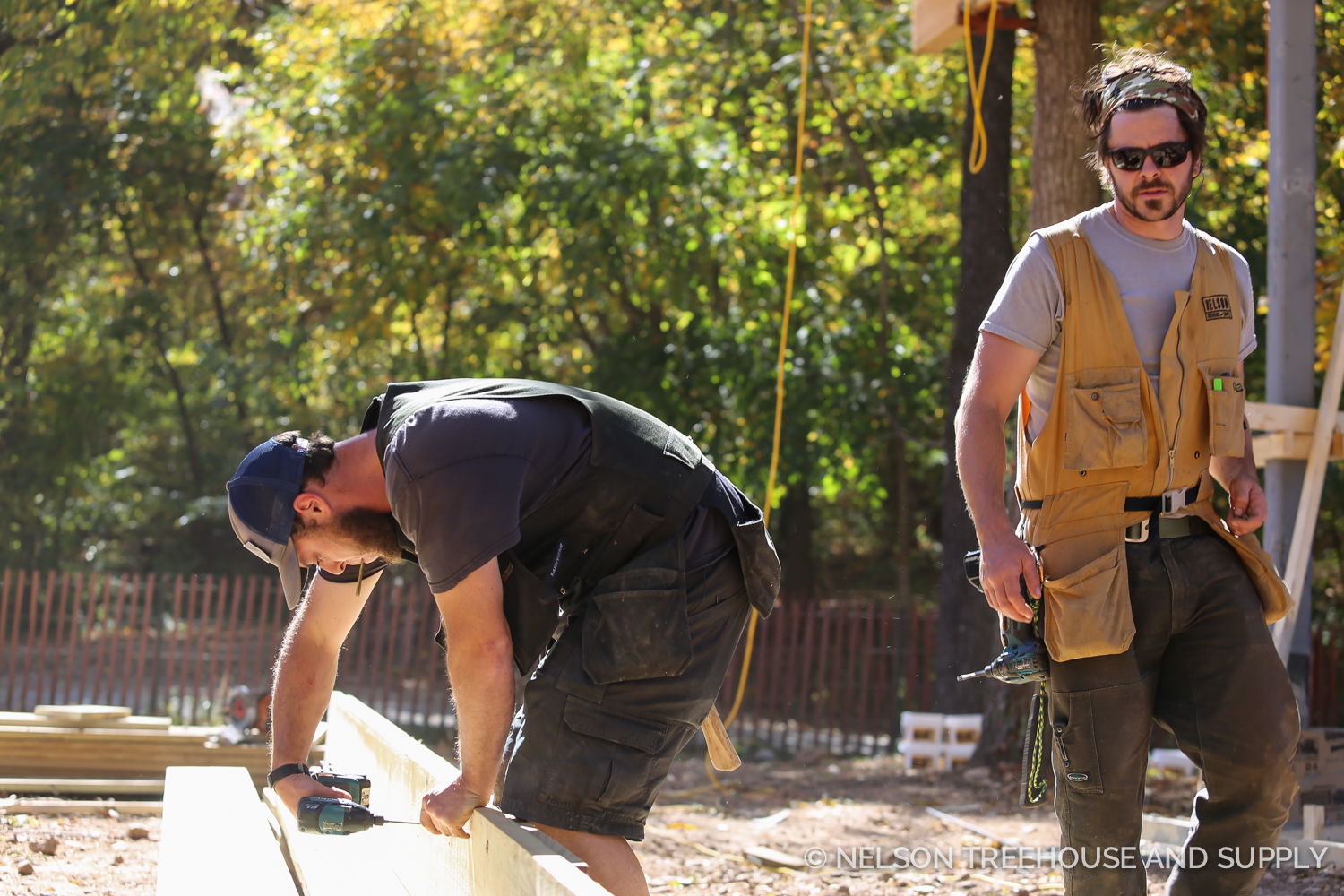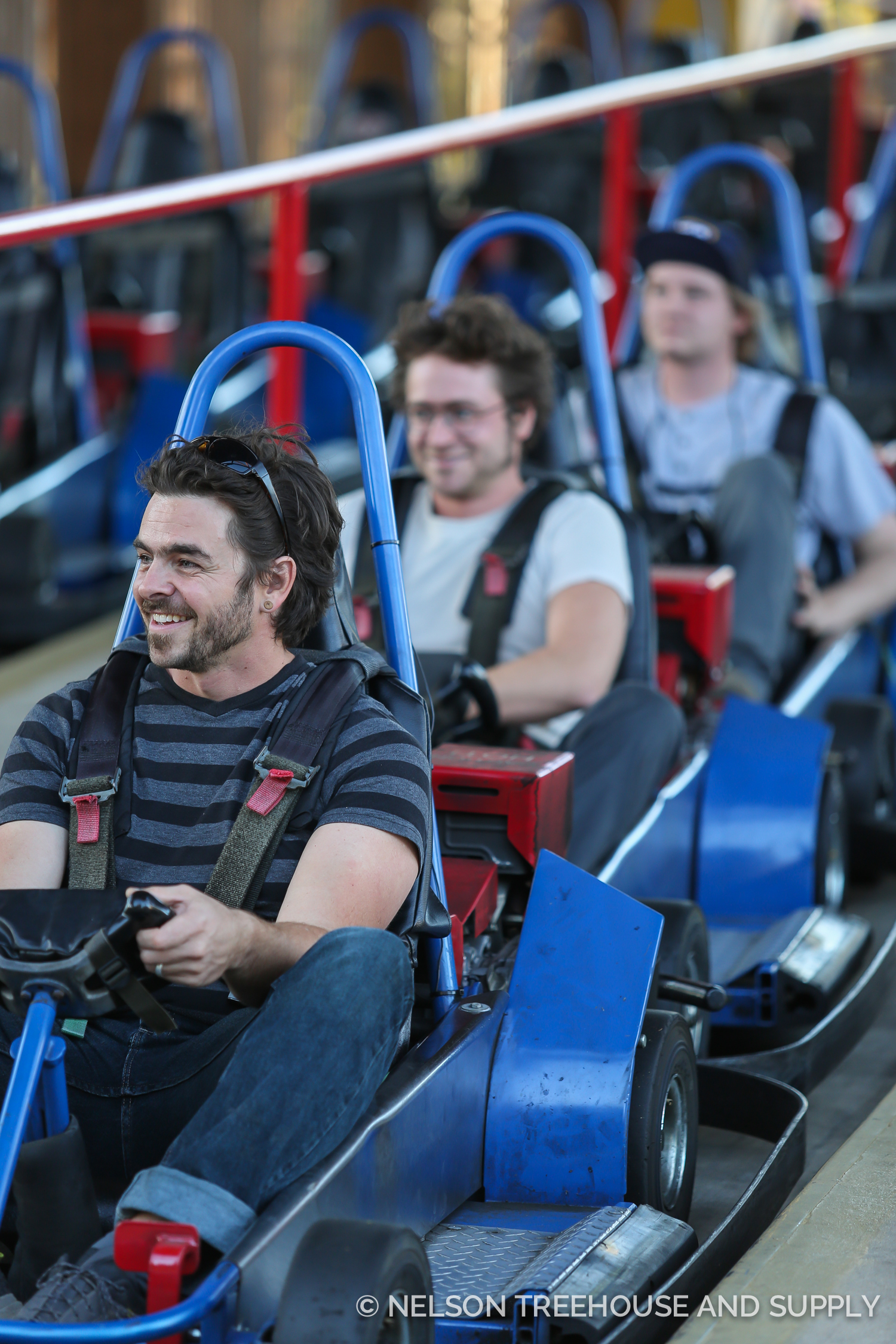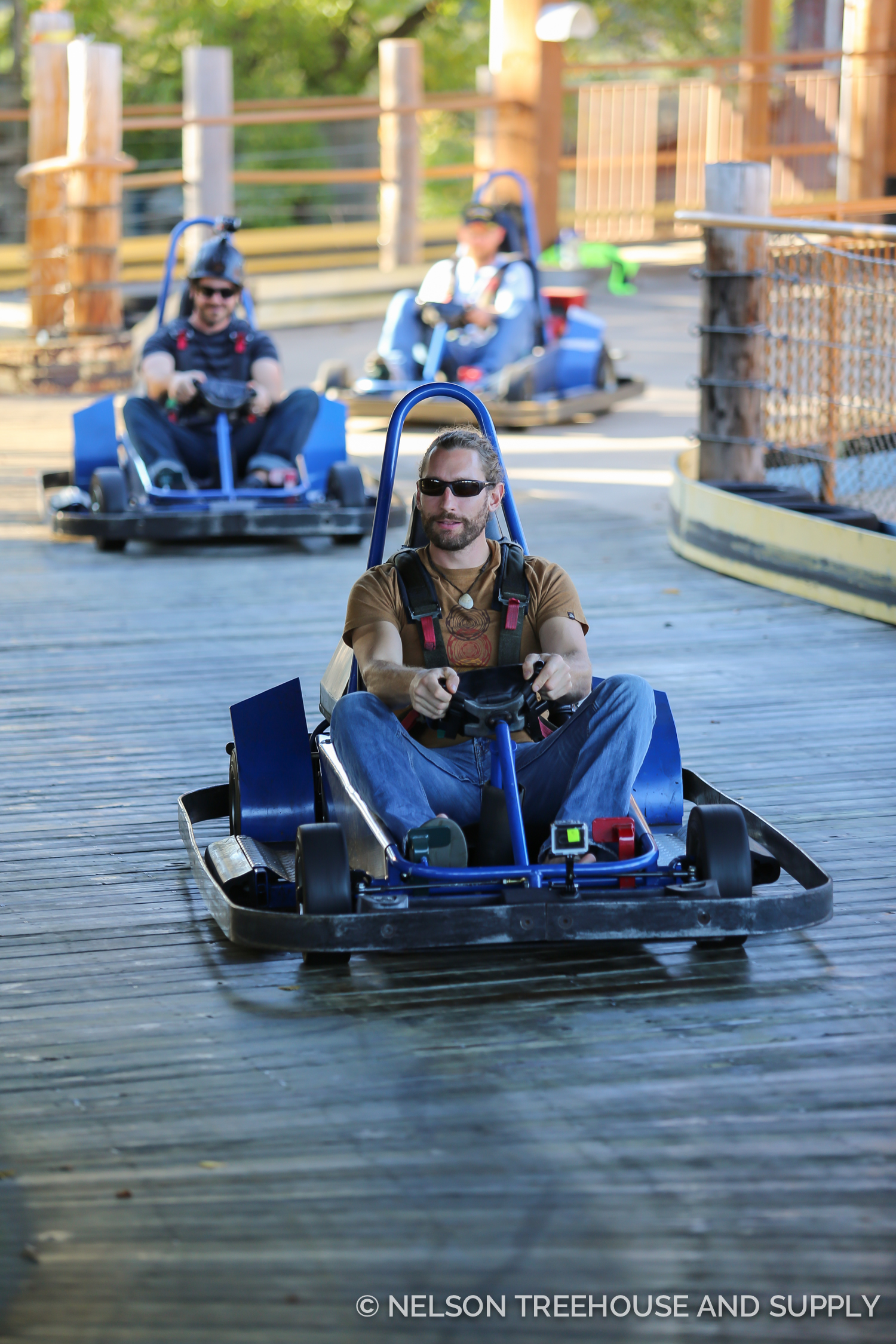 The crew took a break from the build to try their hand at go-kart racing. They had a blast!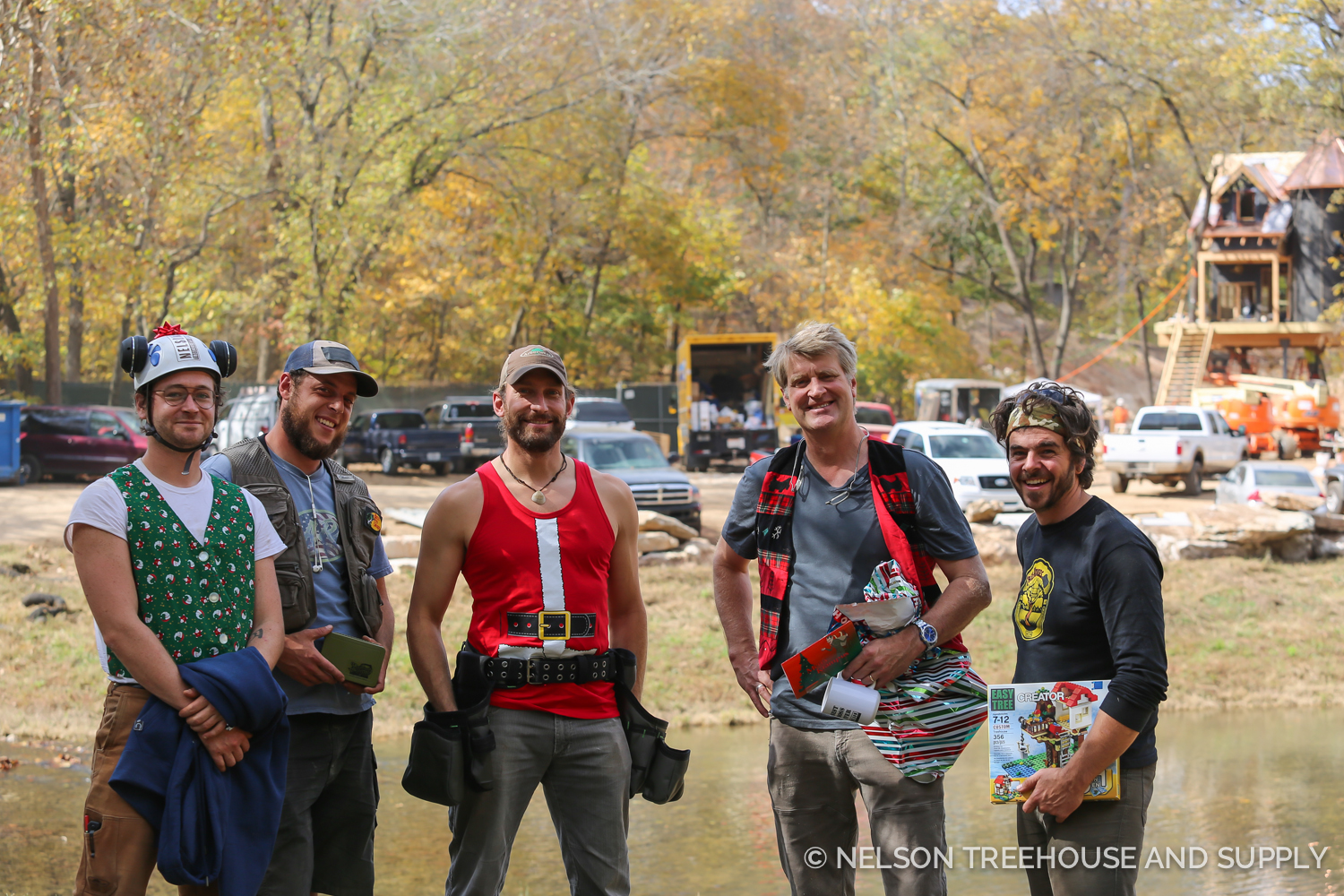 The holidays came early to the build site when the crew threw their first annual Secret Santa gift exchange. Alex gave Pete the perfect present: a "best boss ever" coffee mug. Pete was so pleased, that even Alex couldn't resist his early Christmas cheer!
THE COMPLETED TREEHOUSE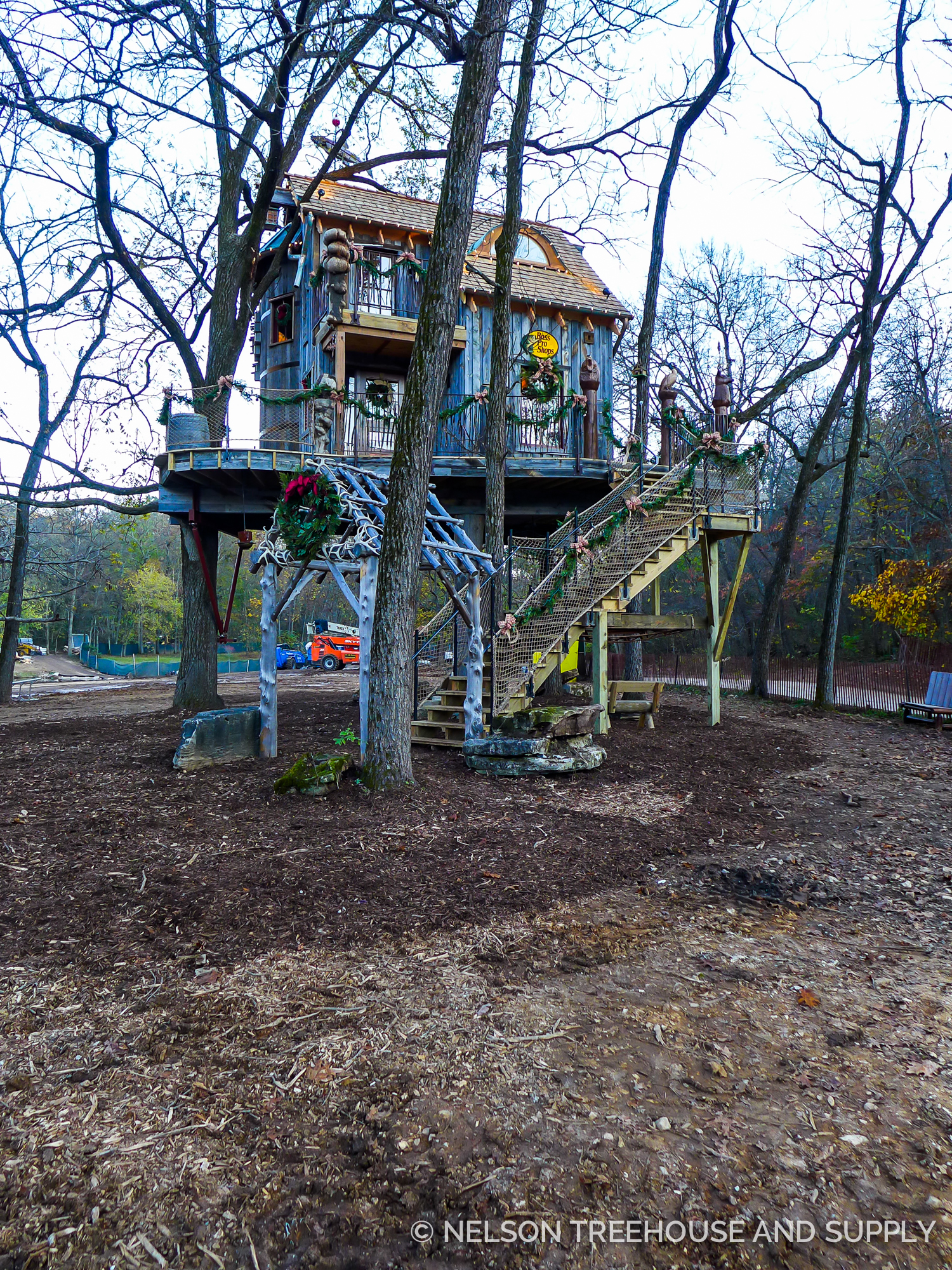 A grove of black walnut trees support the treehouse, which stands 14 feet above the ground.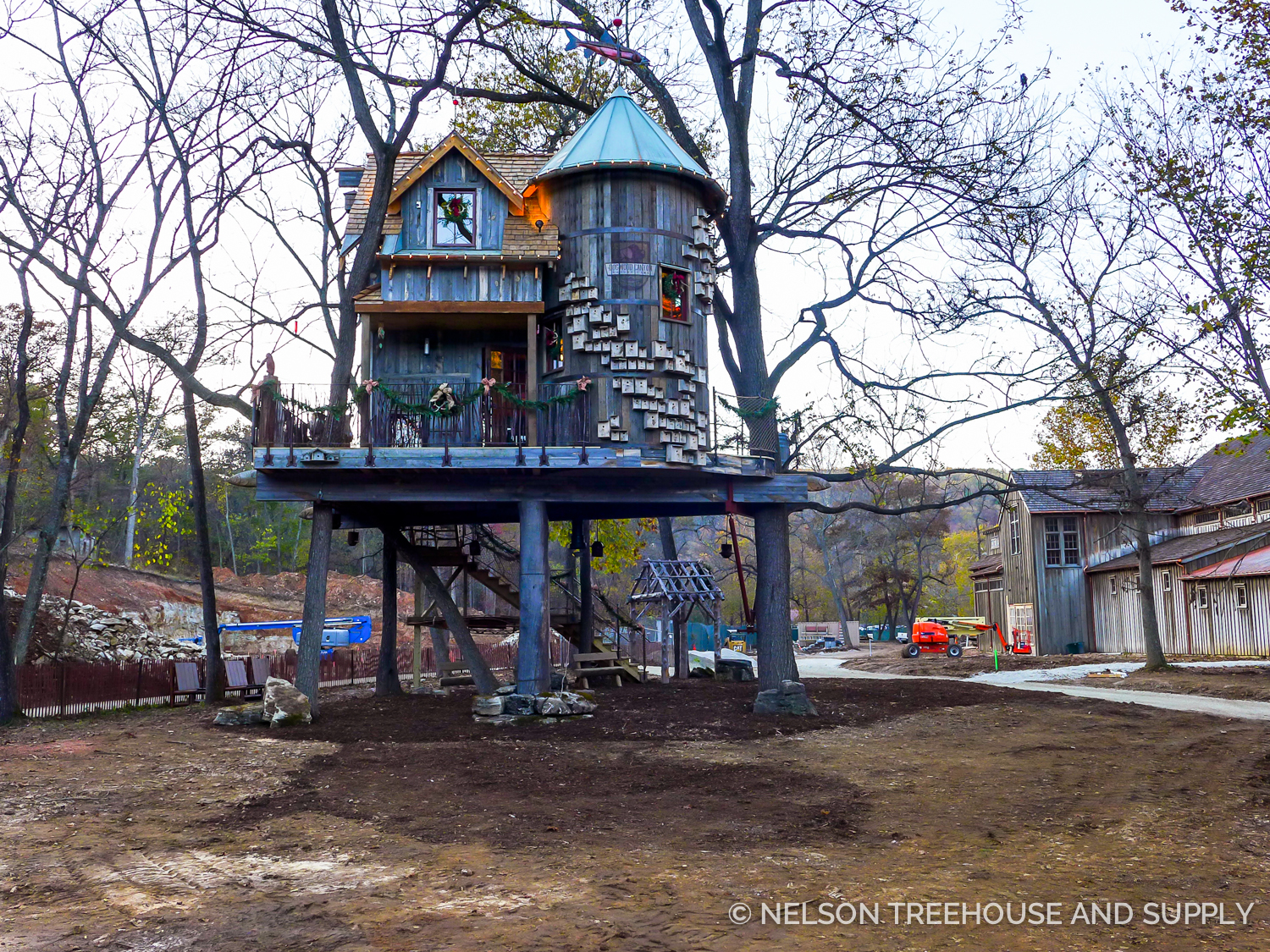 The crew also installed a couple beefy steel posts to provide additional structural support; these posts help the treehouse safely accommodate the thousands of Dogwood Canyon visitors each year.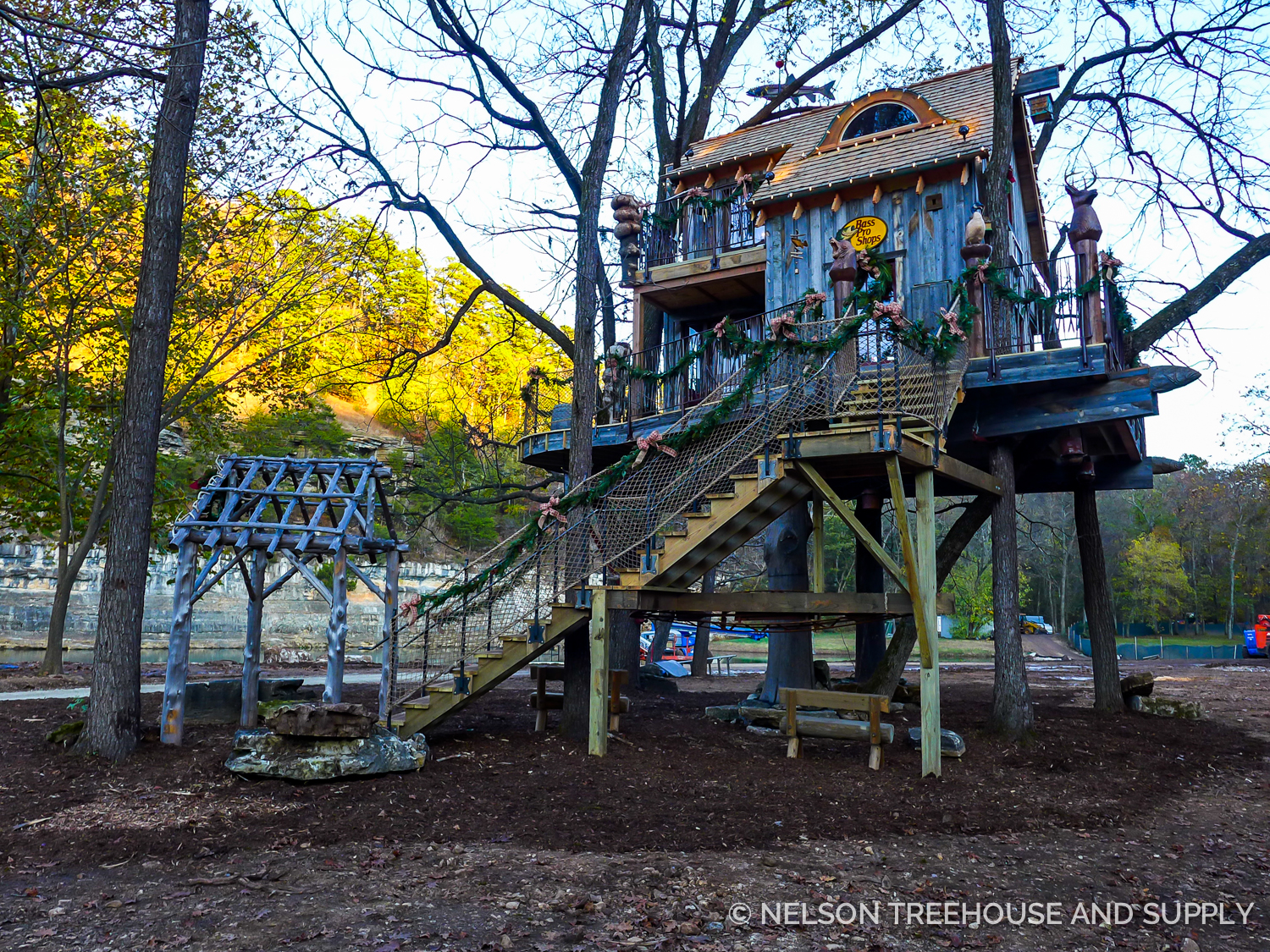 Two levels of decks give visitors sweeping views of the surrounding Ozarks.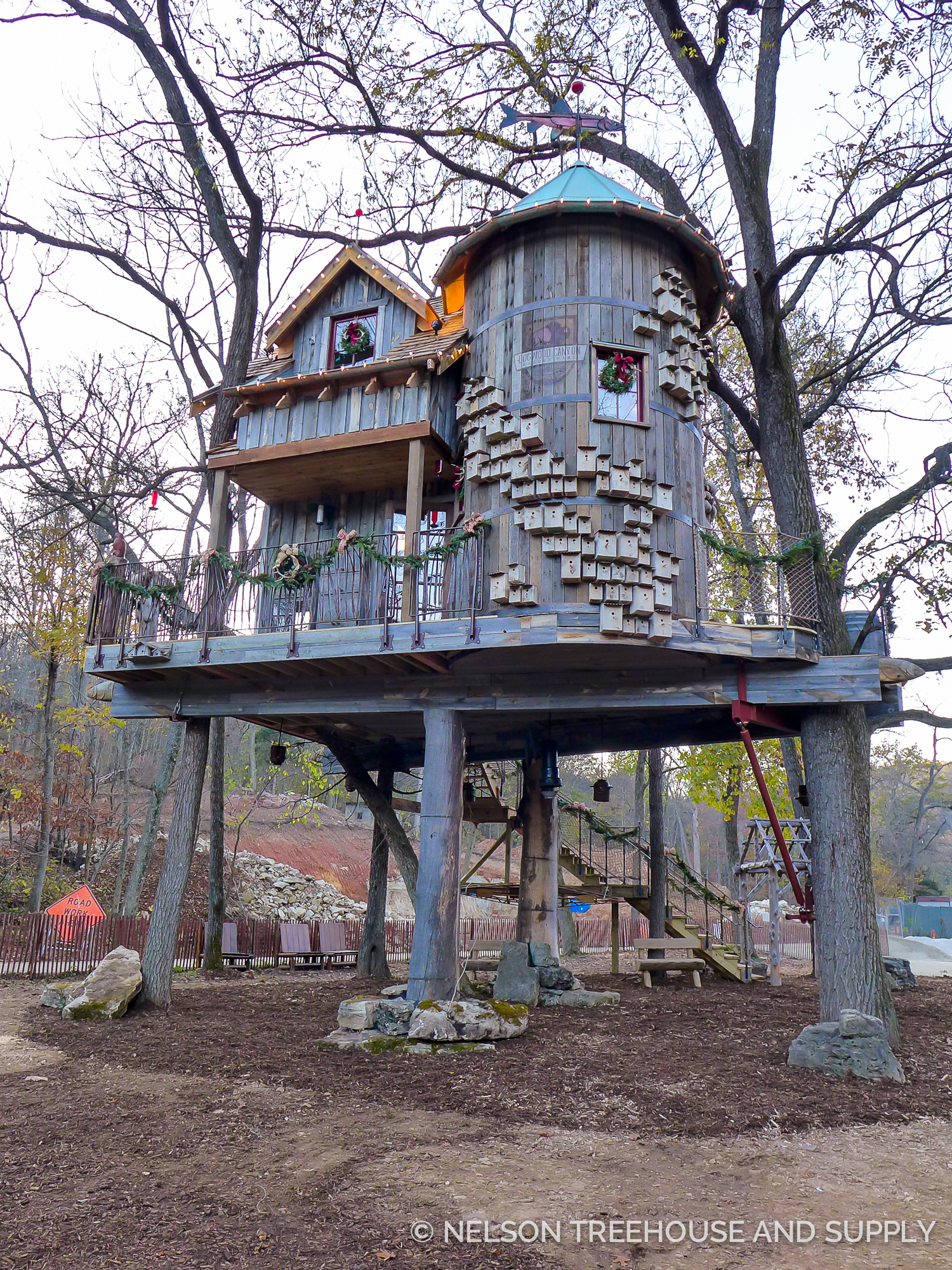 Birdhouses pepper the exterior of the 22-foot turret, which encloses a spiral staircase. The crew topped the turret with blue-green oxidized copper, and used reclaimed barn wood as exterior siding.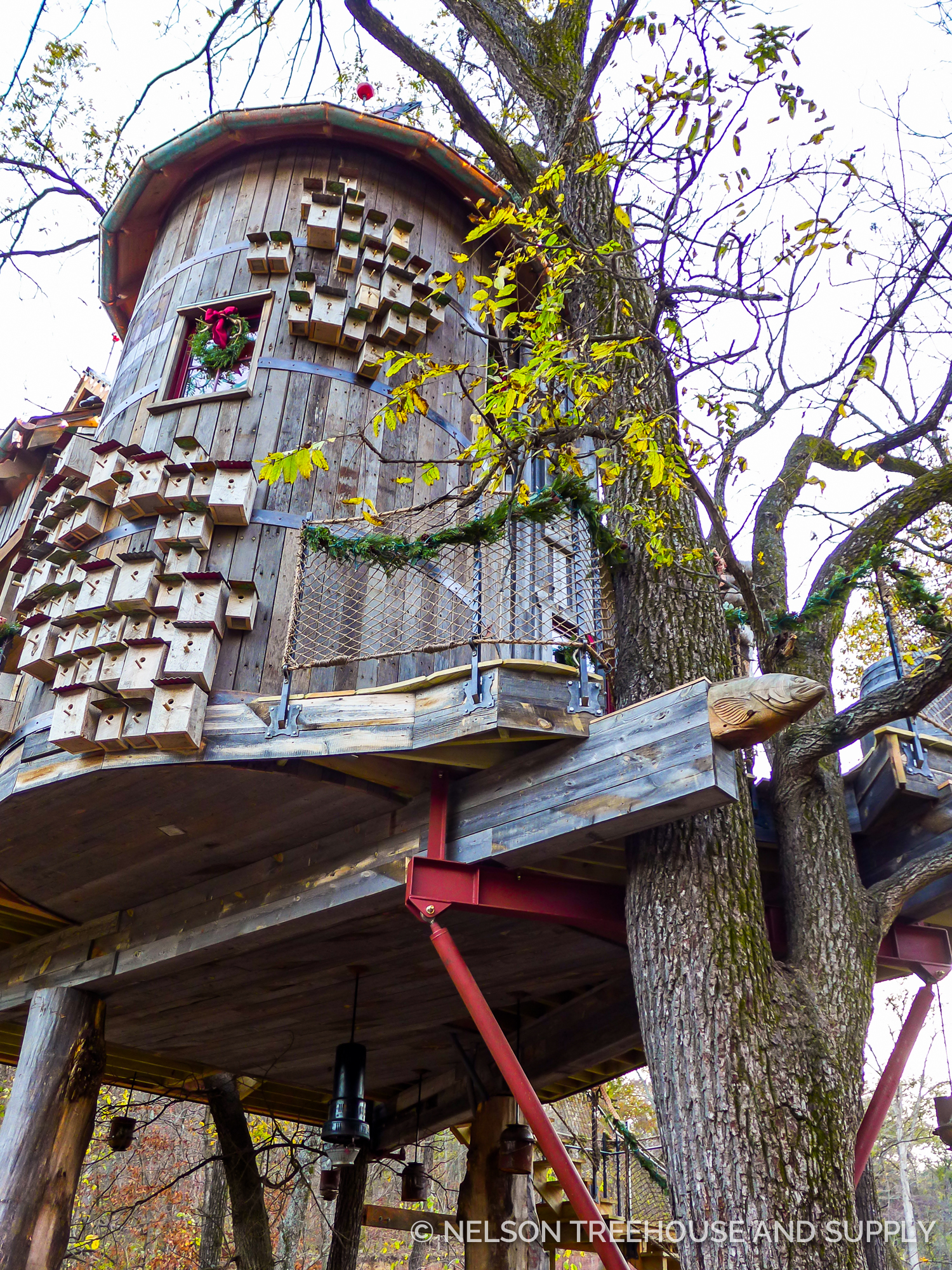 Handcrafted details, like this carved fish on the beam, bring a special elegance to this treehouse.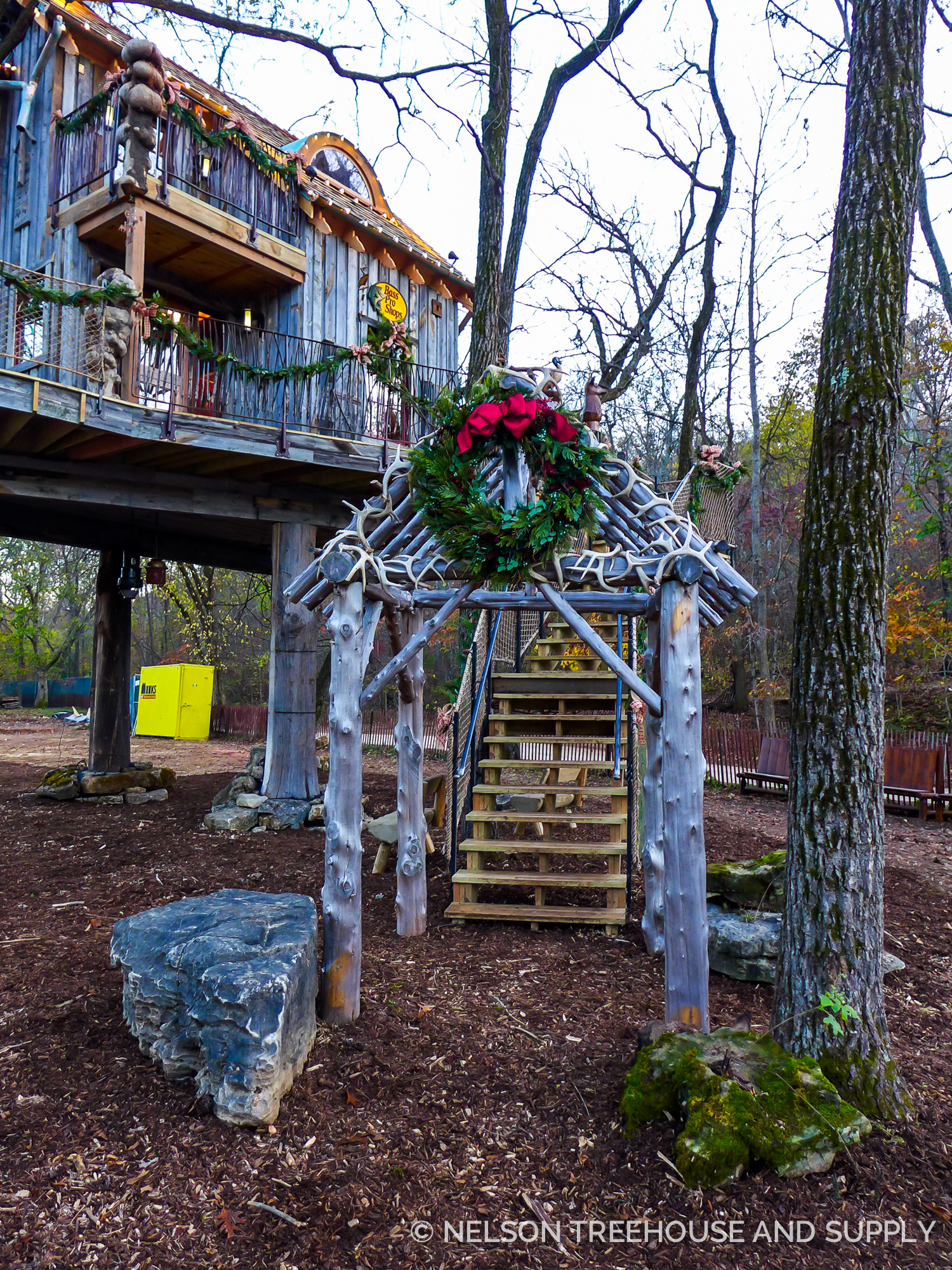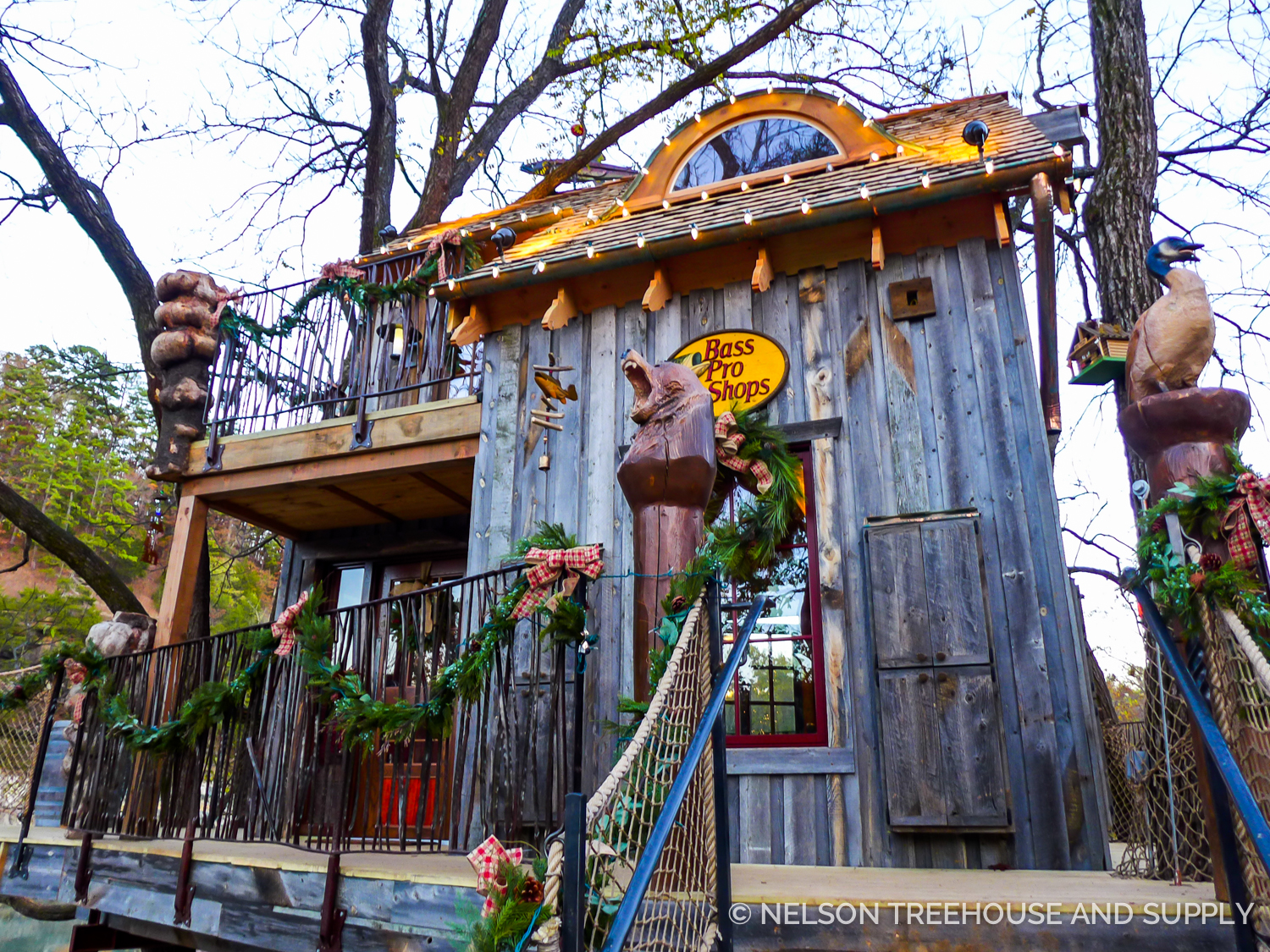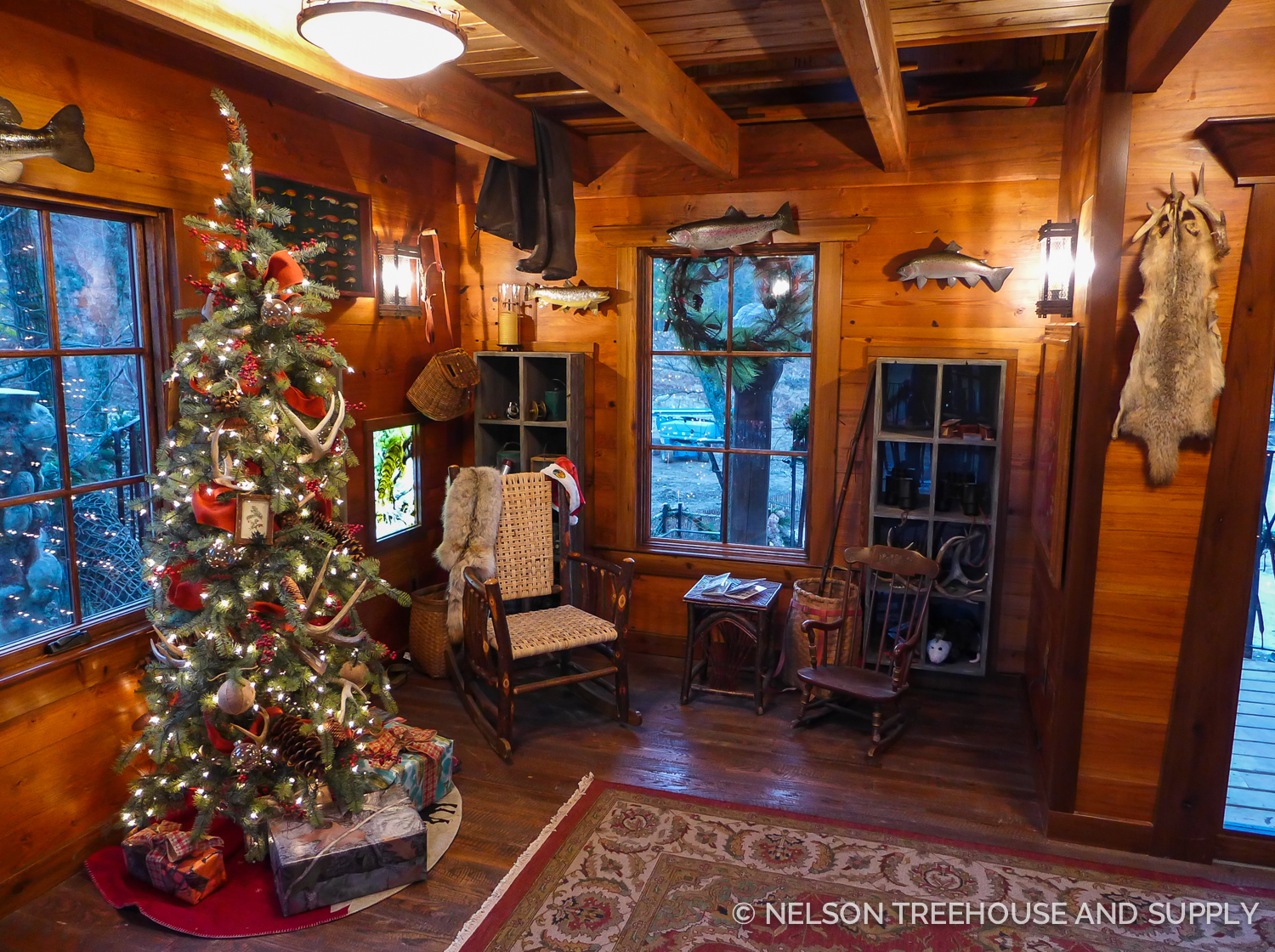 Pete and the crew built lots of fun, interactive display cabinets that open from inside and outside of the treehouse. Kids love learning about natural specimens in this hands-on way!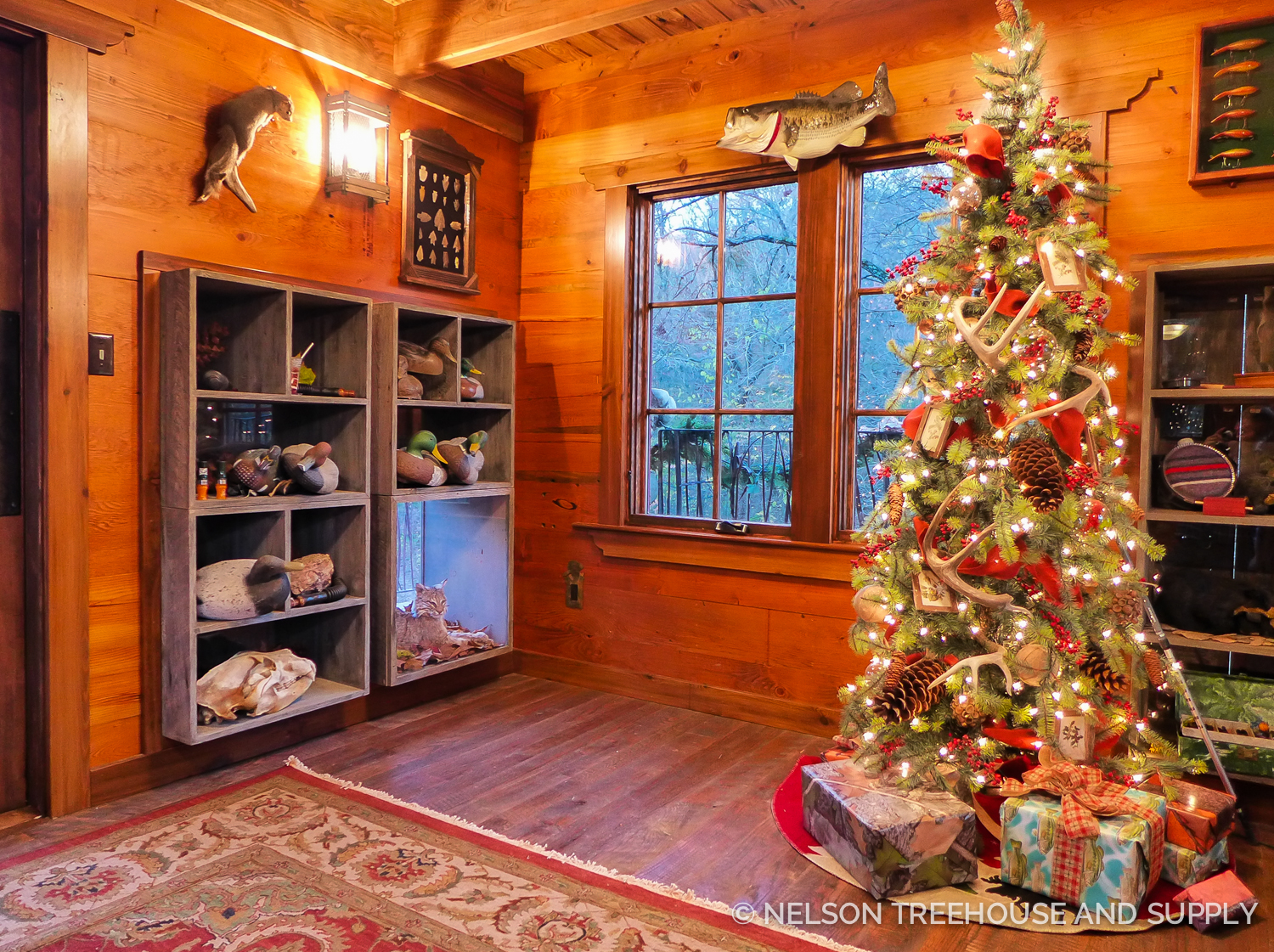 Pete and the crew paneled the walls of the spiral staircase in poplar bark to create the sensation of being inside a tree. The crew also encouraged kids to learn about tree species by crafting each step of the staircase from a different type of wood.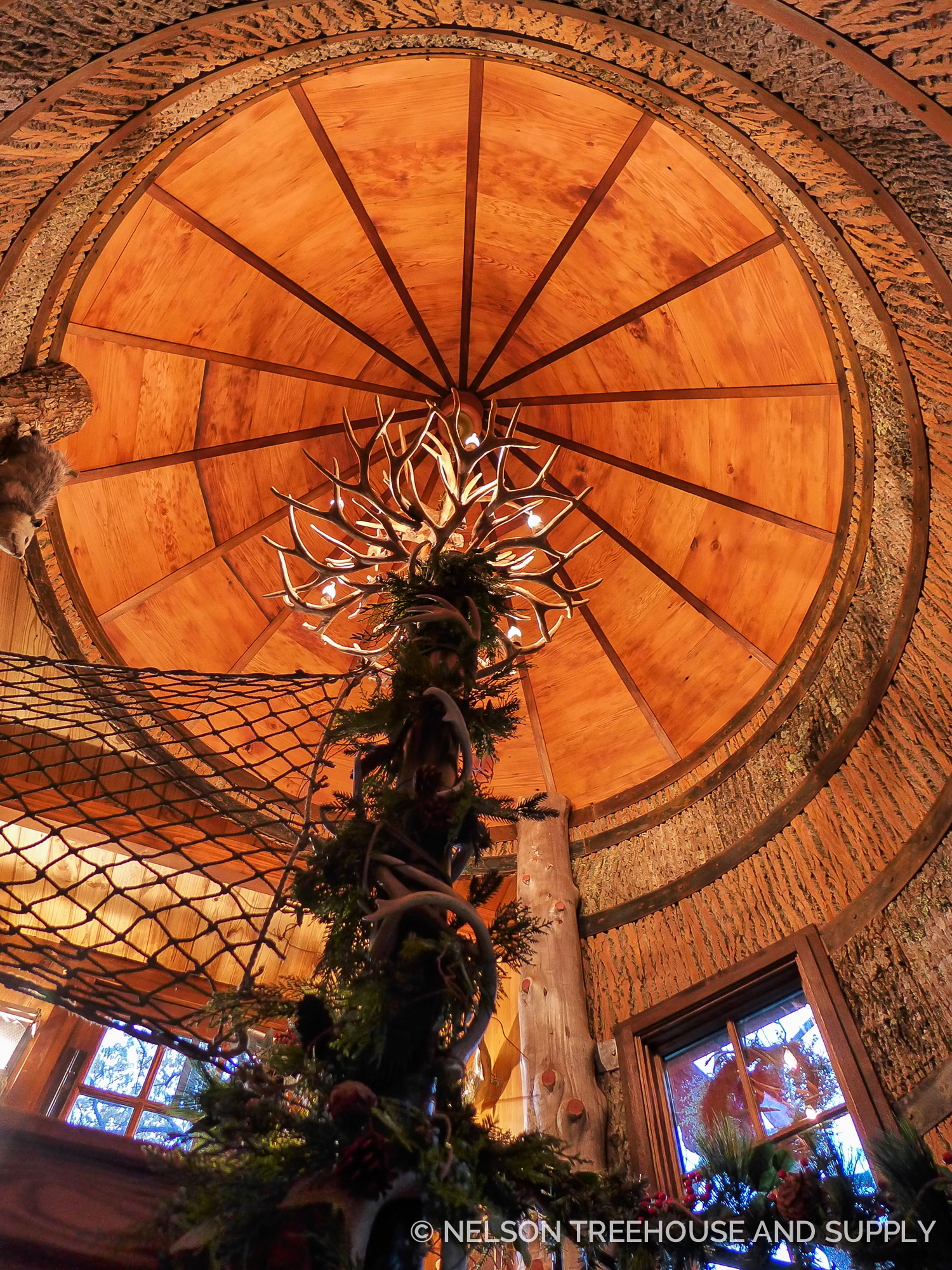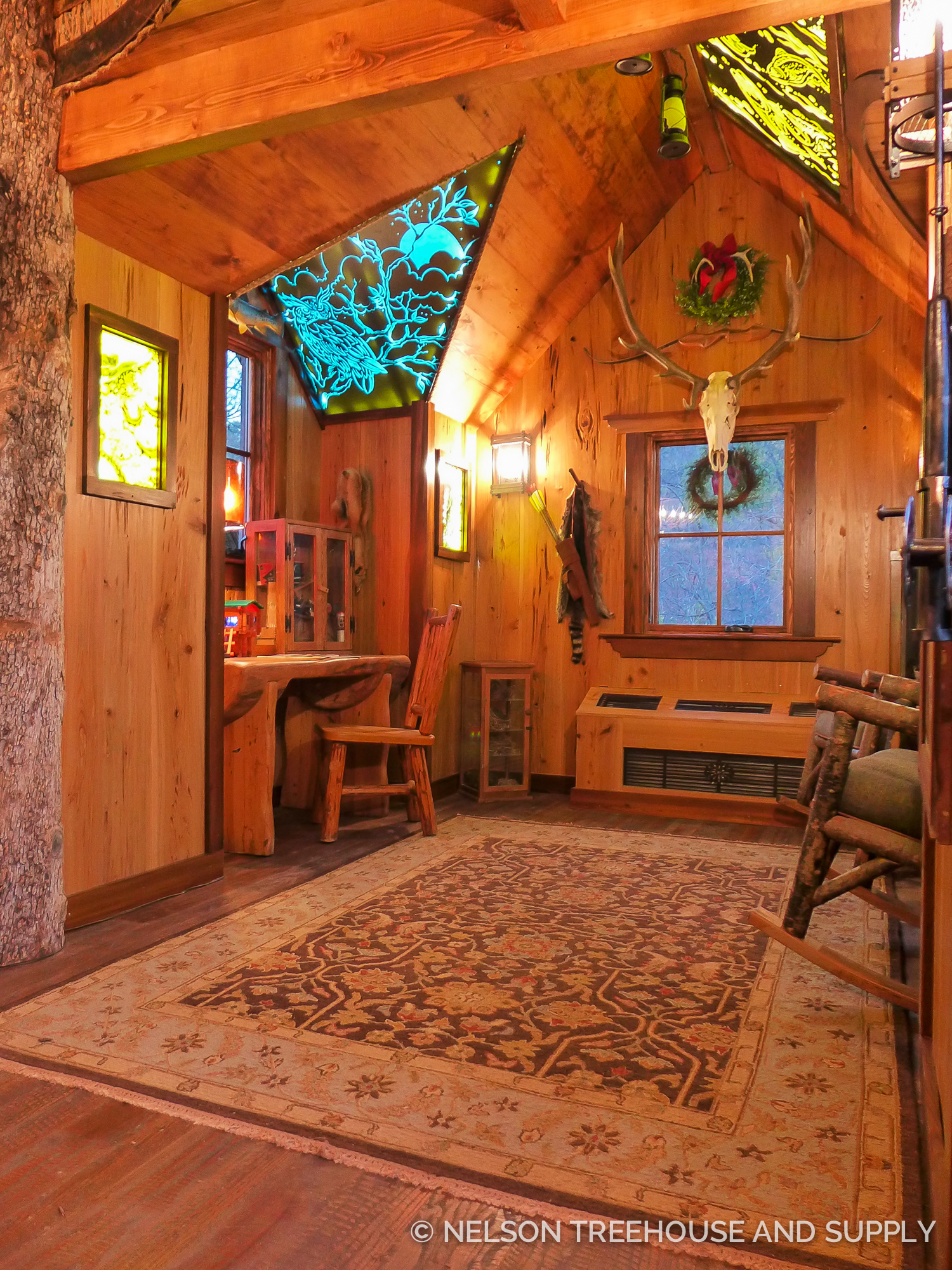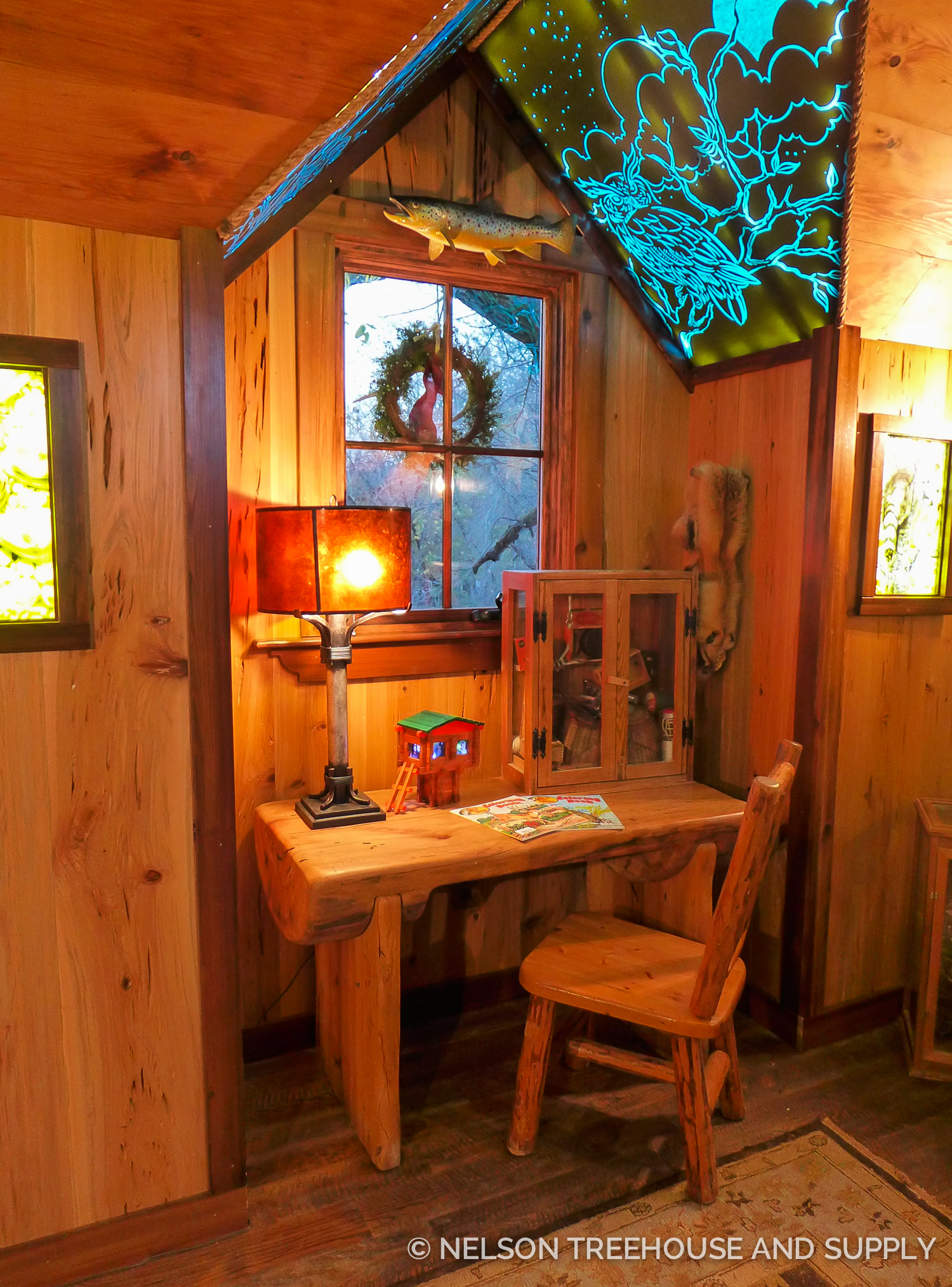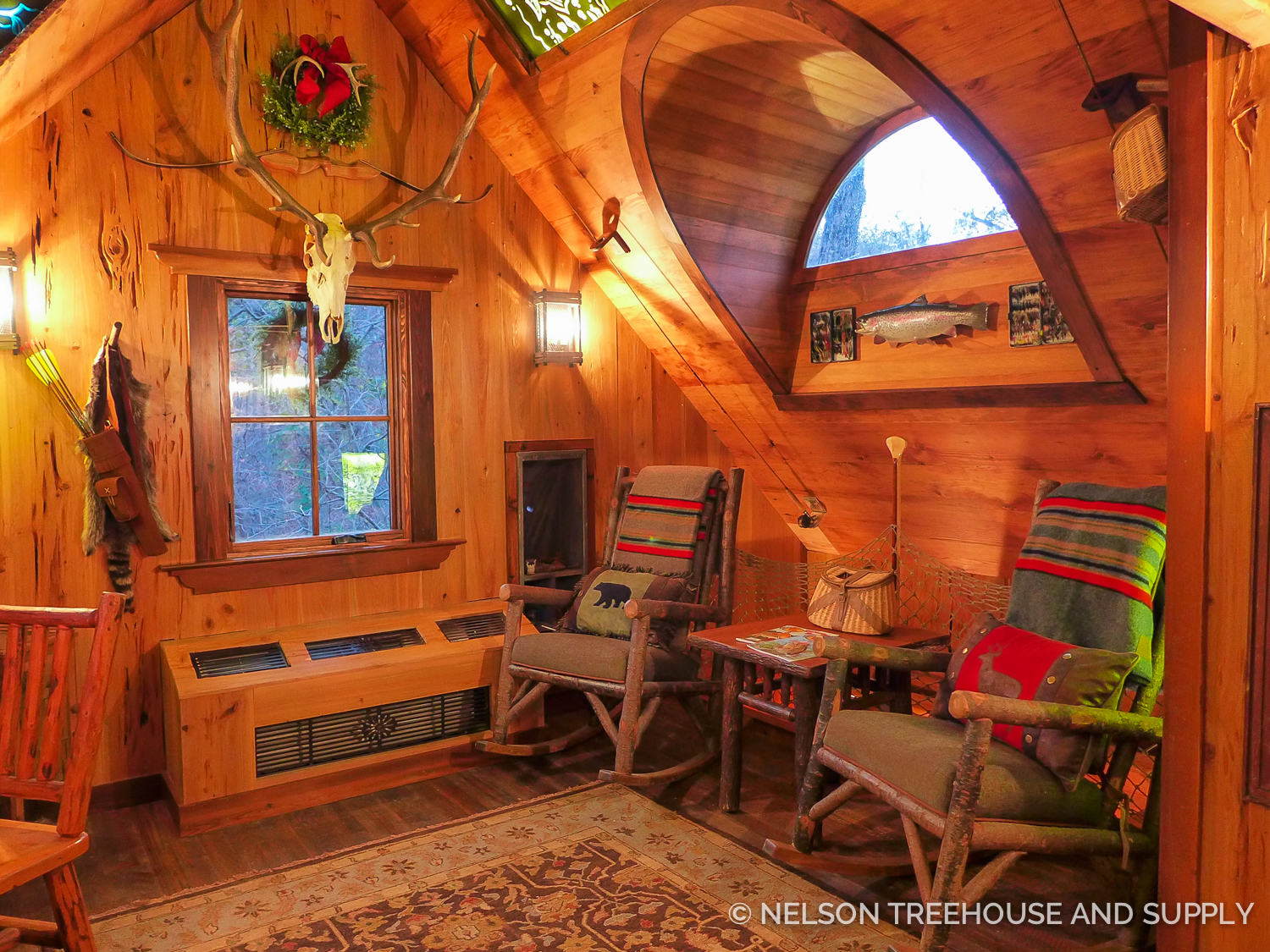 Our carpenters really went above and beyond with this eyebrow window; their craftmanship is superb!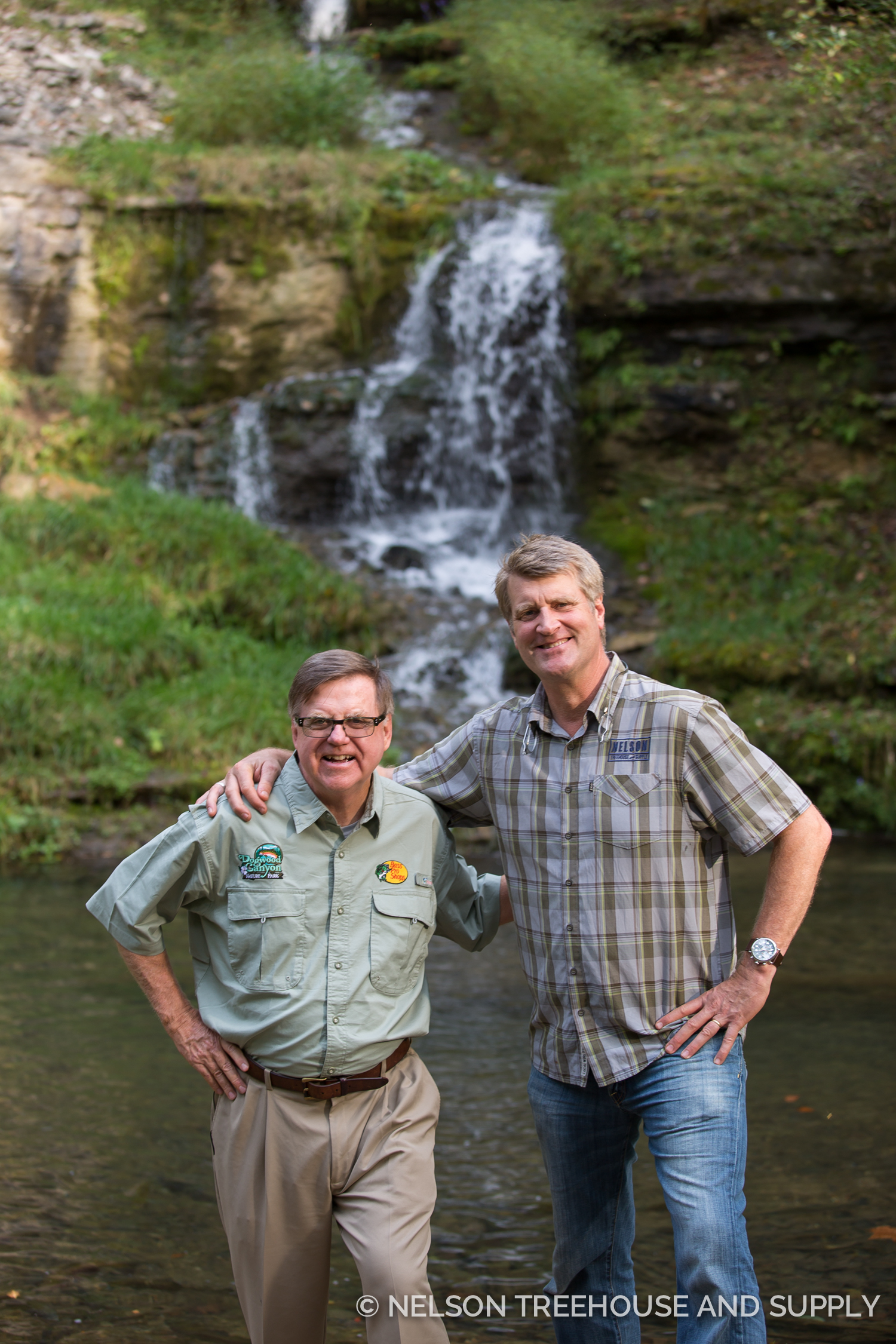 Pete and the crew were honored to create a nature education treehouse at Dogwood Canyon. From all of us at Nelson Treehouse and Supply, we wish Johnny, Luke, Martin, and all the Dogwood Canyon visitors many years of laughter and learning in the trees!
Which treehouse do you want to tour on our next #treehousefriday? Let us know in the comments below! And make sure to subscribe to our newsletter to stay up-to-date on fresh treehouse tours.
To the trees!