Building an arboreal speakeasy for the one and only Shaquille O'Neal was an honor and a genuinely fun experience—Shaq's generous hospitality, sharp sense of humor, and penchant for playfulness brought levity to each work day.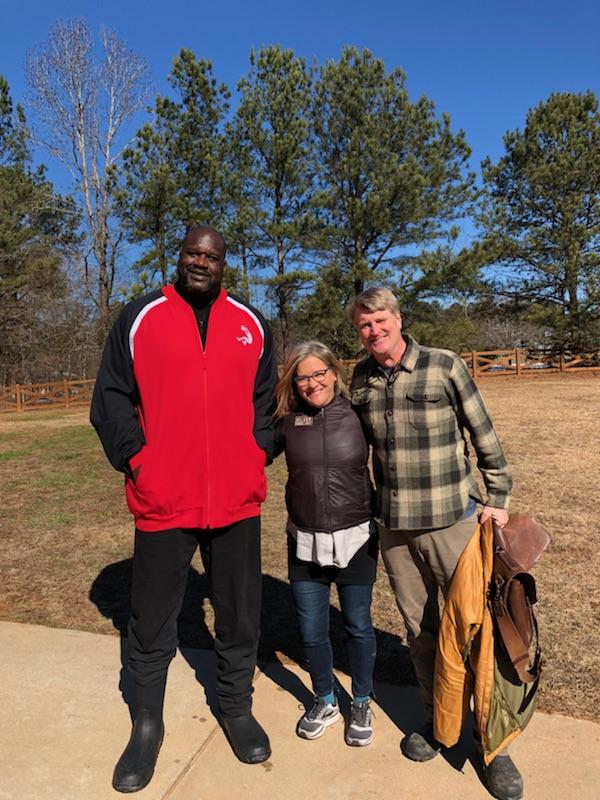 Shaq asked for a treetop man-cave where he could gather with friends for card games and libations. Throw in a pinch of moody Prohibition-era decor, a soaring ceiling, and the coolest custom details (like a nine-foot-tall door, extra-long stair treads, and a regal portrait), and you've got a treehouse fit for this Superman.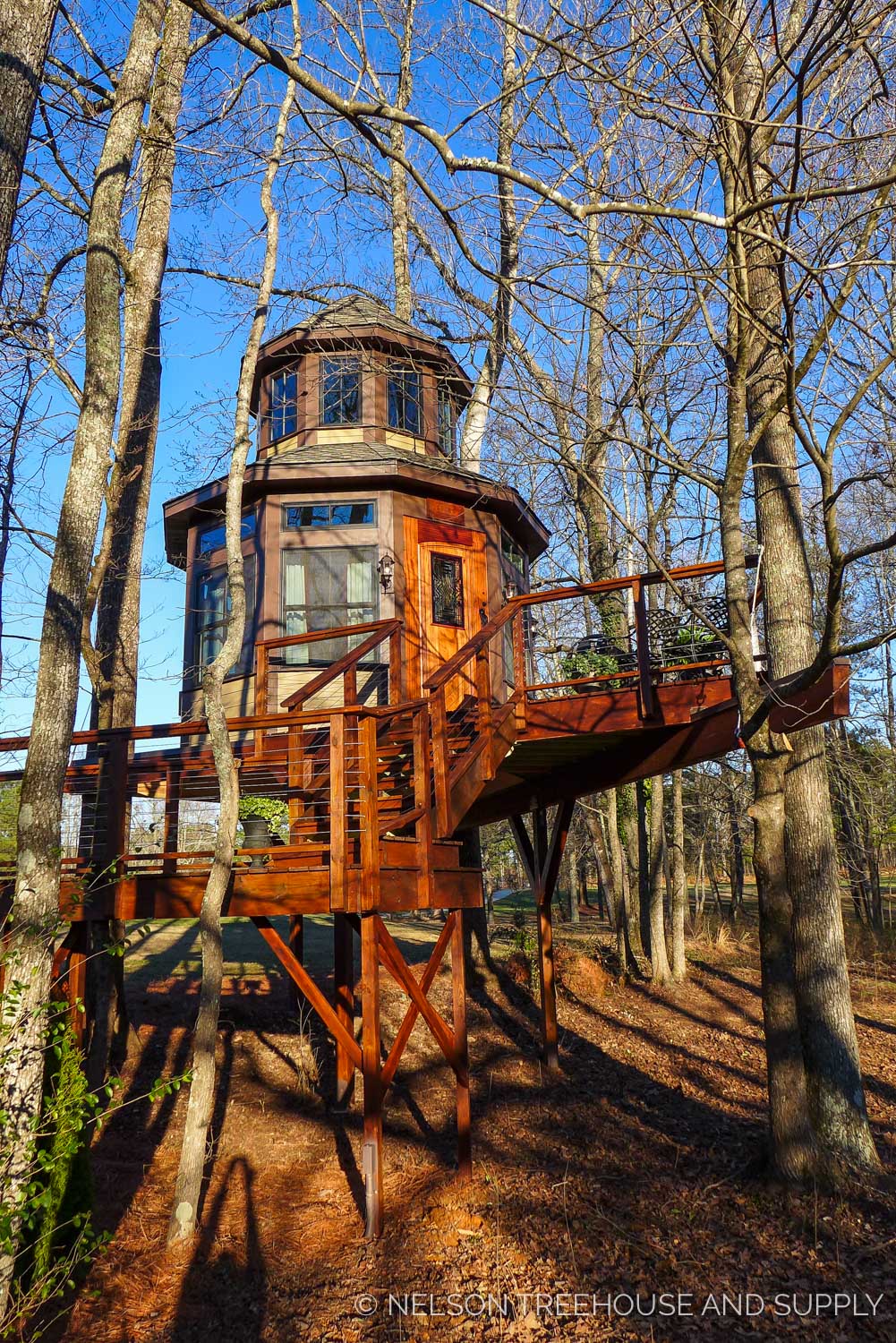 The lofty, lighthouse-esque shape was designed with Shaq's height in mind. Each of the walls on the main level is ten feet high.
Two tulip poplars and one sweet gum are the starring players in supporting this 150-square-foot treehouse. But with beams spanning about 30 feet, the crew had to add supportive posts between the host trees.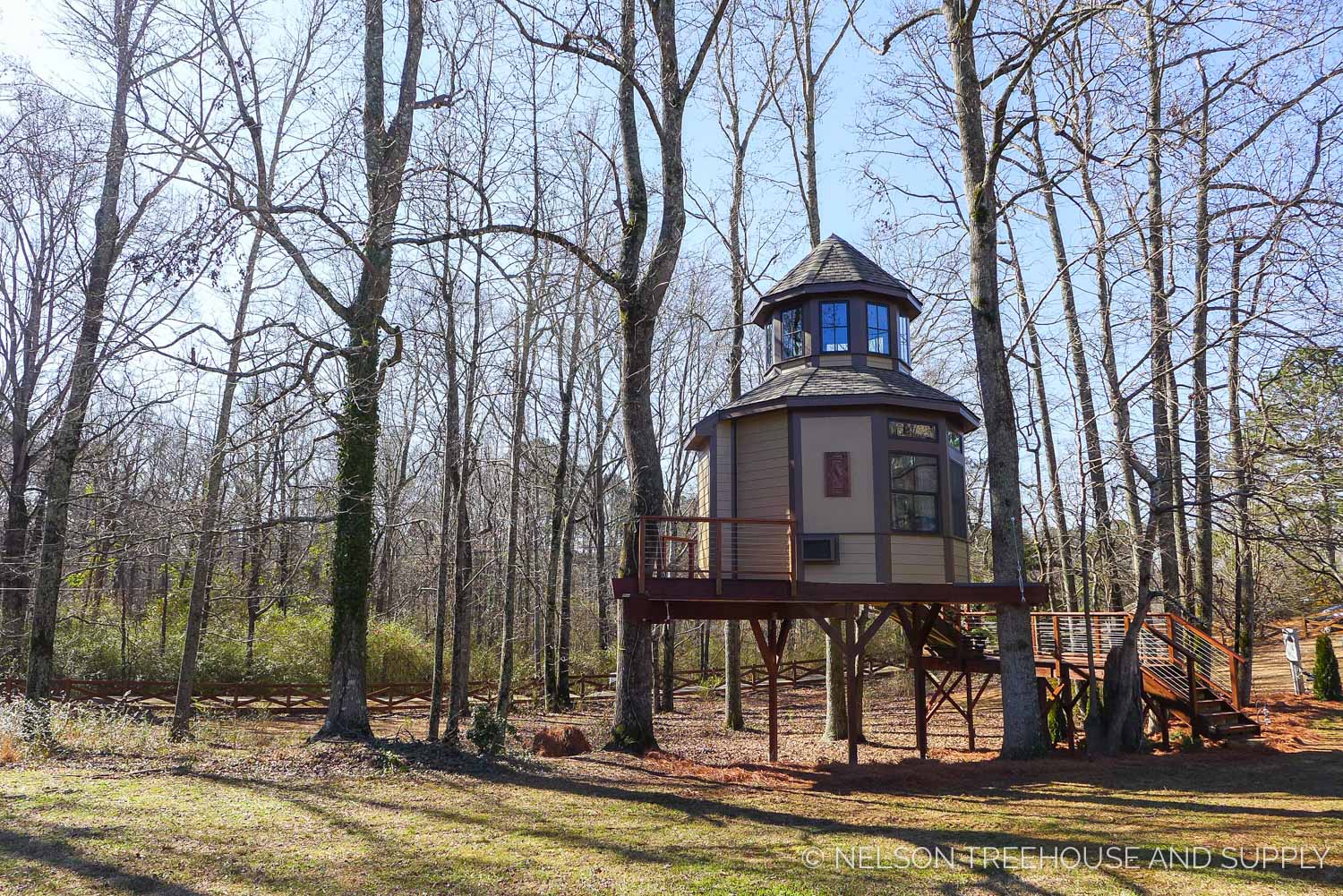 Windows wrap all the way around the upper level and cover all but three of the walls on the main level. The treehouse is shaped as a decagon.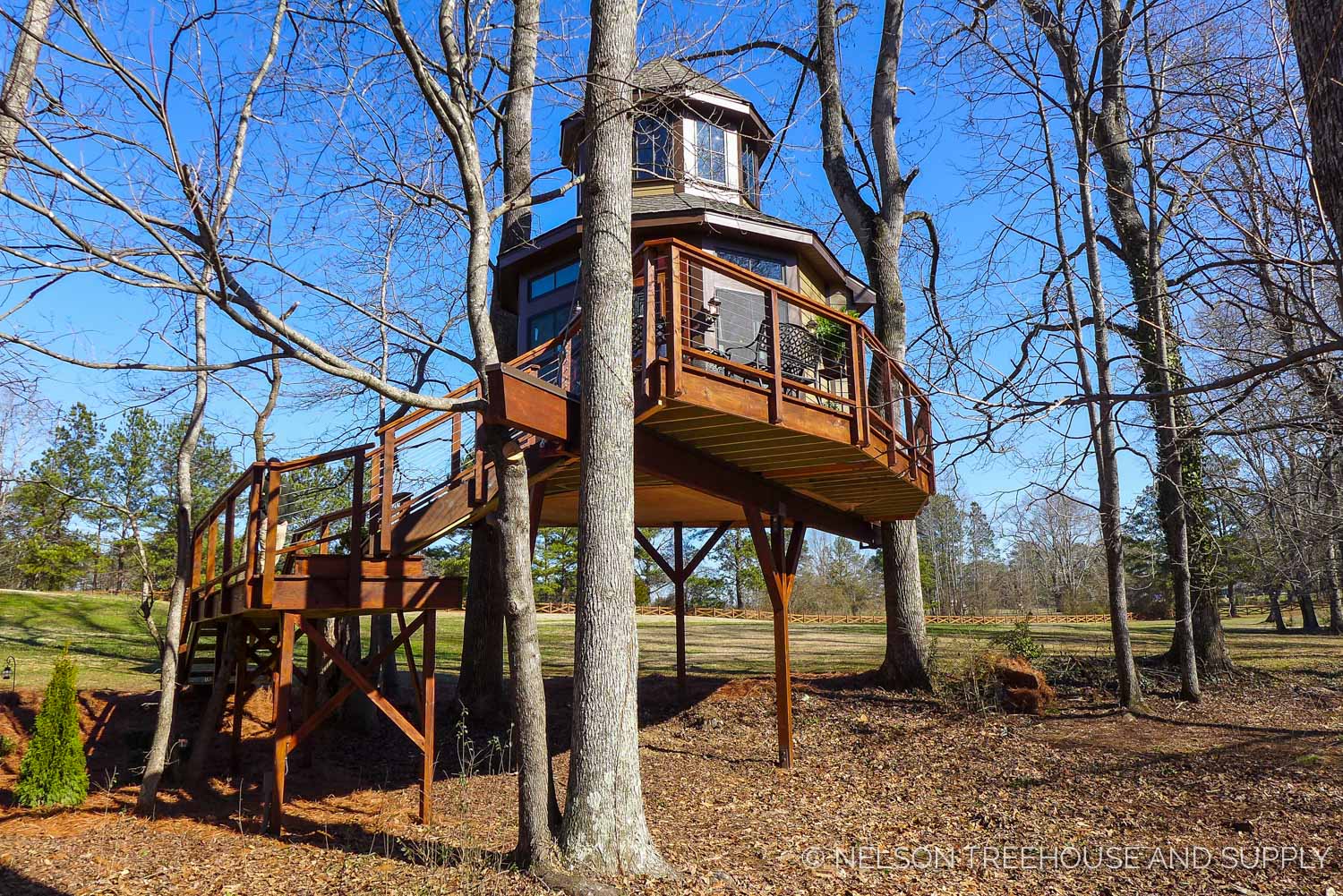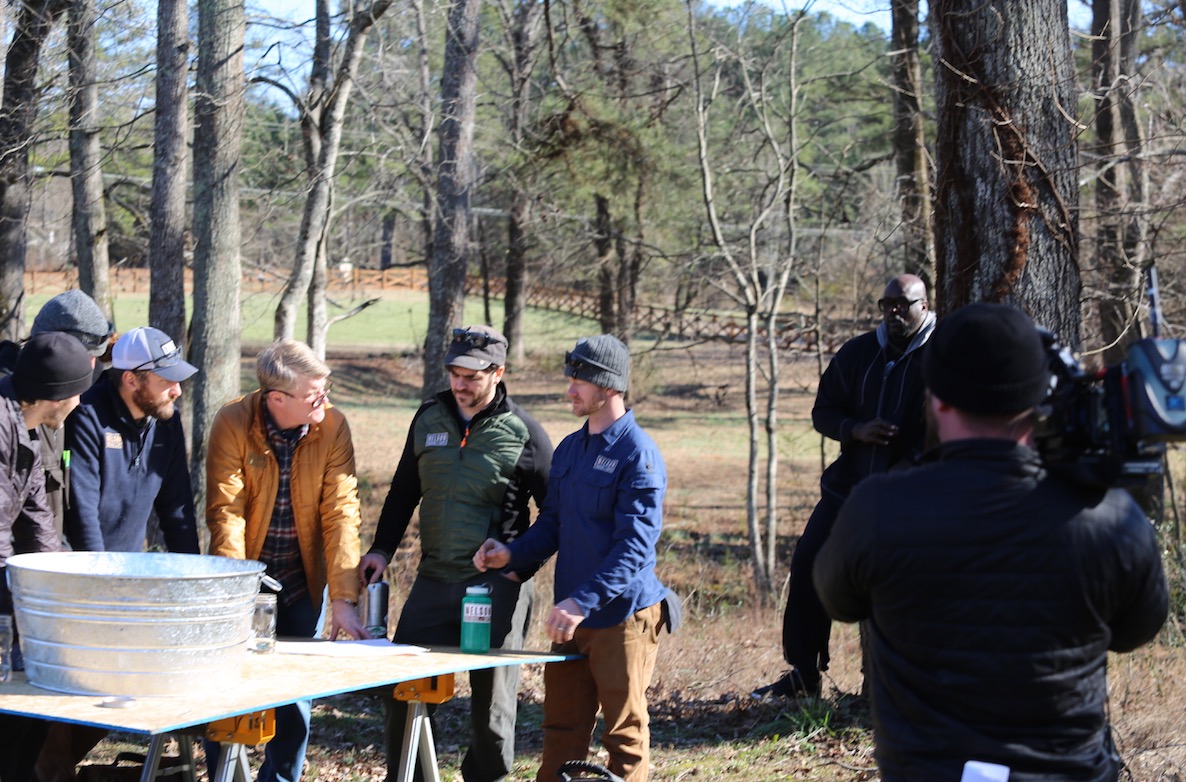 Early on in the build, Shaq snuck up on the crew while they were poring over plans. Despite his prodigious height, Shaq is super stealthy! No one on the team glimpsed him until he walked out of the build site.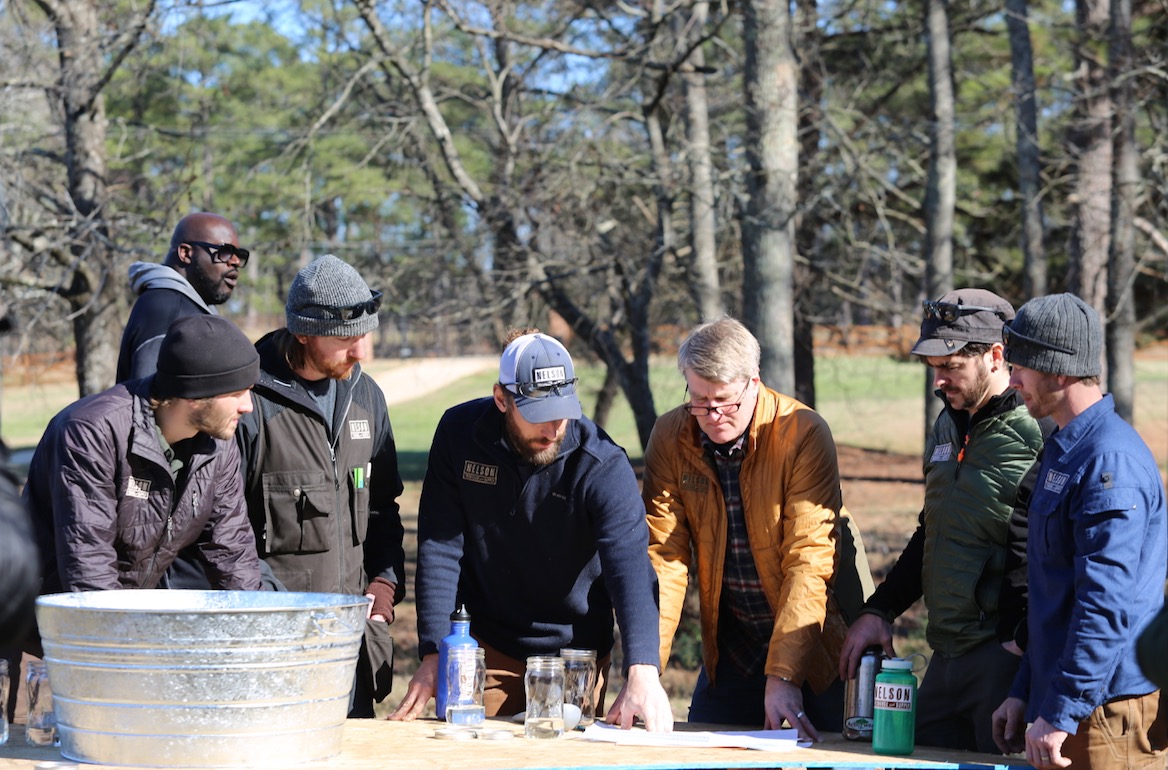 Still not seeing Shaq…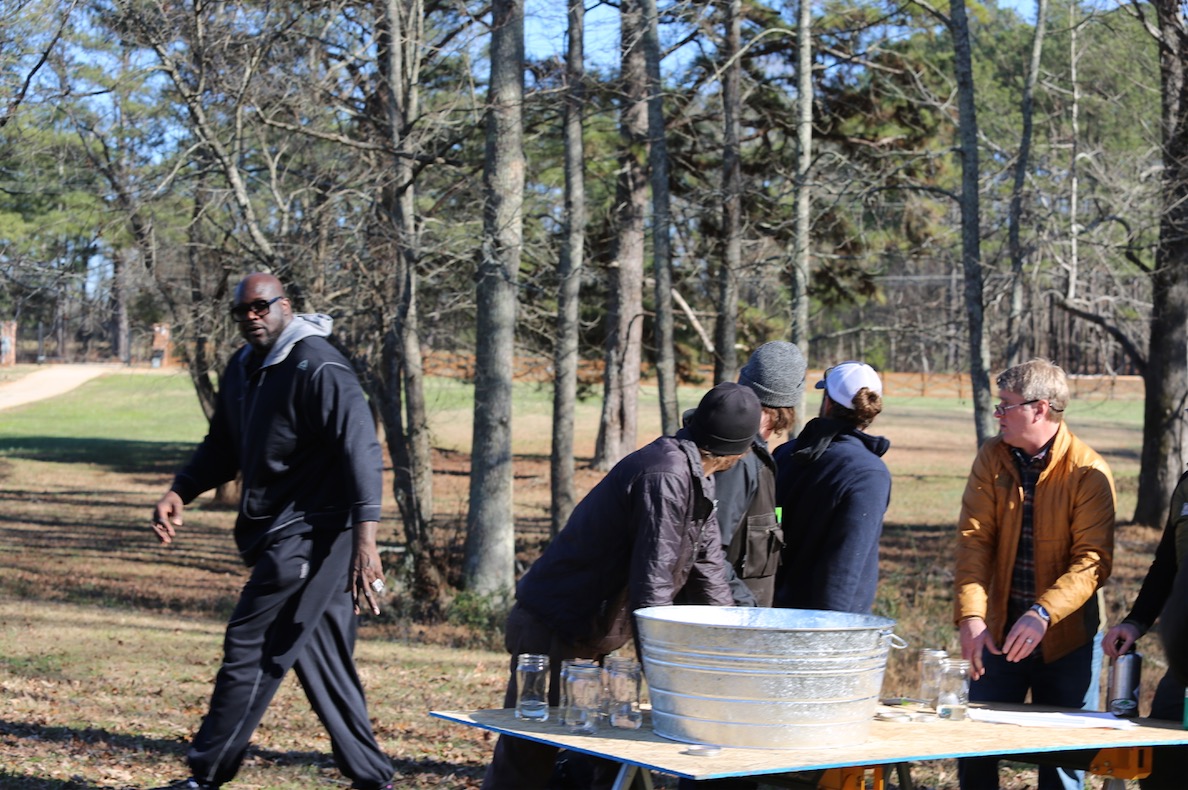 Finally: Shaq is spotted! Gotta love Pete's expression here.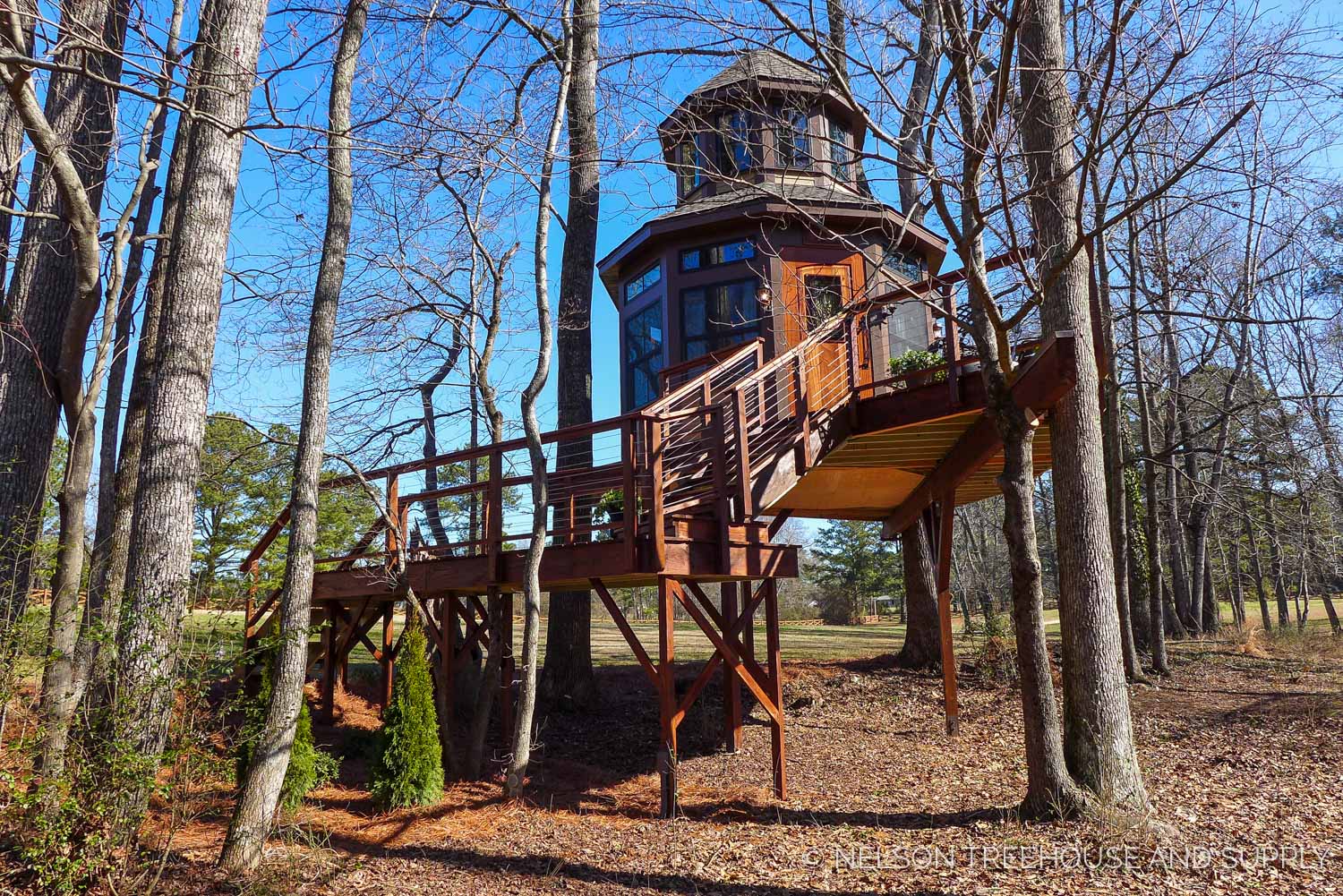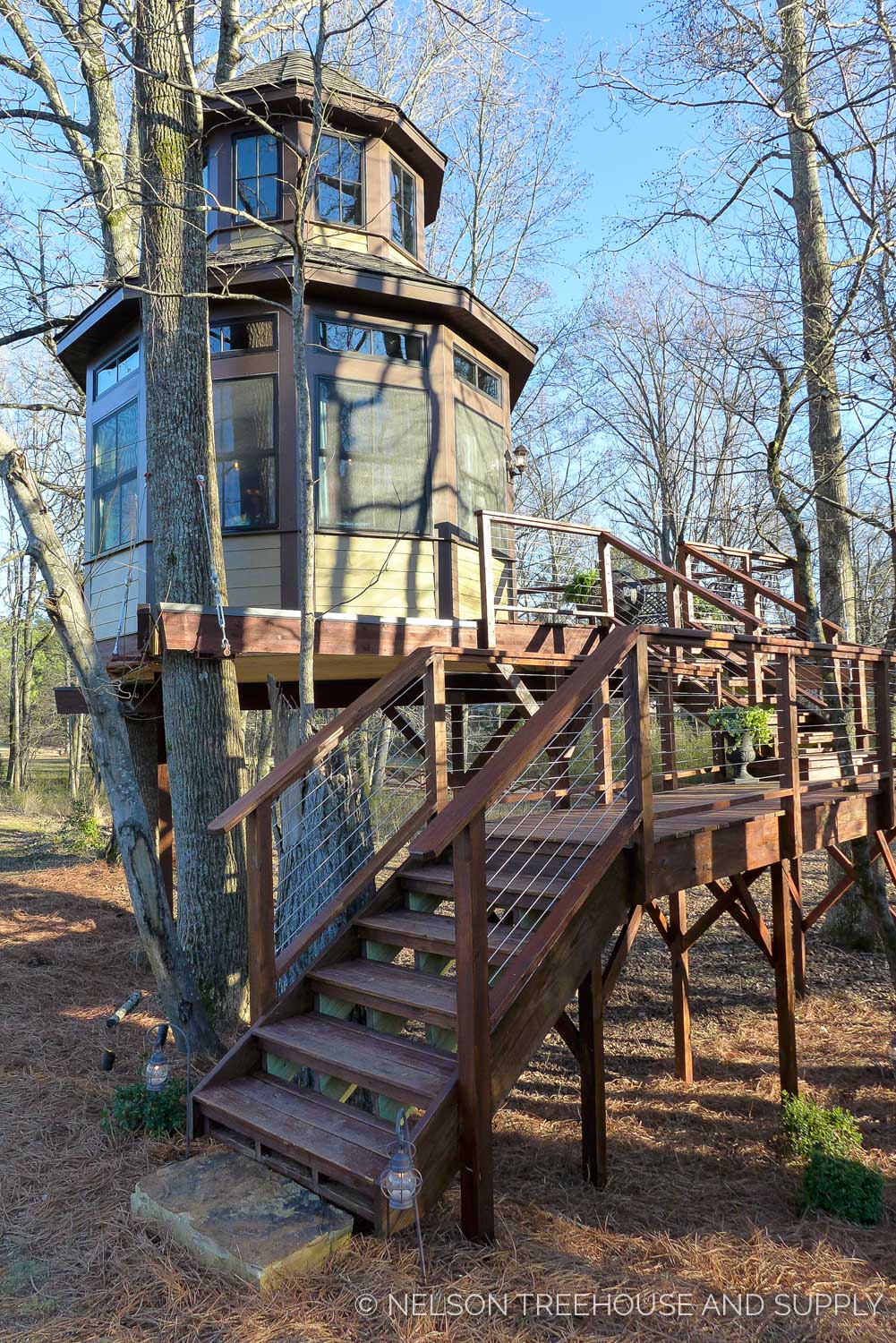 The crew added extra-long stair treads to better fit Shaq's size-22 feet.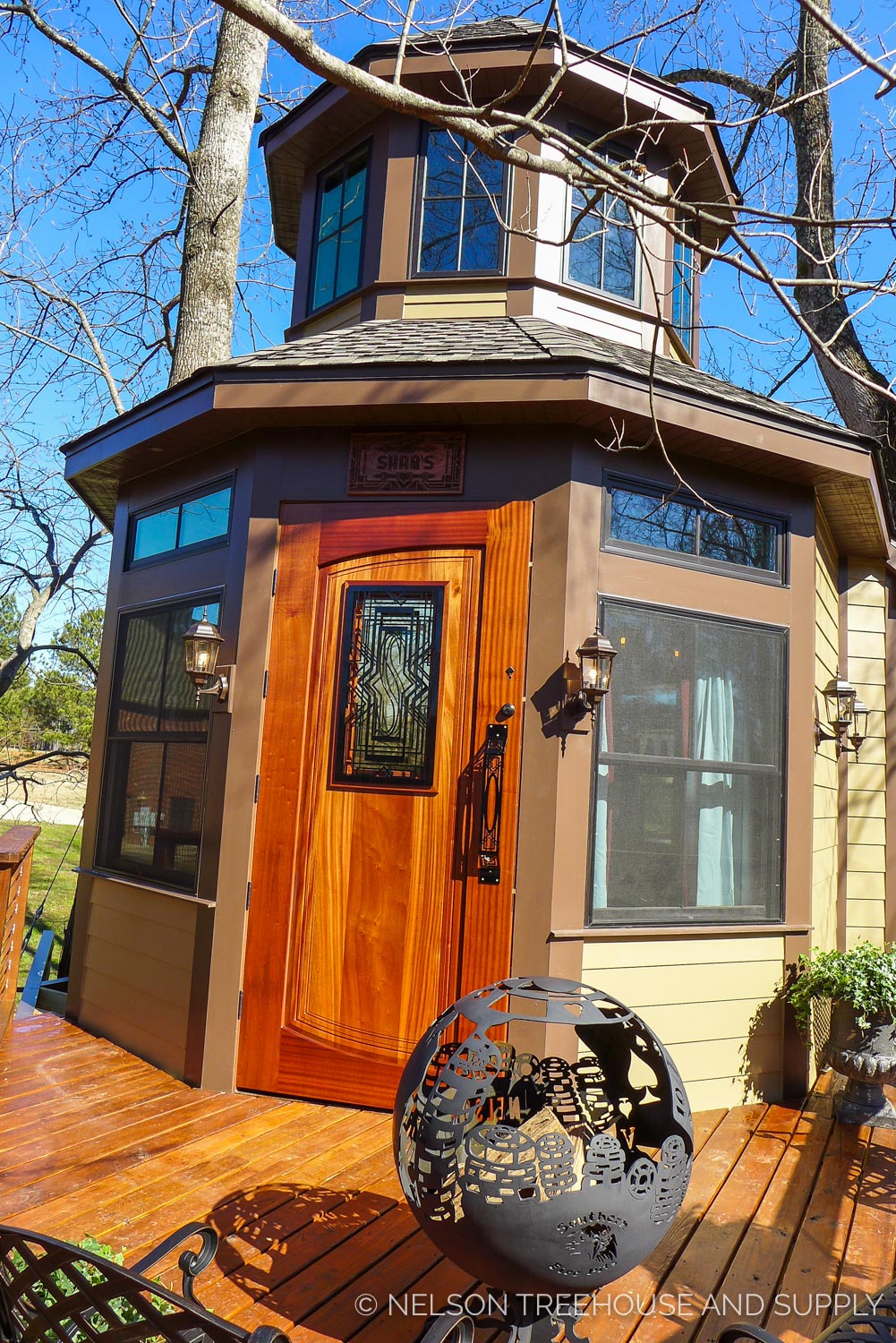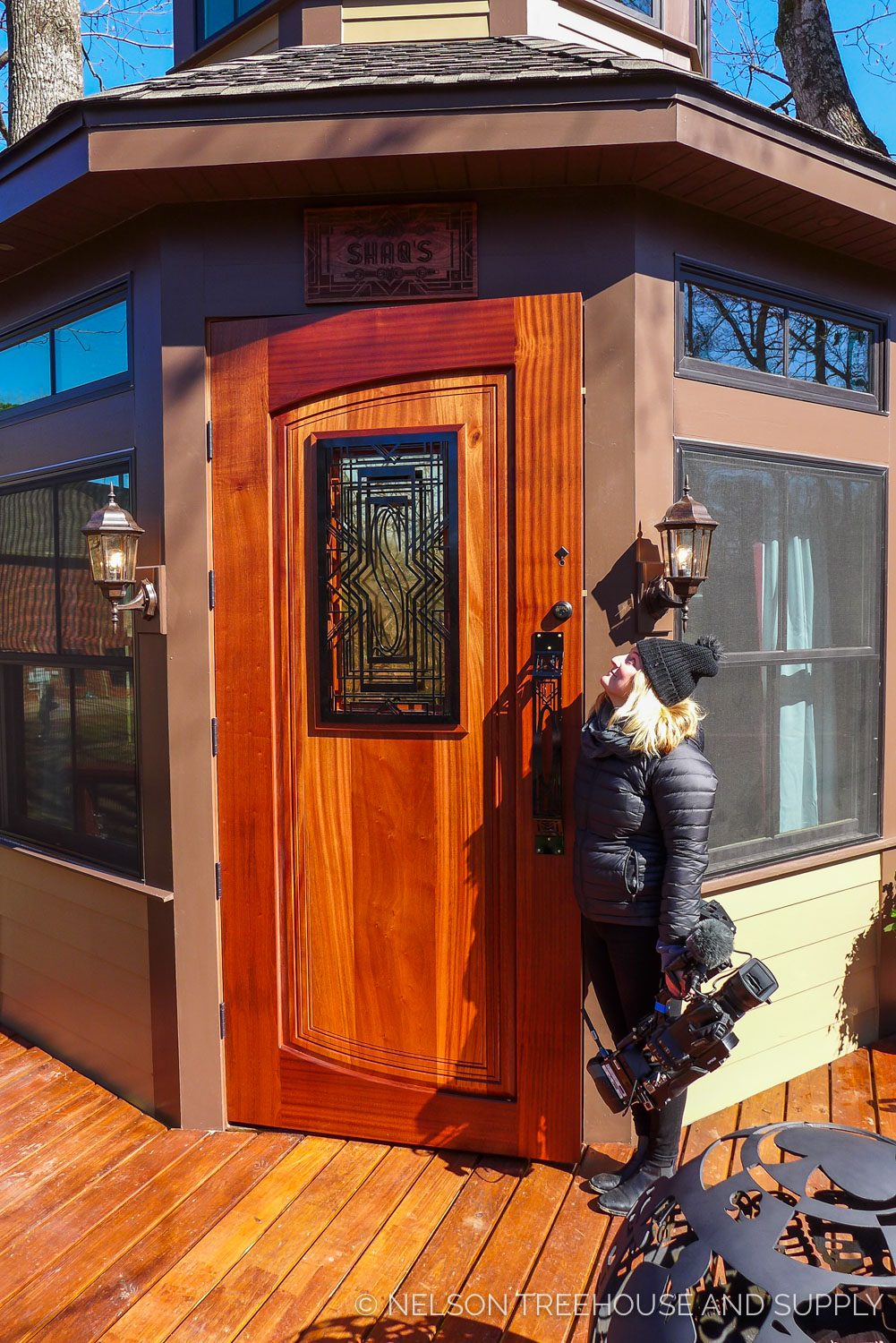 A gorgeous, nine-foot-tall door greets visitors. It was crafted by Zac Brown Customs.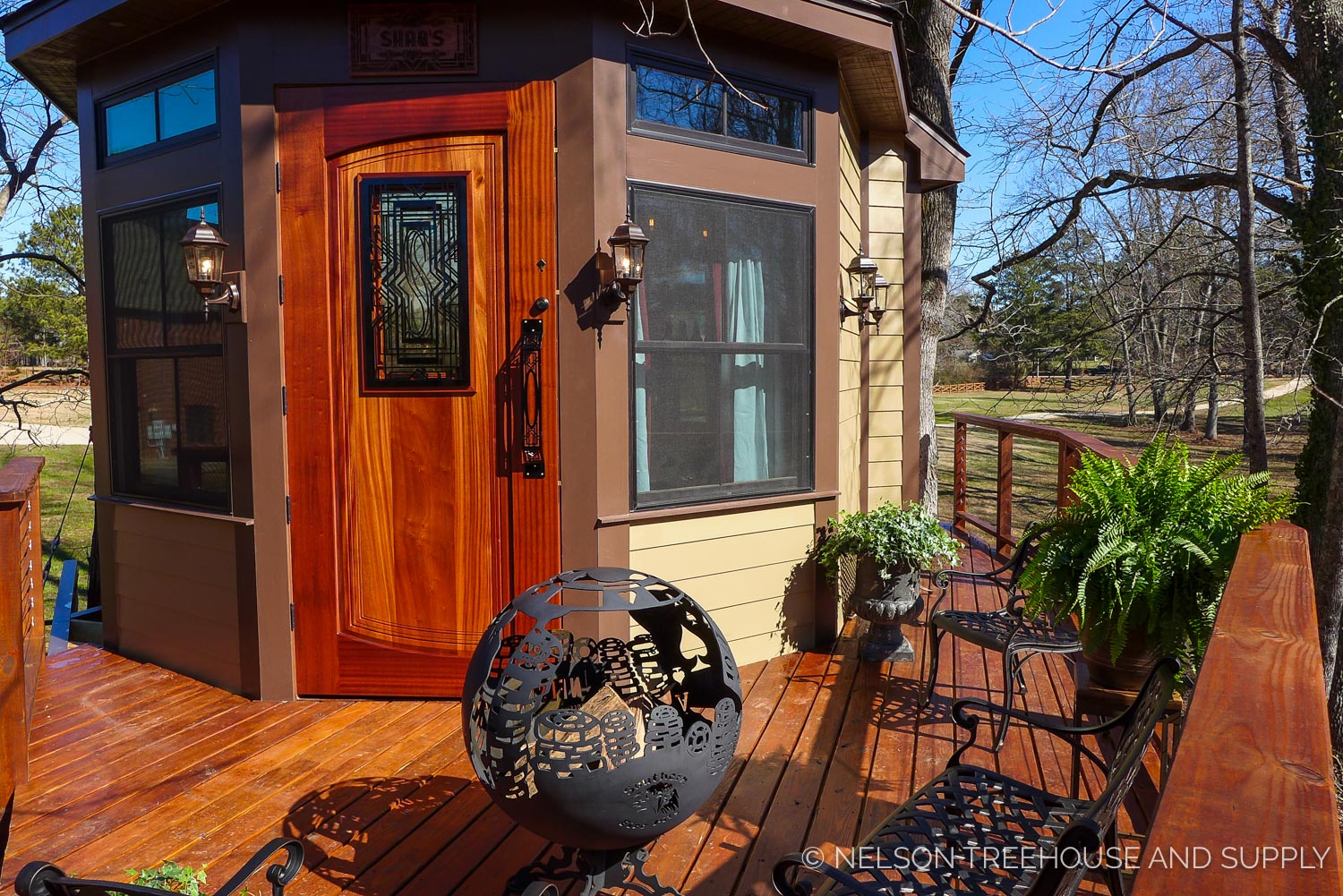 The intricate metal fire pit on the deck was crafted by Johnathan Mccray of Southern Fire Pits.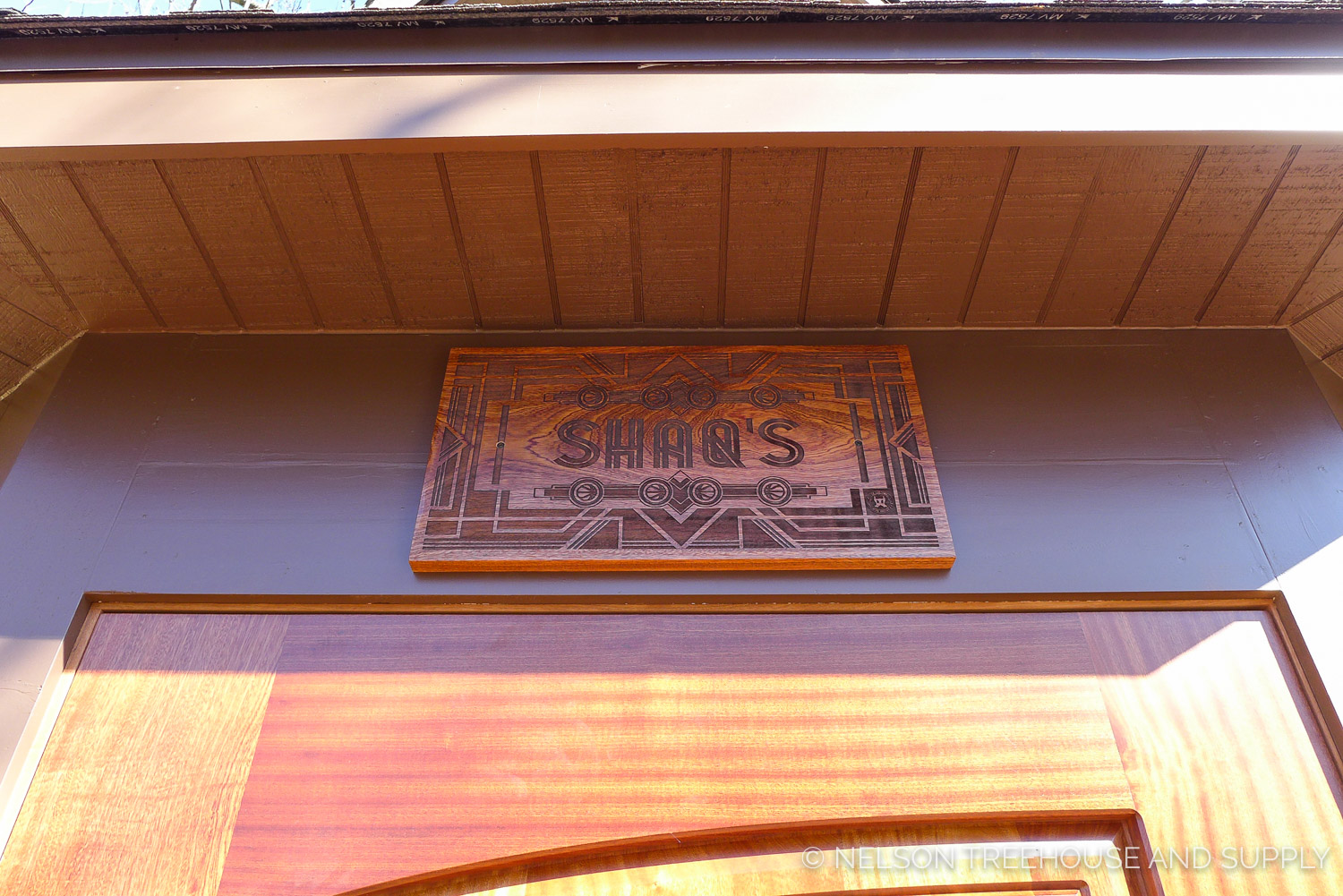 An art-deco plaque, also made by Zac Brown Customs, nests above the door.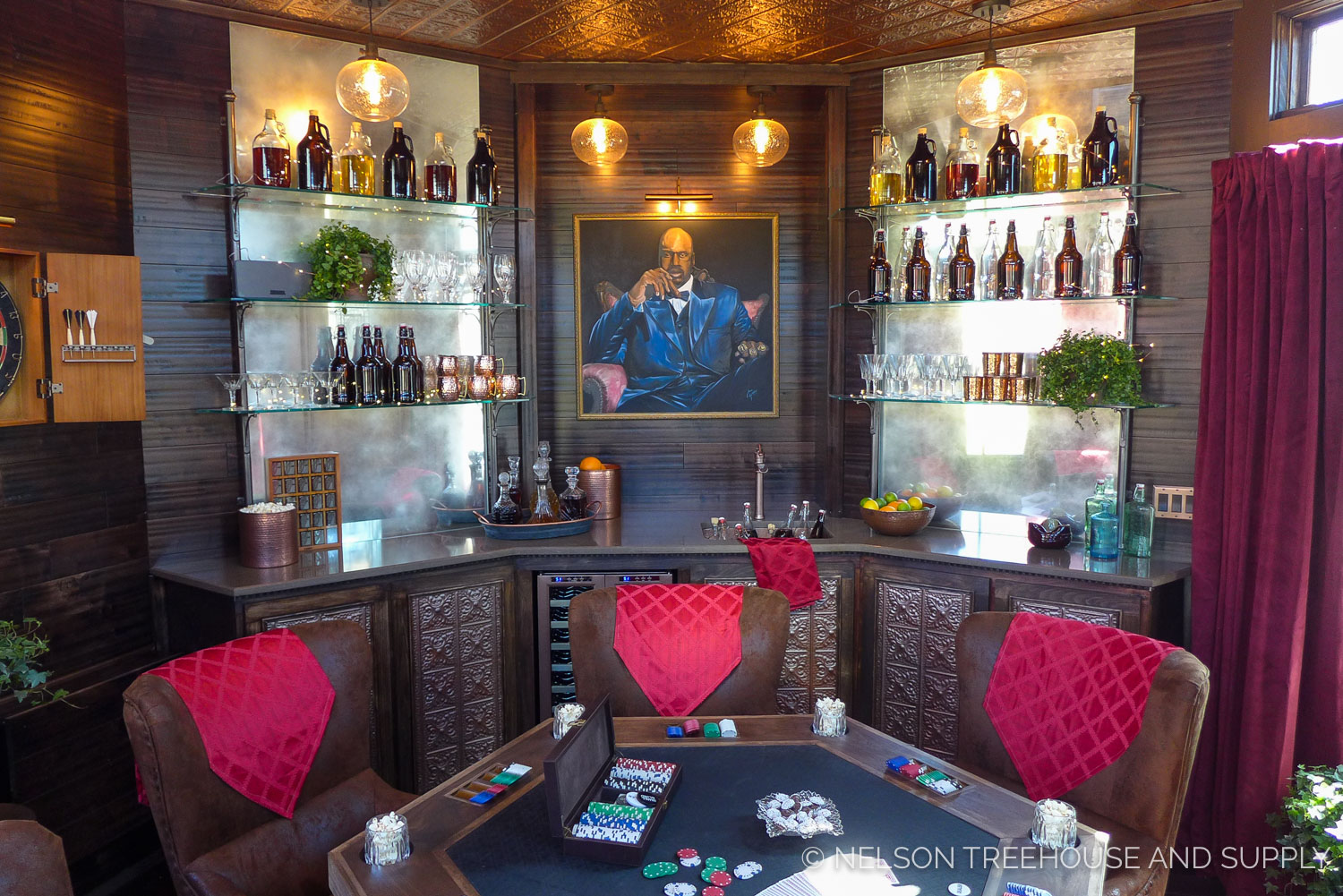 Inside the treehouse lies a custom game table, ample seating, and a well-stocked bar.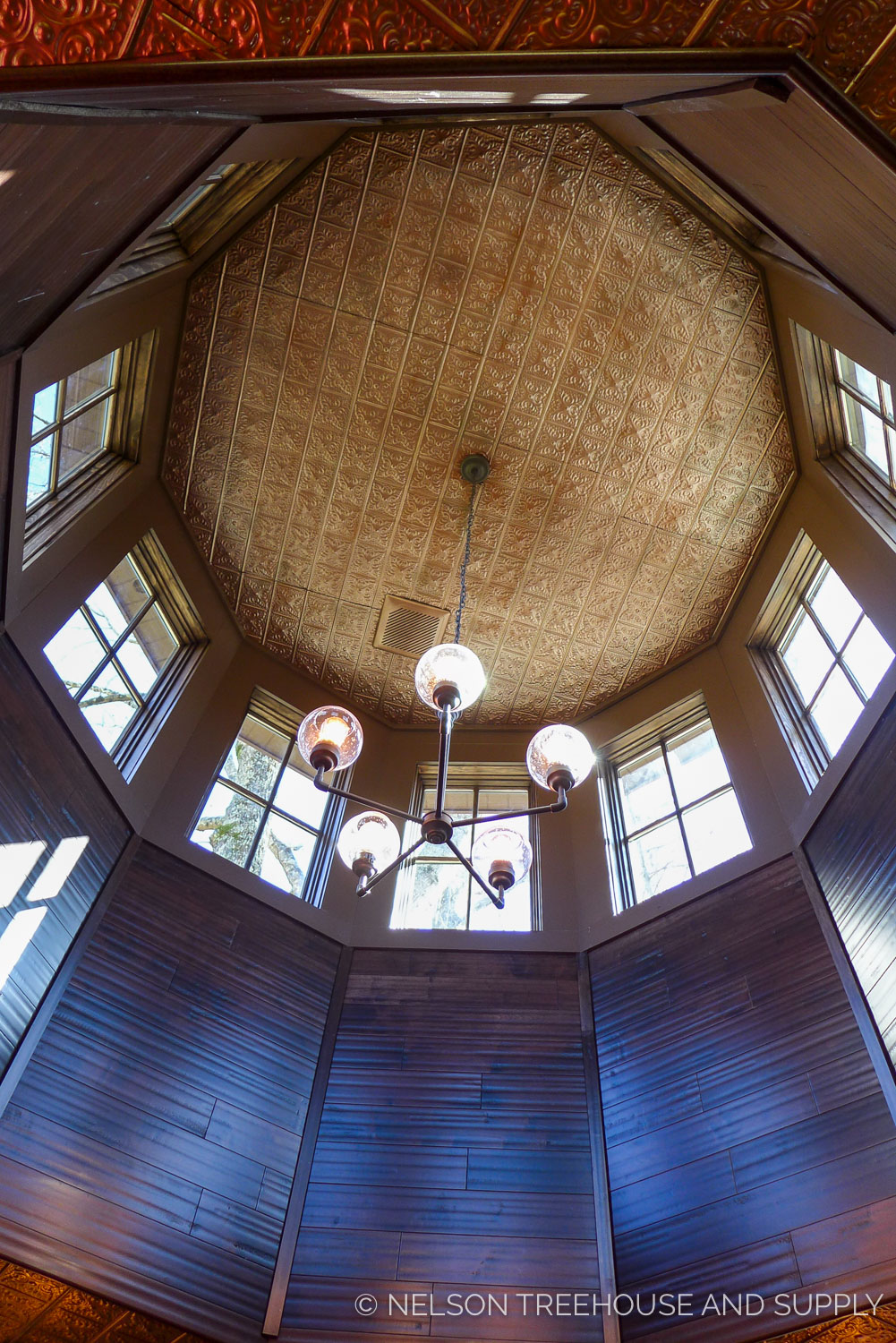 The soaring ceiling is gilded in decorative pressed tin from W.F. Norman Corp.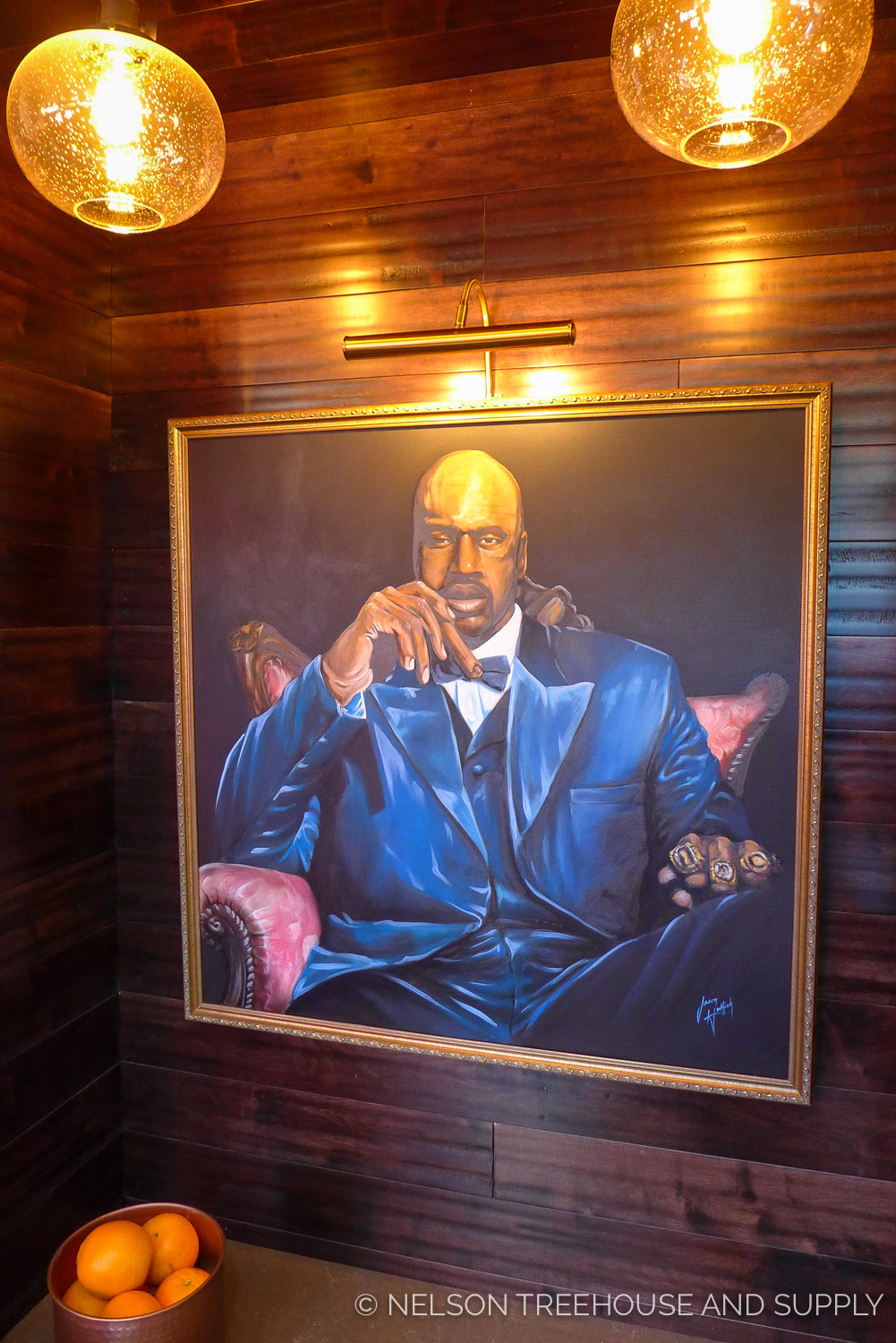 This majestic portrait of Shaq presides over the room. It was painted by renowned artist and past collaborator Jason Hulfish.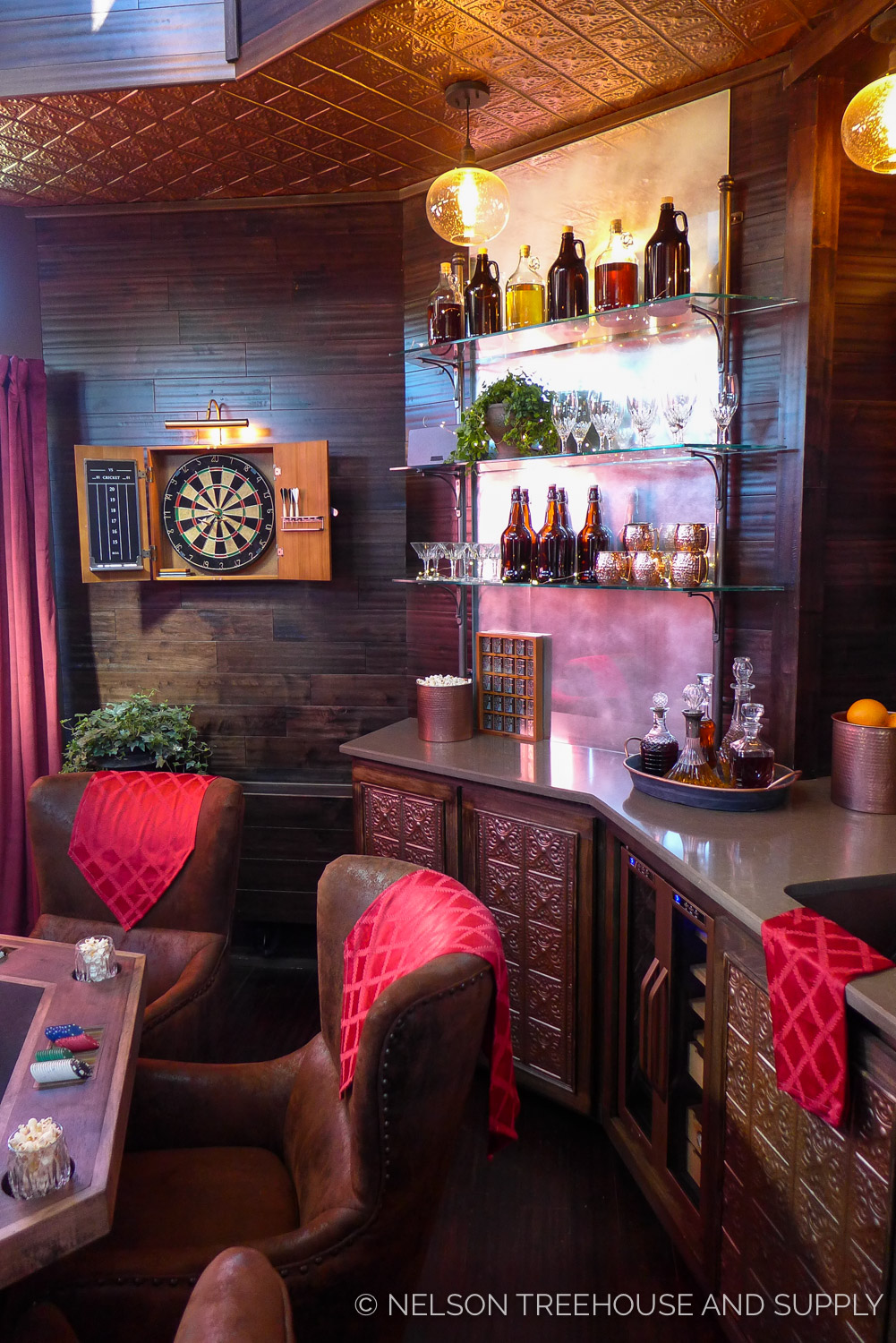 Dark wood, jewel-tones, and metal details create an atmospheric, Prohibition-era vibe. Christina Salway led the interior design.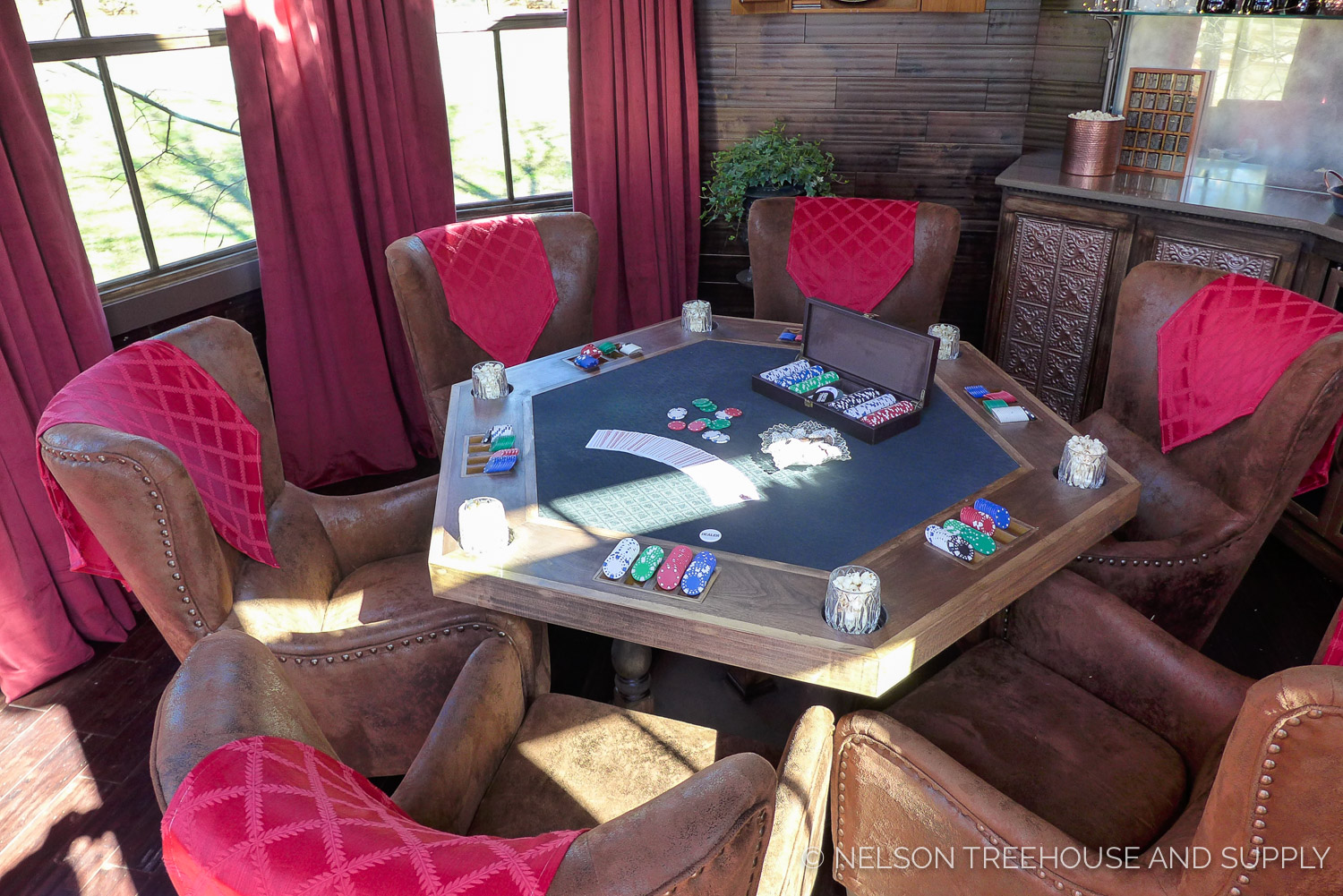 This one-of-a-kind game table was crafted by woodworker Erin Ashley.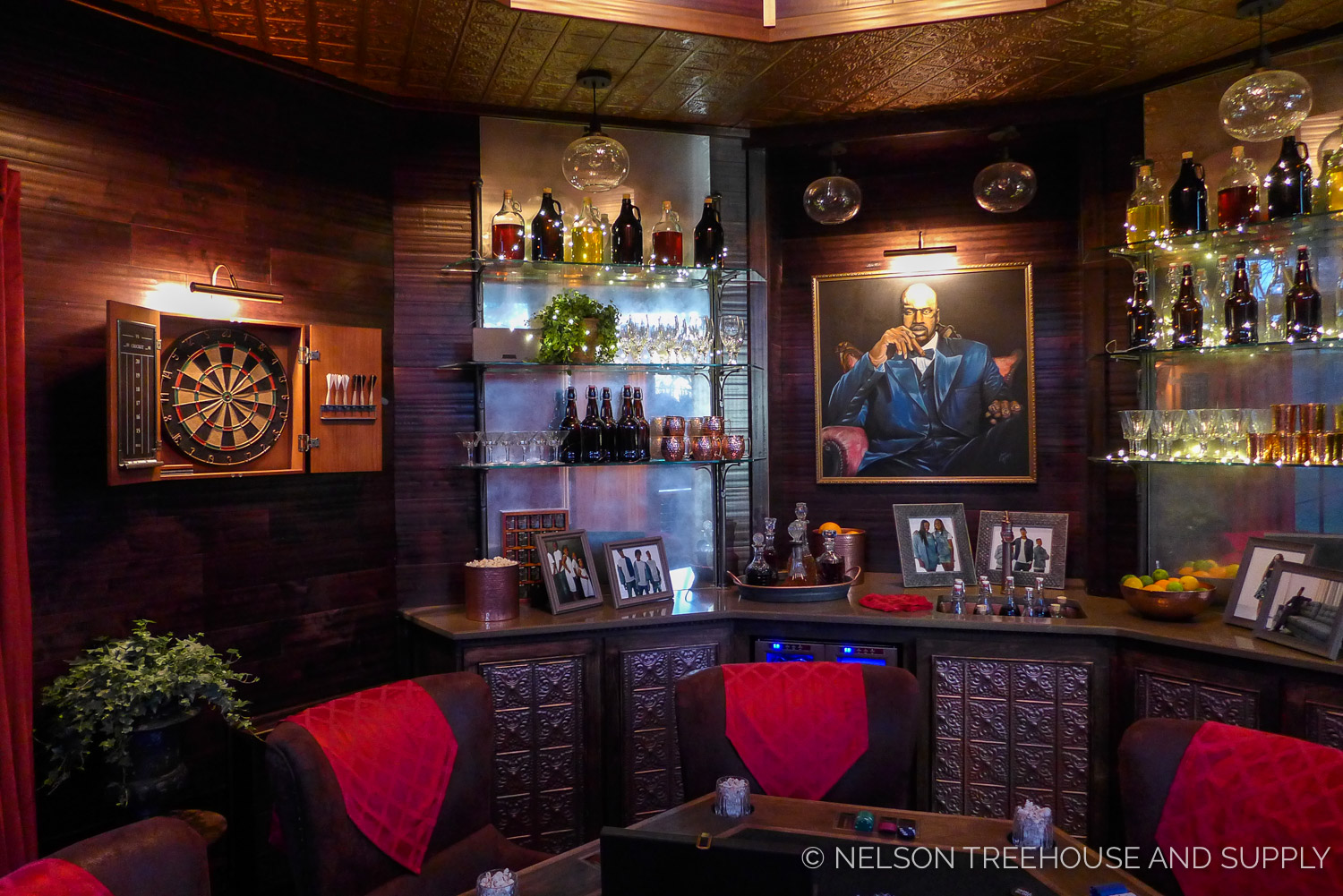 Seated with this view of the bar, it's almost easy to forget that you're up in the trees, rather than inside a subterranean speakeasy!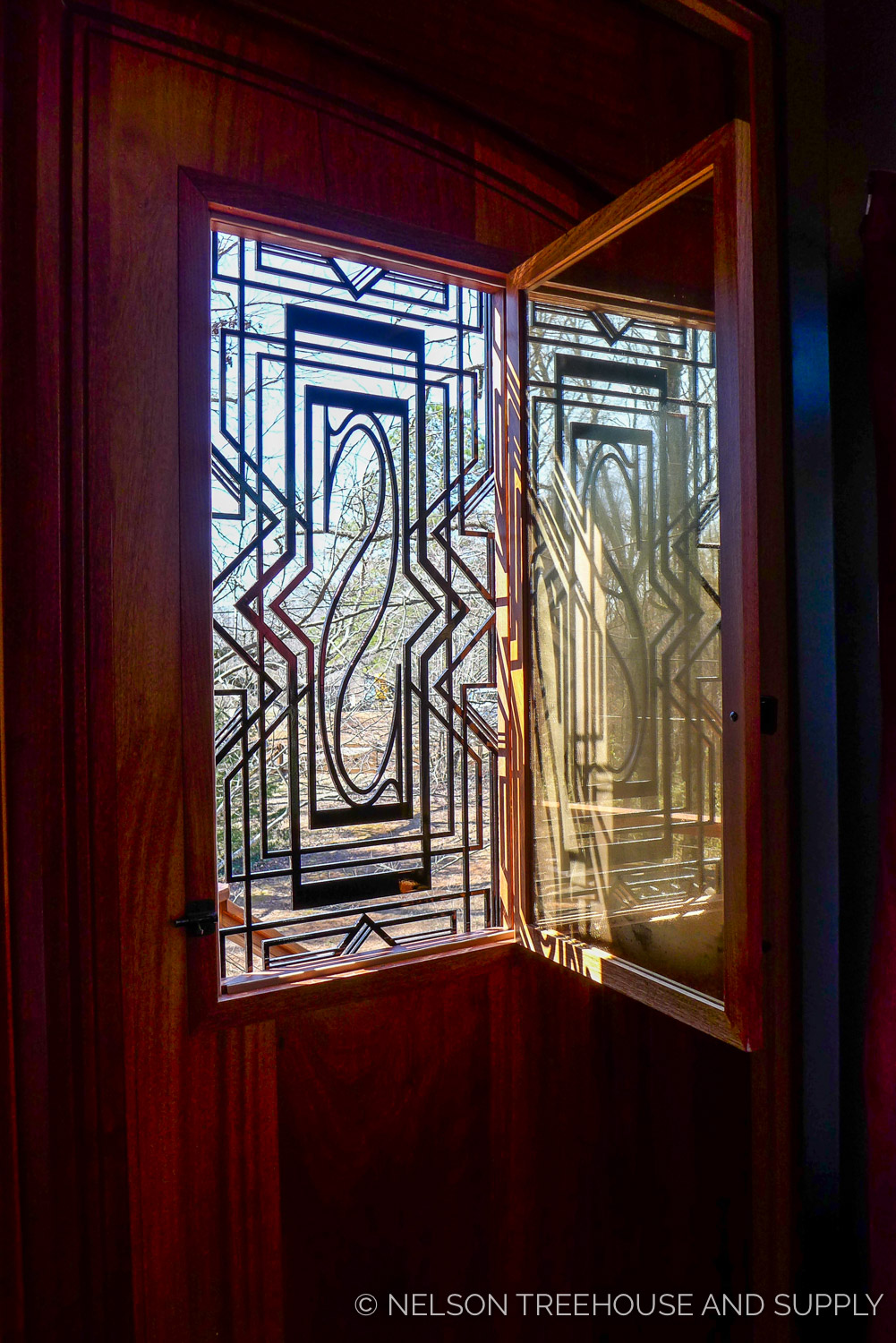 Art-deco metalwork adds another dose of character to the grand door.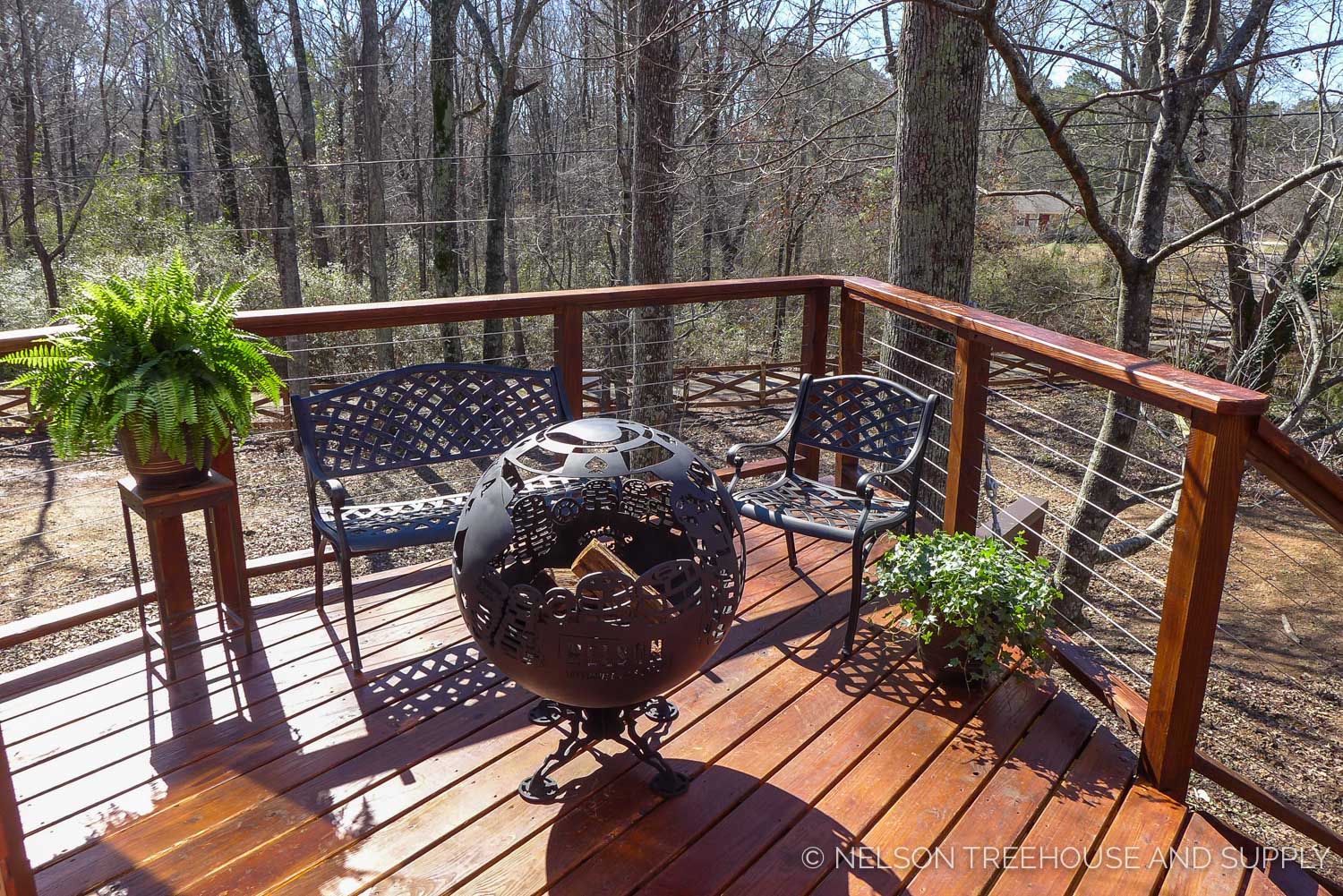 Stainless steel cable keeps the deck safe without blocking views of the surrounding woods.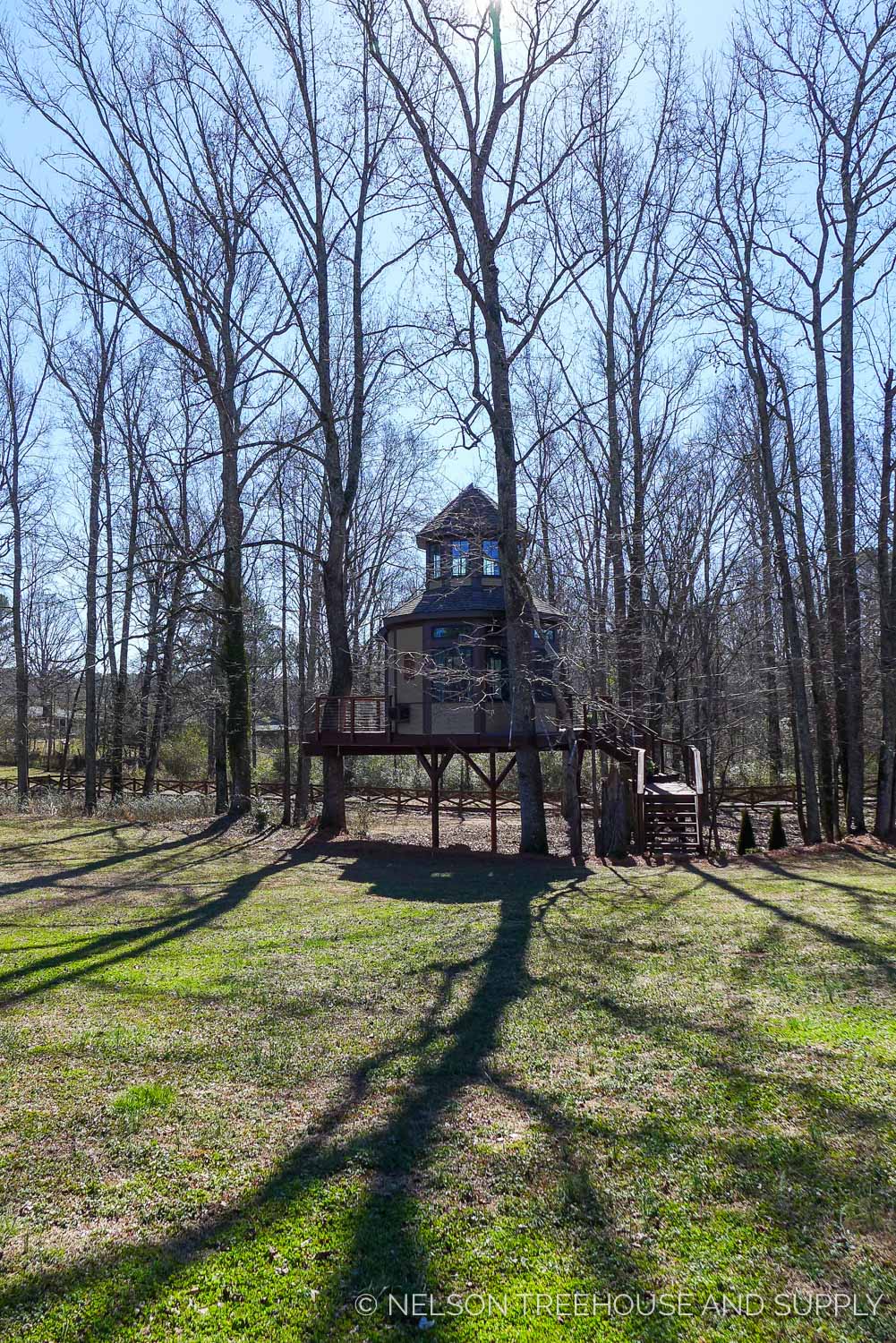 When the ring of windows on the upper level reflect light, the treehouse looks like a lighthouse beckoning travelers in for a drink and good times.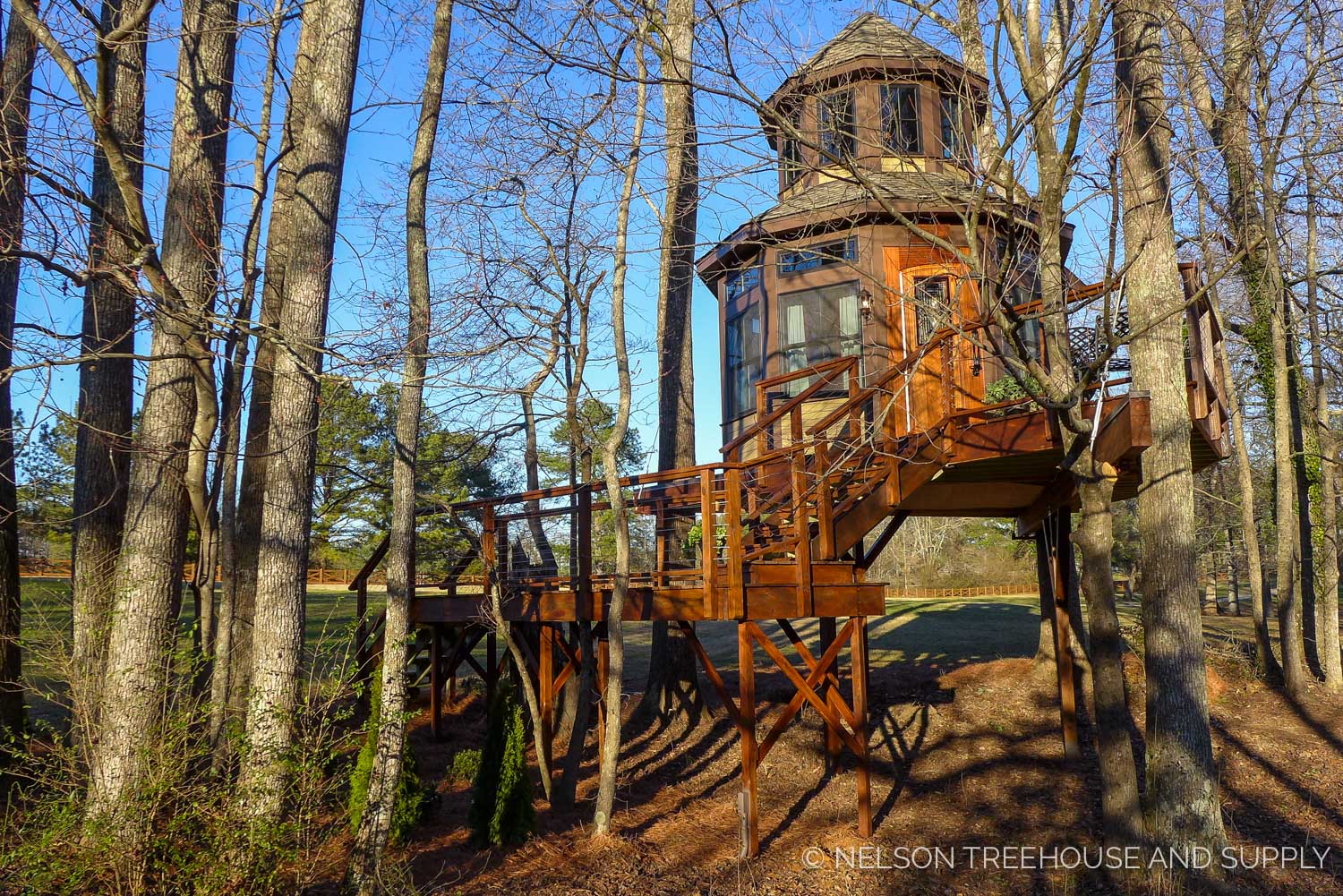 We hope you've enjoyed taking a closer look at Shaq's treetop speakeasy! It was such a treat to collaborate with so many talented craftspeople and to build for the legendary Shaq.
Thank you for such a lighthearted and memorable build, Shaq!
Take a look back at all the treehouses from Season 10 of Treehouse Masters here.
To stay up-to-date on all things treehouse, subscribe to our newsletter and give us a follow on Facebook and Instagram.
To the trees!