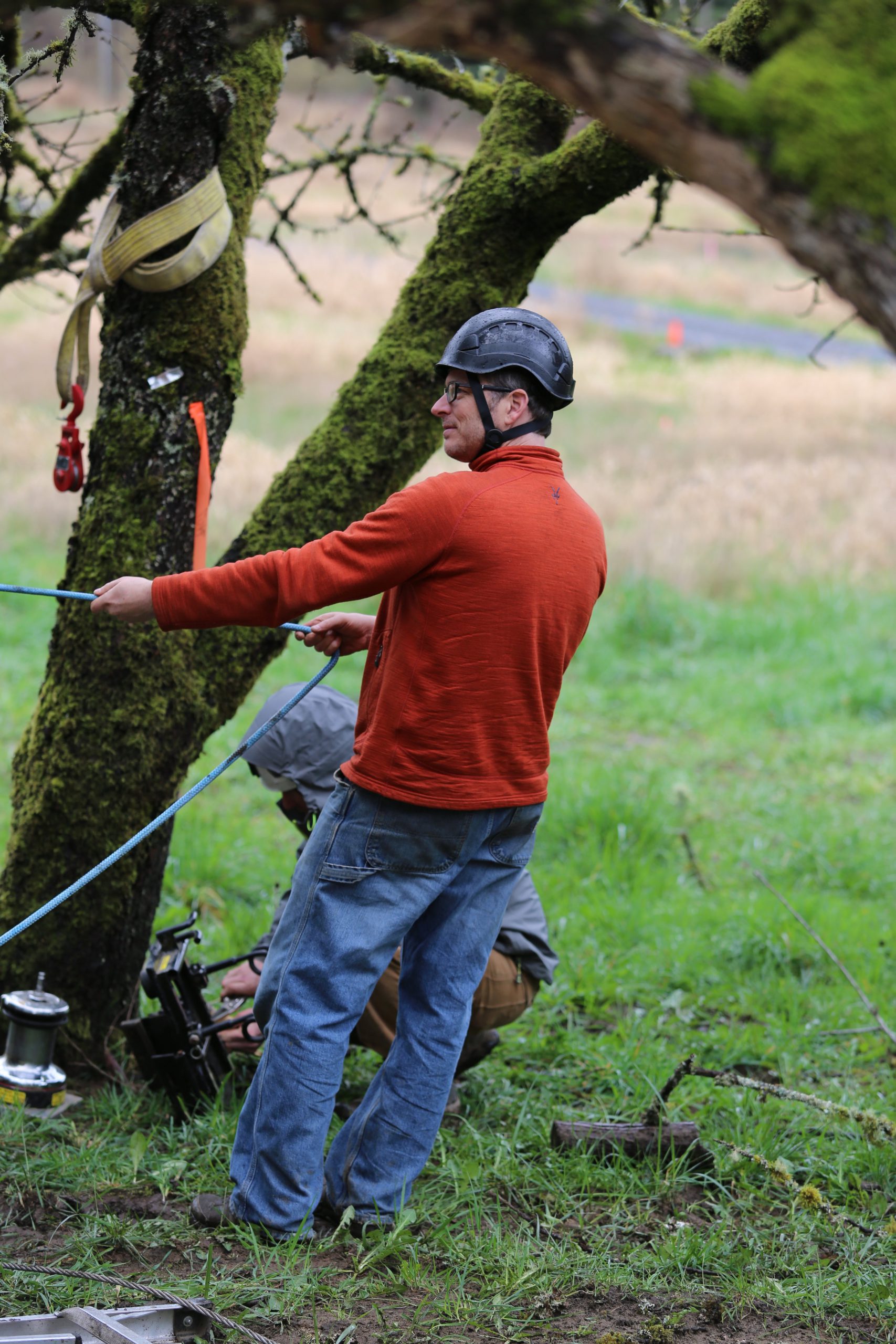 You may not have seen Toby Maloy in many episodes of Treehouse Masters, but we're certain that you're familiar with his incredible work. Toby is one of our accomplished project managers and is responsible for directing the entire process between treehouse design and tangible creation. An adept builder and creative leader, Toby consistently pushes the craft of building treehouses forward. What's more, Toby is unfailingly collaborative, considerate, and approachable in every interaction: with clients, subcontractors, and crew members alike.
Toby brings years of carpentry experience to the team; before coming to NT&S, he worked as master carpenter for the Issaquah Village Theater and owned his own small construction/remodel company. What was it like to build sets for theater? What inspires Toby? Where's the coolest place he's ever traveled? Today, we're bringing you answers to these questions and more about this true treehouse master.
WHAT BROUGHT TOBY TO NELSON TREEHOUSE?
Toby spent years working in diverse carpentry fields before joining the Nelson Treehouse team. His father was a hobby builder and introduced Toby to carpentry basics at a young age. Toby gained more skills by helping build his family's home in Pennsylvania, and he always harbored a passion and proclivity for carpentry. He briefly studied architectural drafting and engineering in college before moving to the Pacific Northwest, where he began framing houses.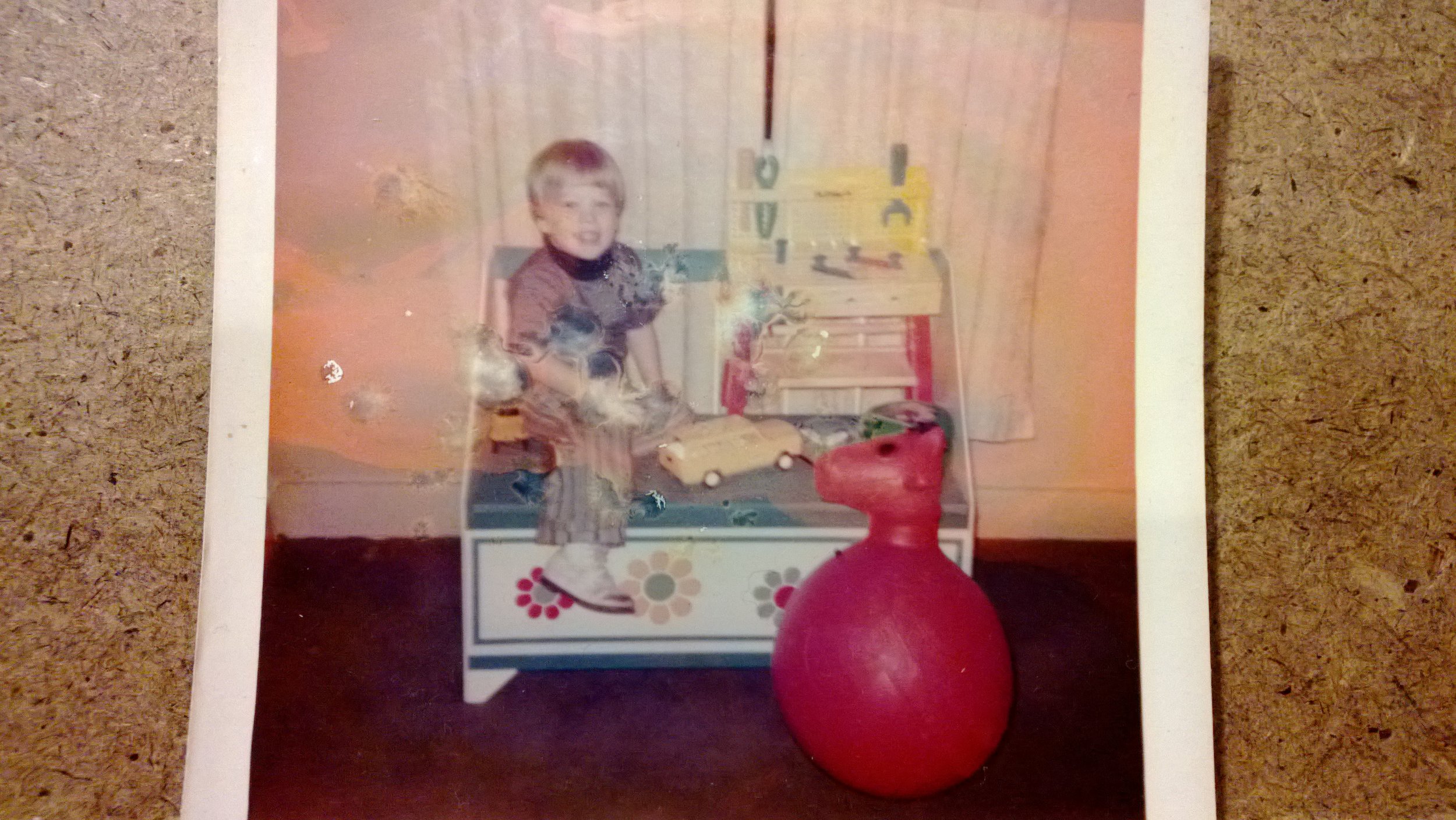 TOby as a budding carpenter – Note his well-organized woodworking kit.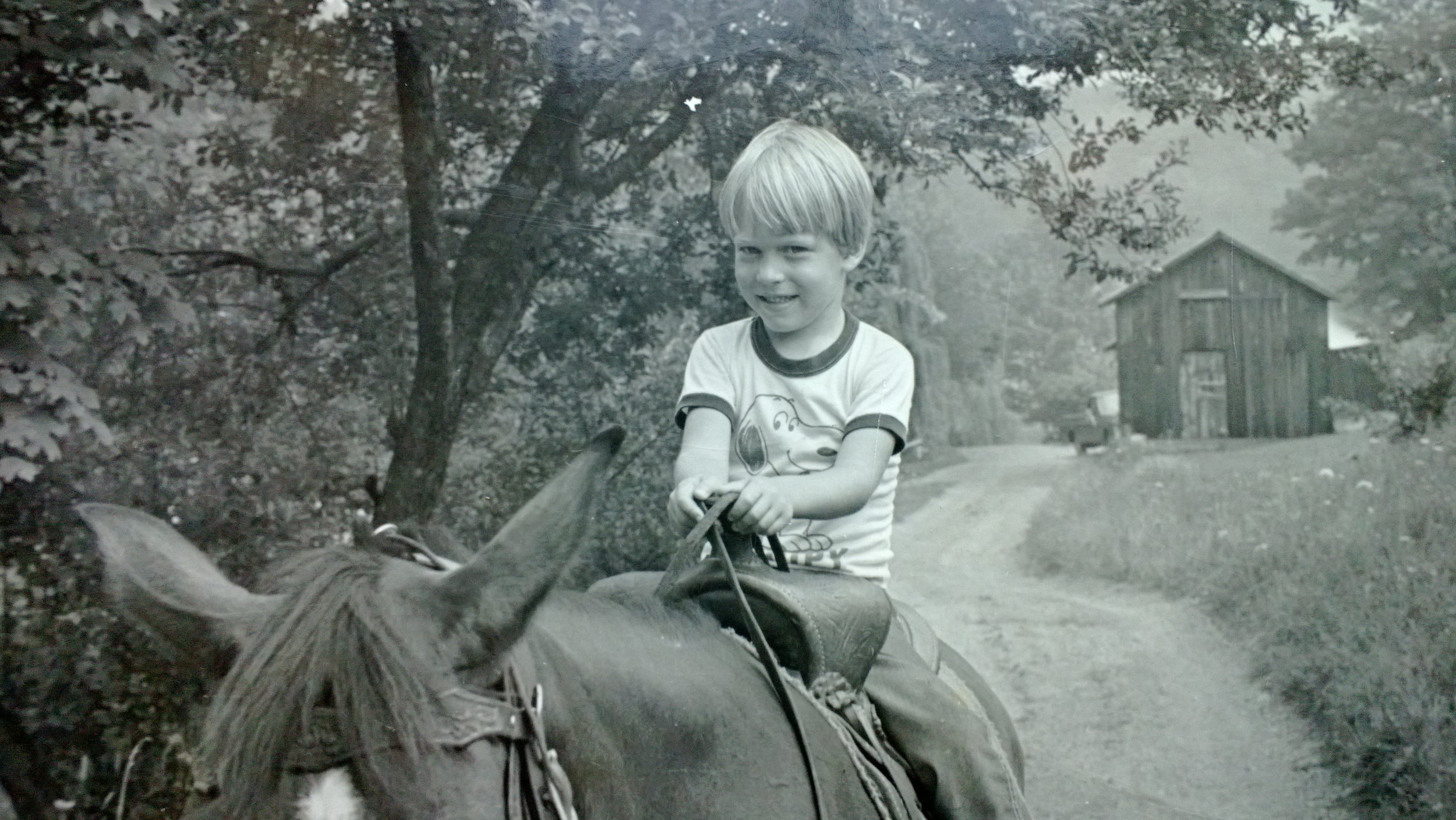 Toby riding a family friend's horse near his childhood home in Pennsylvania.
After traveling widely in his early twenties, Toby returned to Washington State and starting working for an awning company. En route to jobsites, Toby would often drive by the Issaquah Village Theater and glance inside at the imaginative sets. He was drawn to the creativity of set design and construction, and before long had landed a job with the theater's scene shop.
Toby met his wife, Jennifer, at the theater; she worked there as a scenic artist, painting sets that Toby had built. Toby worked as Master Carpenter at the theater for three years before founding his own construction/remodeling company in Carnation, Washington (near Pete's treehouse HQ in Fall City).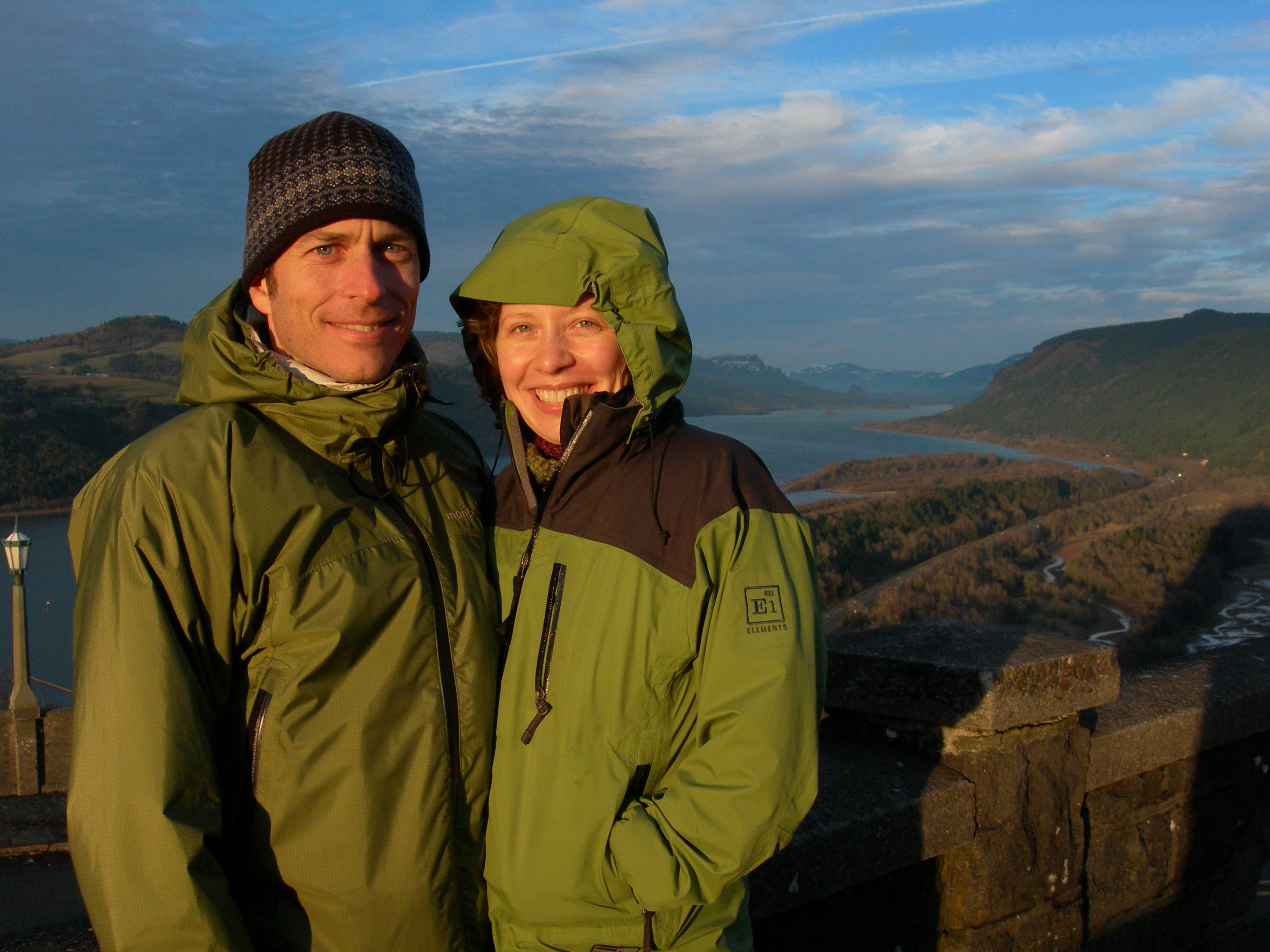 Toby met his wife, Jennifer, at the Issaquah Village theater. The couple enjoys traveling and being outdoors; this photo was taken at the columbia River gorge.
Toby first met Pete by chance at a small festival in Fall City in the mid-1990s. That night, Pete took Toby and several other people on a tour of one of his treehouses. In the years after that chance encounter, Toby would often see "Legs," Pete's trusty truck, around town and wondered about the "Treehouse Workshop" logo painted on its side.
Around 2010, a couple of Toby's clients stayed at TreeHouse Point, met Pete, and discovered that Nelson Treehouse had an opening for an adept carpenter. The couple immediately thought of Toby and referred him to Pete—thus Pete and Toby reconnected after nearly 20 years! Toby started working as a carpenter with Nelson Treehouse and soon moved into the position of project manager.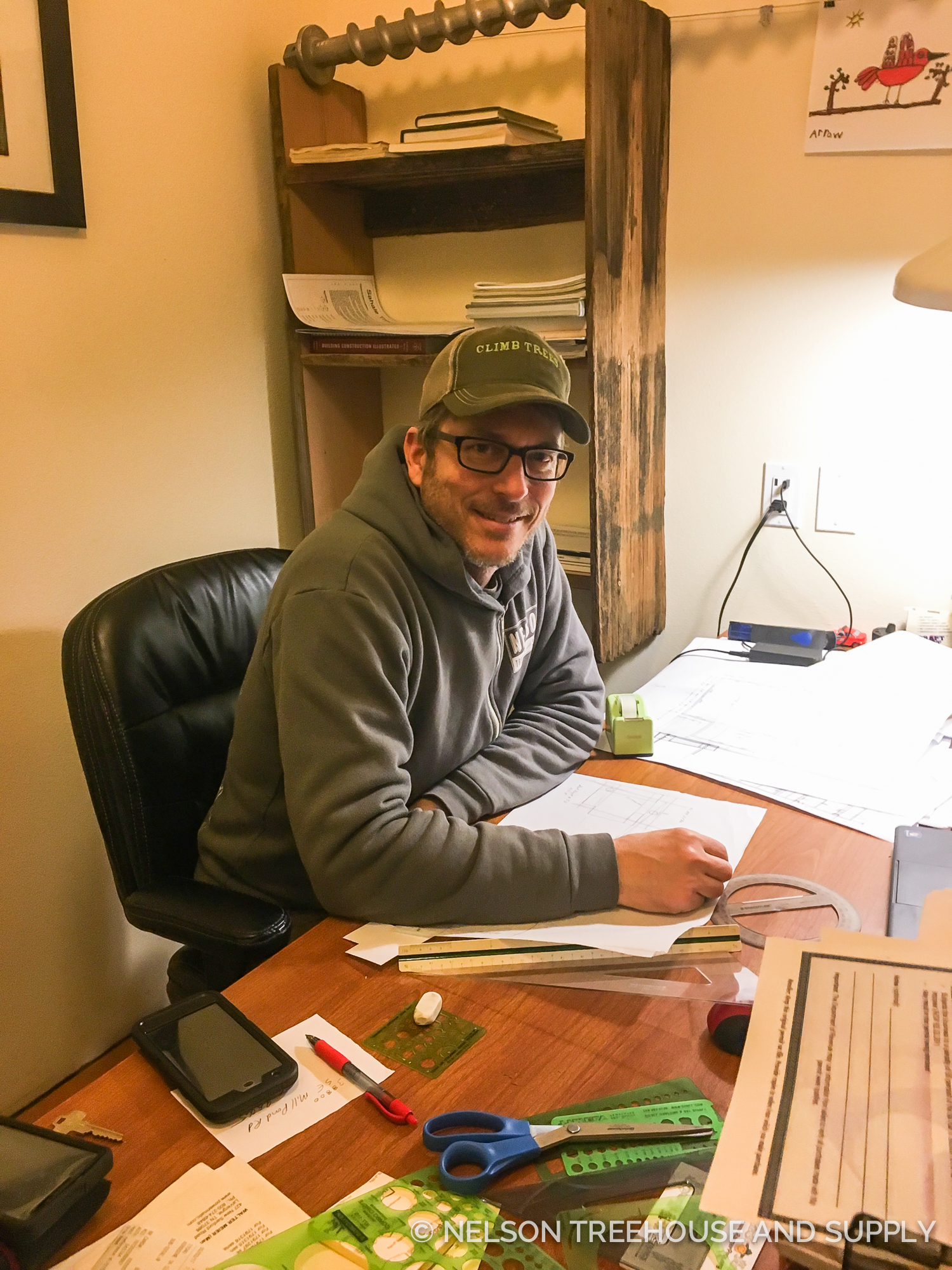 Toby in his natural habitat at his desk at Nelson Treehouse HQ.
WHAT DOES BEING A PROJECT MANAGER ENTAIL?
Nelson Treehouse project managers lead the effort to transform a design into a tangible treehouse. Once Pete, Chuck, Daniel, or Daryl creates a treehouse design, Toby springs into action. He works with building departments to acquire permits, collaborates with clients to select materials, produces shop drawings and guides the prefabrication crew, communicates with engineers, oversees delivery schedules, and much more.
In sum, Toby moves the project forward and keeps it on budget. Once the project is ready to roll on-site, Toby transfers management to the site lead. But he remains involved until the last minute, ensuring that the project wraps smoothly and successfully.
Toby is like the drum major of a marching band: he keeps each separate section on rhythm, and leads the crew to create collective magic.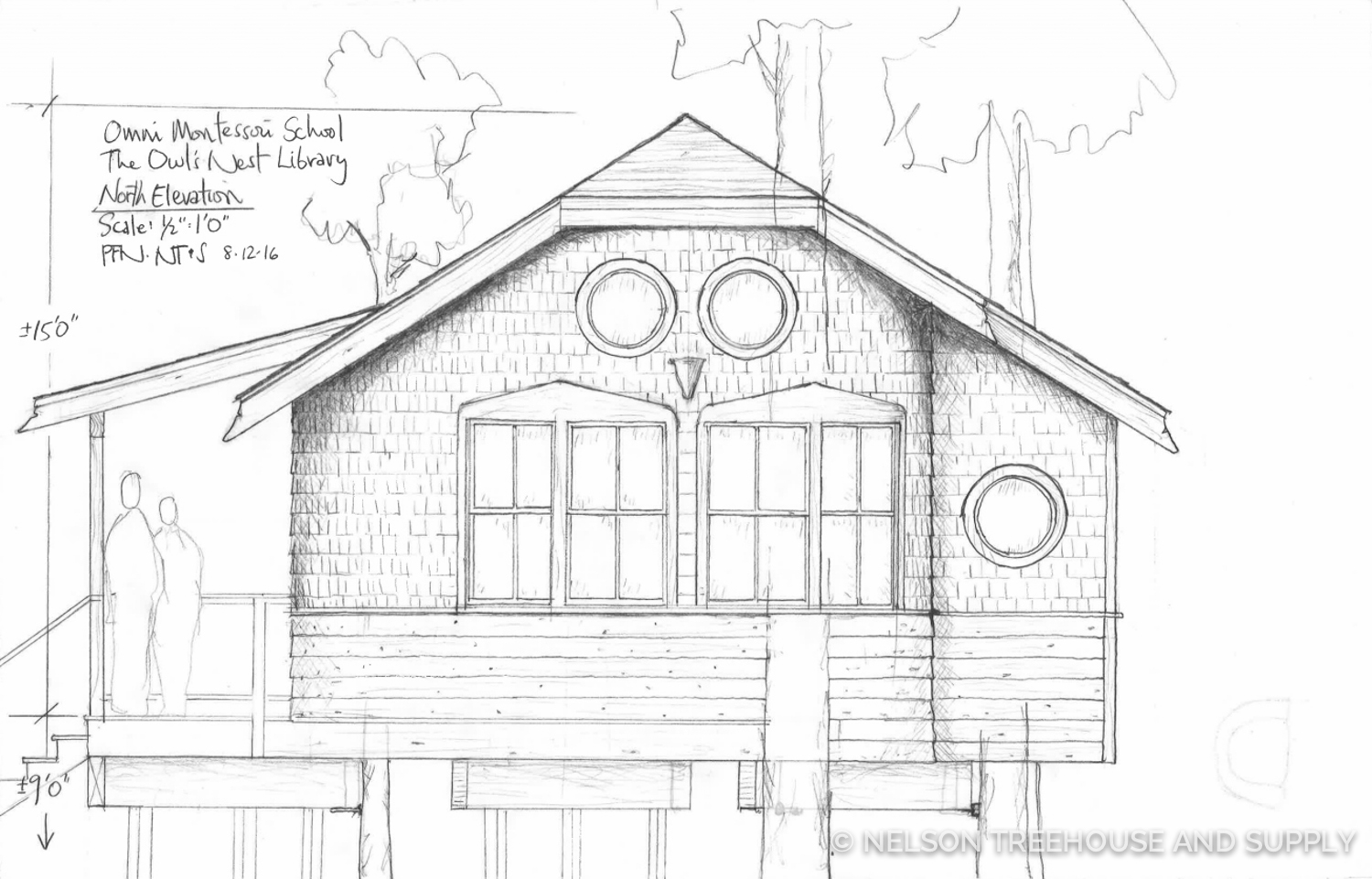 Toby helps direct the effort to turn Pete's Designs into Tangible Treehouses like the owl's nest library treehouse.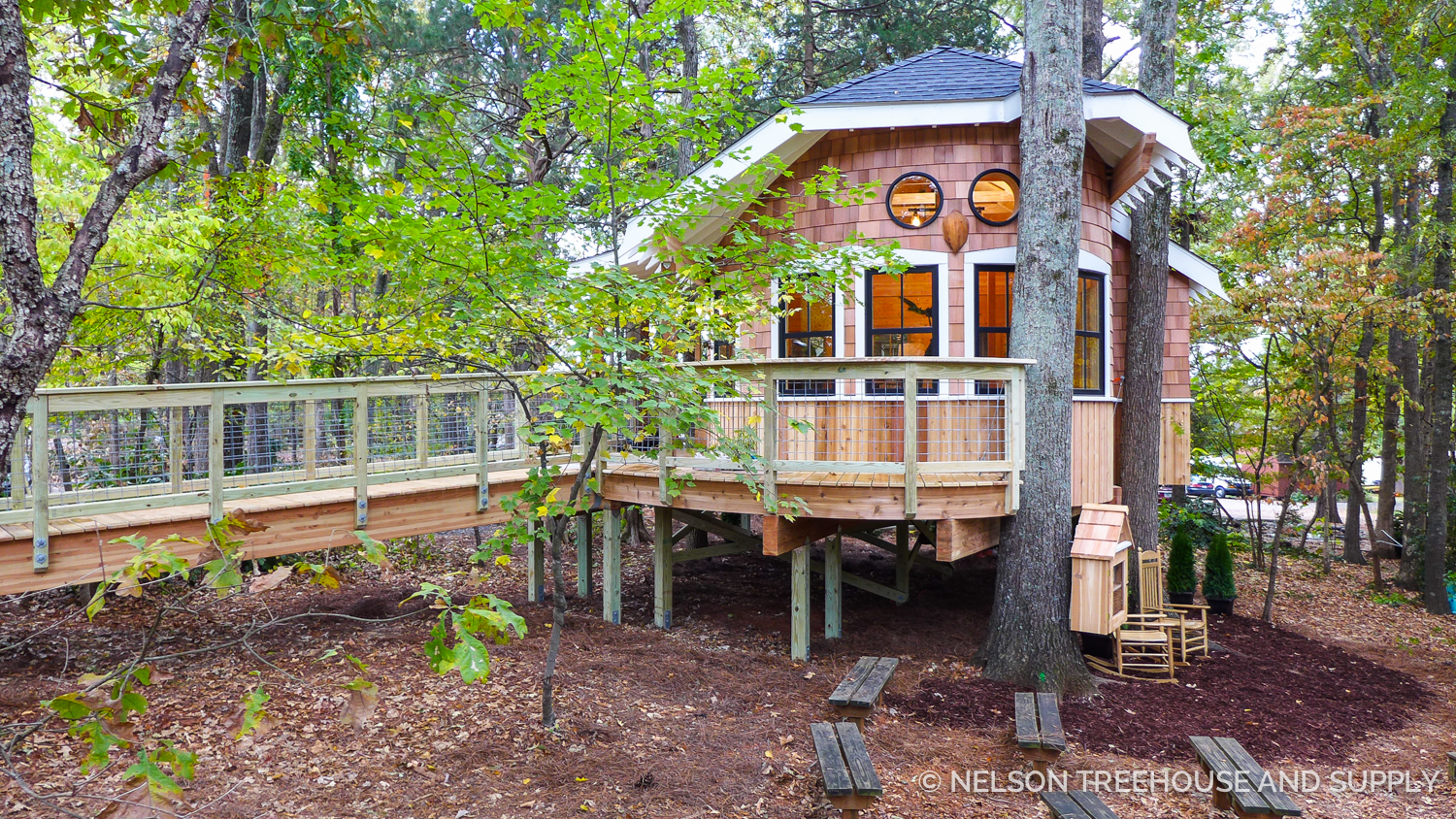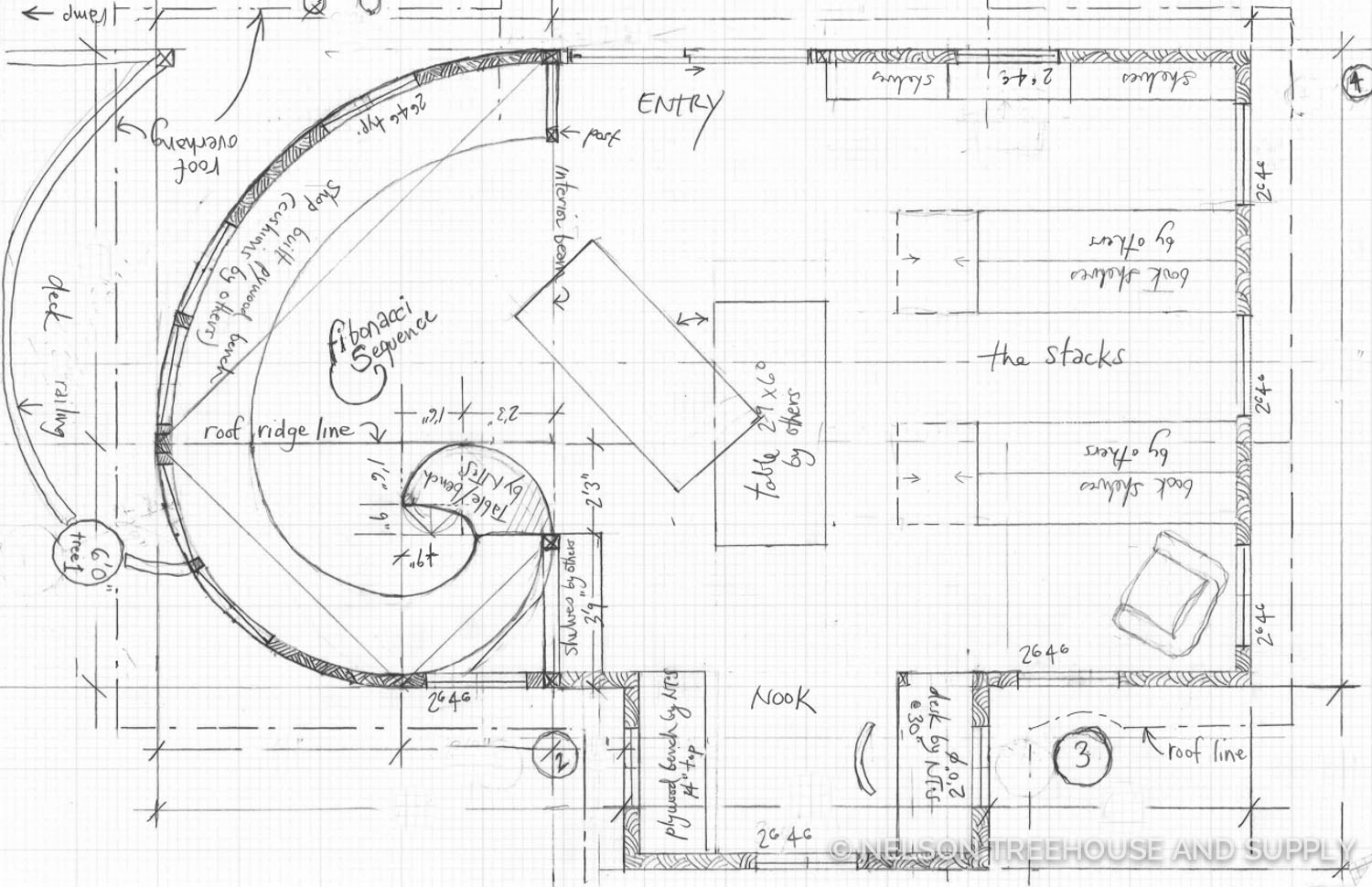 as Project manager, toby oversees the prefabrication stage, translating designs to shop drawings for the crew to build.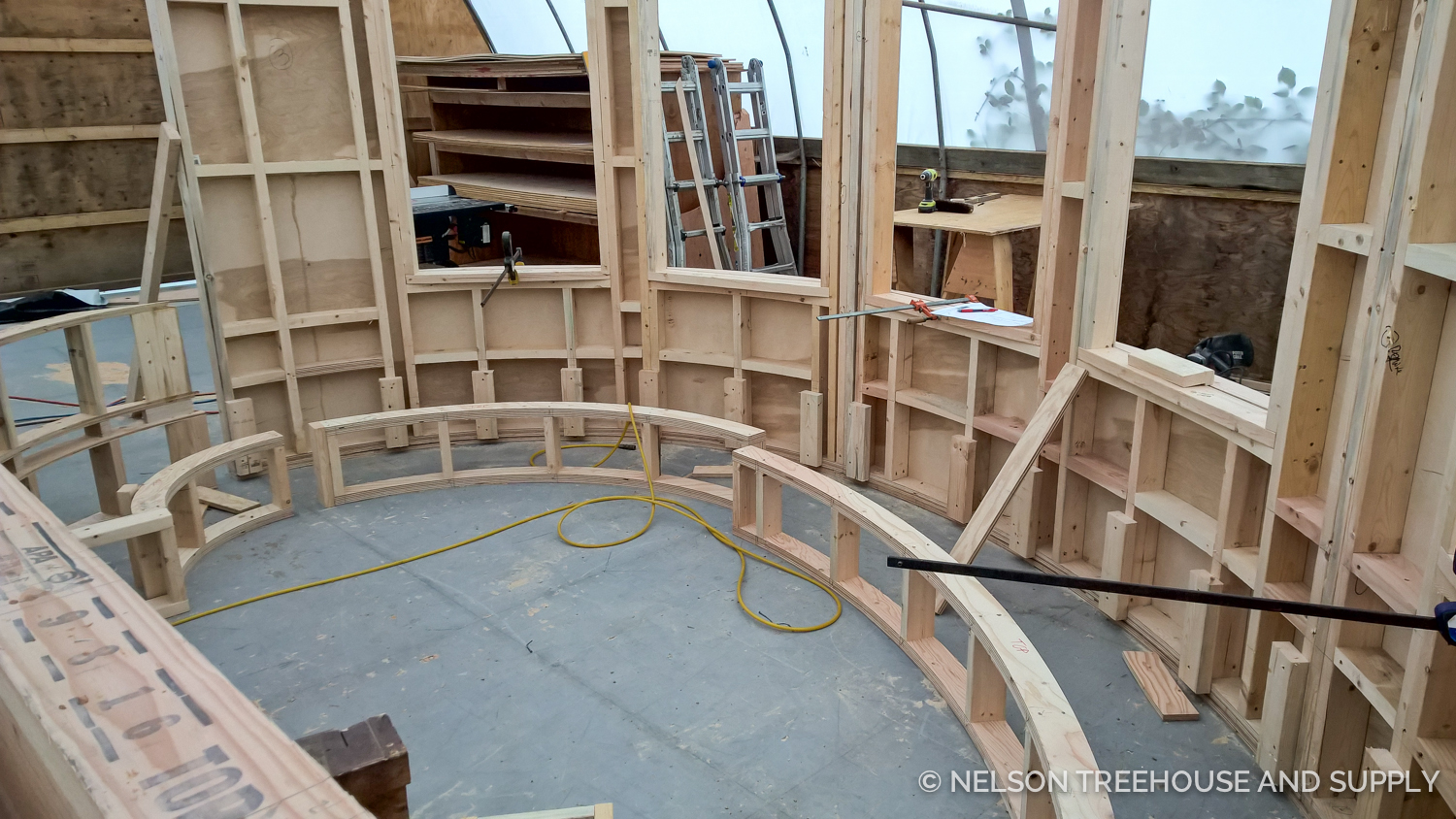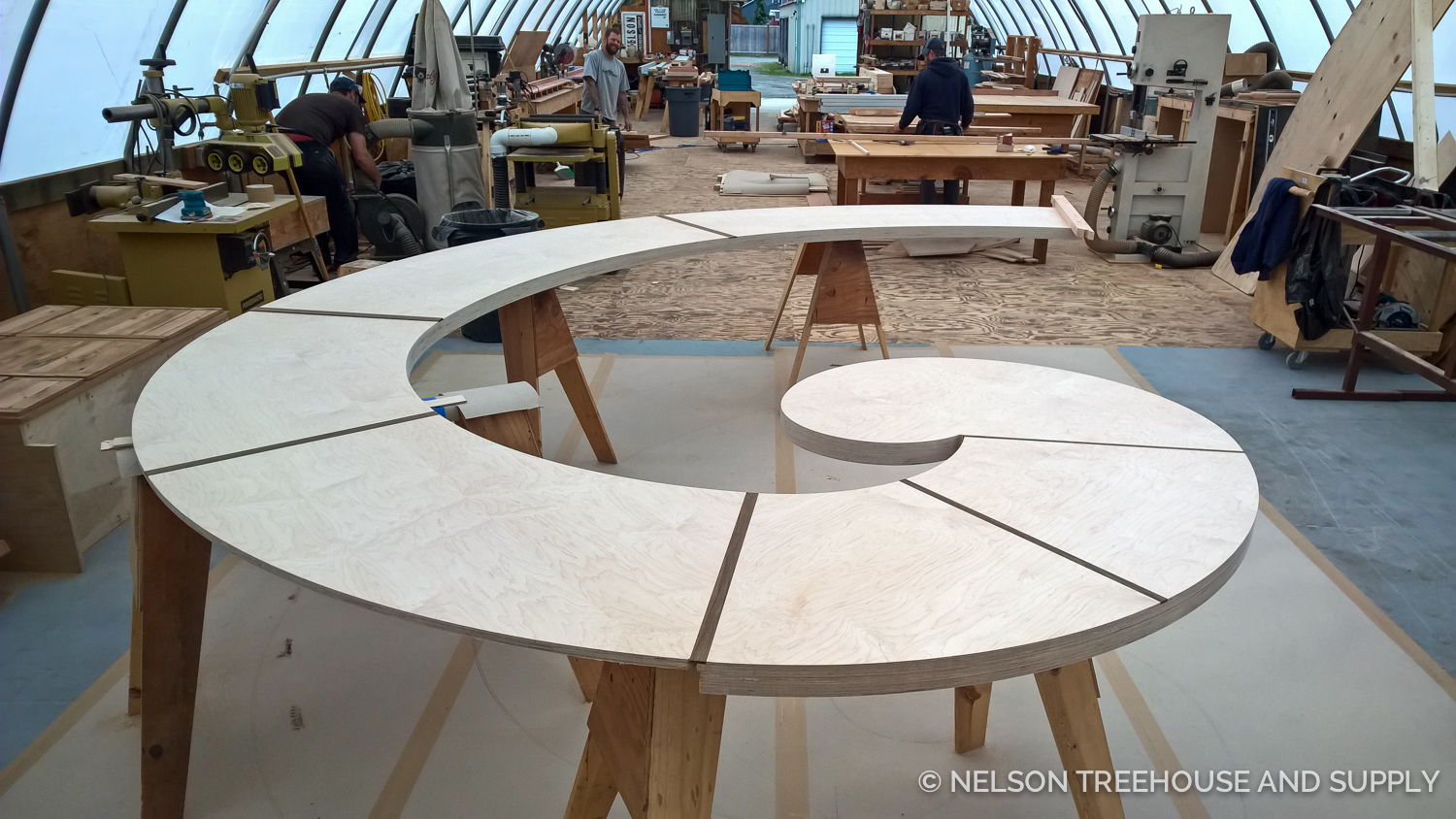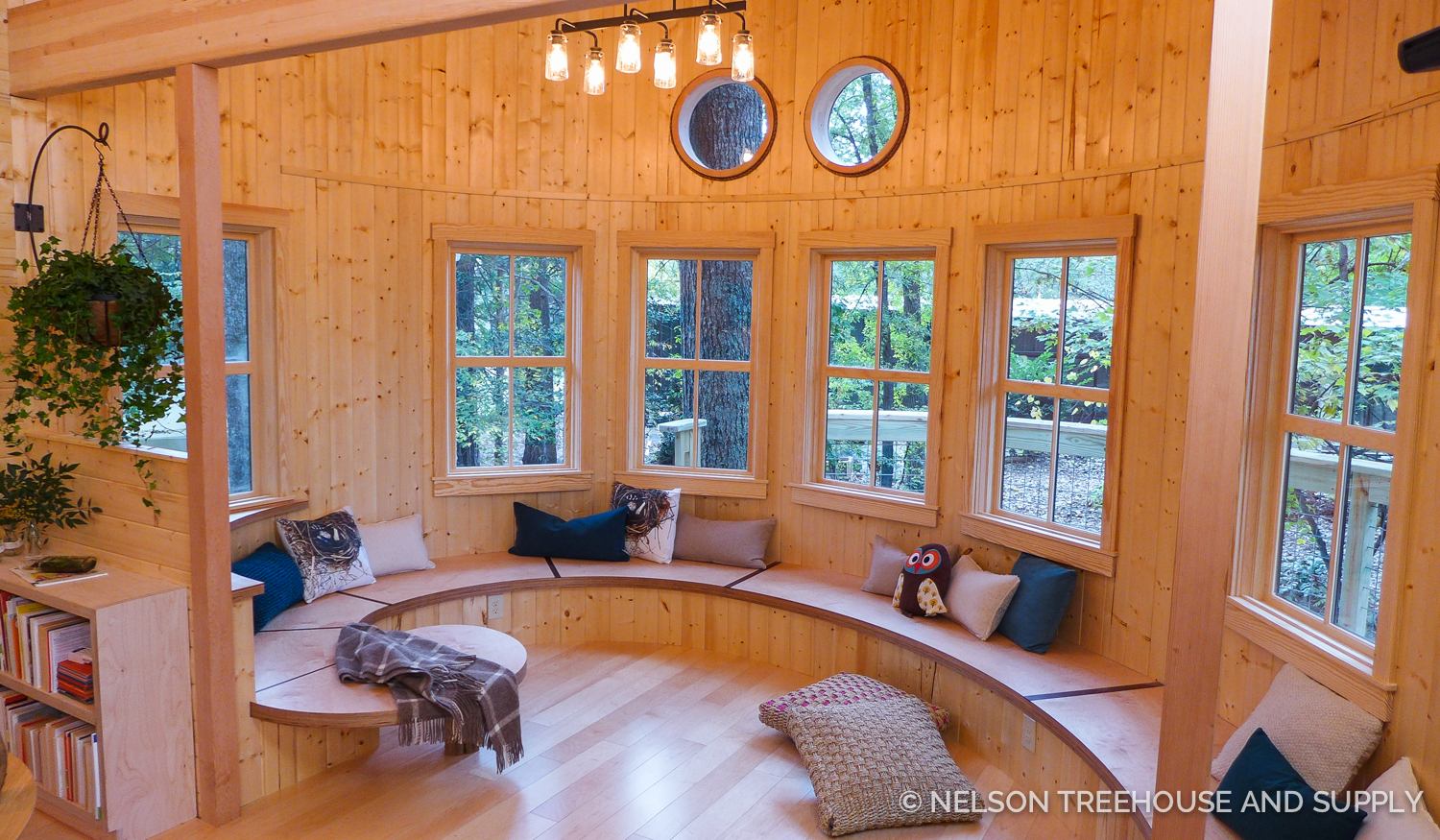 Toby also ensures that all the prefabricated treehouse parts get shipped on time to the build site, and helps see the project through to completion.
WHAT IS TOBY'S FAVORITE PART OF PROJECT MANAGEMENT?
Toby's favorite part of project management is the problem solving it requires. He loves to work through structural challenges, design steel and other metal work, and create new ideas for fasteners and fabricated parts.
Toby also enjoys collaborating with engineers to come up with structural solutions that are aesthetically appealing. One of Toby's longterm design quests is to find new ways to make the substructure of treehouses appear more elegant and intentional. In this way, Toby continues to push the craft of treehouse building to ever-greater heights.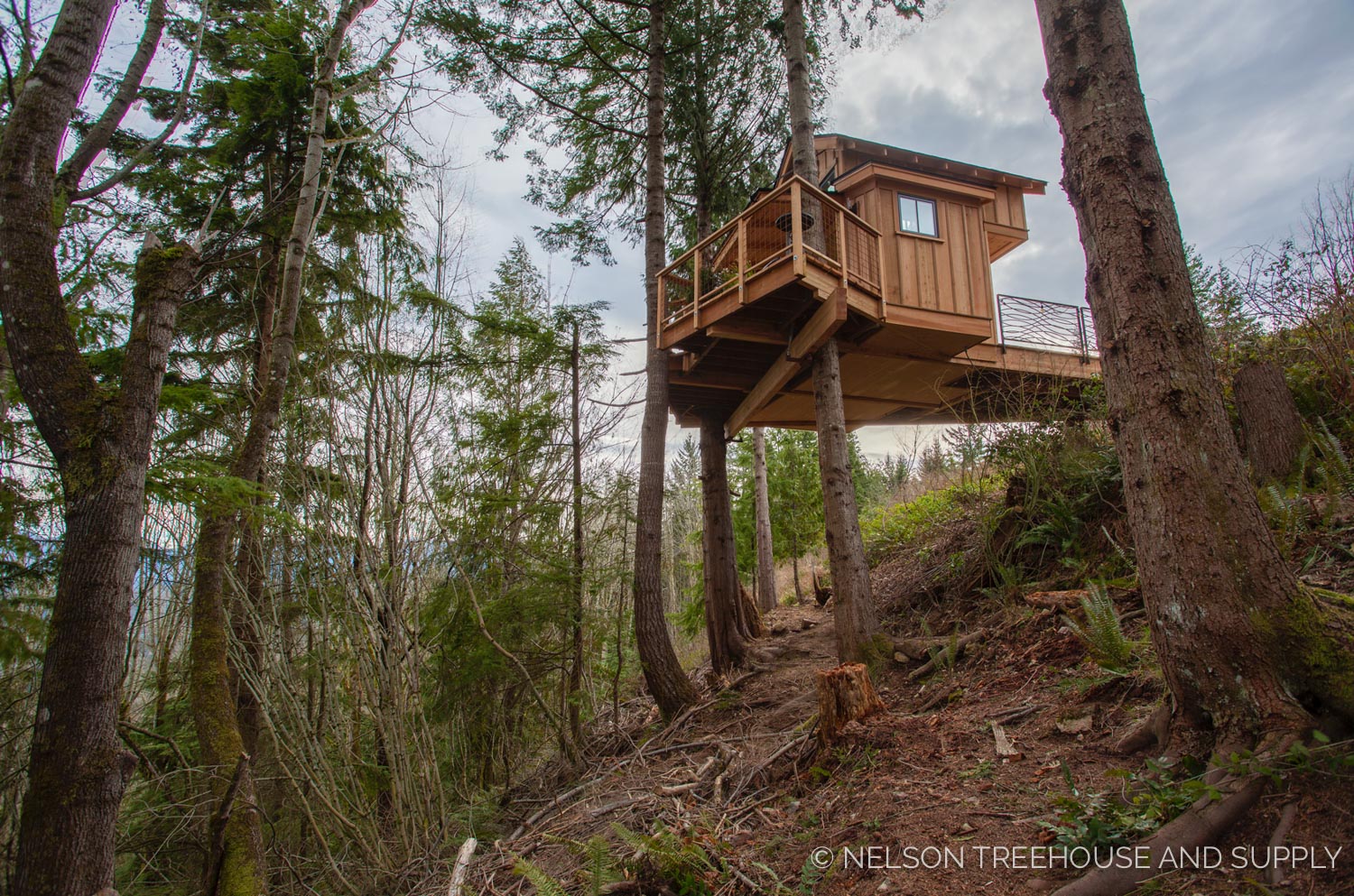 Toby keeps crafting new ways to make the substructure of treehouses look more aesthetically appealing.
Toby loves designing steel and other metal work, and is an accomplished welder. he handcrafted this custom railing for the Frank Lloyd Wright Treehouse in Kentucky.
WHAT ARE SOME OF TOBY'S FAVORITE PLACES HE'S VISITED?
In his early twenties, Toby spent a memorable year traveling around North America. His favorite experiences from that trip include backpacking in the Canadian Rockies; sleeping in front of his car at a train depot in Jasper, Alberta; seeing the Grand Canyon for the first time; and hiking through Goblin Valley State Park in Utah. Toby fell in love with the arid, surreal beauty of the American Southwest and was blown away by the alien quality of what he calls the "eroded sandstone mushrooms" in Goblin Valley.
Toby has also done an extensive amount of international travel. He loved visiting Ireland, where his brother lived for many years, and was inspired by his explorations of Central America. Toby is an avid scuba diver, and has dived in Belize (where he glimpsed spotted eagle rays and sea turtles), the Caribbean, Honduras, Hawaii, and the Canary Islands.
When he wasn't diving, Toby was probably taking photos; before starting a family, Toby studied photography and harbored a passion for artistic photographic technique. The majority of photos of Toby from his world travels are of him with camera in hand!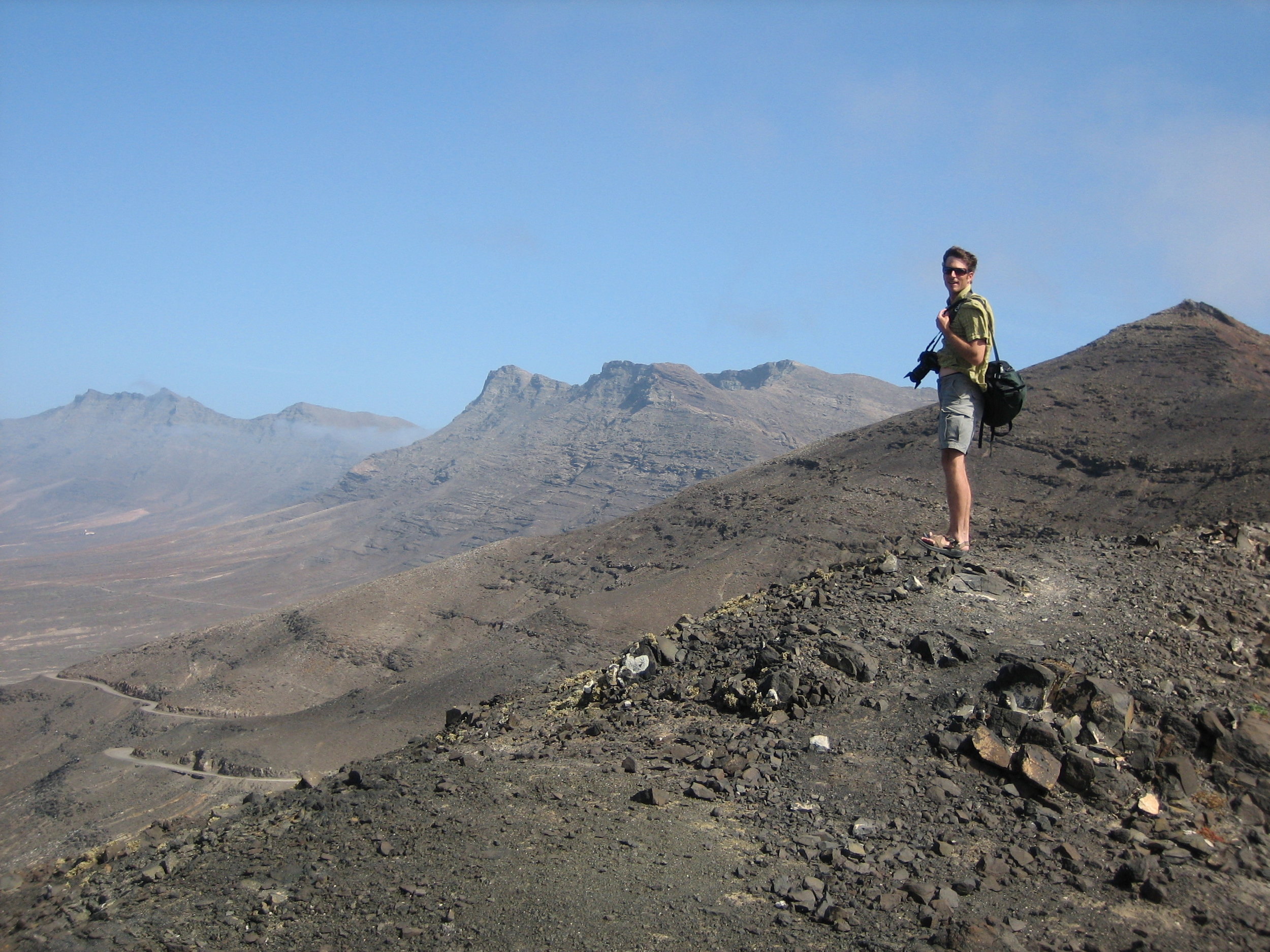 Toby was in awe of the Barren landscape of Fuerteventura in the canary Islands.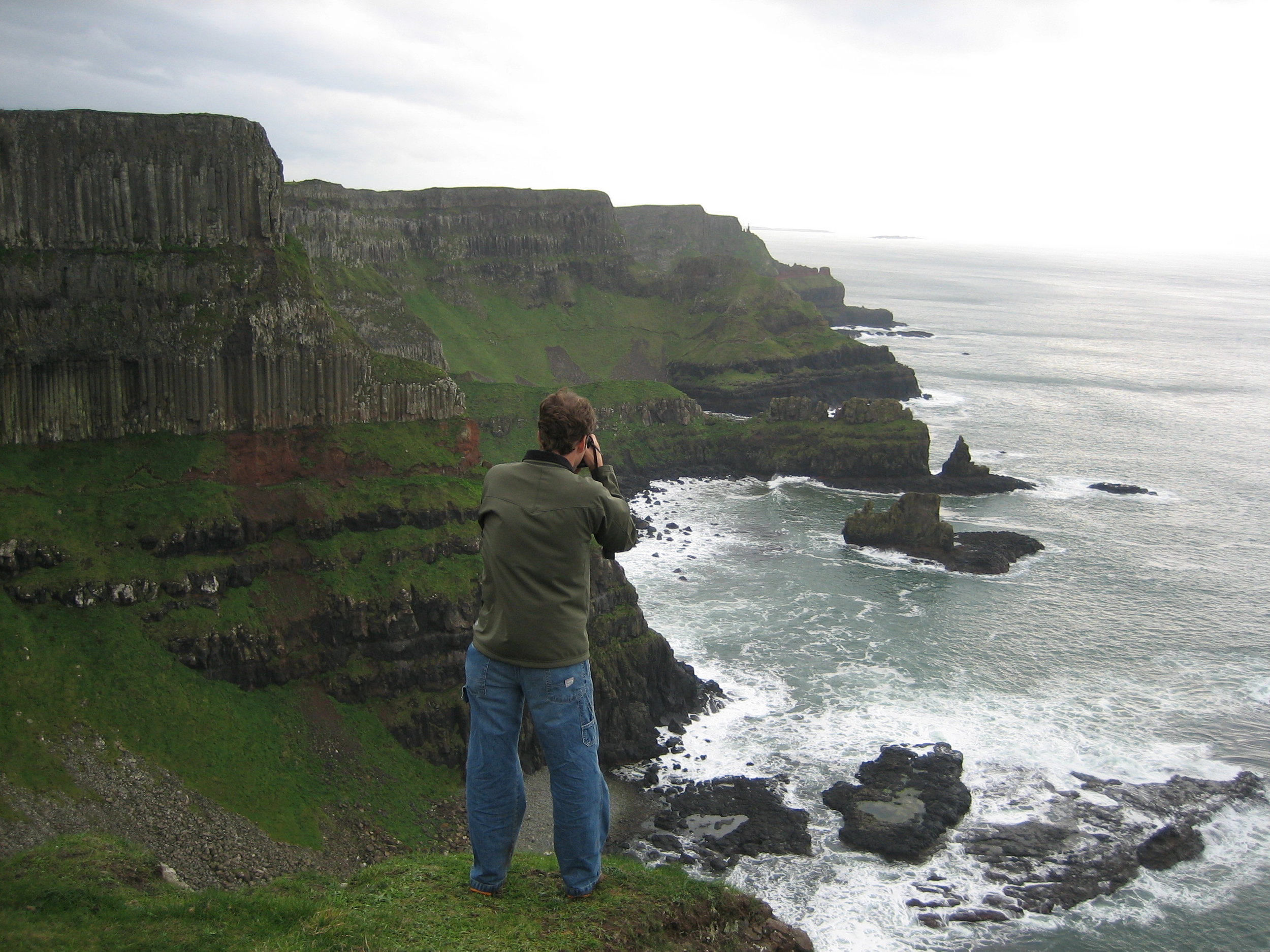 Toby at the Giant's Causeway in Northern Ireland.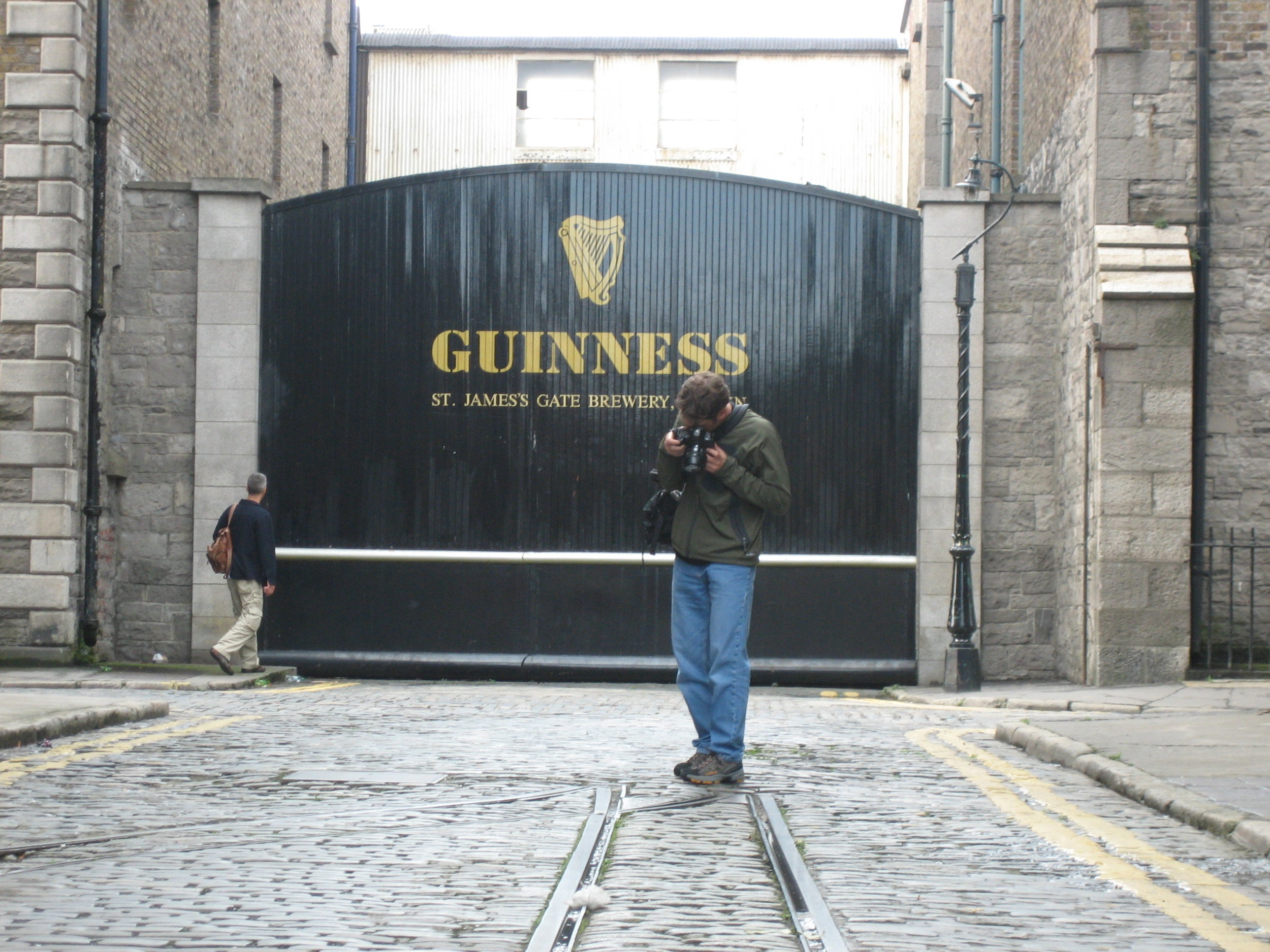 Toby photographing something fascinating in front of the guinness brewery in Dublin.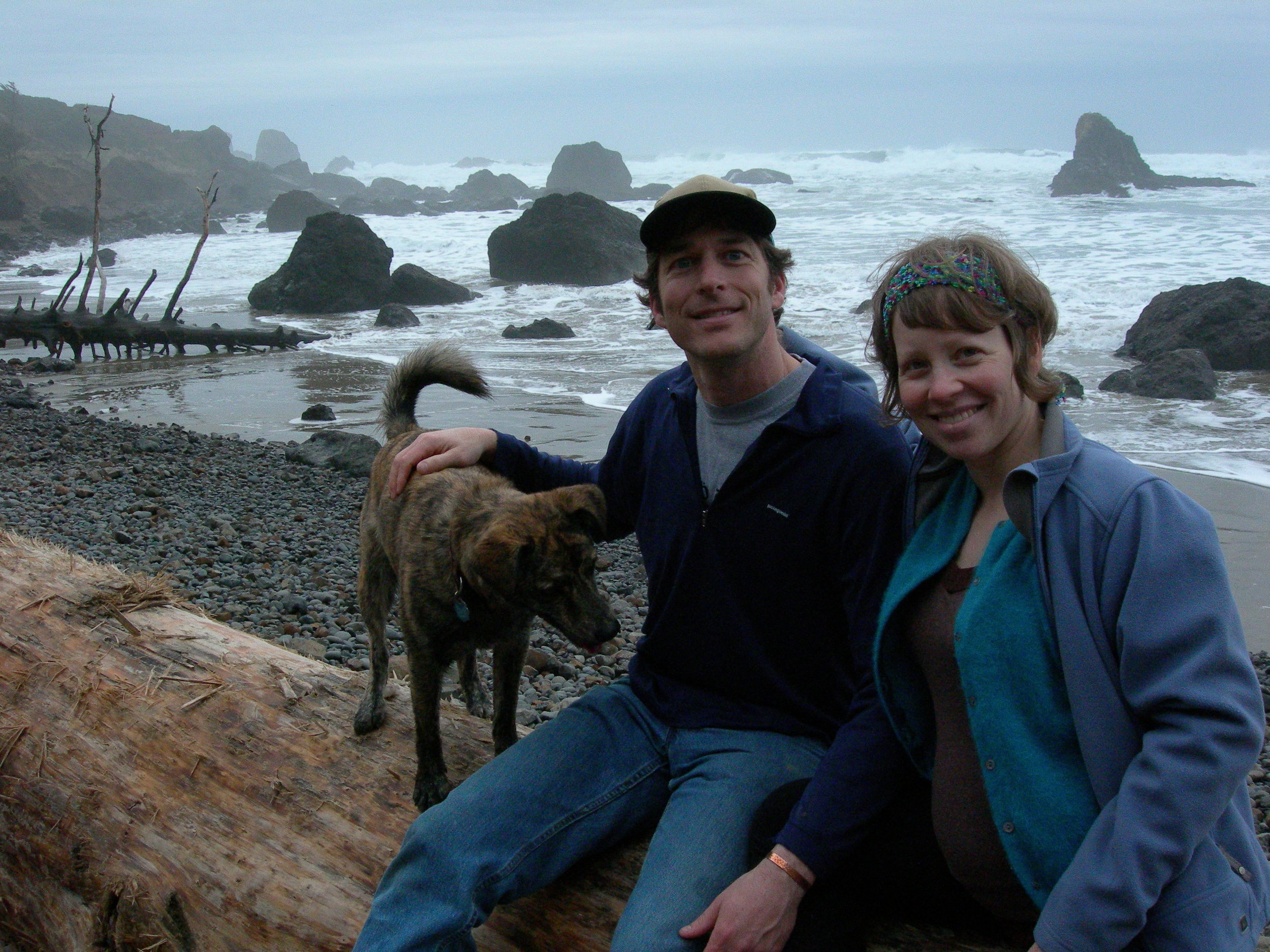 Toby, Jennifer, and neko (their trusty dog) on a trip to the Oregon coast. Jennifer was pregnant here with arrow, the couple's first child.
ASIDE FROM TREEHOUSES, WHAT ARE SOME OF THE COOLEST THINGS TOBY HAS BUILT?
When he worked at the Issaquah Village Theater, Toby built a prodigious version of the plant prop for Little Shop of Horrors. The theater production team brought a Disney puppeteer to create the exterior of the plant and then tasked Toby with crafting its interior mechanics.
Those familiar with the play will recall that the plant has to be large enough to fit people inside; Toby was asked to build an interior system that would fit two operators and would "swallow" actors before letting them out unscathed backstage. He had a fun time collaborating with the puppeteer to tackle this cool, creative challenge.
In terms of his personal projects, Toby is very proud of the green roof he built over the porch on his home. Before joining Nelson Treehouse and Supply, Toby was moving into green roof consulting and design with his small construction firm. He loved integrating environmental sustainability and nature into this innovative roof design.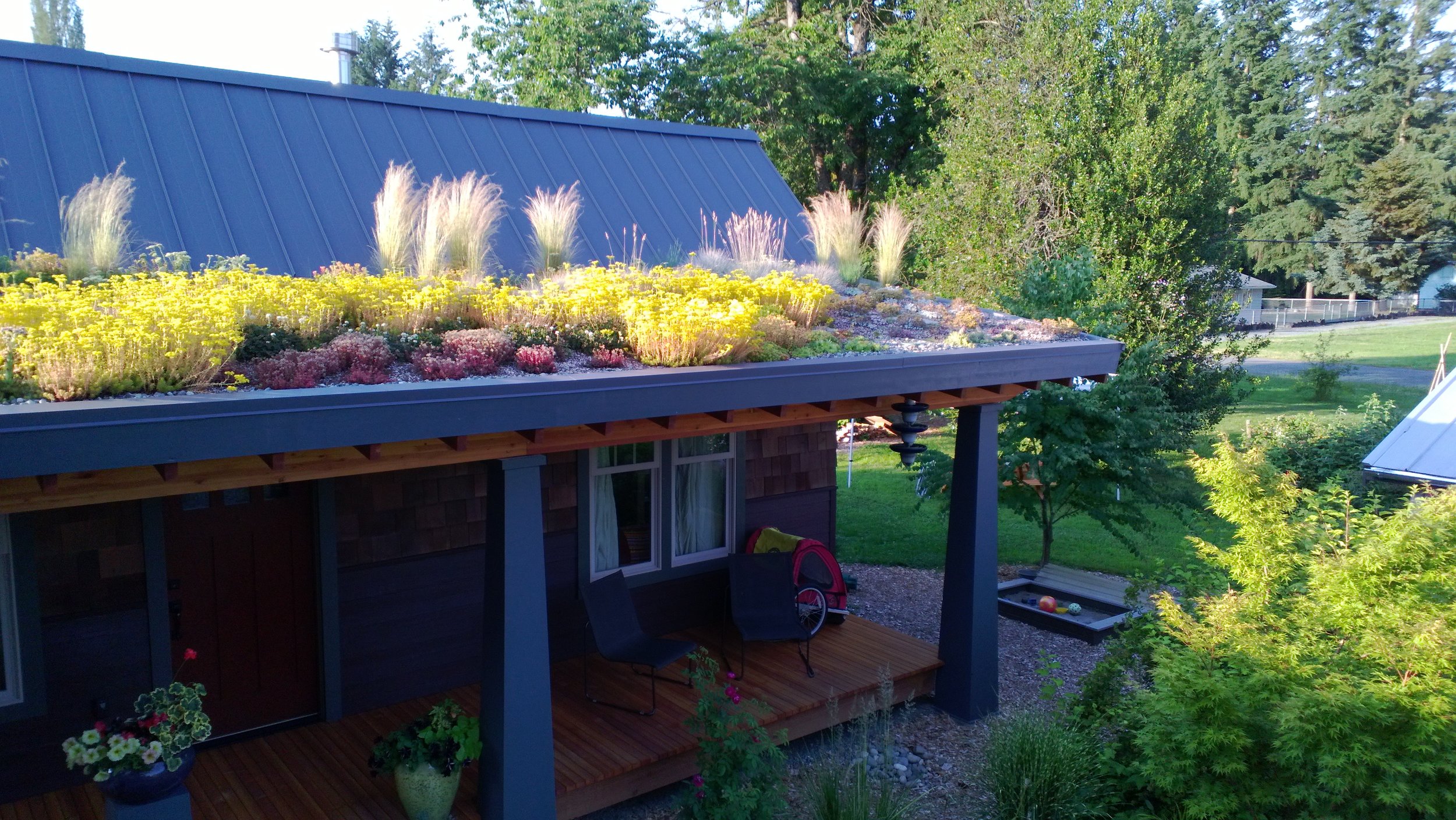 Toby designed and built this green roof on his home in Washington State.
WHAT WOULD TOBY'S DREAM TREEHOUSE LOOK LIKE?
Toby's dream treehouse would be small and off-grid. It would be open-air (not entirely walled in) so that visitors would feel intimately connected with nature. However, the treehouse would also include a covered portion to allow for restful sleepovers when it's raining outside. Toby's treehouse would nestle higher than 20 feet from the ground in mighty Doug fir and cedar trees.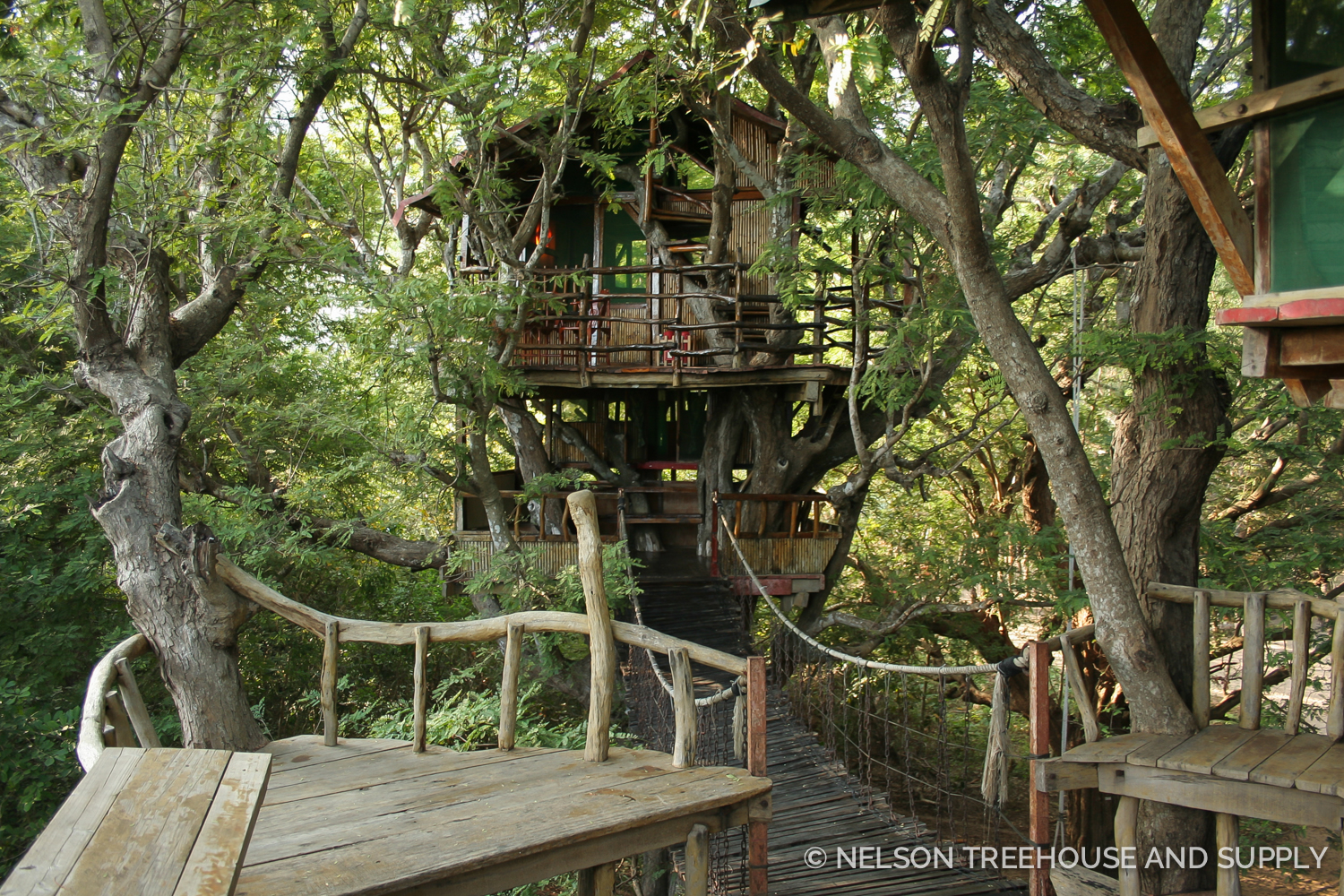 Toby's dream treehouse would have a mostly open-air design like this treehouse in China
HOW DOES SET CONSTRUCTION COMPARE TO TREEHOUSE BUILDING?
Toby's work in the scene shop of the Issaquah Village Theater provided an excellent educational foundation for treehouse building. Like treehouses, Toby's theater sets had to be modular and transportable since they were destined for shipment to another theater.
The set construction business also taught Toby to be imaginative, work with tight timelines, and translate conceptual designs to tangible products. Over the years, Nelson Treehouse has hired four carpenters who previously worked in scene shops; turns out that set design and construction is one of the most similar careers to building treehouses!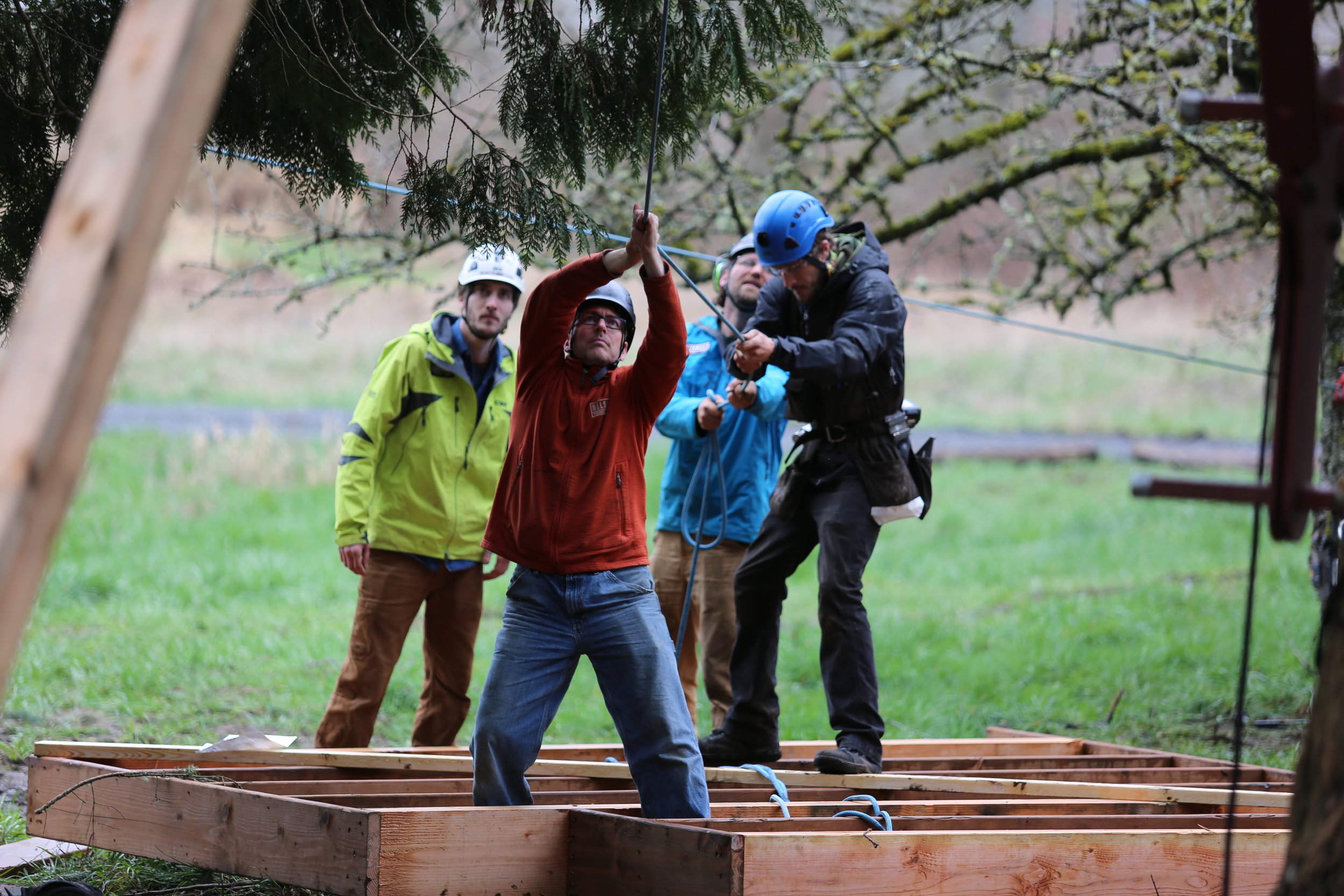 WHAT IS ONE OF TOBY'S FAVORITE NELSON TREEHOUSE PROJECTS?
Toby loved working on the Burl at TreeHouse Point; it was his first project with NT&S, and it showed him that treehouses could be more than he ever imagined. As a fan of innovative engineering, Toby enjoyed working on the unique steel structure for the long bridge to the Burl. He also likes that the Burl is supported solely by a single tree, and he admires its small, intimate design.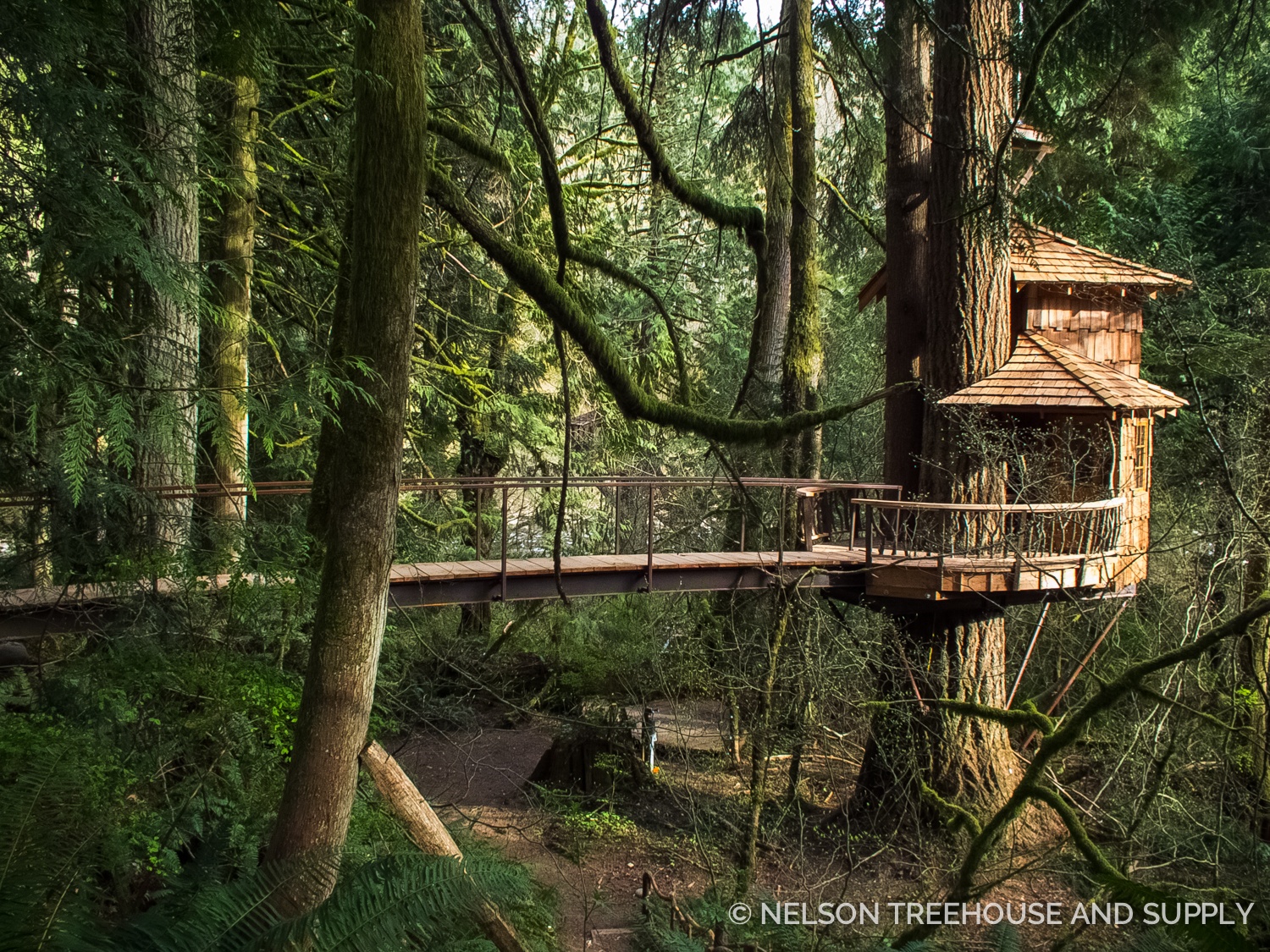 The Burl at Treehouse Point
WHAT'S ON TOBY'S BUCKET LIST?
Despite living in the Pacific Northwest for years, Toby has never climbed Mount Rainier; he hopes to hike the iconic volcano soon. He would also like to take his kids on an outdoor expedition like a long canoe trip, and would love to do more bicycle travel (potentially in Iceland, Peru, or Chile). Near the top of Toby's bucket list? Building a treehouse for his own kids!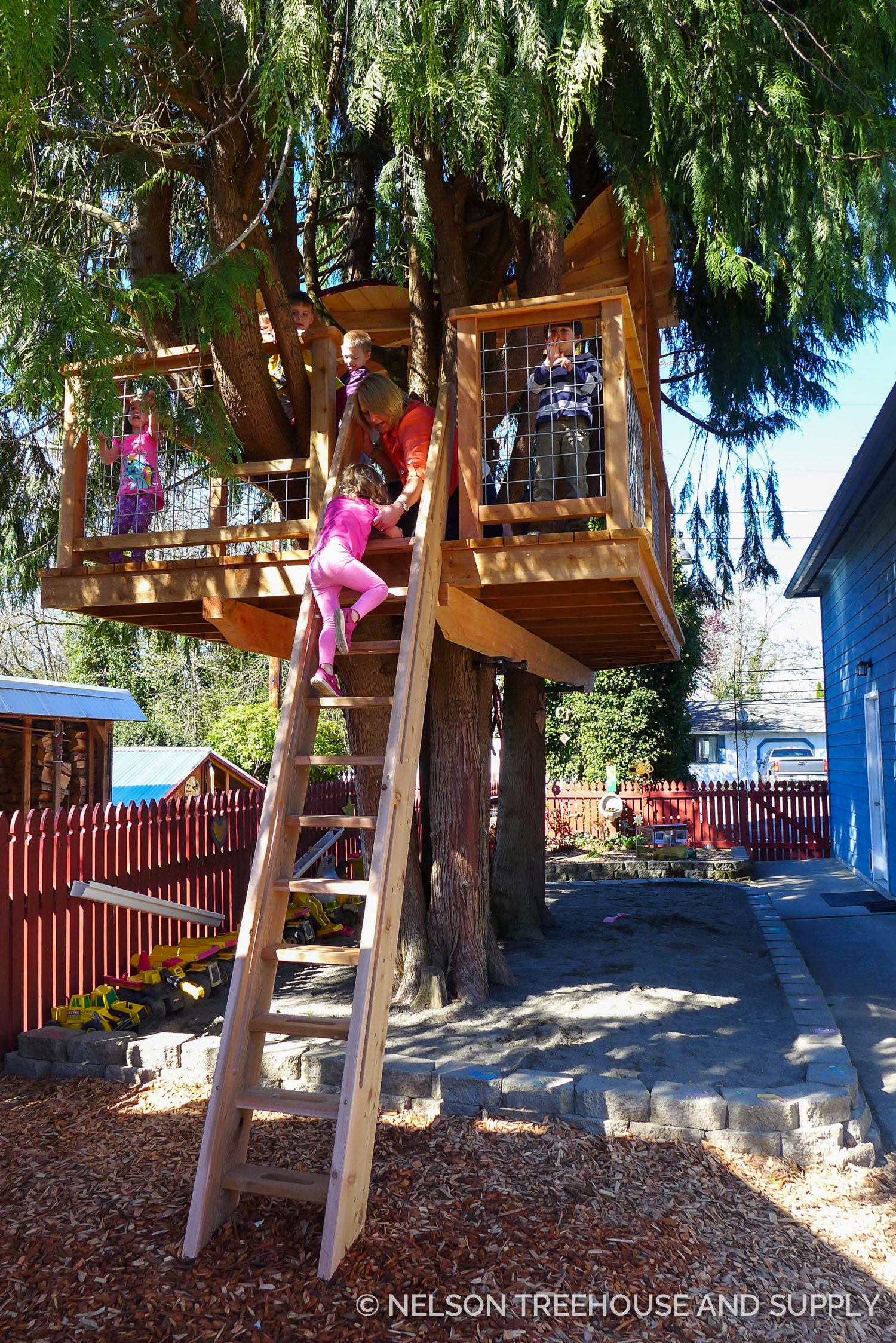 Toby helped build this treehouse for The montessori school that his kids attend. He hopes to build one at home for his own kids soon!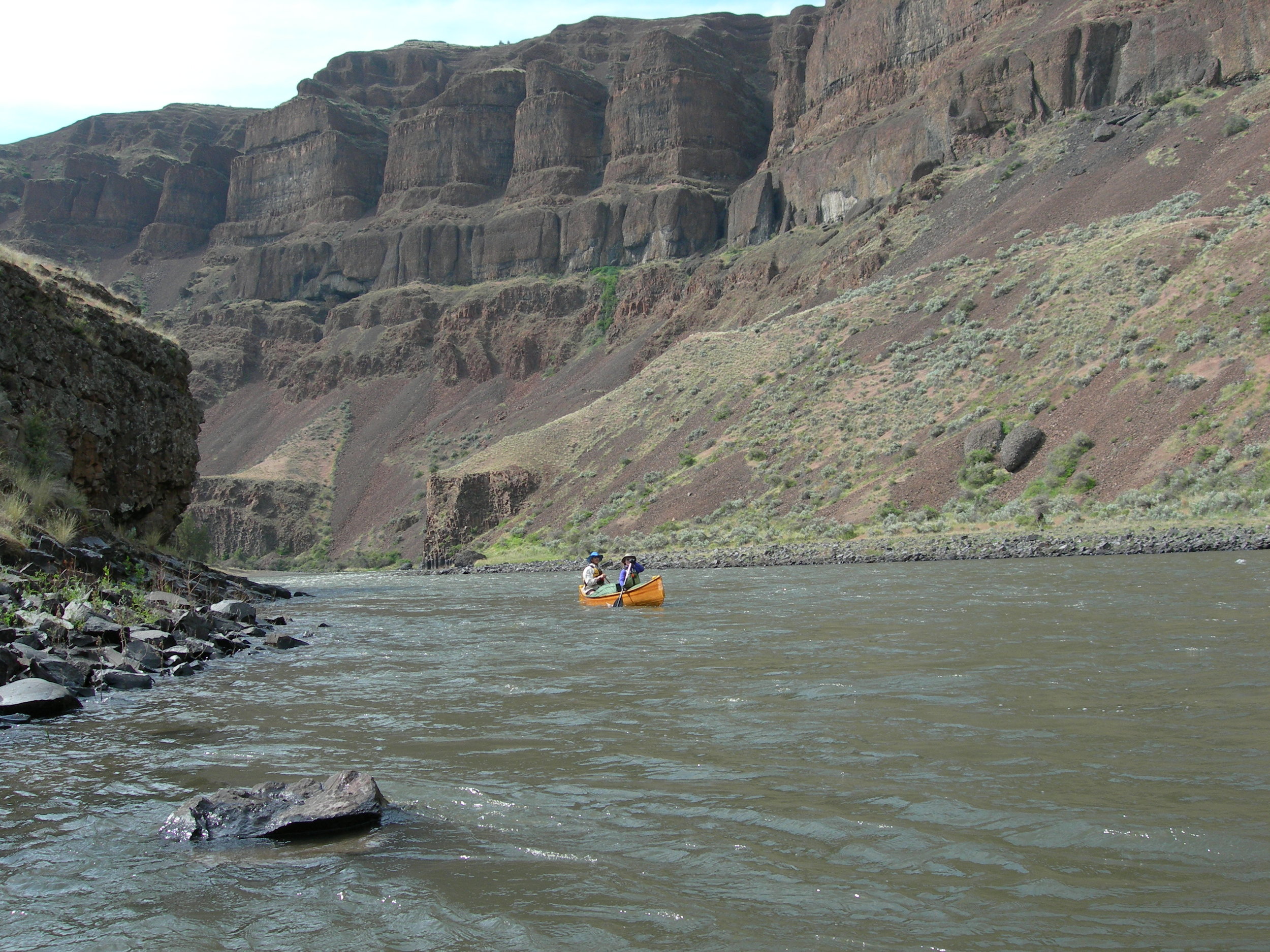 Toby and Jennifer love canoe trips like this one in the John Day River, Oregon. Toby has completed 70-mile-long canoe trips, and hopes to take his kids on similar excursions in the future.
WHAT INSPIRES TOBY?
In Toby's words:
"I am inspired by my family, beauty in nature, and people who do good things, even on the smallest of scales."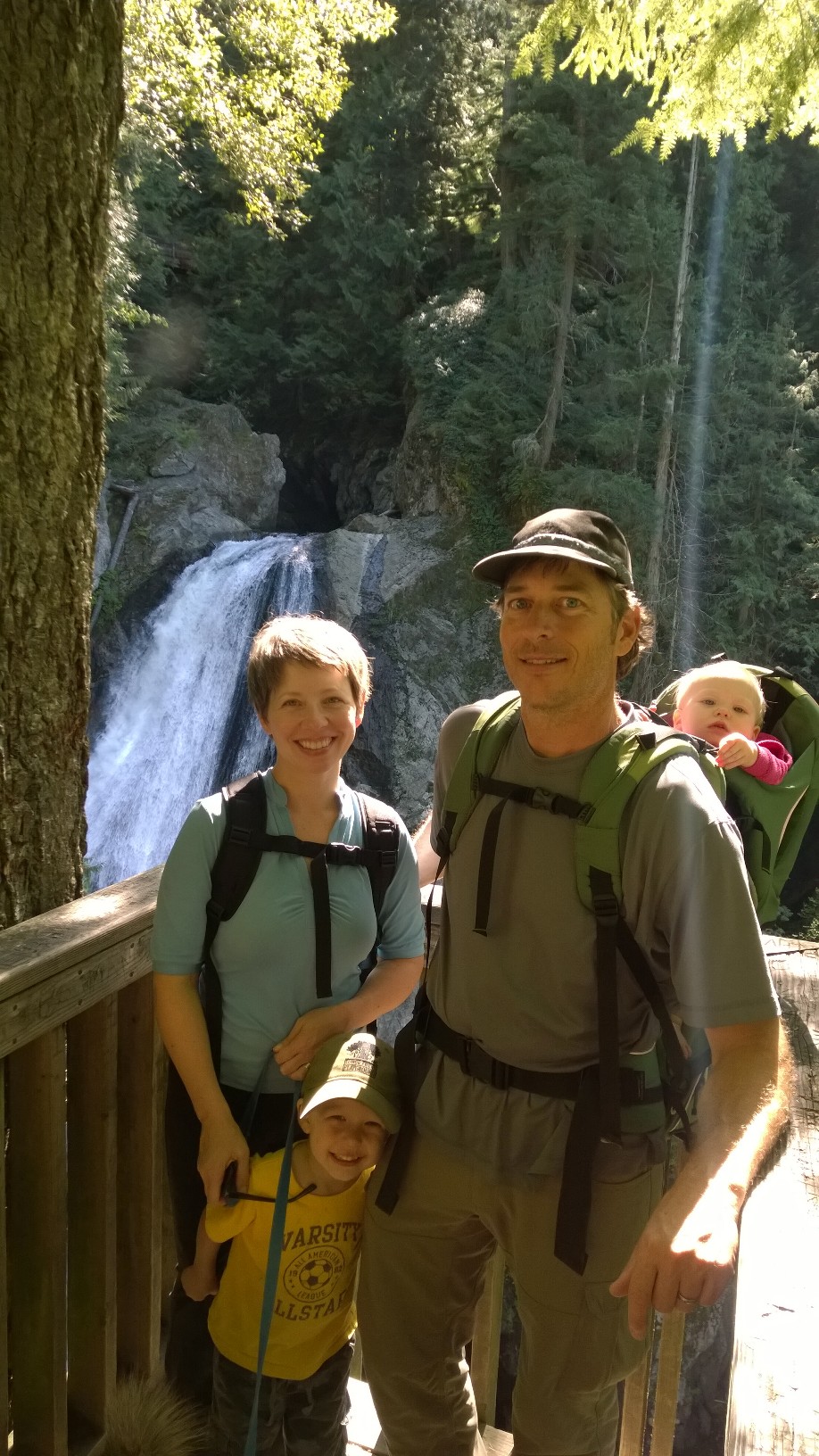 Left to right: Toby's wife, Jennifer; son, Arrow; toby; and daughter, June.
Toby's trusty dog, Neko, plays an essential role in keeping toby inspired and on task. Here, Neko feigns sleeping on a pile of sawdust in the NTS shop – in reality, she's keeping a close eye on toby.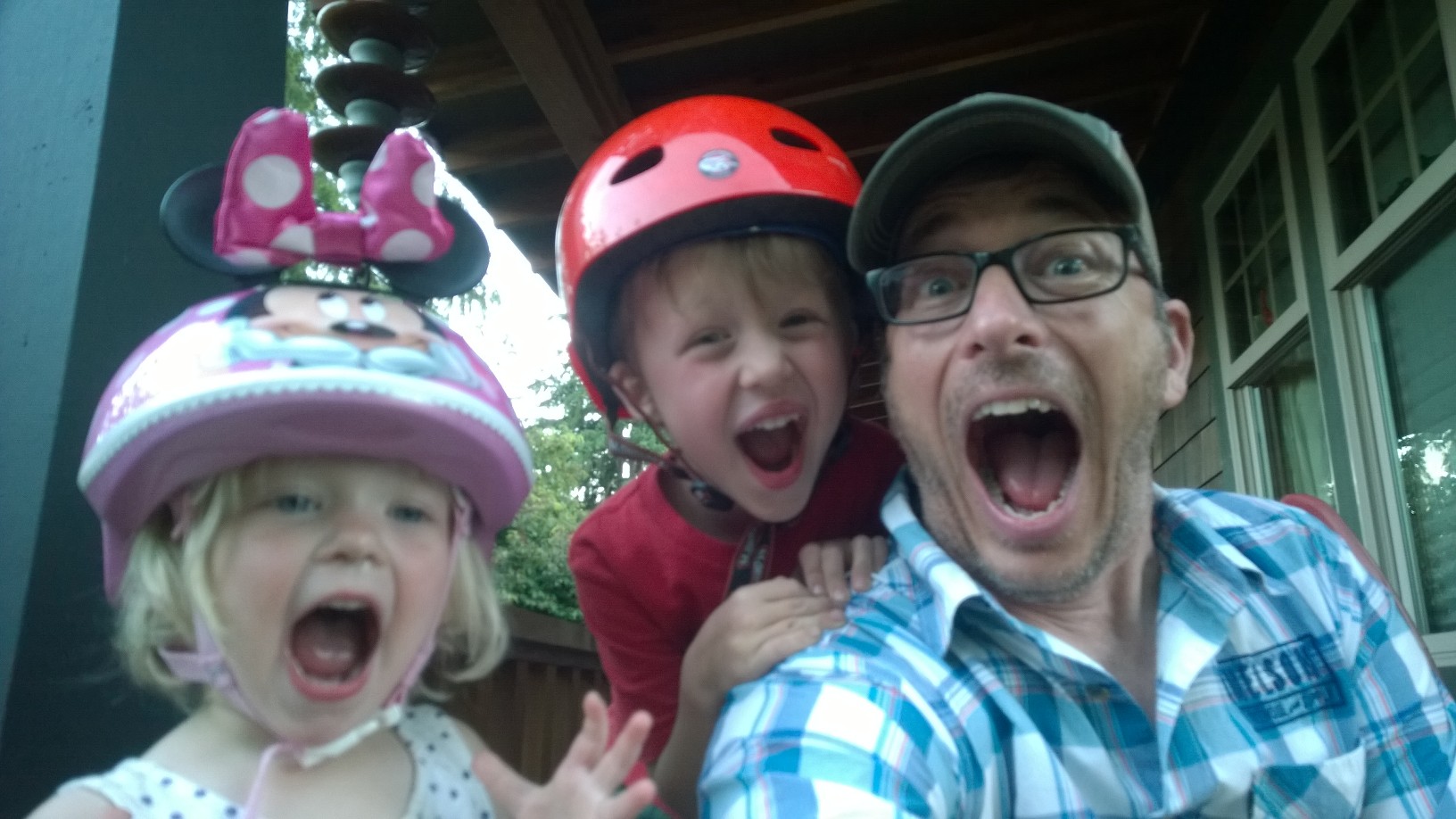 Toby's kids, June and Arrow, continually inspire toby.
Thanks for sharing your story, Toby!
We hope you've enjoyed getting to know the talented Toby. Be the first to find out about next month's Staff Spotlight by subscribing to our newsletter and following us on social media.
To the trees!