Snuggled in a grove of cherry trees near the Pocono Mountains of Pennsylvania, this treehouse is a haven for the most intrepid of adventurers.
Owners Brandt and Annie asked Pete for a treetop retreat that both kids and grownups would love, and that would provide extra hangout space during large family gatherings on their idyllic property.
With its rock climbing wall, dual suspension bridges, hidden stairway, bunk loft, and screened-in porch, this treehouse is built for both play and relaxation. Read on for a closer look at this adventurous treehouse…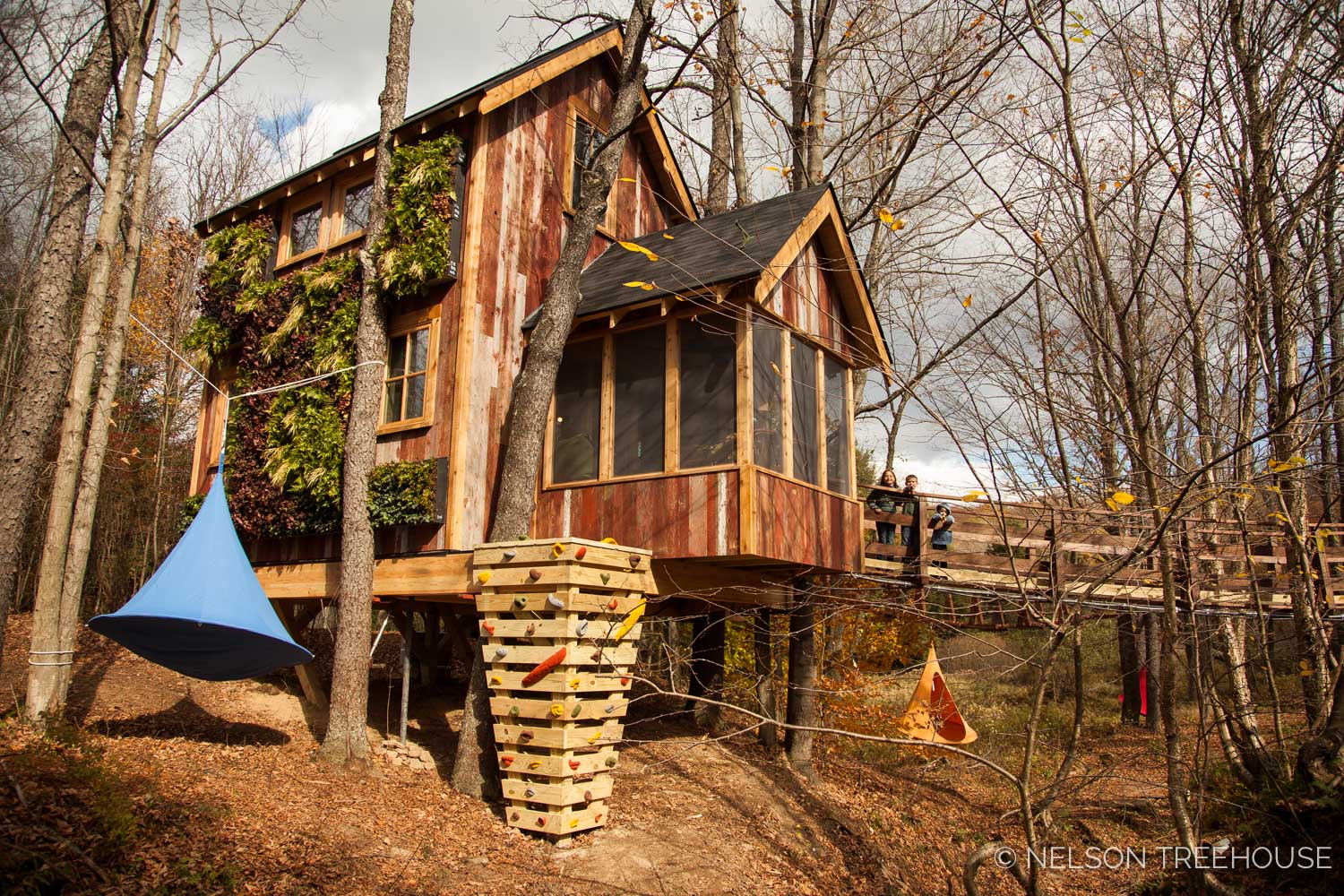 A live wall, crafted by Plant Connection, covers one side of the treehouse. It's made of nearly 700 individual plants fed by an innovative drip-line system that does not cause water damage to the wall itself. This cool feature blends the treehouse with its forested surroundings.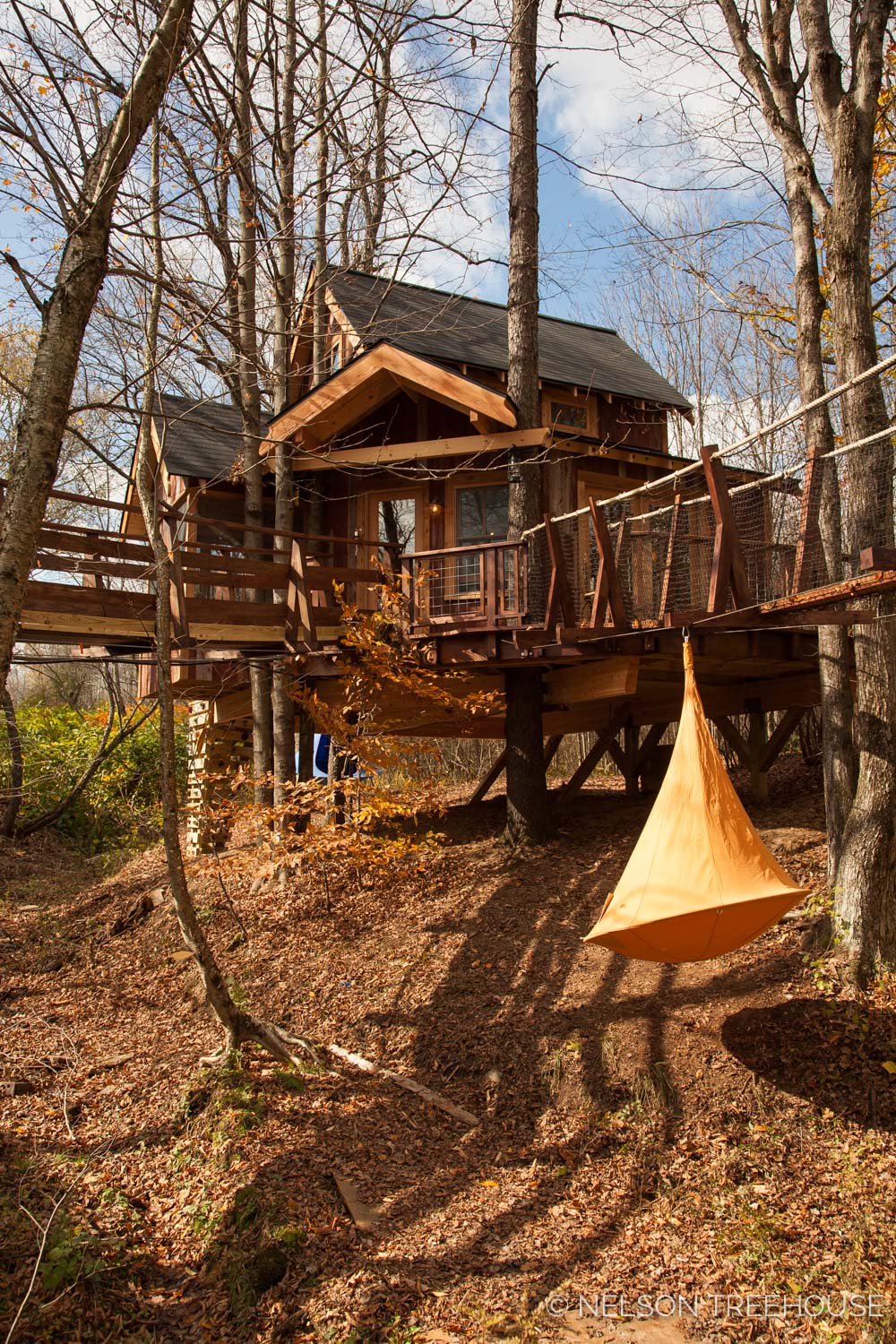 Not one, but two bouncy suspension bridges lead to this treehouse! The first carries visitors from the nearby house to the deck, while the second swings 60 feet out to a crow's nest. From there, guests can soak in sweeping the views of the river and mountains.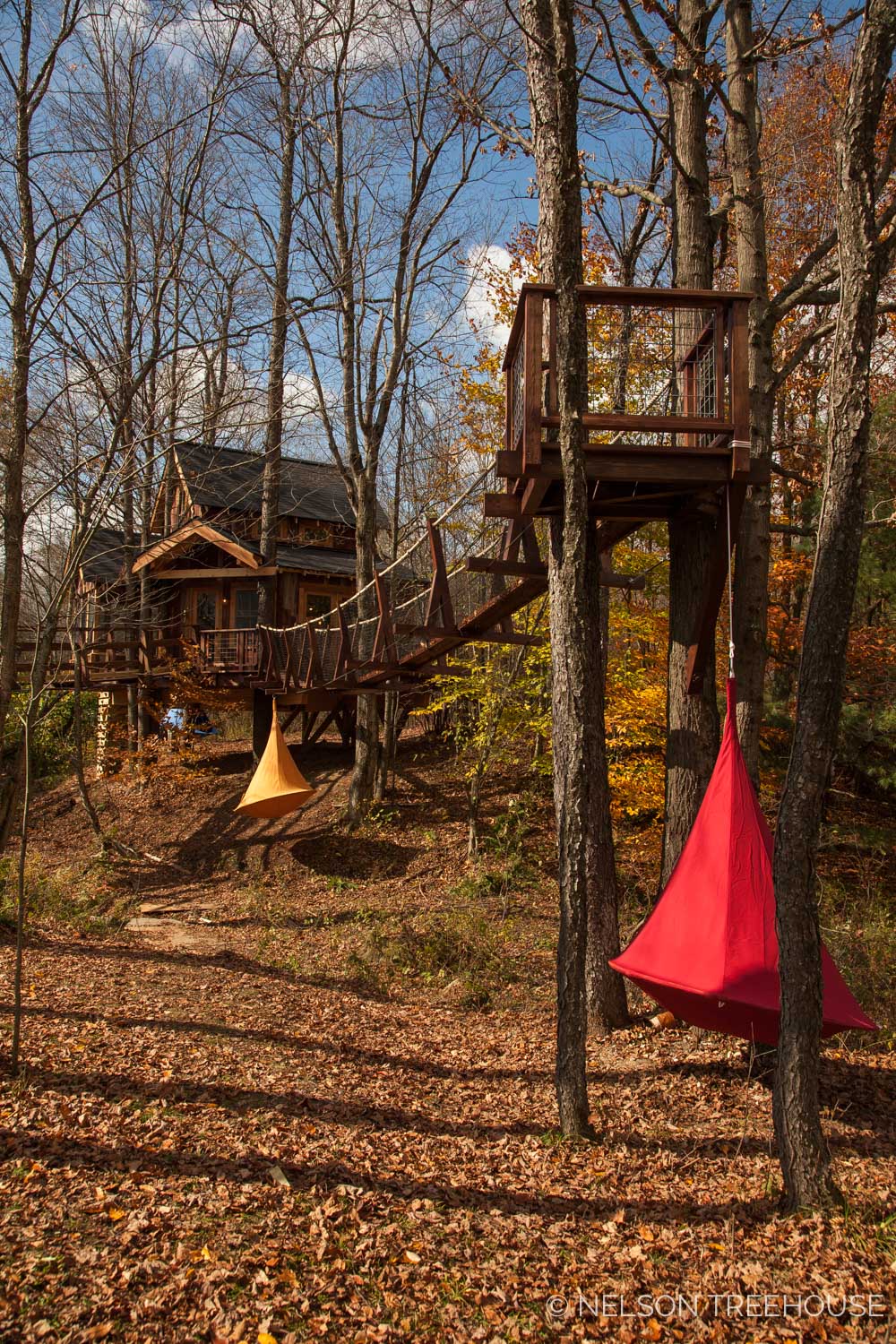 The crow's nest roosts nearly 15 feet high. The main treehouse perches about 12 feet off the ground in a grove of mighty cherry trees. Pete loves building in cherry trees for their hard wood and long lives.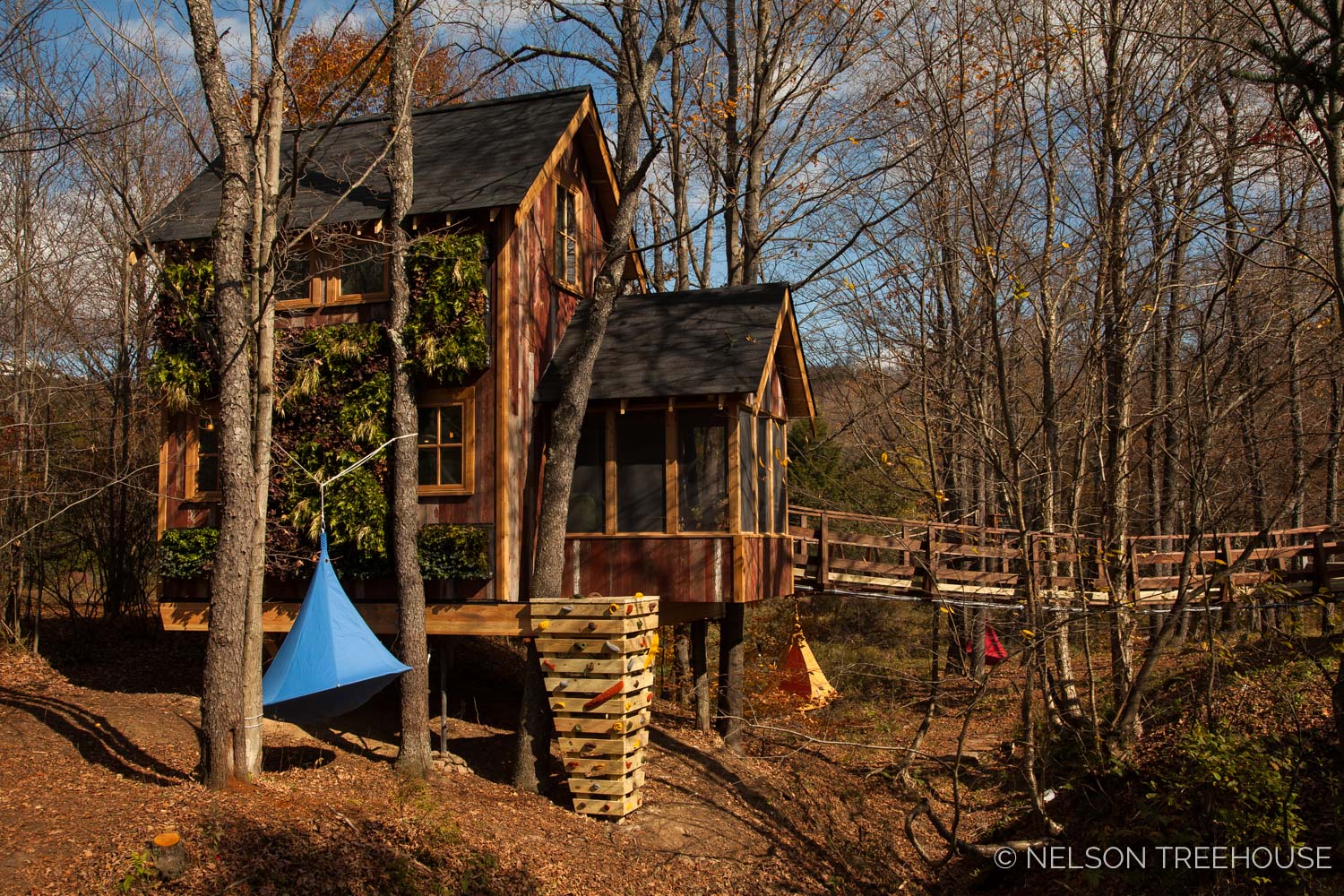 A rock wall climbs up to the platform, adding yet another fun feature to the outside of the treehouse.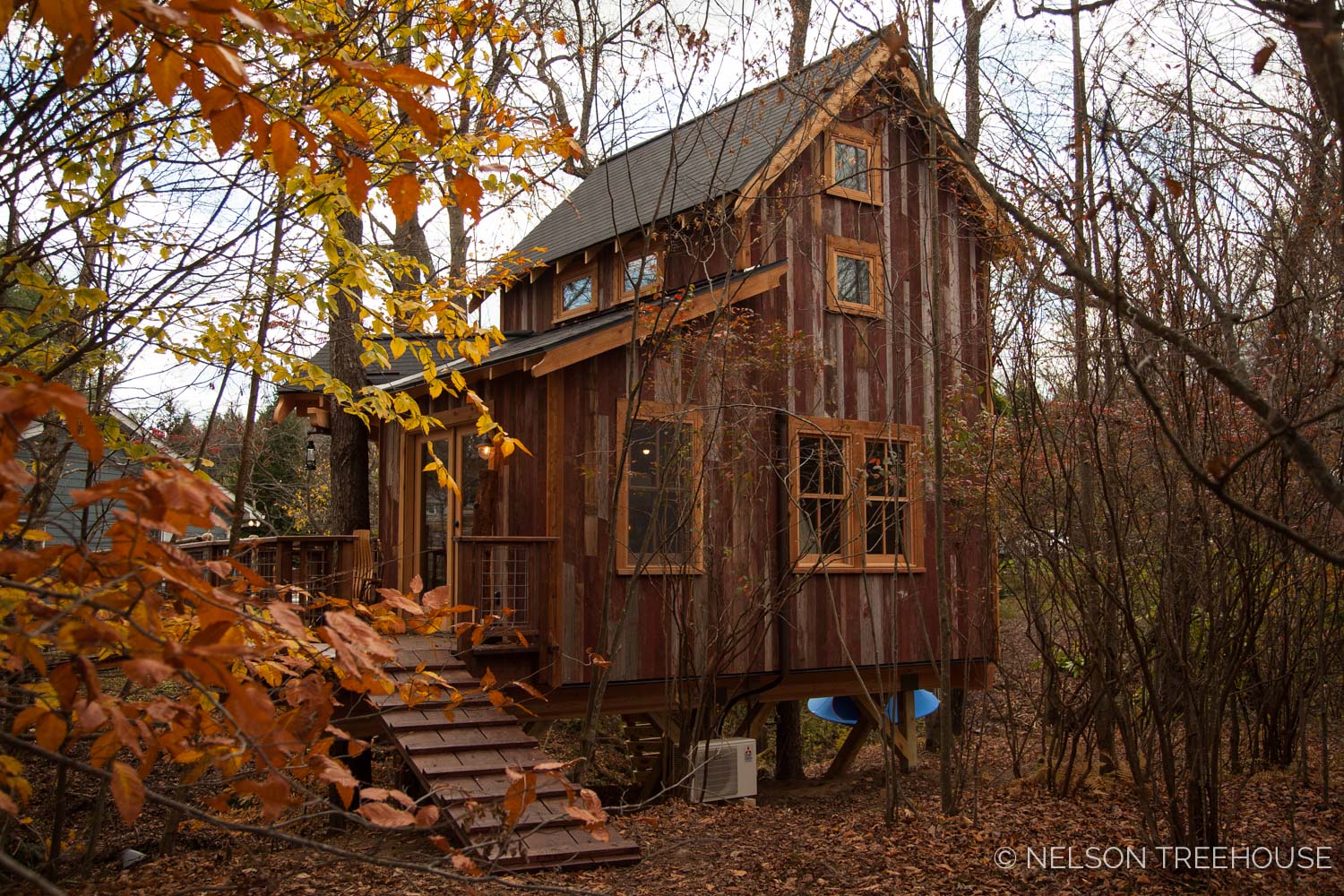 A ramp provides an alternative, more gentle form of access. The crew enveloped the exterior in reclaimed fir siding.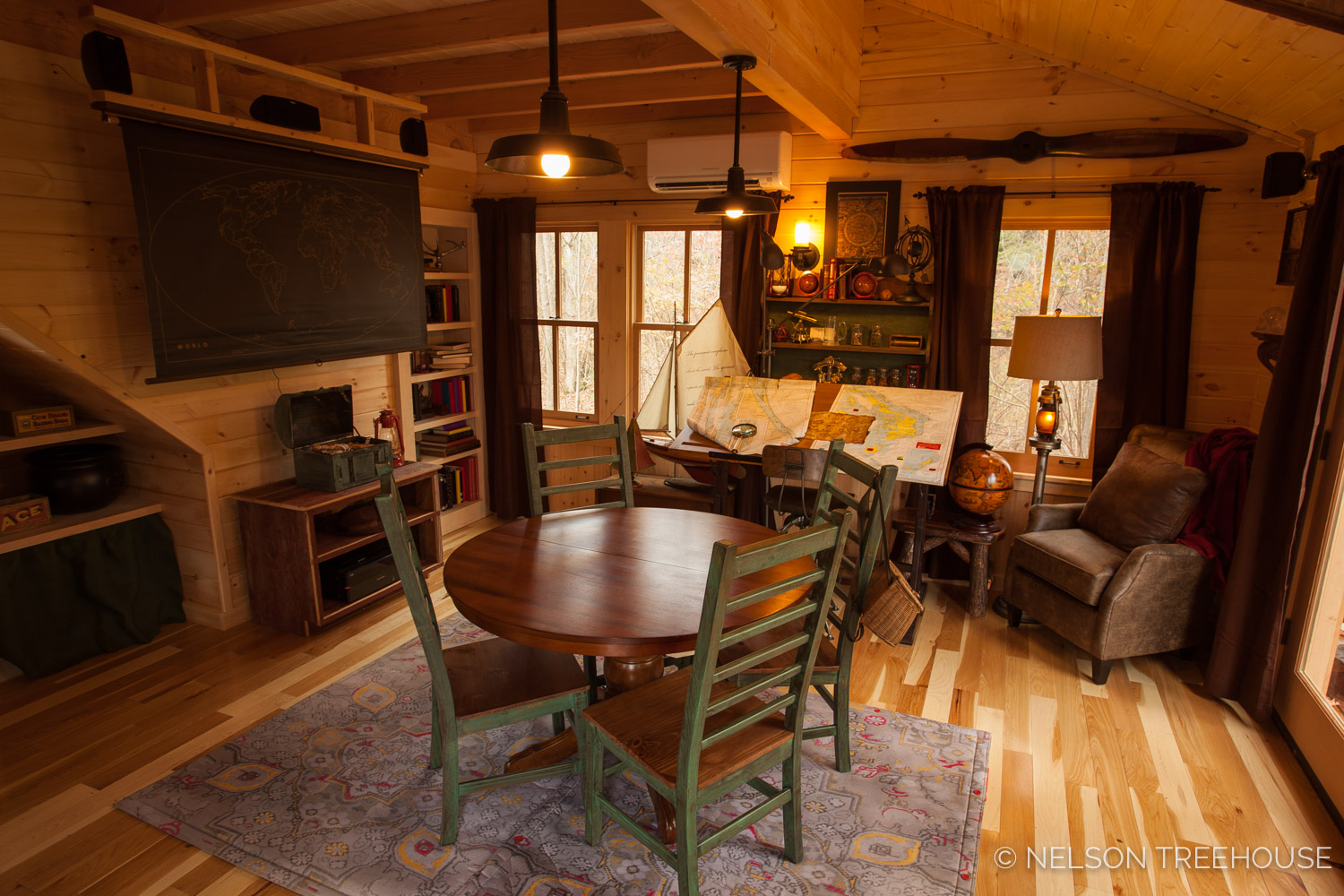 The first floor holds a cozy communal space, equipped with comfy seating, a TV (that can be hidden by a pull-down map), built-in shelving, and a game table with a built-in Monopoly board.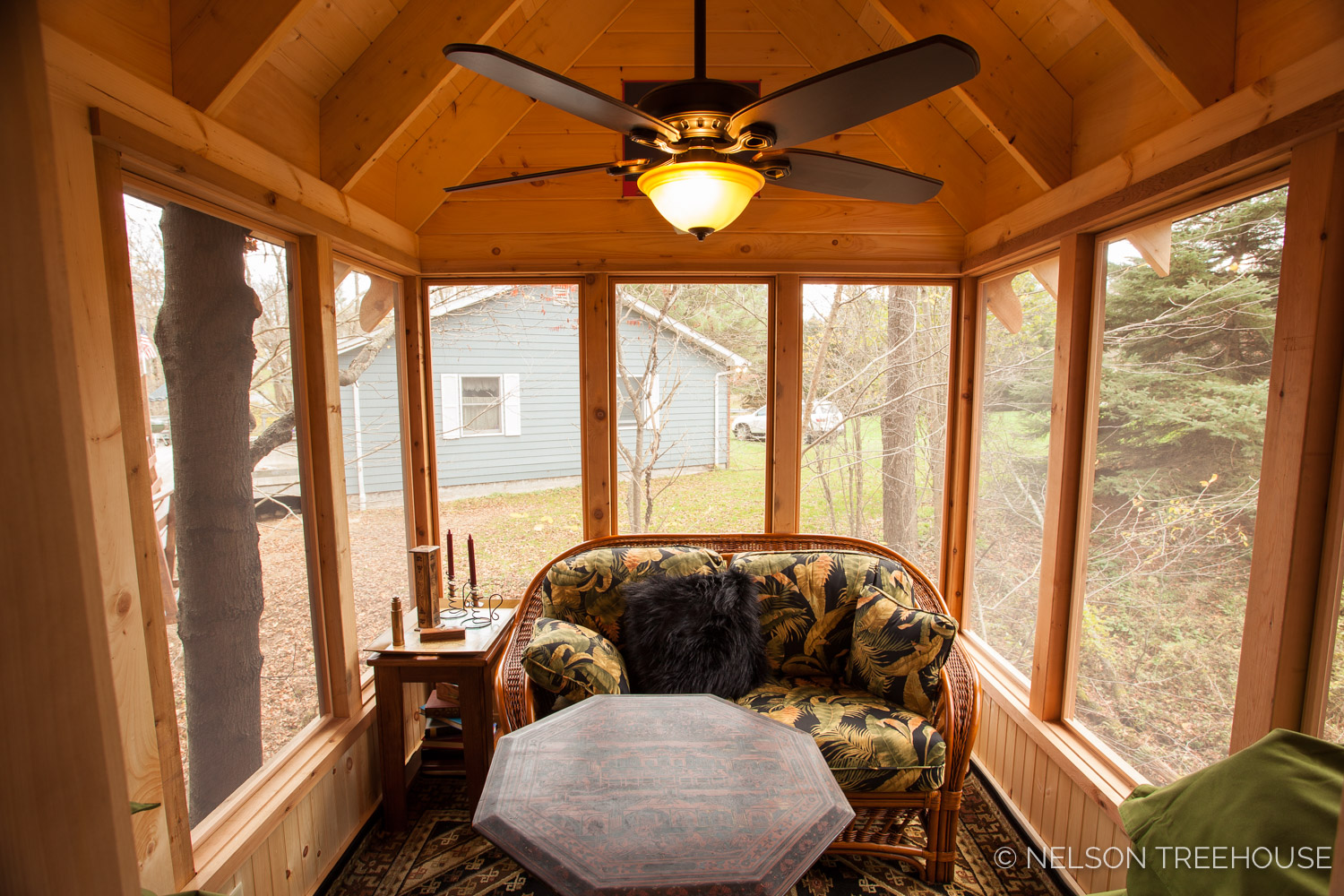 A sarcophagus cutout at one side of the main room doubles as a sneaky door to the airy screened-in porch.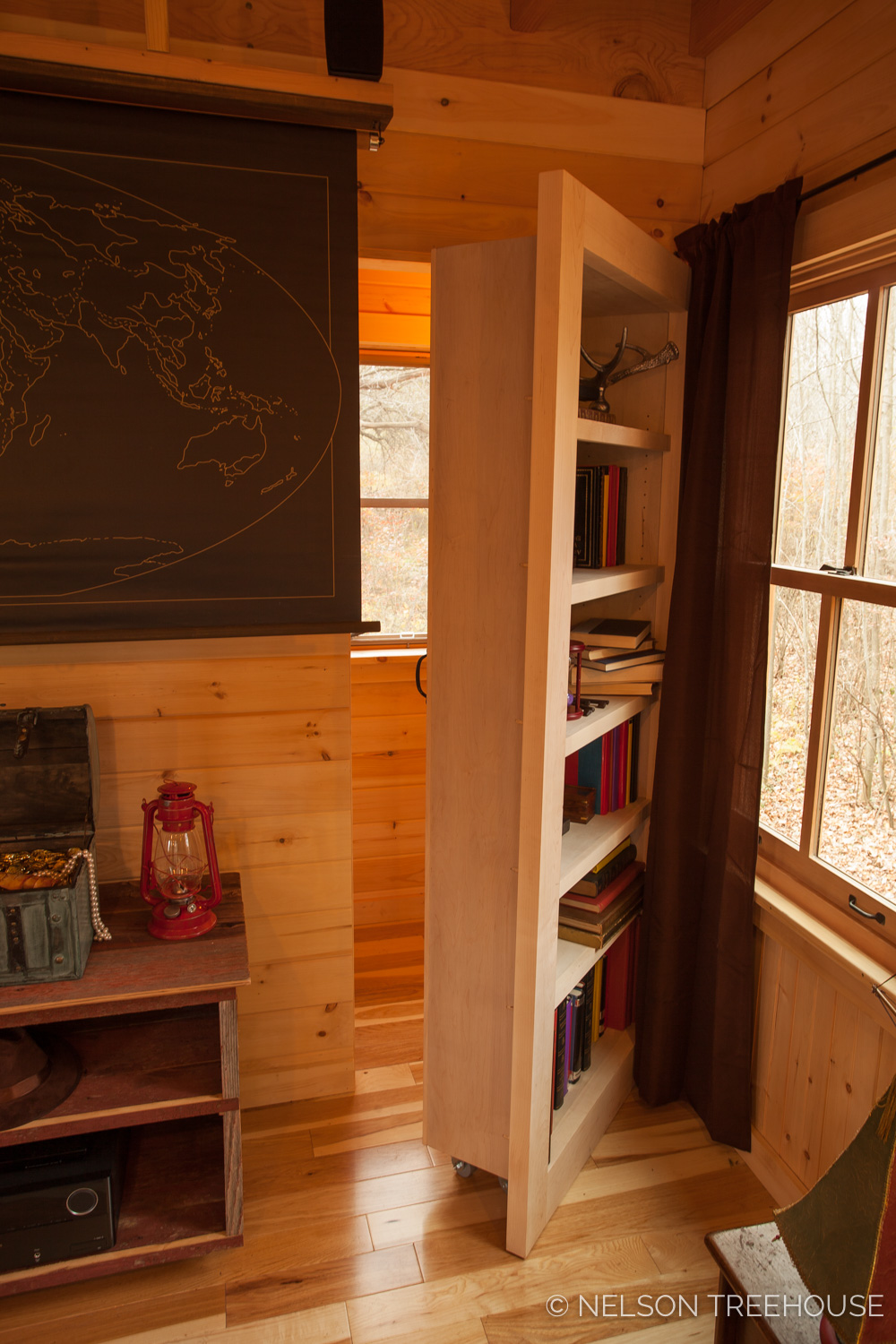 This book case conceals a hidden stairway! Details like this imbue the treehouse with a whimsical and adventurous spirit.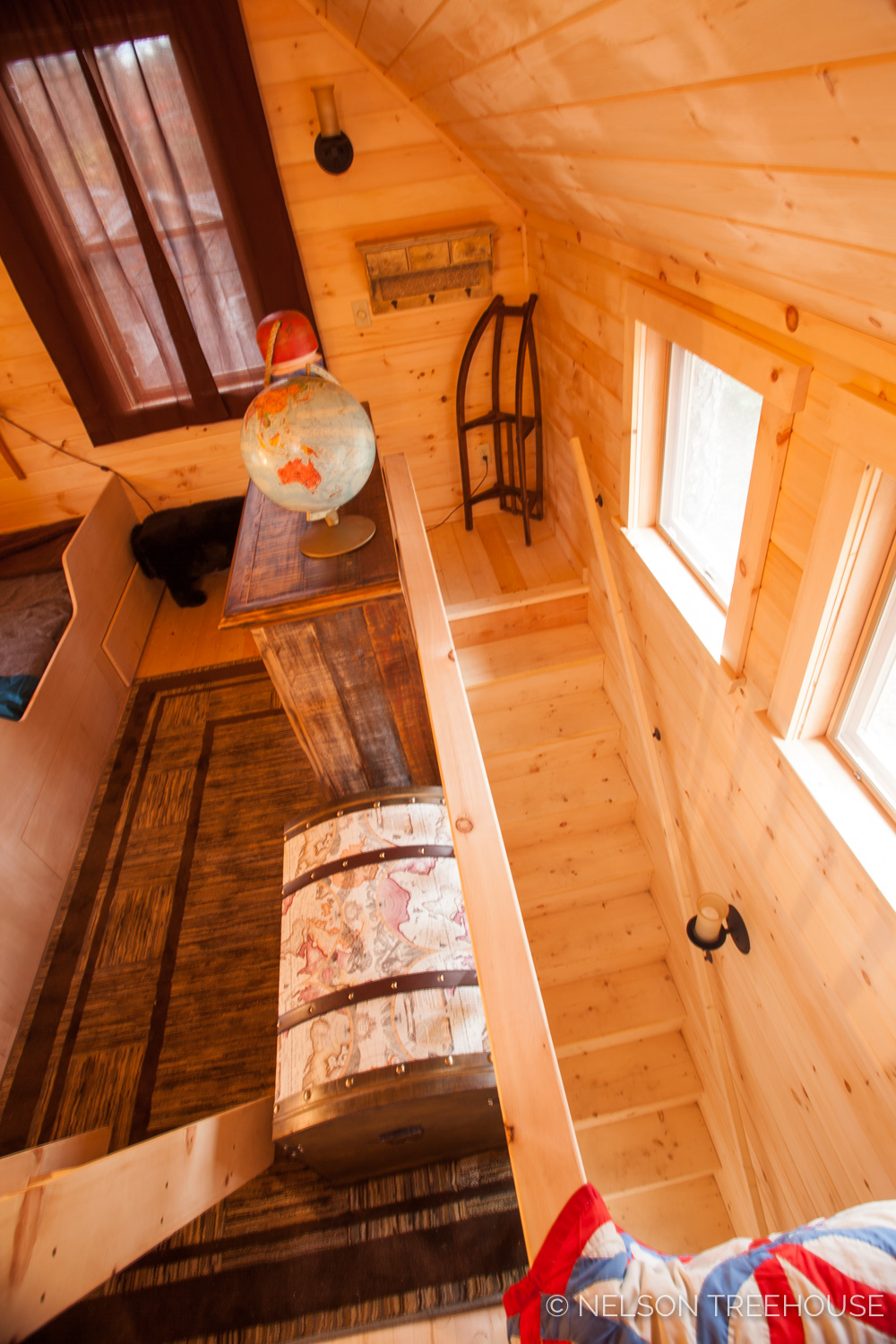 The hidden staircase leads to the sleeping loft.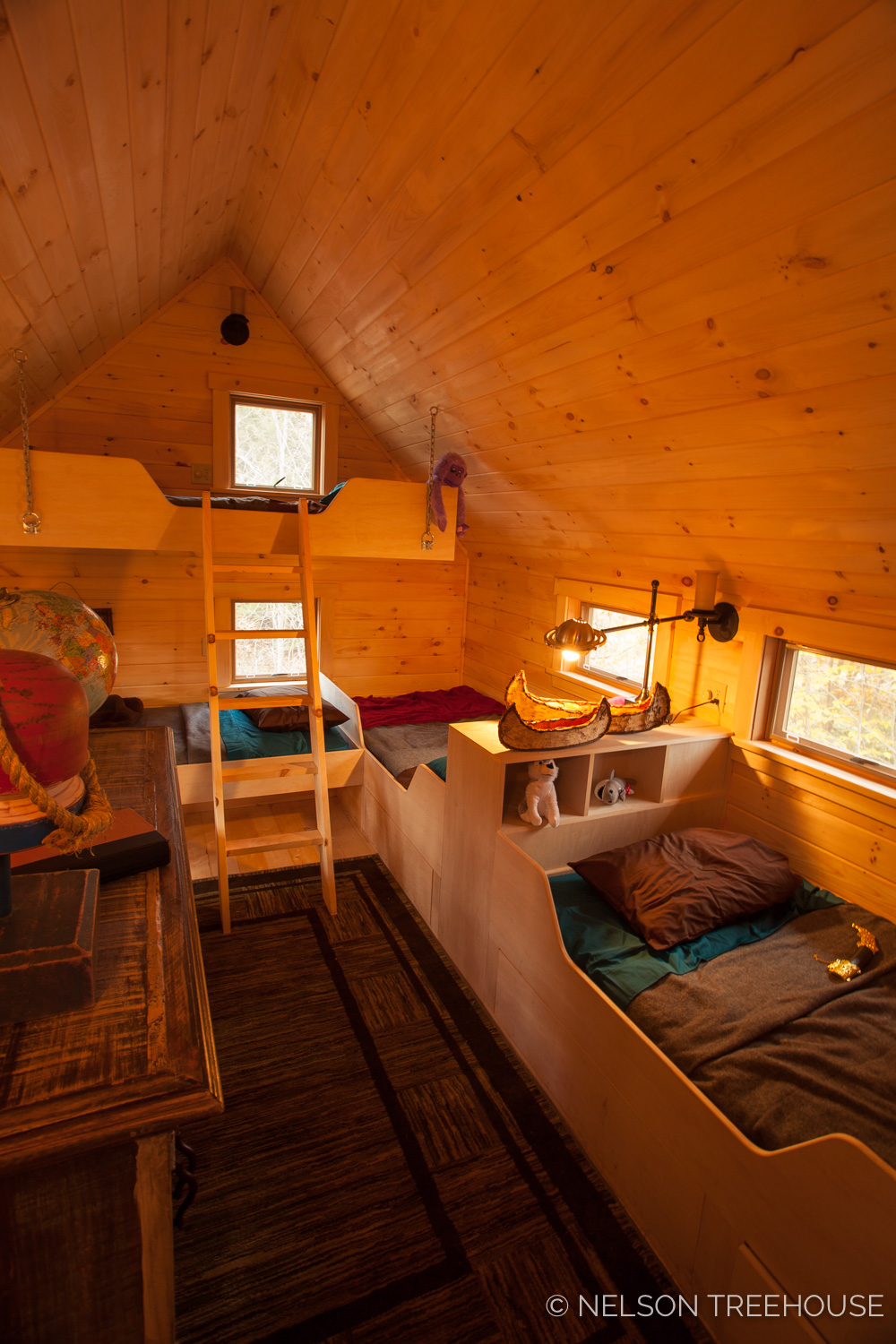 Built-in bunk beds outfit the treehouse for the best slumber parties! This is the perfect place for kids to hang out during big family gatherings.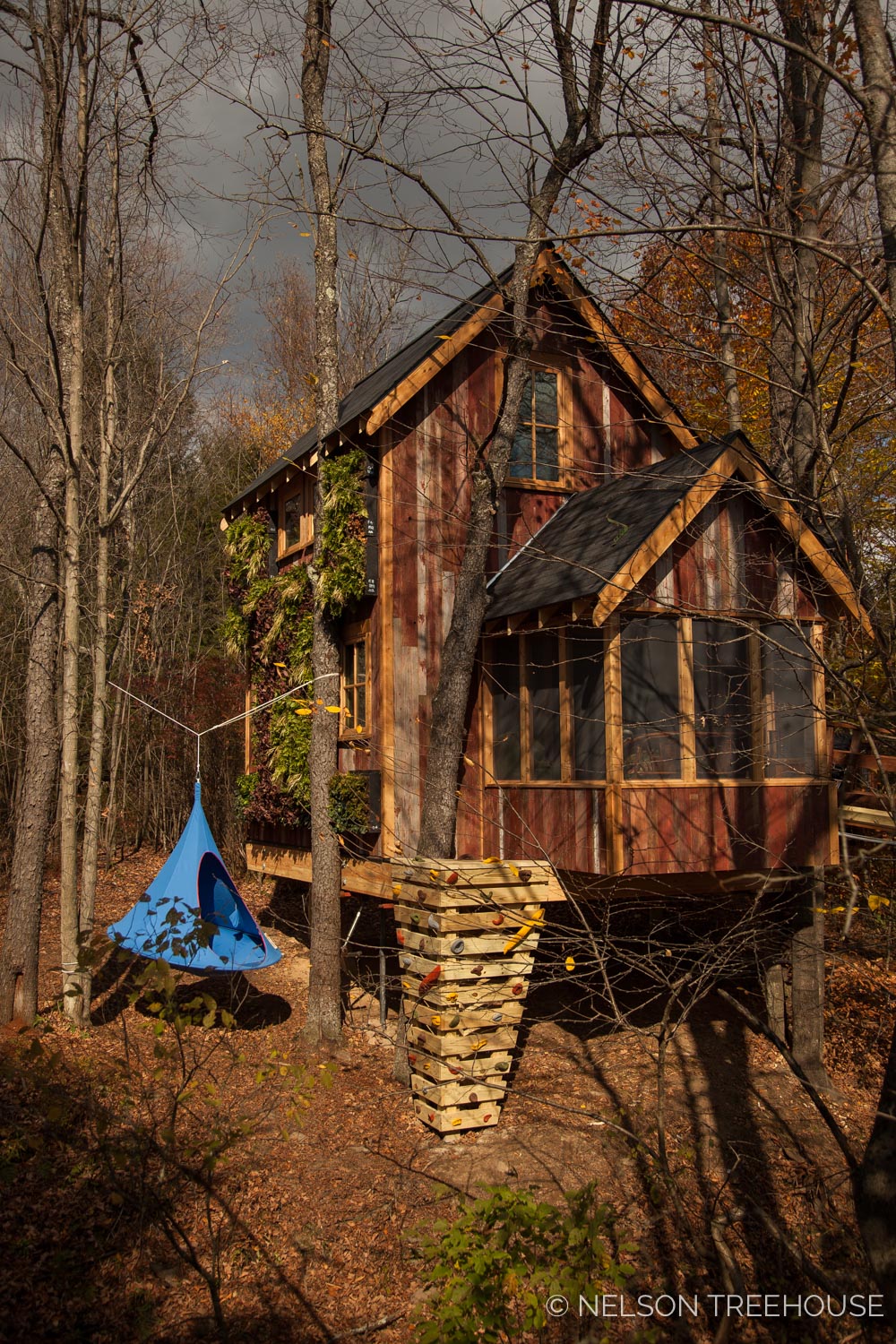 We hope you've enjoyed taking a closer look at this playful treehouse! It really rekindles our childhood dreams of swashbuckling treehouse adventures. Big thanks to Brandt and Annie for a fun and memorable build!
See all our photo tours from past episodes of Treehouse Masters here.
To the trees!