Treehouses, good company, and great food – what could be a dreamier way to spend an evening? Last month, TreeHouse Point had the good fortune to partner with Transplant Traveler to host an exclusive one-night treehouse getaway featuring a luxury seven course dinner curated by Chef Ryan Ross. We couldn't resist sharing photos and details from that gorgeous and delicious evening! Read on to get the full story and find out what was on the menu…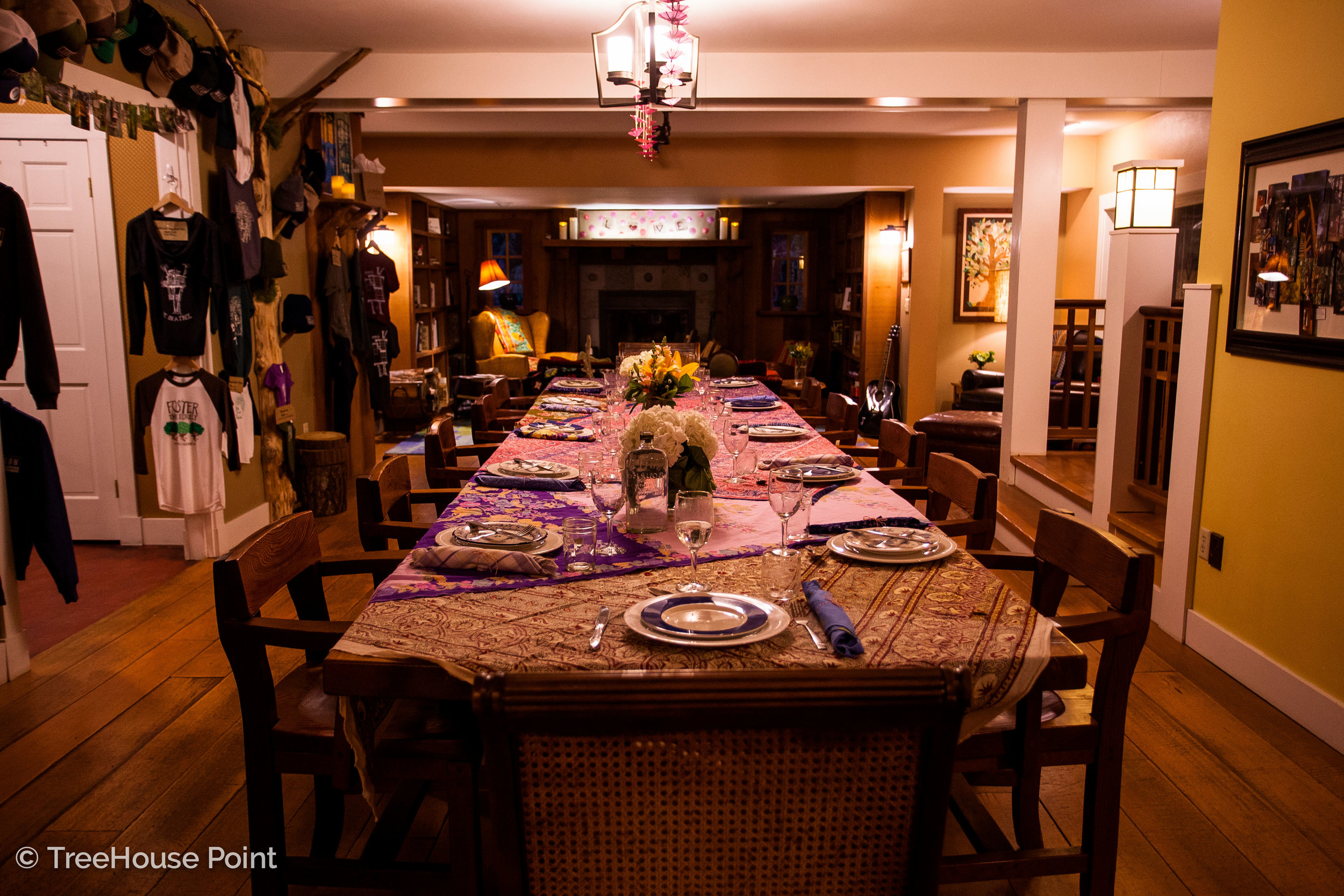 The Treehouse Point Lodge table was bedecked with colorful fabrics, eclectic dinnerware, and luscious flower arrangements.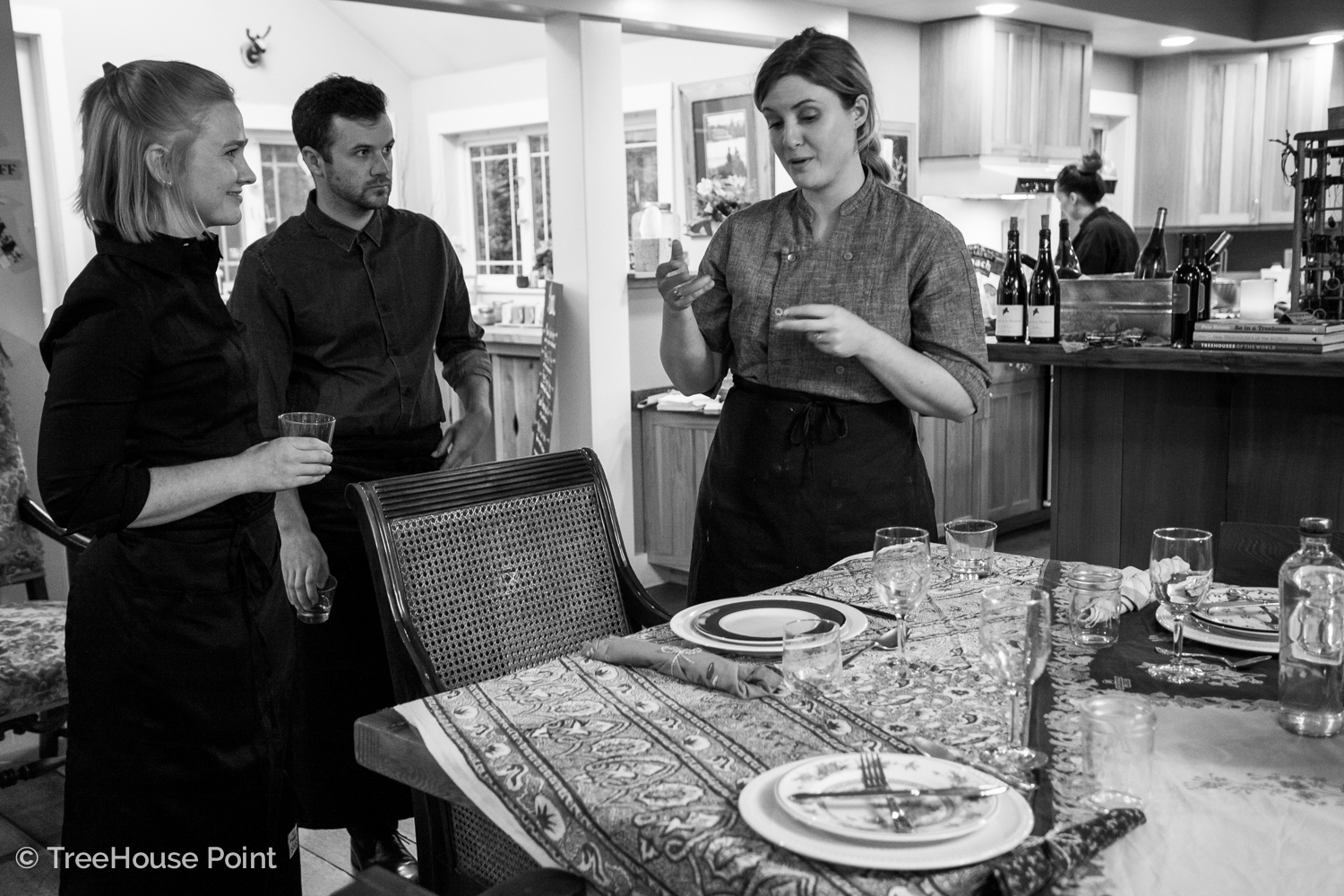 Chef Ross discusses the menu and itinerary for the evening.
Sophia Fischer (pictured on far left, above) founded Transplant Traveler to help Seattle transplants find meaningful ways to explore the Pacific Northwest and connect with the surrounding community. As a Seattle transplant herself (hailing from Houston, Texas), Fischer personally knows how challenging it can be to foment friendships and find fun adventures in the Emerald City. Fischer brings this understanding and years of experience in hospitality to her burgeoning business. Today, Transplant Traveler connects Seattle natives and transplants alike through experiences that highlight local communities and businesses.
Fischer met Ryan Ross (pictured on far right, above) a while back, and knew that she would be the perfect chef to curate a fabulous dinner at TreeHouse Point. Chef Ross describes her culinary approach as "upscale peasant," as she strives to transform seasonal, locally-sourced ingredients into simple, unfussy, and delicious dishes. She strips away the trappings of fine dining to focus on the food, and uses simple methods rooted in tradition. Chef Ross lives in Skagit Valley, WA, and serves as a private chef for clients from Seattle to Vancouver. You might recognize Chef Ross as the 2015 winner of the Food Network reality show Chopped. She also is founder and frequent host of Supper Corps, a recurring community dining experience that celebrates creative cooking and local businesses.
TreeHouse Point was honored to partner with Transplant Traveler and Chef Ross to share this one-of-a-kind dining and lodging experience with our wonderful guests on February 9th!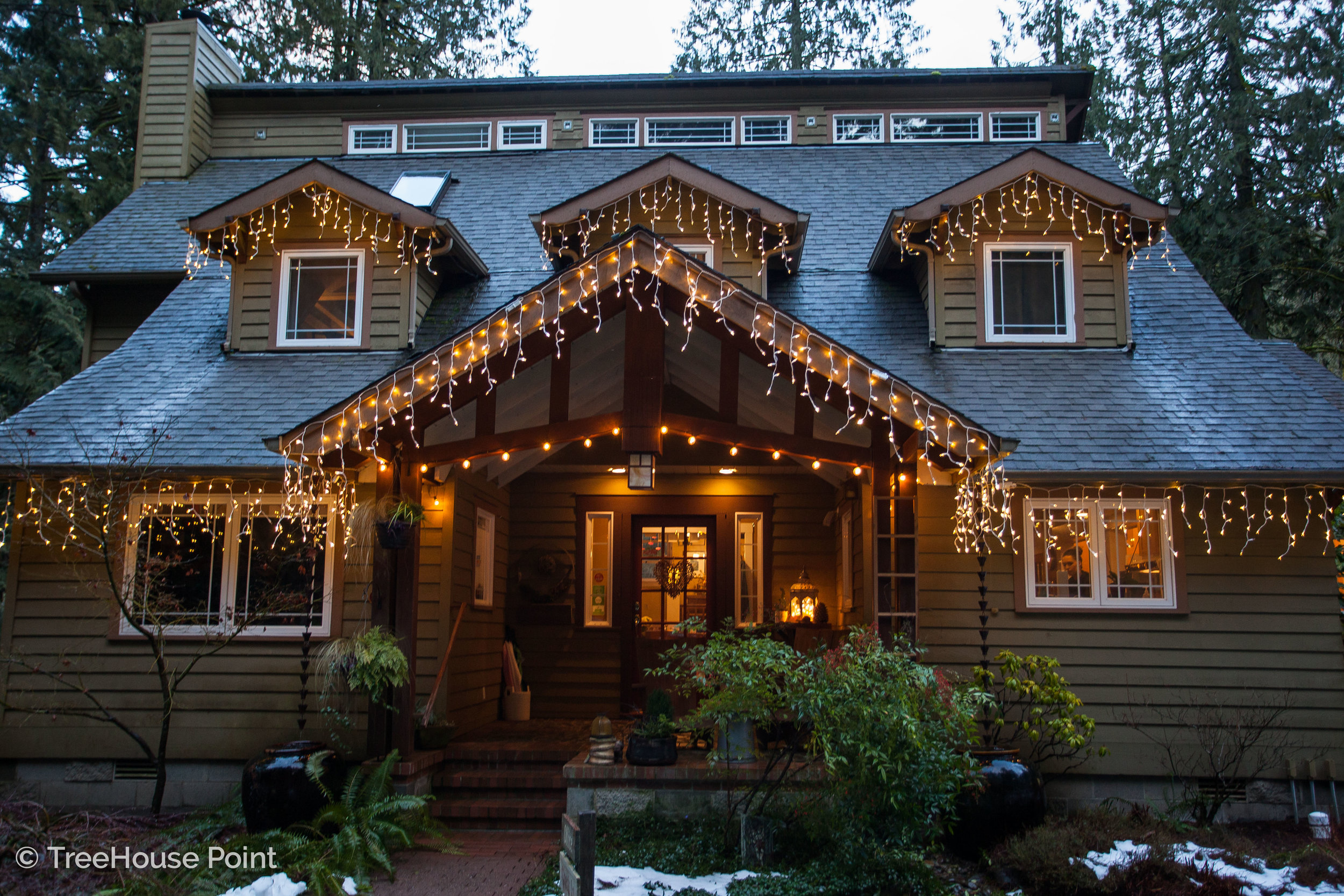 Fairy lights sparkle on the Lodge at TreeHouse Point.
The Pond seems to glow at Treehouse Point – a portend for a magical evening ahead.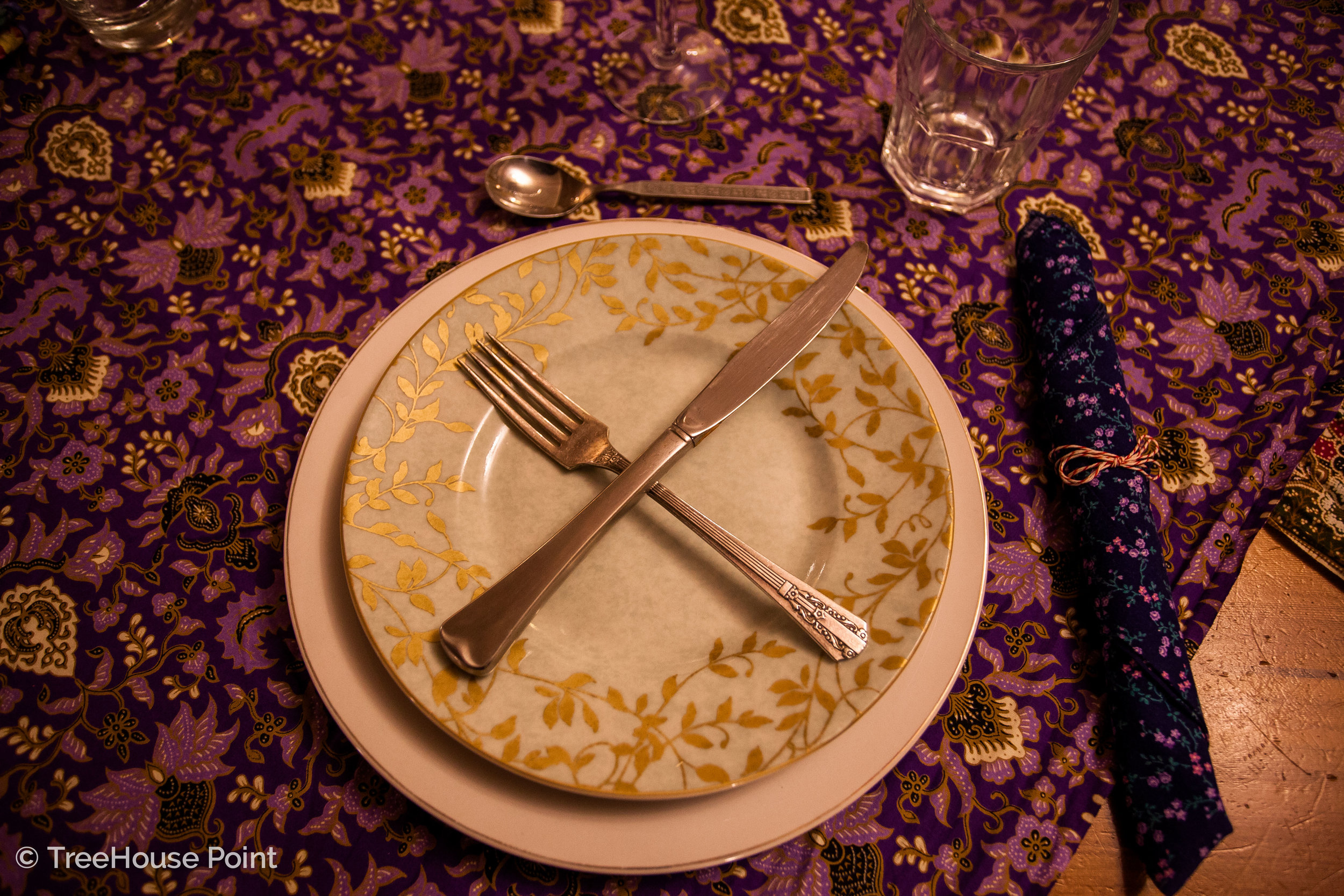 sumptuous, eclectic places set for Guests at the lodge table.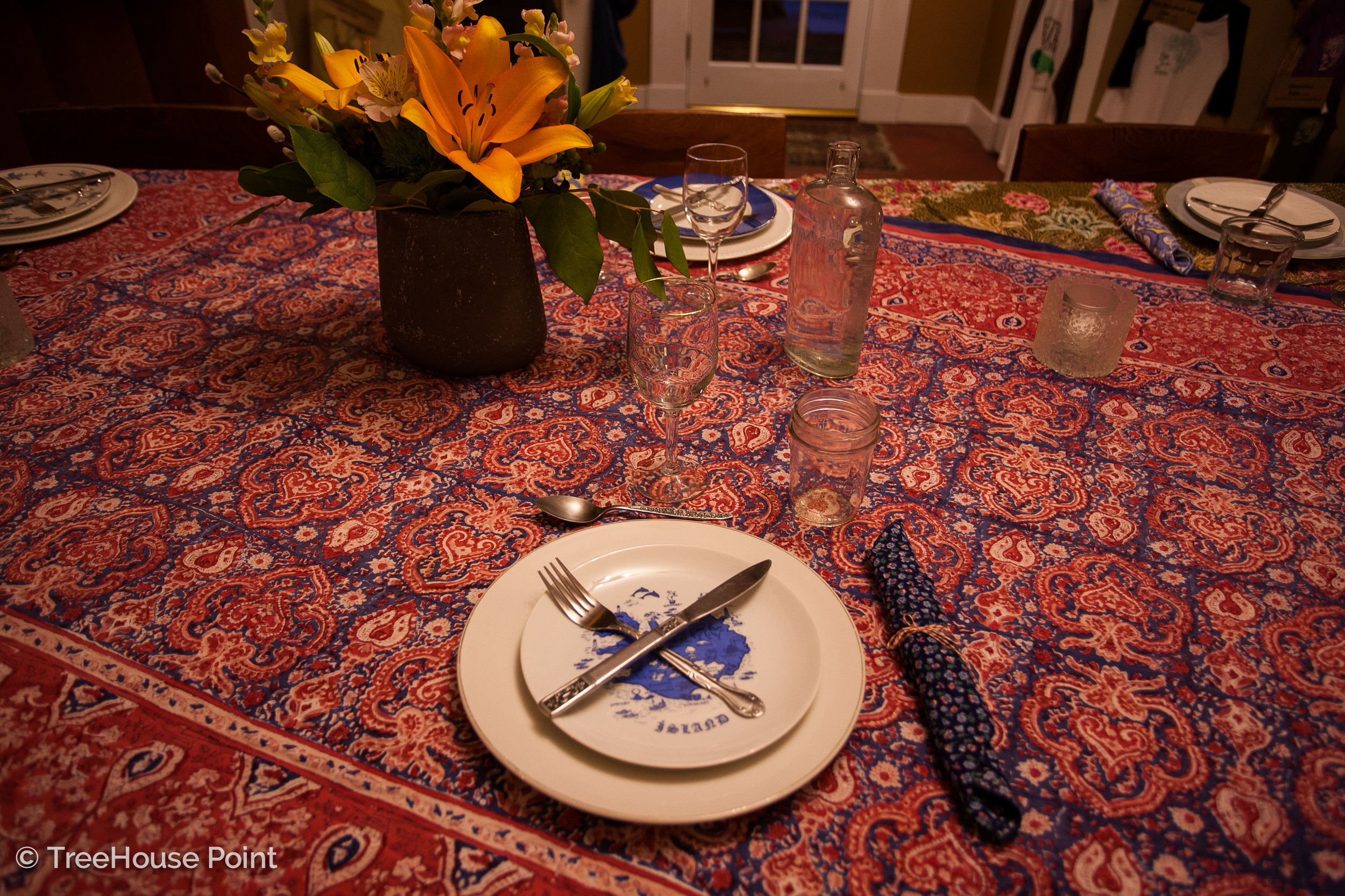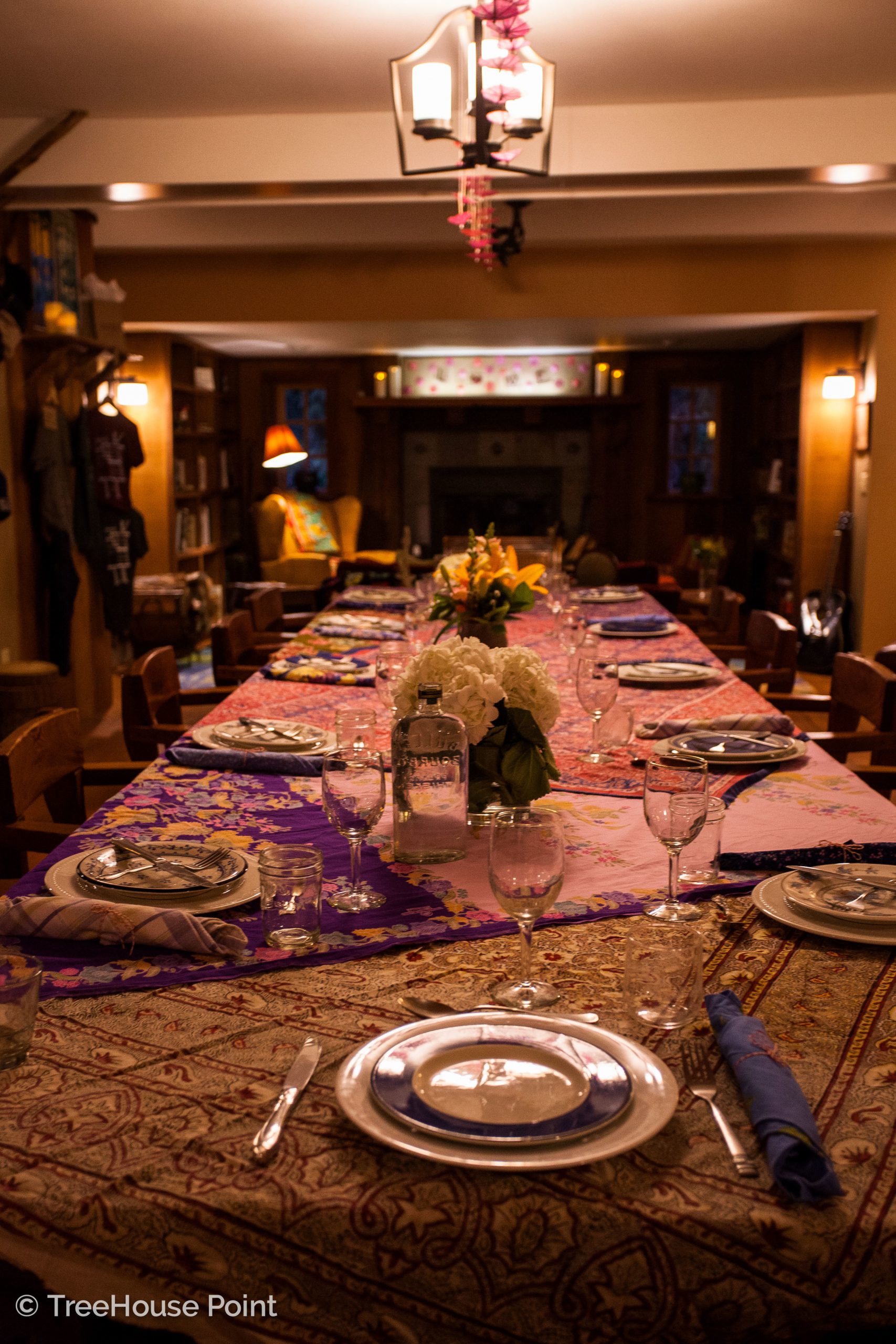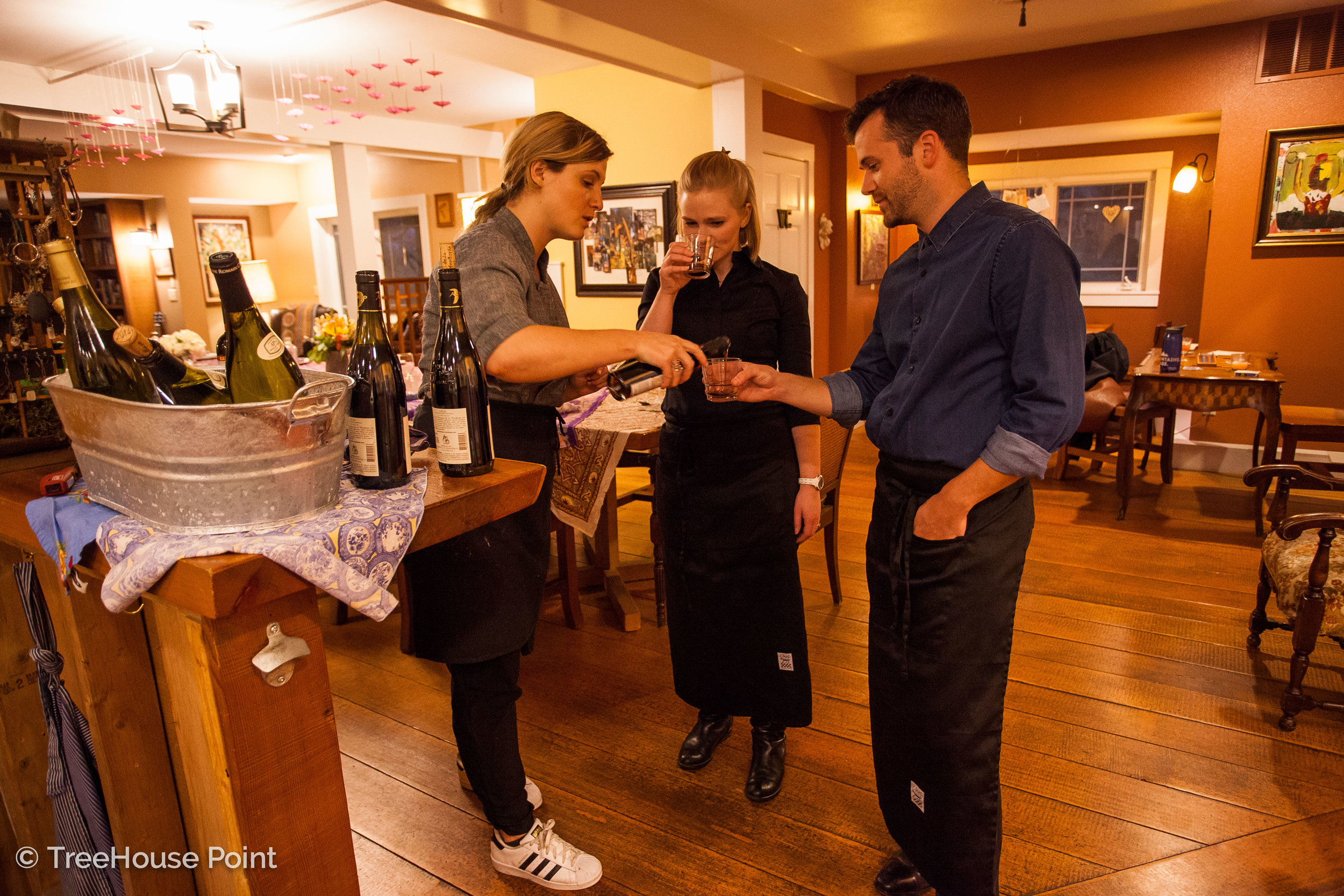 sampling wine Pairings for the menu.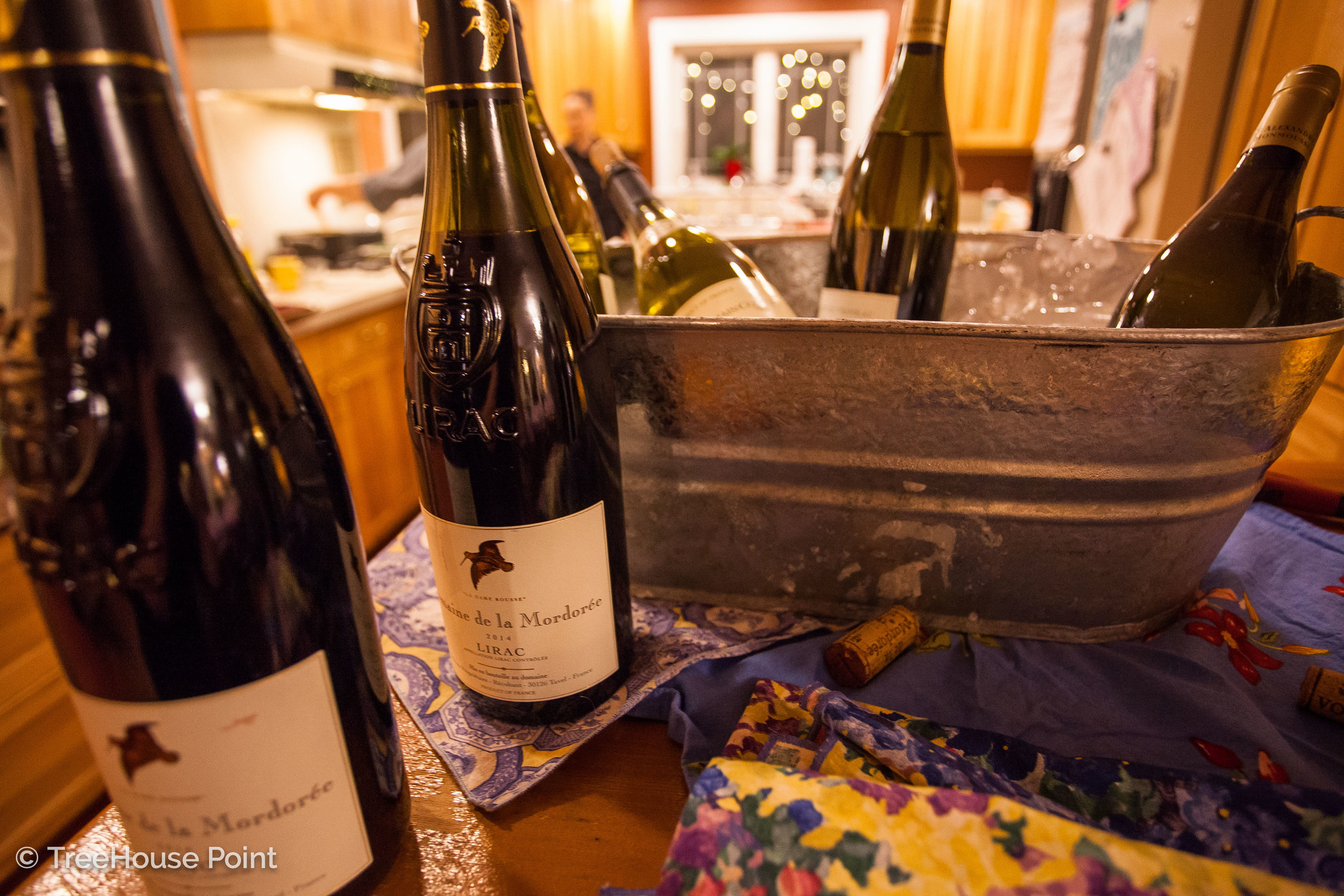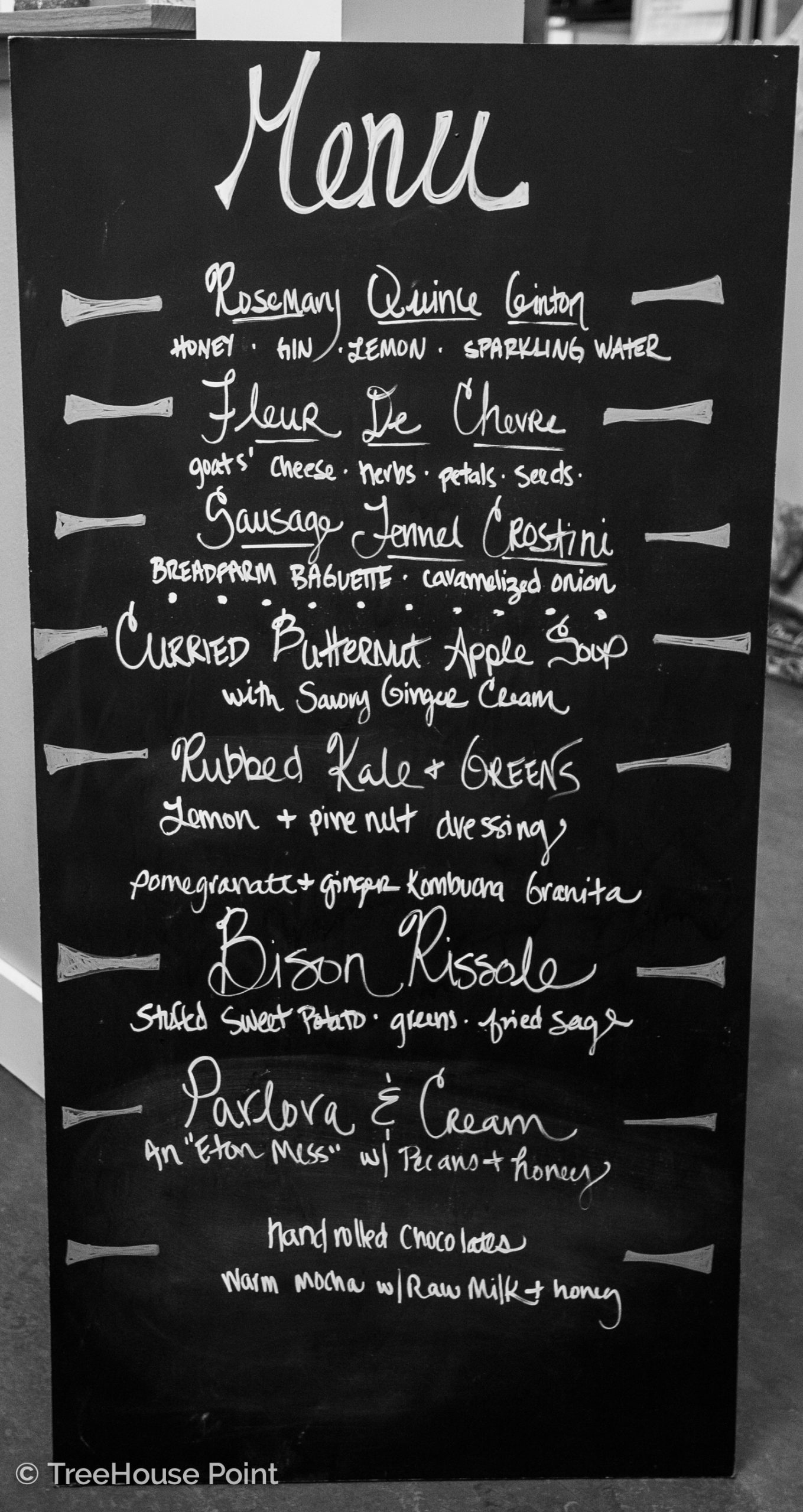 Chef Ross' Menu for the evening.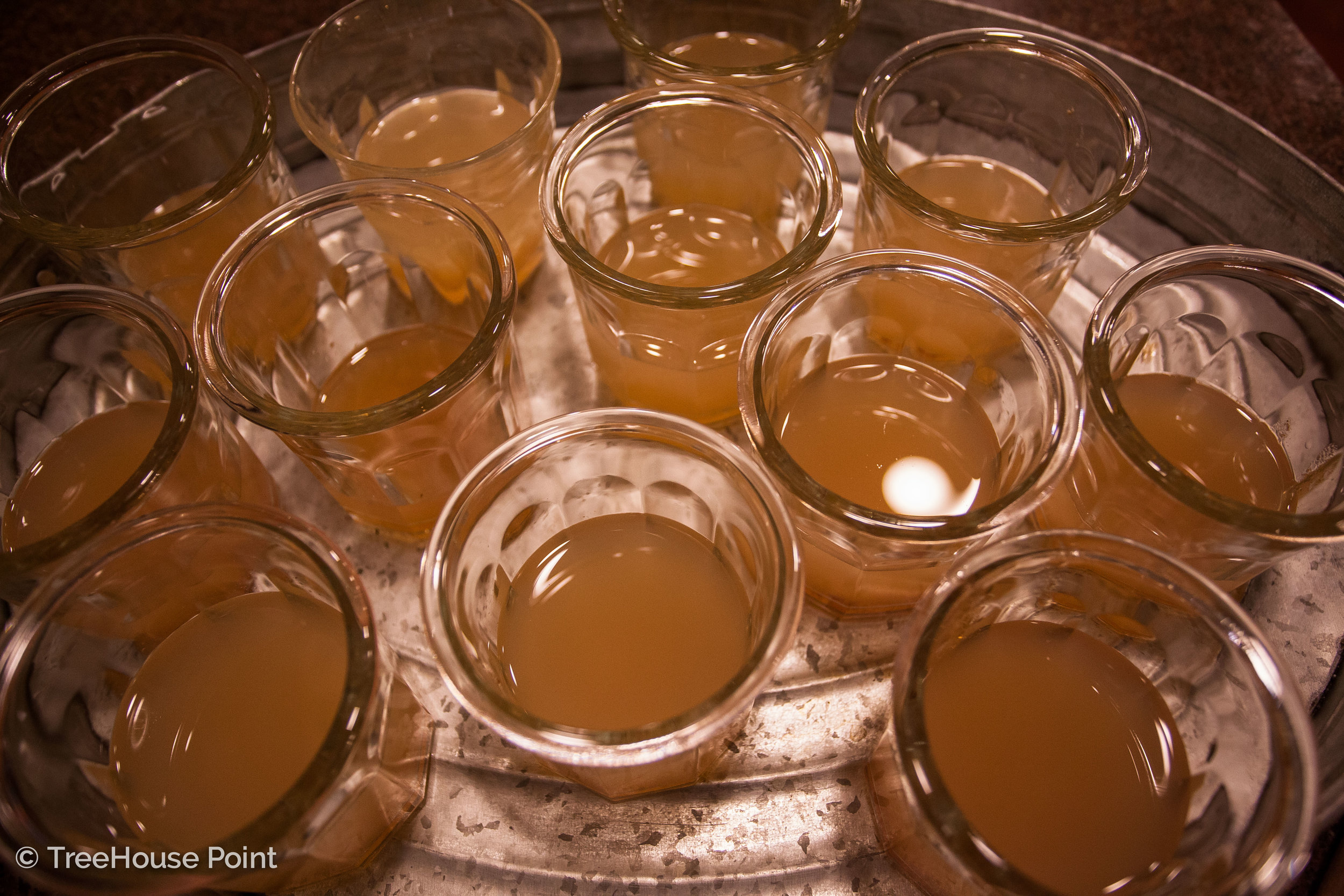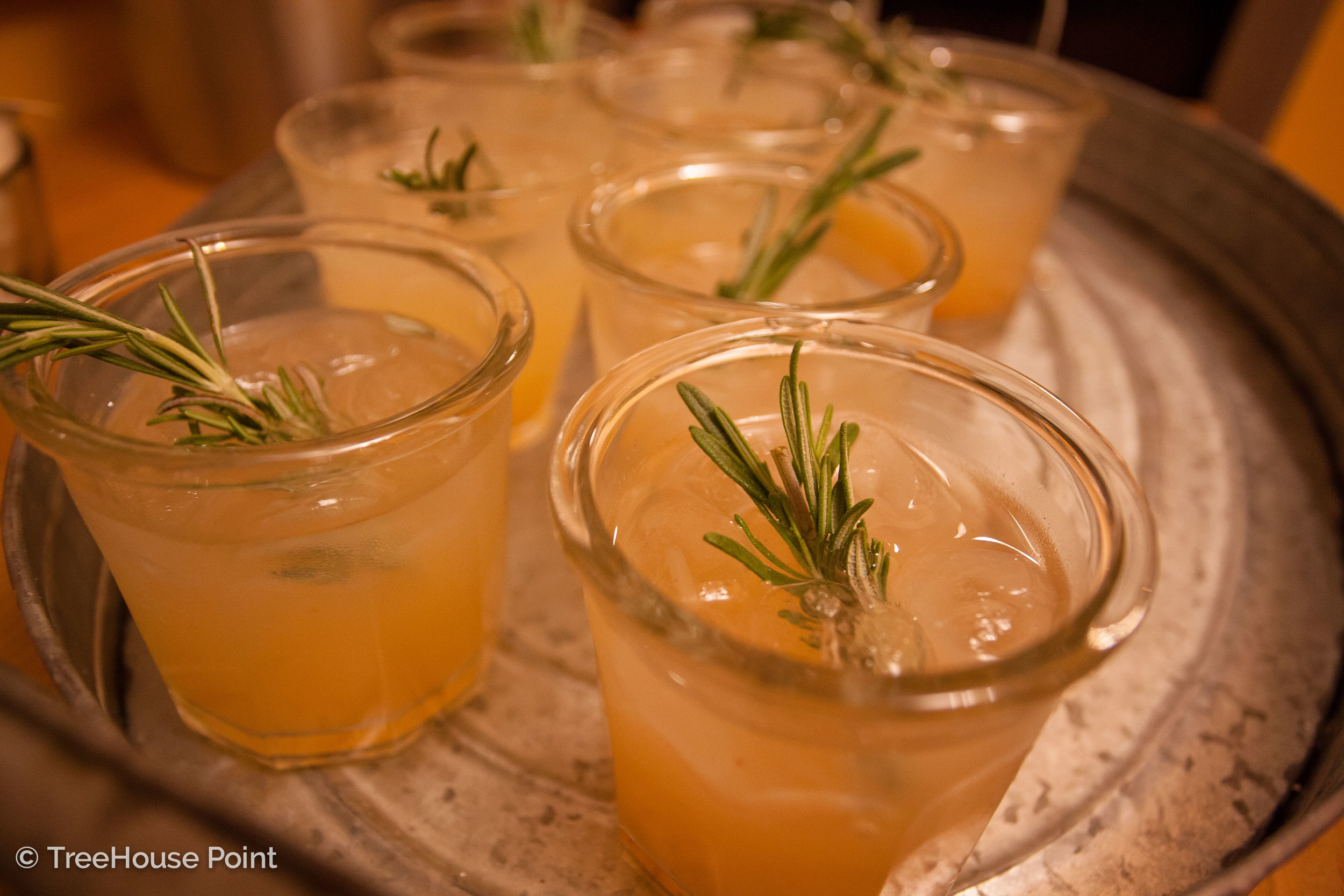 These simple, colorful cocktails are a mixture of quince-infused simple syrup, gin, honey, lemon, sparkling water, and rosemary sprigs.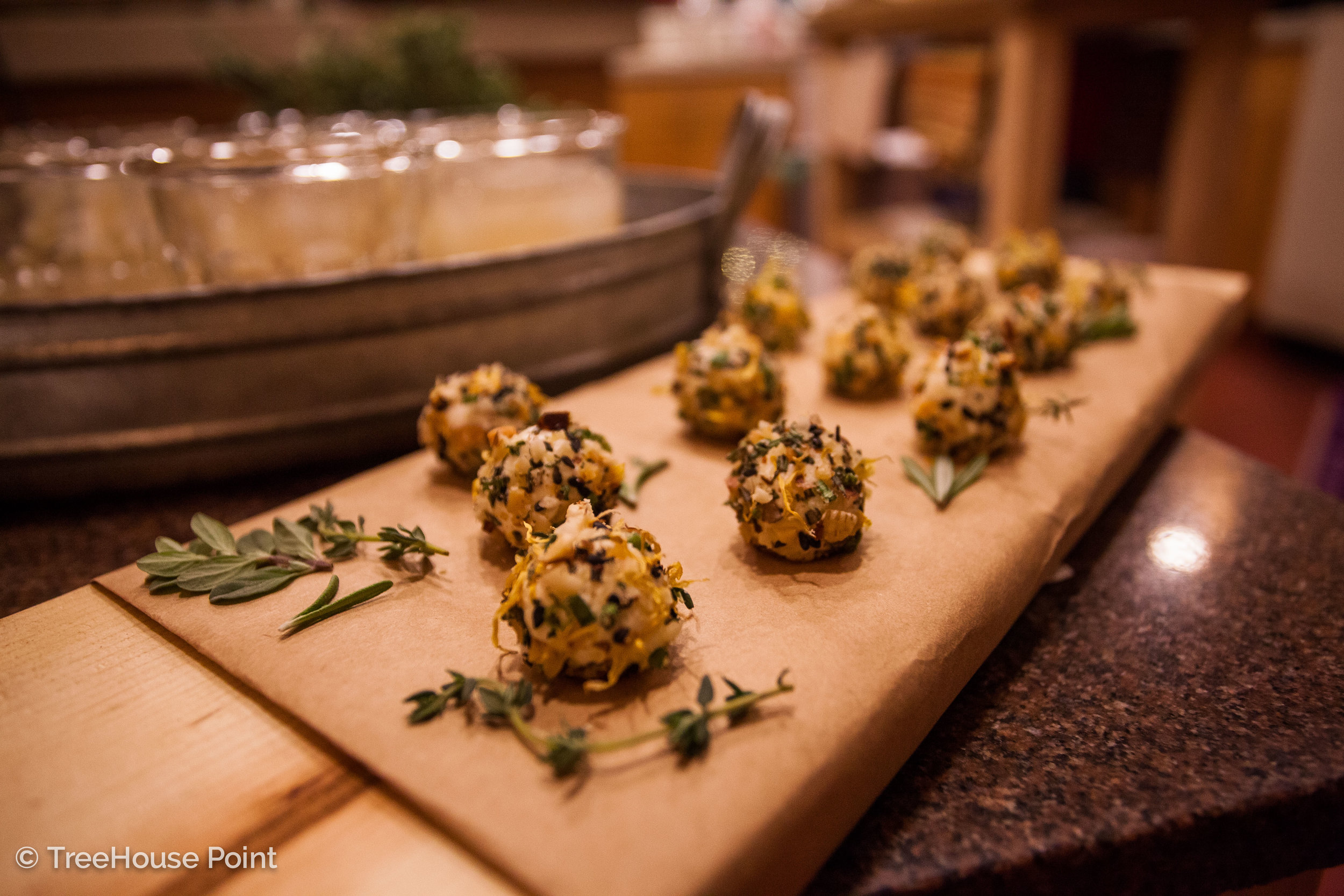 Chef Ross "winterized" goat cheese from Skagit Valley by rolling it in smoked salts, seeds, and herbs.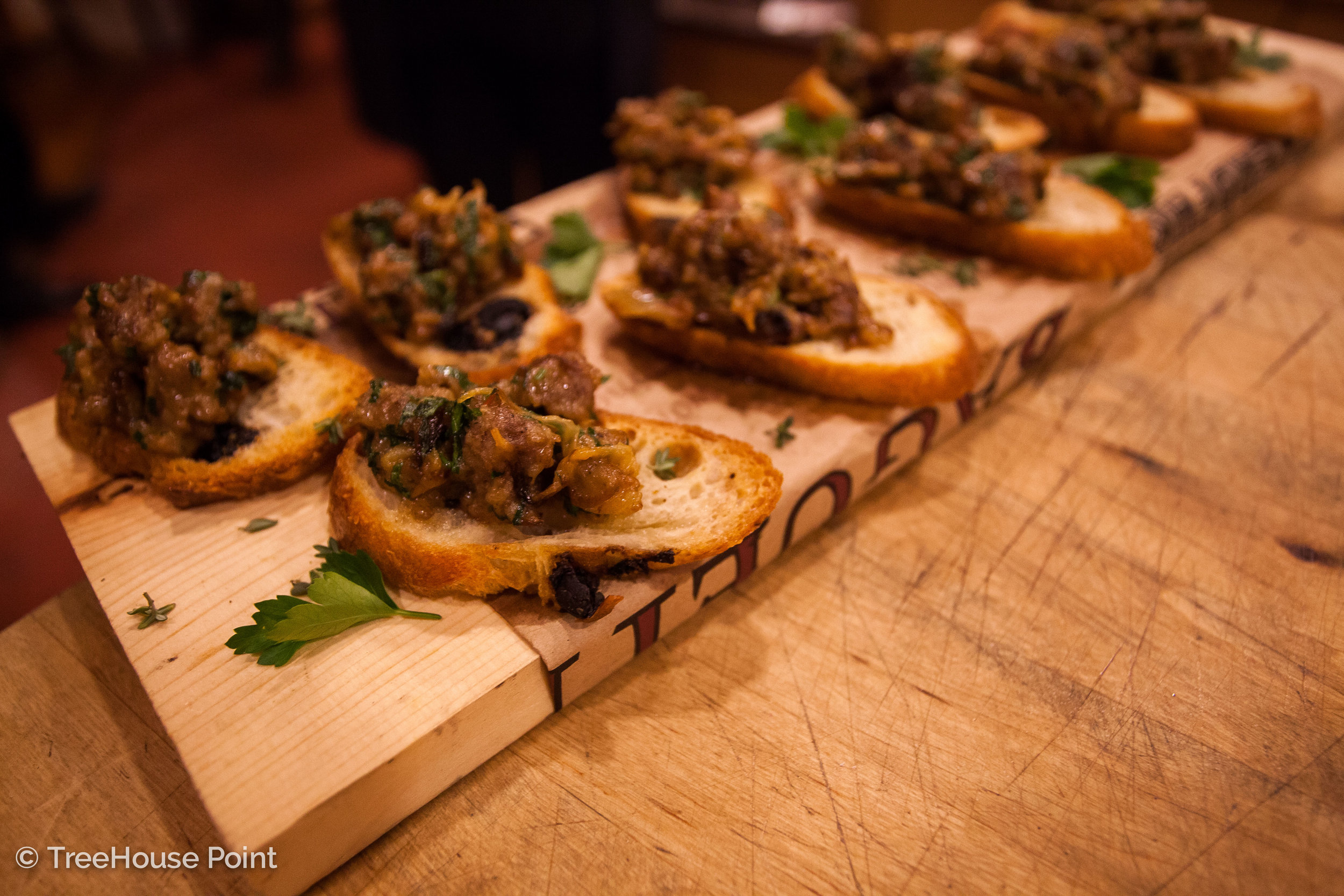 These crostini contain pork sourced from Samish Bay and a jam made of caramelized onions and fennel bulbs.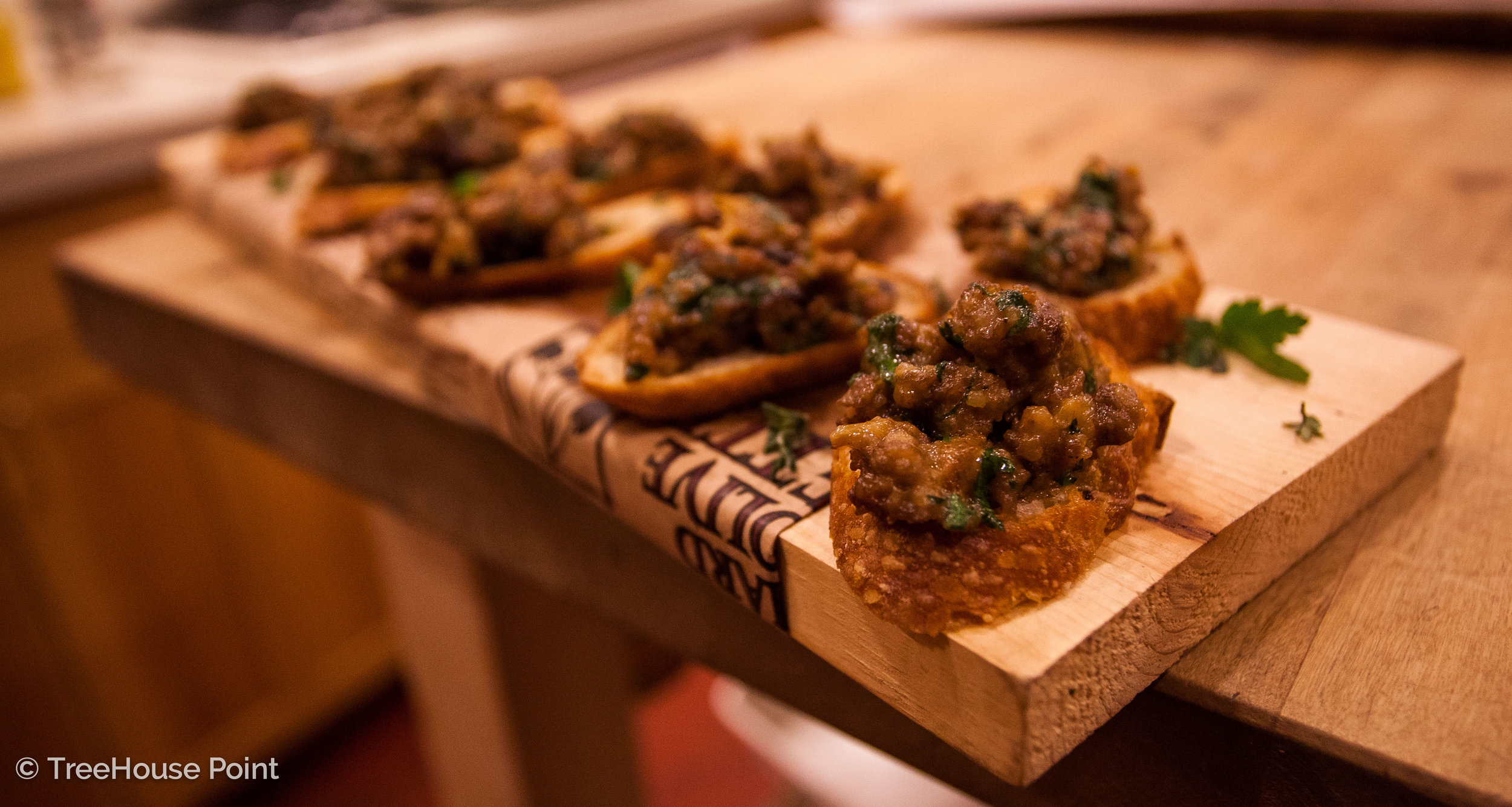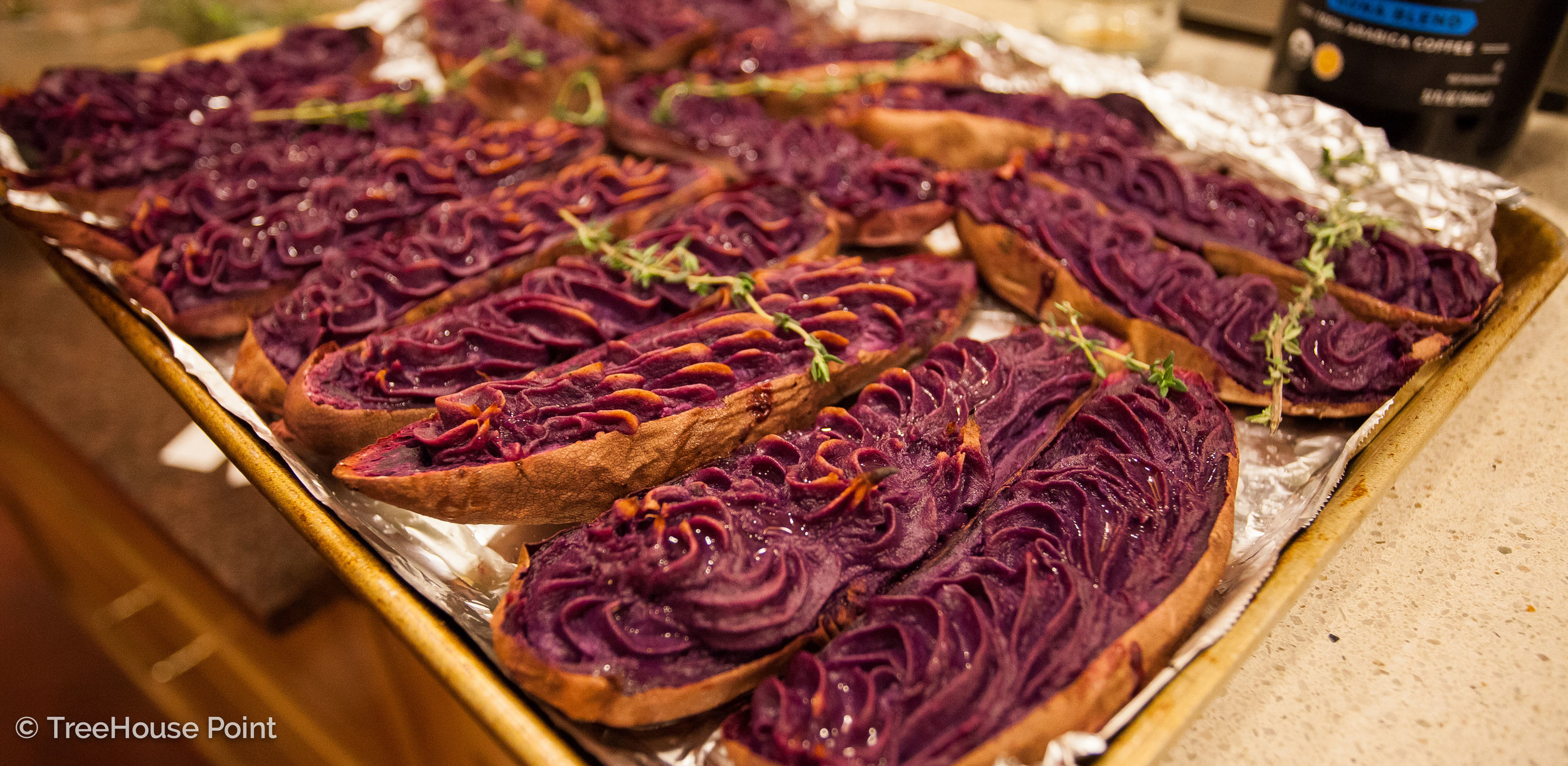 Chef Ross double-stuffed these vibrant purple sweet potatoes.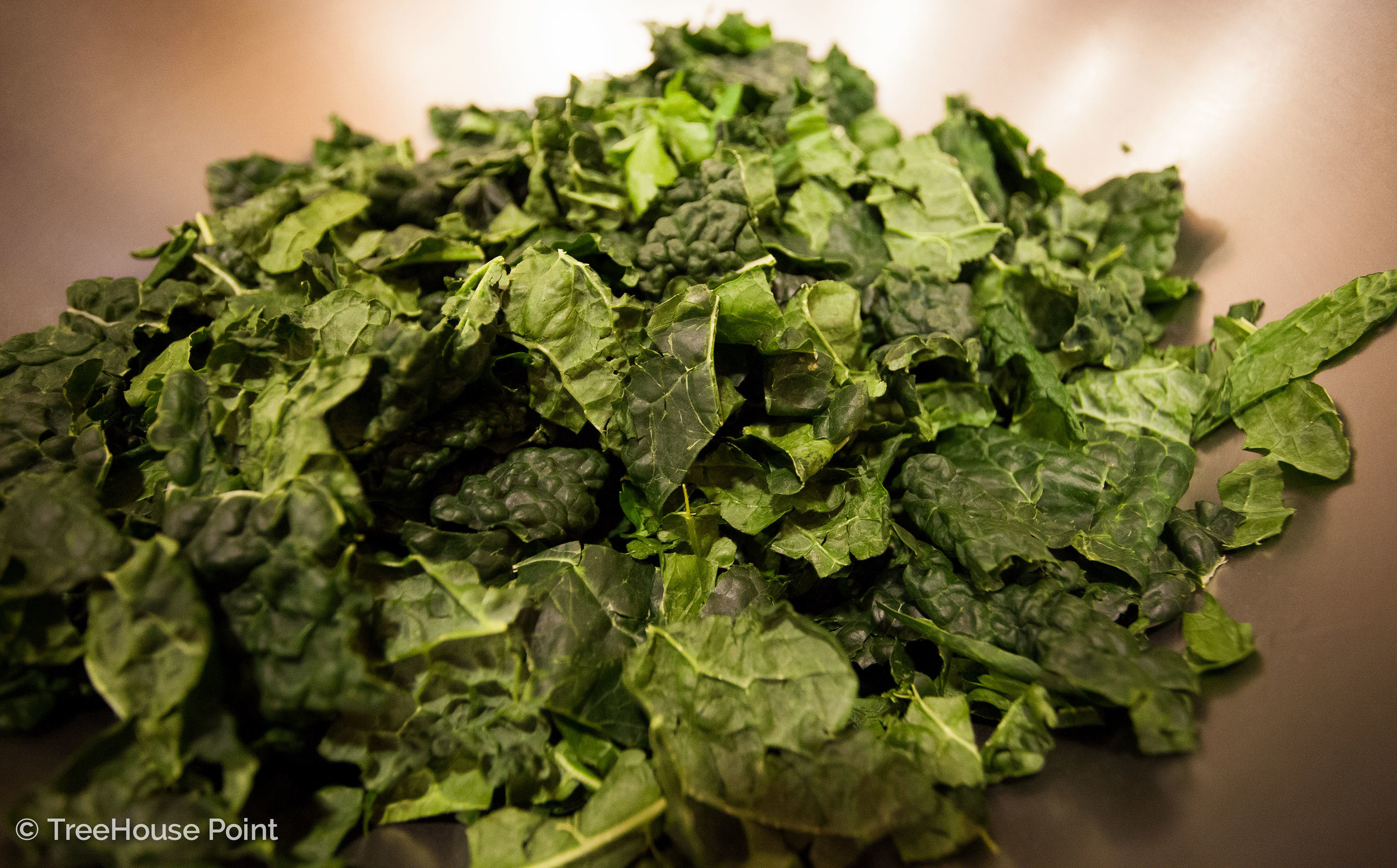 Also on the menu: curried butternut apple soup and kale salad with a lemon and pine nut dressing. Chef Ross selected ingredients like kale and butternut squash that naturally abound in the winter.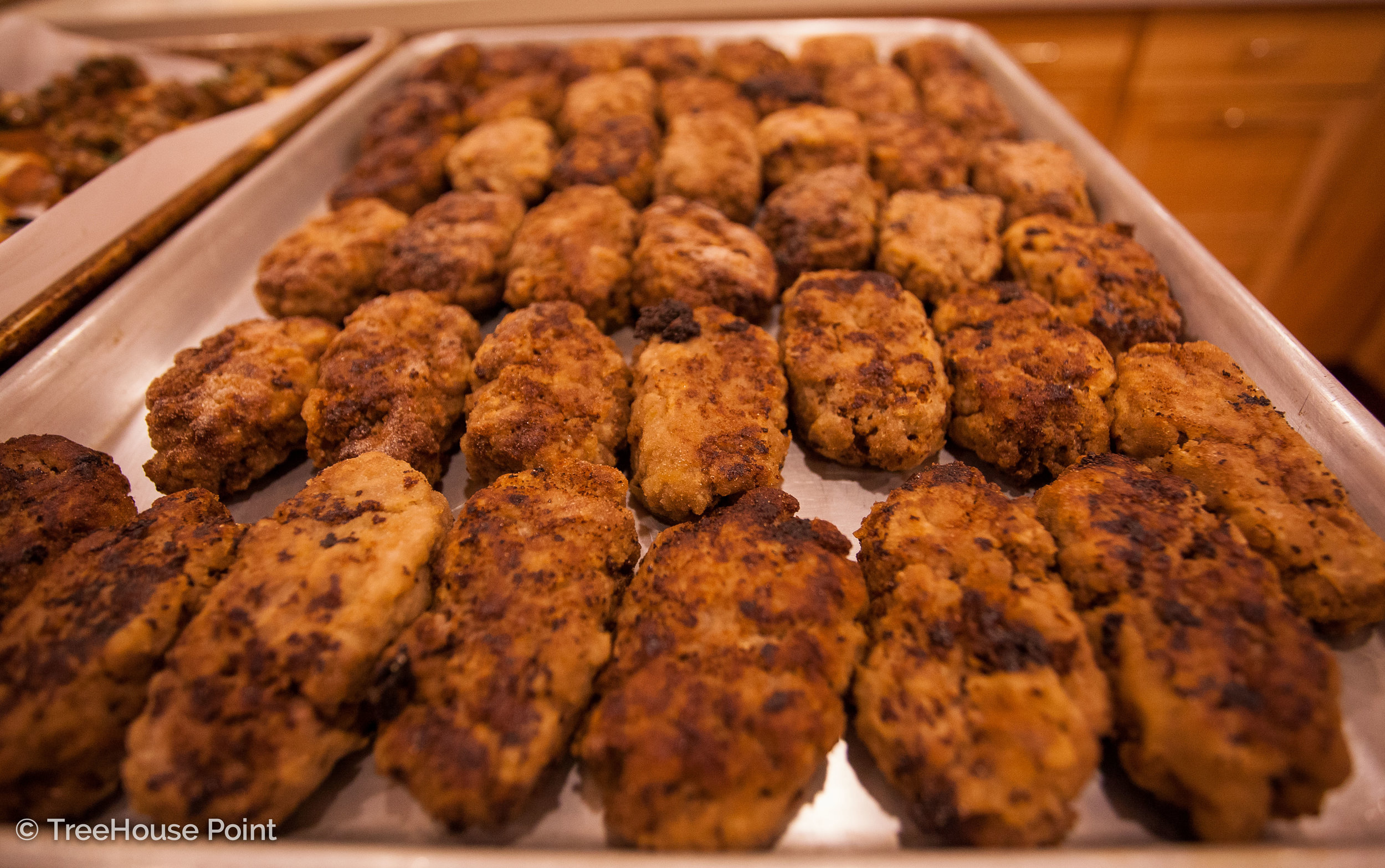 These bison rissole constituted the last course before dessert: pavlova and whipped cream with honey and pecans.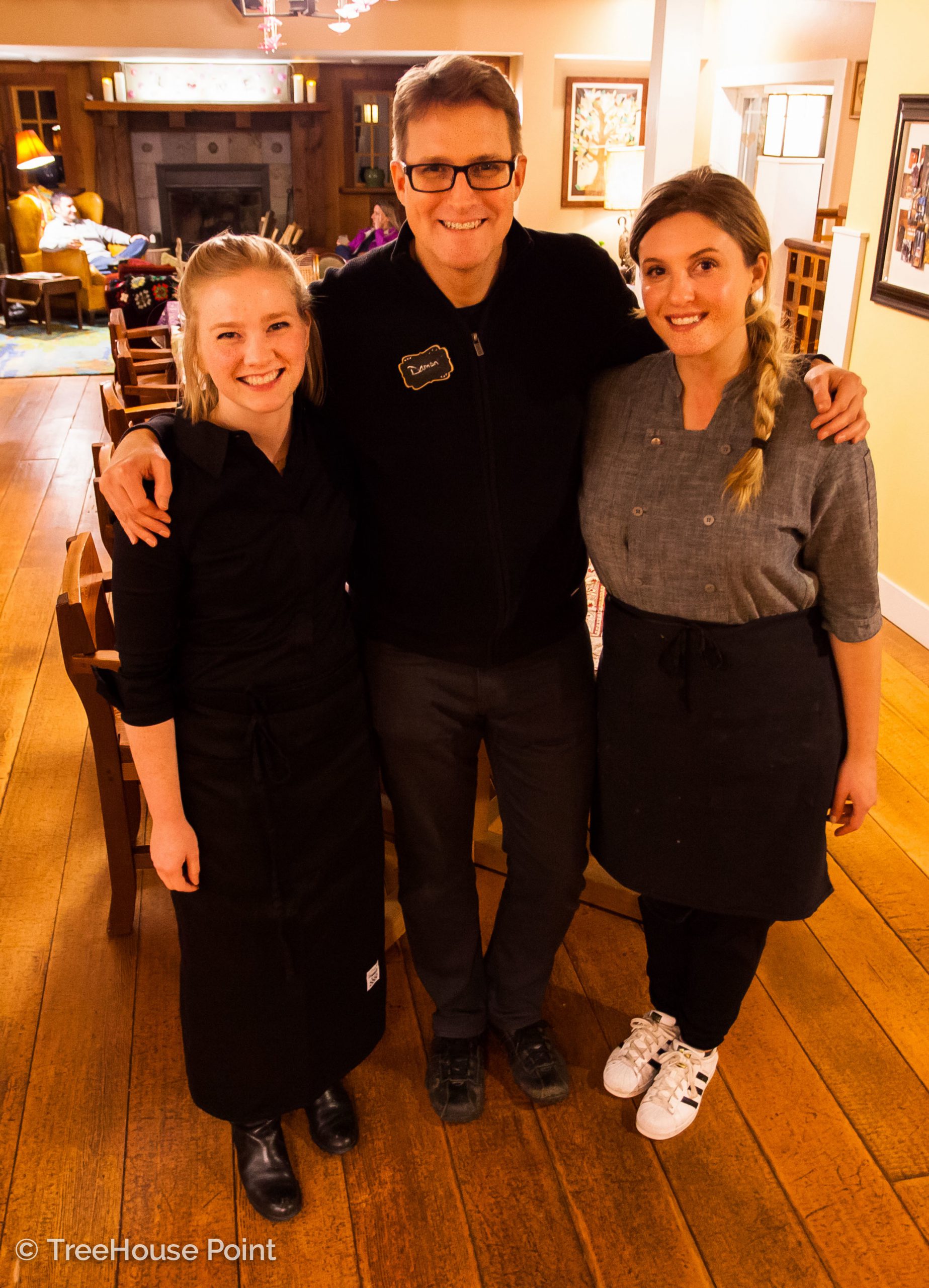 Pictured Left to right: Sophia Fischer (founder of Transplant Traveler), Damon Bishop (manager of Treehouse Point), and chef ryan ross.
TreeHouse Point was honored to host guests for such a special dining experience and one-night stay in the trees! Thank you, Sophia and Chef Ross, for your inspiring partnership!
You can find more information about Transplant Traveler here on their website, and follow them on Instagram at @transplanttraveler. For more on Chef Ross, check out her website, and follow her Instagram account, @chefryanross.
To be among the first to hear about upcoming special events at TreeHouse Point, please subscribe to this mailing list and follow us on social media. And for more information about visiting TreeHouse Point, please head to www.treehousepoint.com.
Wishing you love and trees!