Valentine's Day is here, spring is on its way, and love is in the trees! These Valentine's Day vibes have got us feeling starry-eyed; we can't help but dream of love sonnets, long walks on the beach, and our favorite TreeHouse Point weddings and elopements. Today, we're reminiscing about Katie and Andy's romantic and cheerful TreeHouse Point elopement. You're going to fall in love with this sweet couple's story! Read on for photos and details worth dreaming about…
Interested in tying the knot at TreeHouse Point? Find more information here!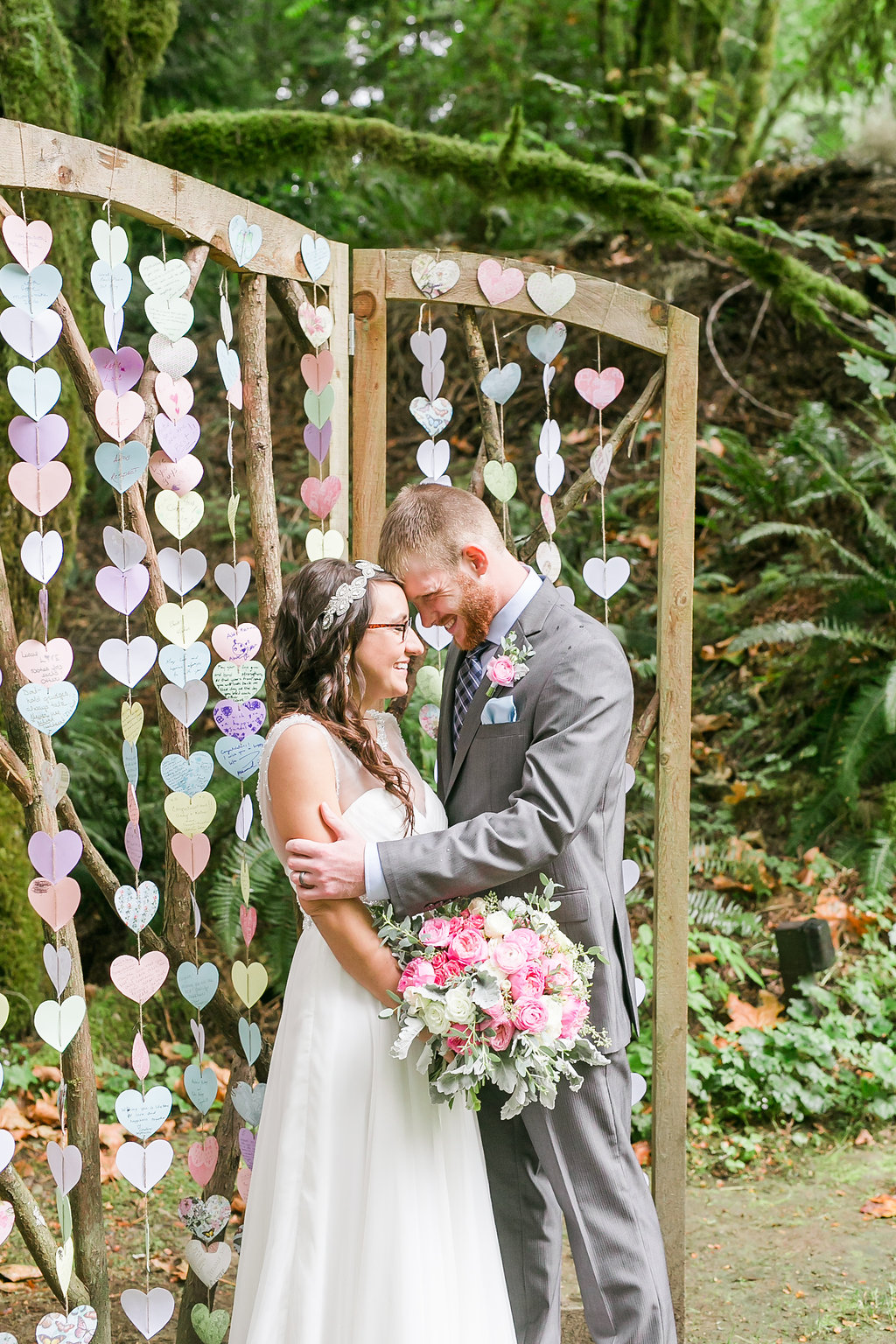 All photos by Lloyd Photographers
Katie and Andy met in Wisconsin and dated for five years before getting engaged on a beach at Lake Michigan. Katie fell for Andy's lightheartedness and contagious laugh. The couple shares a love for hiking and the outdoors, and approaches life with a hearty sense of humor.
Katie and Andy immediately knew that they wanted an elopement rather than a full wedding. The year before, the couple had attended NINE weddings, and had borne witness to how expensive and tiring the wedding planning process can be. They decided to forgo the stress and focus on their own romance with an intimate elopement. In Katie's words, "We're 100% happy that we went with an elopement and would highly recommend it to others. It made the day so stress-free; there was no timeline and it was just about us."
Eloping also enabled Katie and Andy to be wed at a special destination. Initially, the couple had planned to elope in Seattle en route to a honeymoon in Alaska, but once they found TreeHouse Point they decided to nix the Alaska portion of their adventure. Katie fell in love with TreeHouse Point's lush, magical beauty; as she said, "It looked like a fairytale! We didn't know anyone who had been married somewhere like that, and were really drawn to it." The couple stayed in the Burl treehouse after their ceremony, and can't wait to return for another visit.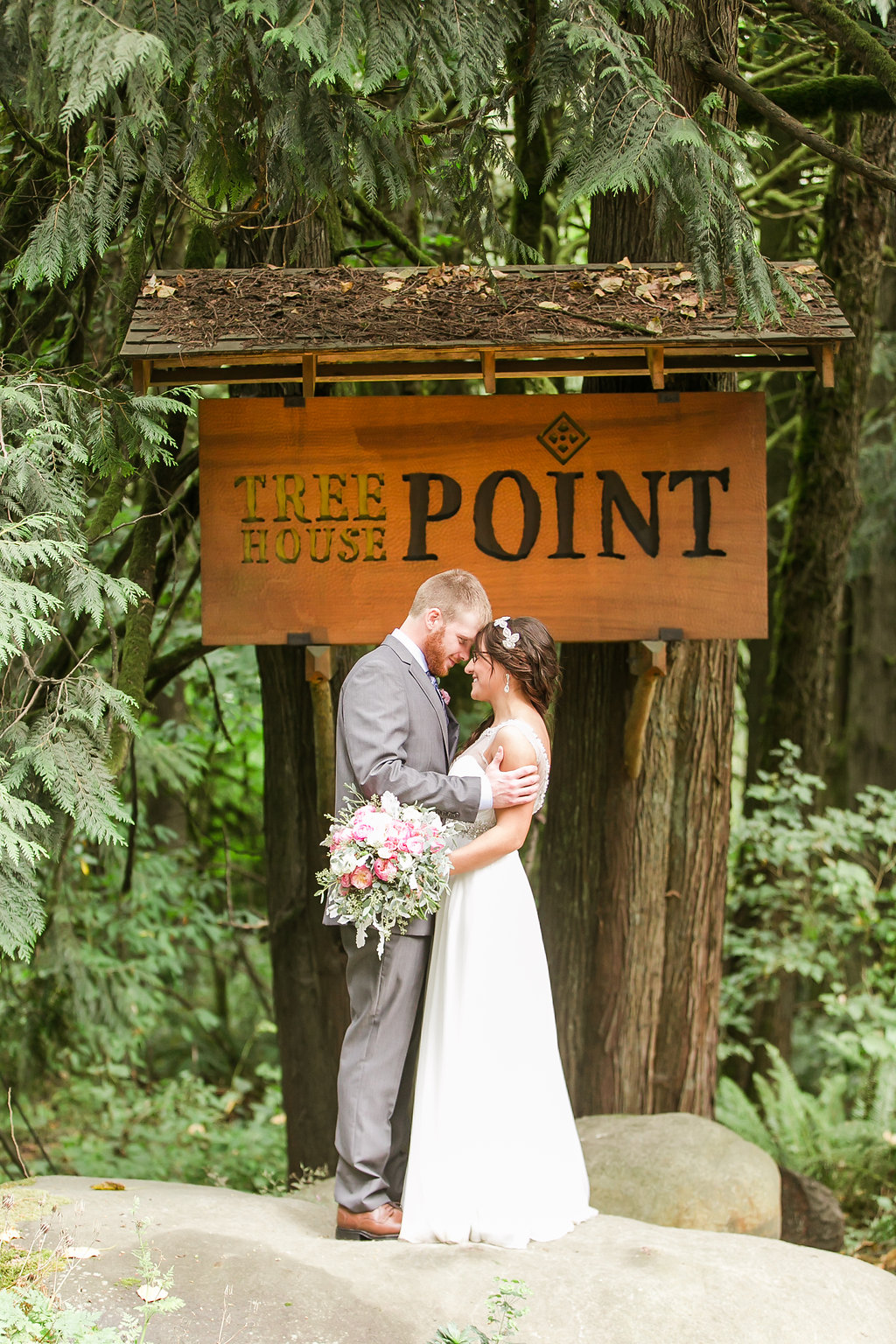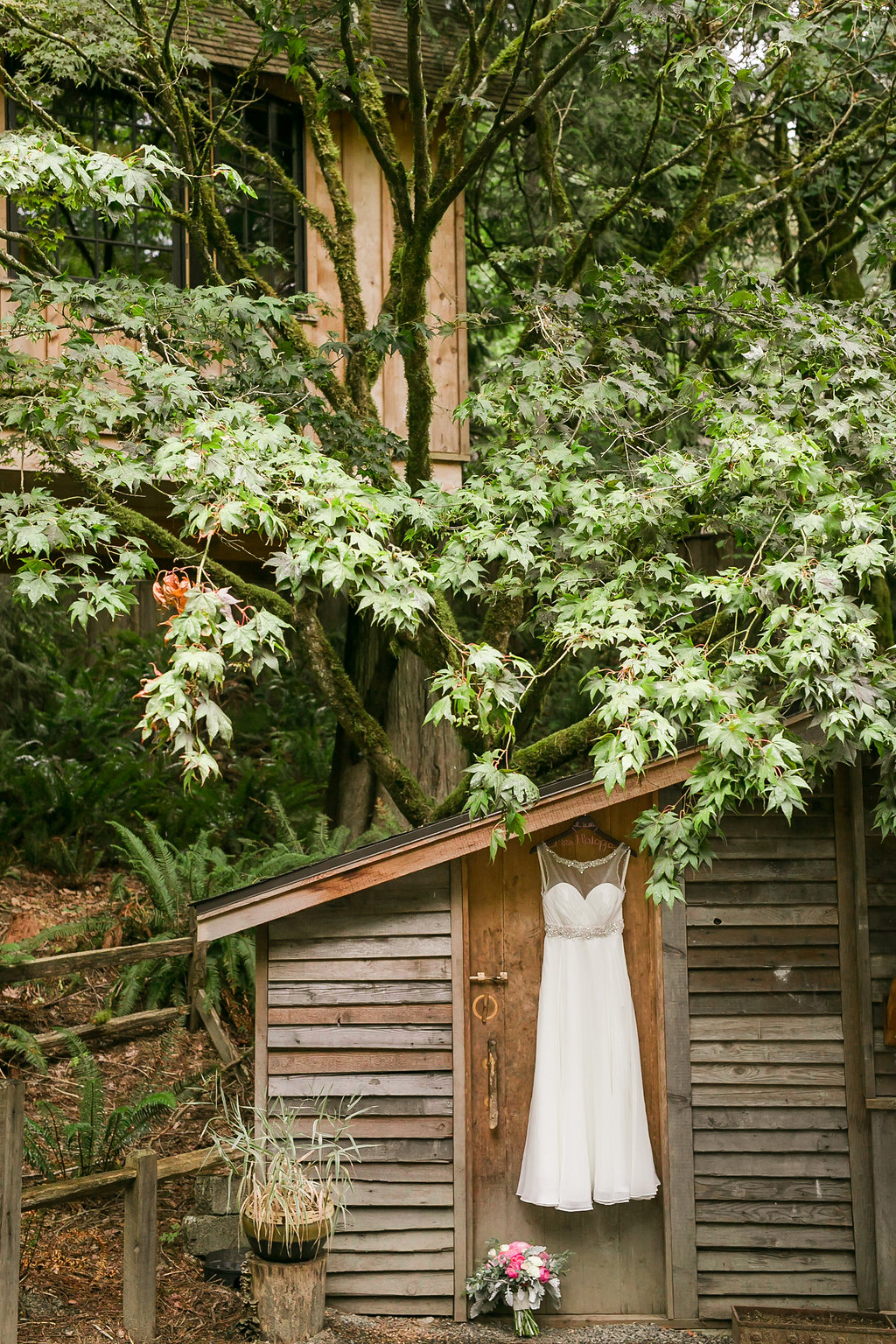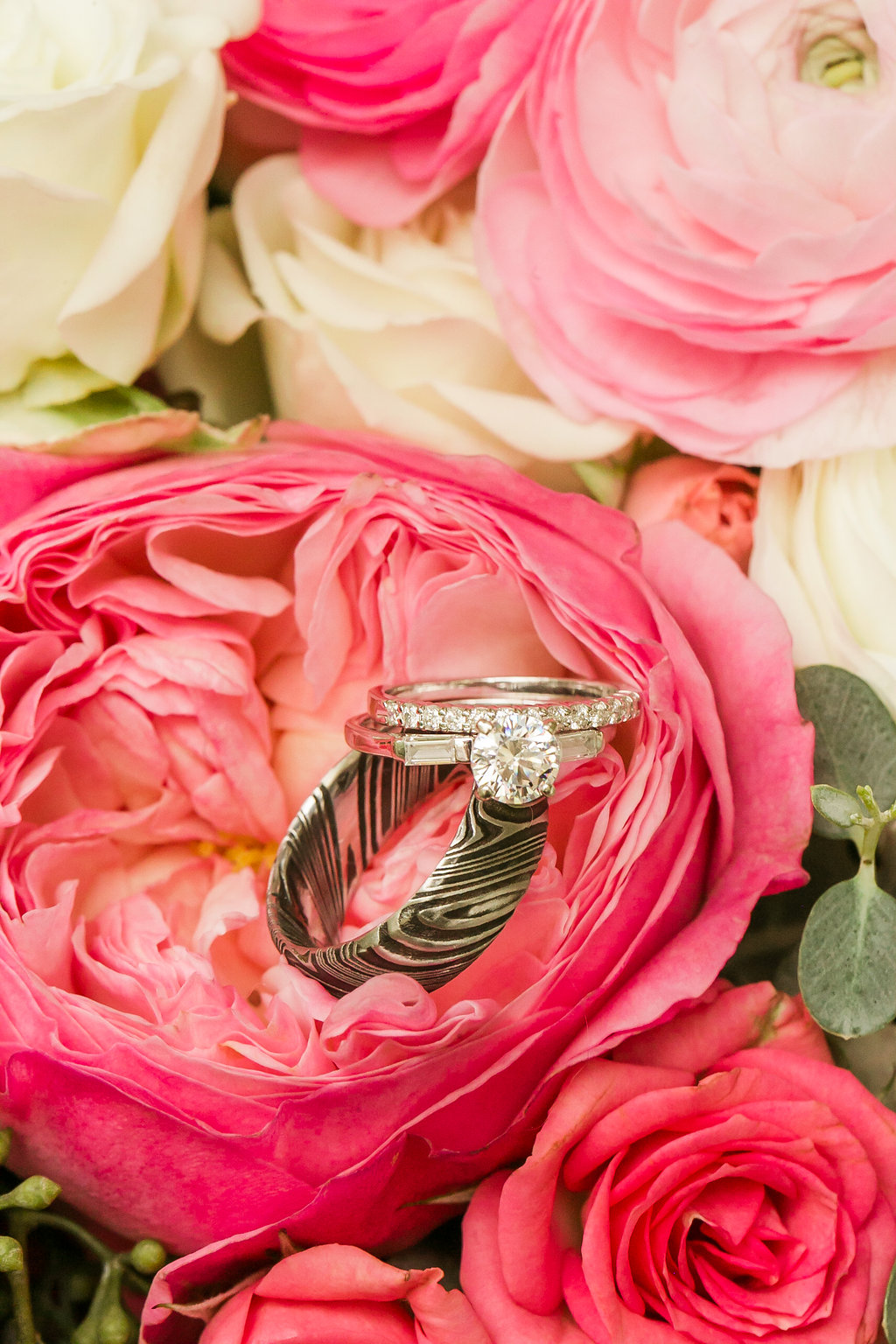 Andy's unique ring is of damascus steel; its metal wood grain aesthetic coincides with the couple's woodsy elopement. Down to Earth Flowers created these sumptuous, cheery florals.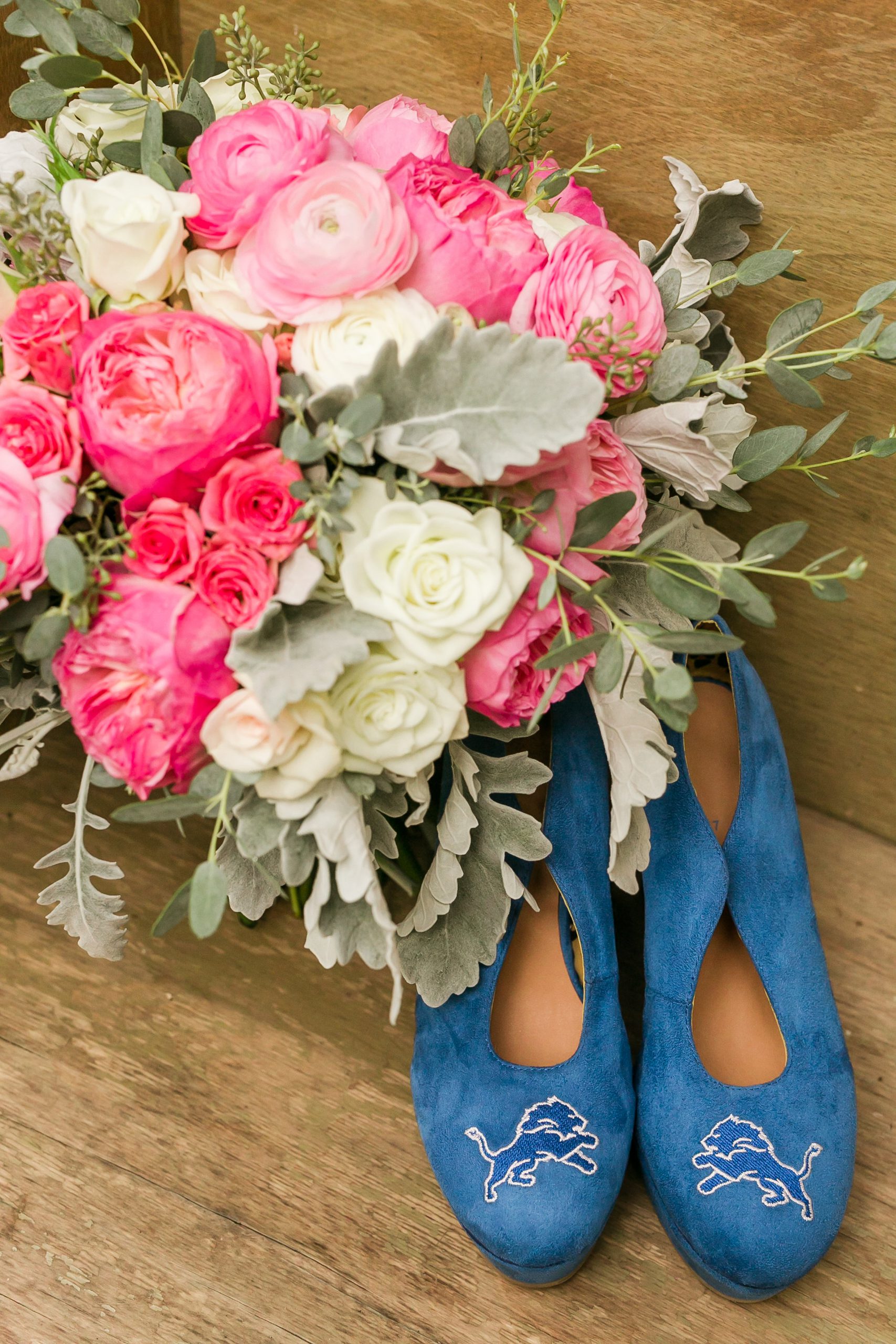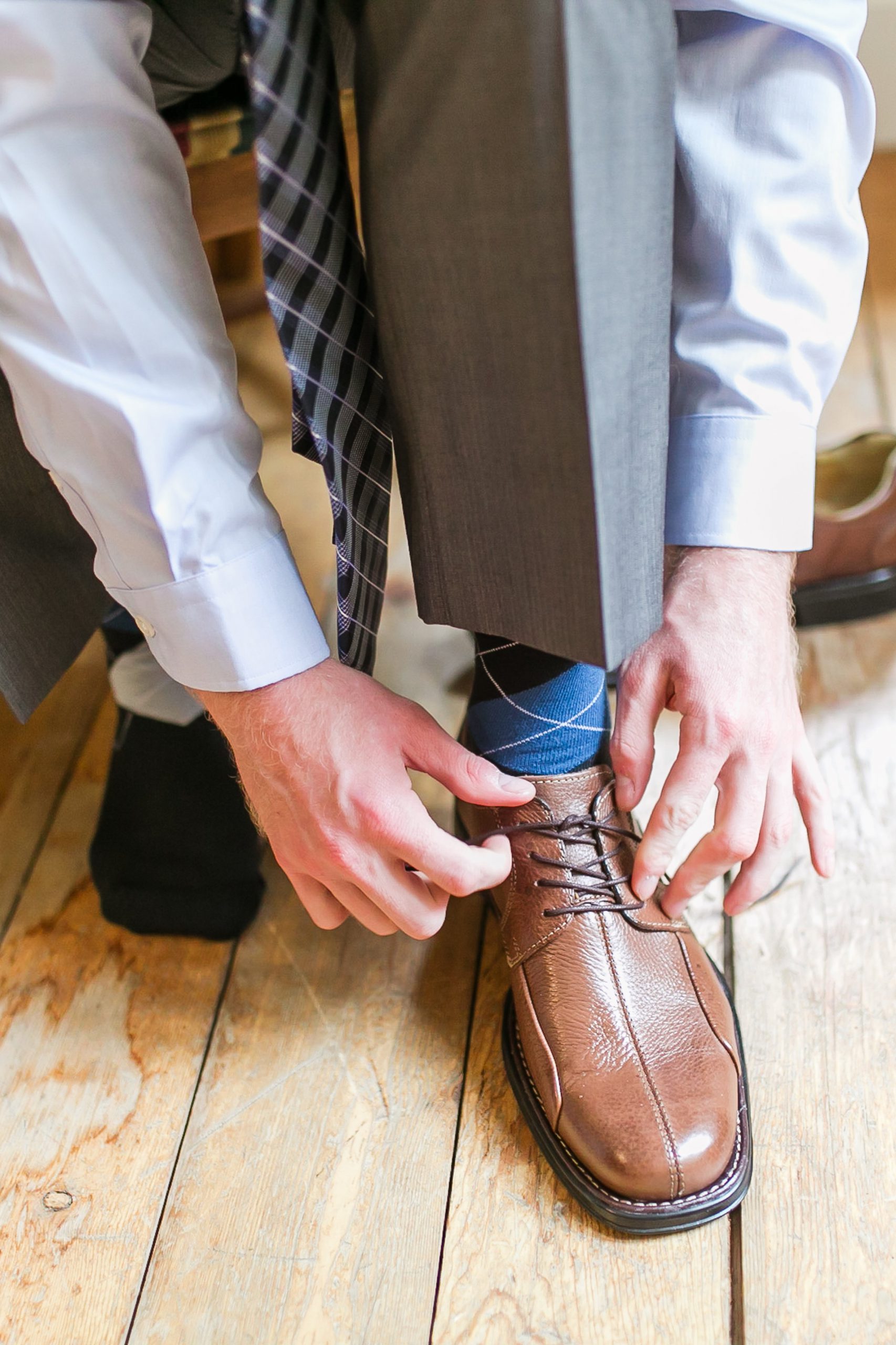 Katie and Andy are huge Detroit Lions fans, and incorporated their pride into the elopement through festive footwear!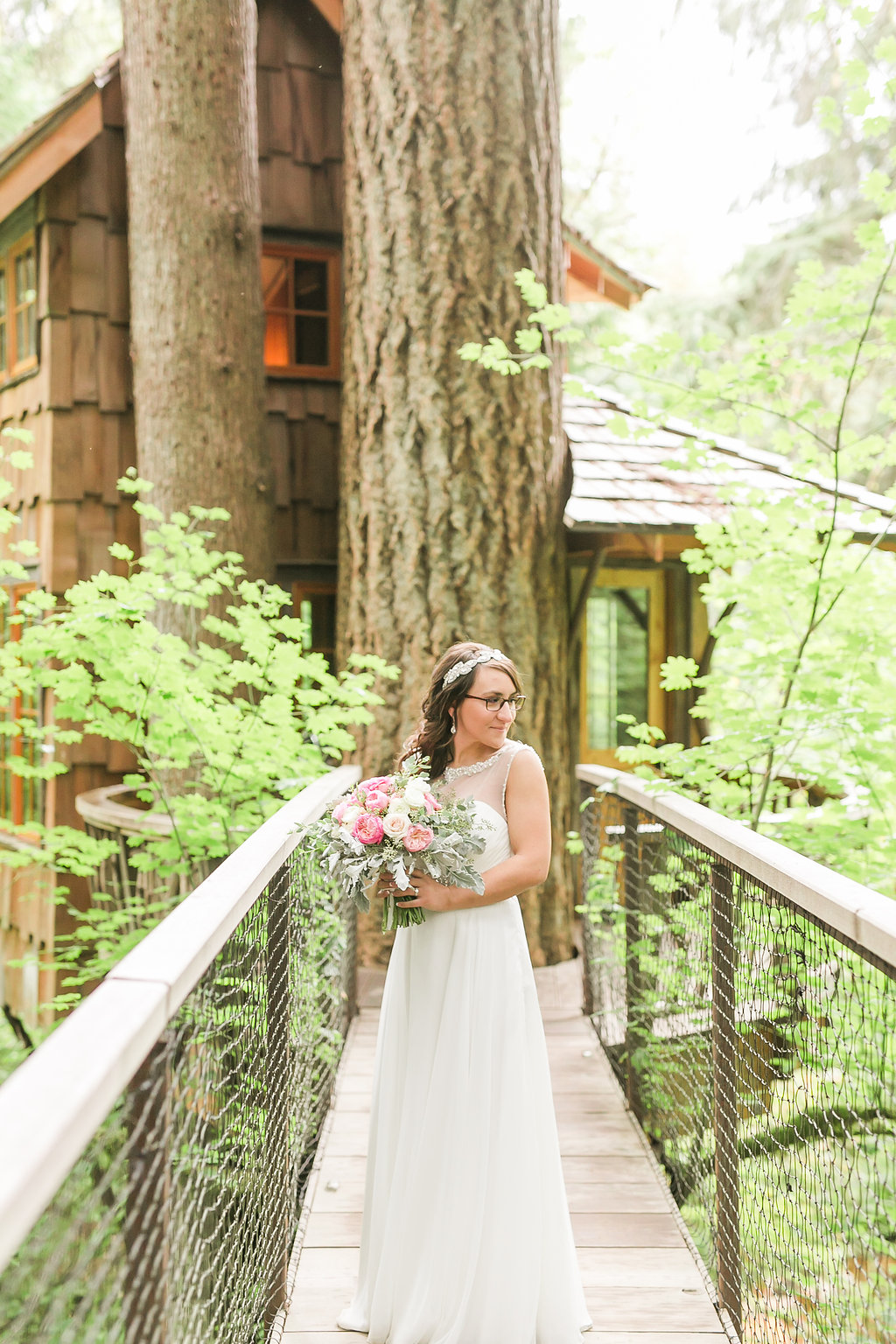 Before their ceremony, the couple posed amid the verdant forest and rustic treehouses for gorgeous photos by Lloyd Photographers.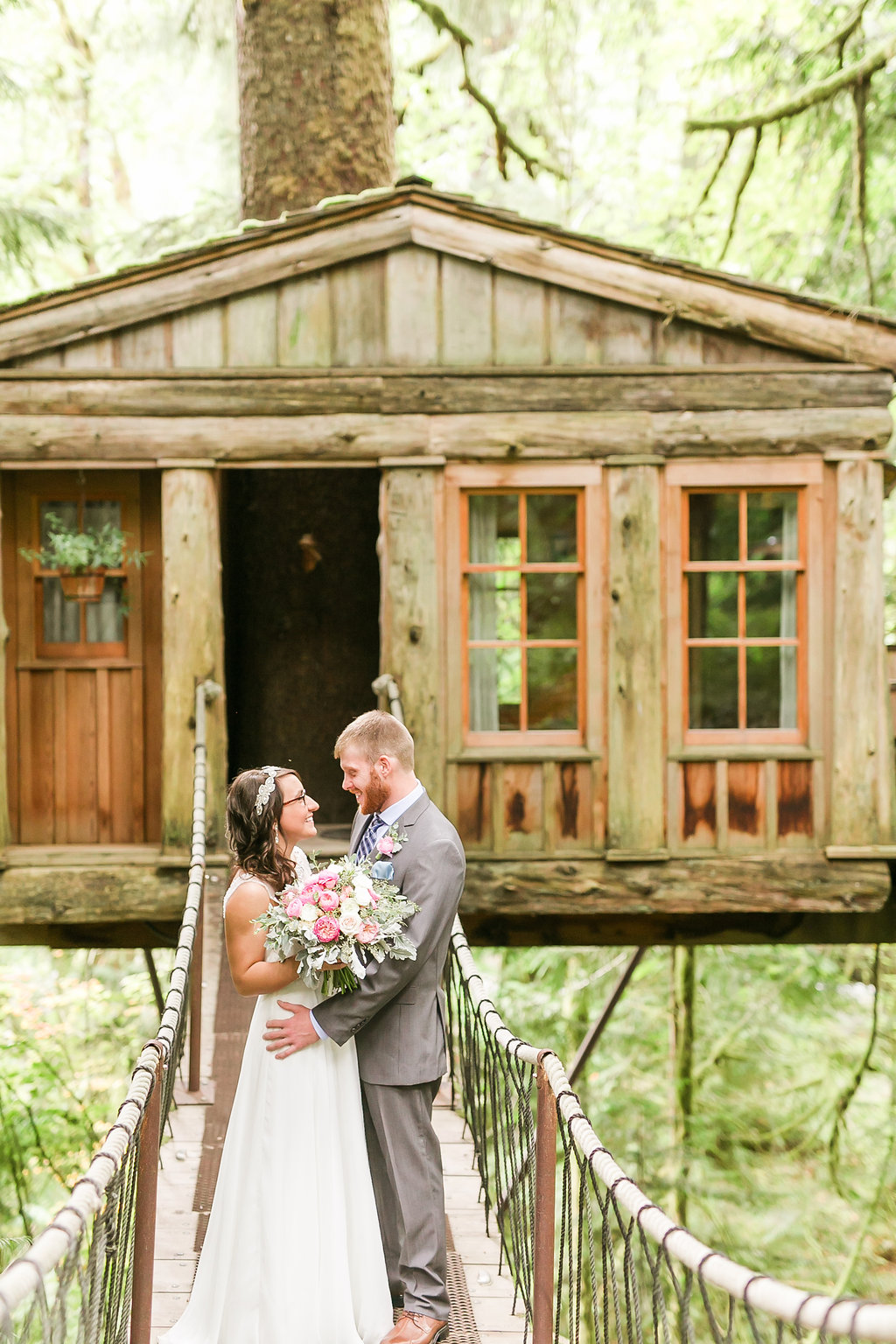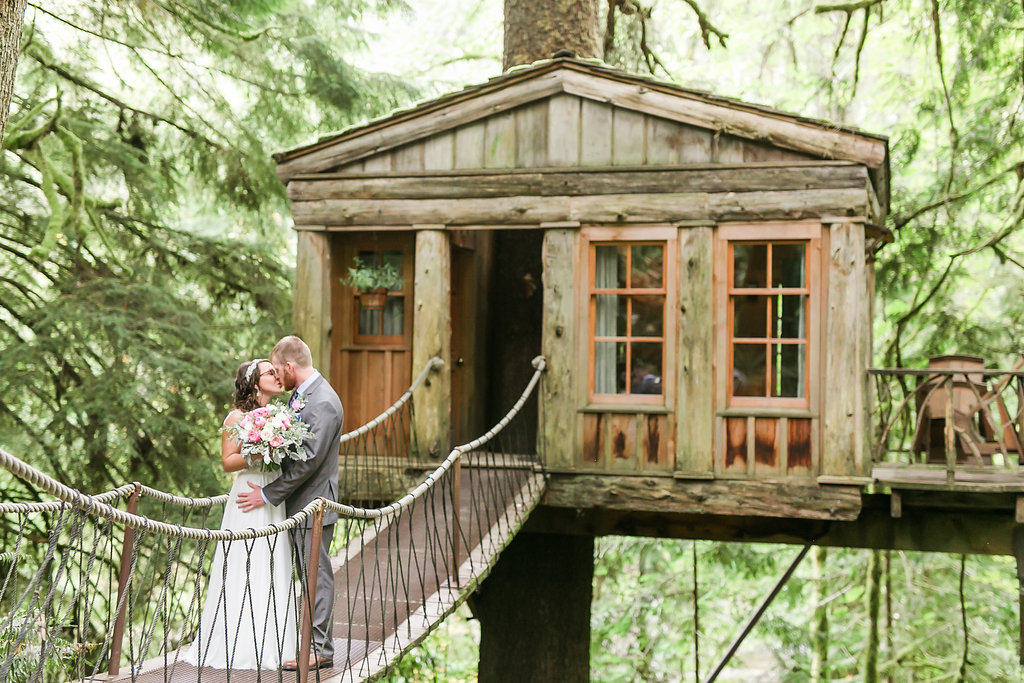 No one can resist a kiss on the suspension bridge to the majestic Temple of the Blue Moon!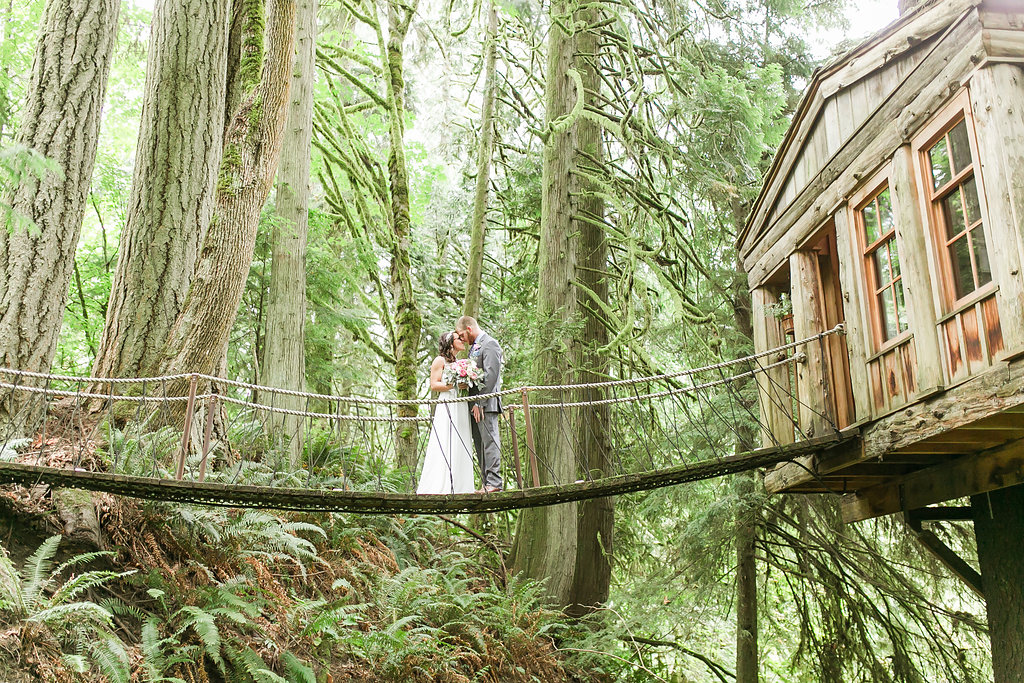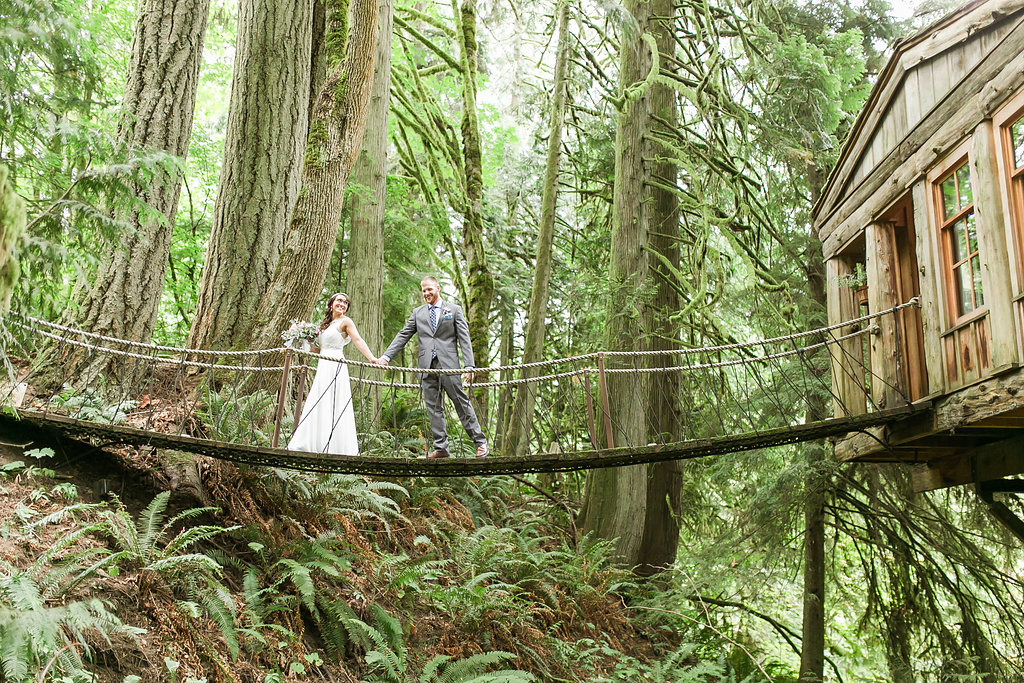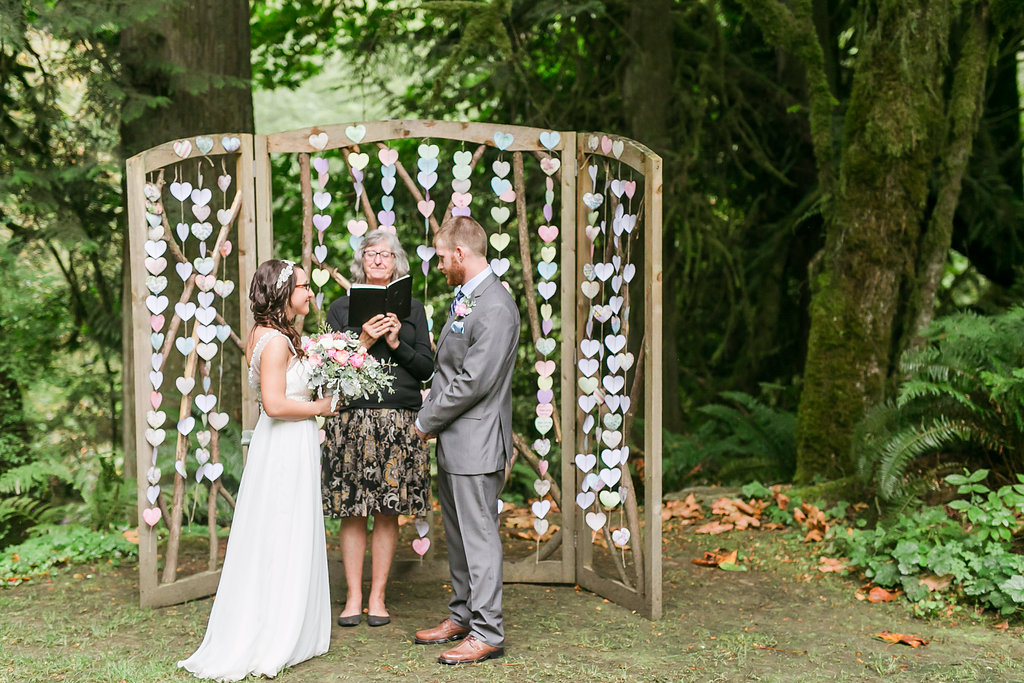 Katie's favorite part of the day was the ceremony. She felt so relaxed and present in the moment with Andy. It rained softly during the couple's ceremony; Katie thought the rain was fitting, as it had also rained when she and Andy got engaged!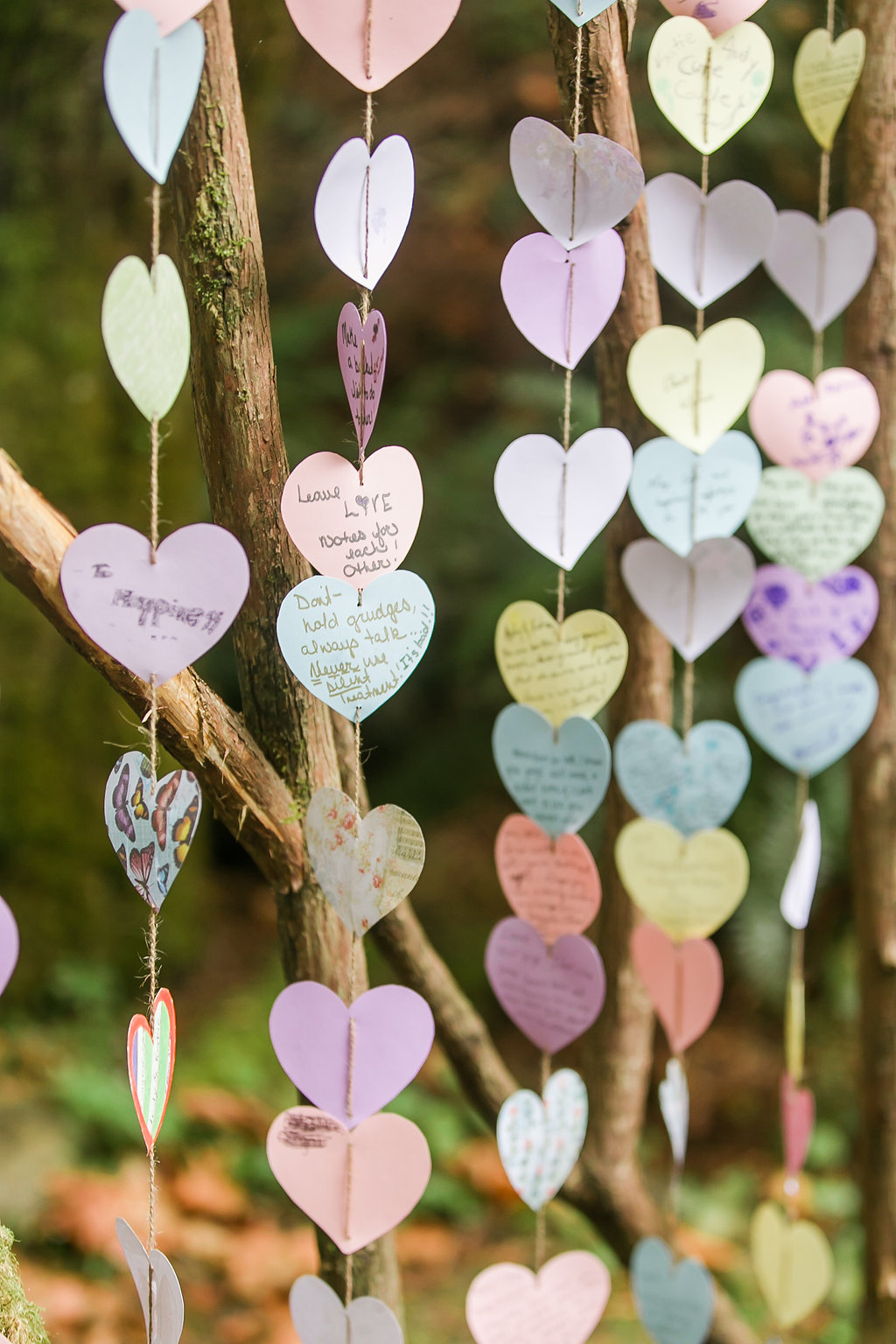 Before leaving for Seattle, Katie dreamed up a sweet way to include loved ones in her and Andy's intimate elopement. Katie hand-cut and sent paper hearts to family and friends, who returned them with notes of love and well-wishes for the couple. Katie then strung the hearts on twine and hung them from the wooden arbor at TreeHouse Point. Standing in front of the cascade of paper hearts at their ceremony, Katie and Andy were surrounded by the love and good thoughts of their closest friends and family.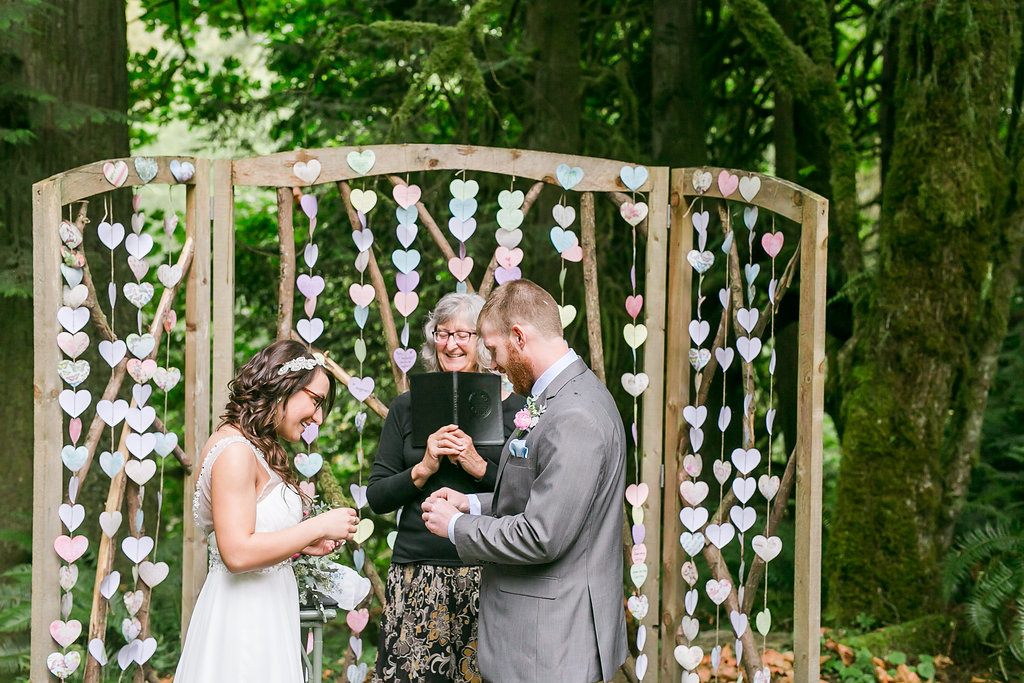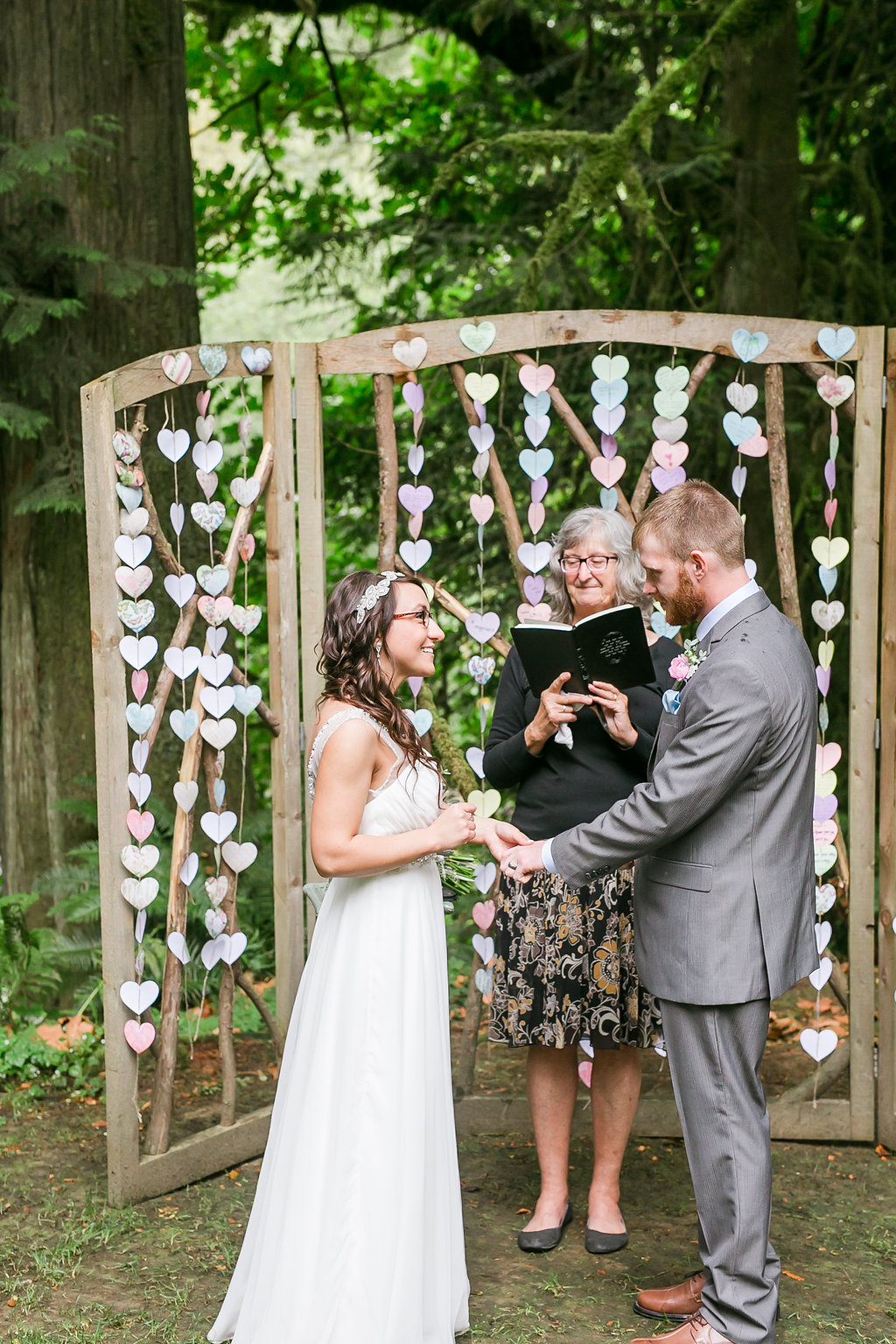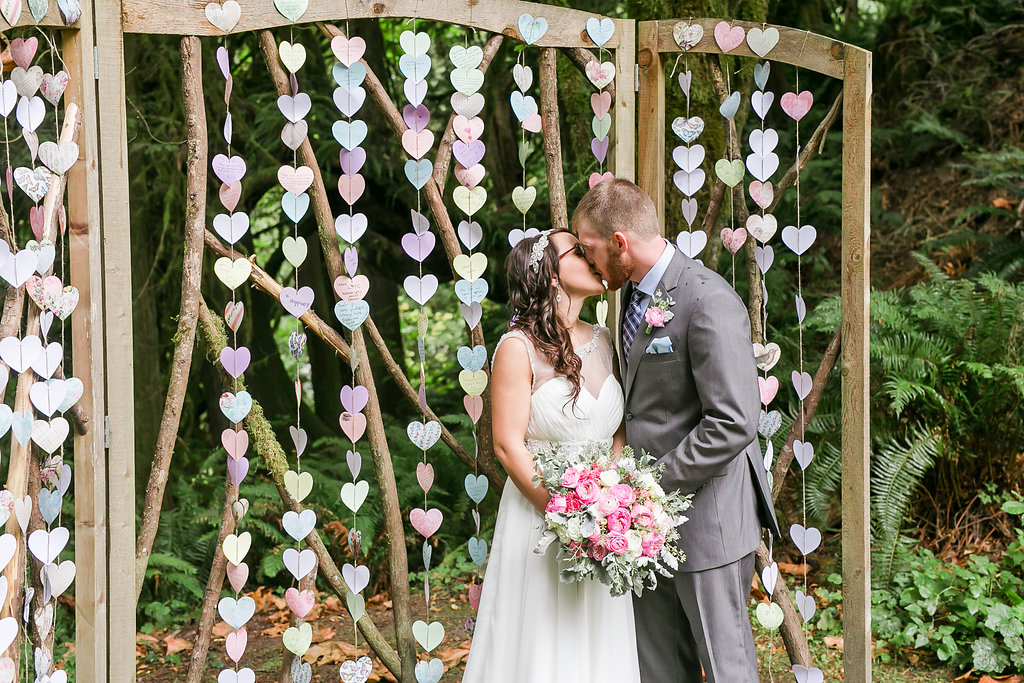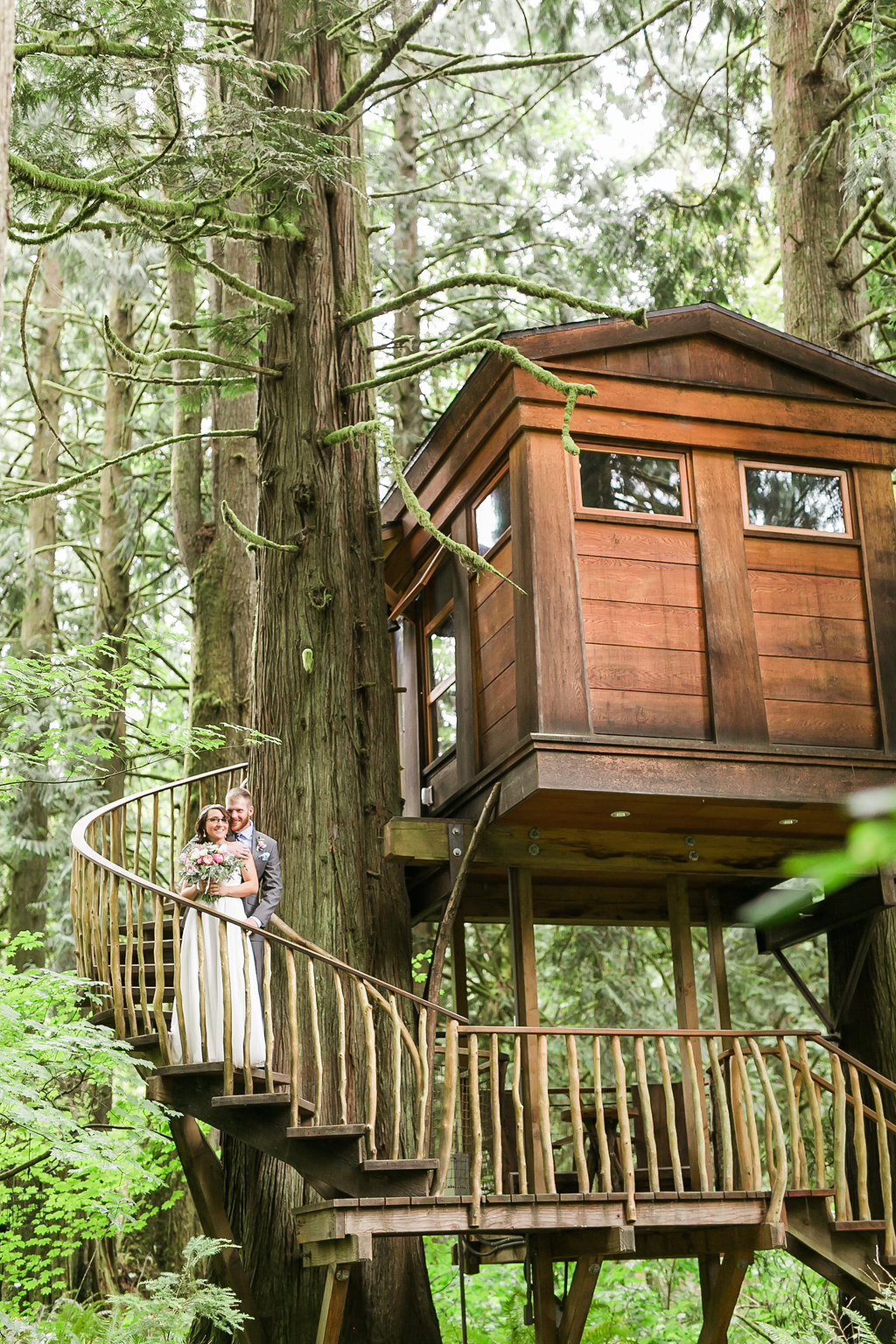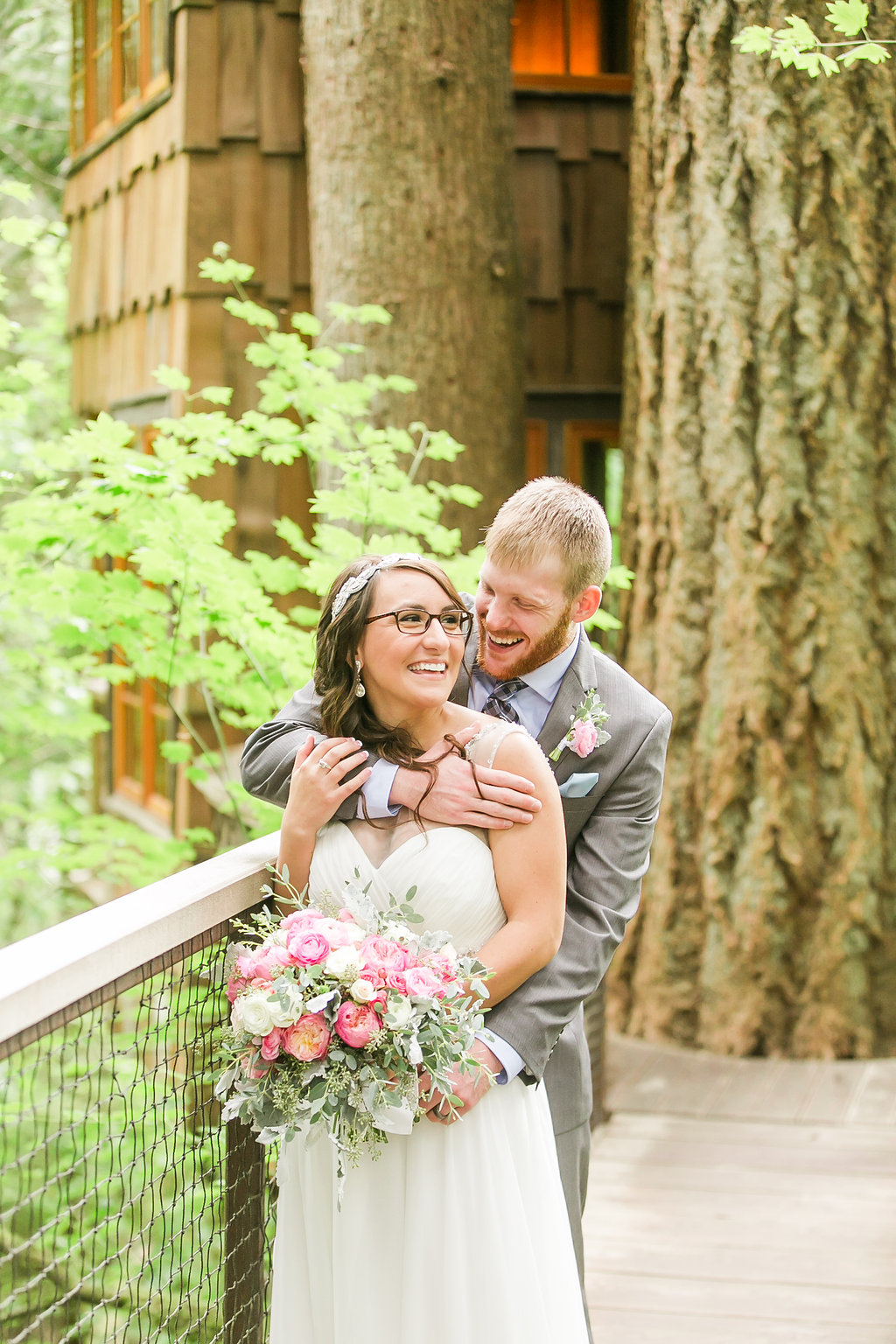 Amanda and Steven Lloyd perfectly captured Katie and Andy's fun-loving, joyful relationship; their happiness is bursting through this photo!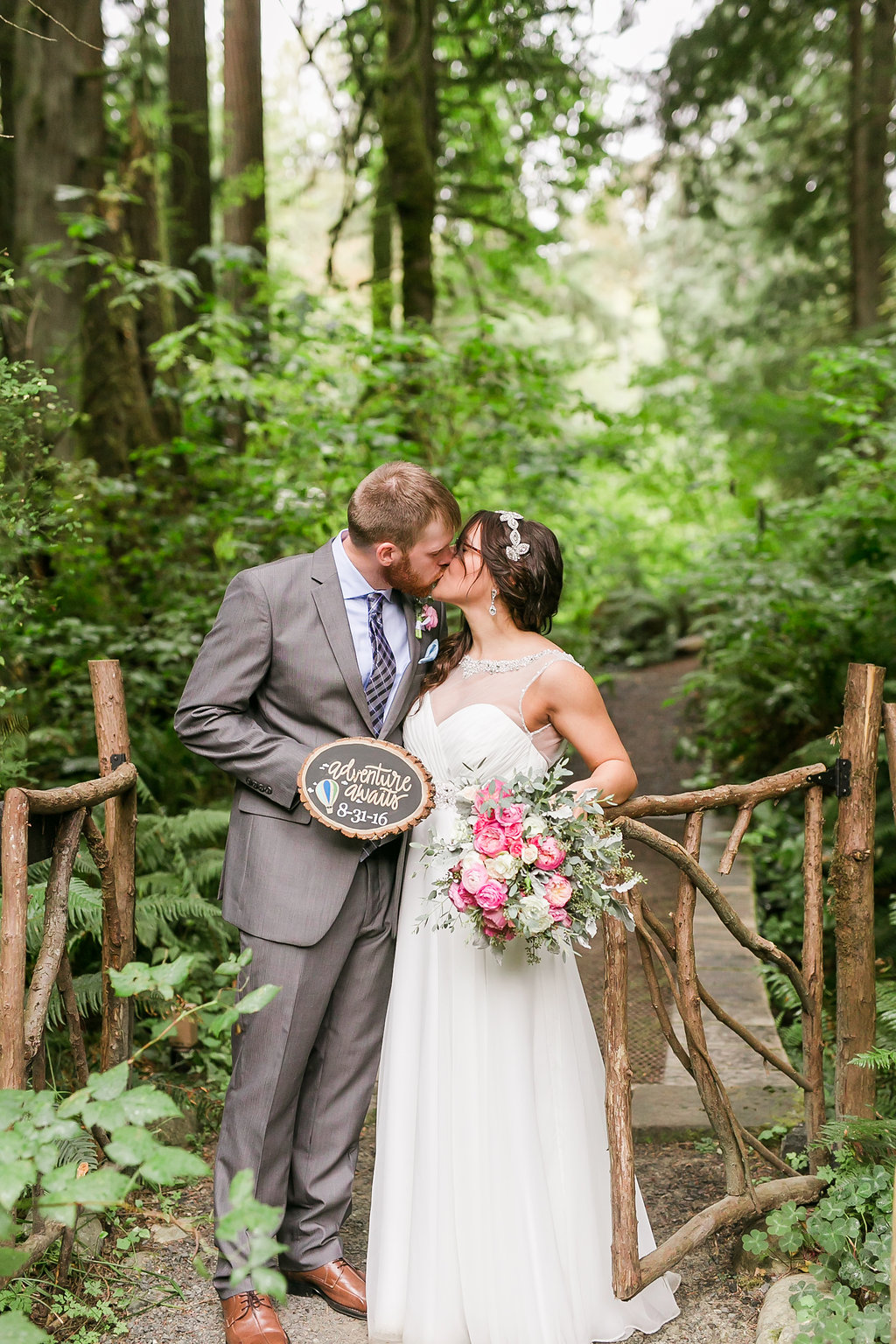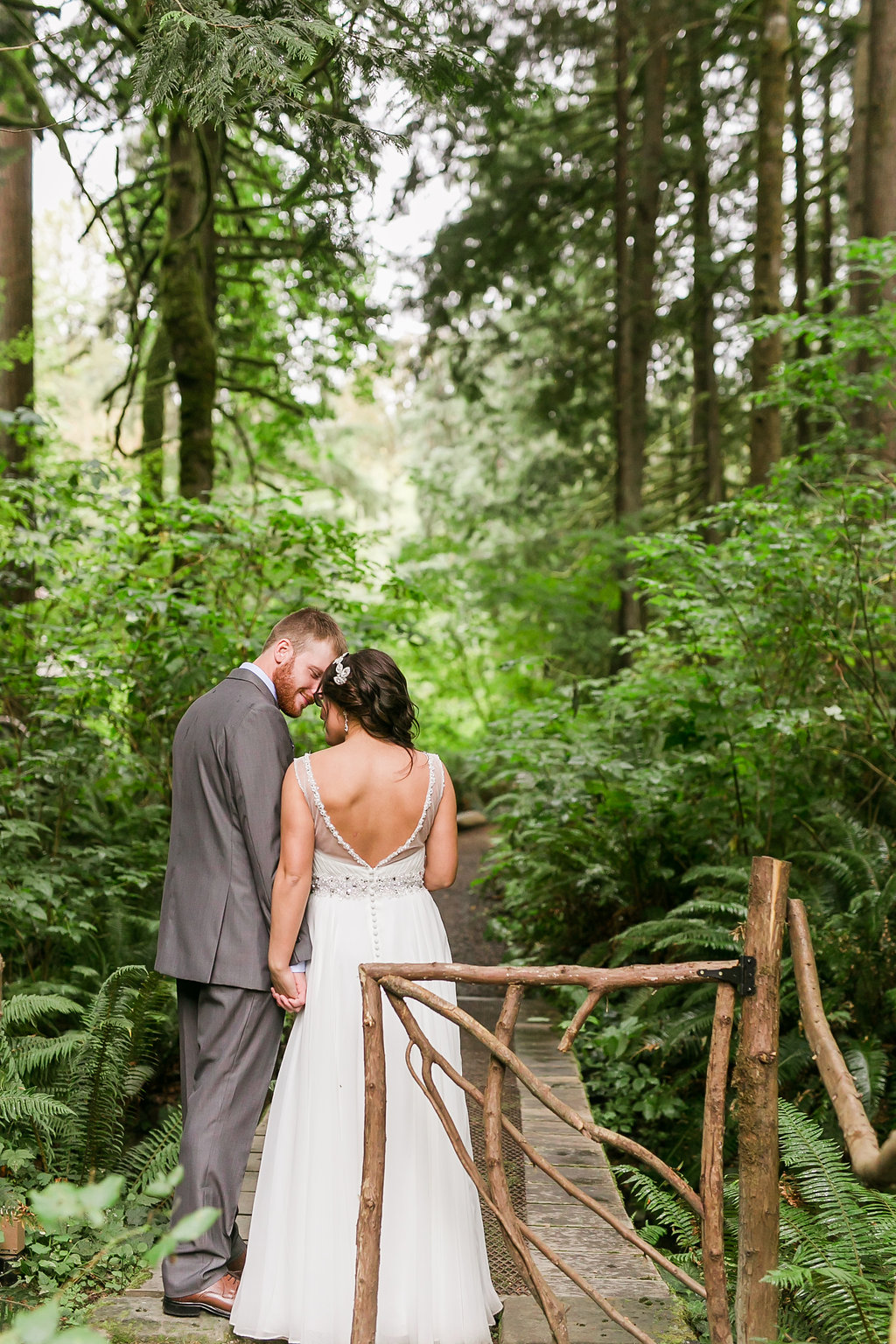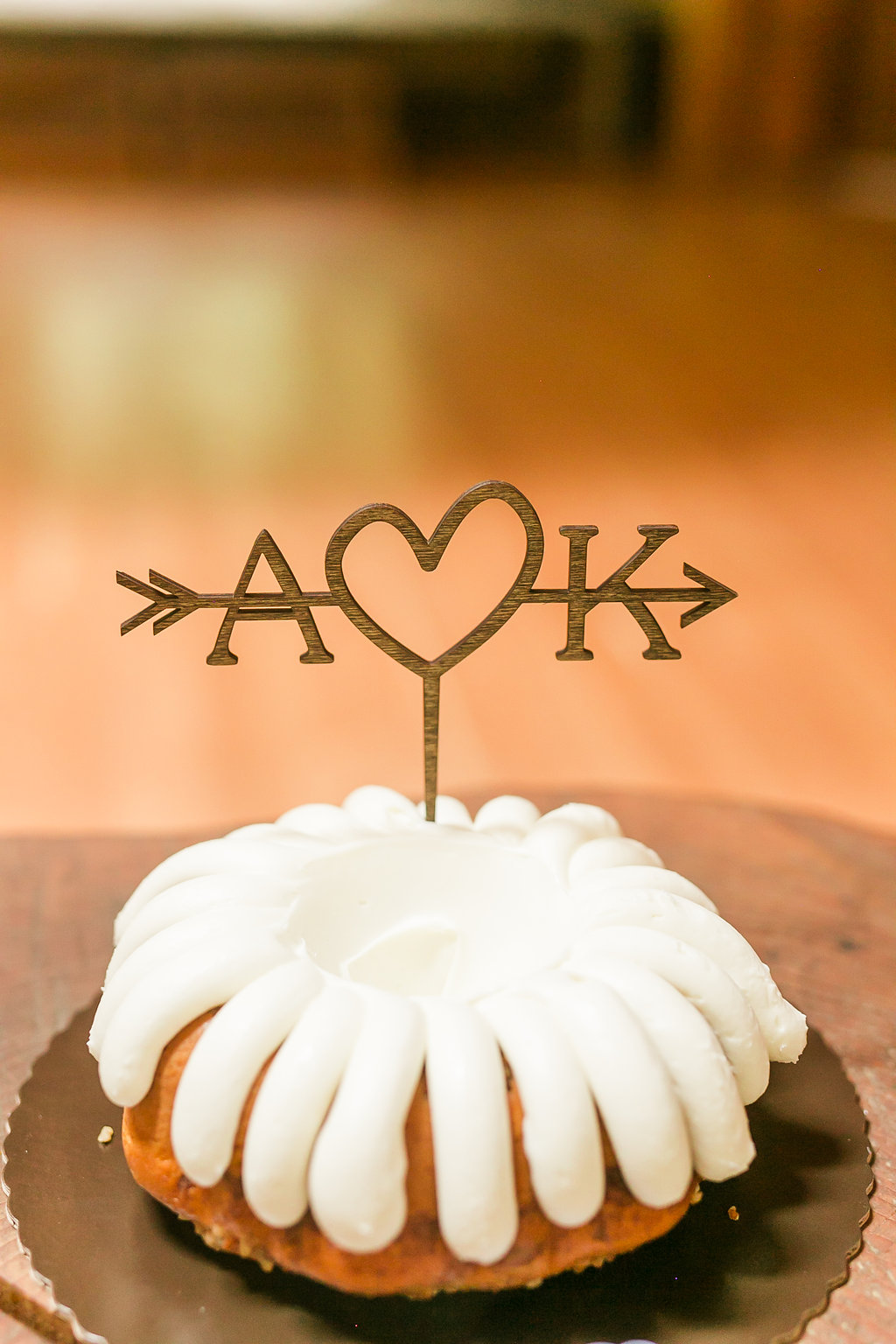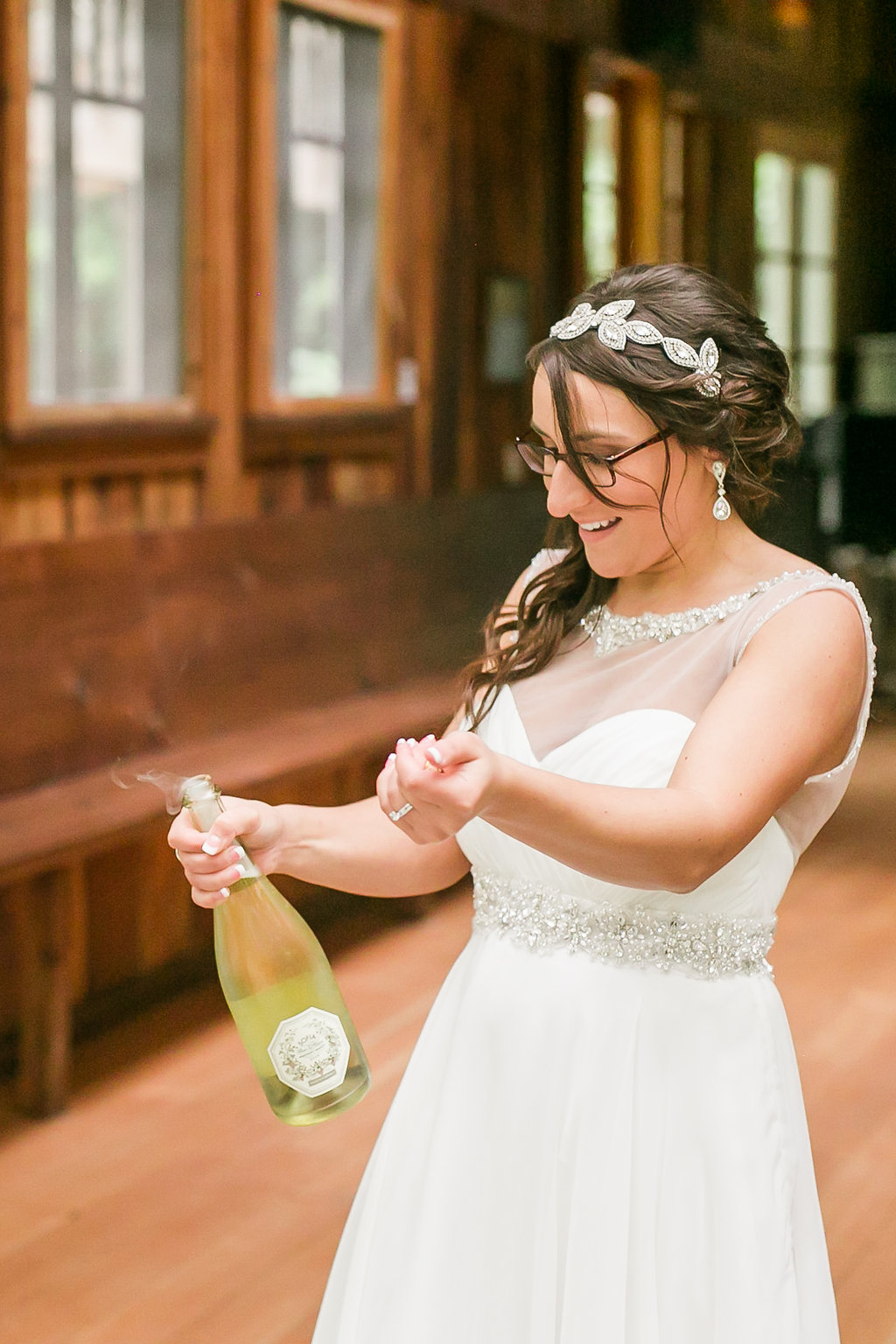 After their ceremony, Katie and Andy shared a pecan praline cake by Nothing Bundt Cakes on the back porch of the Pond Room. Katie celebrated with a glass of champagne, while Andy indulged in a local craft beer (he's a beer aficionado).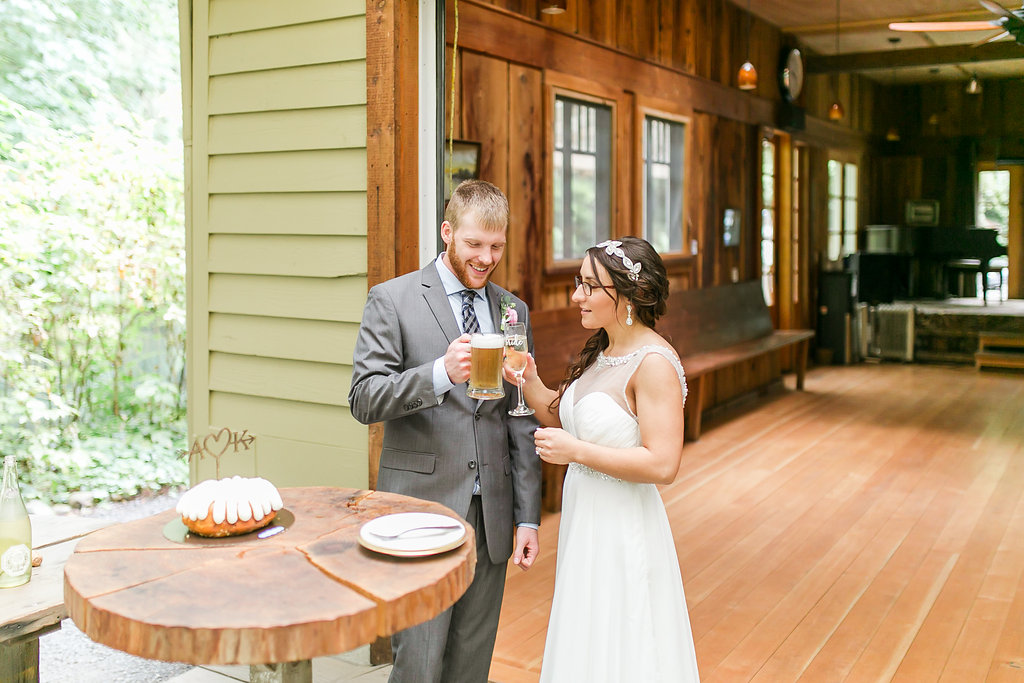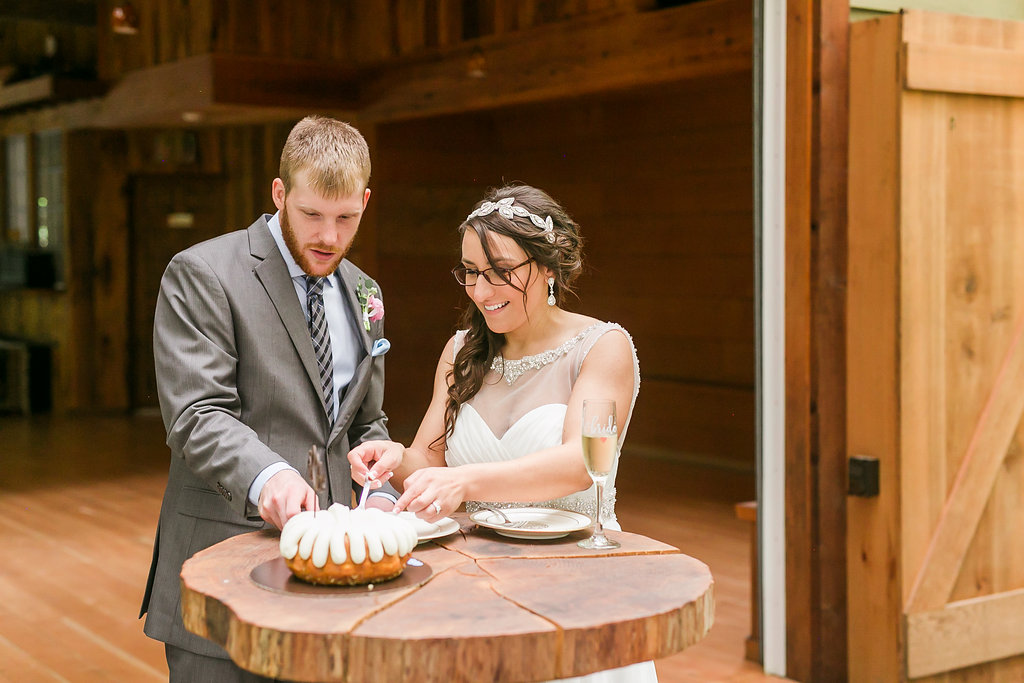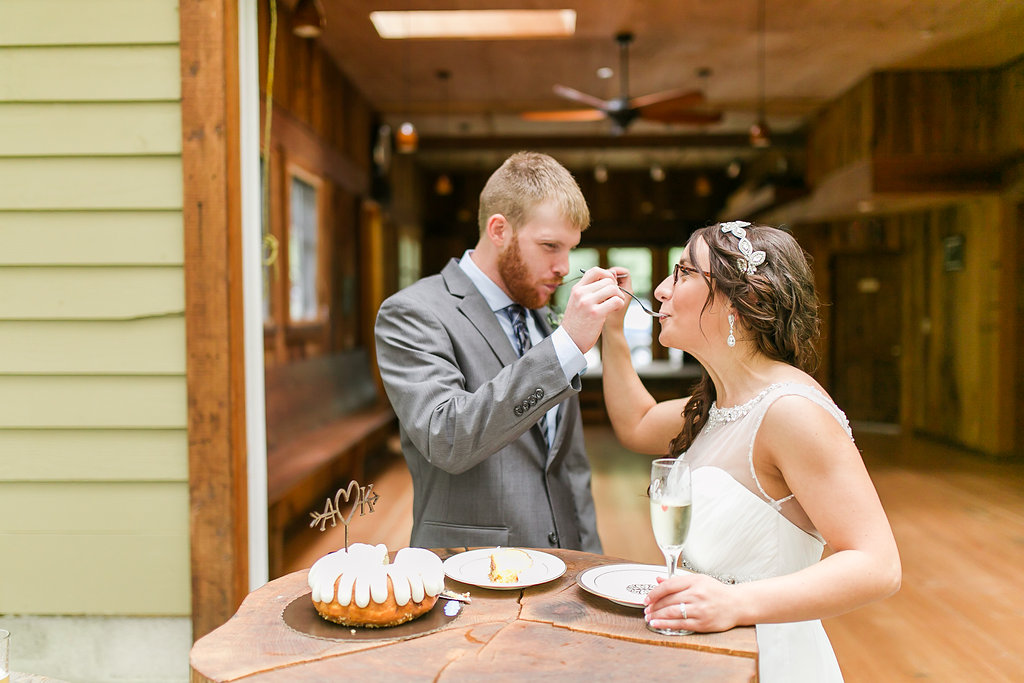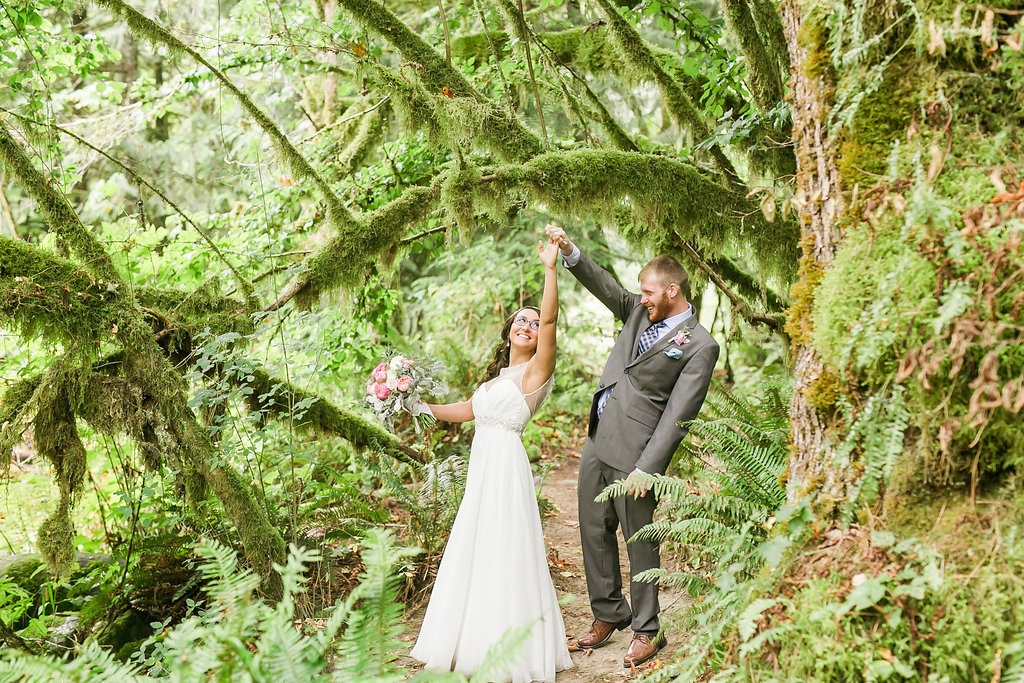 When asked which song best characterizes their relationship, Katie responded, "We really don't have 'a song' but one song that I love and I imagined us dancing to had we chosen to have a traditional wedding would have been 'Make You Feel My Love,' [covered] by Adele. It's beautifully written and sung and I think it's really [representative of the] strong and lasting partnership that Andy and I are hoping to have for forever!"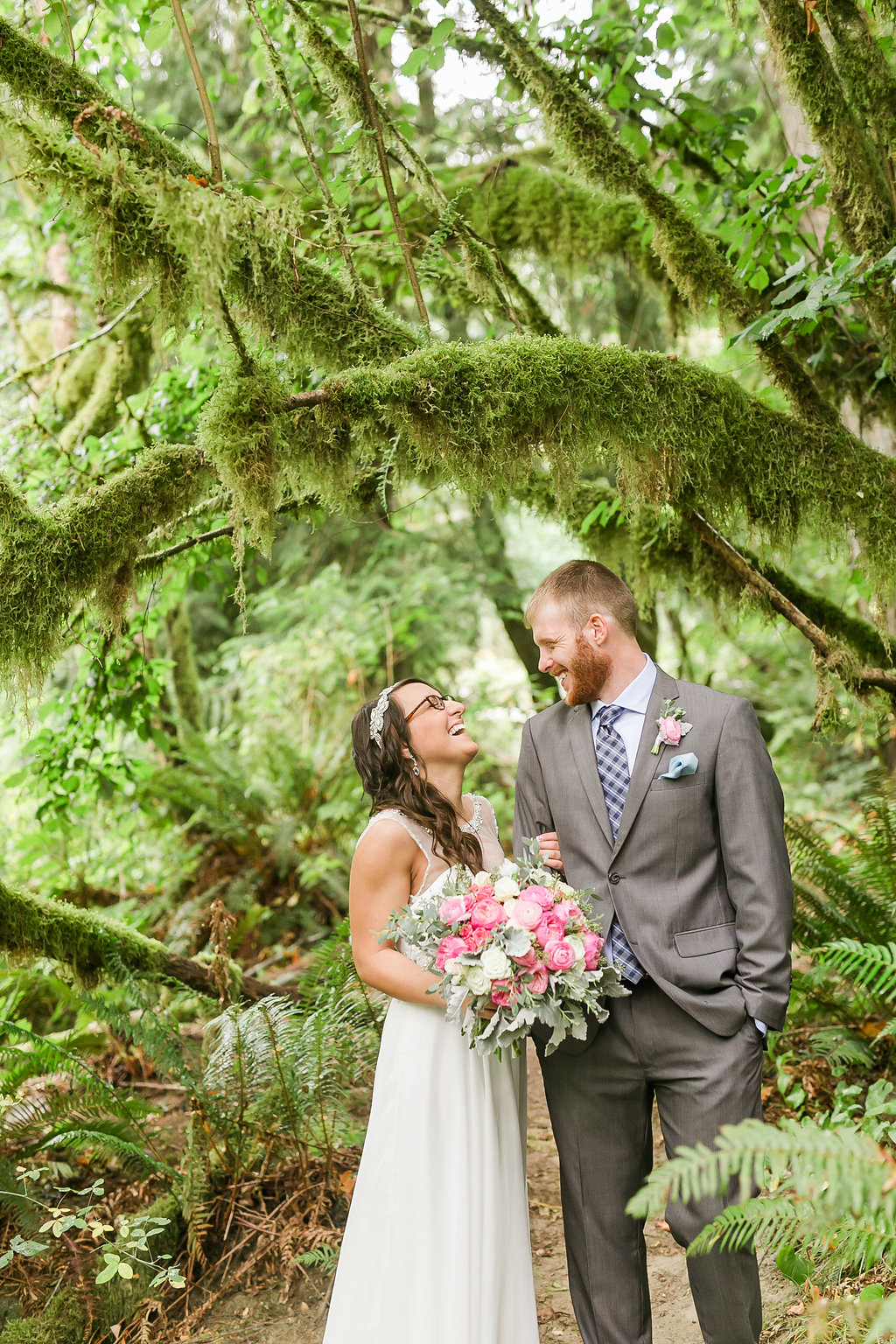 We fell in love with Katie and Andy's sweet, effervescent, and joyful elopement. Thank you for hosting your elopement at TreeHouse Point, Katie and Andy! We wish you a lifetime of love and laughter!
For information about hosting your own wedding or elopement at TreeHouse Point, please visit: http://www.treehousepoint.com/weddings.phtml.
ELOPEMENT CREDITS: Venue: TreeHouse Point | Photography: Lloyd Photographers | Officiant: Janet McIntosh | Florist: Down to Earth Flowers & Gifts | Cake: Nothing Bundt Cakes | Hair & Headband: Salon Maison | Rings: Zales | Bride's Dress: The Bridal Event | Groom's Suit: Men's Warehouse | Detroit Lions Shoes & Socks: Fans Edge