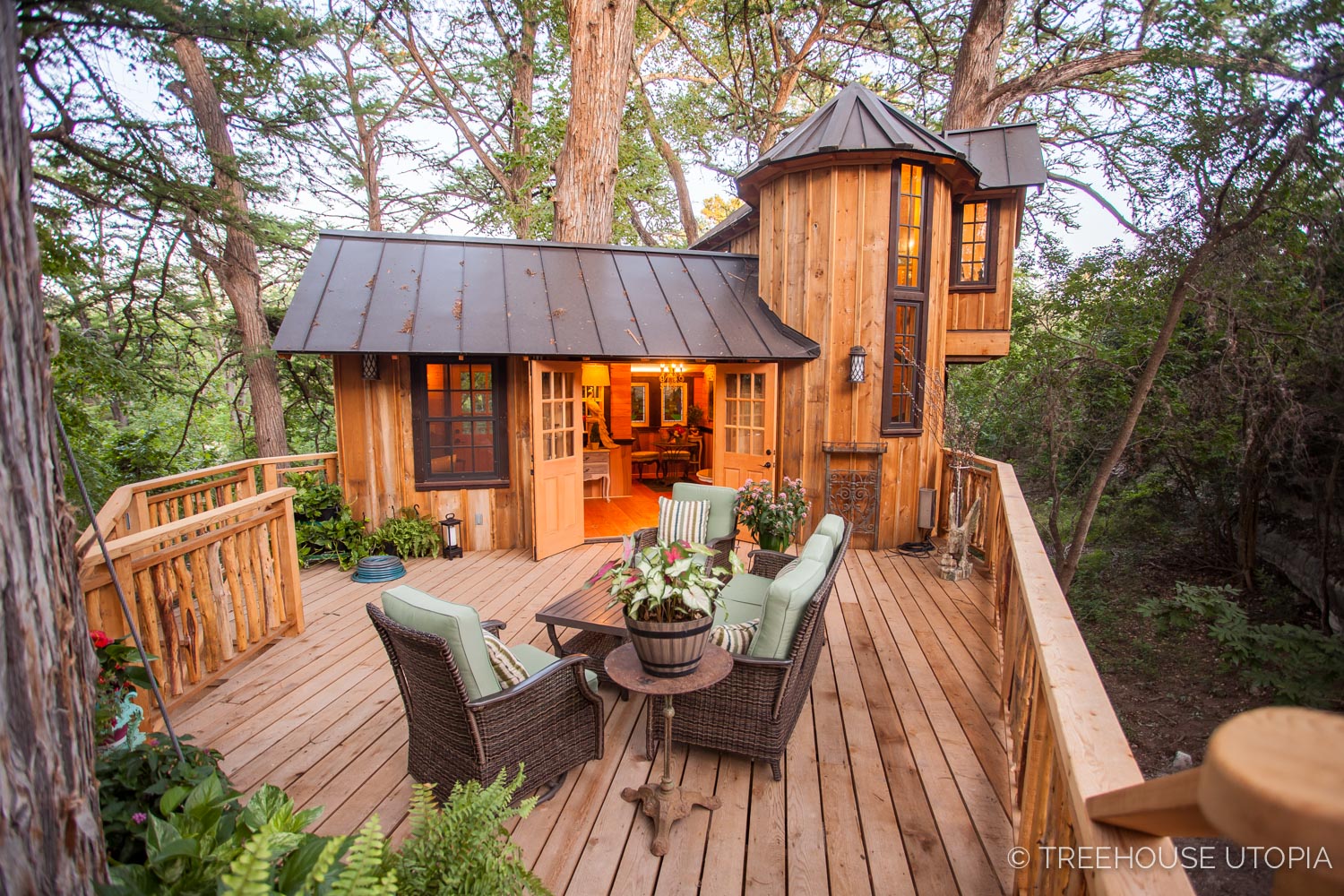 Deck to Chateau at Treehouse Utopia
Treehouse Utopia in Texas Hill Country is the outcome of a partnership between Pete Nelson and Laurel Waters, chef and owner of the renowned Laurel Tree Restaurant. With its four rentable, private treehouses and natural splendor, this romantic retreat exudes magic.
Visit treehouseutopia.com to book an overnight stay.
Read on for details on this Texas treehouse retreat…
---
WATCH: PETE NELSON AND LAUREL WATERS WELCOME YOU TO TREEHOUSE UTOPIA
---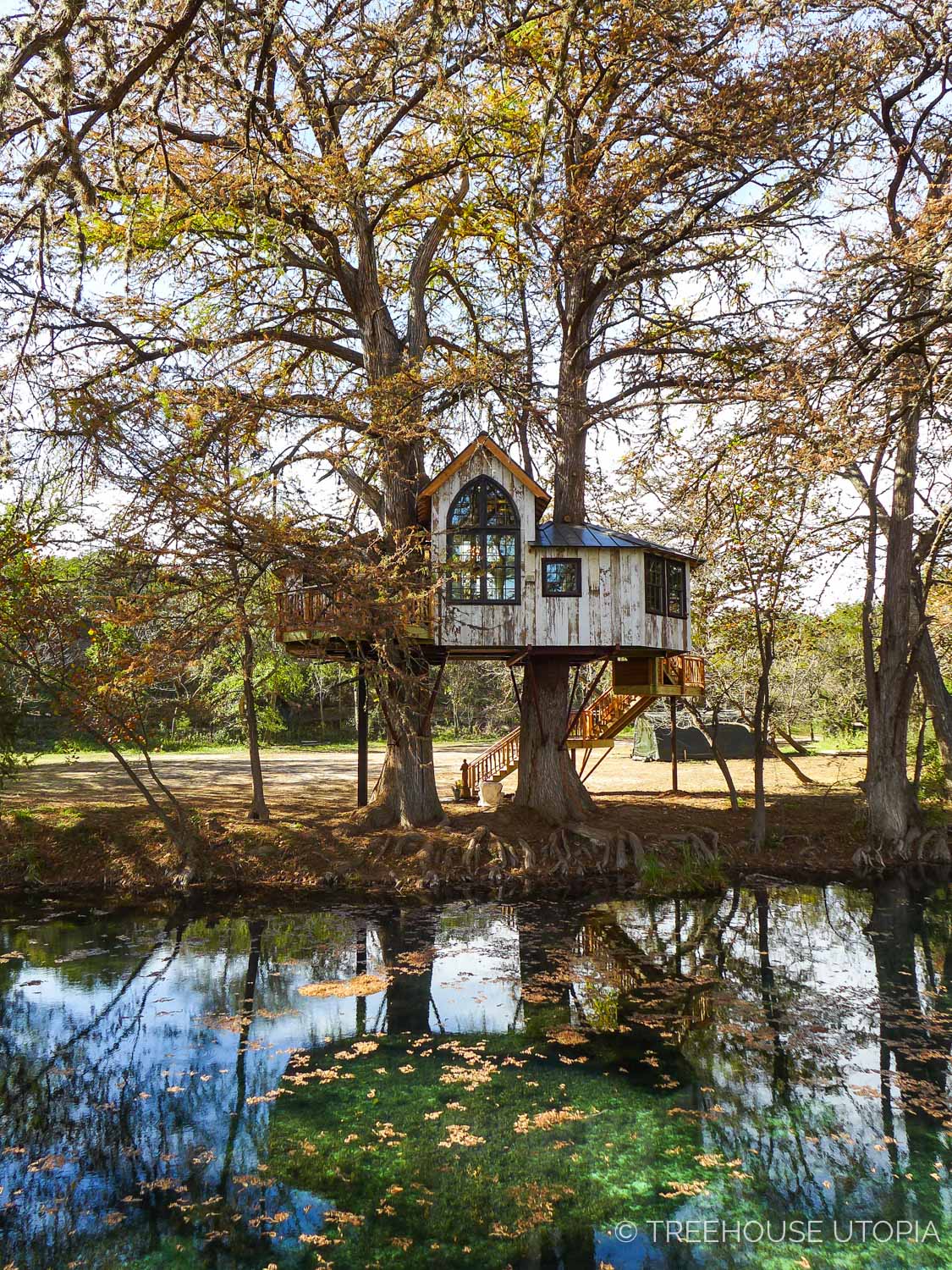 Walking into Treehouse Utopia is like dropping down into another world. Prehistorically sized cypress trees rise from the sun-toasted soil, presiding over the turquoise waters of the river that flows through the property. At night, the sky glows incandescent from starlight undimmed by the traffic and buzz of contemporary life.
Here, romance lingers in the warm wind, rests on the balconies of the treehouses, pools in the eddies of the river. Moments can be savored here in Utopia—it's as though the whole spirit of the place beckons you to focus on the present, to be mindful of the magic in the air.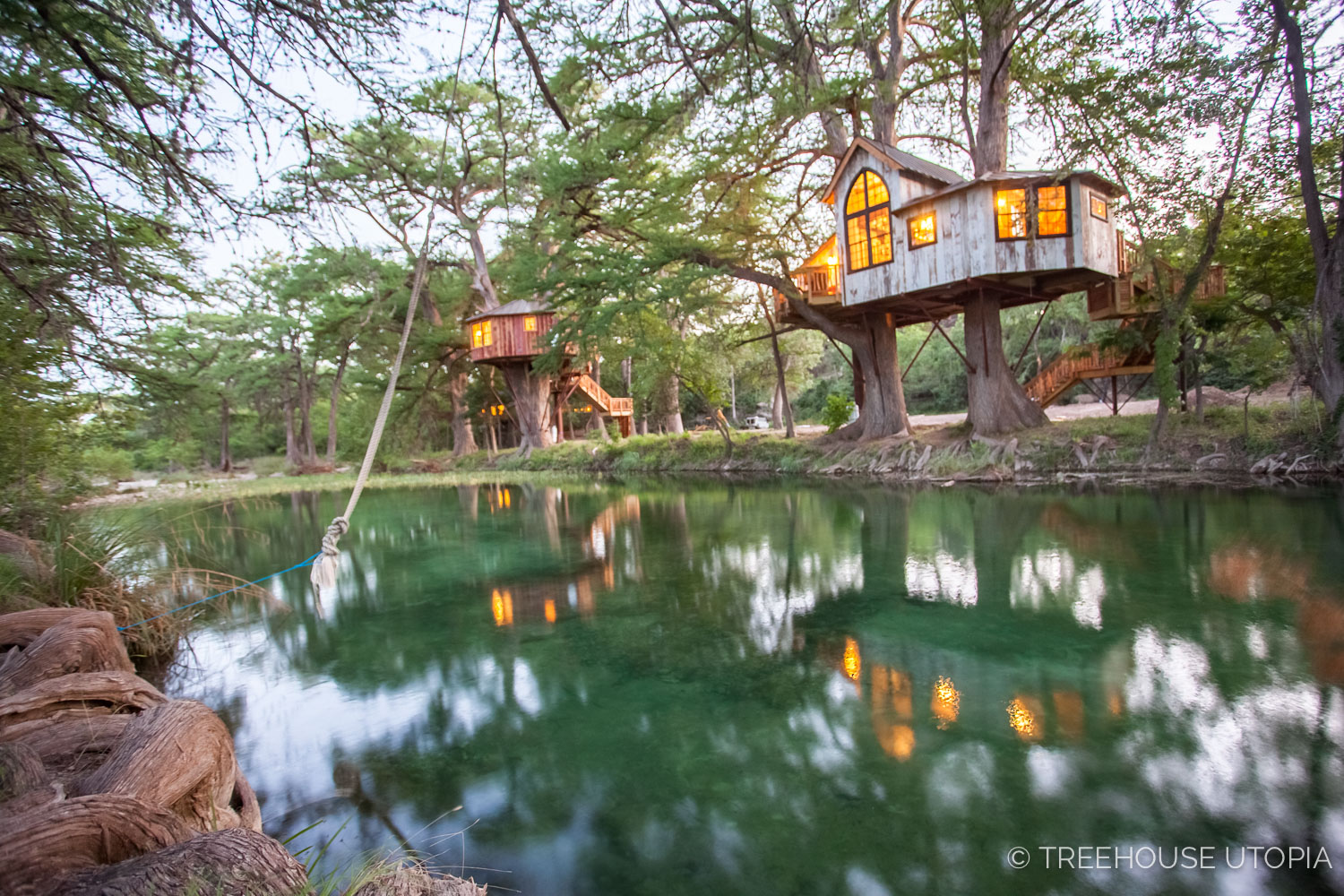 Carousel and Chapelle at Treehouse Utopia
Personalized, thoughtful service for guests is paramount to Laurel. She knows the names of every one of her guests, their reason for visiting, their sorrows, and their celebrations. Being a guest of Laurel's is like being welcomed home.
This project is also profoundly personal for Laurel: her family has owned the property for many years, and she has an intimate knowledge of its contours, character, and trees. Laurel hopes that Treehouse Utopia will encourage couples to create and delight in their own special moments, freed from the distractions and frenzied pace of daily life.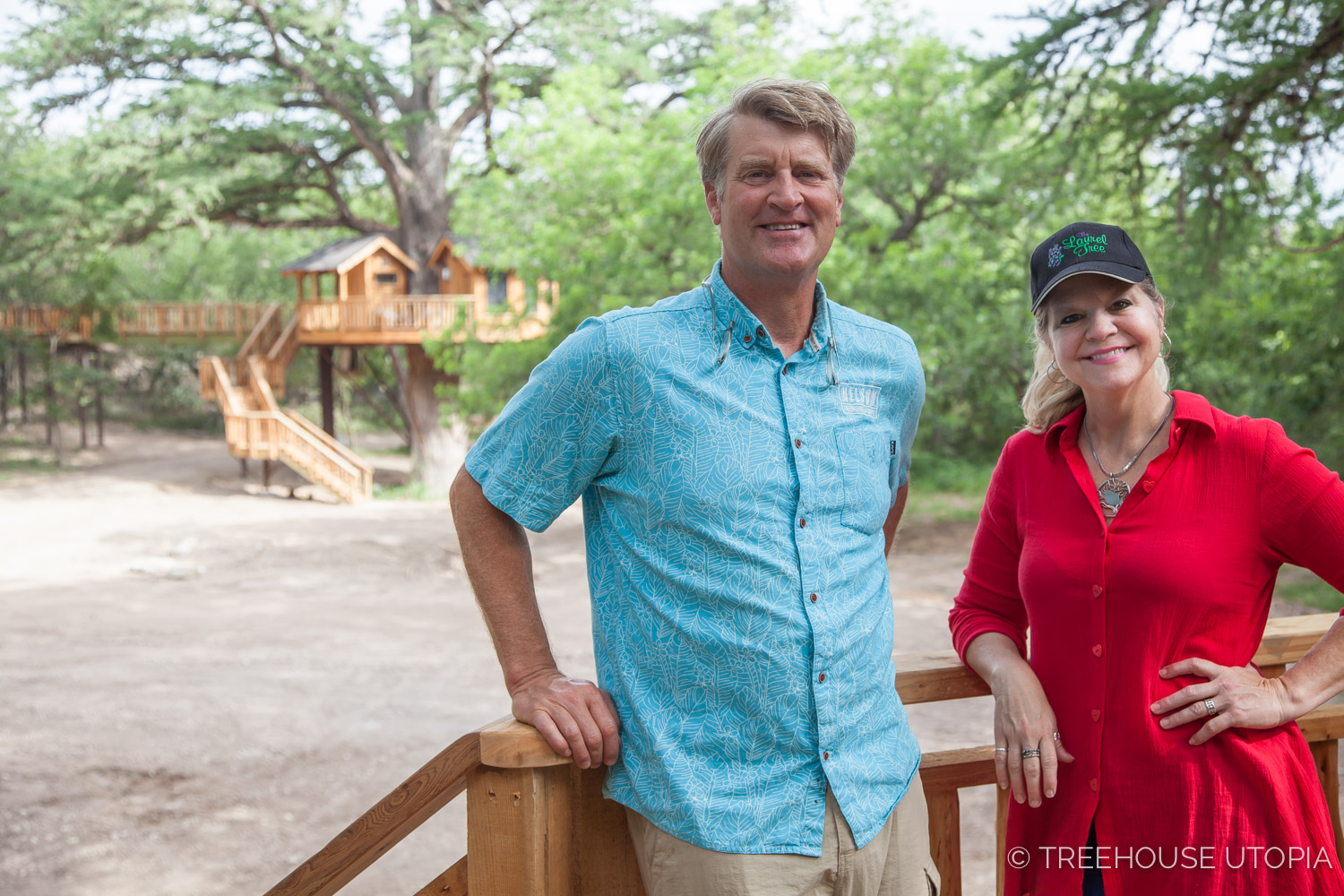 Pete Nelson and Laurel waters at Treehouse Utopia.
Pete and Laurel worked closely together for months to bring their shared dream of Treehouse Utopia to life. Every detail—from tree-selection, to architecture, to interior design—was thoughtfully considered, customized, and crafted. Laurel curated the interiors of all four treehouses with her personal collection of antiques she has acquired during her travels through France.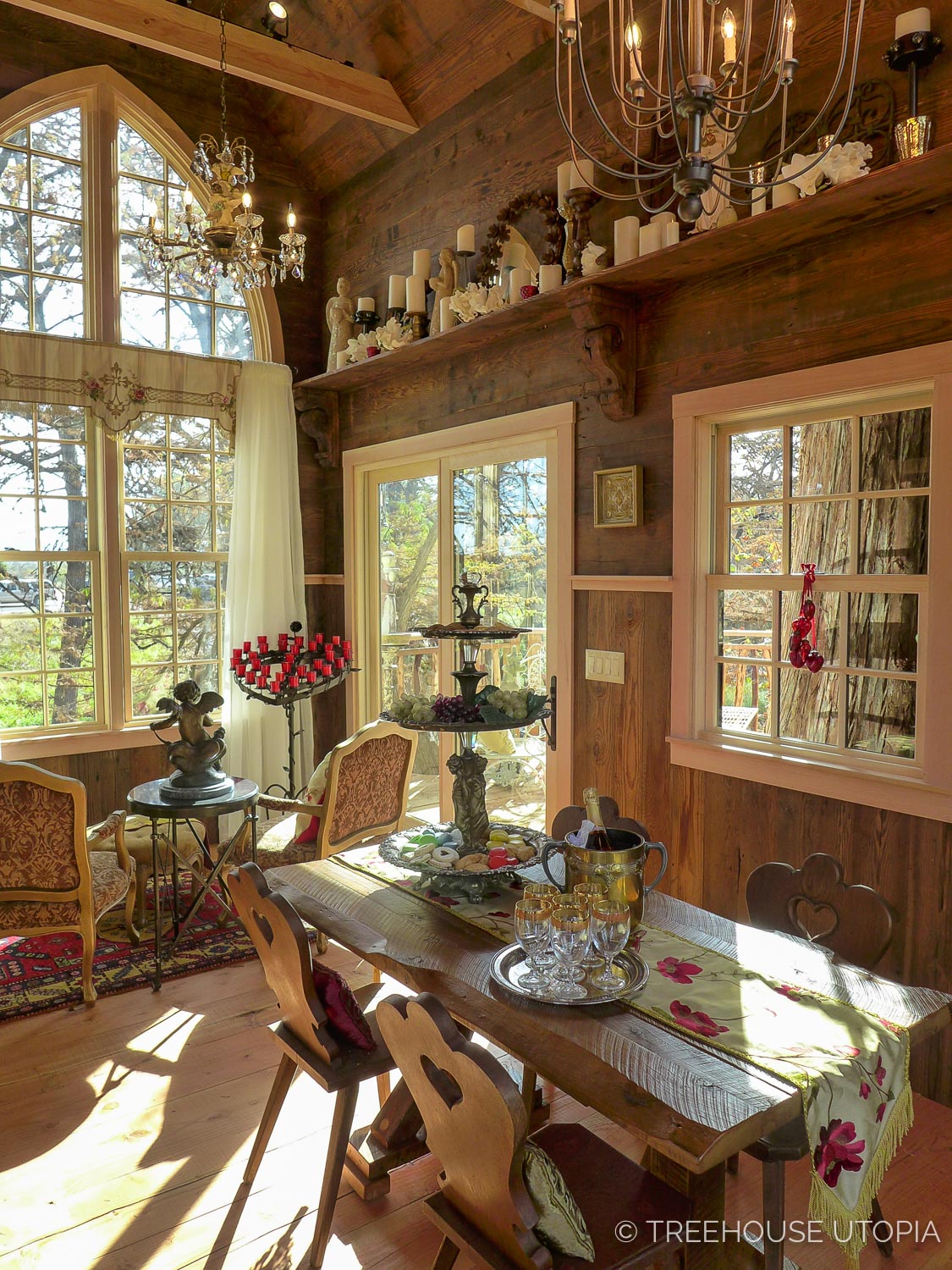 Inside Chapelle at Treehouse Utopia
The treehouses range from 400 square feet around a single tree to 580 square feet over two stories, nestled in a grove of cypresses. They come with most of the amenities of a modern hotel stay, including electric lighting, hot and cold running water, heating and air conditioning, toilets, tiled showers, and high-speed WiFi.
Click here to read our FAQ on staying at Treehouse Utopia.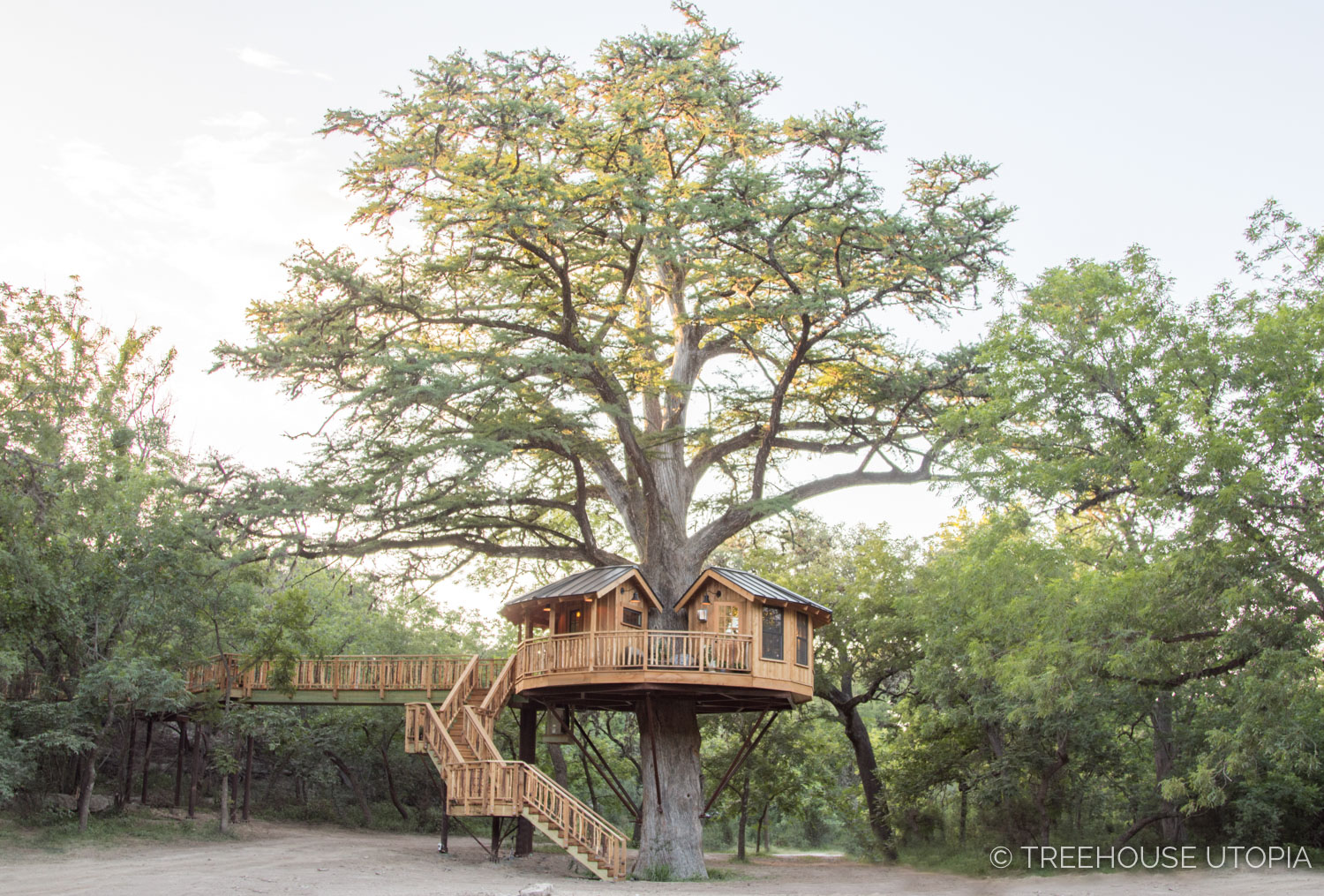 Biblioteque at Treehouse Utopia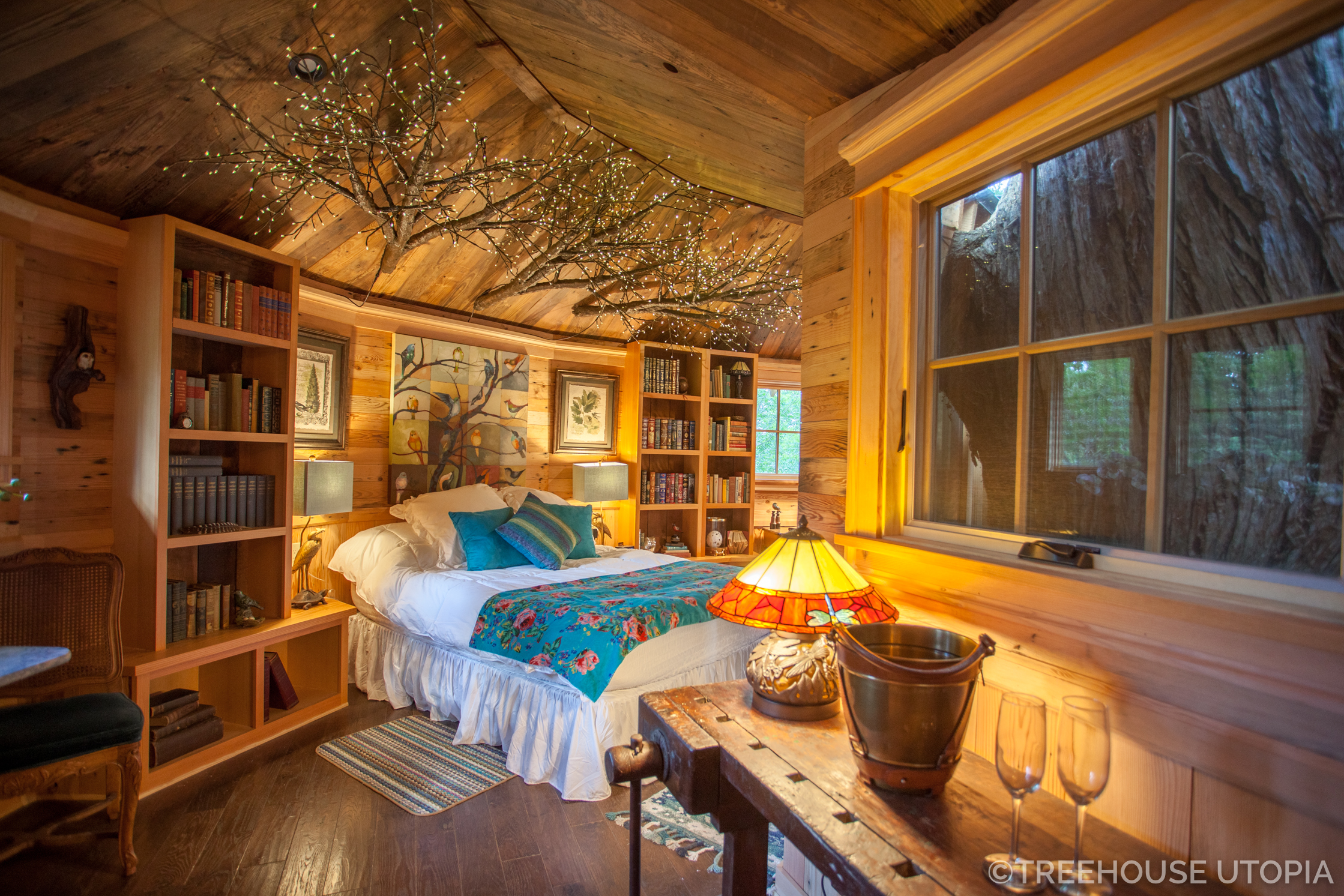 Inside Biblioteque at Treehouse Utopia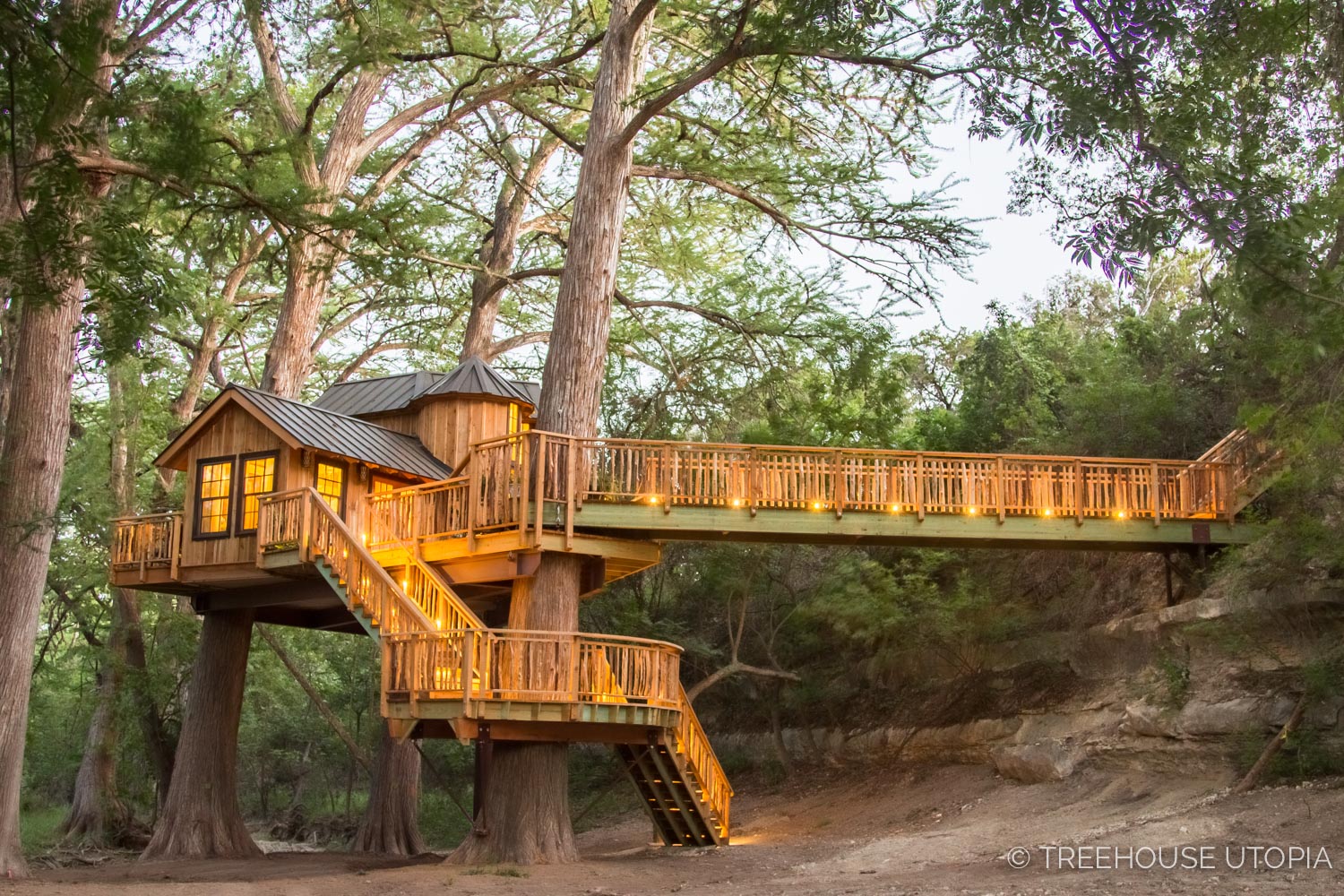 Chateau at Treehouse Utopia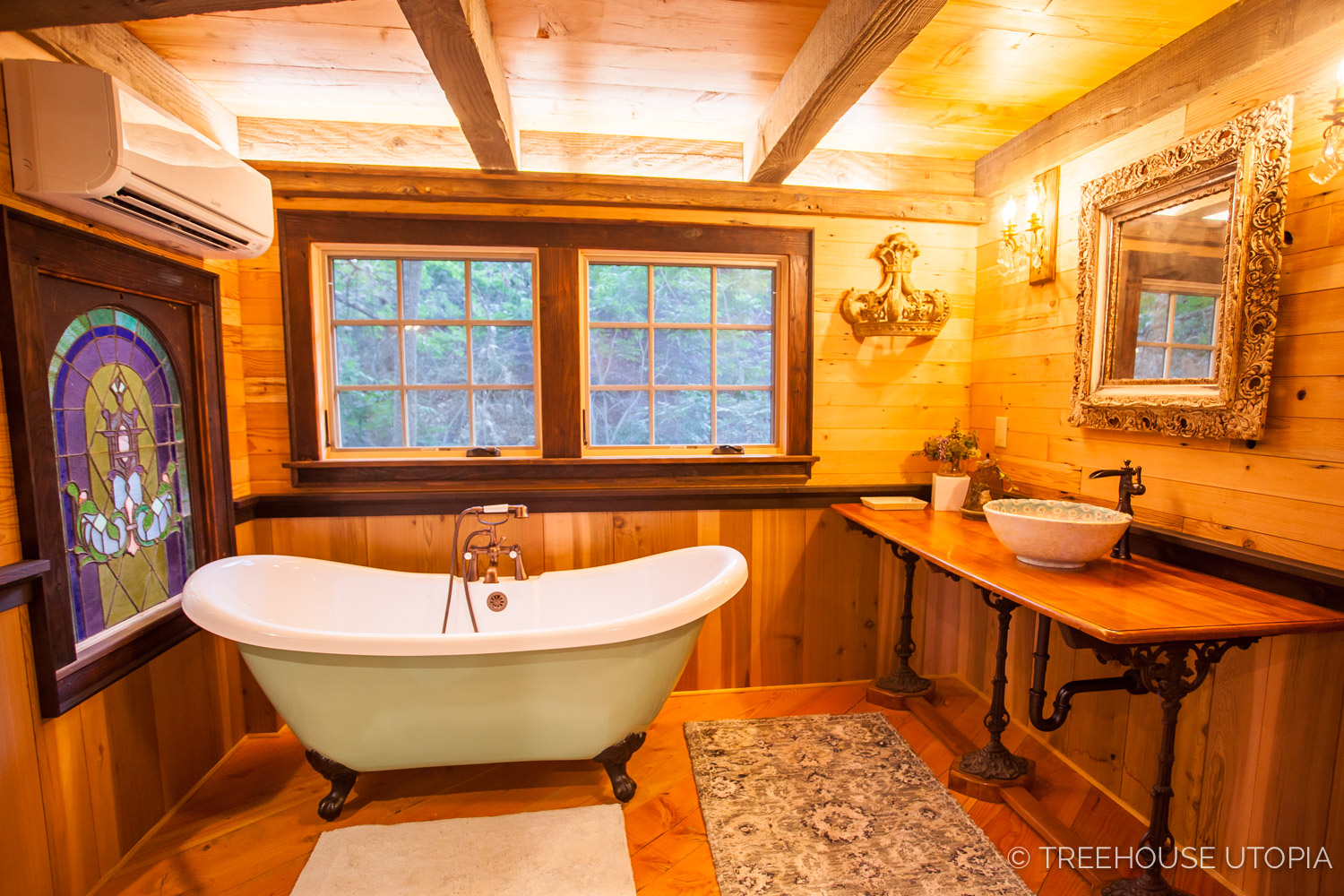 The bathroom Inside Chateau at Treehouse Utopia
Carousel at Treehouse Utopia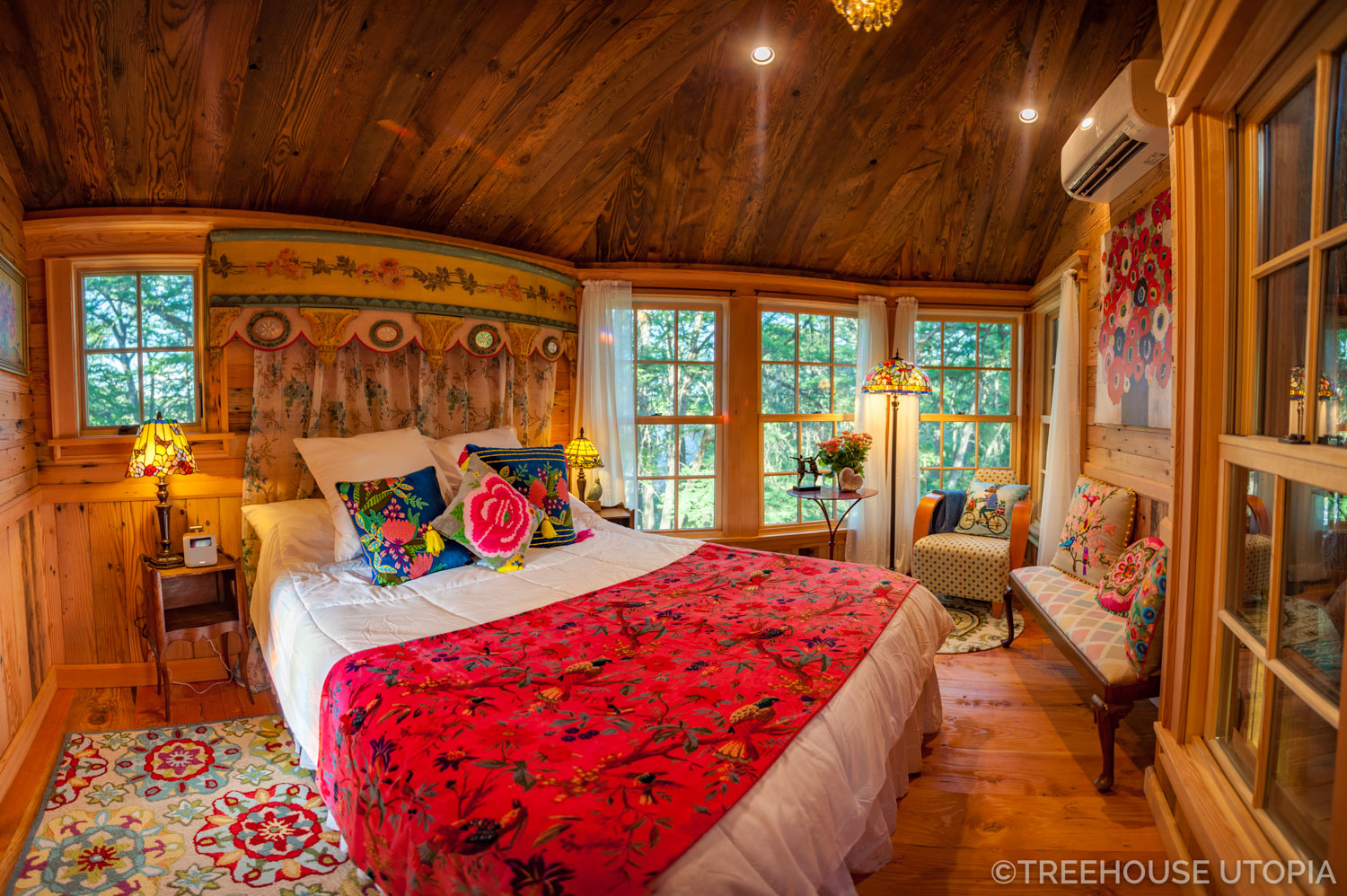 Inside Carousel at Treehouse Utopia 
With their prodigious scope and artful architecture, these four treetop retreats represent the culmination of Pete's 30 years of experience designing and building the most fantastical treehouses for folks around the world.
Each treehouse has a distinct character. Click here for an overview of each treehouse.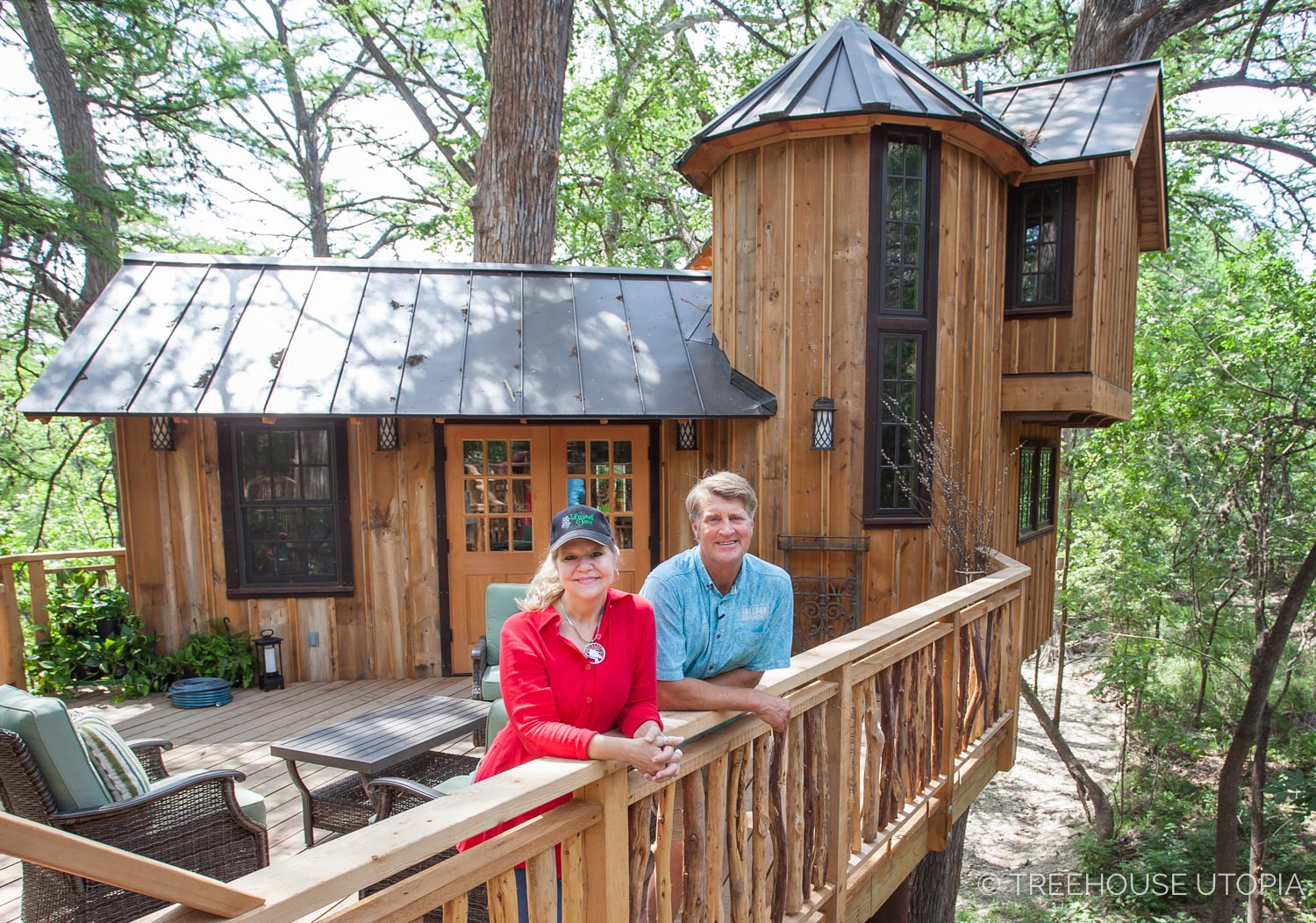 Laurel Waters and Pete Nelson at Treehouse Utopia
Reservations are made online at treehouseutopia.com
---
You can also follow Treehouse Utopia on Instagram and Facebook.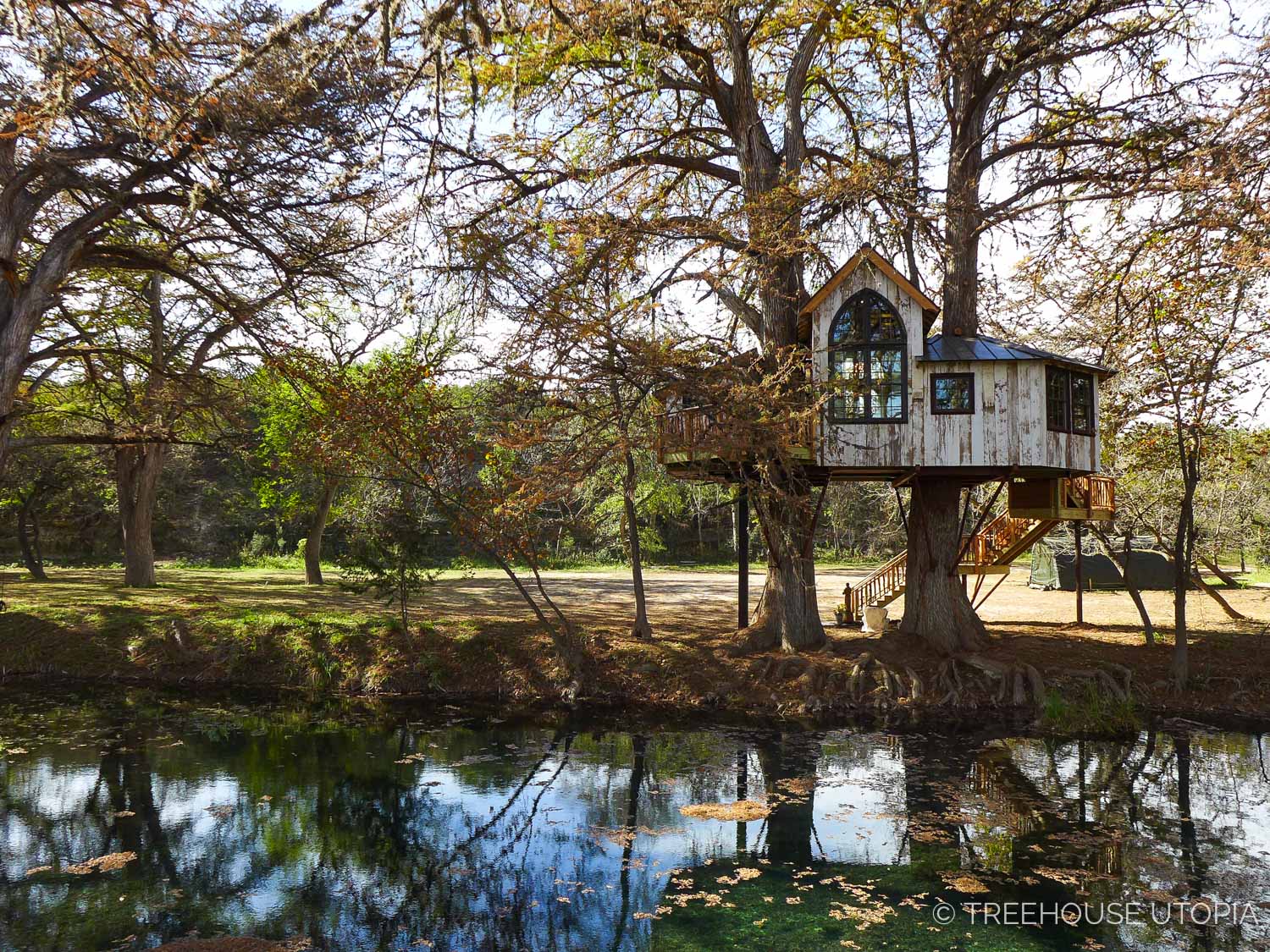 Chapelle at Treehouse Utopia in Texas Hill Country