Unveiling Treehouse Mt. Rainier: Where Luxury Meets Nature's Majesty
We are thrilled to unveil the latest addition to the Nelson Treehouse Experience getaways: Treehouse Mt. Rainier. This treetop sanctuary, designed by our very own Project Manager, Scott Atkins, and brought to life by our exceptional crew of carpenters, is a testament to our commitment to craftsmanship and the harmony between architecture and nature.
A one-bedroom and one-bathroom house in the trees – western red cedar exterior, full kitchen, a luxury full bathroom, cozy living room, and serene deck – Treehouse Mt. Rainier has everything you need to never leave the trees. Step inside for a full tour.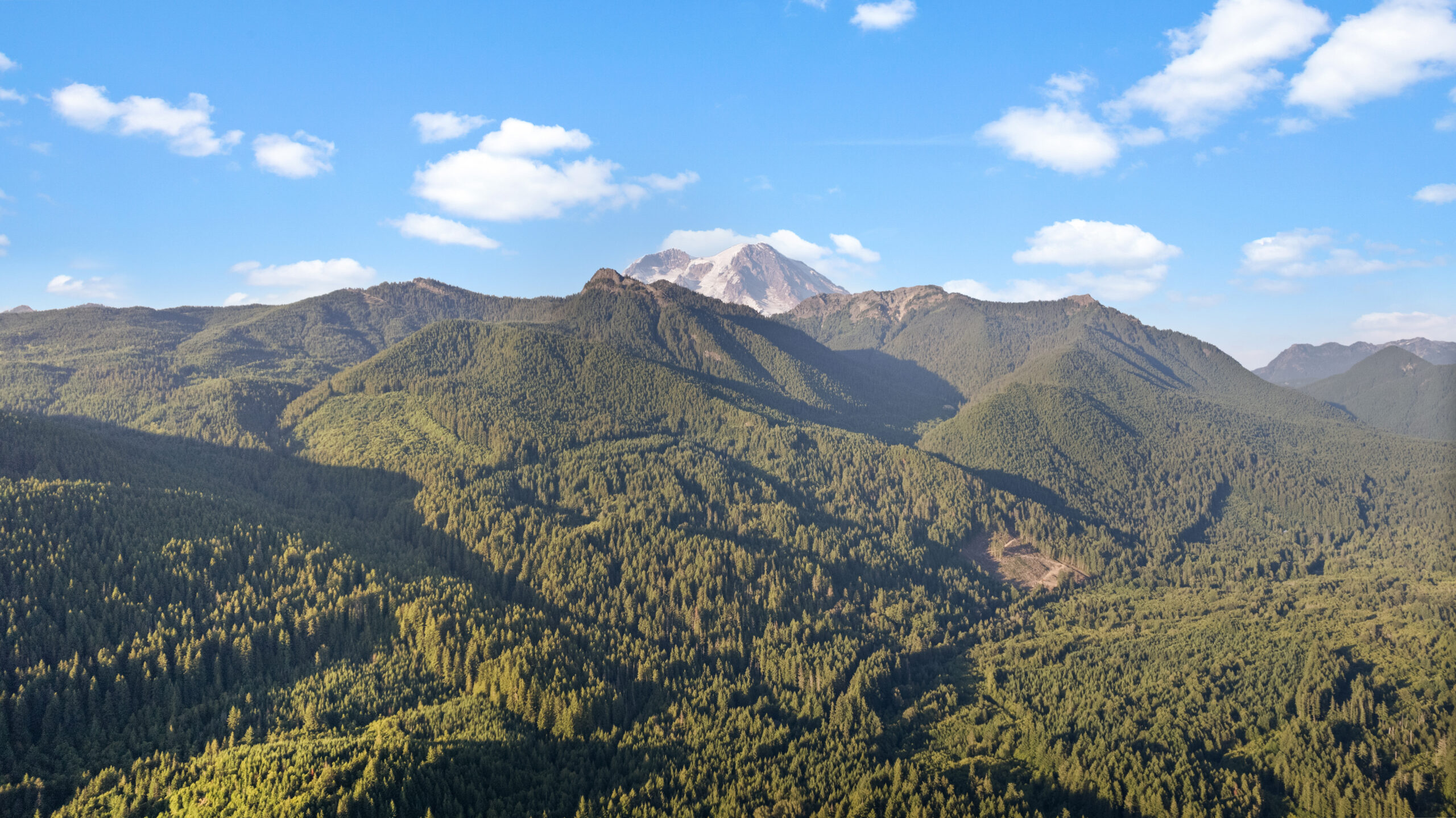 A Nature Lover's Playground:
Located in the foothills of the magnificent Mt. Rainier, this treehouse oasis immerses you in the splendor of the Pacific Northwest. With towering trees and forest landscapes, you'll find yourself surrounded by a paradise that captures the essence of peace and serenity. Nature enthusiasts, adventure seekers, and those searching for a respite from the chaos of everyday life will find sanctuary within these woods.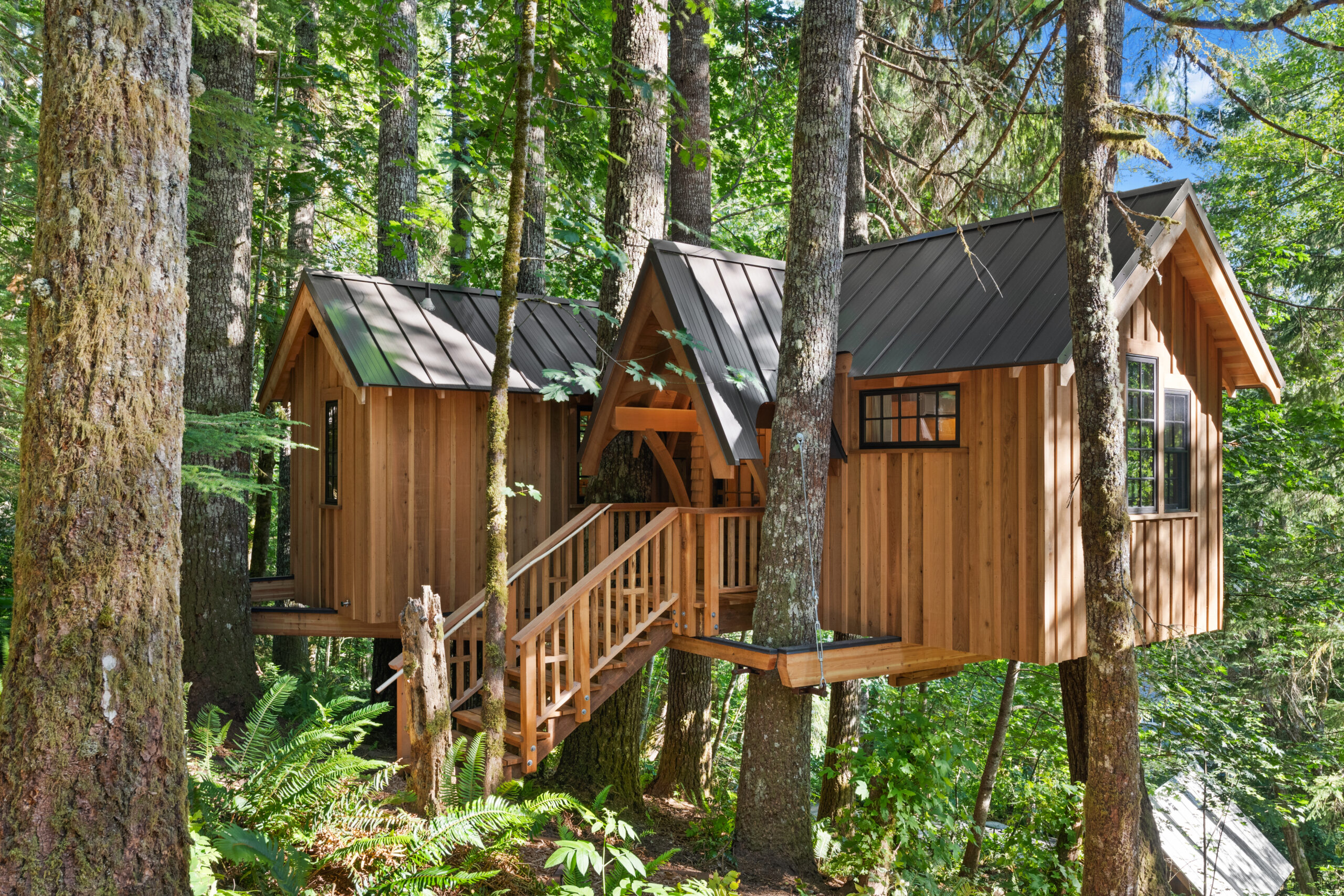 Pacific Northwest National Park Inspired Architecture:
This arboreal abode is supported 16 feet above ground by eight towering Douglas Firs and our high-quality, heavy-duty, specialized
treehouse hardware
.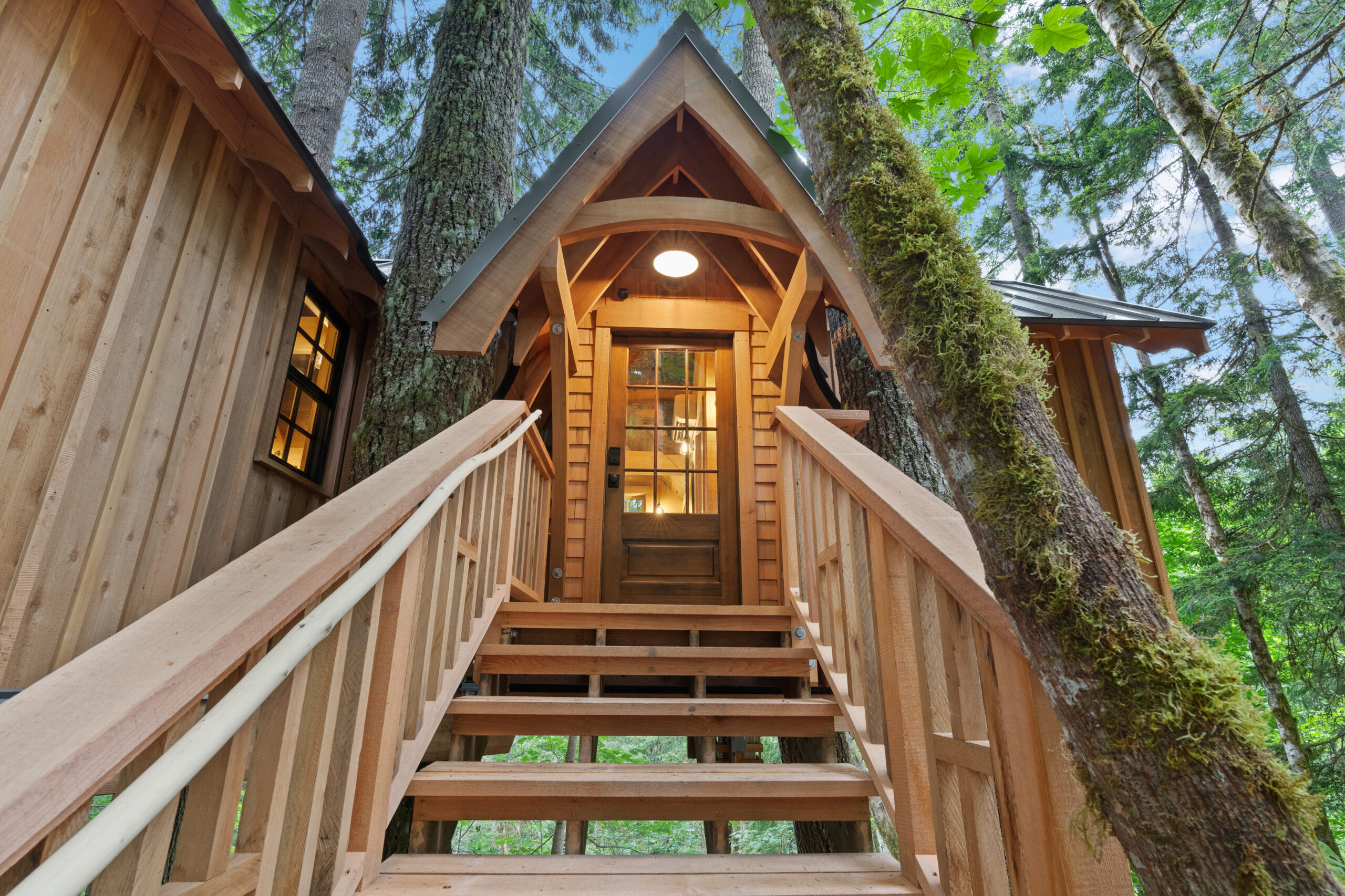 As you step into your treetop retreat, prepare to be greeted by a Gothic entryway influenced by the PNW National Parks. Fun fact: the handrail adorning this entry was expertly crafted by Adam Cage using a Maple Tree sourced from the surrounding forest.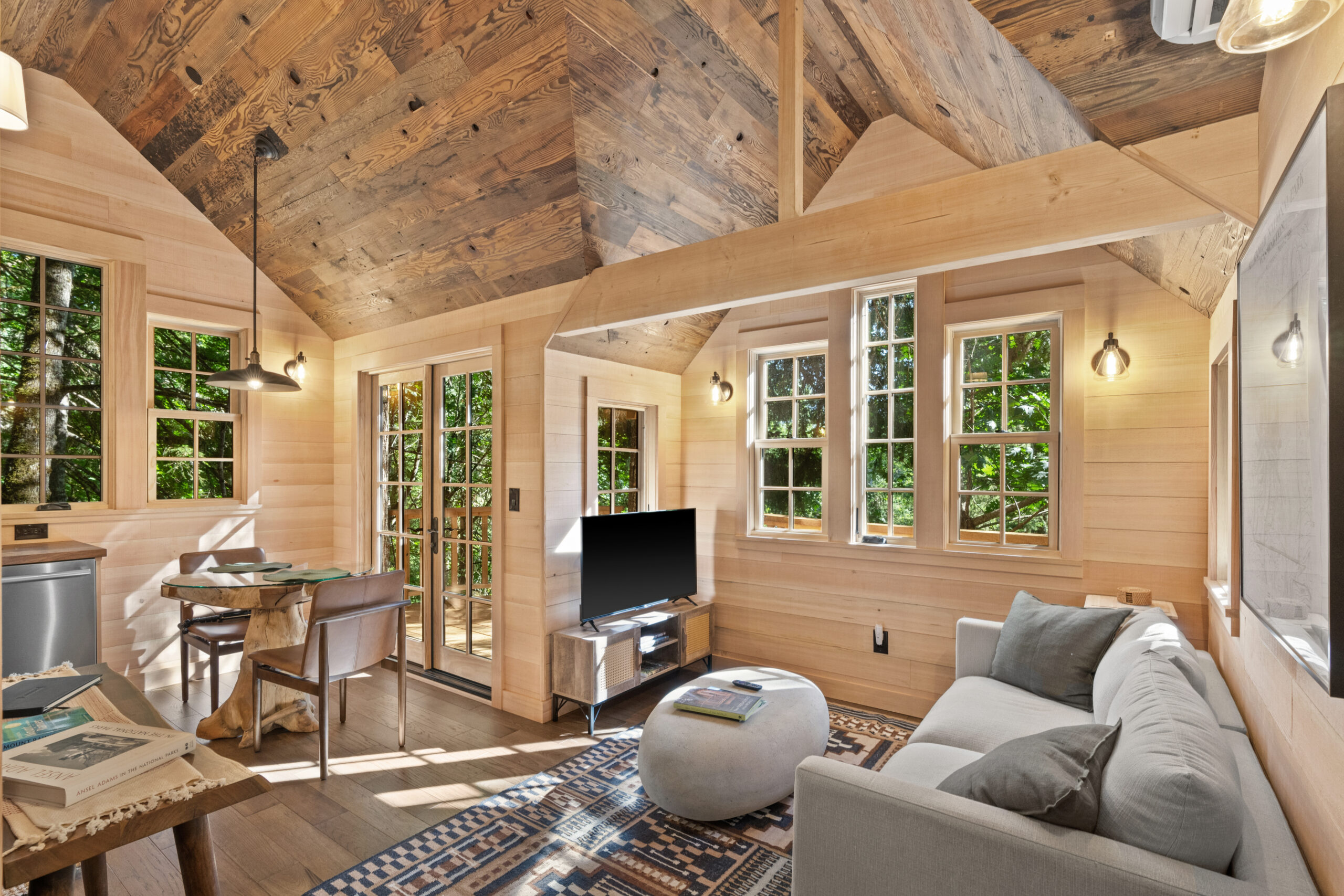 Step Inside and Explore this Arboreal Abode:
Once inside, your senses will come alive with the warm scent of wood-clad interiors, the panoramic forest views that surround you, and the warm sunlight filtering through the leaves. The living room beckons with its vaulted ceilings, a cozy couch, and windows that frame the forest, providing the perfect space to unwind, watch TV, and relax after a day of exploration in Mt. Rainier National Forest.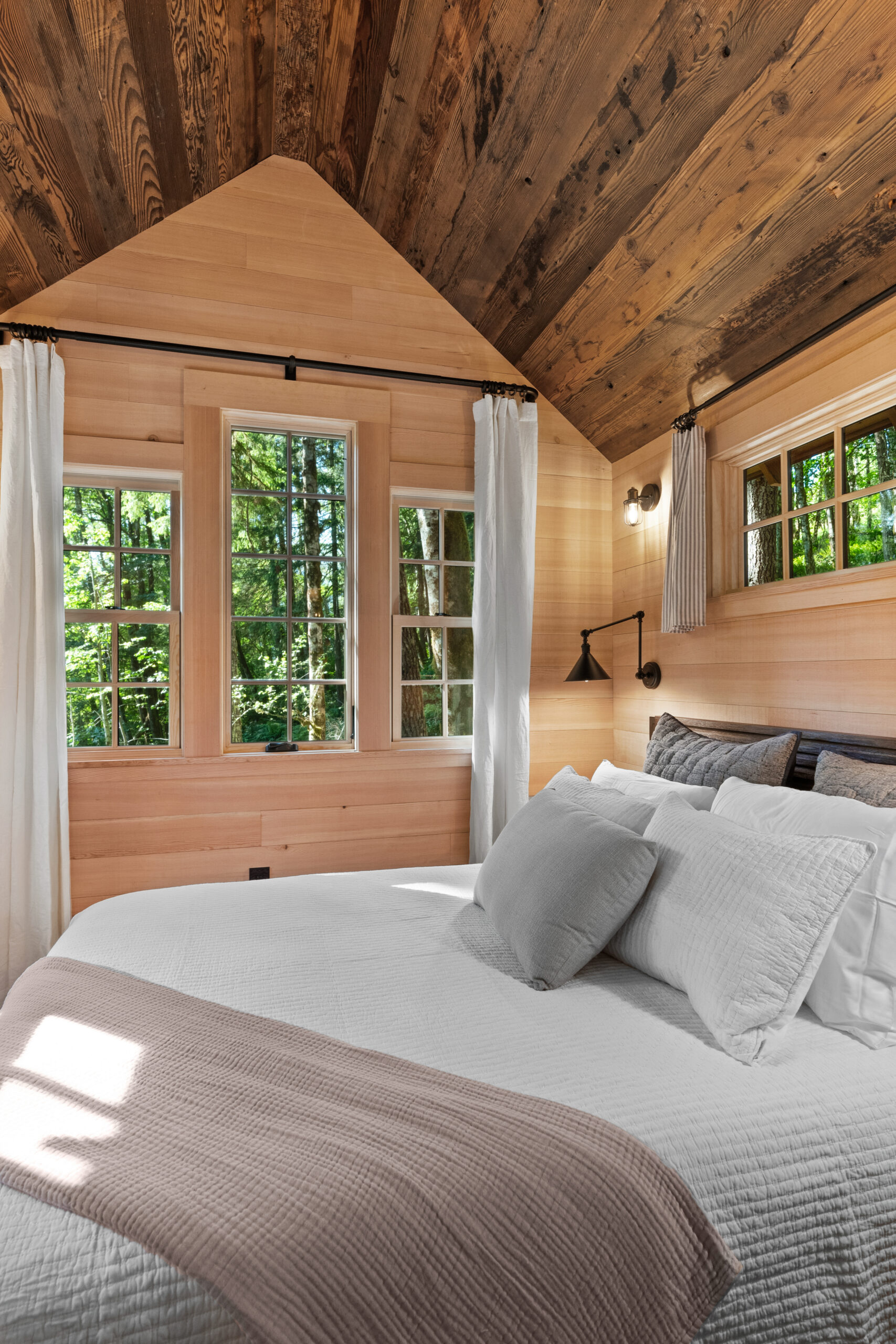 The Tranquil Bedroom
When it's time to retreat to the peaceful bedroom, you'll find yourself enveloped in tranquility. The luxurious queen-sized bed, situated beneath a lofty ceiling in a cantilevered room, exudes an airy quality. Awaken each morning to the rays of sunlight filtering through the sweeping windows.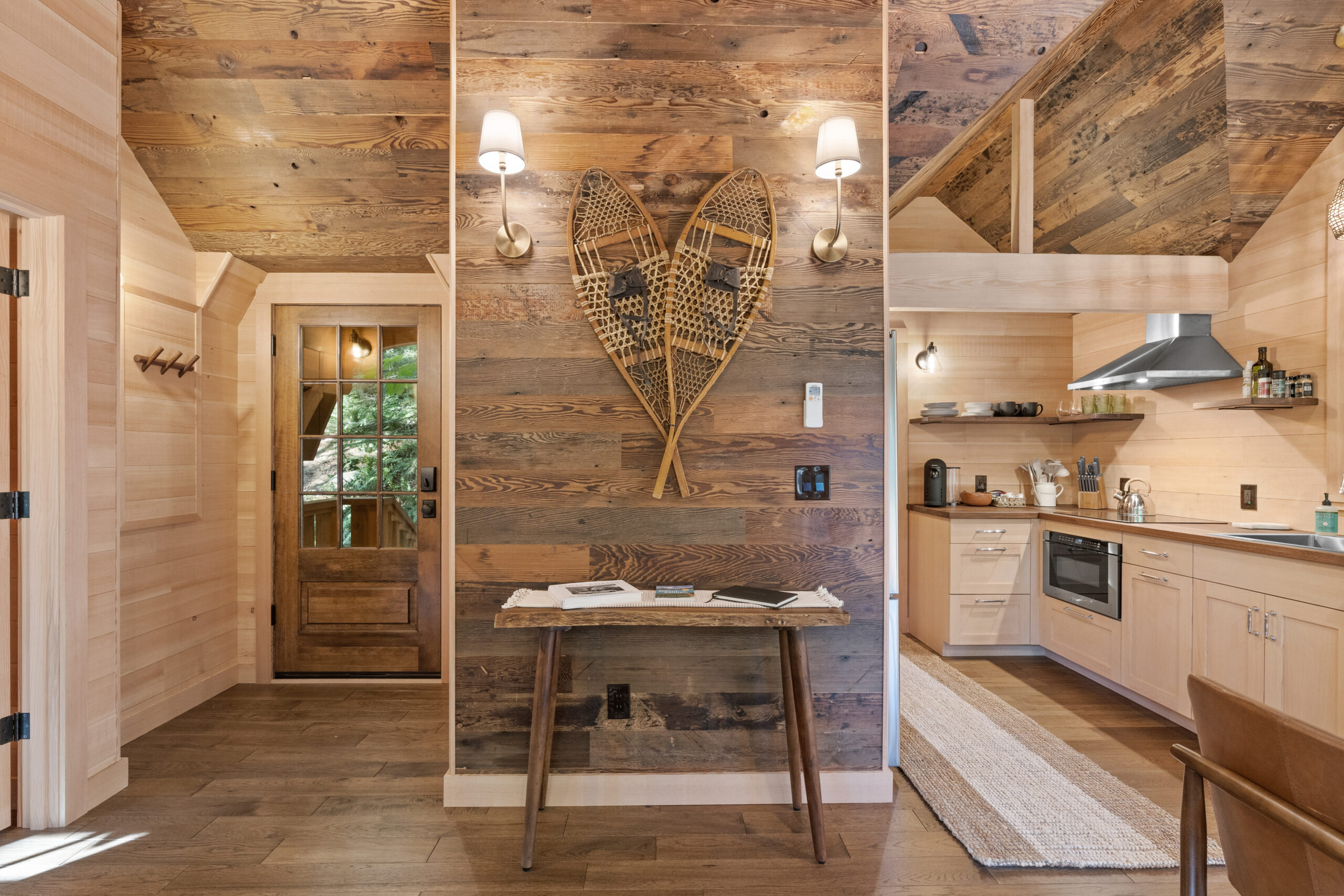 We can't help but swoon over how meticulously crafted this masterpiece is. From the seamless joinery to the eye-catching angles, Treehouse Mt. Rainier is a testament to our talented carpenters' craftsmanship.
As you explore further, you'll notice the beautiful leatherwood ceiling that cascades down the accent wall between the entry and kitchen, leading to the custom-milled fir flooring.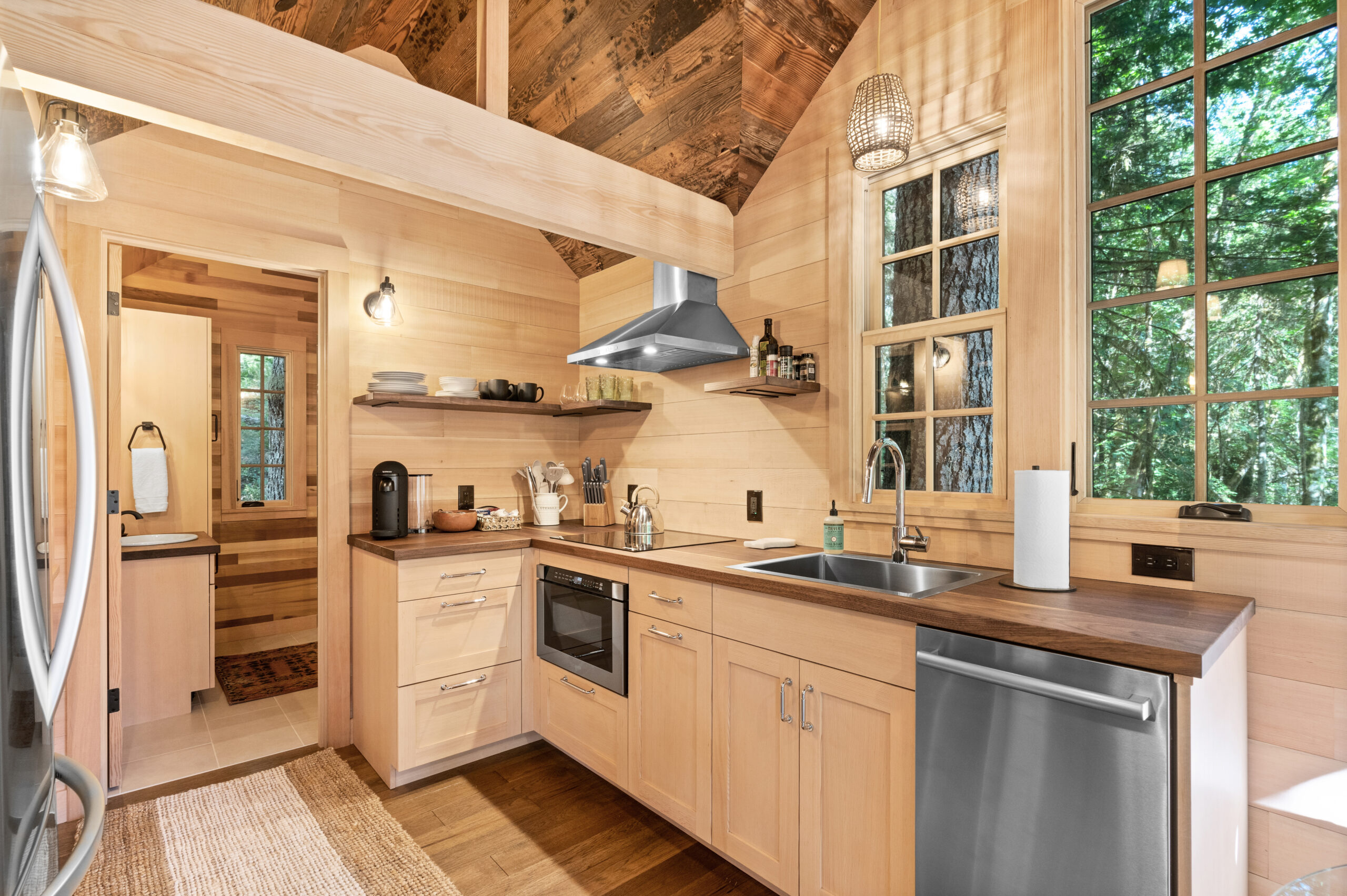 The Everything You Need Kitchen
The fully equipped kitchen, boasting black walnut countertops and custom cabinetry, provides everything you'll need to prepare a delicious feast after your outdoor escapades. Stainless steel appliances, cookware, a coffee maker, and more await your culinary endeavors. Pack your groceries and revel in the knowledge that you can indulge in the seclusion of your haven.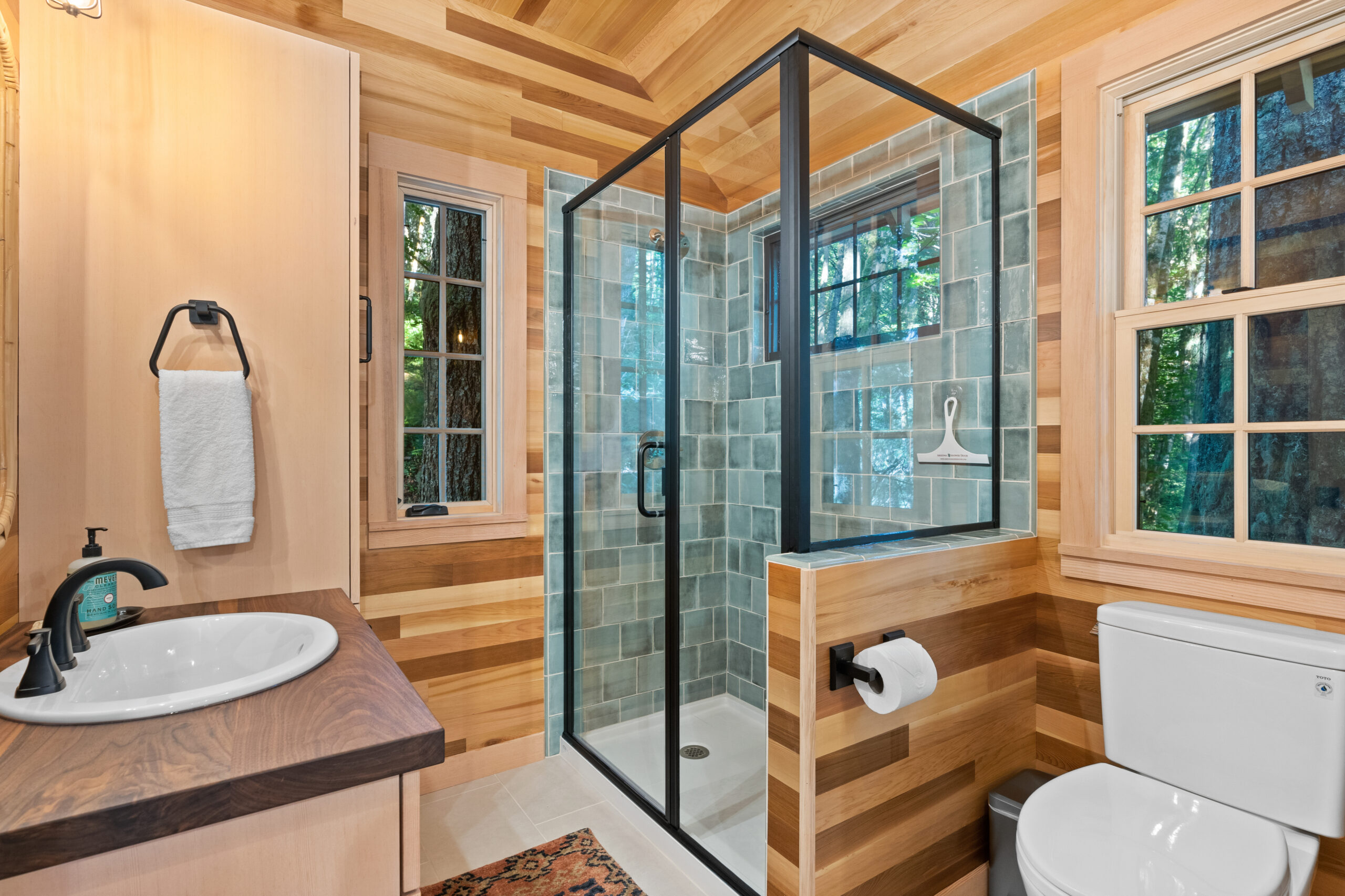 The Spa-Like Bathroom
Step into the fully plumbed bathroom, adorned with a black walnut countertop, cedar paneling, and a splendid tile shower, for a spa-like experience. Let your worries melt away as you indulge in a luxurious shower while gazing out of the window into the secluded forest. The rejuvenating power of nature awaits you in this exquisite space.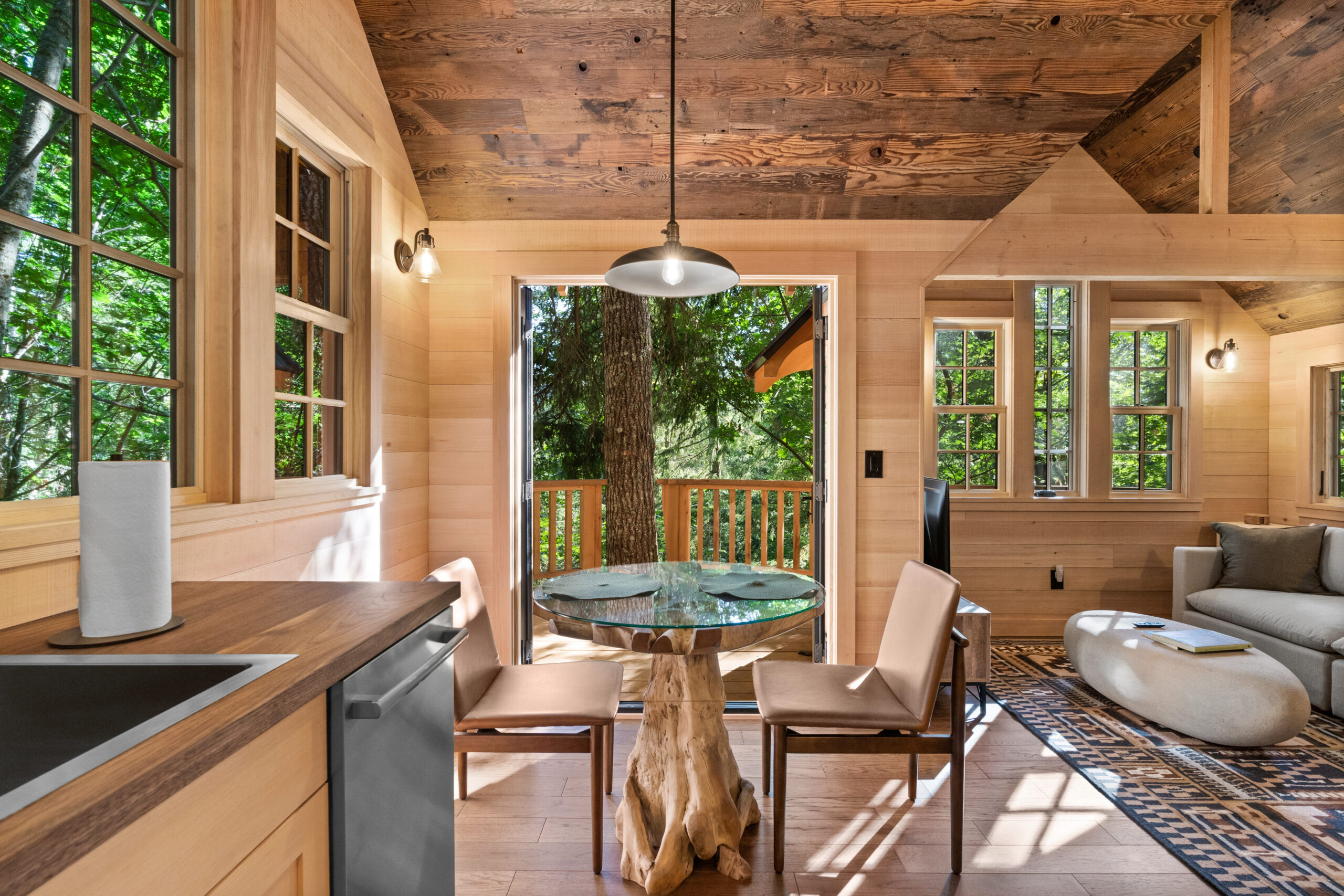 Intimate Dining For Two, Please
For intimate meals with your loved one, a cozy dining space for two awaits, offering first-class forest views that will enhance your dining experience and create memories to cherish forever.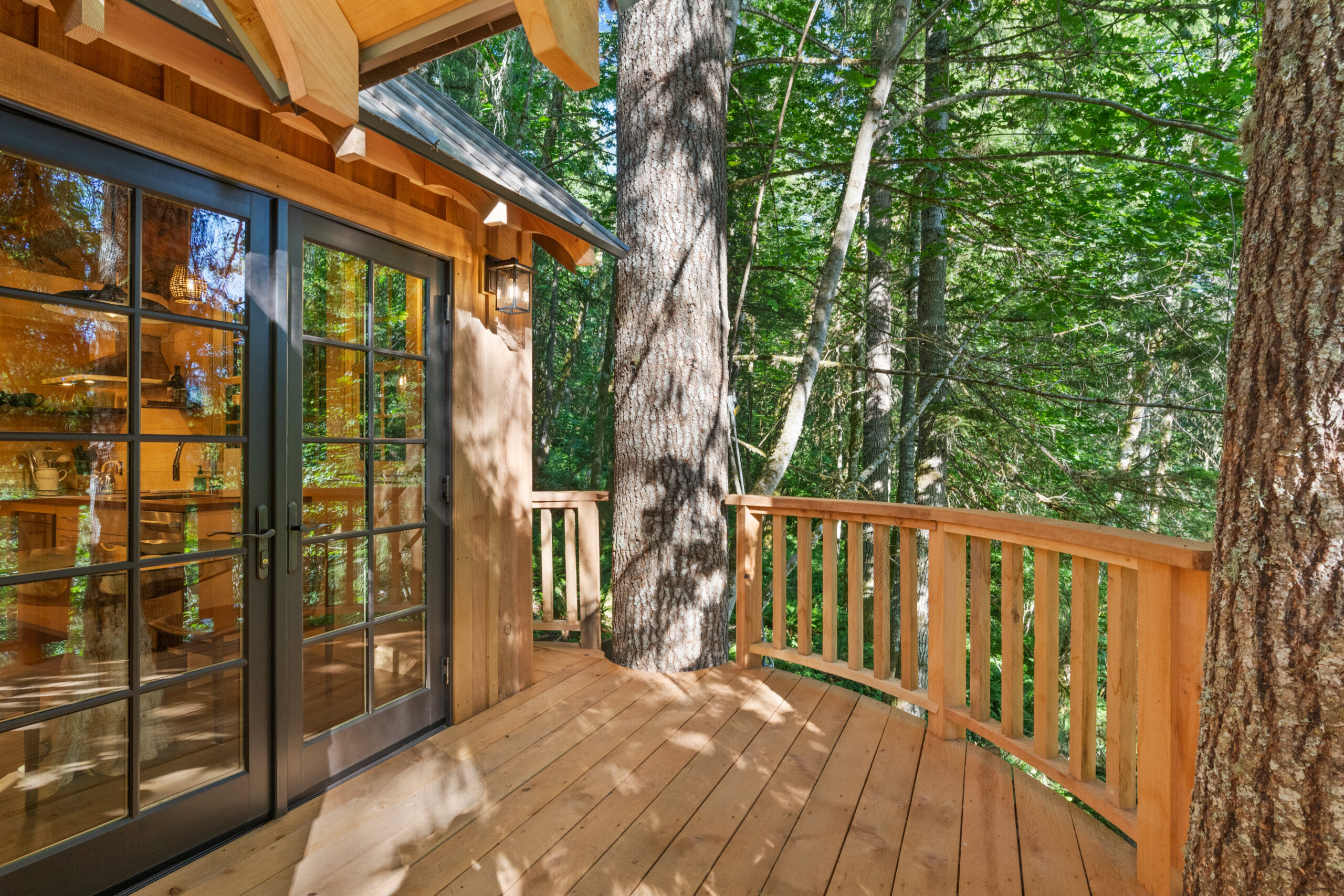 Secluded Deck for Treetop Daydreaming
Finally, step out onto the beautifully crafted deck, elevated 16 feet above the forest floor. This perch provides the perfect vantage point to soak in the breathtaking canopy views and revel in the symphony of bird songs. Listen closely, and you'll even hear the gentle sway of the trees as our thoughtfully designed hardware adjusts with the breeze, ensuring your safety and peace of mind.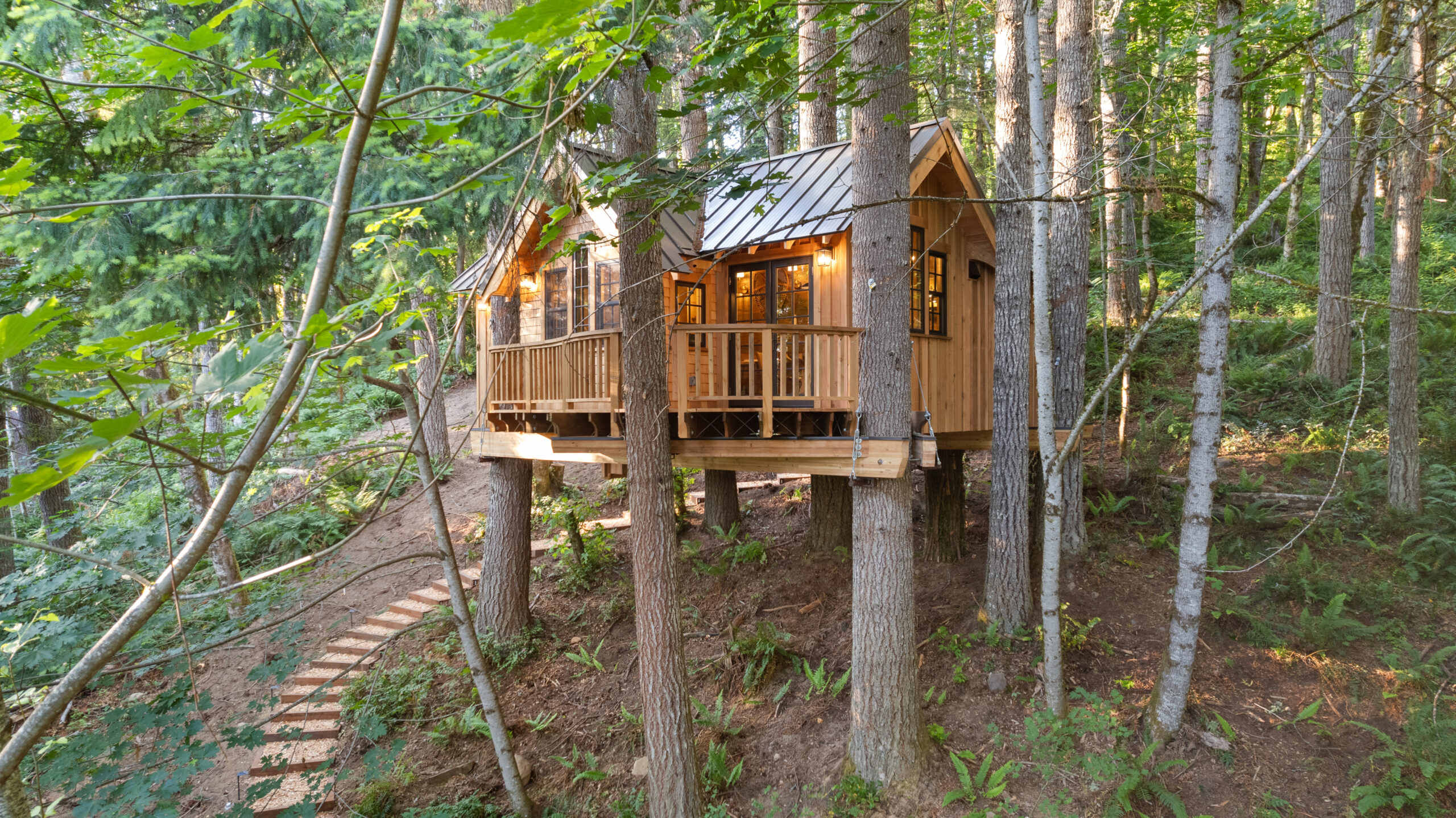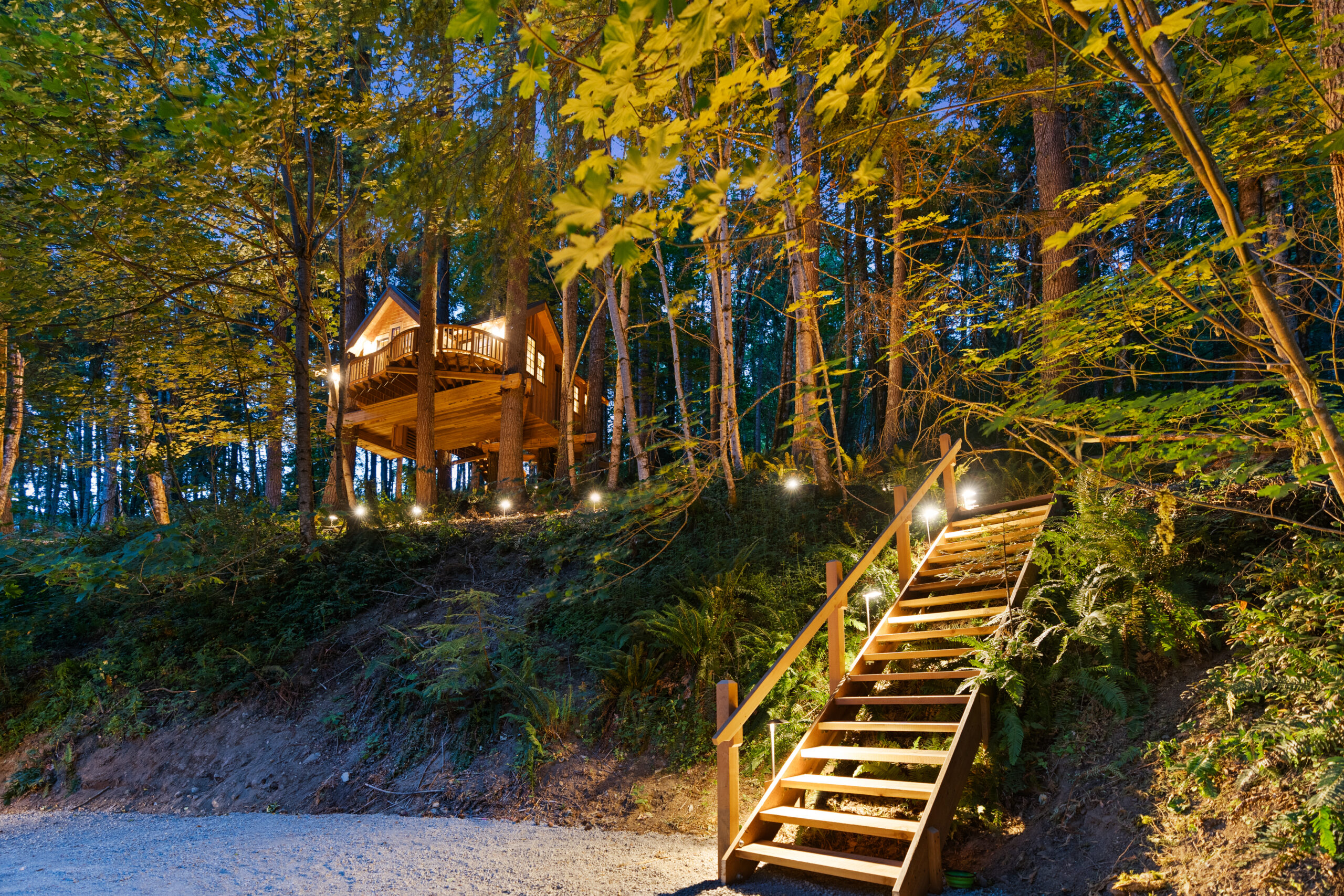 Whether you're seeking a romantic getaway, a solo adventure, friends' trip, or a place to reconnect with nature, Treehouse Mt. Rainier invites you to embark on a once-in-a-lifetime journey. Experience the magic of a Nelson Treehouse Experience creation, where architecture, nature, and hospitality converge to create an experience that will leave you with cherished memories for a lifetime. Book your stay today and discover the harmony and serenity that awaits at Treehouse Mt. Rainier.
Welcome to Treehouse Mt. Rainier – your gateway to elevated adventure!
Take a virtual step inside in the video below!
Photos and video courtesy of ClaymoreMac Media