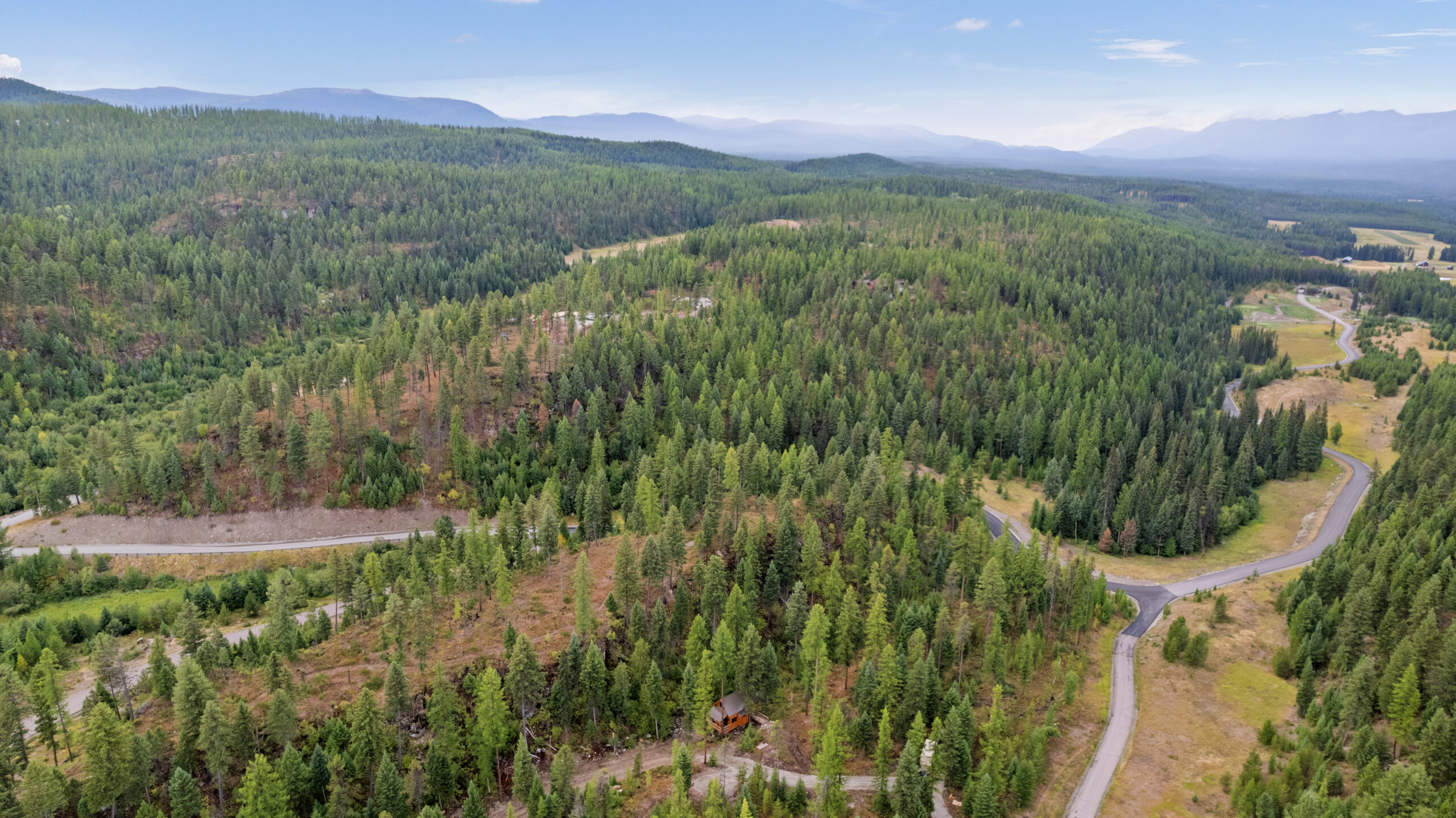 Nestled in a verdant valley of Whitefish, Montana, the Elk Mountain Treehouse is a secluded treetop retreat for our wonderful clients. At a little over 800 square feet, this idyllic treehouse includes two bedrooms, living space, bathroom, kitchenette and two decks that make it the perfect weekend escape.
Come along as we give you a look into this cozy treetop escape!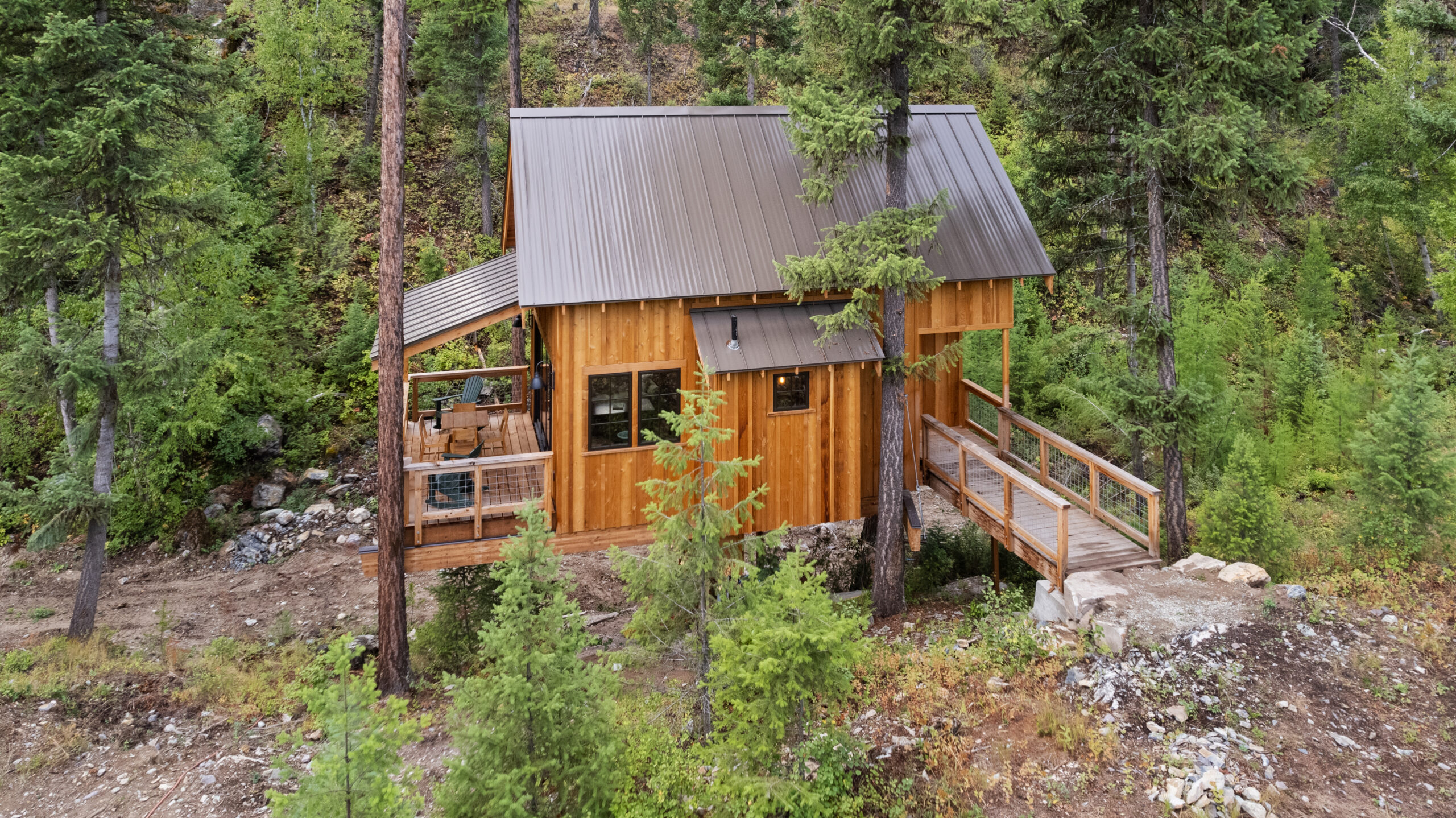 Built to Last
This elevated cabin is supported by our Heavy Limb Hardware, on two tamaracks, one douglas fir, and a couple posts to help support the weight and notorious winter snow loads. The journey begins as you cross a bridge that leads to the covered entry into the treehouse.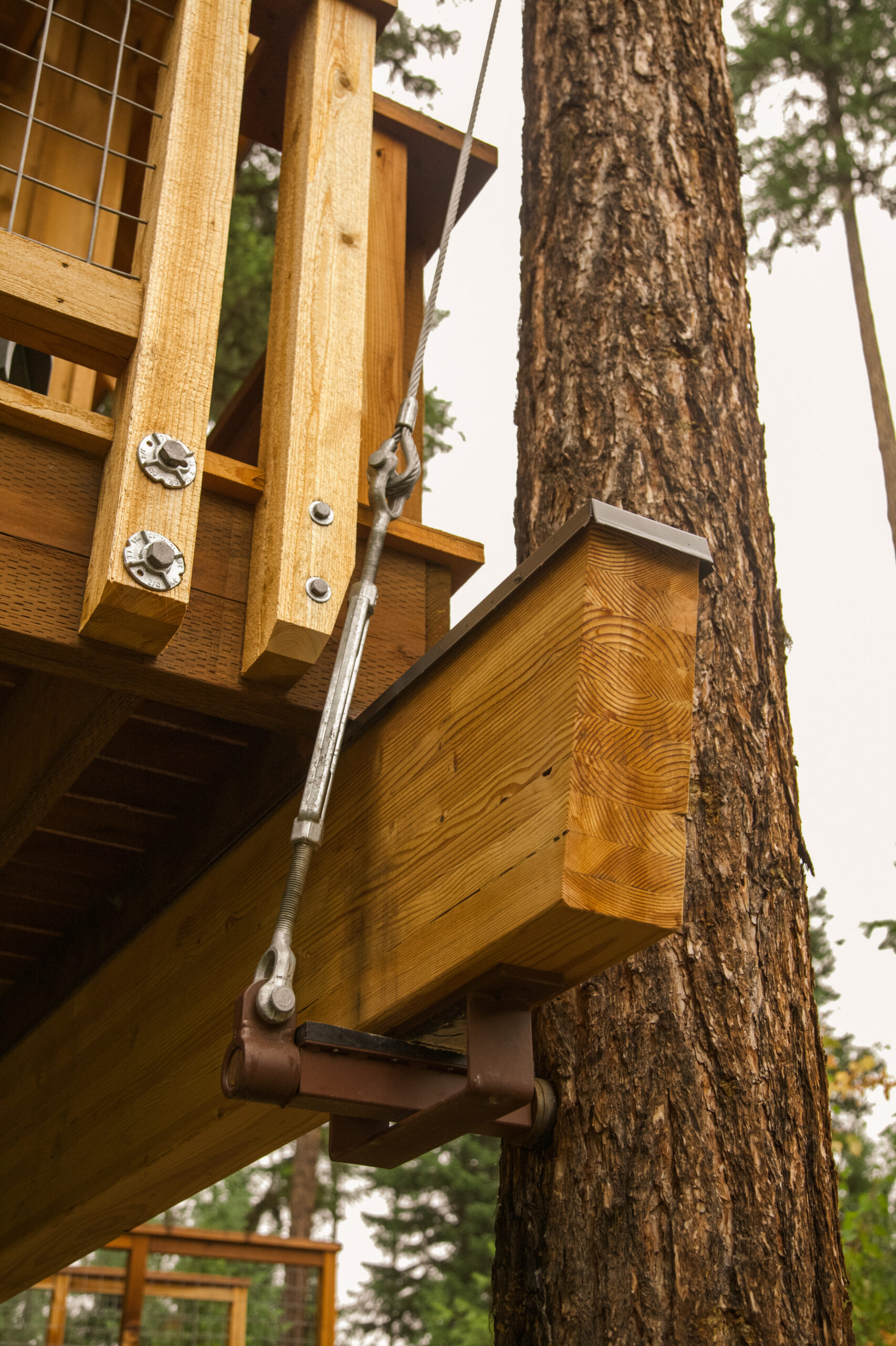 A Warm Nelson Treehouse Welcome
Stepping into Elk Mountain, one immediately senses the magic that envelops this idyllic treehouse. This custom-crafted retreat is a blend of comfort and luxury. It's not just a place to visit; it's an experience that connects with nature while providing all the comforts of a home away from home.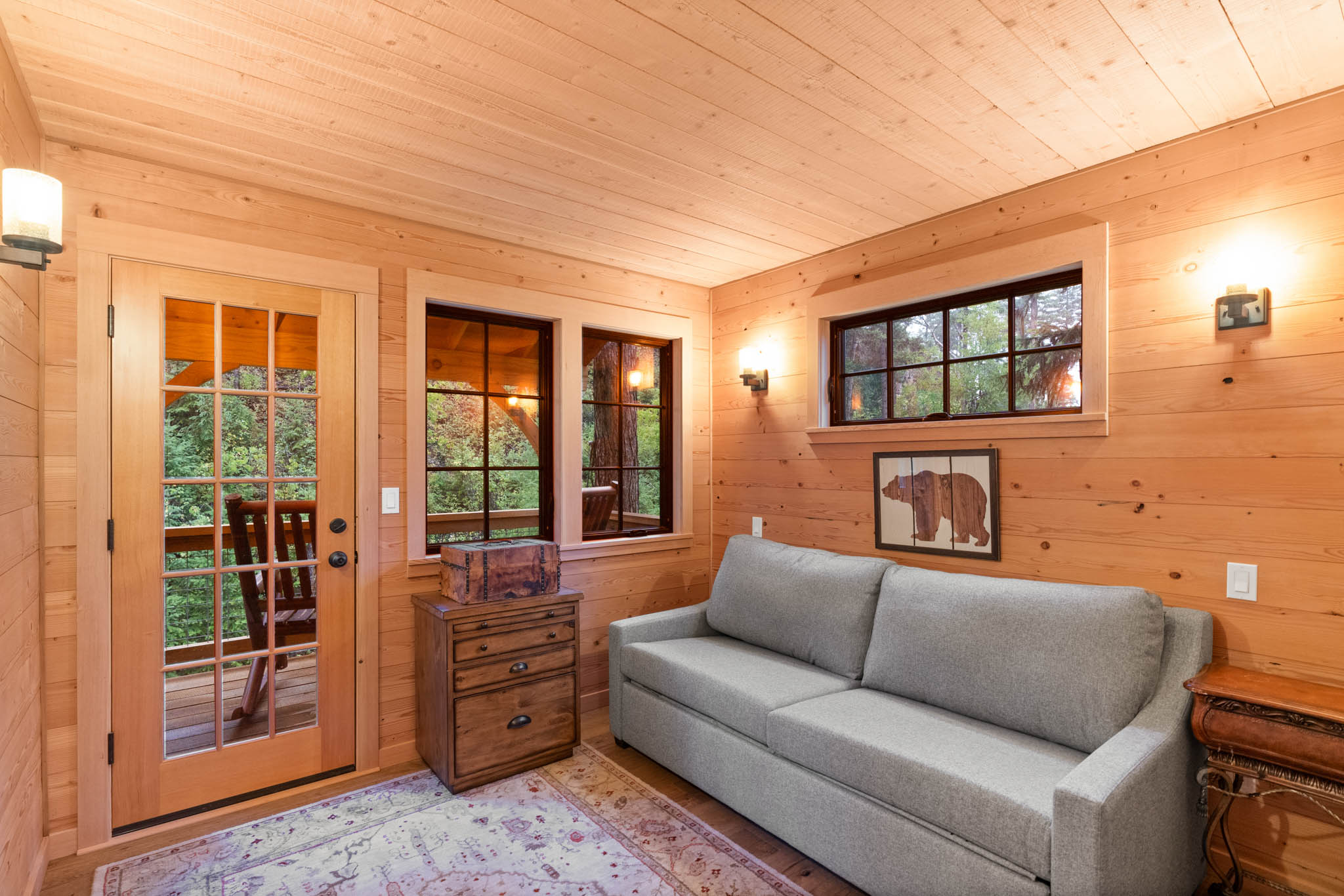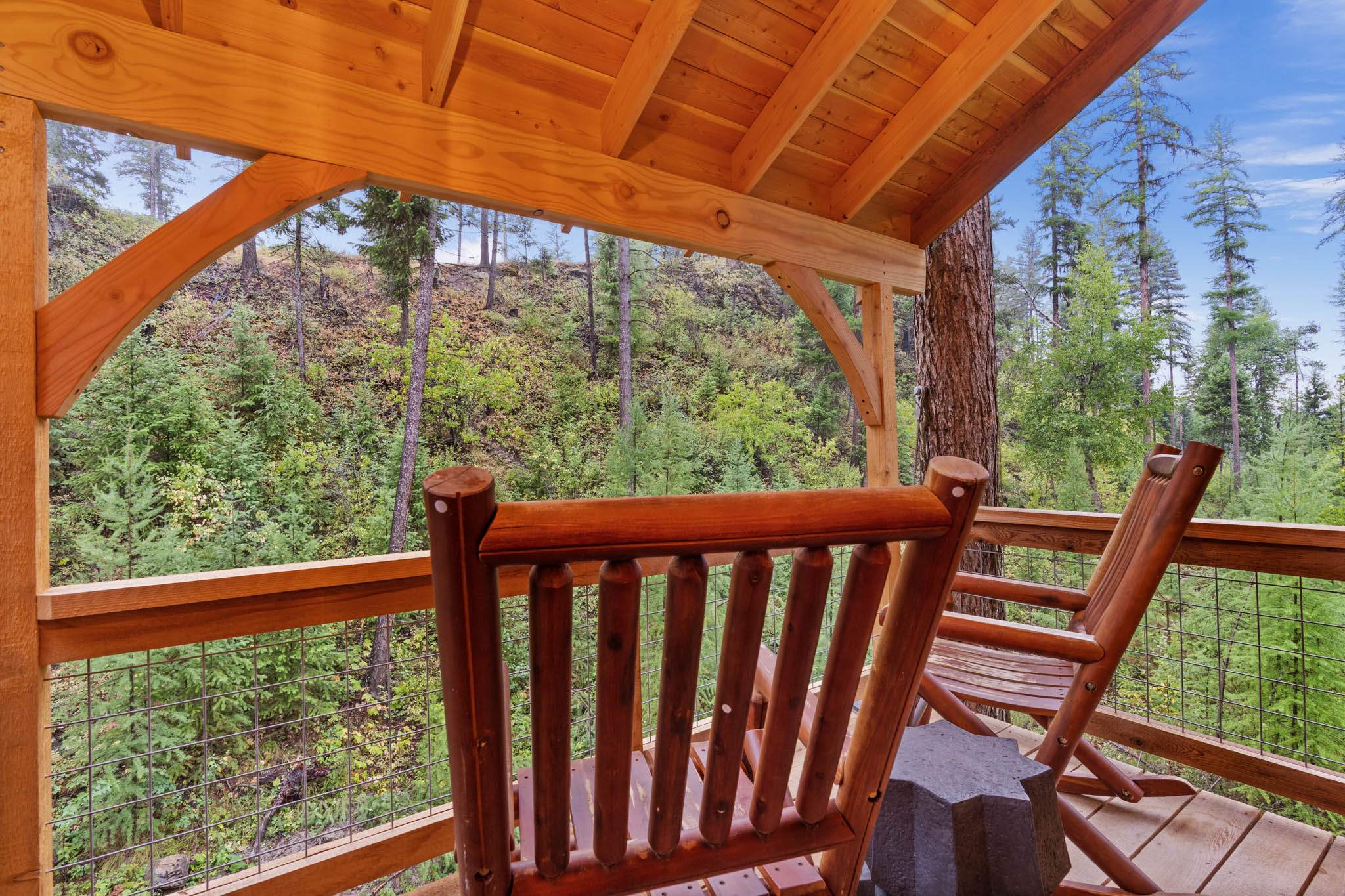 Luxury in Every Detail
A guest room greets you on the right as you step inside. This cozy space has a pullout couch for restful nights sleep or an afternoon of reading. Off the side of the room, there's a private deck, where one can kick back and relax in privacy.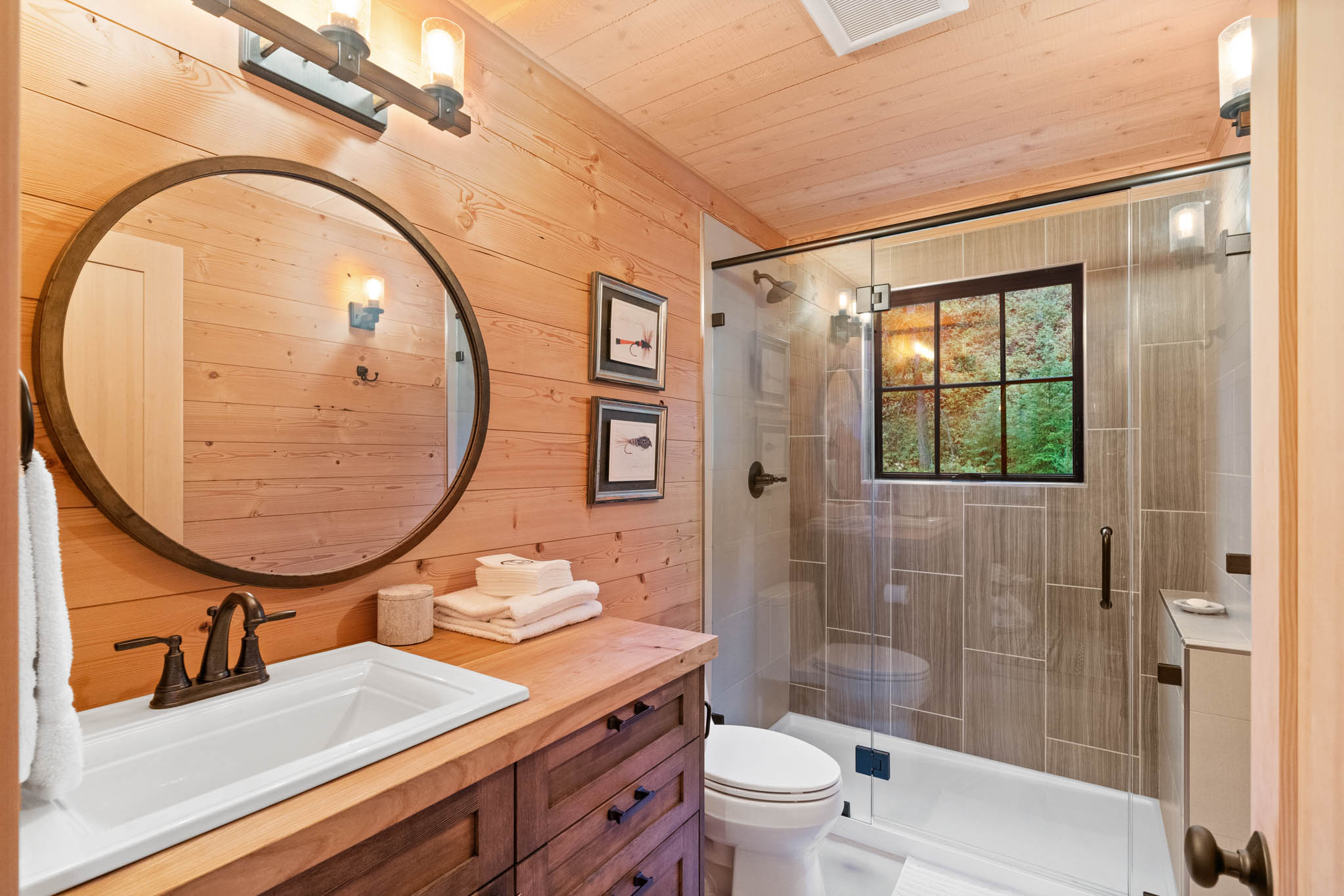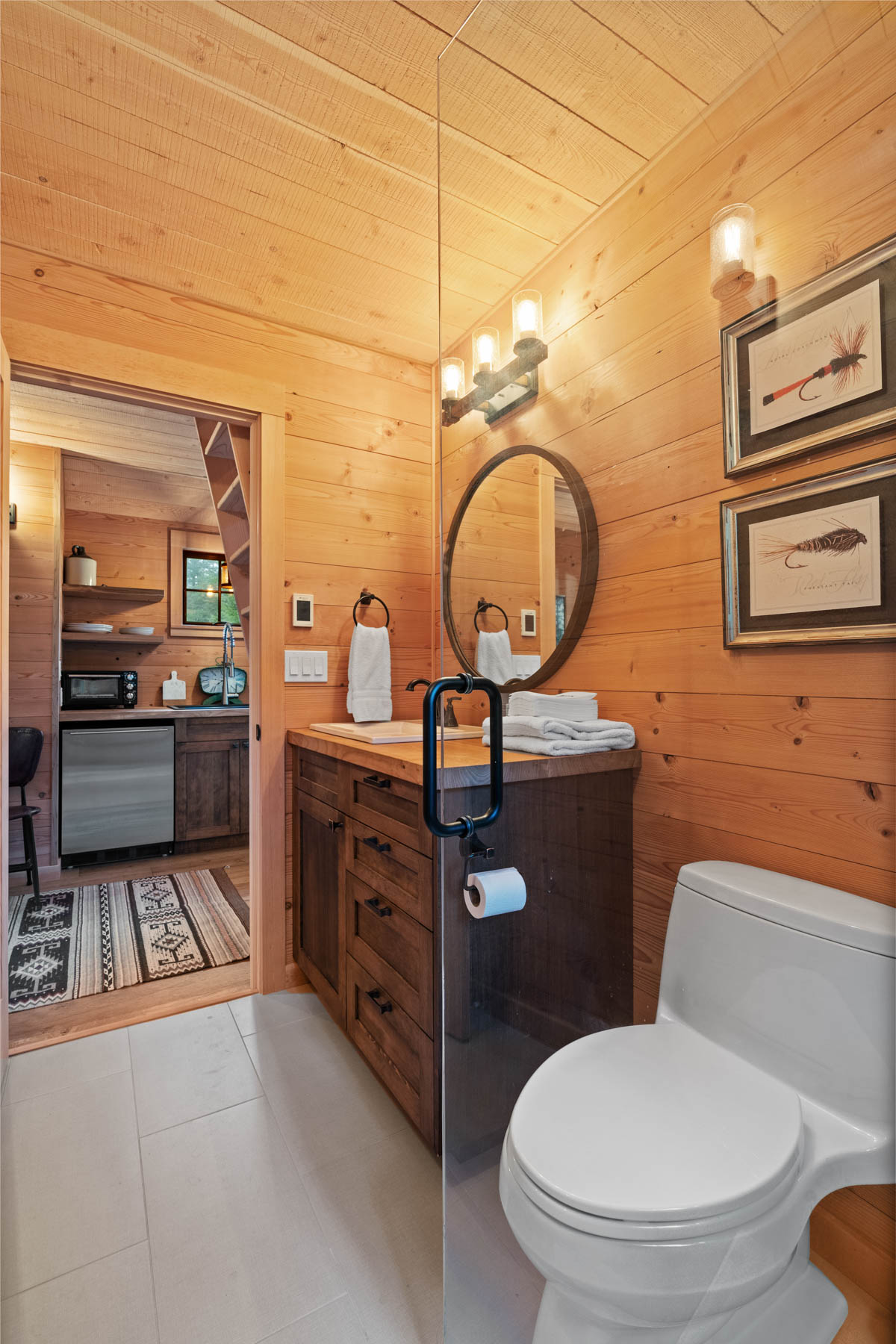 Adjacent to the guest room, a 3/4 bathroom awaits, with a spa-like shower, a beautiful slab countertop and custom cabinets built by our prefab shop carpenter, Ian Franks.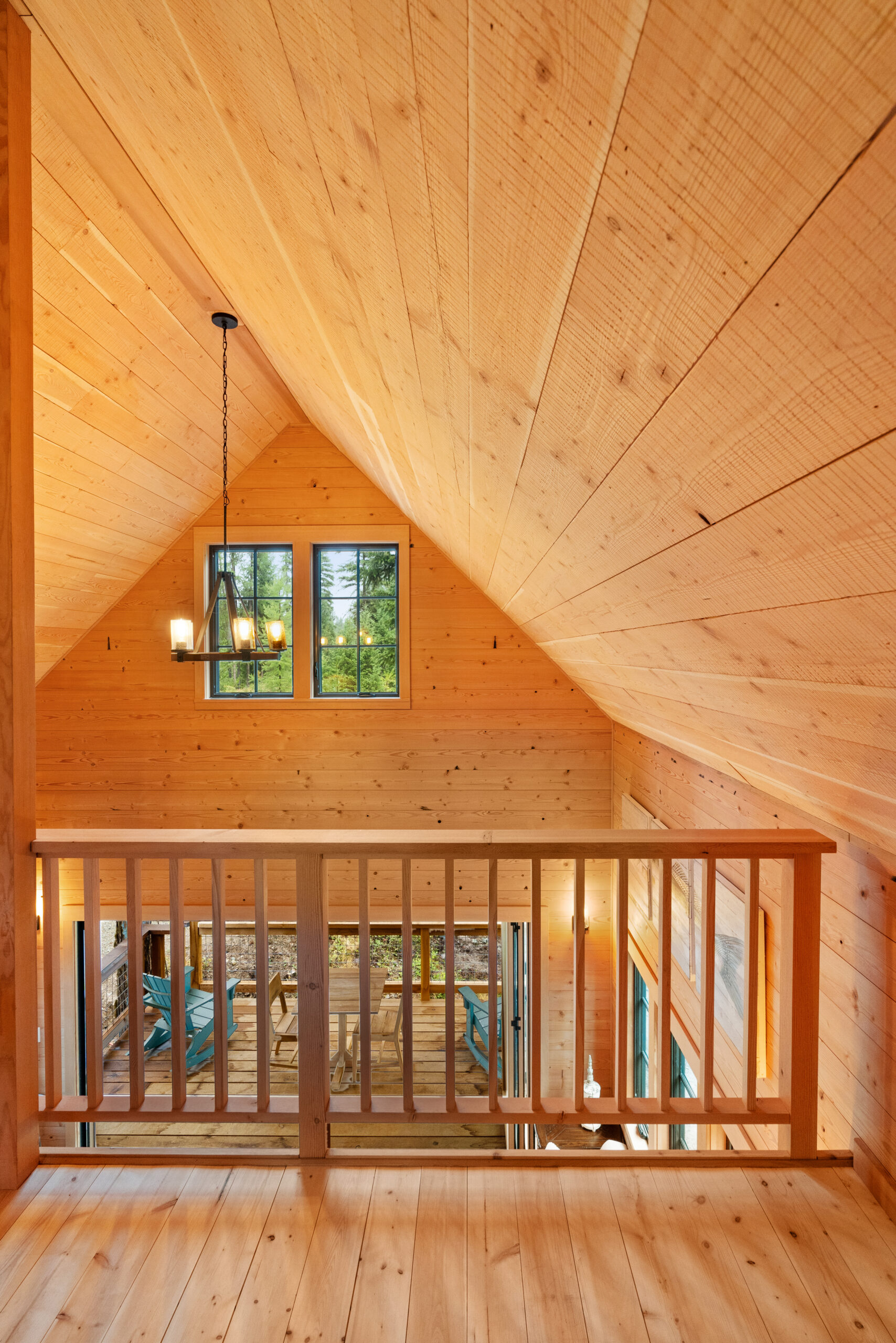 Craftsmanship and Nature's Finest
This mountain escape is crafted with some really beautiful wood including reclaimed lumber from our mill, Old Woods in Snoqualmie, Washington. The exterior is our go-to siding, Western Red Cedar, imparting rustic charm that blends seamlessly with the surroundings. Inside, the ceiling is adorned with spruce, creating a warm and inviting atmosphere. Wall paneling, meticulously crafted from reclaimed Douglas fir, adds history and character to the space. Vertical grain hemlock trim completes the look, a testament to our unwavering dedication to premium materials and design.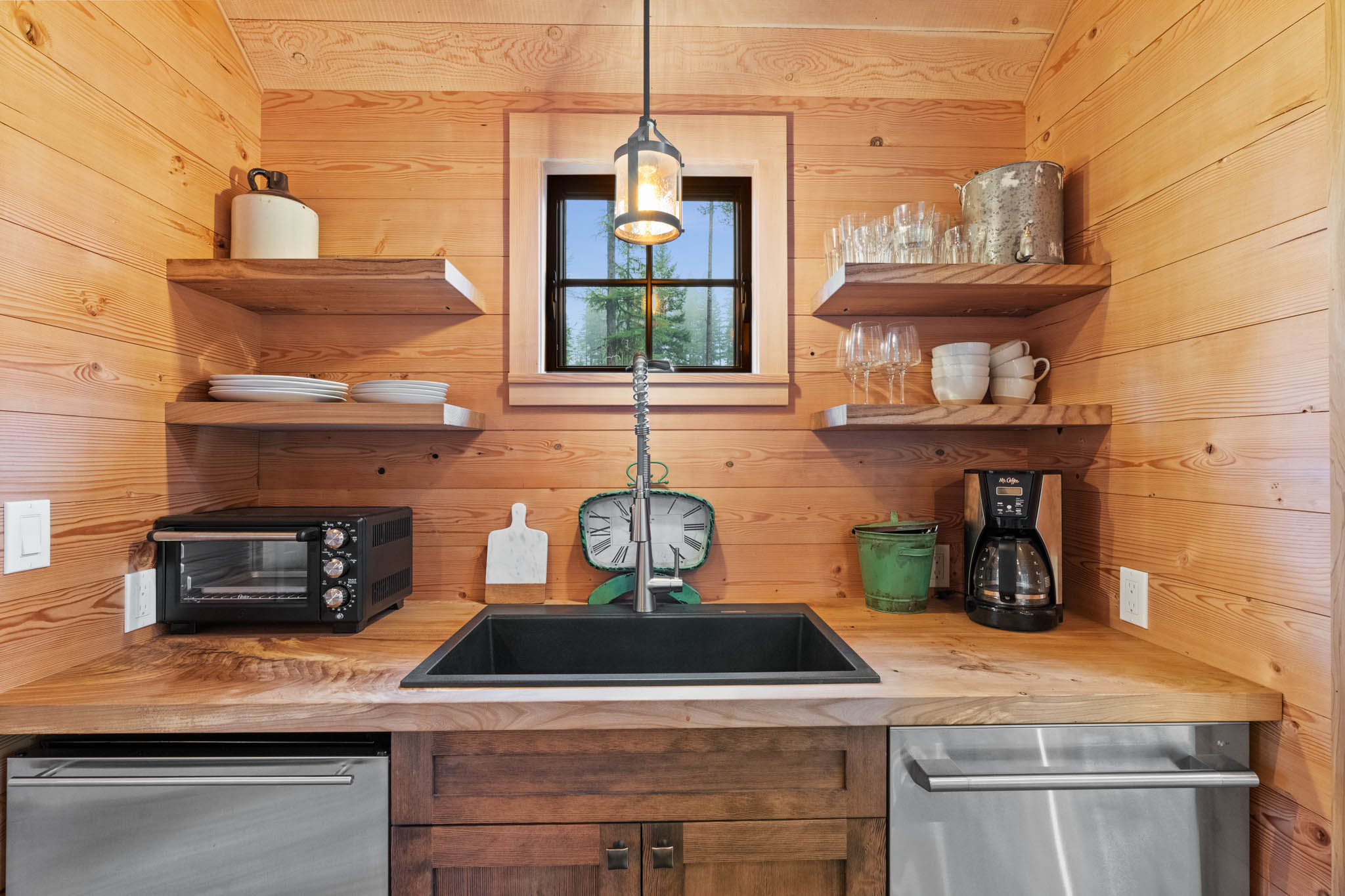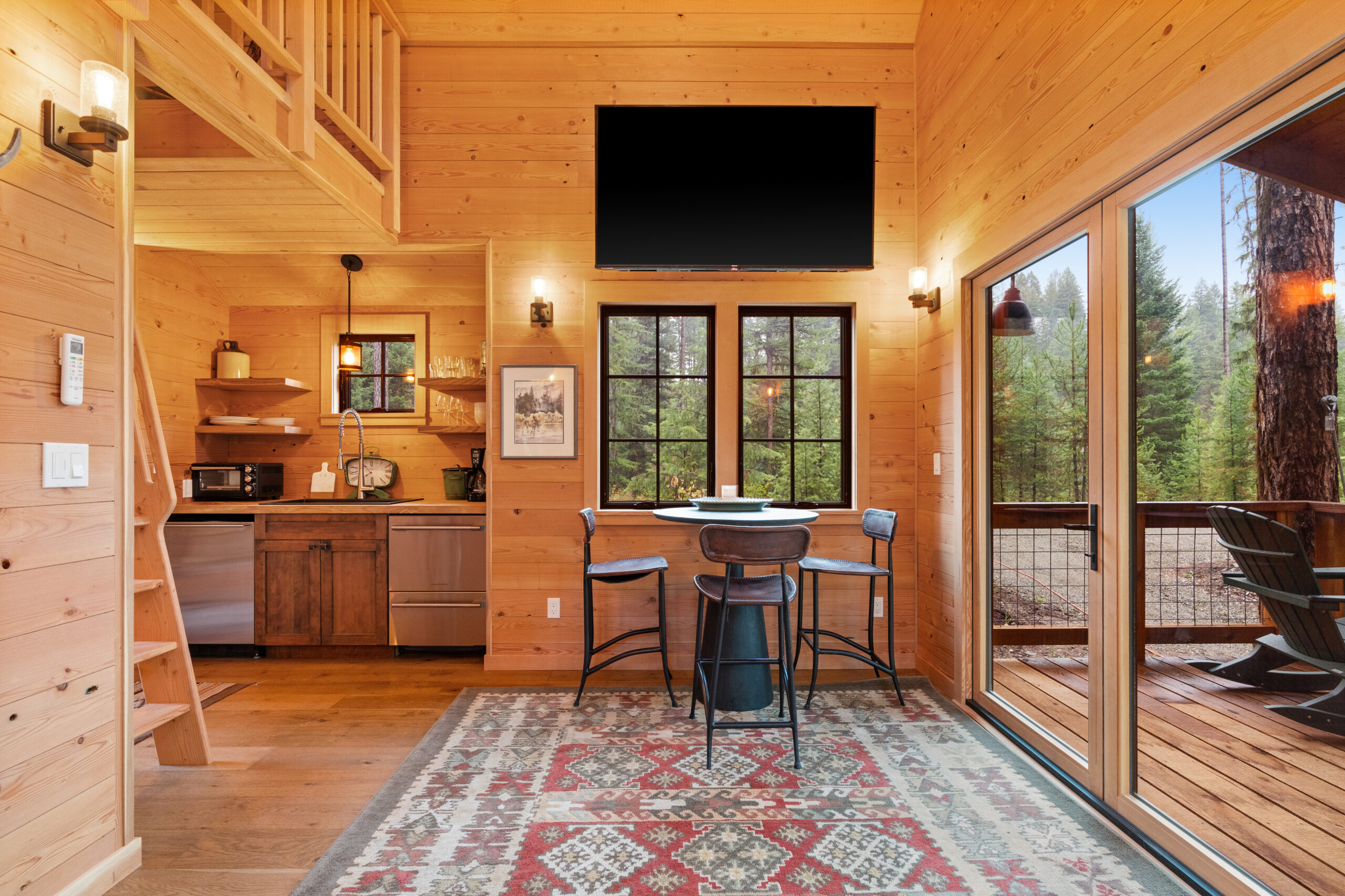 Kitchenette with the Necessities
No treetop escape is complete without a kitchenette! With a mini fridge, toaster oven, coffee maker, sink, and dishwasher our clients are set for a weekend away in the trees that they never have to leave. Whether it's whipping up a quick snack or stashing beverages, the kitchenette adds a touch of convenience.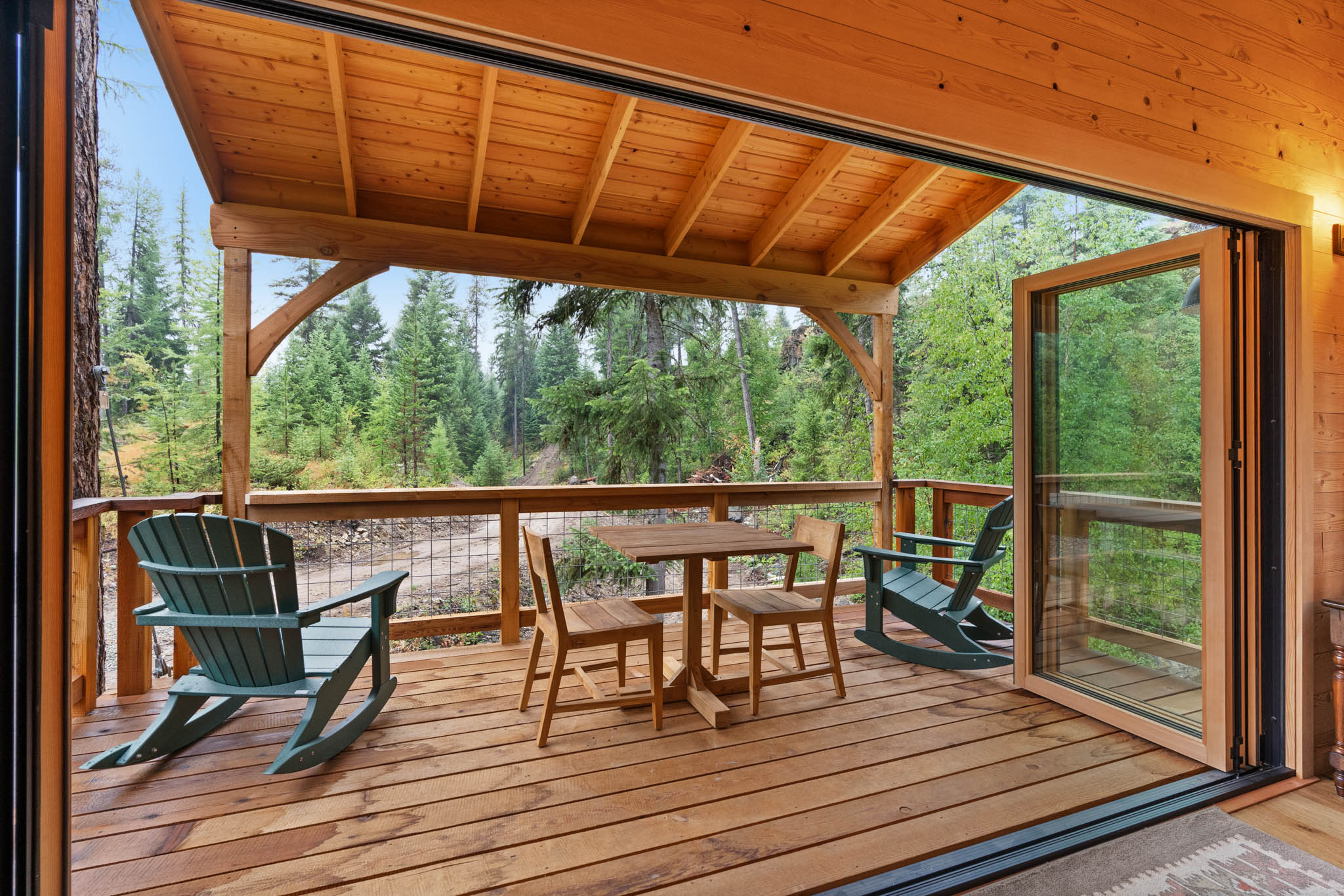 A Host's Dream Living Room
Our clients are big football fans so the living space is designed with entertainment in mind. Towering living room ceilings create an open and inviting ambiance to kick back and watch the game. A small dining area is the perfect spot for intimate gatherings. Marvin bi-fold glass doors open up the living space onto an ample deck, inviting guests to savor alfresco dining, tune into the game from the fresh outdoor air, or to simply soak in nature.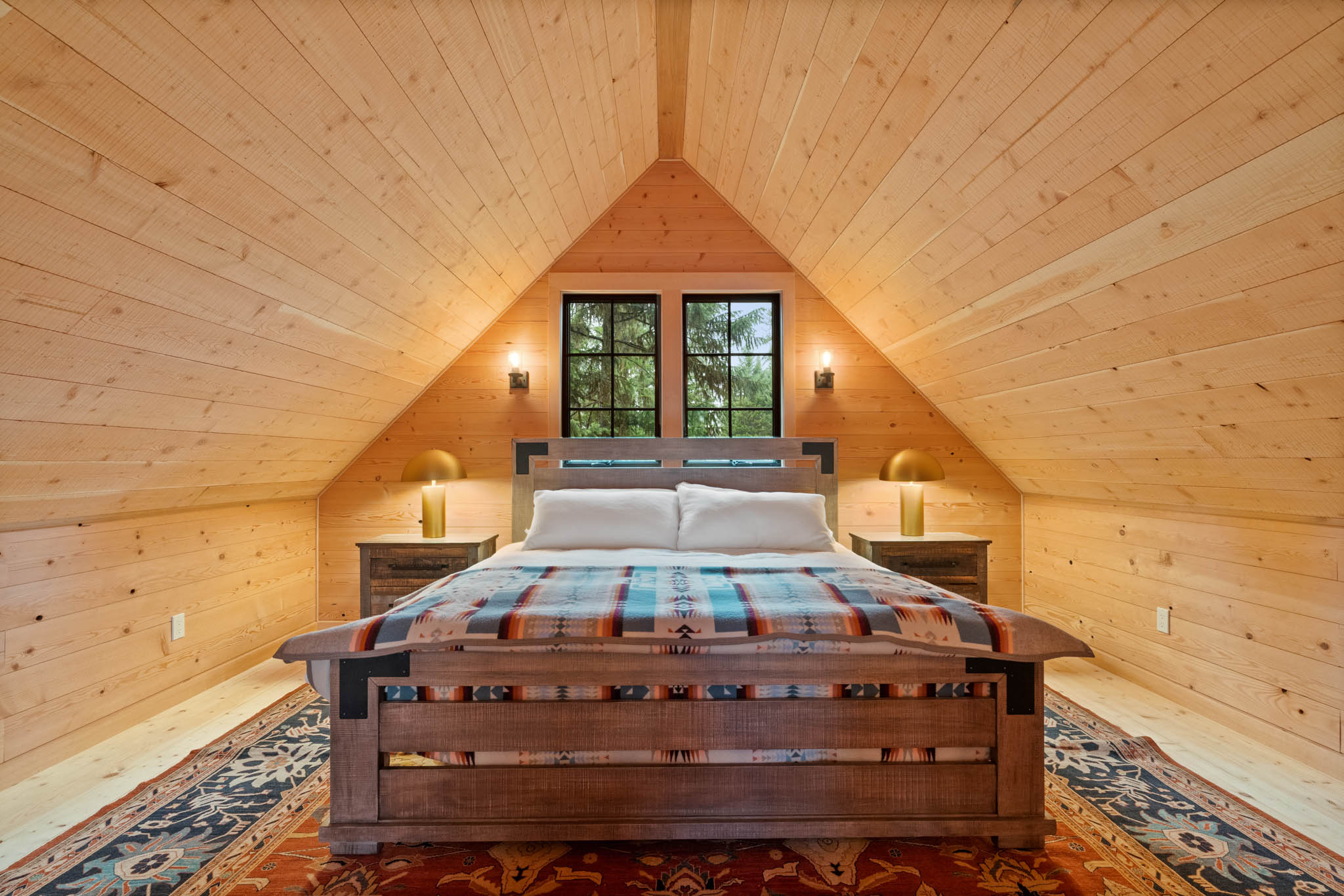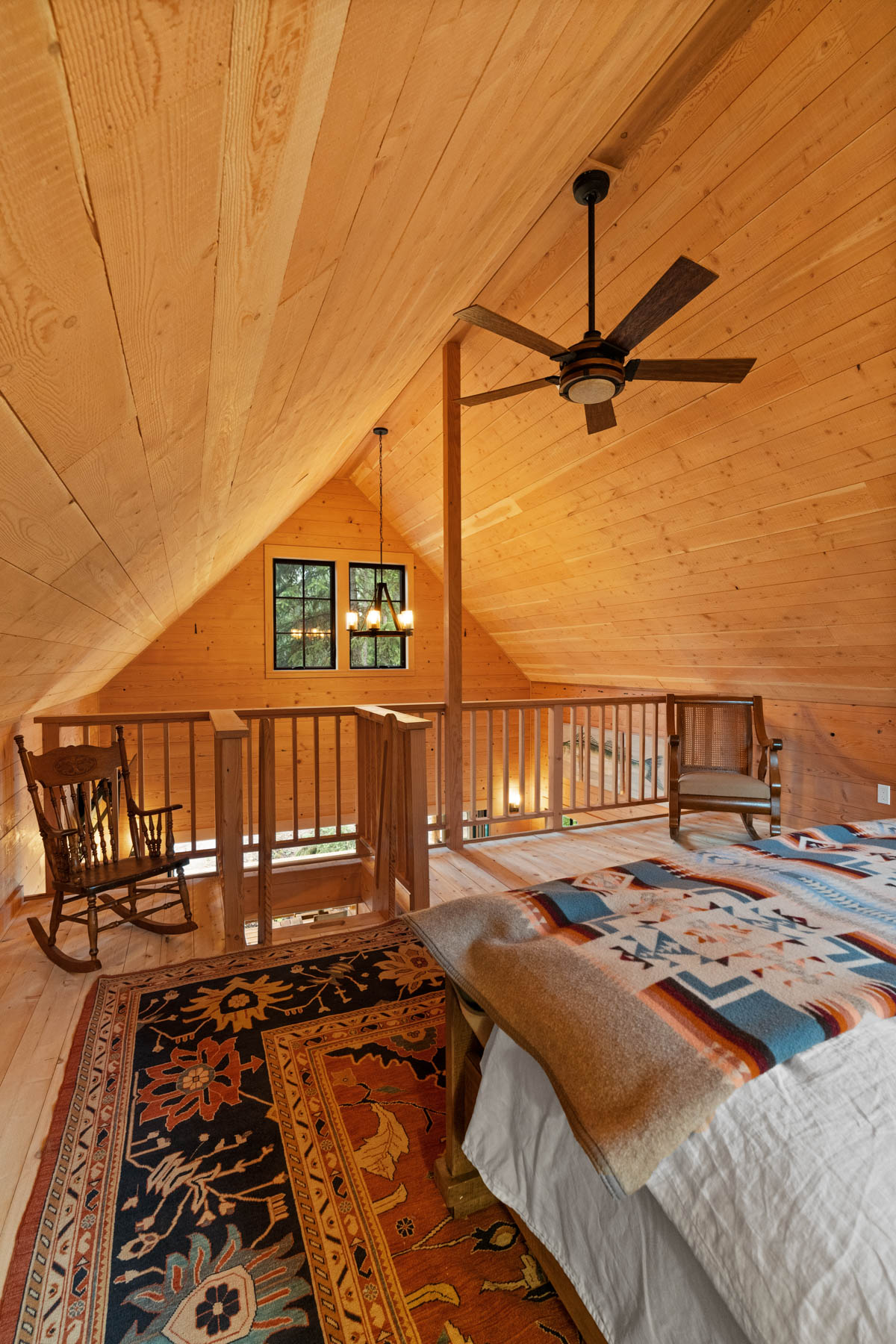 Ascending to the Sleep Sanctuary
Back inside, through the living space, our custom ships ladder leads to a spacious loft. With high ceilings and a queen-size bed, the loft is a cozy haven where guests can relax and drift into a deep sleep.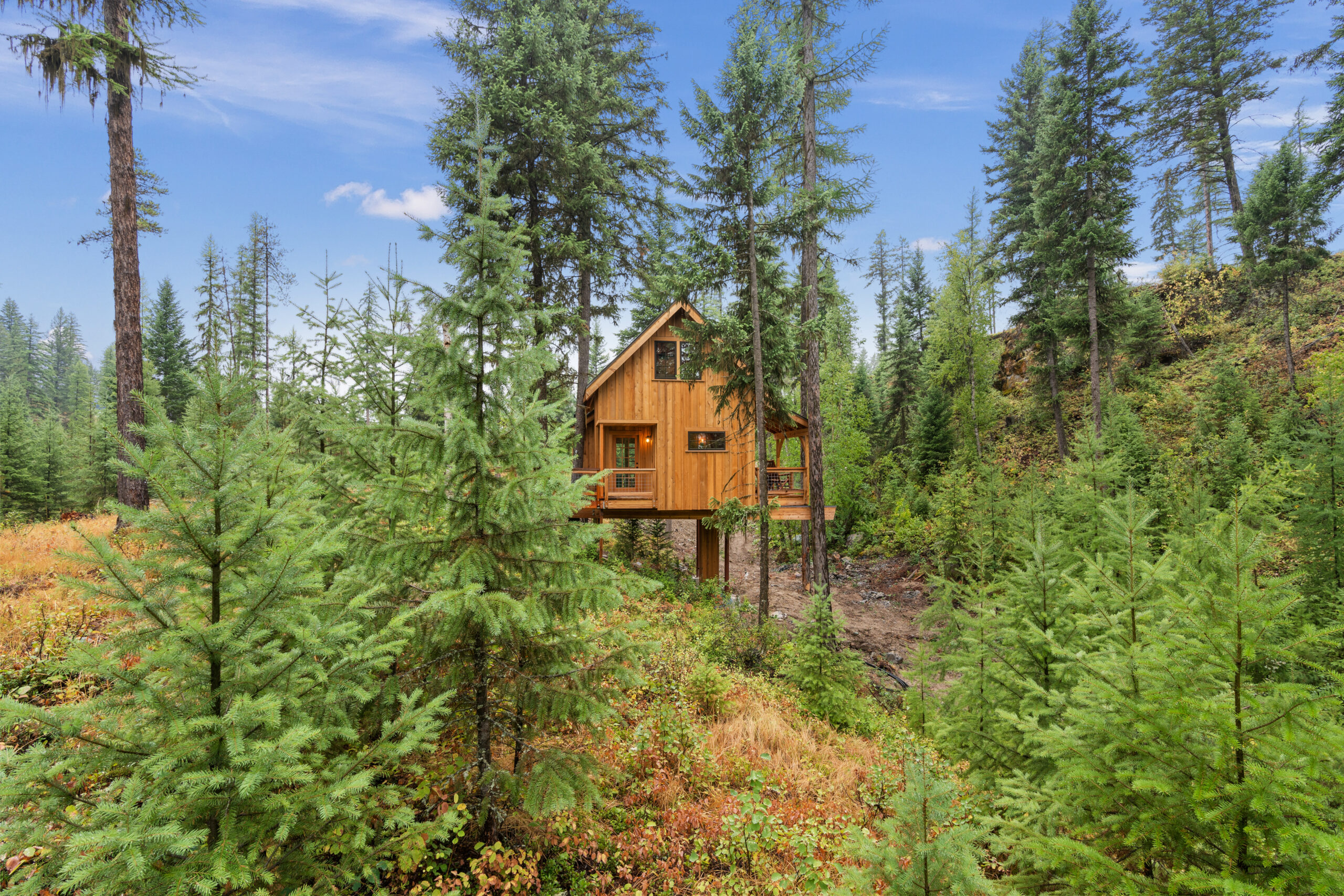 Respecting Our Roots
Elk Mountain Treehouse exemplifies the unique fusion of craftsmanship, luxury, and nature that defines Nelson Treehouse. Whether our clients are seeking a peaceful retreat or a unique place to take in a football game, Elk Mountain promises an experience that will linger in the heart long after leaving this cozy hideaway.
Take a virtual step inside in the video below!
Photos and video courtesy of ClaymoreMac Media