In celebration of TreeHouse Point's release of the wedding booking dates for May 2018-April 2019, we're reminiscing about Angie and Adam's treehouse wedding from this past July. This lighthearted couple lives in Colorado and were drawn to TreeHouse Point for its magical ambience.
Read on for photos and details from this couple's beautifully bohemian TreeHouse Point wedding…
TreeHouse Point is now booking weddings for May 2018-April 2019! Get details on hosting your wedding at TreeHouse Point here.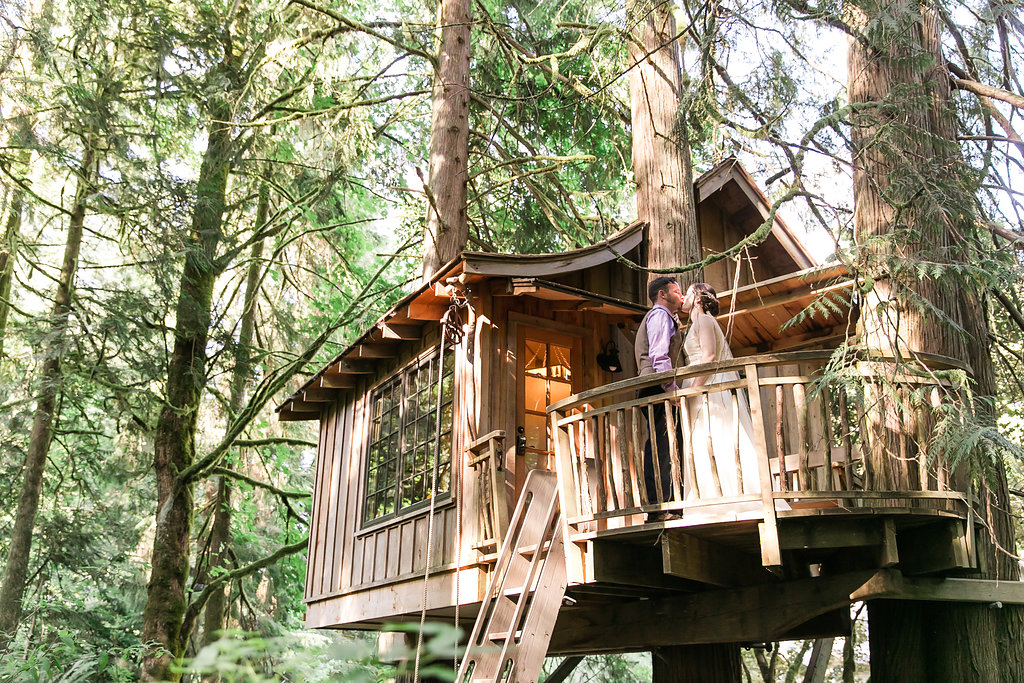 All photos by Lloyd Photographers. 
Adam and Angie had been dating for five years when Adam proposed during a spring trip to an alpine lake in Colorado. The couple met through working at the same restaurant — today, Angie is an oncology nurse and Adam is a sixth-grade teacher.
As longtime fans of Treehouse Masters, Adam and Angie initially learned about TreeHouse Point through the TV show. The couple flew to Washington last fall to visit and immediately fell in love with the venue. In Adam's words, "We were just so in awe of the magical spirit of TreeHouse Point — it truly is a spectacular place. It completely exceeded our expectations." Treehouses also made for a fitting backdrop to Adam's wedding, as he grew up in near Longwood Gardens in Pennsylvania, home to several Pete Nelson originals.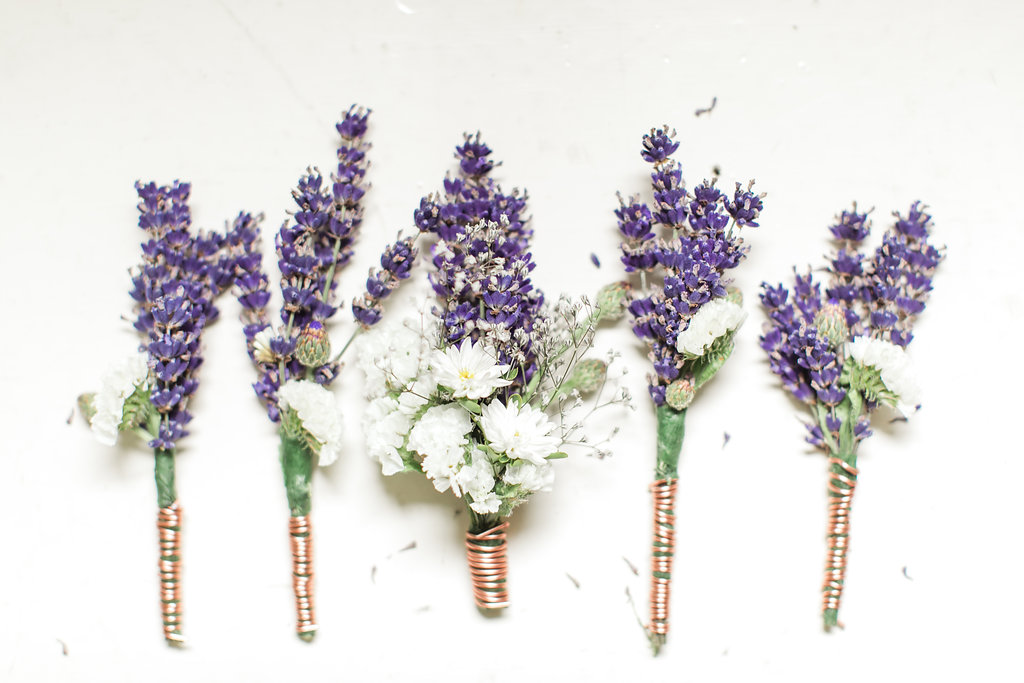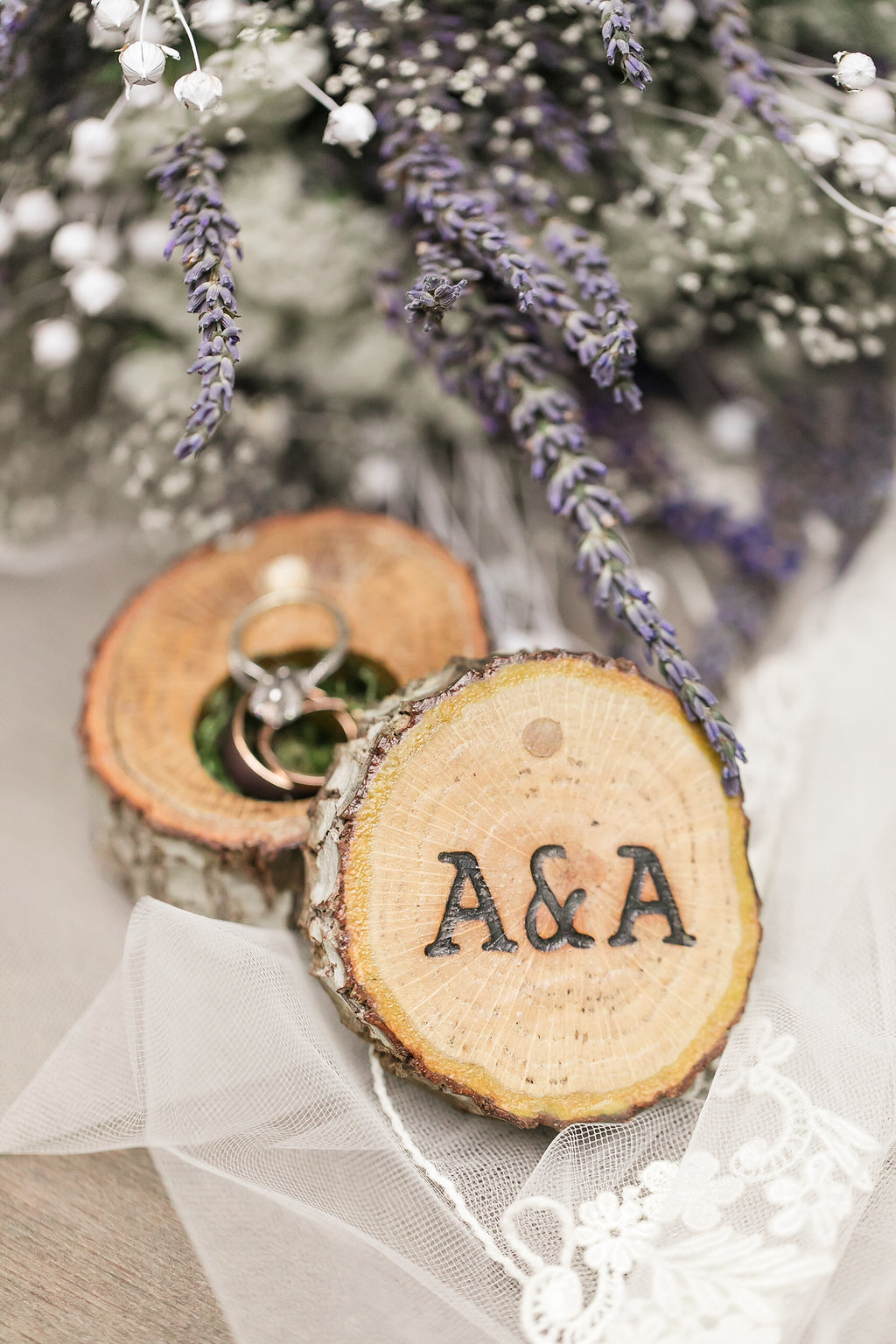 Angie's bridesmaids crafted the bouquets from a lavender farm near TreeHouse Point — July is the peak month for lavender in Washington.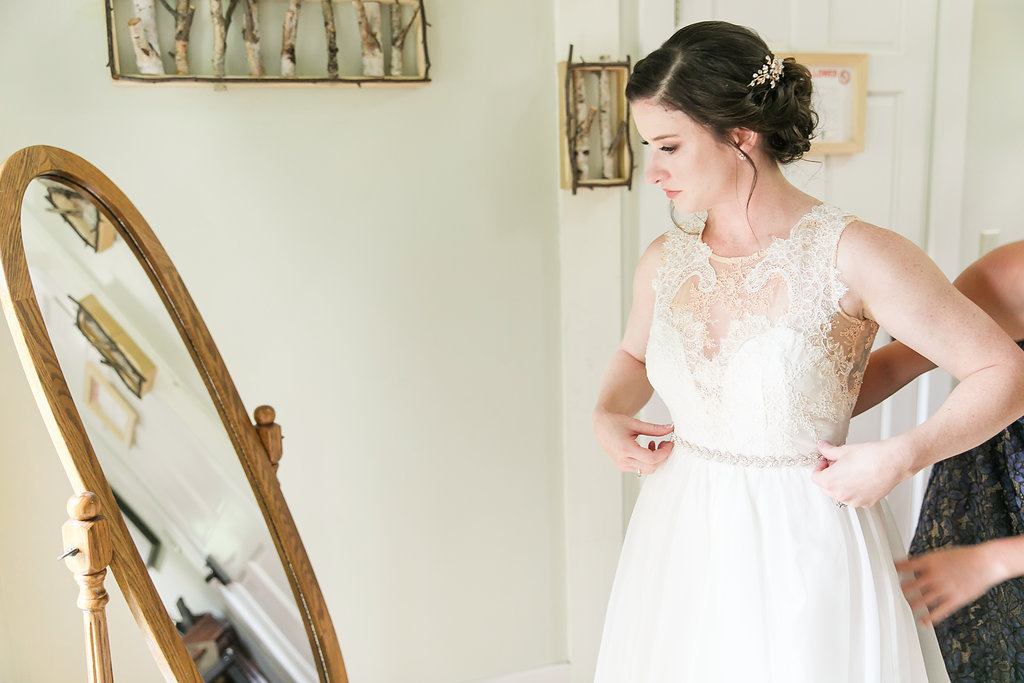 After getting dressed, Angie and Adam joined their wedding party for photos by Lloyd Photographers amid the lush grounds and iconic treehouses.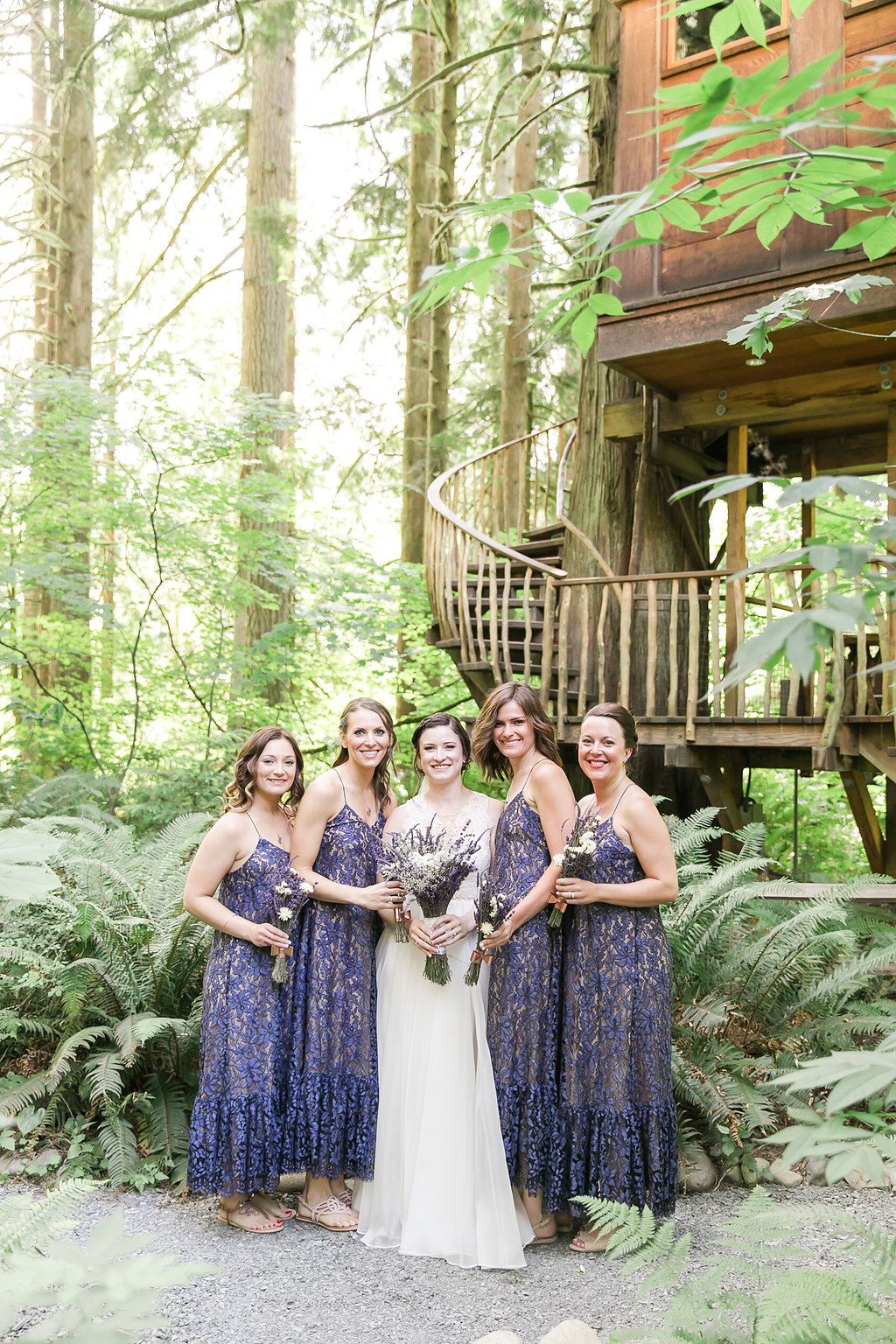 The bridesmaids' ethereal dresses came from Anthropologie.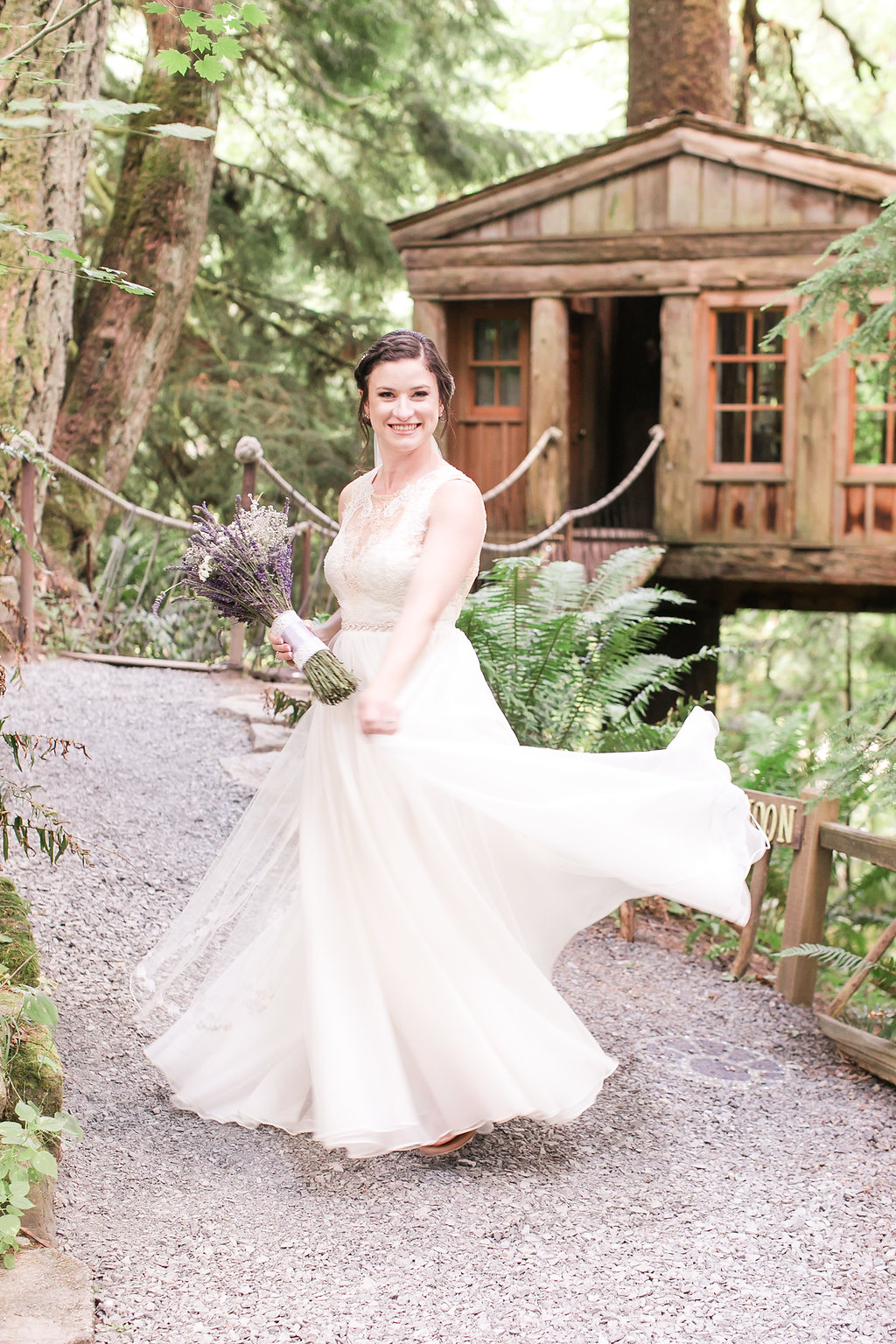 Angie felt that once she stepped into the forest for photos, any stress and worries for the day dissolved. All the planning was complete at that point, and Angie was ready to soak in the joy of the moment.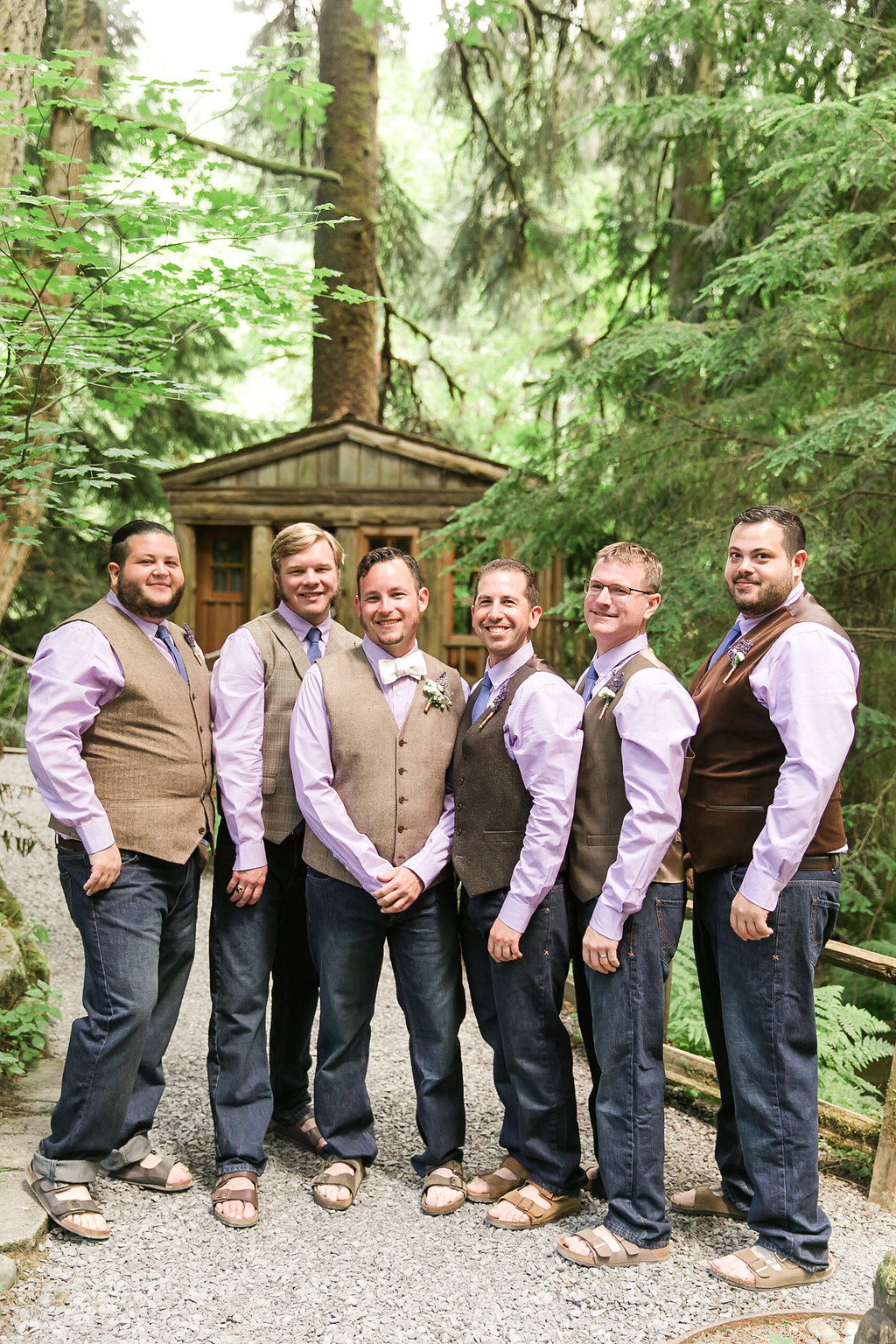 Birkenstocks kept the footwear laid-back and comfortable for Adam and his groomsmen.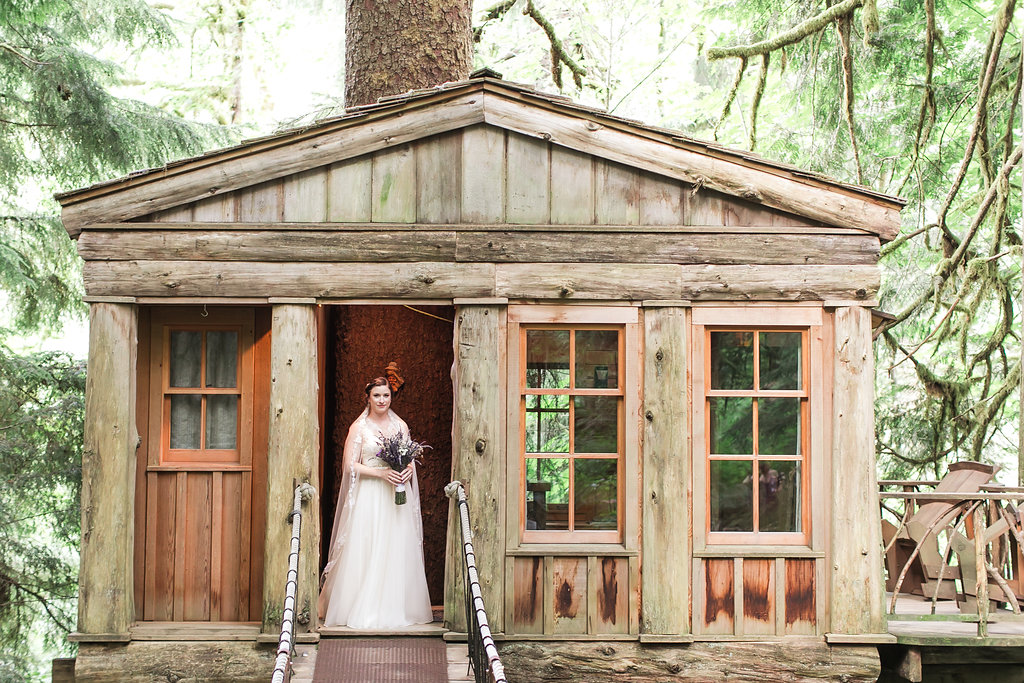 The couple's intimate wedding included 42 close family members and friends. In Angie's words, "My mom initially had reservations about the idea of our destination wedding, but once she got to TreeHouse Point she turned to me and said, 'this is absolutely right — it's so incredibly magical'. She immediately got why we chose this place."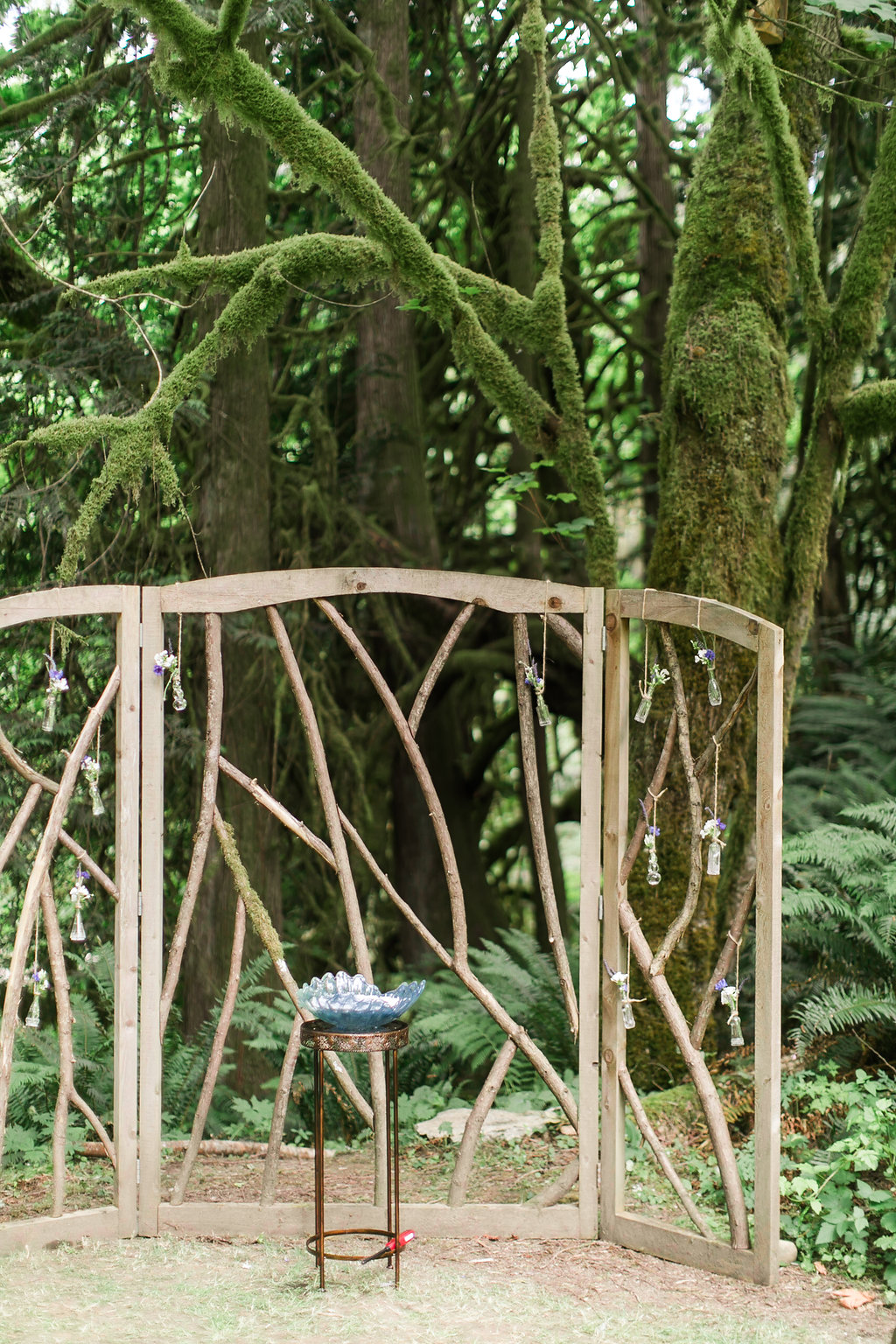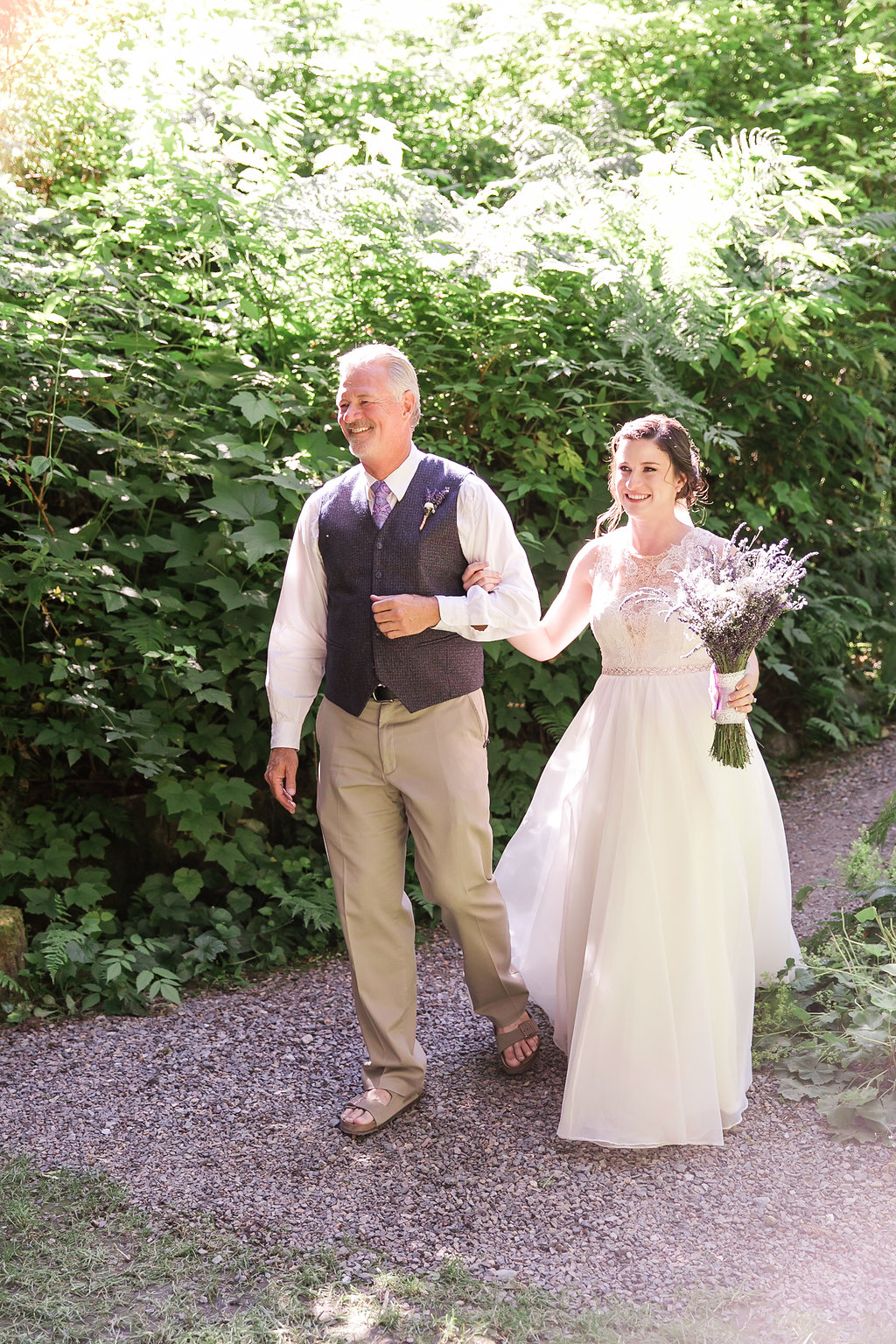 TreeHouse Point's natural wood arbor framed Angie and Adam's ceremony.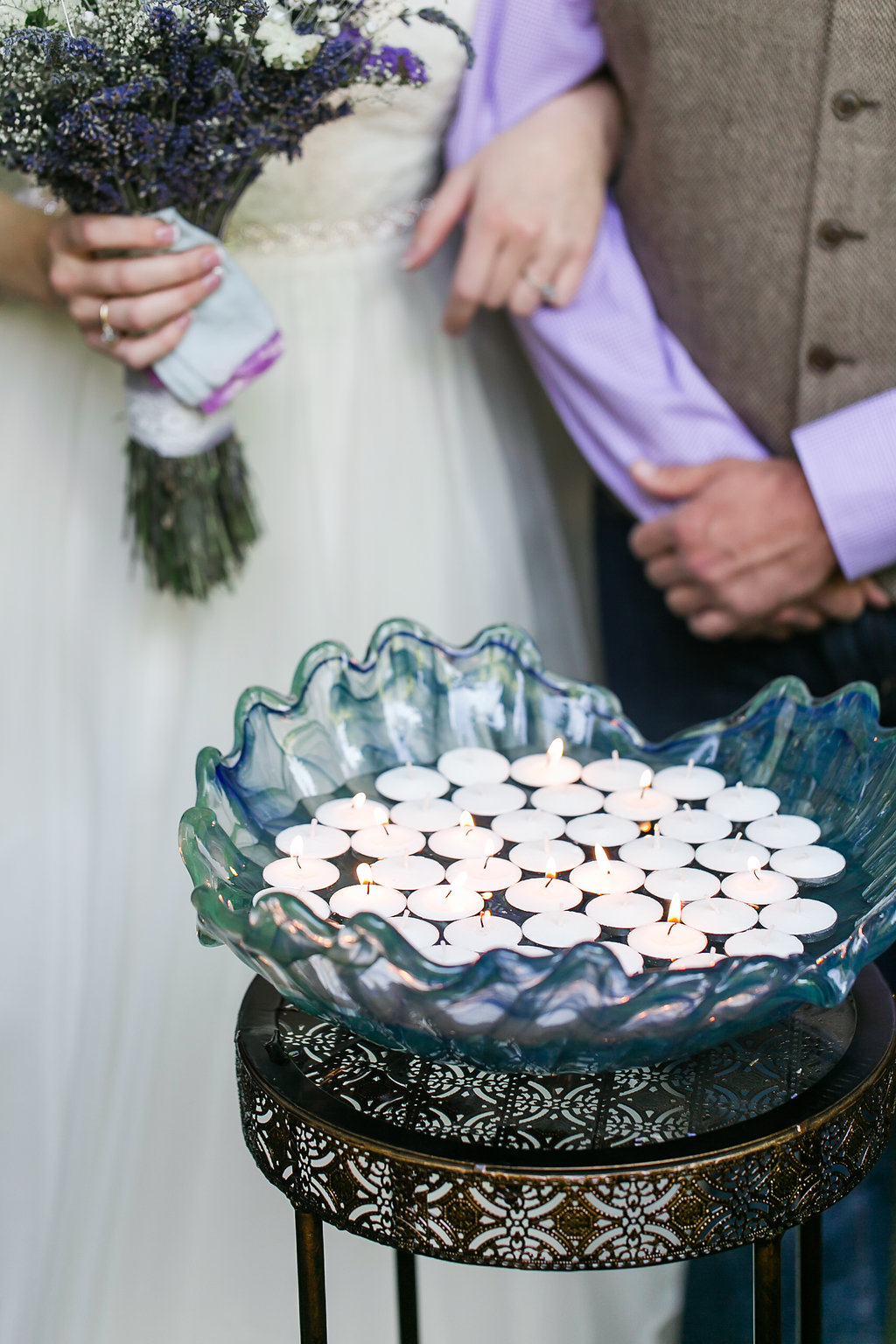 During the ceremony, each attendee came to the front to give Adam and Angie their well wishes and light a candle in this delicate holder. The candles remained lit throughout the rest of the day, making for a beautiful reminder of their friends' and family's love.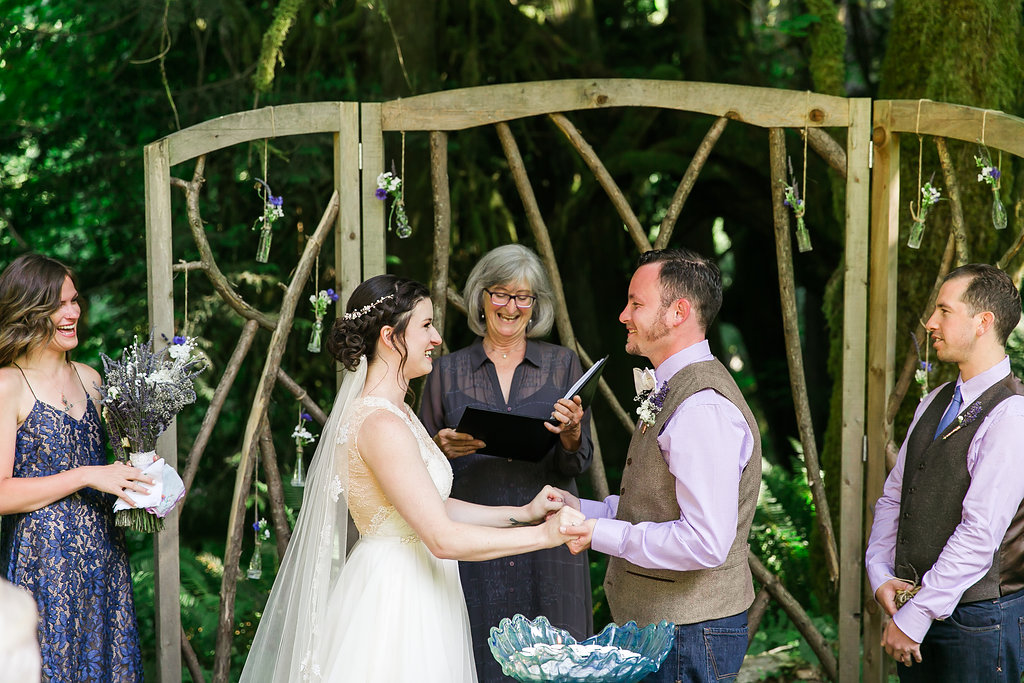 When asked which songs best characterize their marriage, Adam and Angie replied with the two songs they played during their ceremony: "Out the Blue" by John Lennon and "Good Vibrations" by the Beach Boys.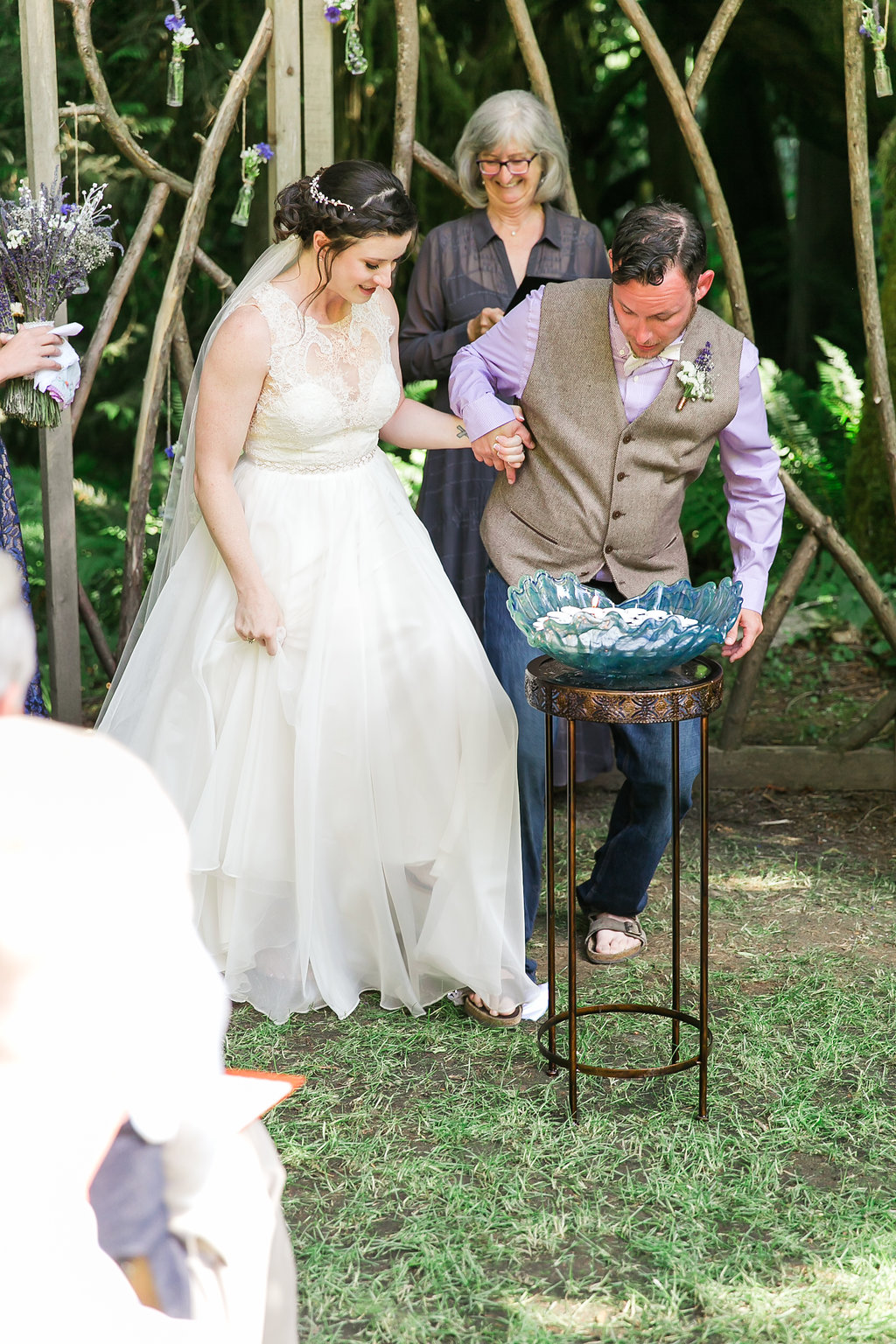 At the end of the ceremony, Adam and Angie stomped on a glass in Jewish tradition. The couple plans on keeping the shards in a display at their front door as a remembrance of their wedding day.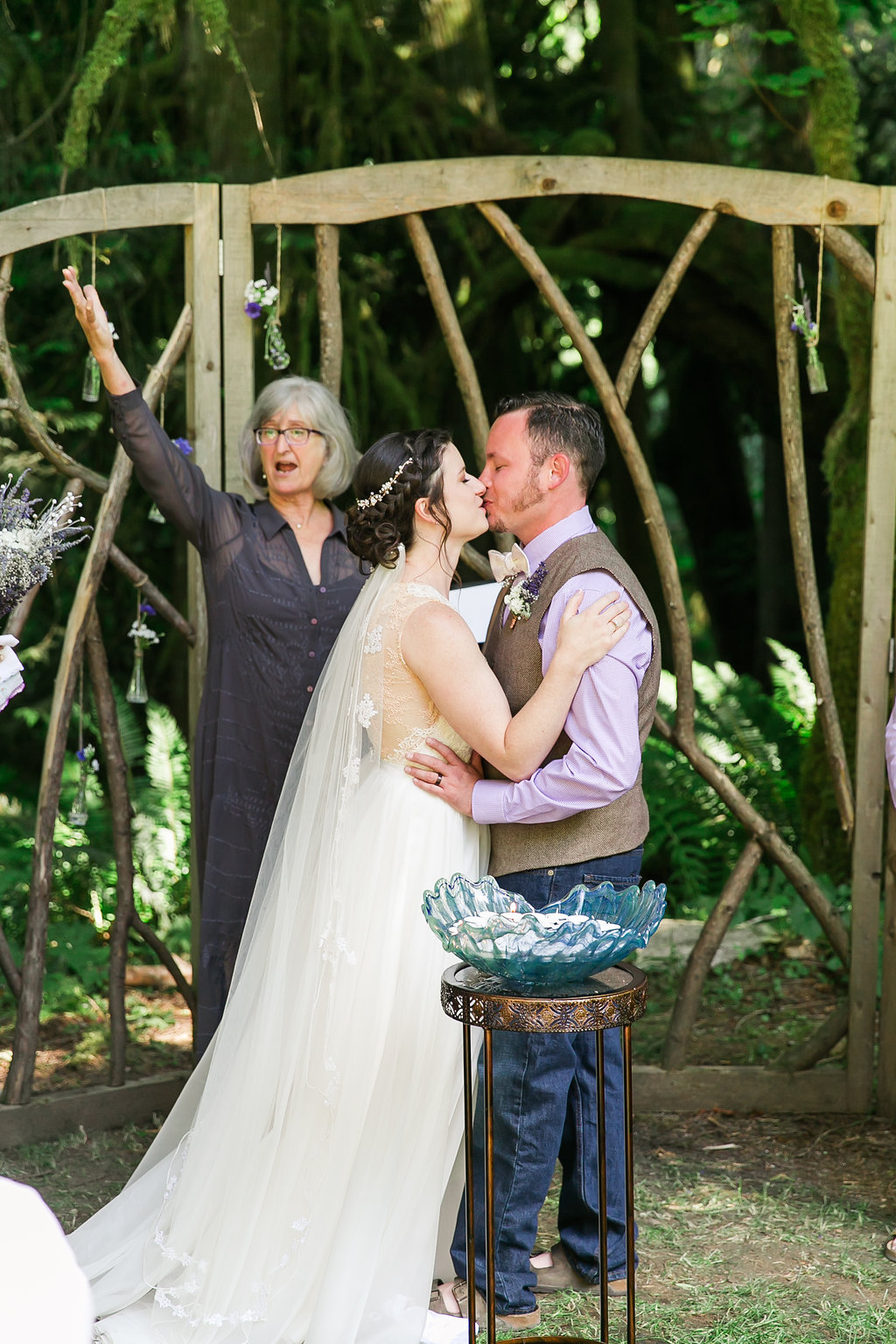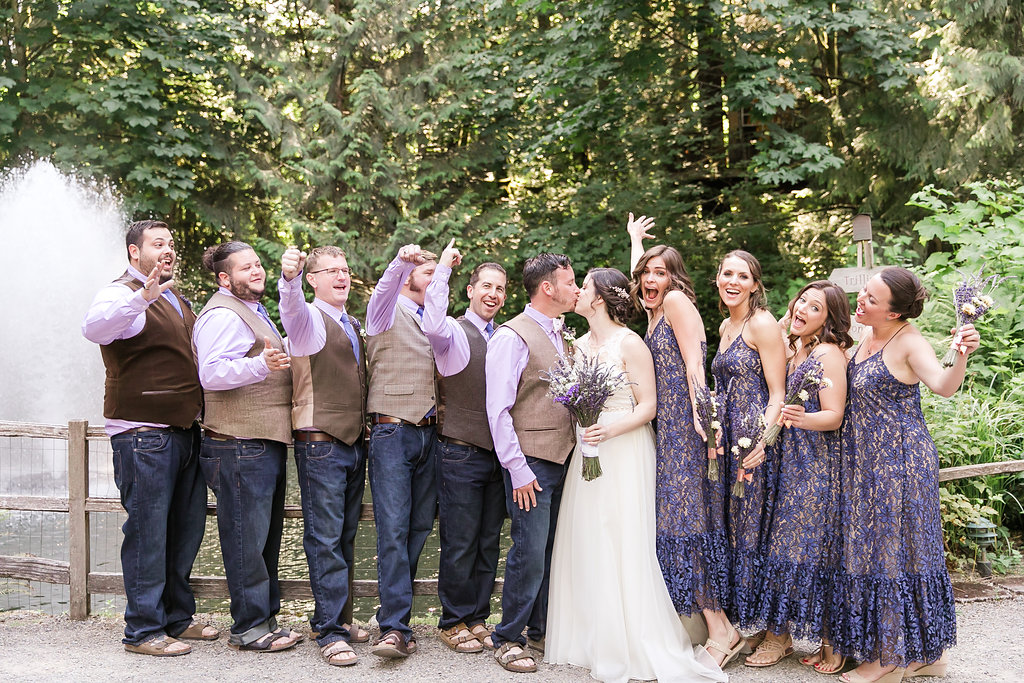 Angie found Adam's vest at a thrift store! The mix of vintage, crafted, and new items at the couple's wedding made for a beautifully eclectic vibe.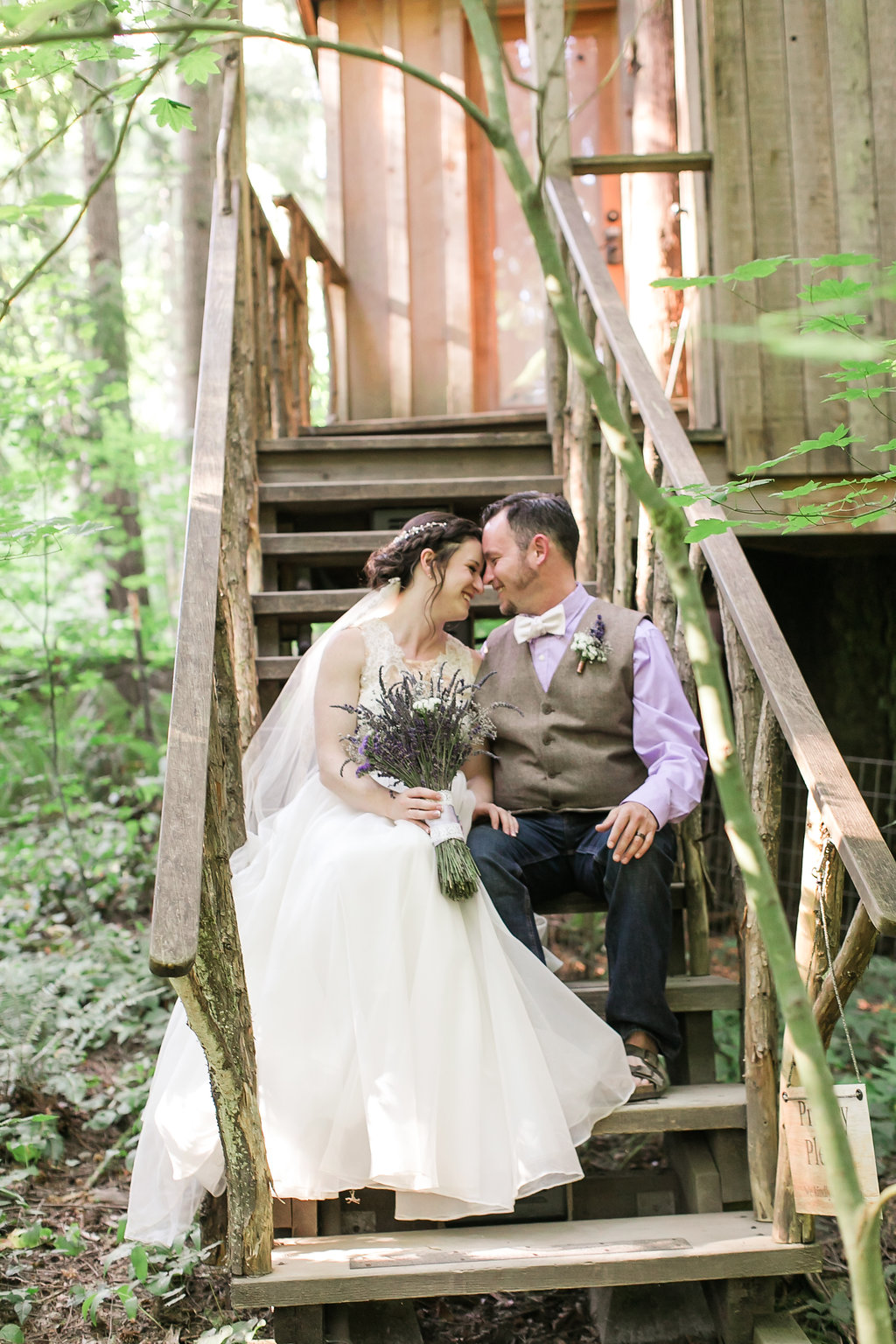 The couple are nature-lovers and world-travelers — they spent their honeymoon hiking through Peru and Argentina.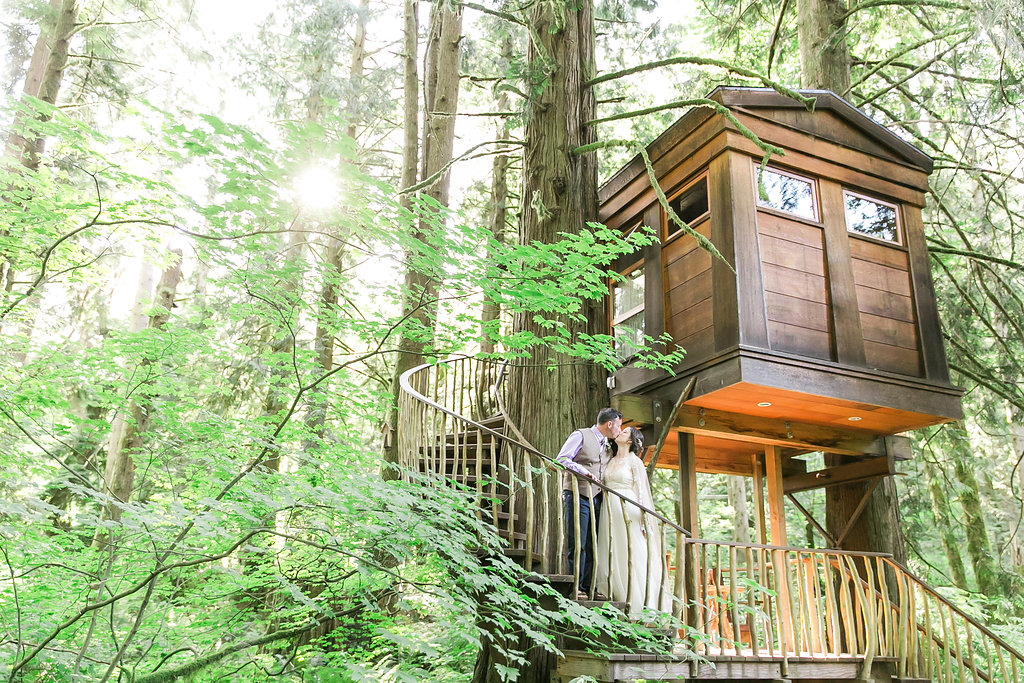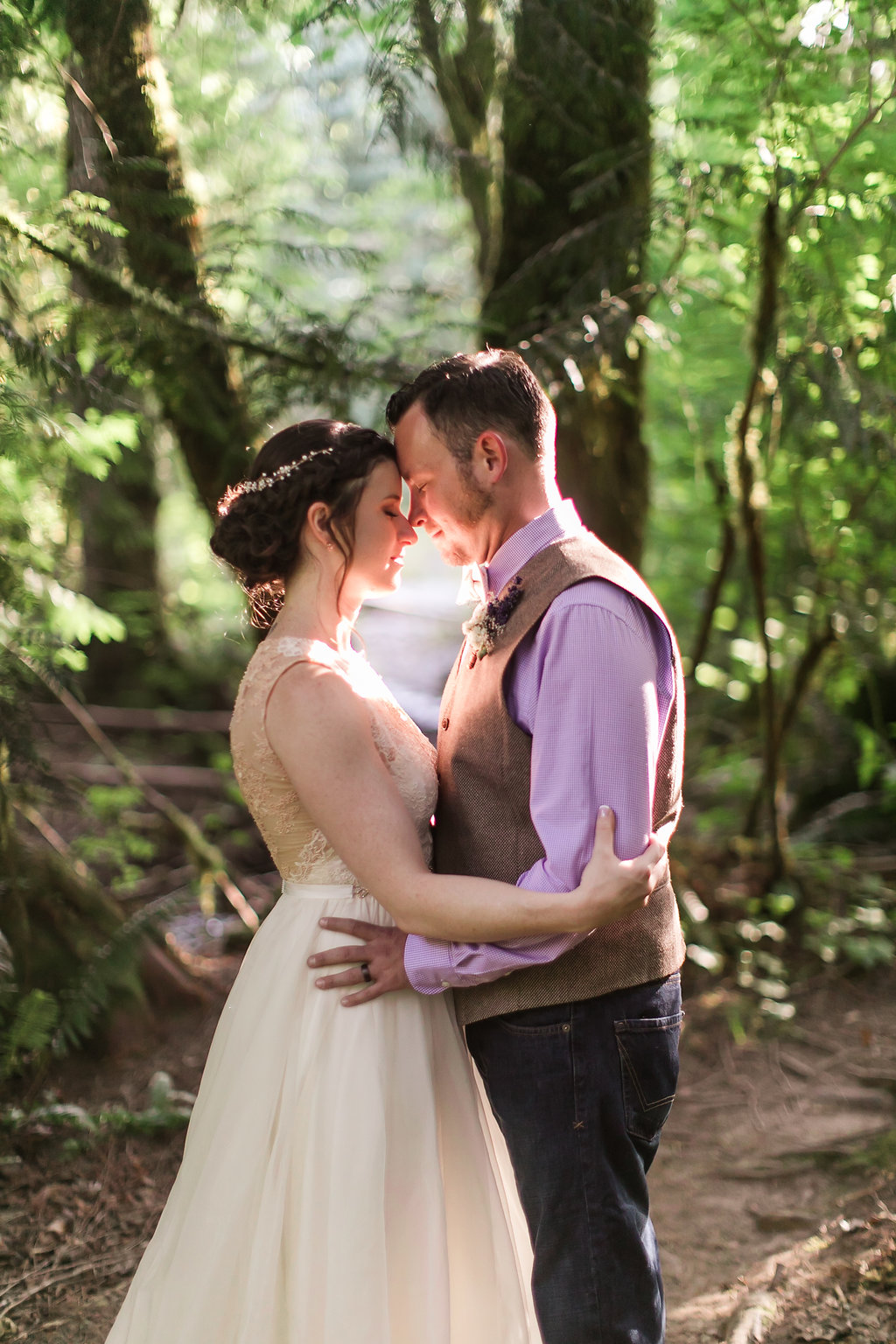 The couple stayed in The Burl treehouse on their wedding night, and loved listening to the sounds of the river and chirping birds from their bed in the morning.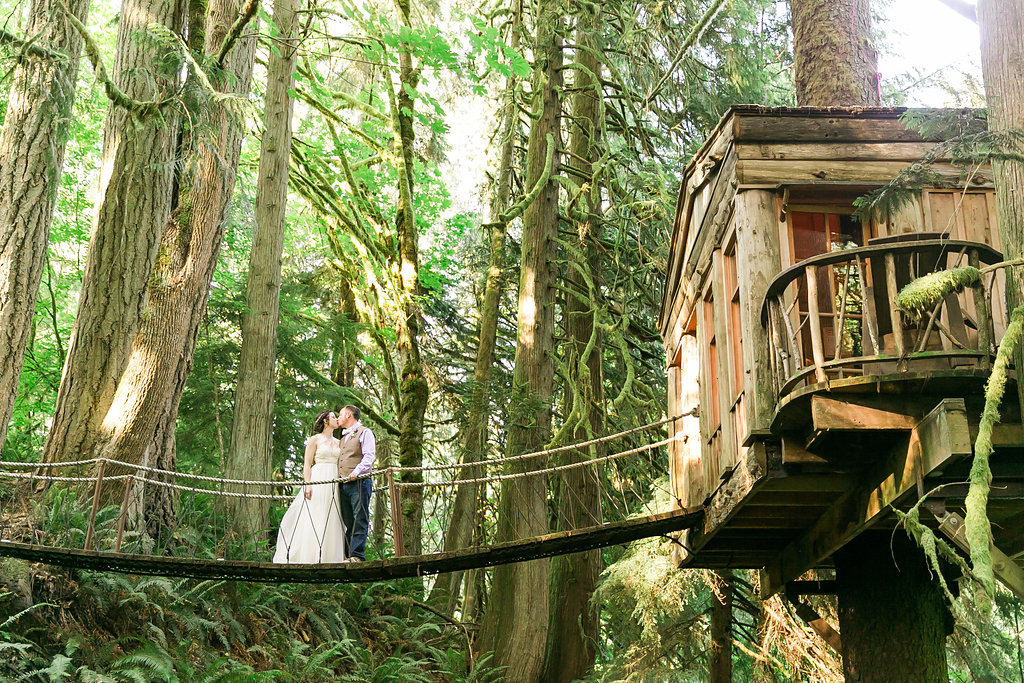 One of the couple's favorite moments from their stay at TreeHouse Point was the home-cooked breakfast the next morning — in Adam's words, "It was spectacular! We did not expect that amazing spread." He and Angie also loved making s'mores at the fire pit after their wedding reception.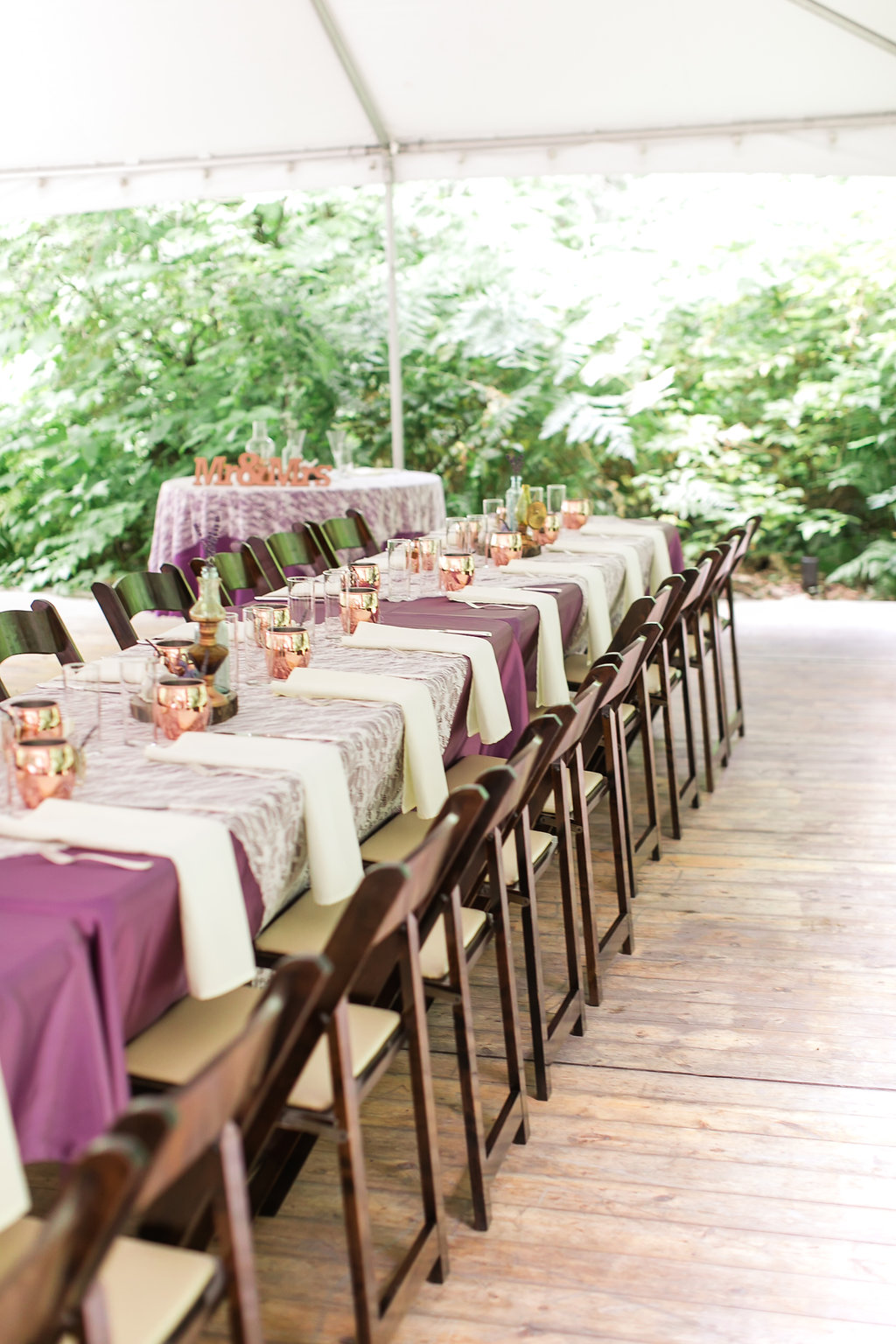 Angie created all the centerpieces and table settings that bedecked the dining tent!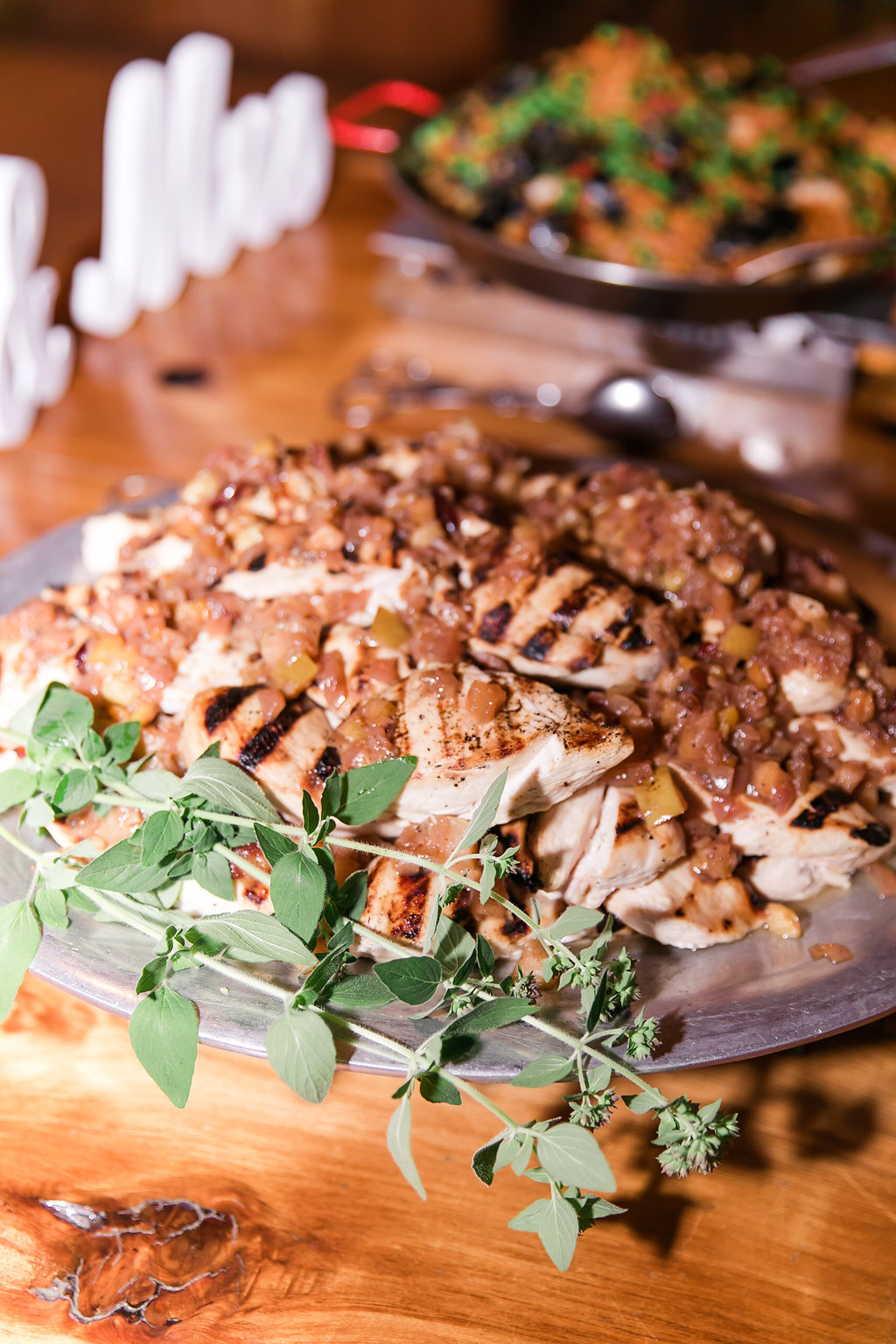 The couple booked Ravishing Radish catering for their meal.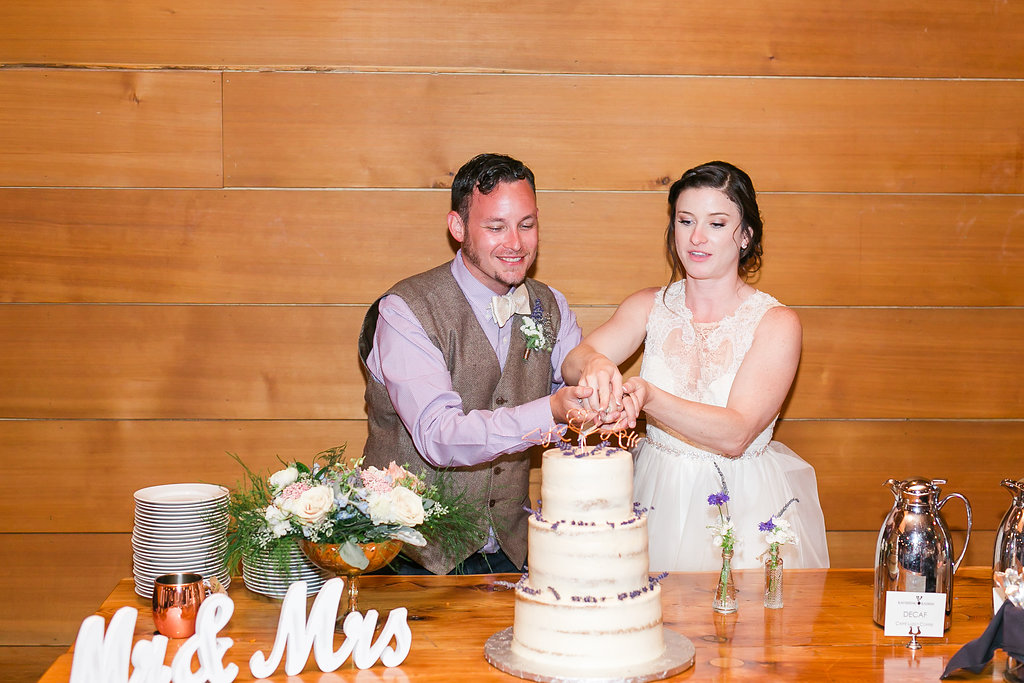 The cedar-lined pond room made the perfect space for dessert and dancing the night away.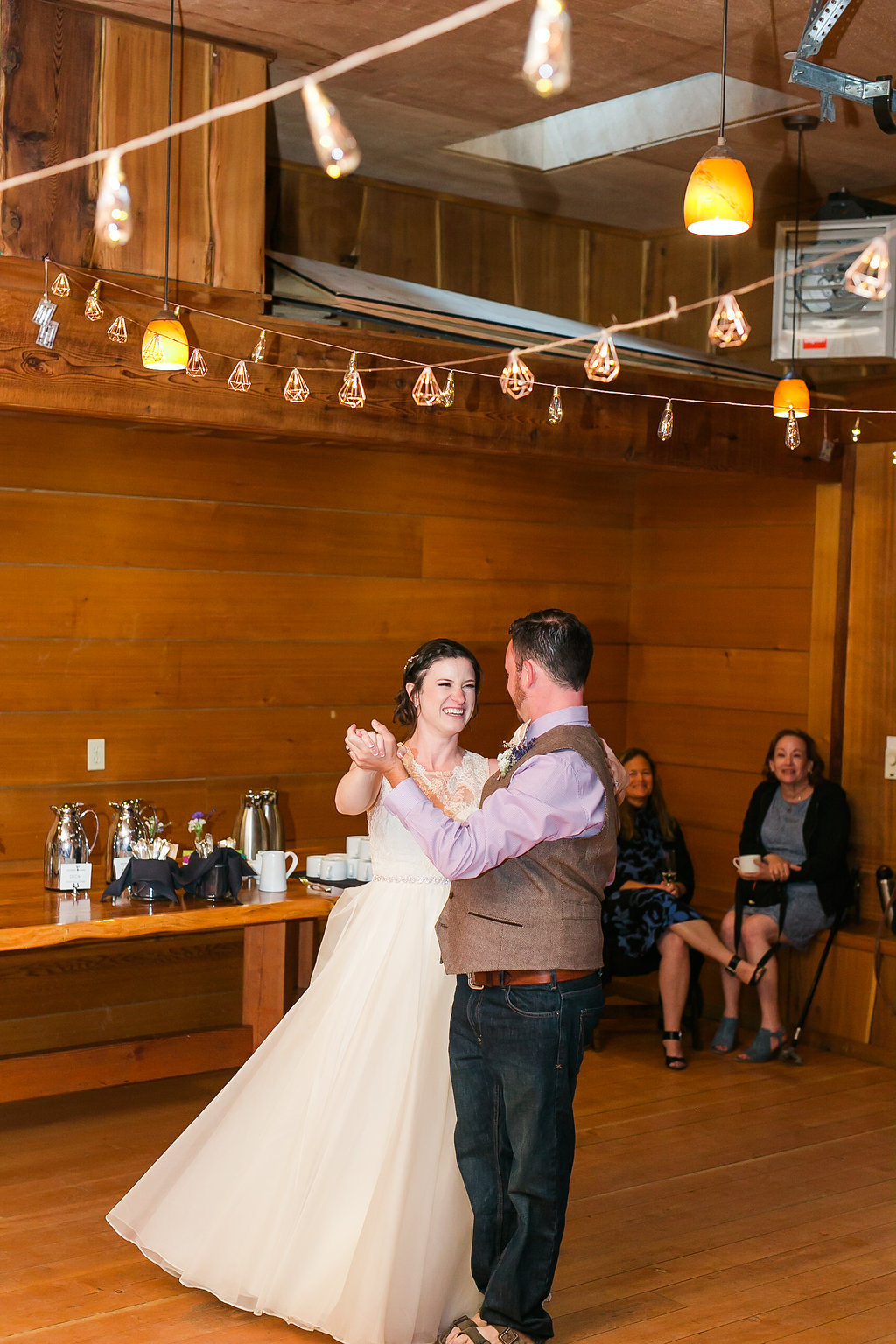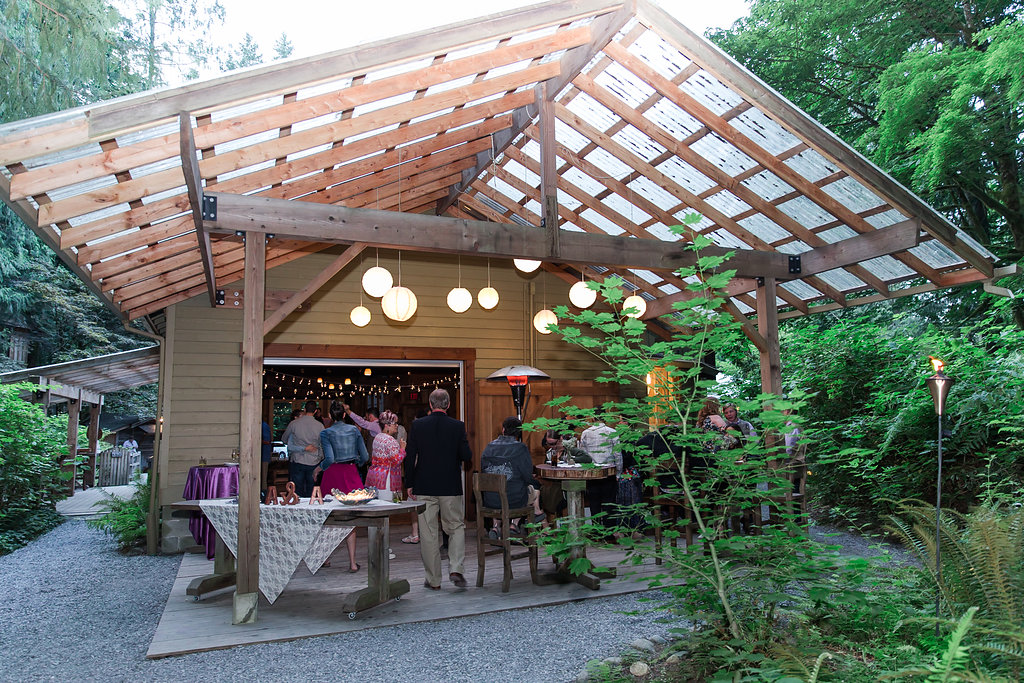 With the garage door open, the Pond Room allowed guests to freely move between the back patio and interior dance floor.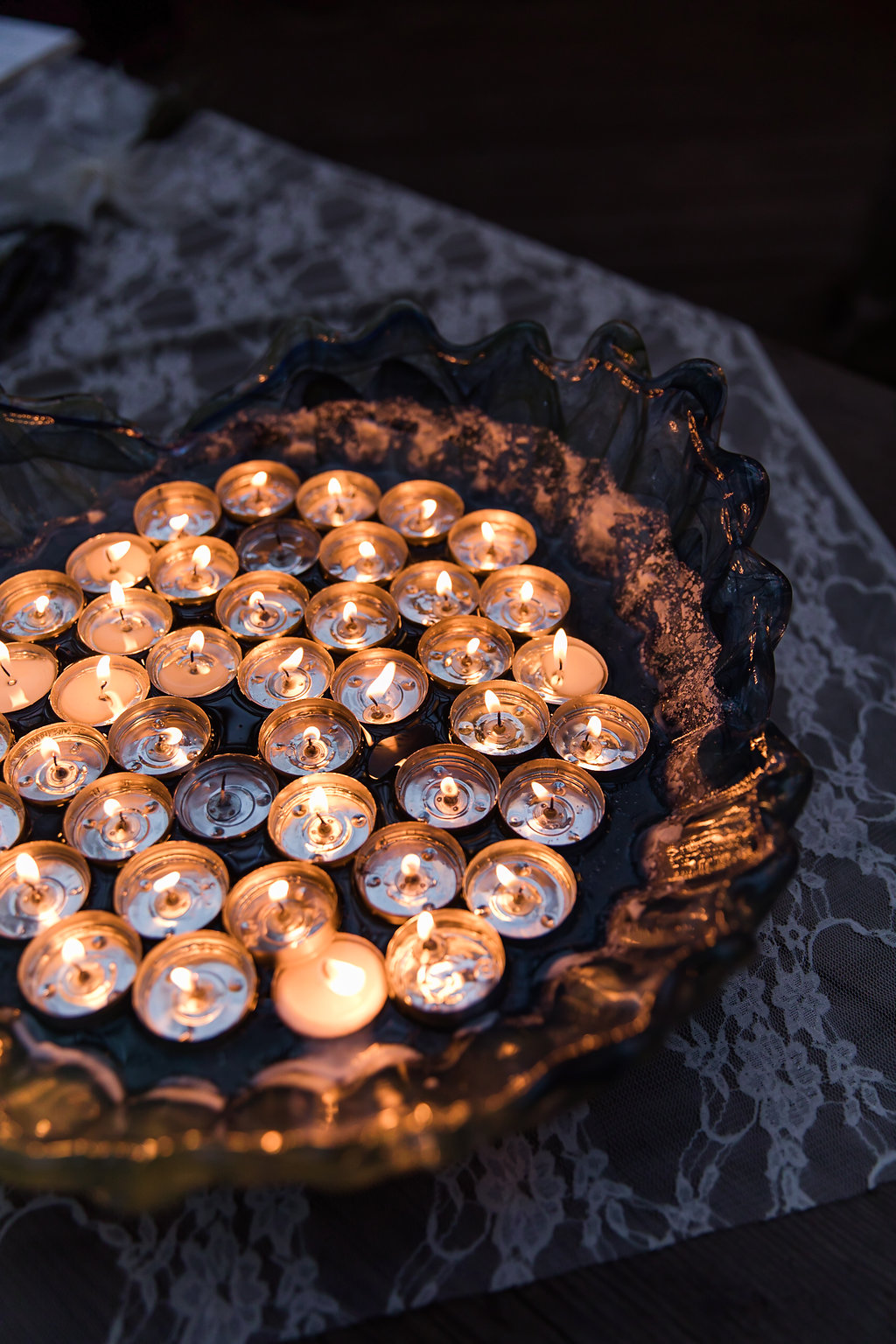 Thank you for hosting your lighthearted wedding at TreeHouse Point, Angie and Adam! We wish you a lifetime of happiness!
To read about TreeHouse Point's wedding packages, click here.
WEDDING CREDITS: Venue: TreeHouse Point | Photography: Lloyd Photographers | Officiant: Janet McIntosh | Florals: by the wedding party | Cake: Morfey's Cakes | Hair and Makeup: Sorella Salon | Bride's Dress: Leanne Marshall | Bridesmaids' Dresses: Anthropologie | Catering: Ravishing Radish | Centerpieces and Decor: by Wedding Party | Groom's Suit: from thrift stores!