Dear treehouse friends,
As December draws to a close, I'd like to take a moment to reflect on the year. And what a year it has been! It's taken my crew and me from Texas, to Norway, to Alaska, and back to Texas again. It's connected us with many new clients, crew members, guests, and other friends. It's been joyful, it's been jam-packed. And underlying it all, this year has centered on growth: a purposeful and thoughtful expansion into new domains for Nelson Treehouse, from more semi-public, commercial builds (like our treehouses for Princess Cruises and Microsoft) to burgeoning hospitality projects to host more people for overnight stays in treehouses. In each new endeavor, we've sought to elevate the art, science, and business of building safely and sustainably in the trees.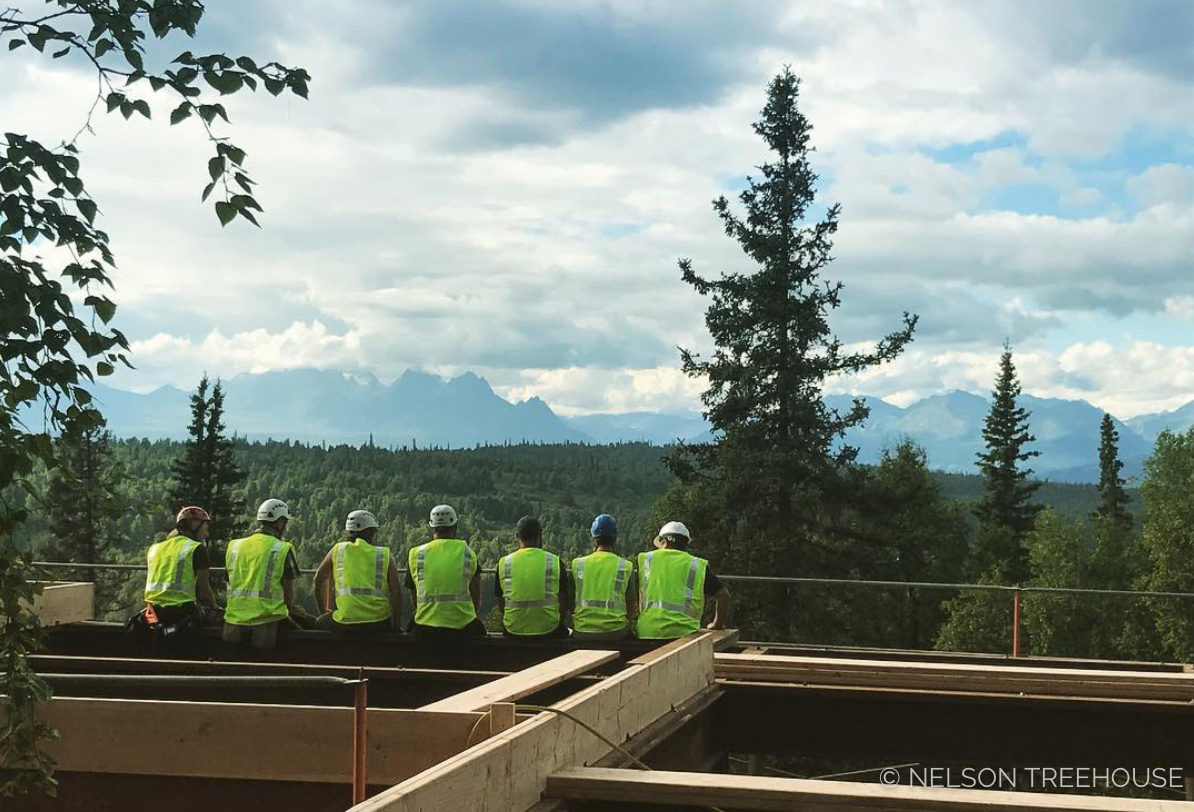 Working in Alaska was a dream come true.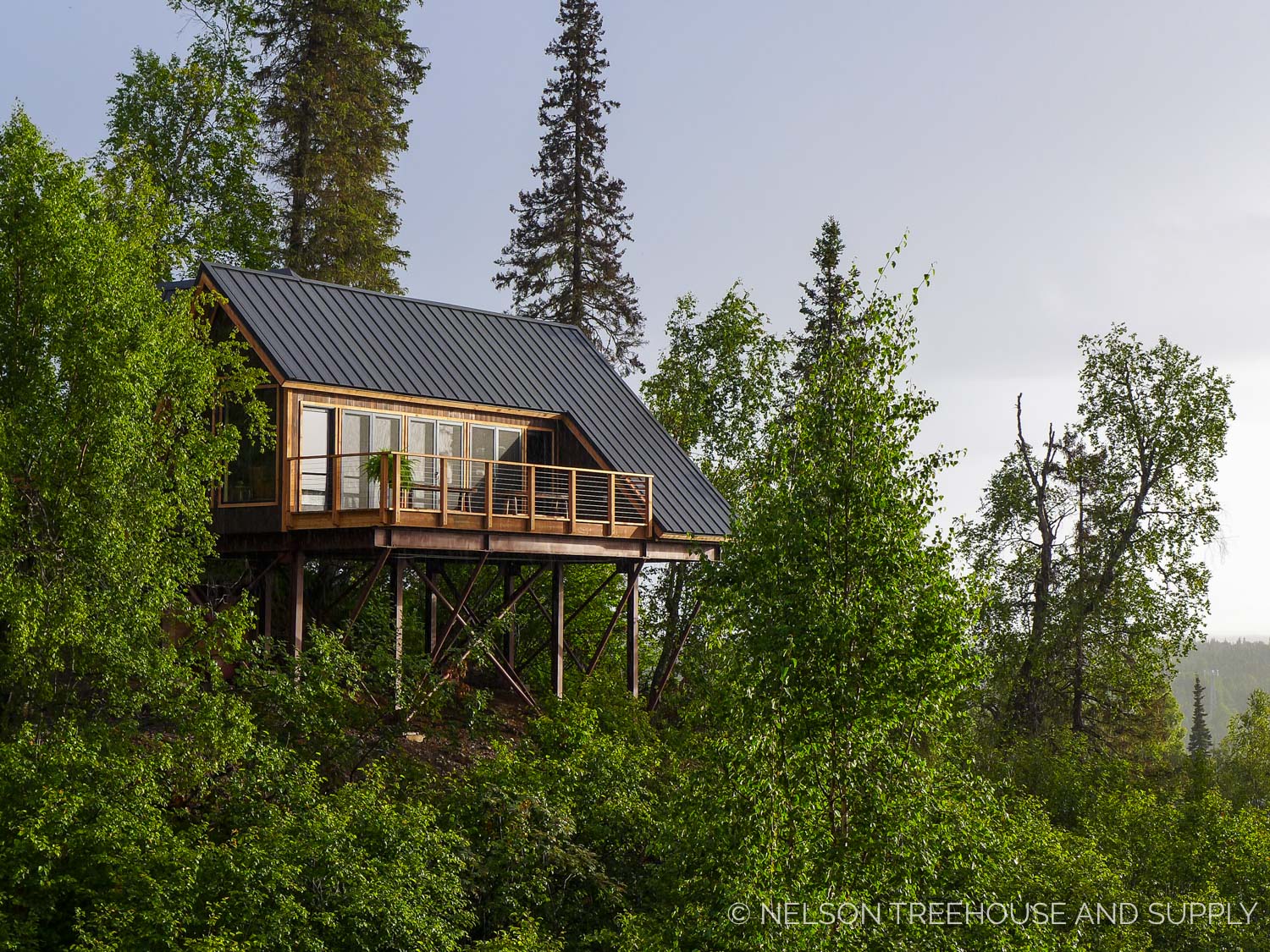 The completed treehouse in denali state park.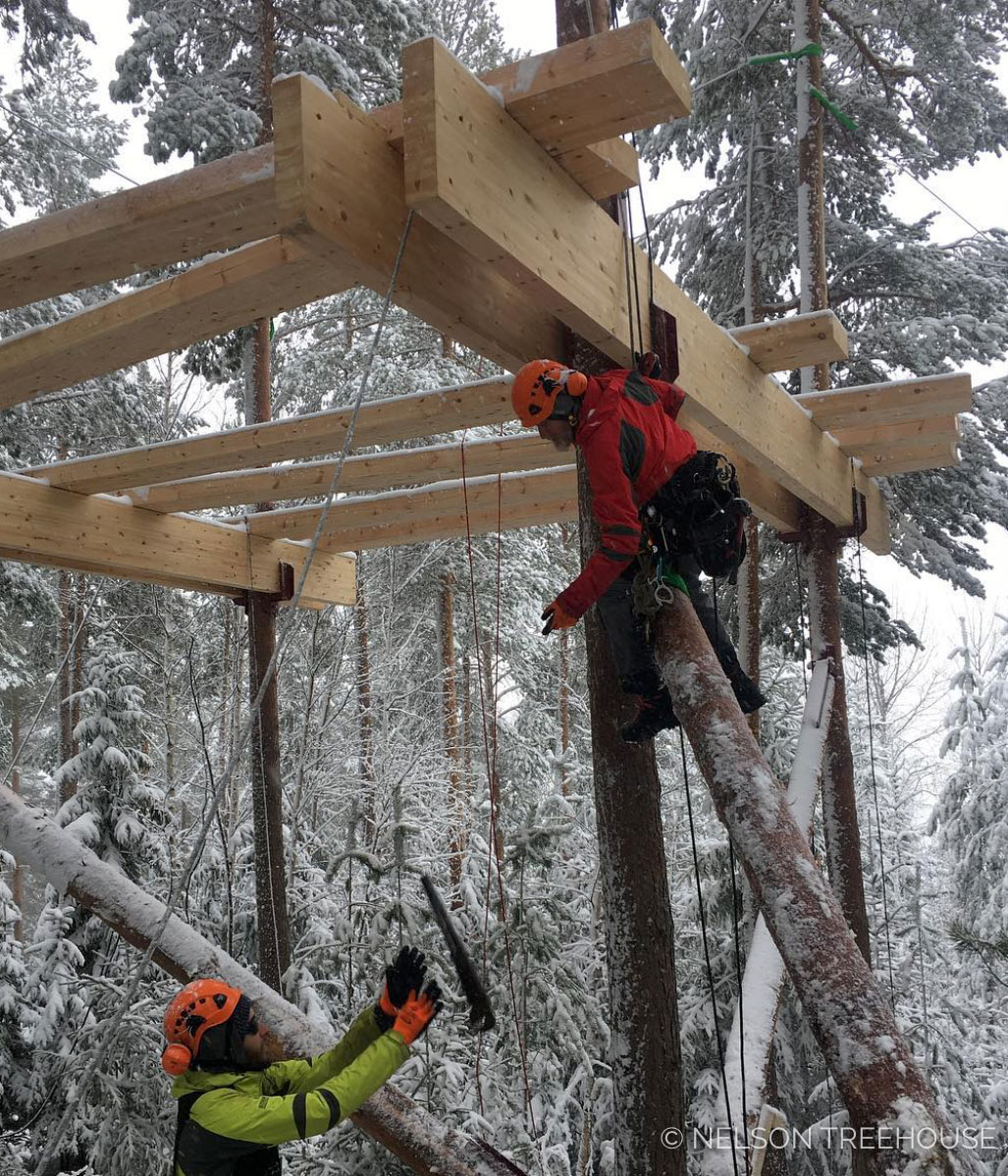 Building in Norway with my crew was a really meaningful experience.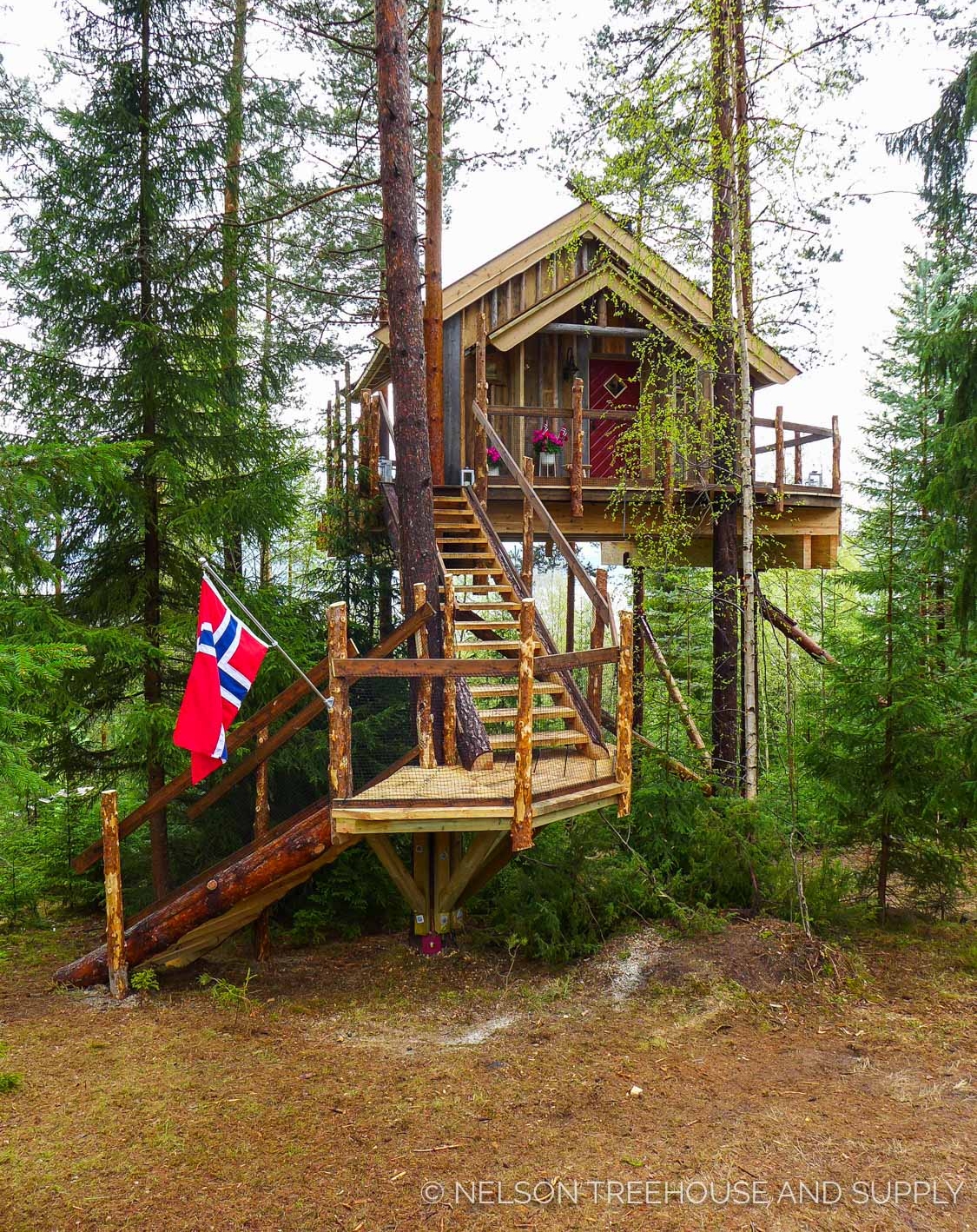 So grateful to have Collaborated with Norwegian Treehouse-designer Frode Schei on this project.
One exciting change this year was the creation of our new logo – you may have noticed the debut of this symbol on our website:

Developing this logo was a deeply reflective process, as we considered how best to symbolically represent our values. We chose to base it on the Tree of Life, an archetype held by many cultures worldwide and that resonates with the geometry, philosophy, and arboreal essence of what we do. For us, the symbol represents the many branches and businesses of the Nelson Treehouse world, all rooted in three core tenets of our approach to our work: experience, community, and connection.
We are committed to crafting a positive, fulfilling experience for everyone we connect with, from guests at TreeHouse Point, to our design/build clients, to do-it-yourselfers who consult with us on their backyard treehouse projects. This elevated experience comes from putting love into everything we do, in every sector of our work. It germinates in the smallest of moments, like when our prefab crew meticulously crafts a built-in shower bench joined with only wood-on-wood connections (to prevent rust). It happens daily when the breakfast cooks at TreeHouse Point create homemade delicacies that look beautiful and taste even better. It manifests when the customer service team for our online store takes the time to handwrite a gift note requested by a customer. When I think of these moments, David James Duncan's article "No Great Things" comes to mind – I found real resonance in his exploration of Mother Teresa's advice "We can do no great things – only small things, with great love." I firmly believe that the magic of the "treehouse life" centers on doing even the smallest of things with great love, intentionality, and integrity.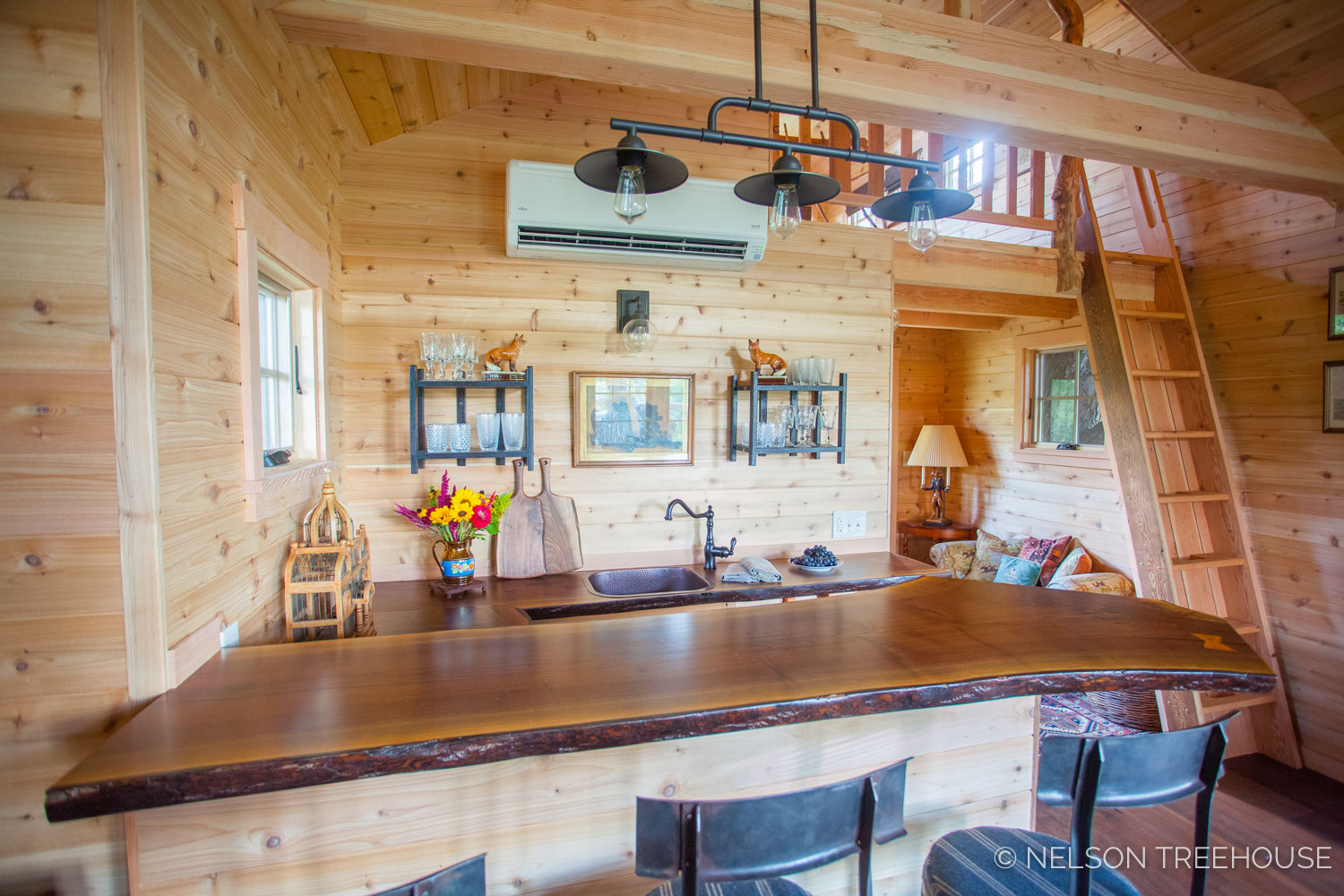 Inside and out, Our Treehouses are imbued with love. Photo of the kitchen inside the Fox Farm treehouse.
I am endlessly inspired by the community of Nelson Treehouse staff who enact the small, loving actions that elevate the experience we offer our clients. It has been a pleasure to watch my crew work together to create exquisite treehouses – in particular, I've been struck by the harmony between our design and build teams this year. If you were to walk into our HQ, you'd immediately witness this remarkable collaboration: carpenters gather around the design table, suggesting features and troubleshooting obstacles. Out in the shop, builders and project managers coalesce to tweak drawings. This consistent, personal cooperation is rare in the design and build worlds, which are often (detrimentally) siloed. I have no doubt that giving my crew the freedom to innovate and collaborate is fundamental to the quality and ingenuity of each of our treehouses. And it brings me so much happiness to see my crew having fun at work, finding joy and meaning in their creative process and product.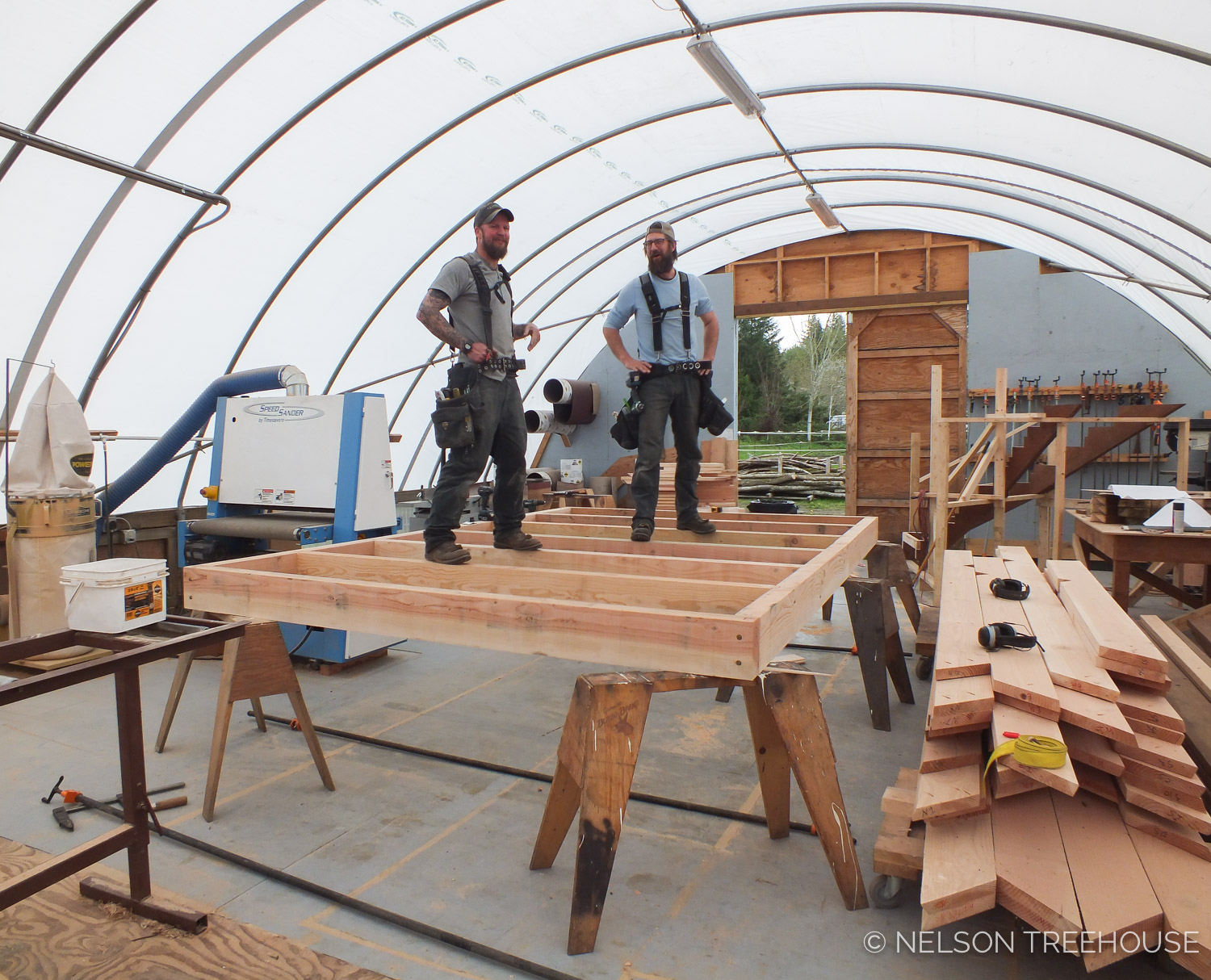 PRefab carpenters Rolf and Griffin testing the strength of their innovative dovetail joinery in a treehouse loft platform.
"Connection," the final tenant imbued in our new logo, resonates with our work in myriad ways. In a literal sense, our work is founded on the longevity and strength of our mechanical connection to the trees – each treehouse we build begins and ends with a consideration of the heavy-duty hardware at its heart. This year, we have continued to push the science of treehouse-building forward, innovating new ways to safely support treehouses for years to come.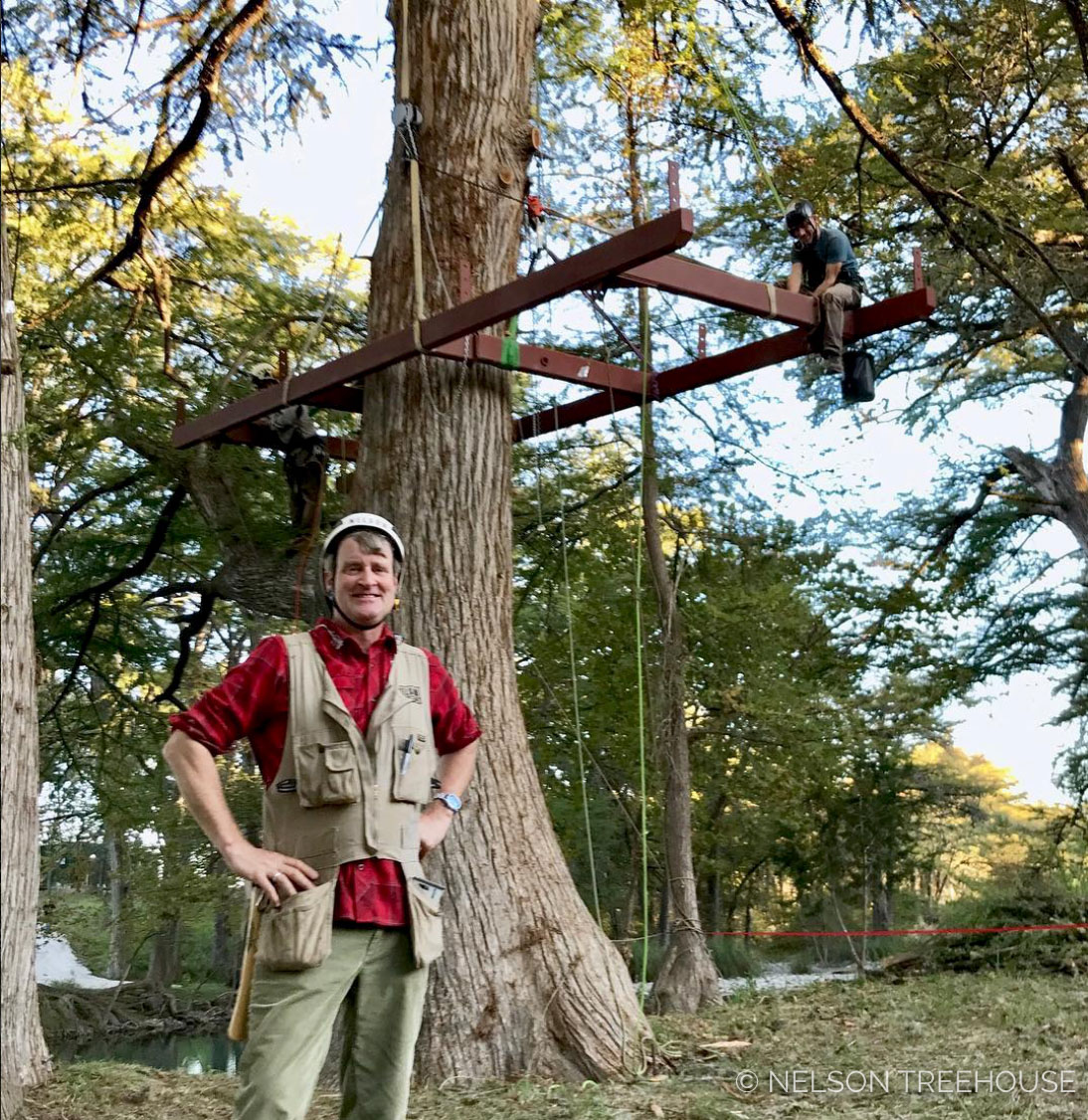 We keep pushing the science of treehouse-building forward with heavy-duty hardware.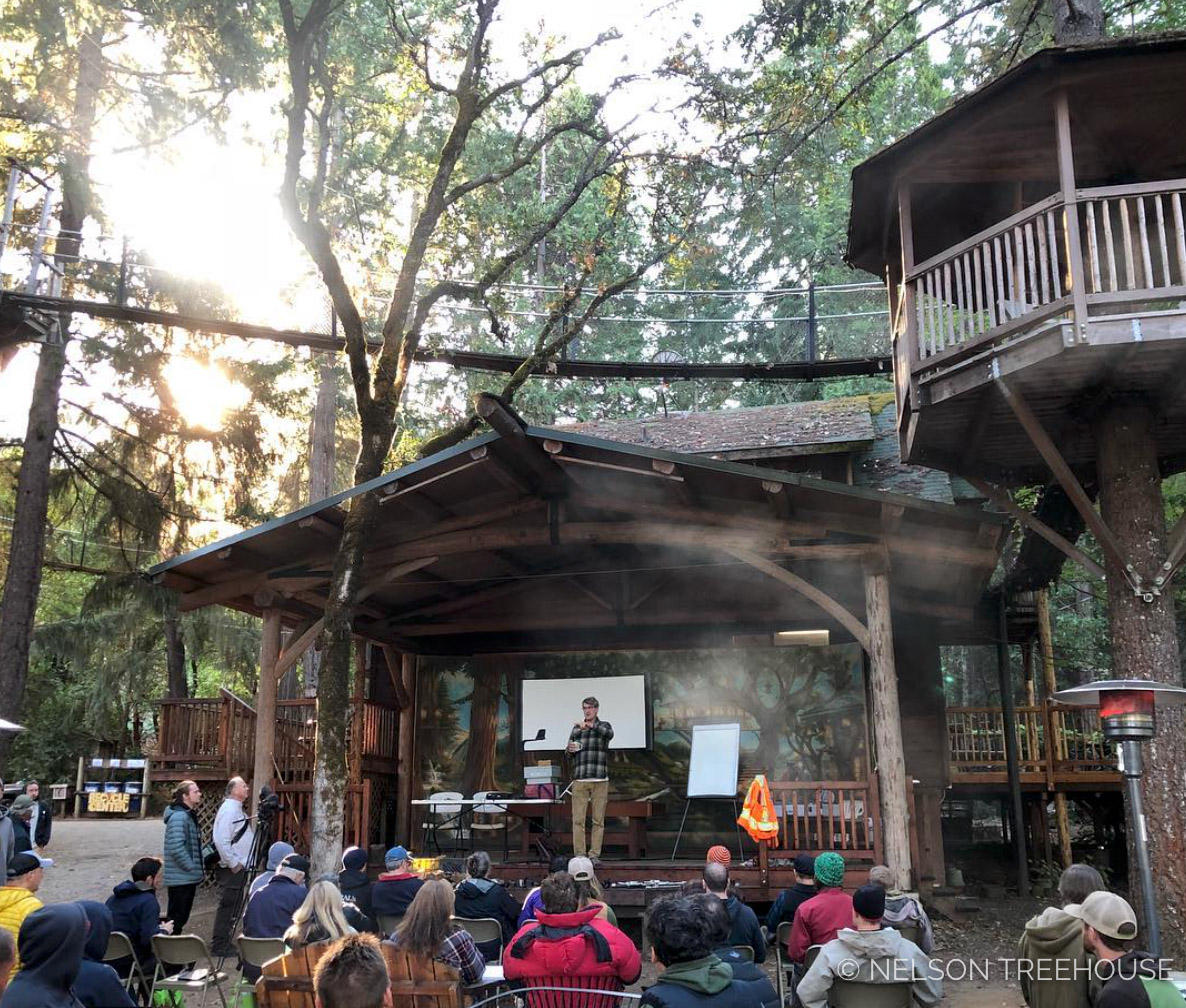 At the World Treehouse Conference this fall, the treehouse community gathered to talk about everything from tree physiology to structural engineering and design.
In a more intangible sense of the word, our work is founded on our connections with people – it is our great honor to connect with passionate people around the world over the magic of treehouses. I am humbled and ignited by our clients' enthusiasm and generosity, as they welcome my crew into their homes and lives, entrusting us with the creation of something truly spectacular.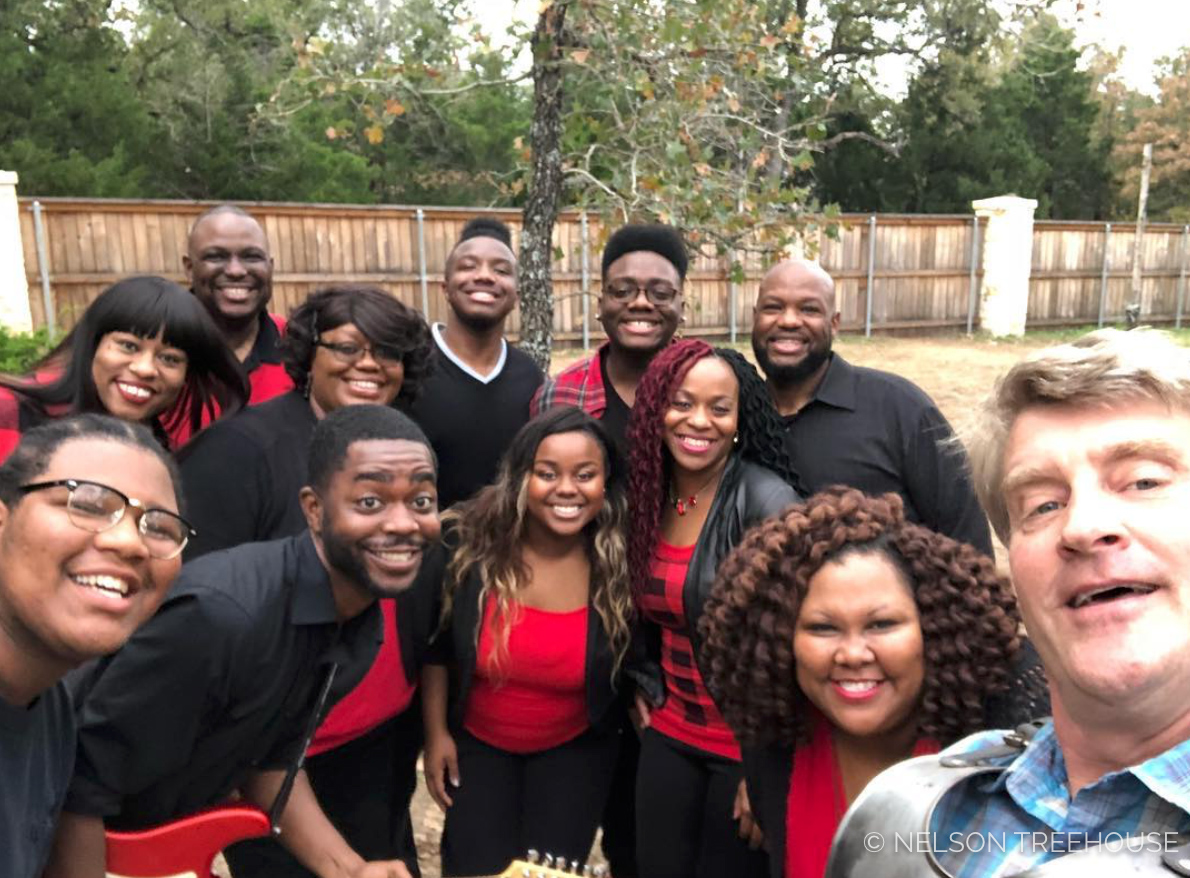 I cried when this choir gave a surprise performance at a treehouse reveal – It was incredible!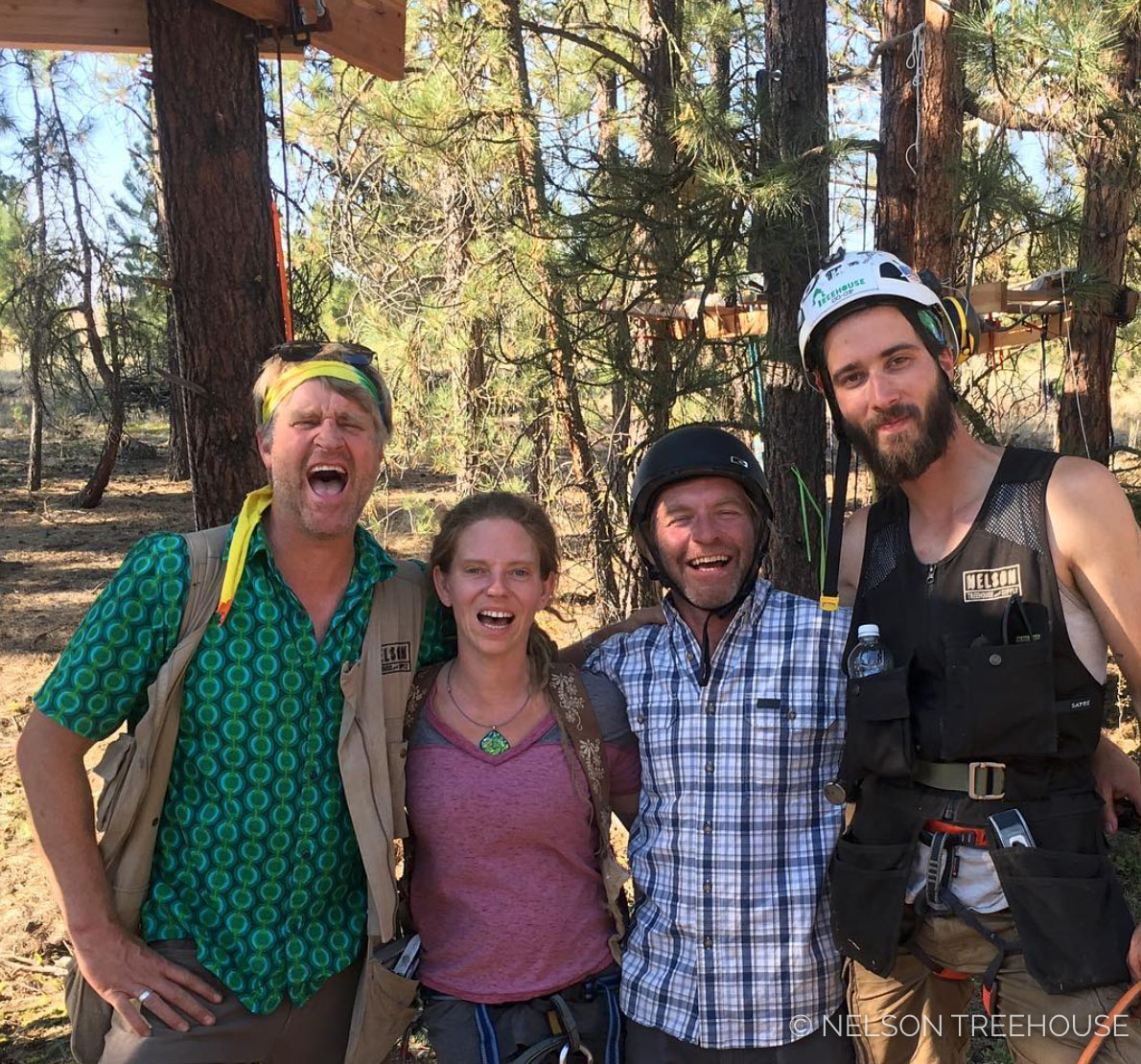 Had so much fun building in Eastern Washington for a friend.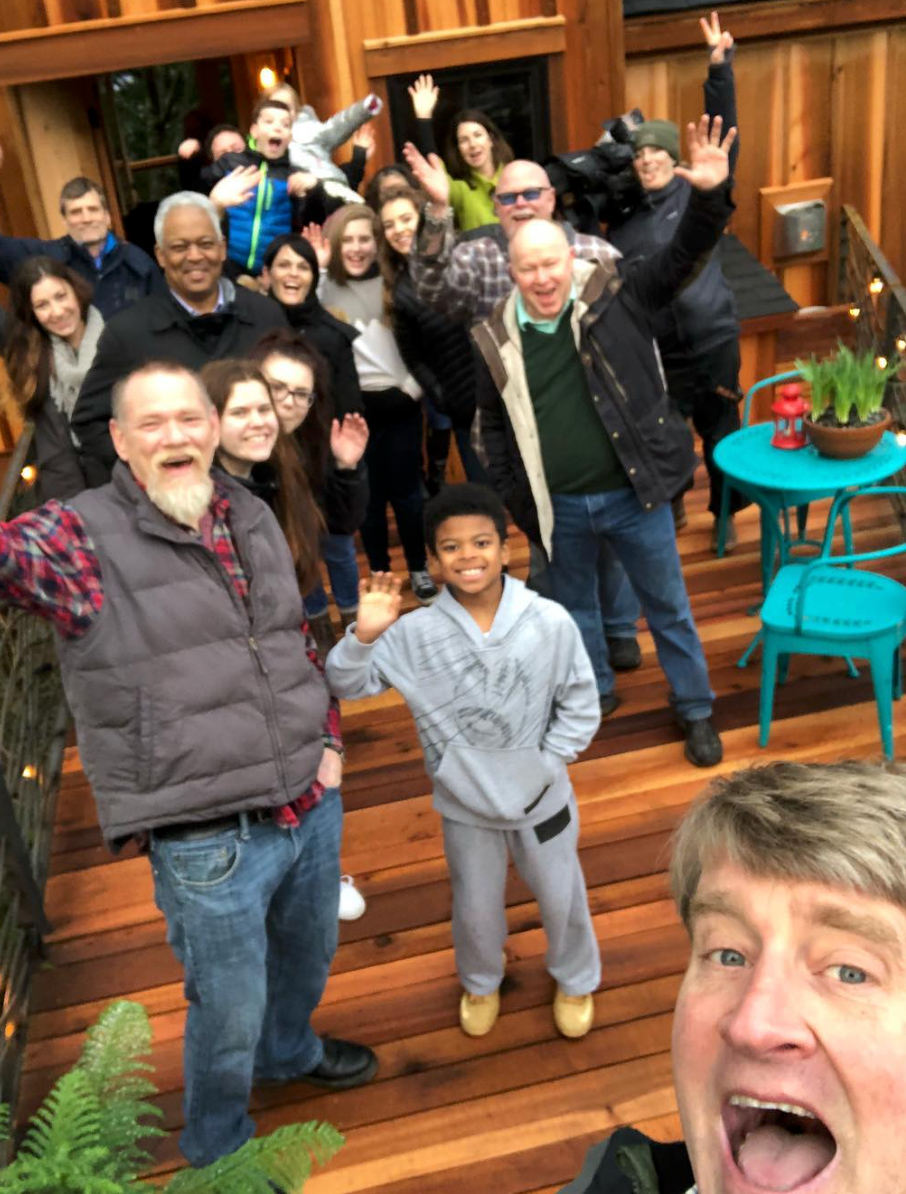 I feel like the luckiest person in the world when I get to hand over the keys to a brand new treehouse.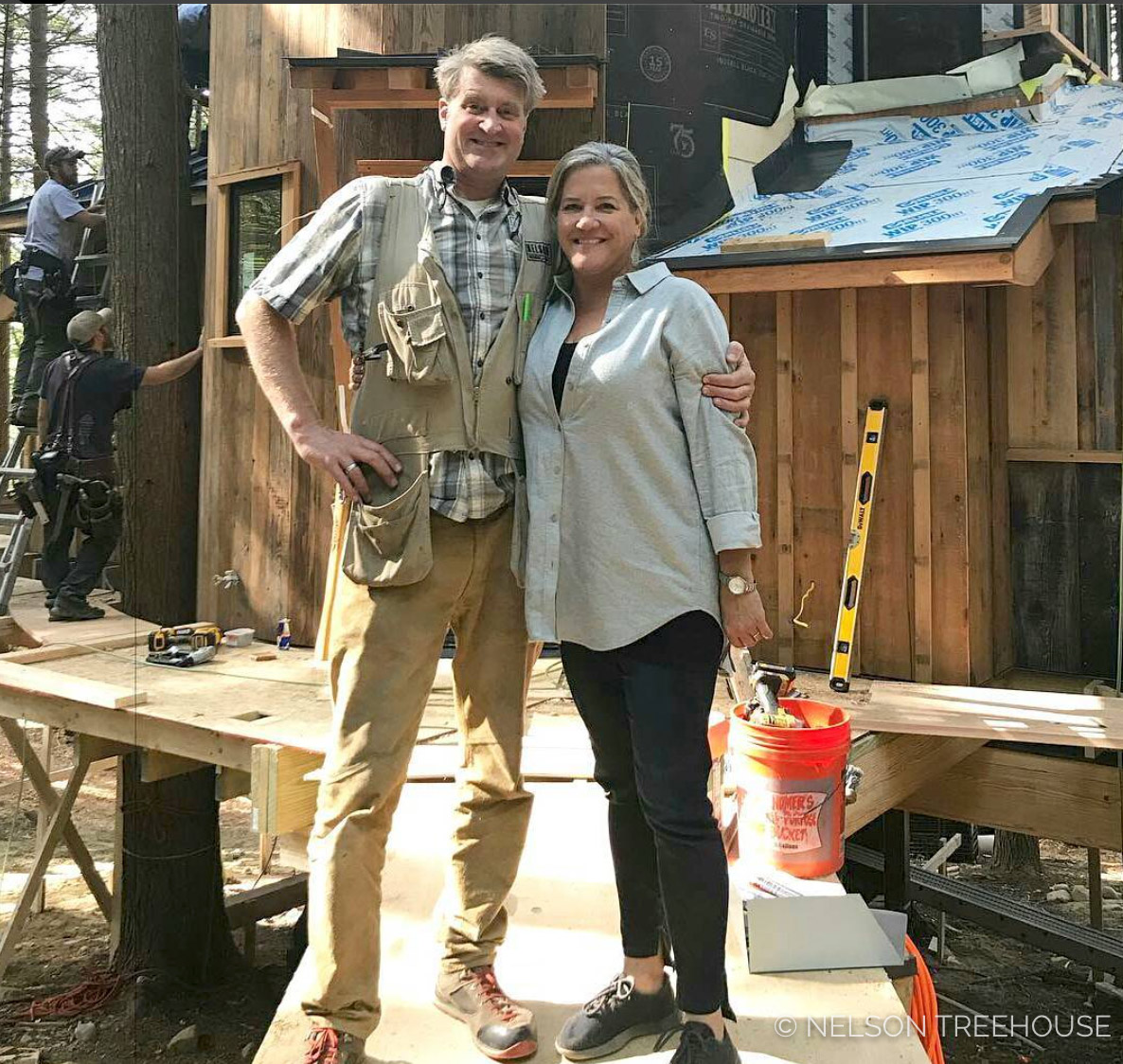 I'm so grateful that Judy Joins me on my treehouse adventures around the world – She brightens every build. 
A sorrow this year has been coping with the constraints on our time and capacities, finding we are unable to connect with all those who wish for us to build them a treehouse. This truly saddens me, as there is nothing I love more in the world than engaging with all those who marvel at the magic of treehouses. My team and I are deeply grateful for the inundation of requests – we do not take it for granted, and never will. Yet despite our year of growth, we remain a small, family-owned business rooted in a rural town in Washington. The incredible reach of the TV show can create the impression that we churn out tens, if not hundreds, of treehouses each year. To put our scale of work in perspective: in the past 12 months, we built 19 treehouses in ten states (and one in Norway). Nineteen treehouses! That figure fills me with pride and gratitude for all the love and labor that went into achieving it. To build 19 treehouses, we really were "humming:" working as efficiently as we possibly could, with all hands on deck.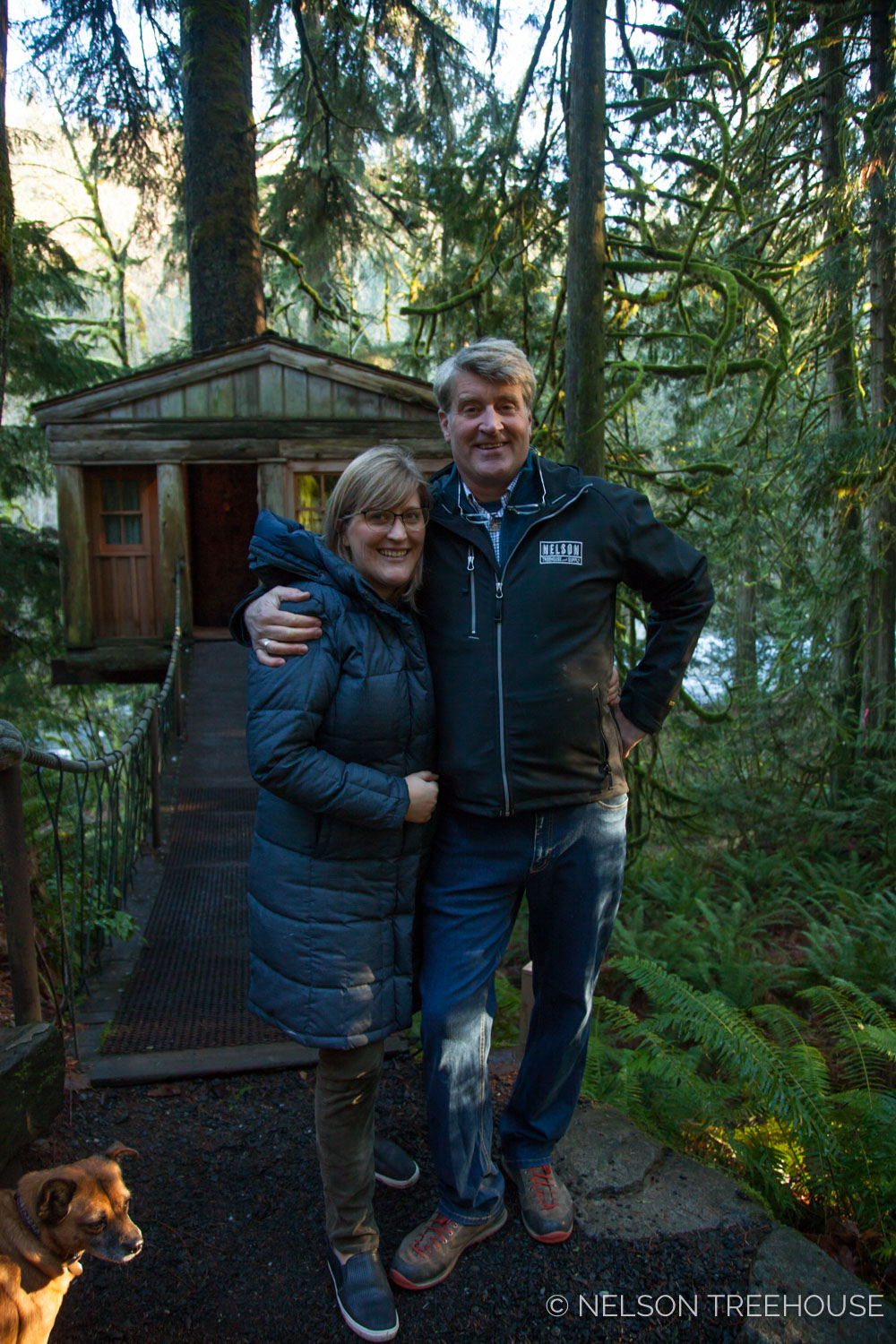 Running a small business gives me the invaluable opportunity to work alongside my family. It's Always a treat to see my Daughter, Emily, when I'm around our HQ, where she leads our online store (and many other things!).
It is my aspiration to bring the treehouse life to all those who seek it, to connect with as many folks as I can. In striving toward this goal, I rely on the diverse branches of our work. We are intentional about connecting through many forms: building treehouses, hosting guests overnight in the trees, providing resources and hardware for do-it-yourselfers, offering thoughtfully designed lifestyle products, and publishing informative online content on our blog and YouTube channel. I hope these branches help you bring a bit of the joy and tranquility of treehouses to your day-to-day.
As we move into the new year, I am filled with gratitude and excitement. Much of our 2018 will center on two incredible hospitality projects. Through a wonderful partnership, we are opening a small, treehouse bed and breakfast in Texas – I look forward to telling you more about this in a few months. We are also progressing with our plans for Treehouse Resort and Spa near Woodinville, Washington. This project is very close to my heart and I cannot wait to welcome you for a stay in our trees.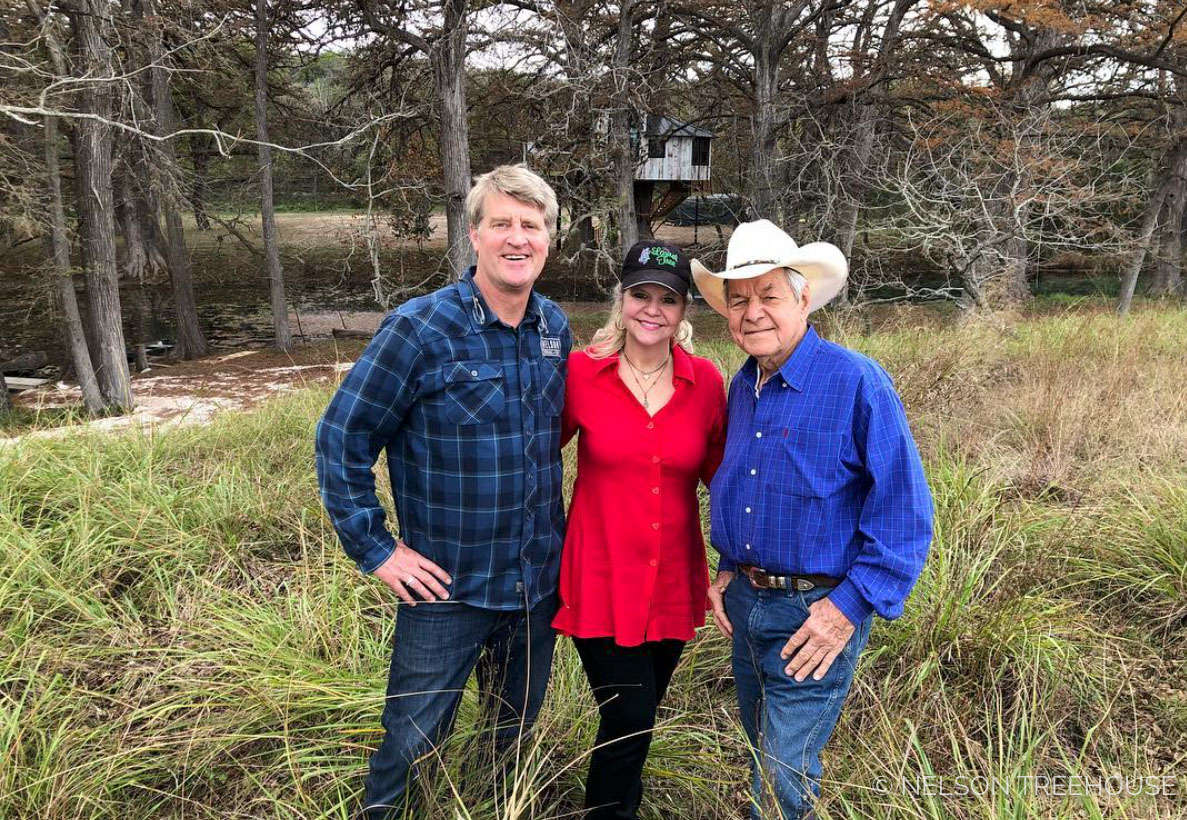 So proud of our new partnership with this amazing family in Utopia,Texas. Stay tuned…
I also look forward to the tenth season (tenth!) of Treehouse Masters, premiering January 5th on Animal Planet. I am thankful for the many opportunities for travel, treehouses, and connections that the show has brought us this year, and am excited to embrace the adventures it will undoubtedly brew in the coming one.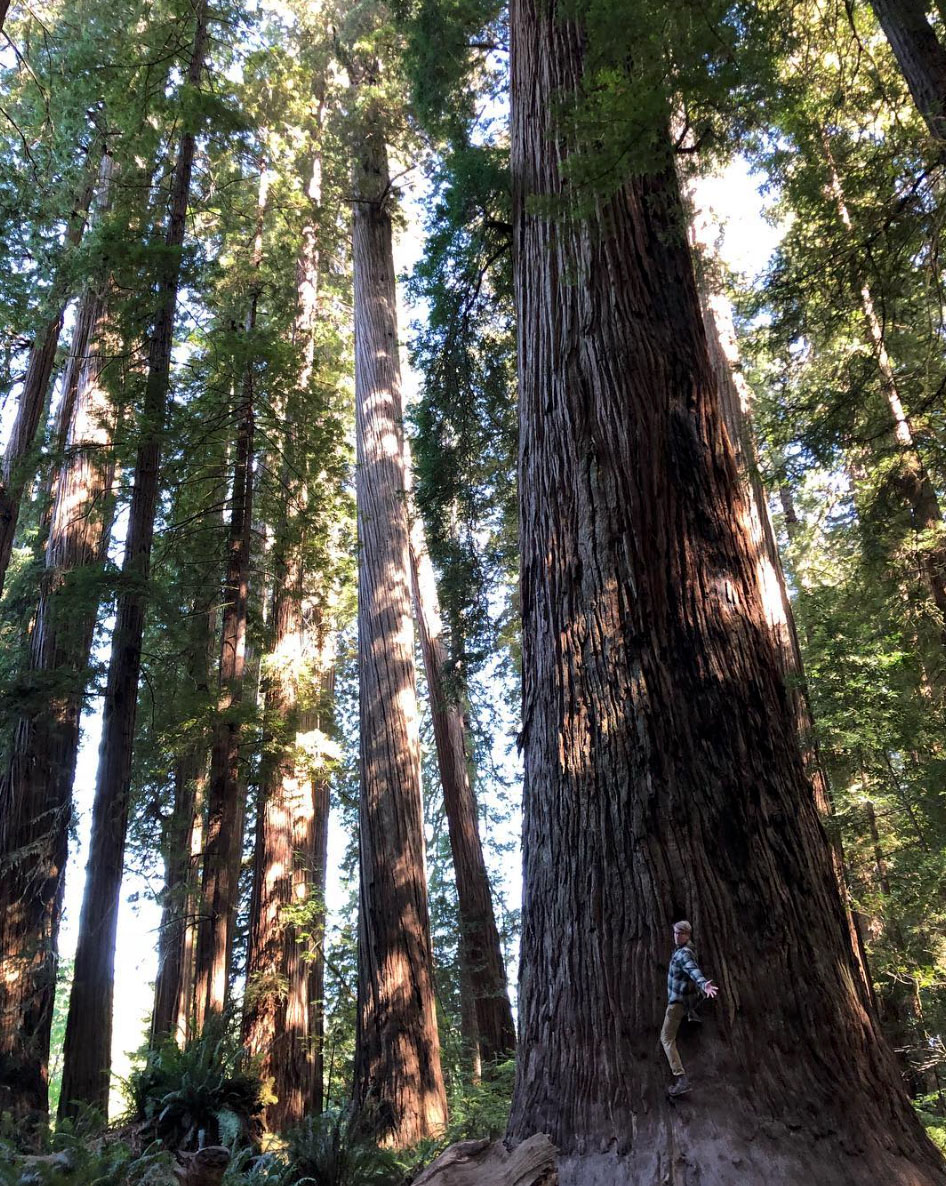 To the trees!
I am deeply grateful for all the people I've had the honor of meeting, collaborating with, and building for this year. I am daily reminded what a privilege it is to build treehouses for a living, to work in something that so effectively and resoundingly brings people together. And, dear reader, I am so grateful for you. The love, positivity, and encouragement we've receive online and in letters this year has fueled and inspired me. As I've said before: it truly means the world to me that you care about my family, my crew, and our work. A thousand thanks.
Wishing you and your family a new year filled with love and trees.
To the trees!