Dreaming of staying overnight in a treehouse?
You can now book a weekday stay at TreeHouse Point for November 2018 through April 2019!
At 2 PM Pacific Time tomorrow (Tuesday, May 1st) TreeHouse Point will open their online calendar for weekday bookings between November 1, 2018 and April 30, 2019.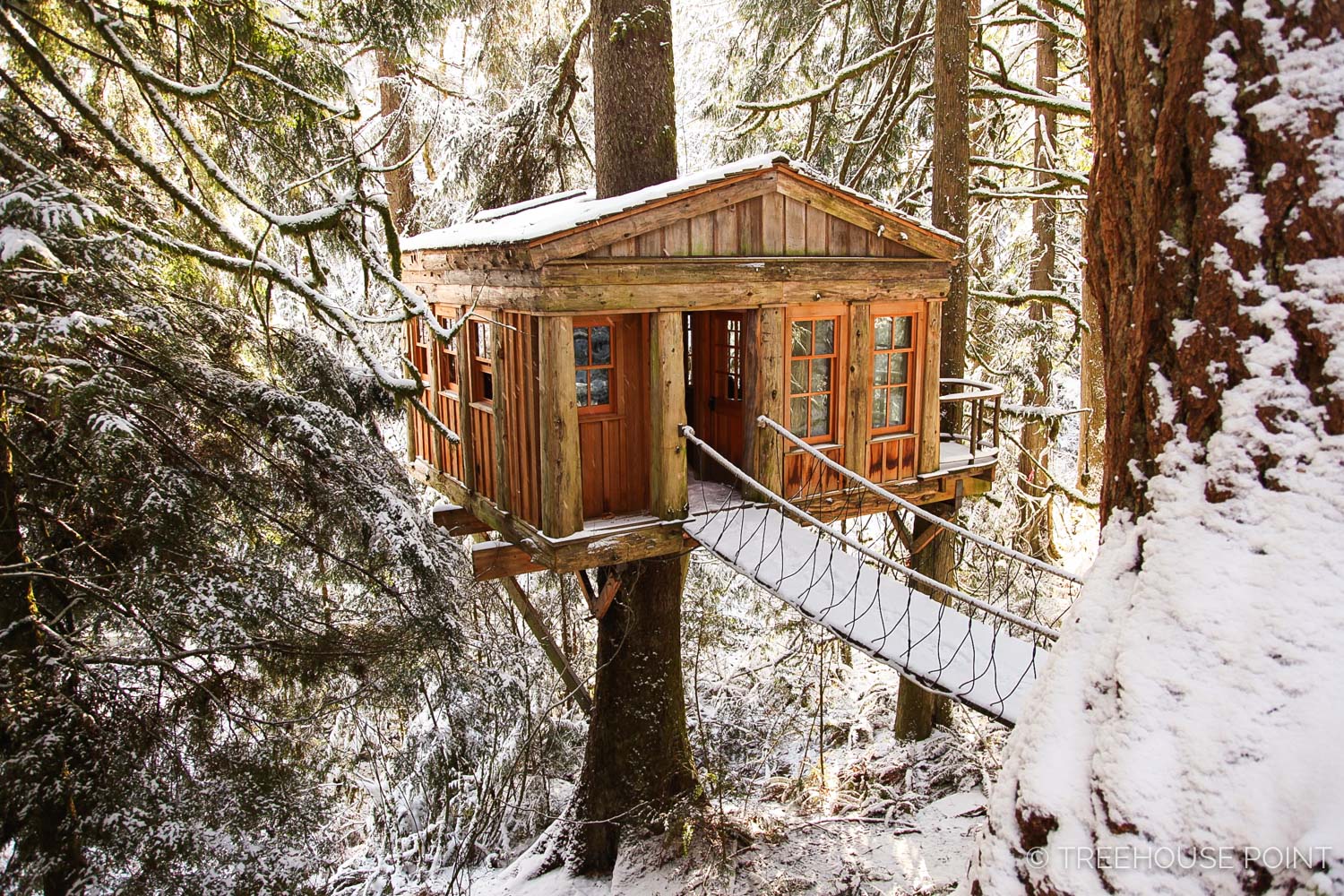 The Temple of the Blue Moon at TreeHouse Point with a dusting of snow
Winter season stays at TreeHouse Point are cozy, quiet, and restful. Some think that the treehouse stays are best reserved for warm-weather months – but don't be deceived! Cooler, rainy days are a perfect time to visit TreeHouse Point. 
Wintery weather makes it all the easier to hunker down in your treehouse, soaking in the experience and sipping a warm beverage, all while listening to the soft rhythm of rain on the roof. And yes, all of our treehouses are heated —so you'll always stay toasty and warm while up in the trees.
Hesitating to book a weekday stay? This is the prime time to visit local attractions without heavy weekend crowds.
---
Here are a few key things to keep in mind regarding TreeHouse Point reservations:
There is a two-night minimum stay in effect most of the year. See question on single-night stays, below, for more information.

In order to maintain a comfortable experience for all of our overnight guests, we limit each party to booking a maximum of two treehouses/rooms for any given date. If you would like to rent more than two treehouses, please e-mail events@treehousepoint.com for information regarding full property bookings.

For most of the year, weekday stays are offered either Monday – Wednesday or Wednesday – Friday.

Weekend stays are Friday, Saturday, and Sunday.
---
Browse the FAQ below to learn more about reserving a stay:
When does TreeHouse Point open bookings for summer weekdays (May – October)?
On November 1st at 2 PM Pacific Time, TreeHouse Point opens bookings for weekdays May through October of the following year.
When does TreeHouse Point open bookings for winter weekdays (November – April)?
On May 1st at 2 PM Pacific Time, TreeHouse Point opens bookings for weekdays November of the same year through April of the next year.
When does TreeHouse Point open bookings for weekend stays (year round)?
Each Monday at 2 PM Pacific Time, TreeHouse Point opens the next 60-day-out weekend. In other words, a weekend becomes available for booking on the Monday 60 days prior to that weekend.
When can I stay for only one night?
Our two-night stay policy is based on guest feedback that "one night is not enough!" That said, we occasionally make exceptions to the two-night stay policy.
Please e-mail info@treehousepoint.com if you would like to stay for only one night.
How do I make a reservation?
Please visit the "lodging" tab of TreeHouse Point's website and request their availability calendar by filling out the online form. You will then use the availability calendar to reserve a stay.
What is an overnight stay in the trees like?
We've penned a handy guide to staying overnight in the trees! You can read what to expect, here.
THE BURL IN SNOW AT TREEHOUSE POINT.
We hope to see you in the trees soon!