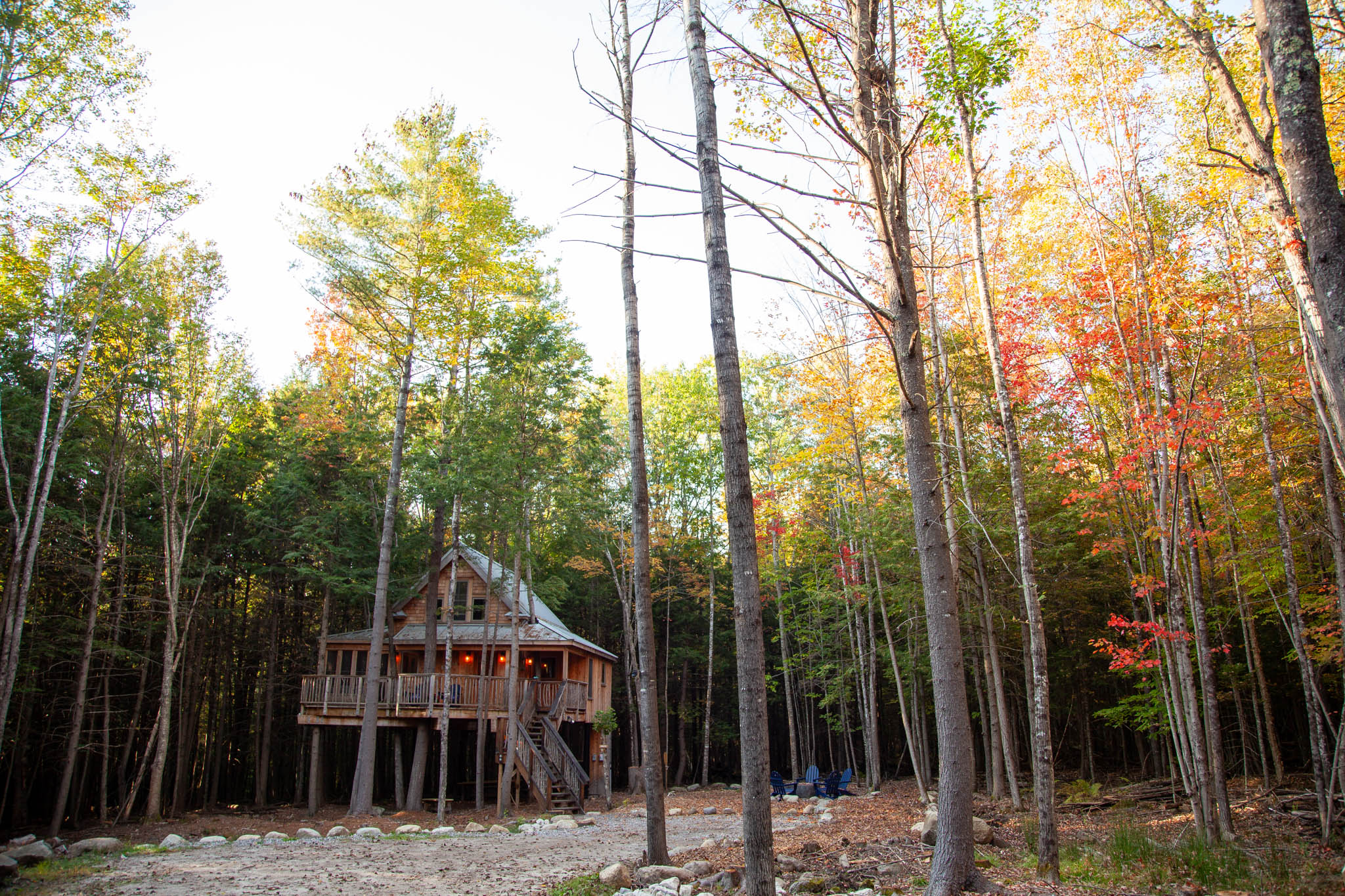 Ah, the crisp air, the vibrant foliage, and the cozy feeling of fall – it's a time to embrace the magic of the season. In the heart of New England, there's a place that promises an unforgettable autumn experience, even with a toddler in tow. Join us on a journey as we relive our enchanting two-night stay at The Woods Treehouse in Norway, Maine, and discover the treasure trove of fall activities this charming town has to offer. Emily, along with her little one, Sally, embarked on a grand gal's adventure, making it a trip for the books.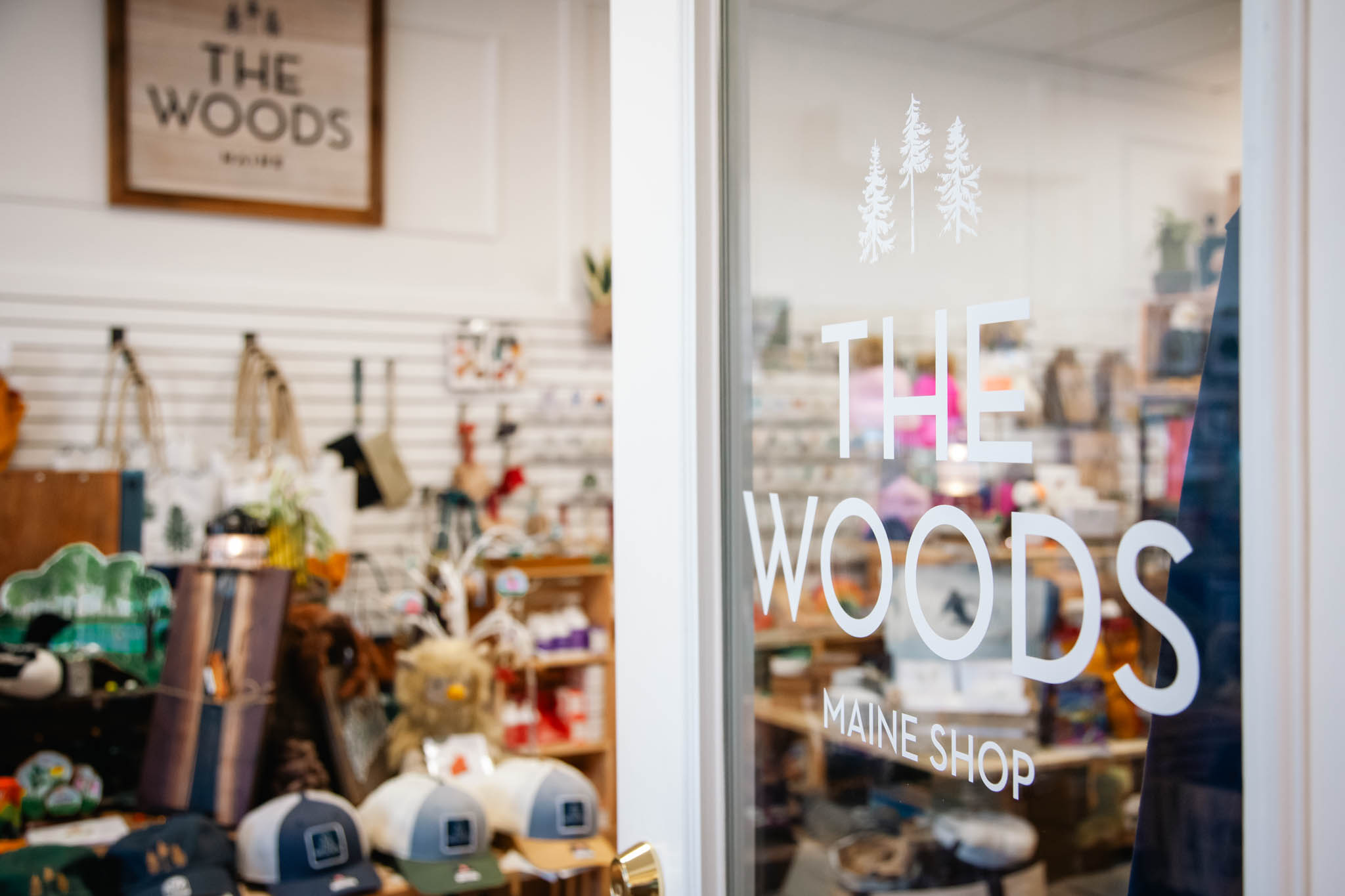 Day One:
Gifts at The Woods Maine Shop: The Best Maine Gift Shop
As you step into The Woods Maine Shop, you're greeted with an array of luxury, Maine-inspired goods. From home goods to cozy sweaters, this shop is a true gem for those looking for unique souvenirs and gifts that capture the spirit of the state. Emily and Sally found the perfect keepsakes to remind them of this special trip.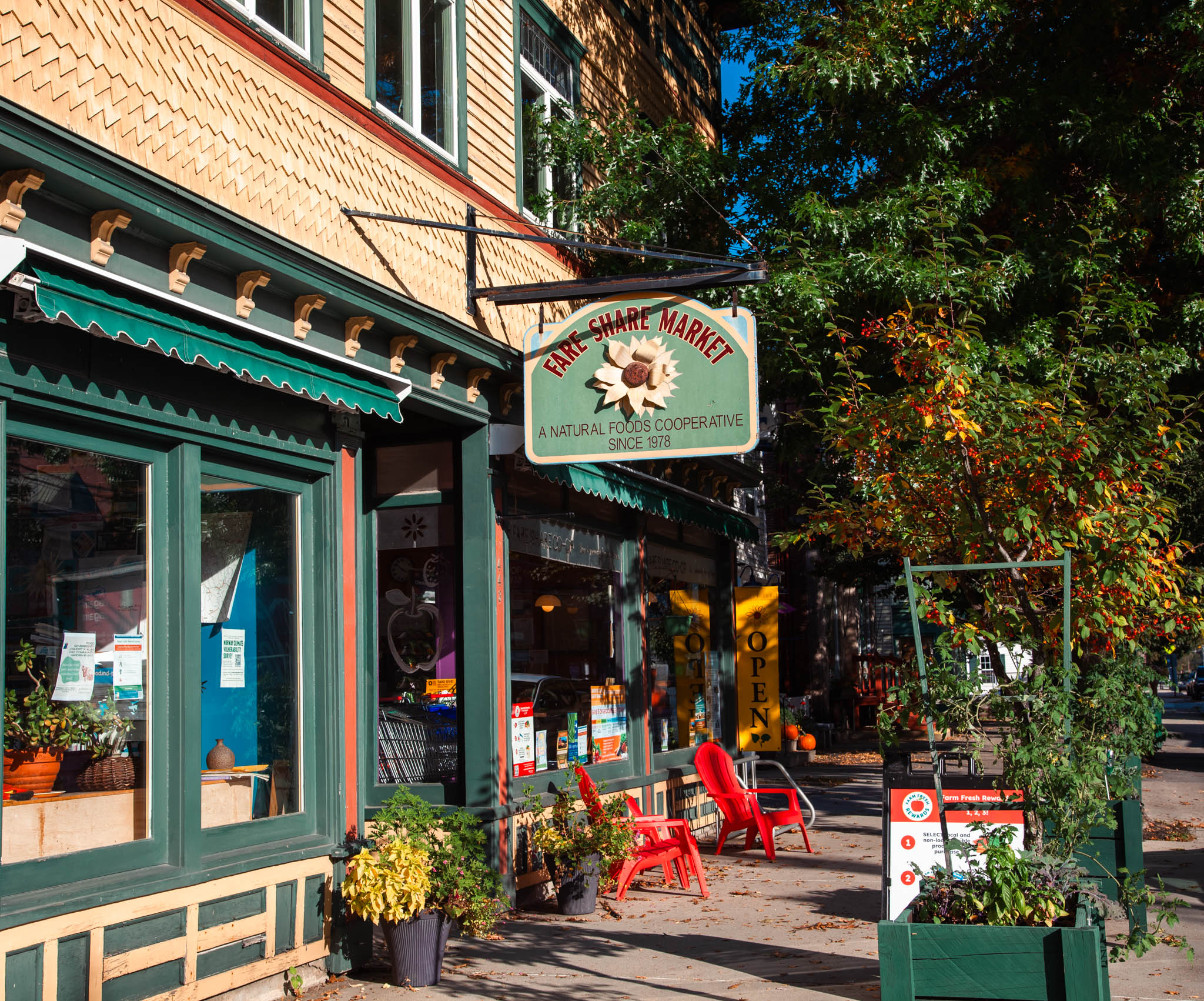 Stop by Fare Share Food Co-op for Groceries
After some shopping, it was time to stock up for their treehouse stay. The Fare Share Food Co-op, their friendly neighborhood grocery store, was a treasure trove of local, natural, organic, and fresh produce. Emily and Sally picked up delicious, toddler-friendly ingredients and charcuterie goods for their upcoming culinary adventures.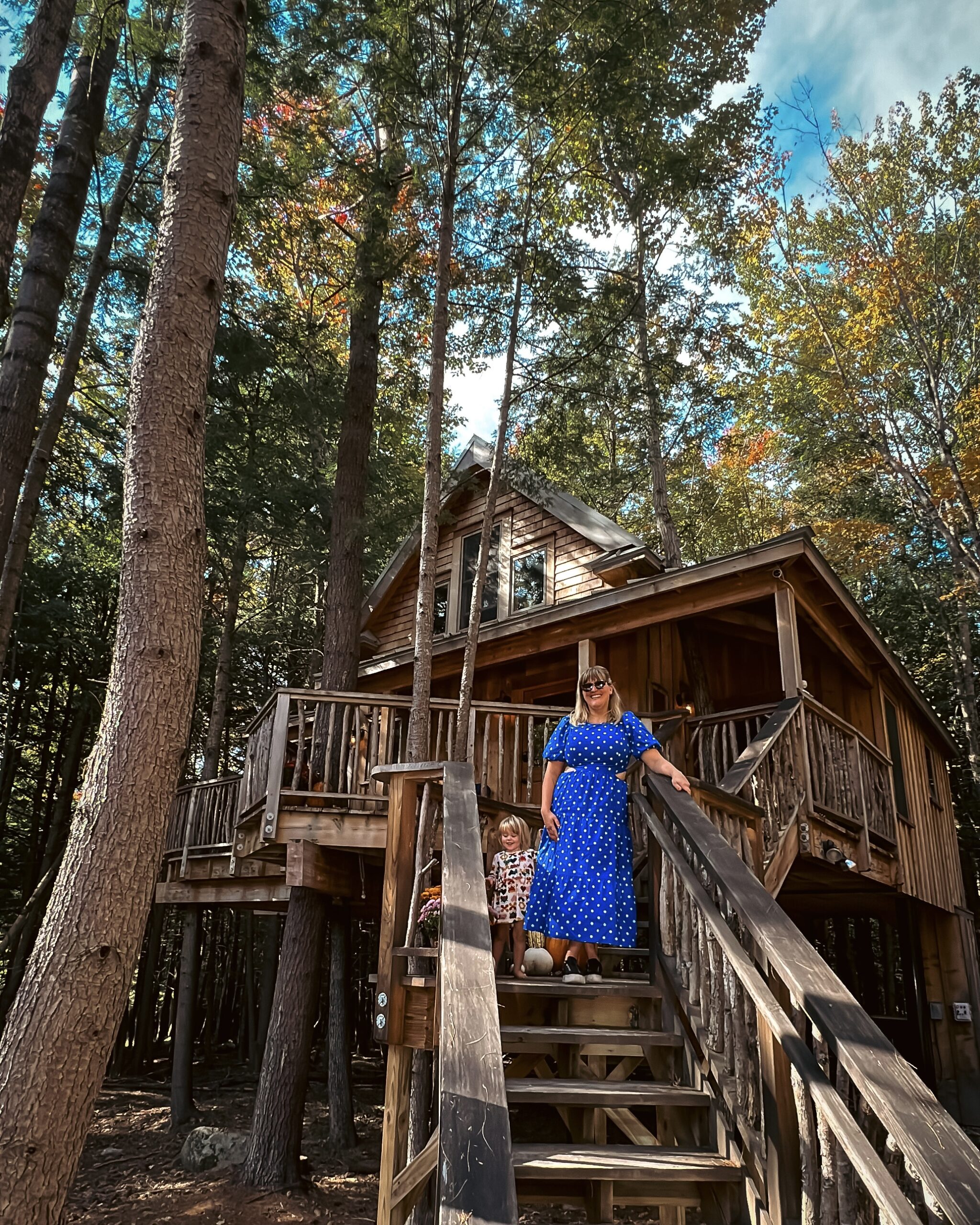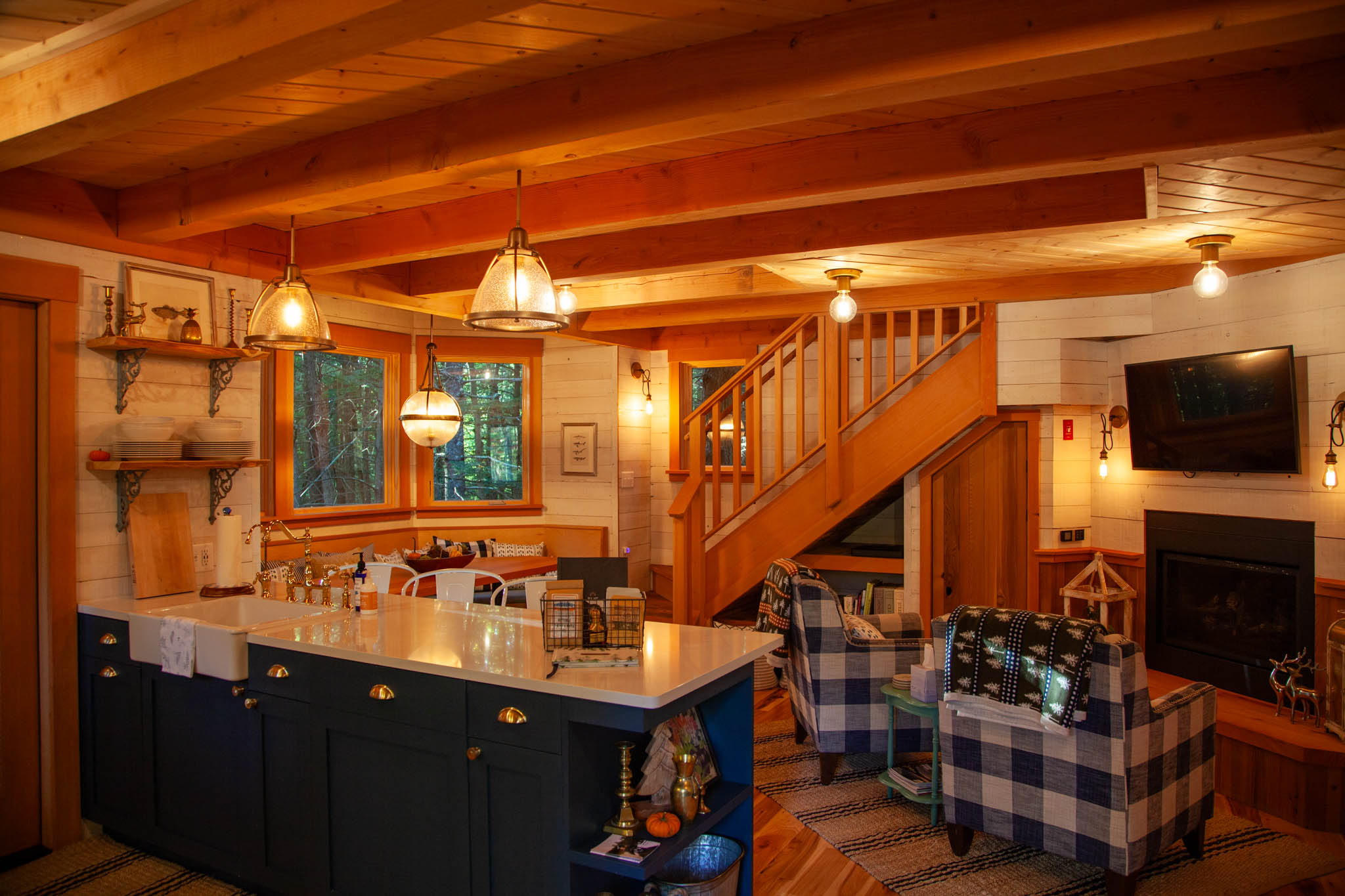 Check into Treehouse
Arriving at The Woods Treehouse was like stepping into a fairytale. Surrounded by the vibrant hues of the Maine forest, their cozy abode for the weekend was a sanctuary of tranquility. The warm wood interiors, the inviting bedrooms, and the charming covered patio overlooking the forest gave them an immediate sense of serenity, perfect for a toddler to explore.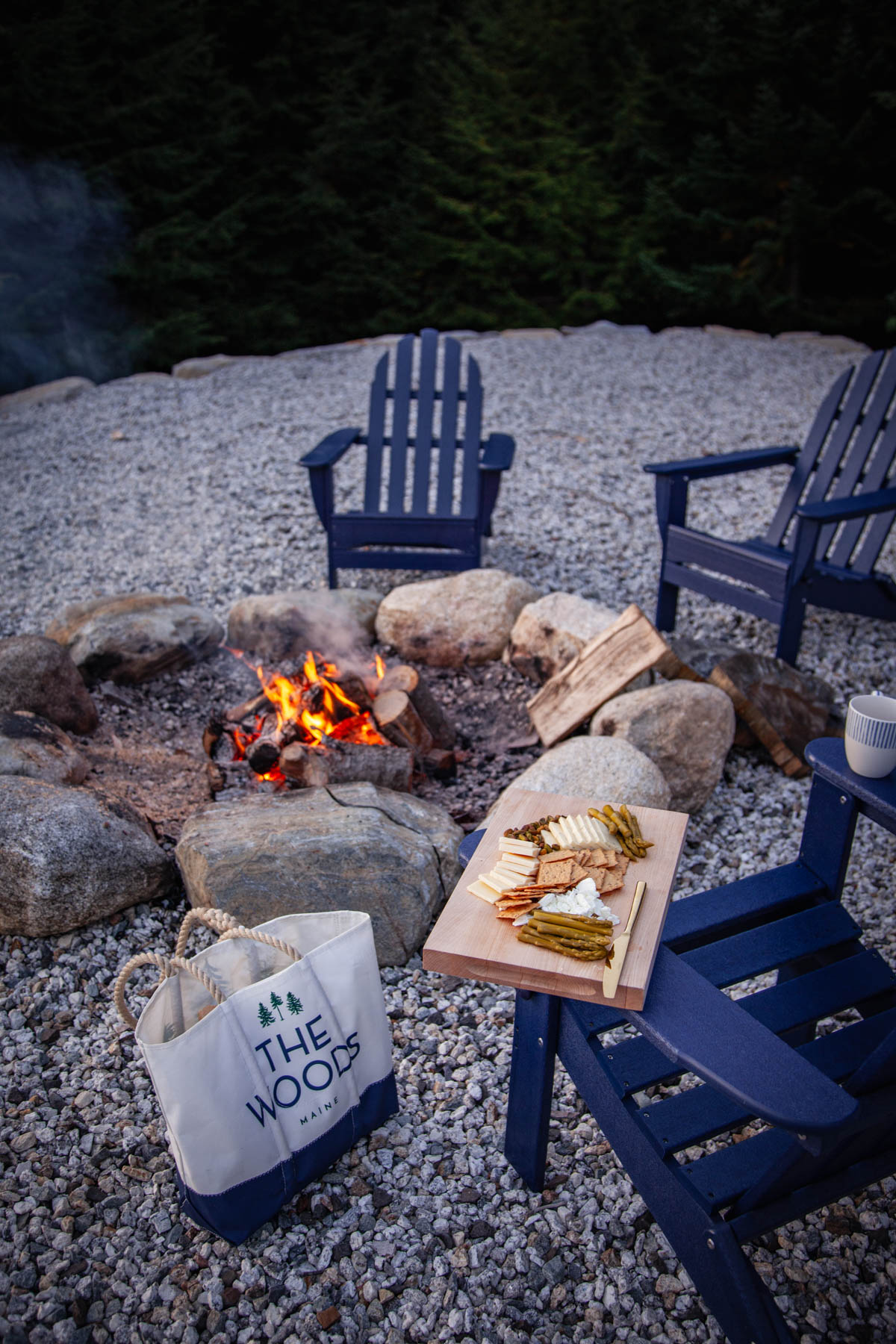 Fireside

Charcuterie

 
As the sun set, Emily and Sally cozied up to a crackling fire at the fire pit under a starry sky for a tasty charcuterie.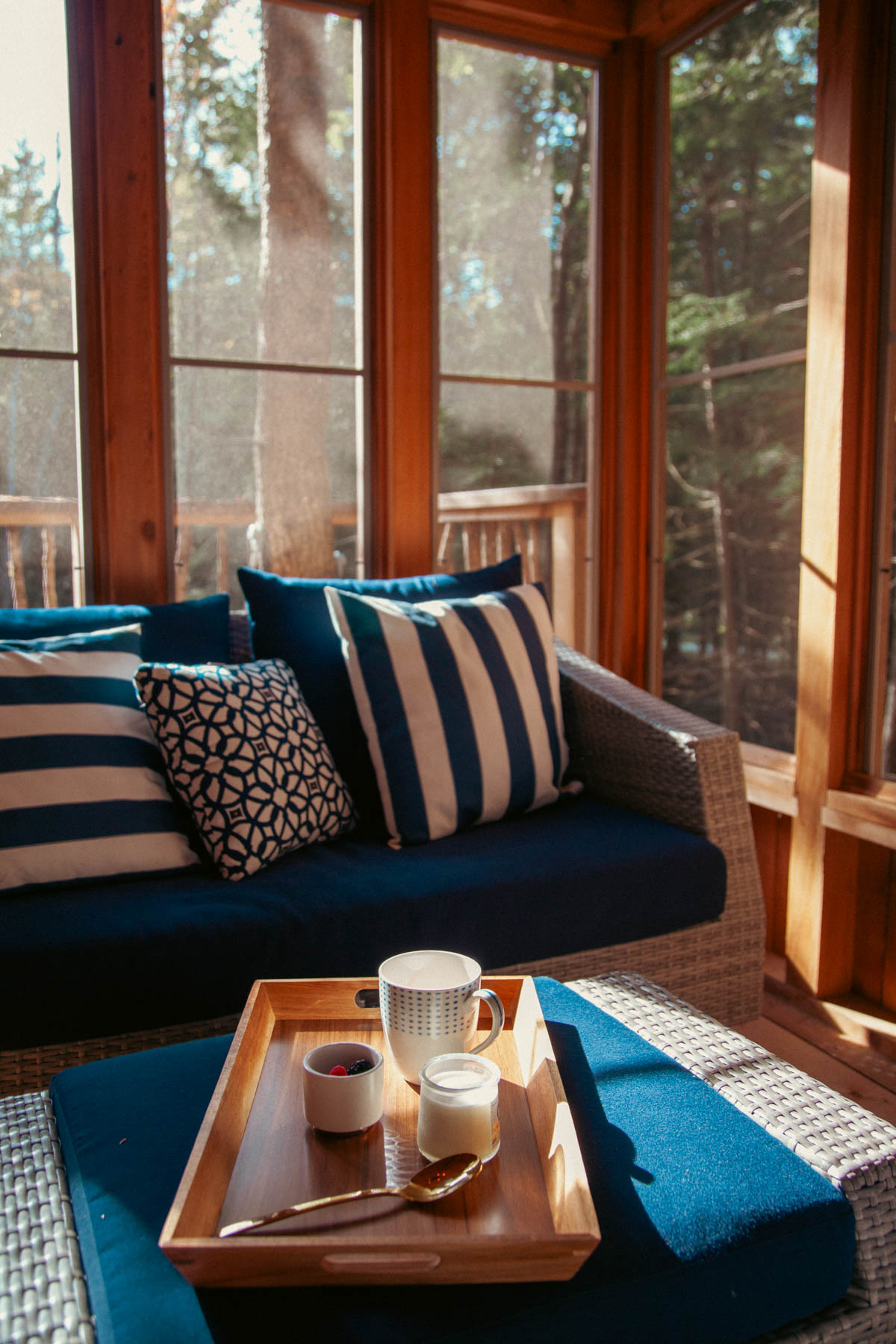 Day Two:
Breakfast at Your Treehouse
Waking up in their cozy treehouse felt like a dream. The aroma of fresh coffee and the view of the forest from the screened porch made breakfast all the more delightful for both Emily and little Sally.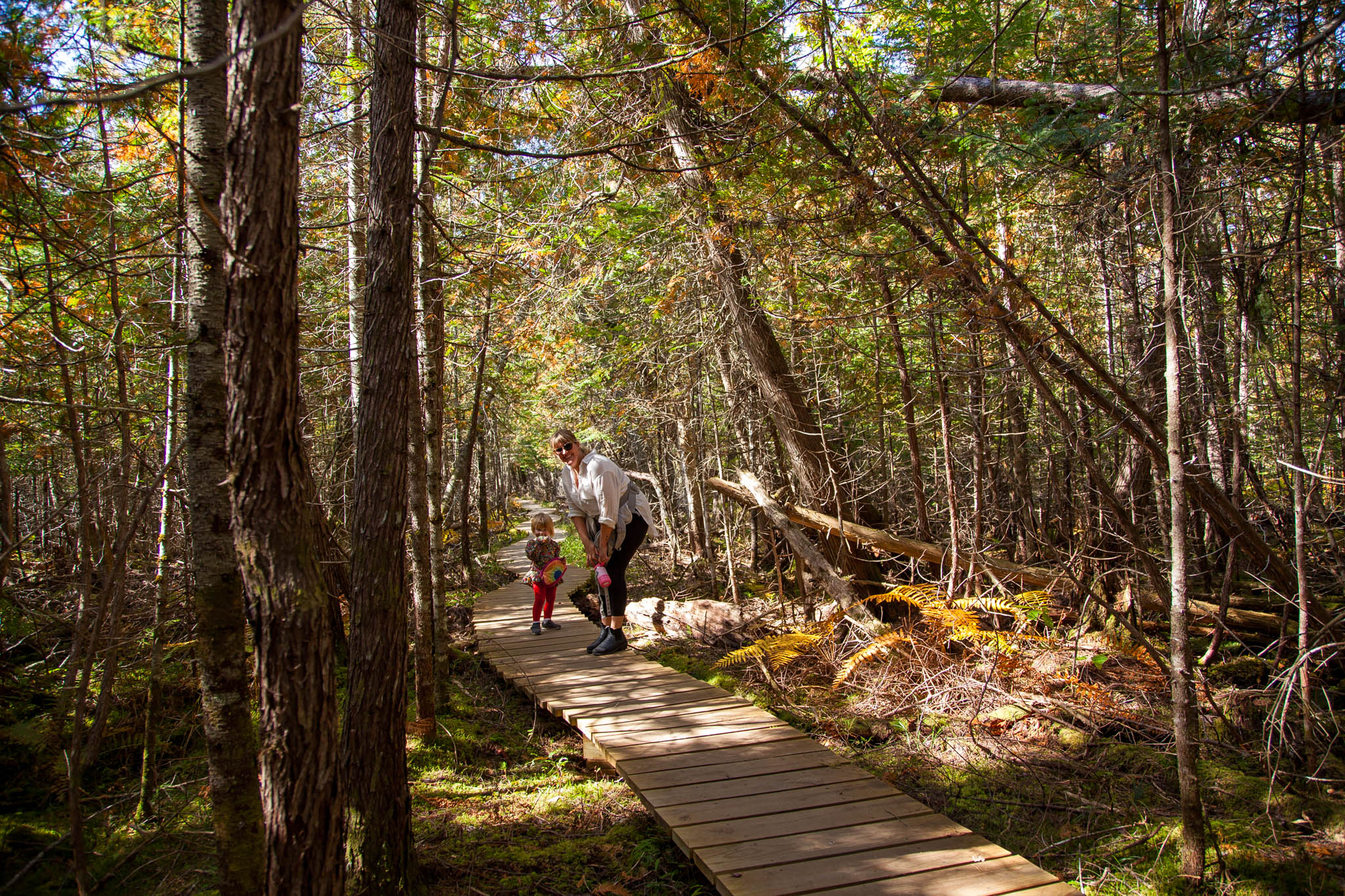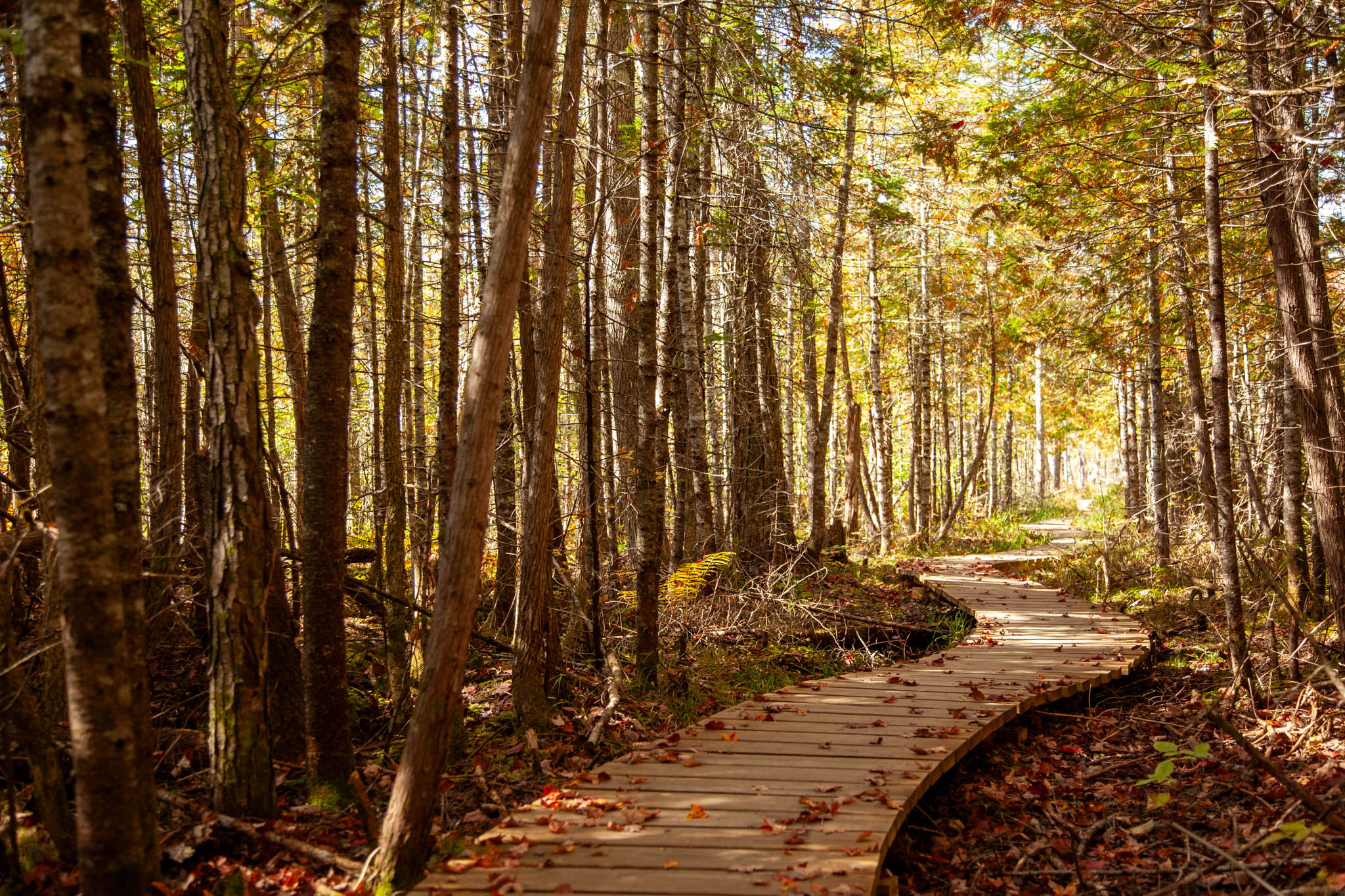 Hike Witt's End
Their morning adventure led them to Witt's End, a picturesque hiking trail. With a scenic boardwalk perfect for a leisurely stroll, it was an ideal place for Emily to enjoy a short hike with Sally in tow, soaking in the beauty of the season.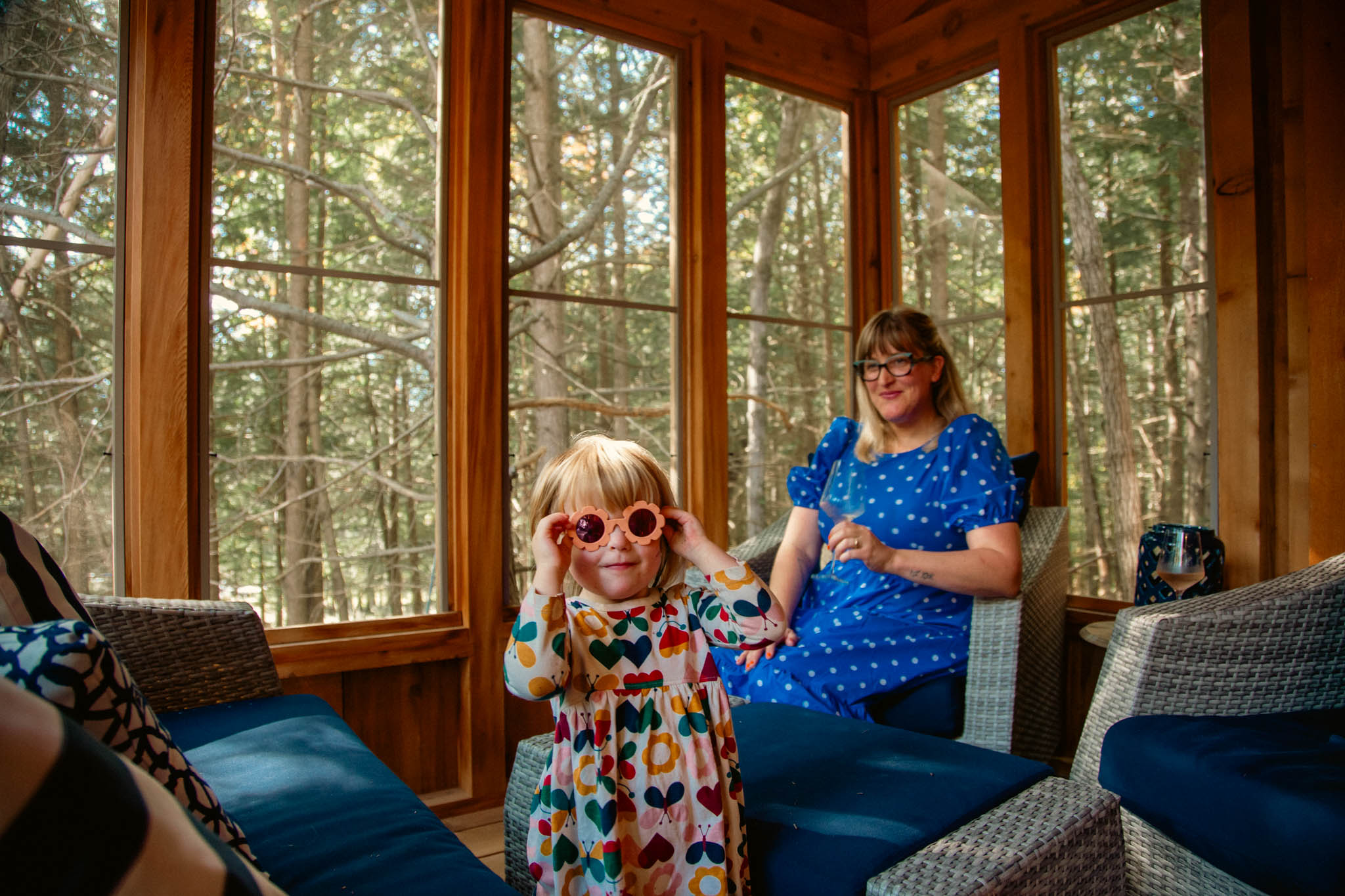 Lunch to Go at Cafe Nomad
A quick stop at Cafe Nomad provided them with a delicious and convenient lunch to enjoy at the treehouse. With bellies full, they were ready for the next leg of their adventure.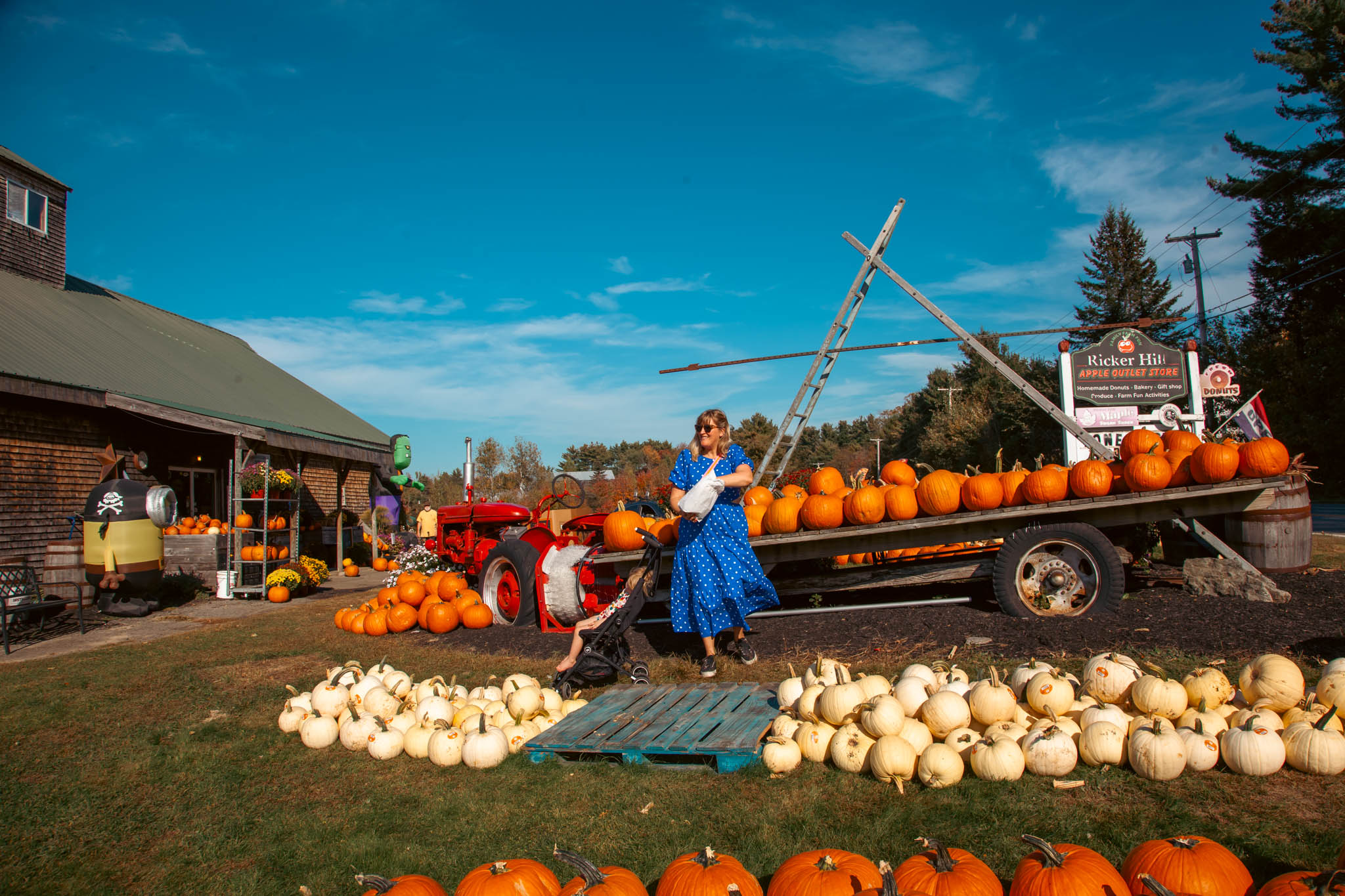 Pumpkin Patch at Ricker Hill Orchard
Ricker Hill Orchard was a fall wonderland! Emily and Sally couldn't resist the temptation of picking up a fresh batch of apple cider donuts for the drive back.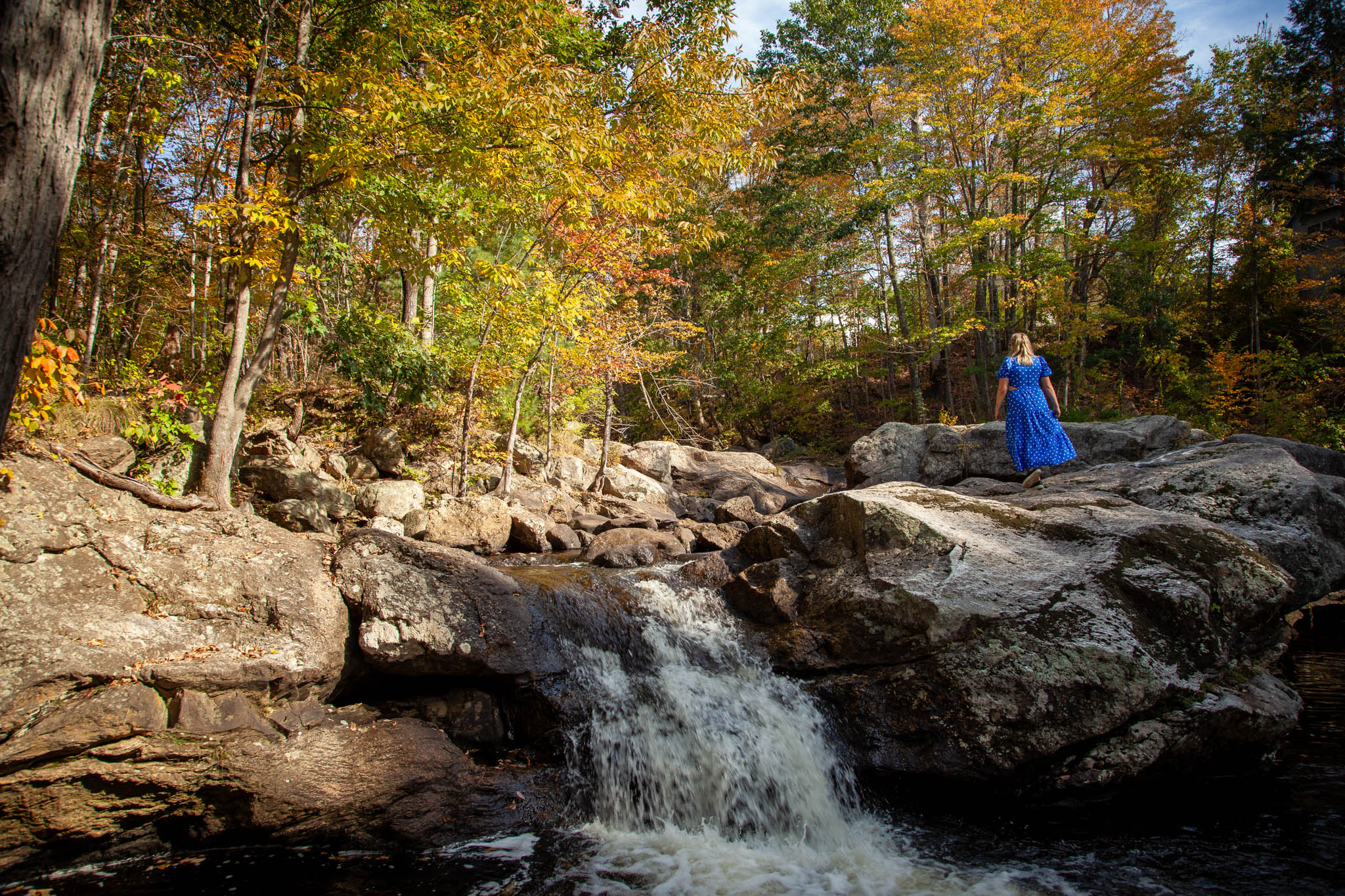 Discover Beautiful Off the Beaten Path Creek Stops
Exploring the nearby creeks and streams led to hidden gems tucked away in the woods. Nature's beauty surrounded them at every turn, making the journey as captivating as the destination.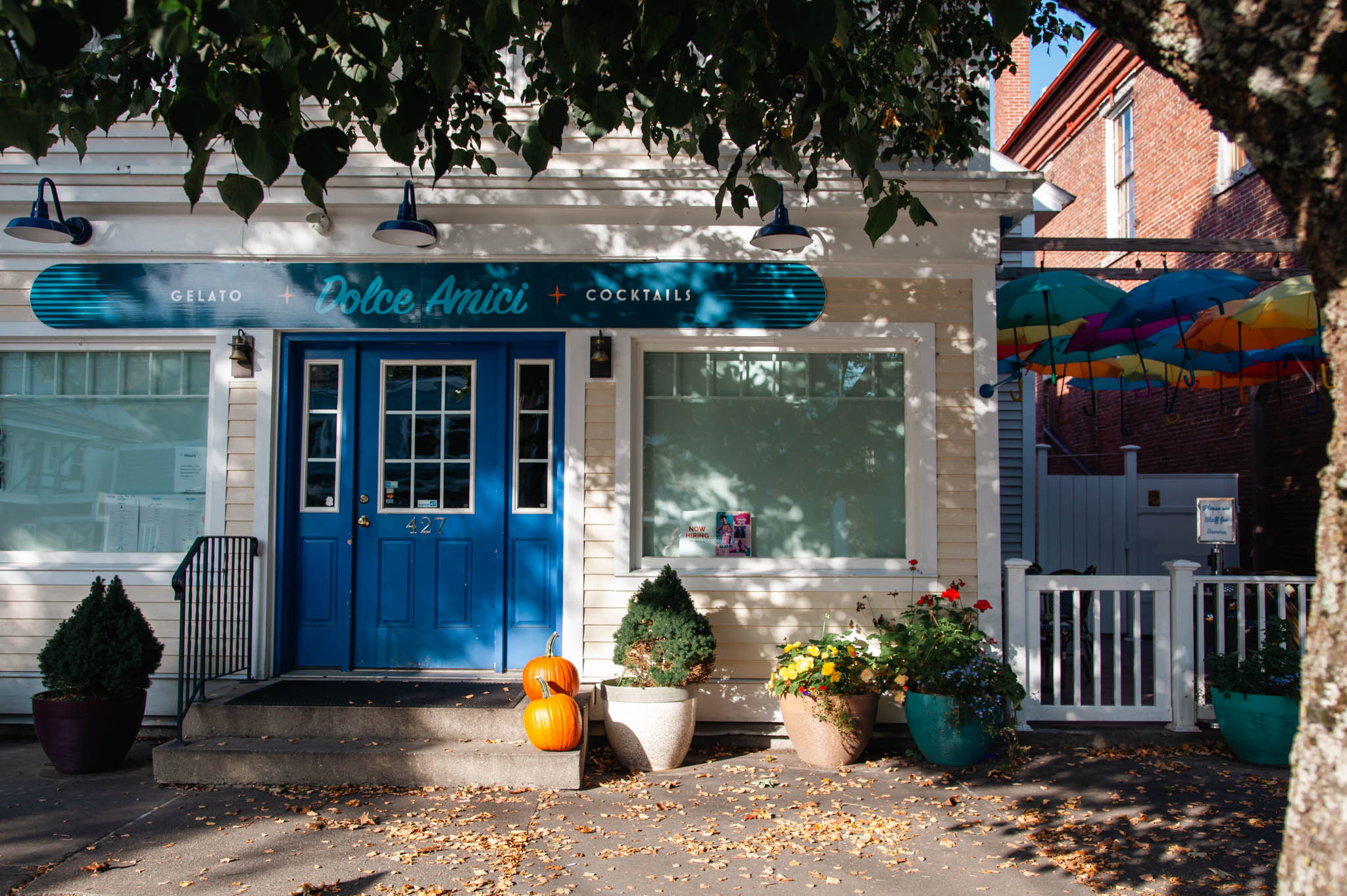 Gelato at Dolce Amici Gelato
A sweet treat awaited them at Dolce Amici Gelato. The gelato was a perfect refresher after their outdoor adventures.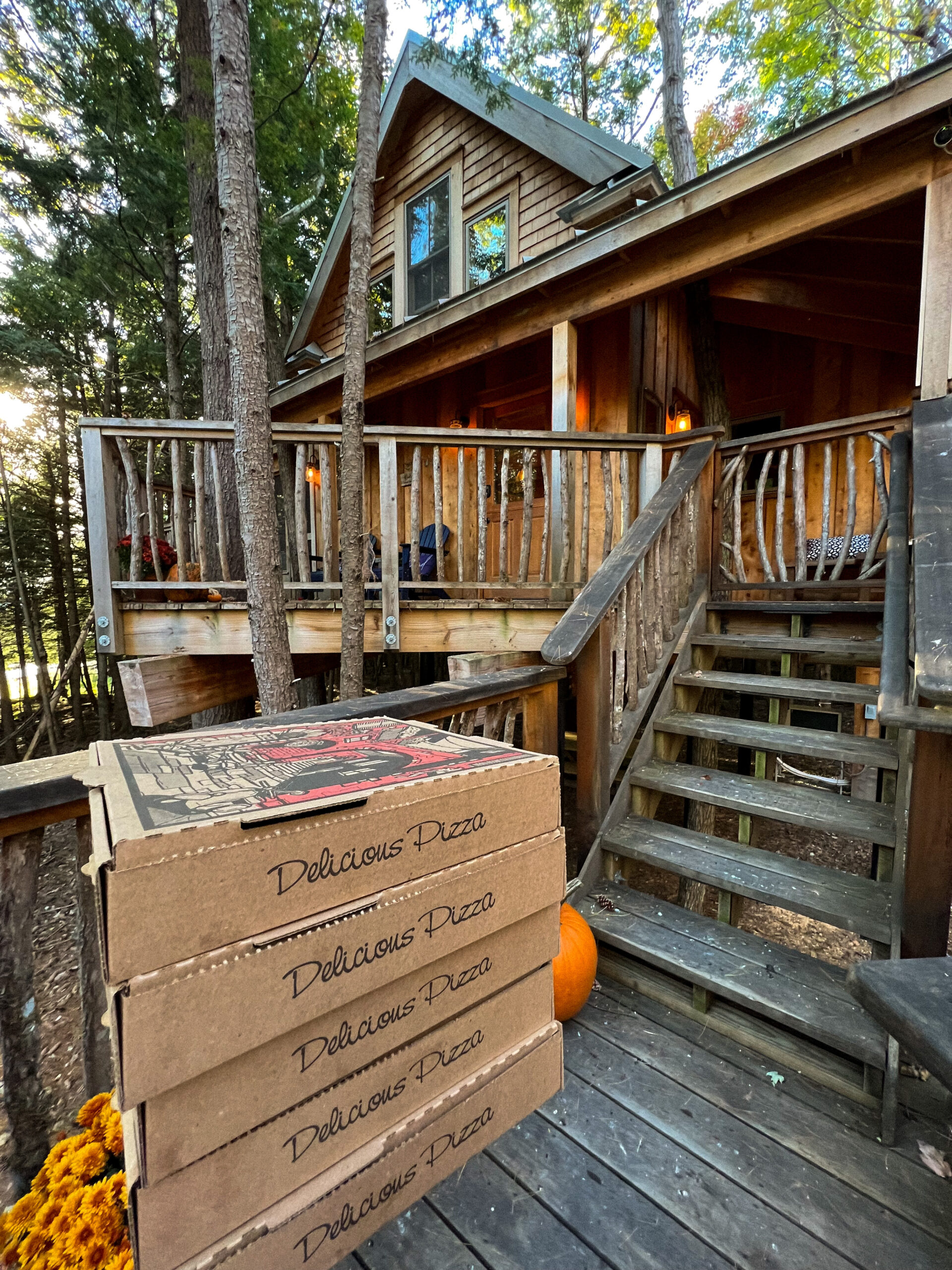 Pizza To-Go from Norway Pizza Xchange
Dinner was a relaxed affair with pizza from Norway Pizza Xchange. As the sun set and the stars emerged, Emily and Sally savored their meal by the fireside, and Sally had her own mini pizza.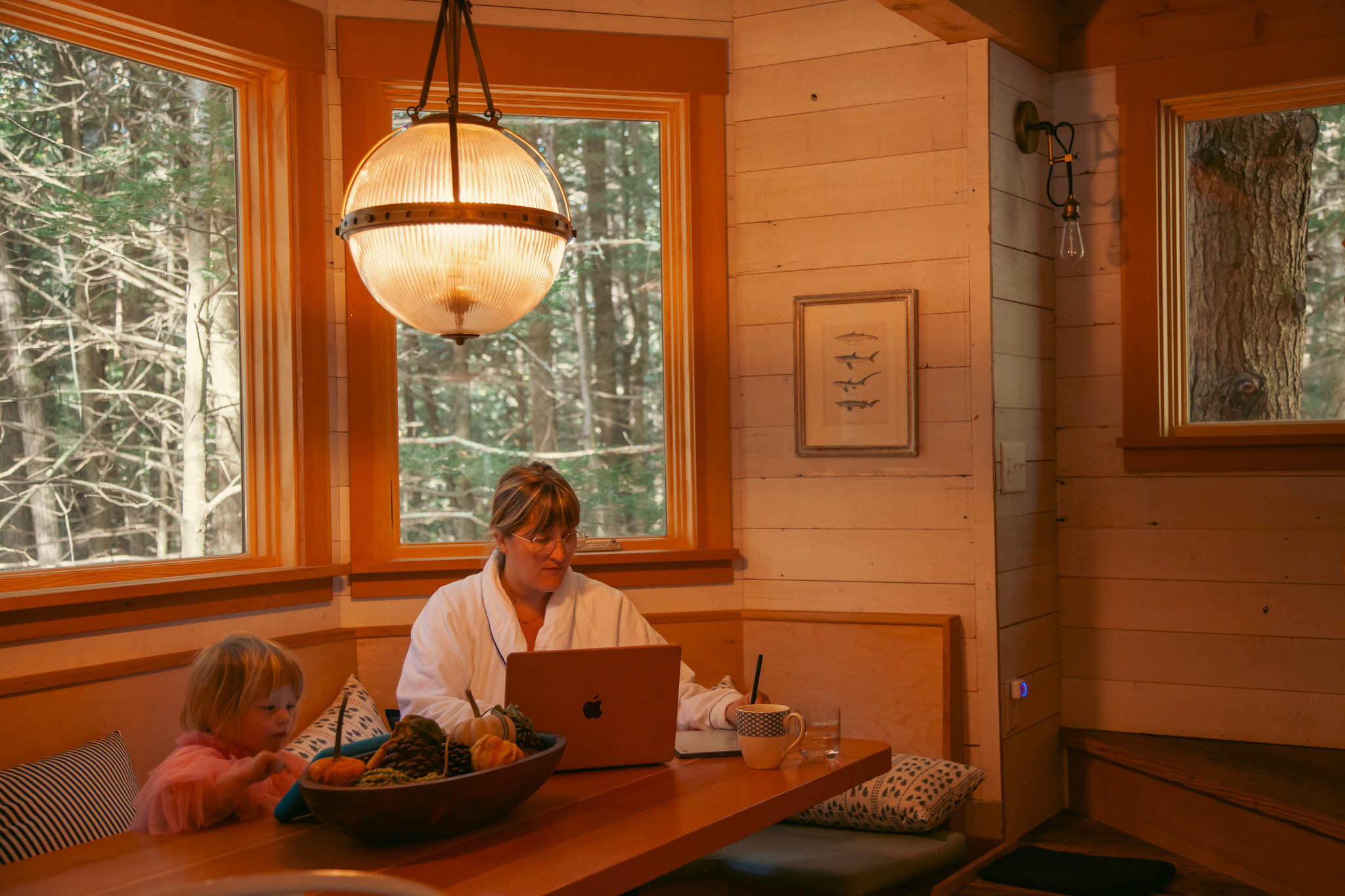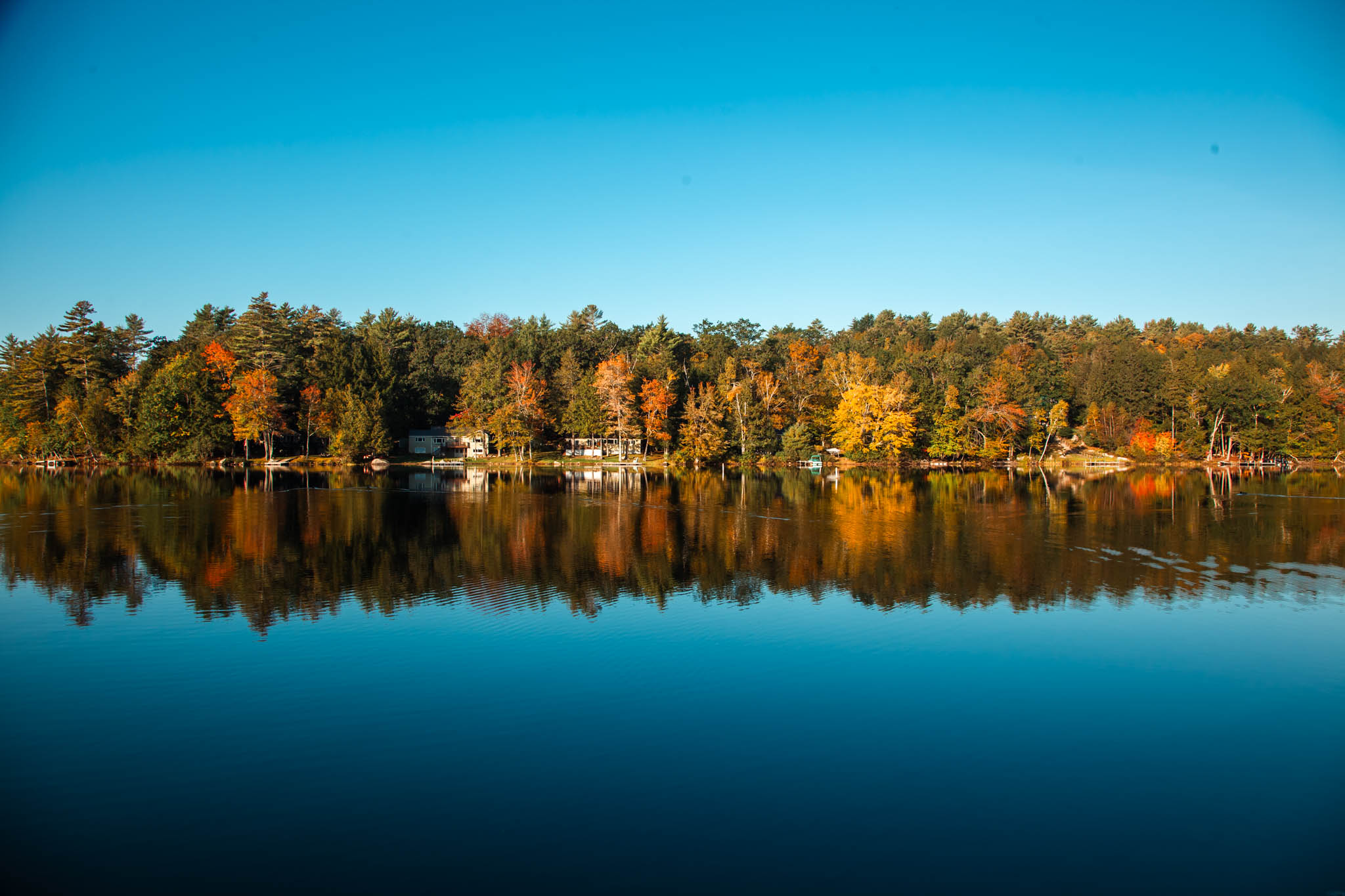 Day Three:
Morning by
Lake Pennesseewassee
Their last morning at The Woods Treehouse started getting a little work done with a cup of coffee then a stroll through the woods to catch the quiet sunrise on the lake. It was a moment of quiet reflection, taking in the natural beauty of Maine. 

Check Out
Sadly, it was time to say goodbye to their treehouse sanctuary. The memories they created would forever hold a special place in their hearts and would undoubtedly be cherished by Sally as she grows up!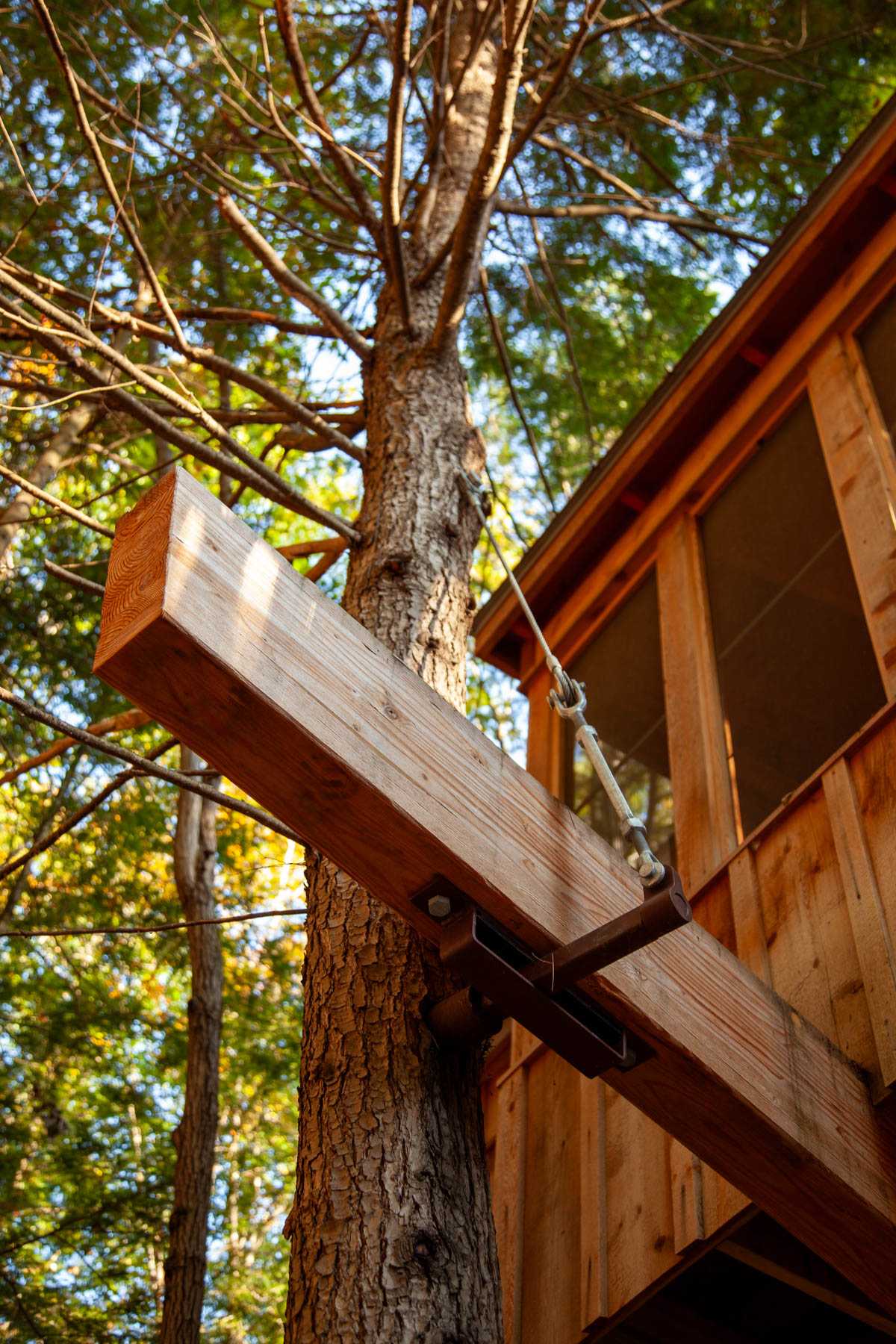 Of course, we took a peek at our hardware to find everything looking in tip-top shape, as expected!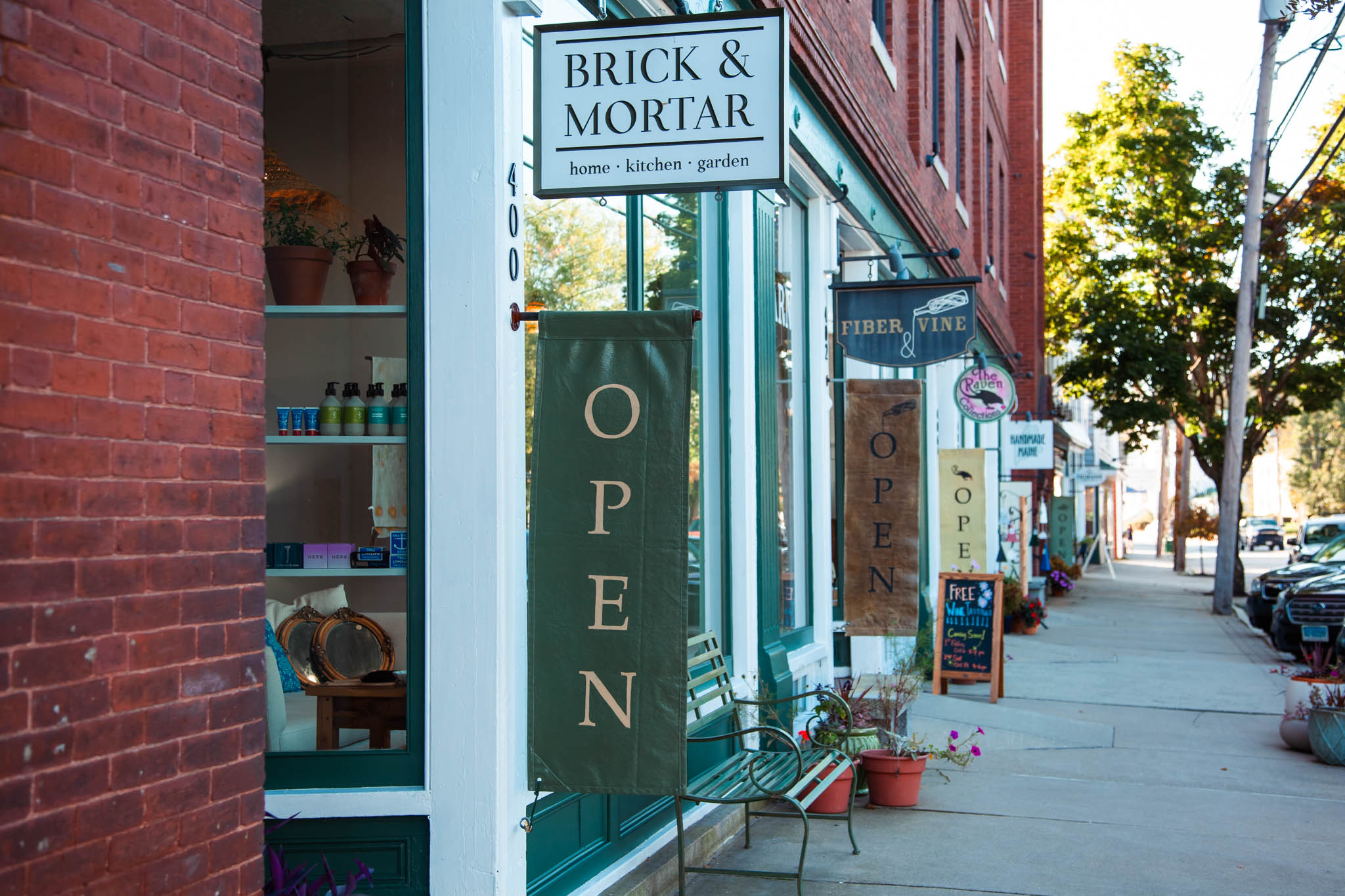 Shopping in Norway
Before heading home, Emily and Sally made a stop in downtown Norway. A visit to Fiber & Vine, a charming fiber arts and wine shop, was the perfect way to wrap up their adventure. They left with a bottle of wine, some crafts, and fond memories of their grand gal's getaway, which would be a delightful story for Sally to hear as she grew older.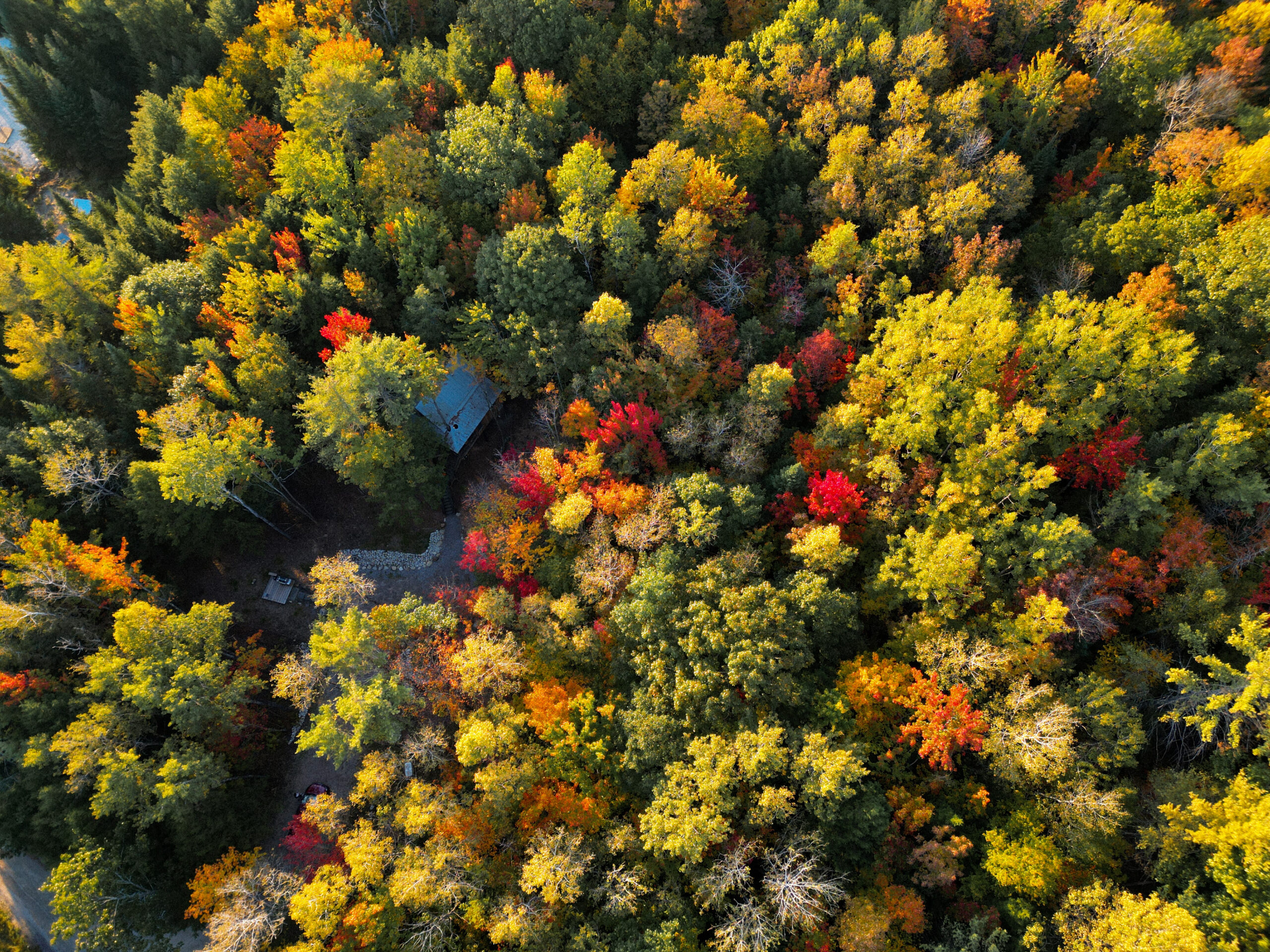 In Norway, Maine, the fall season transforms into an enchanting wonderland, and The Woods Treehouse is the ideal place to experience it all, even with a toddler in tow. Emily and Sally's adventure captured the essence of fall in New England, where the air is crisp, the colors are vibrant, and every moment is a memory to cherish. Whether you're looking for a romantic getaway, traveling with family or embarking on a grand gal's adventure with a little one, The Woods Treehouse in Norway, Maine is a destination that promises a memorable escape into the heart of autumn, even for the tiniest of adventurers.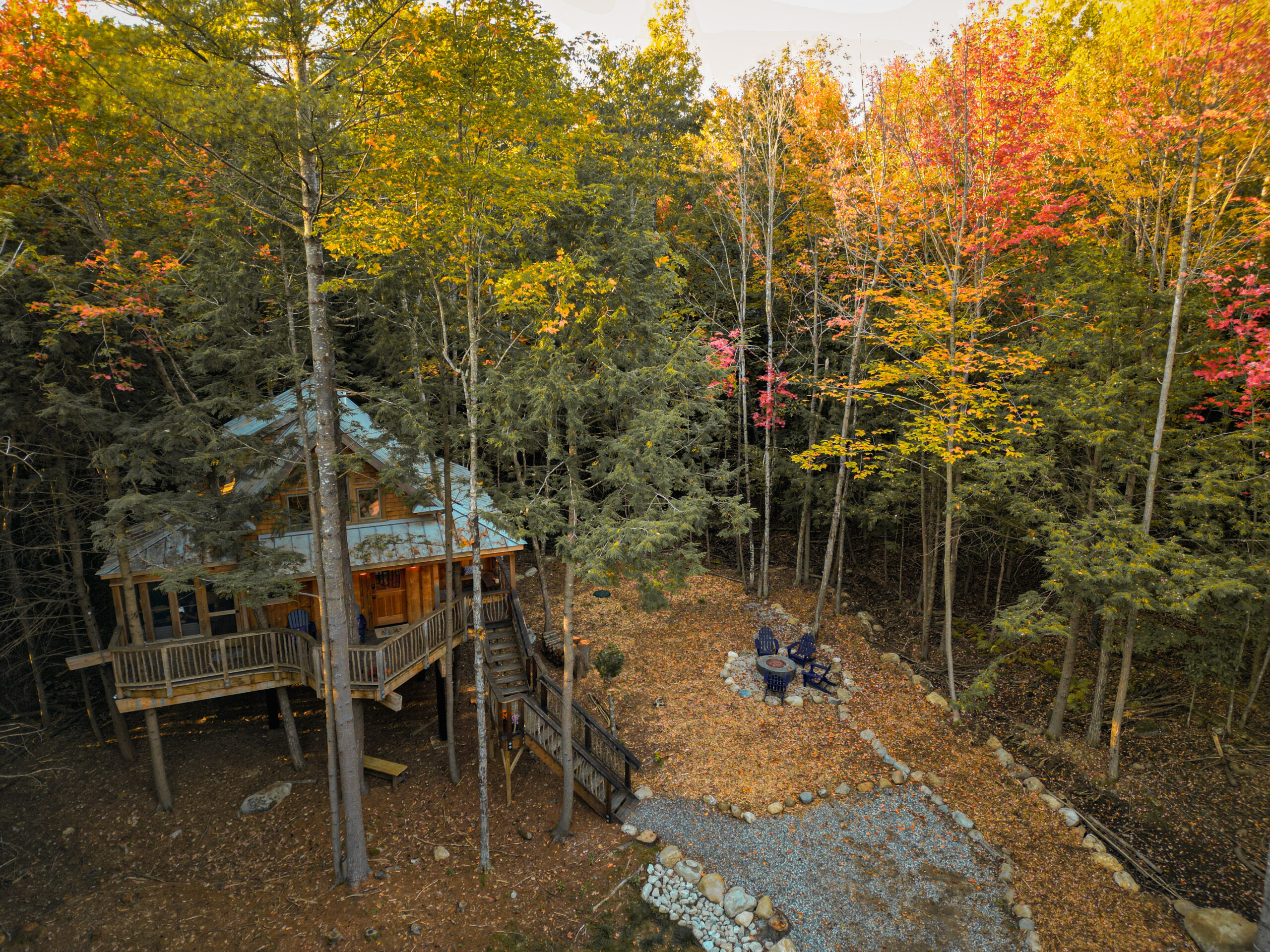 default